10 Best Things to Do in Portimão
What is Portimão Most Famous For?
Portimão is a port city in Portugal that's focused on fishing and trade – as you'd expect from a city that grew up where the Rio Arade meets the Atlantic Ocean. Yet in this second-largest city on the Algarve (after Faro), tourism has played a significant role since the 19th century. The biggest event on the calendar, August's Festival da Sardinha, is a testament to the importance of the sea to this community.
Though some will head straight for the neighbouring resort of Praia da Rocha, those in the know will linger for a while to uncover a little of Portimão's rich history. With our list of the best things to do in Portimão, you'll soon find there's more to the place than sardines.
What are the best things to do in Portimão?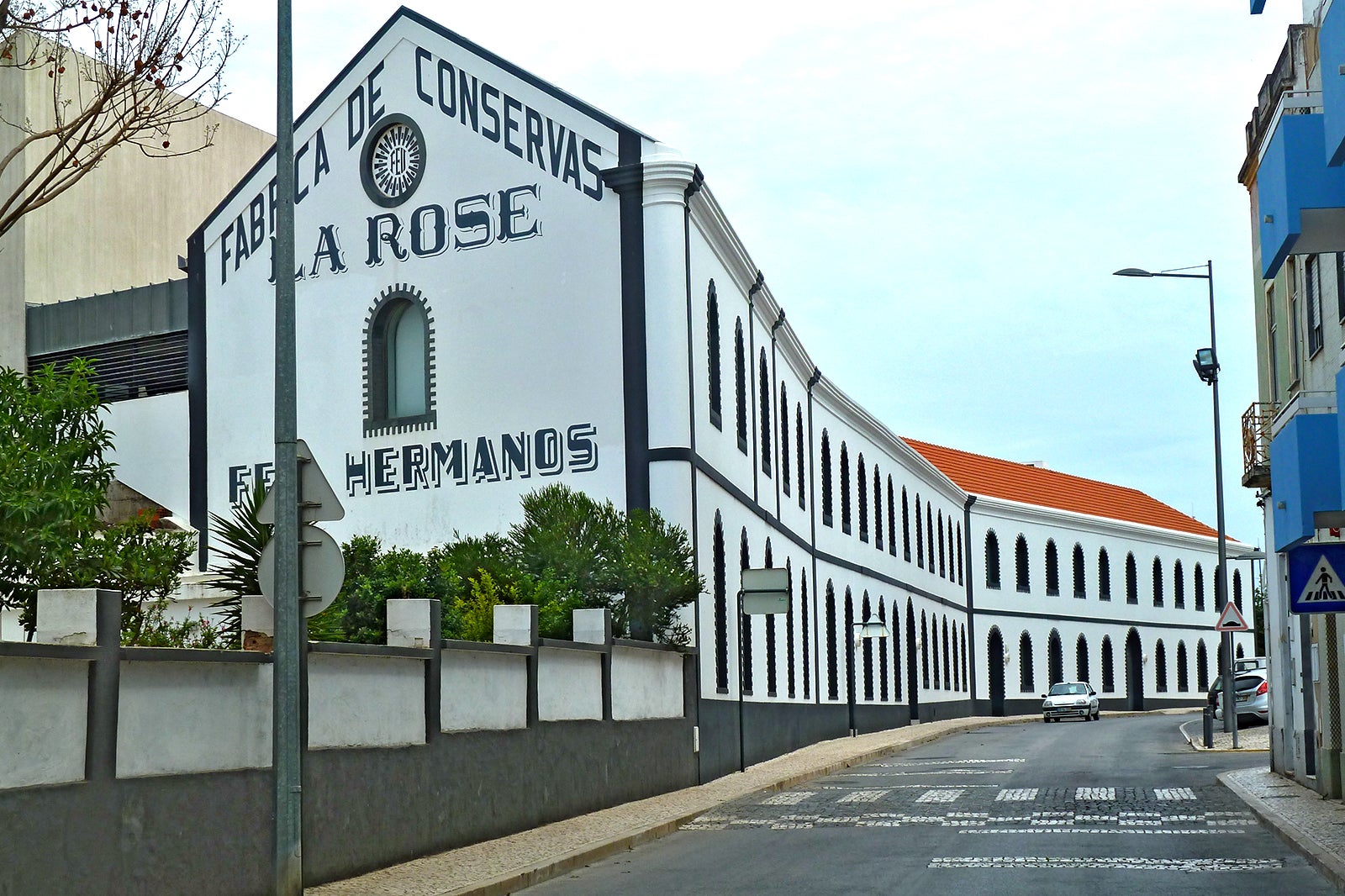 Museu de Portimão
Unlock the story of Portimão's fish canning industry
When the Museu de Portimão opened its doors in 2008, it marked the beginning of a new chapter for the building that once housed the Feu Hermanos canning factory. Sardine canning had been a major employer in the area since the late 19th century, leading many to dub Portimão as the sardine capital of the Algarve.
This award-winning museum, which won the Council of Europe Museum Prize in 2010, tells the fascinating story of the contribution the industry made to the area. If you're tempted to try canned fish as a result, 15-minute stroll north to Maria do Mar restaurant on Rua Direita gives you the chance to do just that.
Location: Rua D. Carlos I Zona Ribeirinha, 8500-607 Portimão, Portugal
Open: Tuesday from 2.30pm to 6pm, Wednesday–Sunday from 10am to 6pm (hours vary in August)
Phone: +351 282 405 230
photo by Notafly (CC BY-SA 4.0) modified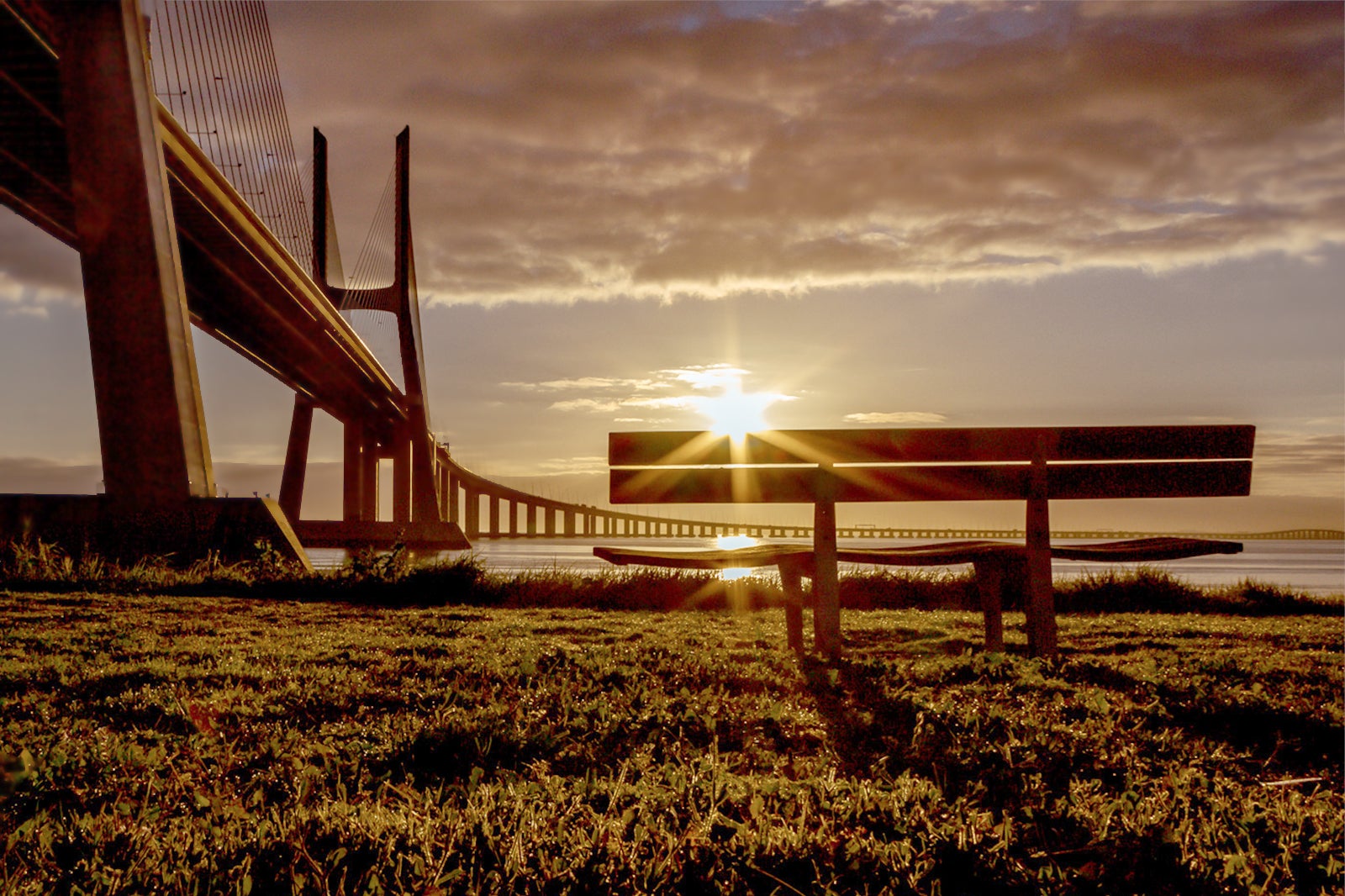 Take a cave cruise from Portimão Vasco da Gama pier
See a cave sculpted by the waves on a boat tour
From Portimão, take a boat trip to see the breathtaking Benagil Caves. Waves have sculpted this sea cave into a magnificent landform with natural skylights and arches that perfectly frame the turquoise sea beyond.
Algarve Discovery's boats depart regularly from Portimão's Vasco da Gama pier, located close to the Museu de Portimão in the centre of town. On the way, you'll see Portimão from the water as you amble downstream along the Rio Arade and pass the Fort of Santa Catarina, Ferragudo Castle and the small fishing village of Ferragudo.
Location: Cais Vasco da Gama, Portimão, Portugal
Open: Hours vary by season
Phone: +351 919 274 999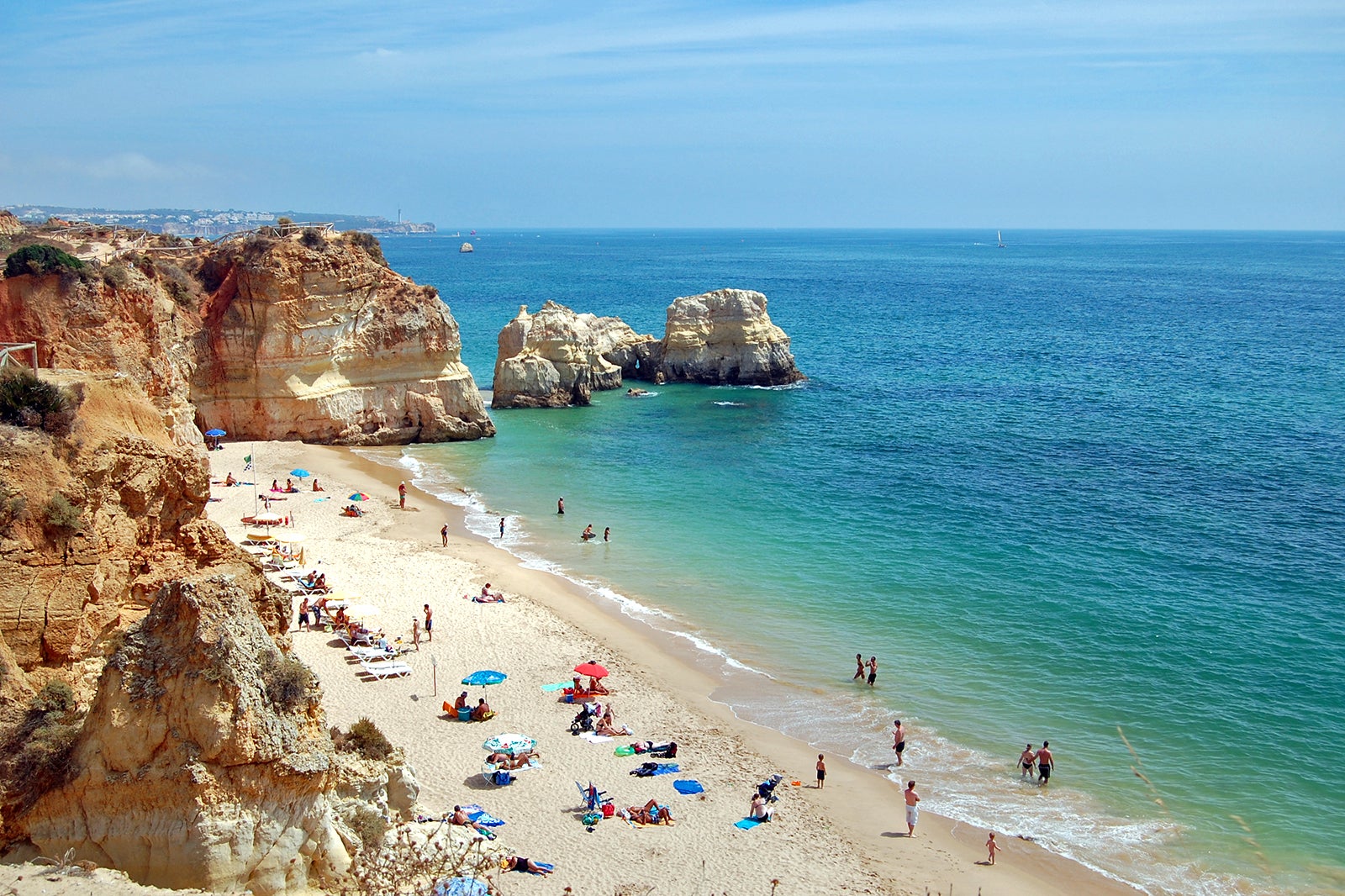 Praia da Rocha
Chill out on Portimão's best beach
The Algarve has no shortage of spectacular beaches but Praia da Rocha, located right at the heart of Portimão, is one of the most convenient. The name translates to "rocky beach" and it's a literal one, with hunks of limestone marooned amid a sea of yellow sand. The beach stretches for 1 km or so, and is popular with families as it shelves gently into the clear water.
Though it's tempting just to lie in the sun, there are many water sports available near the beach for those who prefer to stay active, including surfing, jet skiing, parasailing and kayaking. Stroll along to the neighbouring Praia dos Três Castelos, where you'll find a trio of rocks in the sea which inspired its name, "Three Castles" Beach.
Location: Praia da Rocha, Portimão, Portugal
photo by Steven Fruitsmaak (CC BY-SA 3.0) modified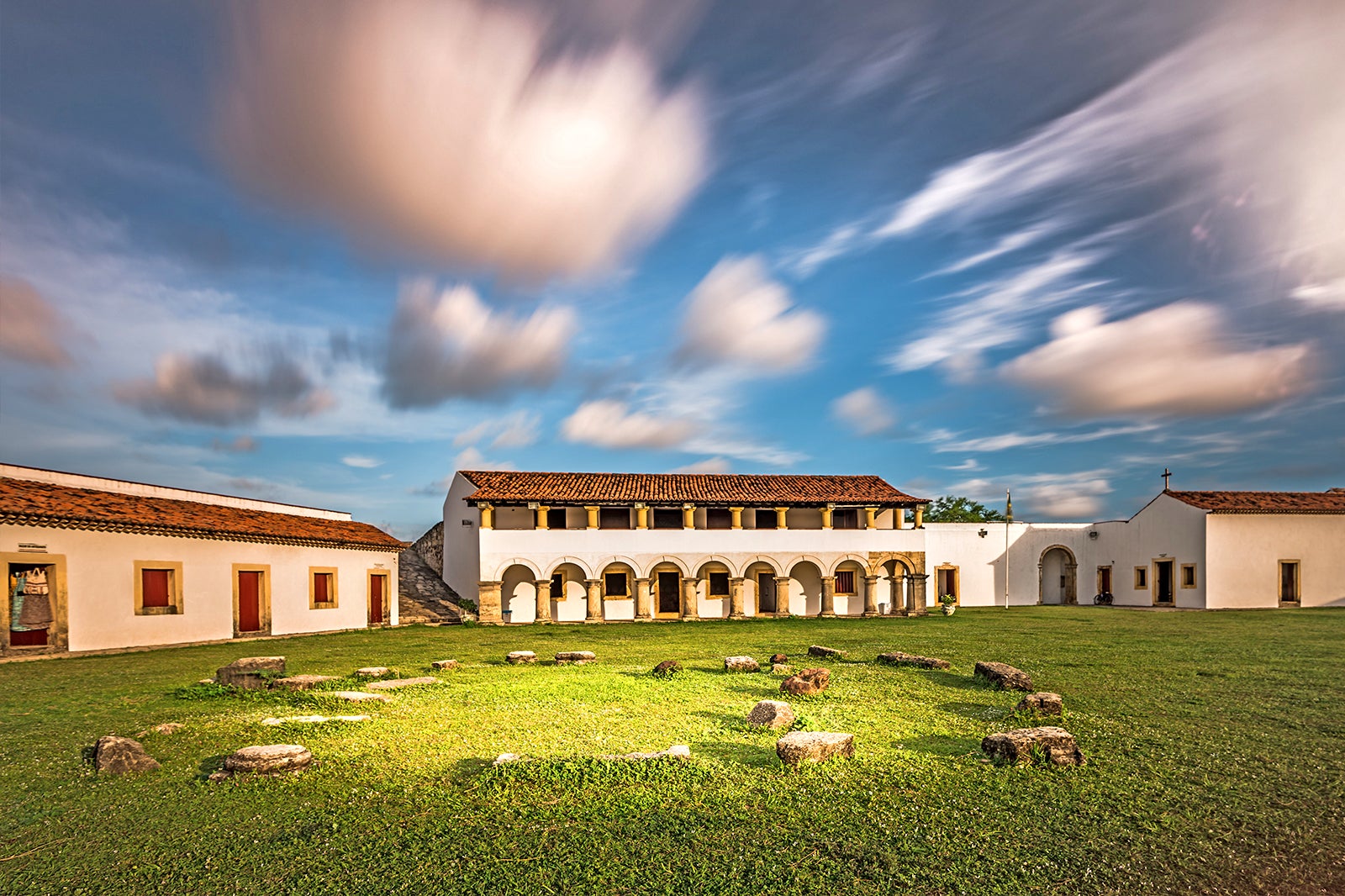 Fortaleza de Santa Catarina
Enjoy the view from this Portimão landmark
Fortaleza de Santa Catarina is one of Portimão's most recognisable historical landmarks. Together with nearby Forte de São João do Arade in Ferragudo, it was constructed in the 17th century to defend the estuary of the Rio Arade. A plaque reads "Built by the order of D. João de Castro (Governor of the Algarvian Kingdom) for the protection of the city of Silves and Vila Nova de Portimão from Spanish pirates and Moors".
These days, accessing the fort is simple – all would-be invaders need to do is climb the steps cut into the cliff above Praia da Rocha beach. The views, both from the beach and the miradouro (viewpoint) at Santa Catarina itself, are splendid, particularly on a fine day.
Location: Av. Tomás Cabreira 4, 8500-802 Portimão, Portugal
photo by Dlaurini (CC BY-SA 4.0) modified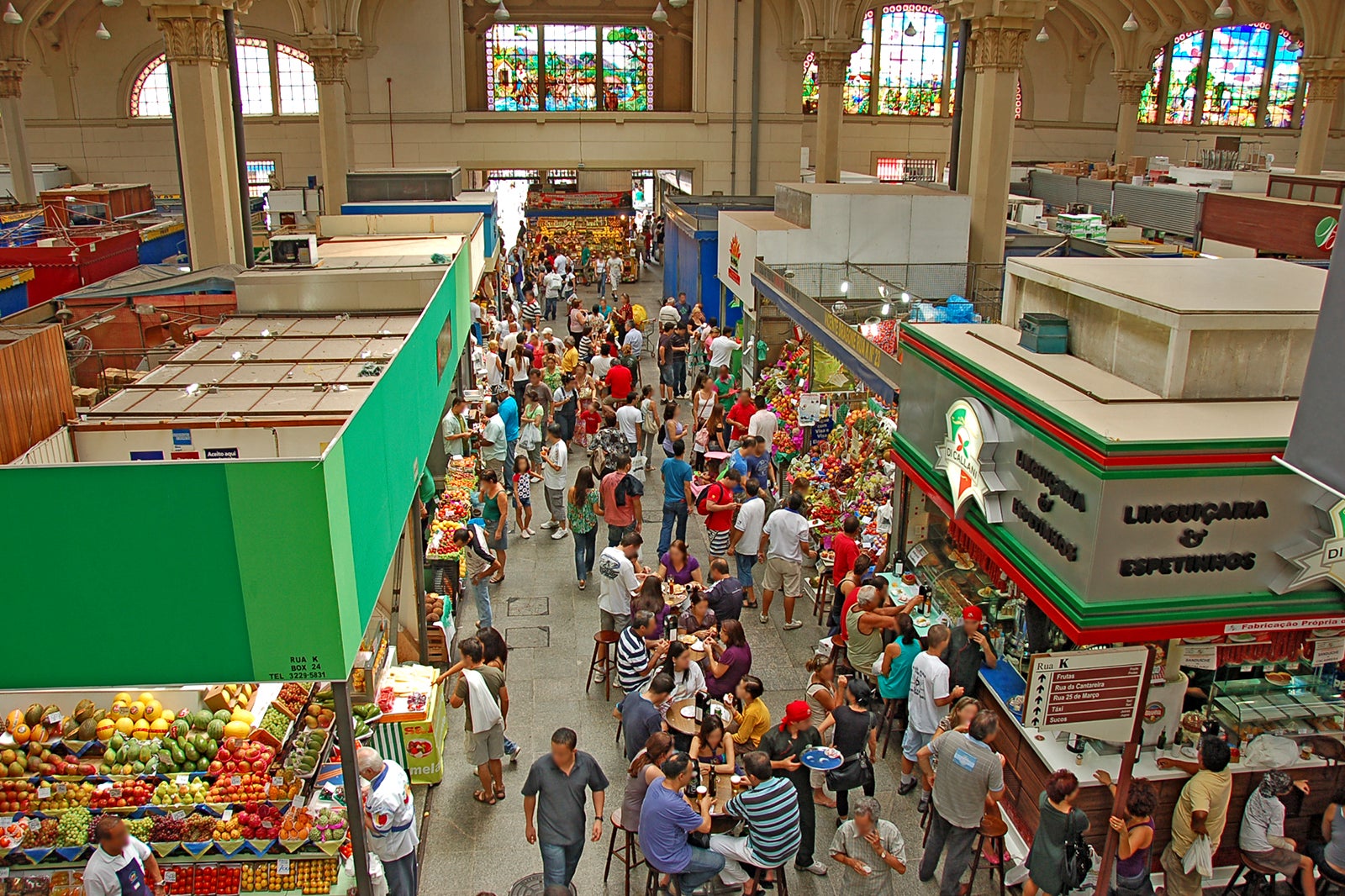 Mercado Municipal de Portimão
Shop like a local at Portimão's main market
Locals flock to Mercado Municipal de Portimão, Portimão's market, in search of fresh produce daily. Plump red tomatoes, shiny piles of peppers and juicy pears fill the greengrocery stands, while each morning's seafood catch ensures there's always a crowd in the fishmonger's section.
If you're self-catering, keen prices make this a smart choice for purchasing the makings of dinner or some flowers to brighten up your apartment. And if you're not, there's no harm in soaking up the atmosphere before retiring to a local café for some refreshments.
Location: Av. São João de Deus, 8500-508 Portimão, Portugal
Open: Monday–Friday from 7am to 2pm and 5pm to 8pm, Saturday from 7am to 2pm (closed on Sundays)
Phone: +351 282 470 800
photo by Felix Tansil (CC BY-SA 3.0) modified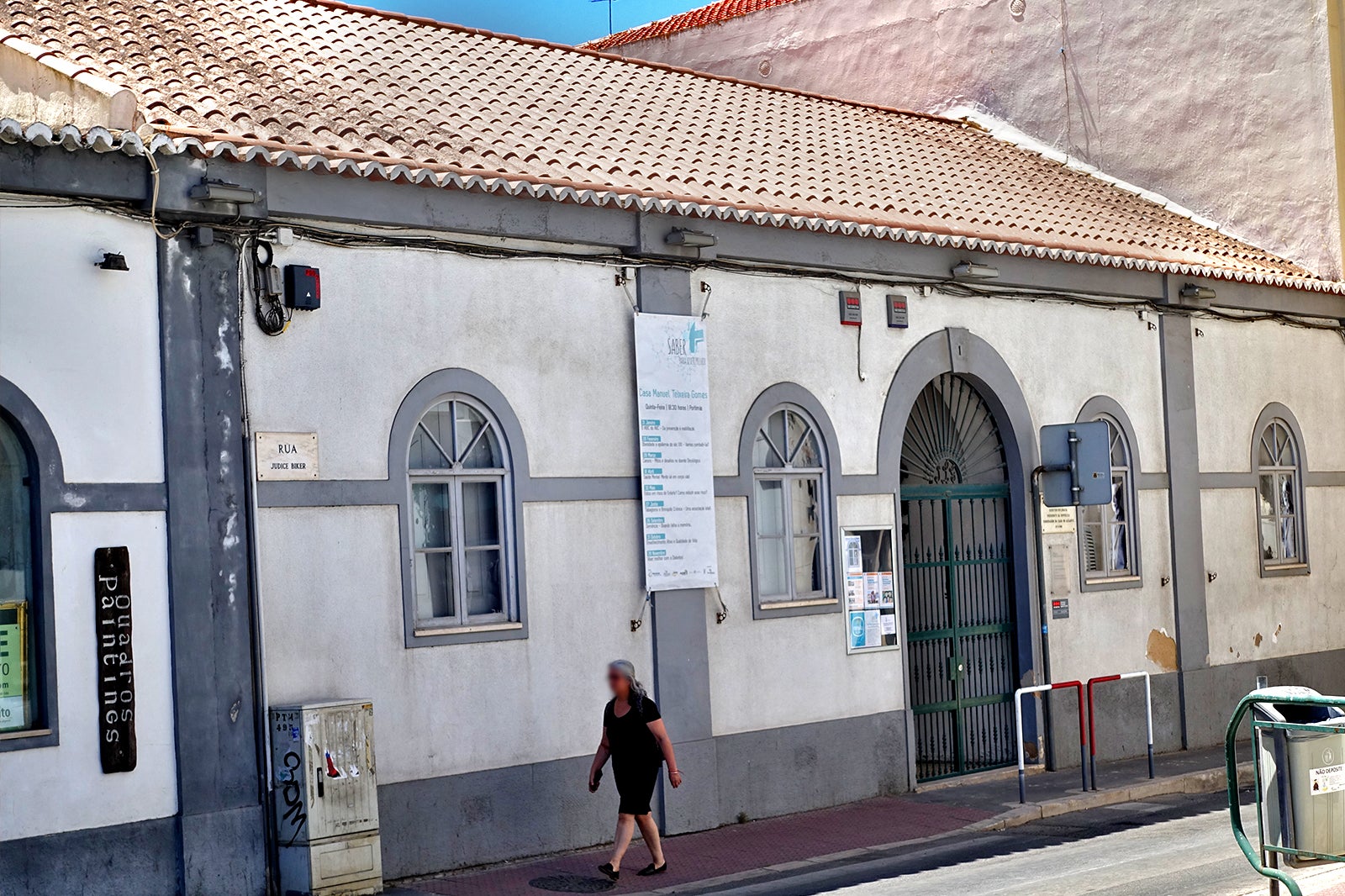 Casa-Museu Manuel Teixeira Gomes
Learn about one of Portugal's former presidents
Manuel Teixeira Gomes is Portugal's 7th president and Casa-Museu Manuel Teixeira Gomes demonstrates just how highly regarded he is in his Portimão hometown. Teixeira Gomes was also an accomplished writer, keen traveller and a diplomat, and several first editions of his work can be seen here. The info is mostly in Portuguese, so come prepared with a translation app.
Regular exhibitions of the work of local photographers and artists make this as much a gallery as it is a museum. Look out for listings for the recitals and literary gatherings occasionally held here, too. If you just can't get enough of the guy, make your way to Praça Teixeira Gomes near the river – this square has a sculpture of him.
Location: R. Júdice Biker 1, 8500-531 Portimão, Portugal
Open: Monday–Friday from 9.30am to 1pm and from 2pm to 5pm
Phone: +351 282 480 492
photo by Joseolgon (CC BY-SA 4.0) modified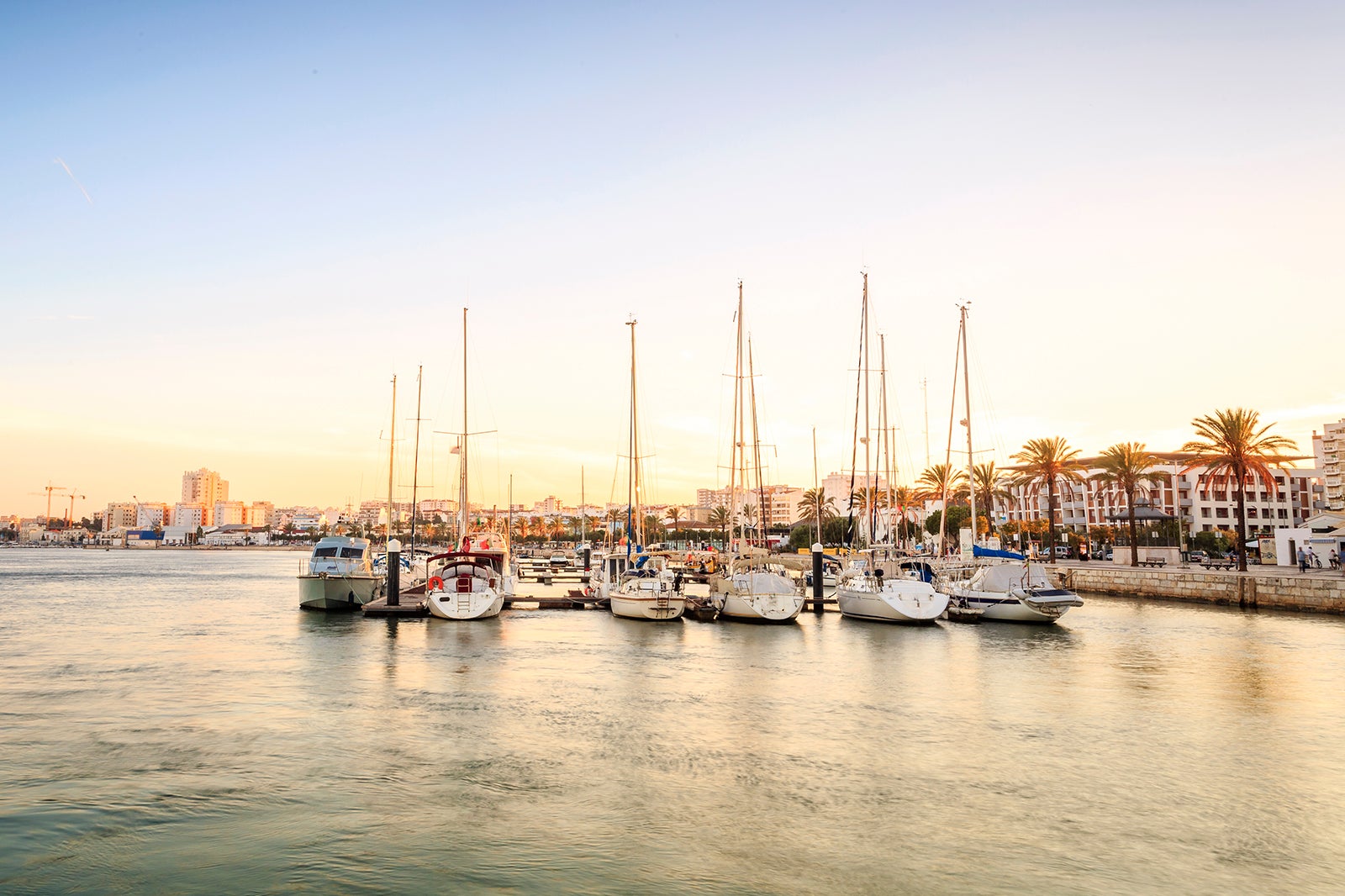 Enjoy a fishing trip from Marina de Portimão
What will your catch of the day be?
Enjoying a fishing trip from Marina de Portimão seems very fitting especially since the city relies so heavily on the sea. Every day, boats leave the city's marina in search of big game, happy to welcome onboard those who fish for sport rather than a living.
Rui and Pedro Santos of RP Paradise offer a range of fishing trips from Portimão utilising traditional inshore fishing techniques. Whether you're hoping to catch a blue marlin or bluefin tuna, squid or cuttlefish, there's a good chance you'll be content with your catch of the day.
Location: Marina de Portimão, Portugal
Phone: +351 913 914 823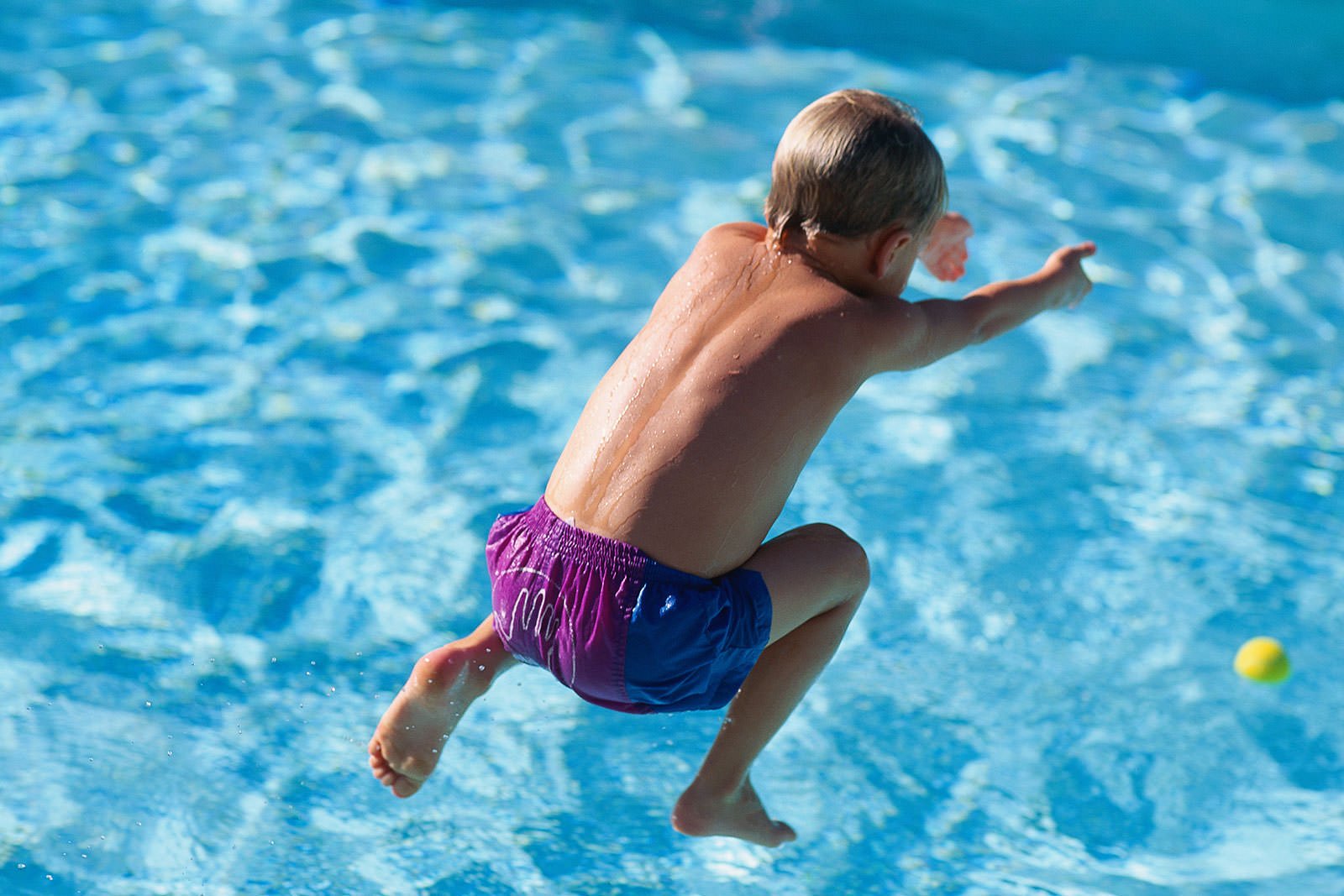 Slide & Splash Waterpark
Fun for all the family
Slide & Splash Waterpark has been a popular attraction on the Algarve for over 30 years. A little over 6 km east of the centre of Portimão, the theme park is squarely aimed at the family market. Fun is the order of the day, wherever you are on this 7-ha site. Race each other down the foam slides, hurtle through the scarily fast Black Hole, or get your groove on in the Disco River.
If all that sounds just a little too exhausting, there's a Jacuzzi and lagoon area perfect for relaxing. Pamper yourself as you get your tootsies in tip-top condition at the fish spa or book a massage in the Aquafeeling Zone.
Location: Vale de Deus 125, 8401-901 Estômbar, Portugal
Open: April–October: daily at10am (closing times vary)
Phone: +351 282 340 800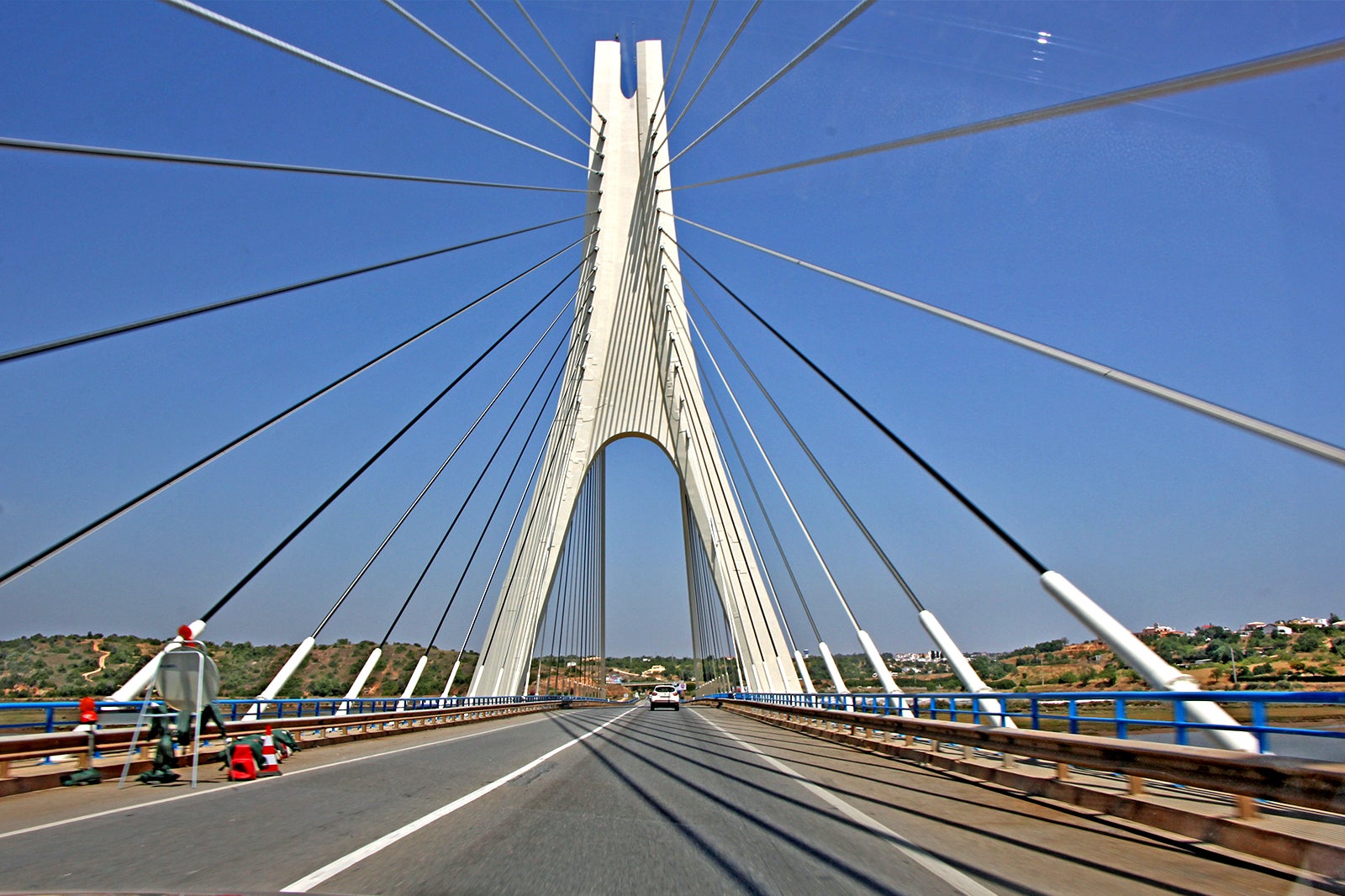 Rio Arade Suspension Bridge
This architectural beauty is a photographer's dream at sunset
The imposing Rio Arade Suspension Bridge that carries the N125 over the namesake river in Portimão is a masterpiece of modern engineering. The scale is impressive: the main span of this cable-stay structure measures 256 metres, with the 2 side spans each providing another 107 metres. The soft alluvial sand makes this a potential hazard in the event of an earthquake but engineers designed the bridge with earthquake-proofing in mind.
Follow the track beside the lagoon on the east end of the bridge to watch the sunset behind it. Photographers will be delighted – the 62-metre-high concrete pylons form a dramatic A-shaped silhouette against the orange sky.
Location: N125, Rio Arade, Faro District, Portugal
photo by Eduard Marmet (CC BY-SA 2.0) modified
Dona Barca
Sample Portimão's local cuisine
Dona Barca is where you can follow the locals to get good food while on holiday in Portimão. Despite the closure of the canning factory, Portimão continues to keep its sardine heritage alive at this popular family restaurant, which has been a fixture on Largo da Barca square since 1980.
Seafood is the star of the show and sardines are, unsurprisingly, a house speciality. Lovingly grilled over charcoal, the experience and expertise translate to the plate. The restaurant has won several culinary awards, so book a table and see what all the fuss is about.
Location: Largo da Barca, 22, 8500-527 Portimão
Open: Daily from midday to 3pm and 6pm to 10pm
Phone: +351 282 484 189