10 Best Things to Do for Couples in Munich
Munich's Most Romantic Places
Couples in Munich have plenty to enjoy during their romantic getaway. The city's lush gardens and parks are where locals come to stroll through maple woods, sunbathe nude in their lunch hour, and even surf on the Eisbach stream. Traces of Bavaria's monarchy can be seen at the 18th century Nymphenburg Palace, where landscaped gardens still captivate today with art sculptures, fountains, canals and gondola rides.
Art lovers can marvel at Old Masters paintings at the Alte Pinakothek gallery, while fans of classical opera can enjoy world-class performances by the Bavarian State Opera at the neoclassical Nationaltheater. Unwind with a relaxing spa treatment at the Art Nouveau Müller'sches Volksbad swimming pool and steam bath. Experience a romance-filled vacation in Bavaria's capital with our guide of Munich's most romantic places.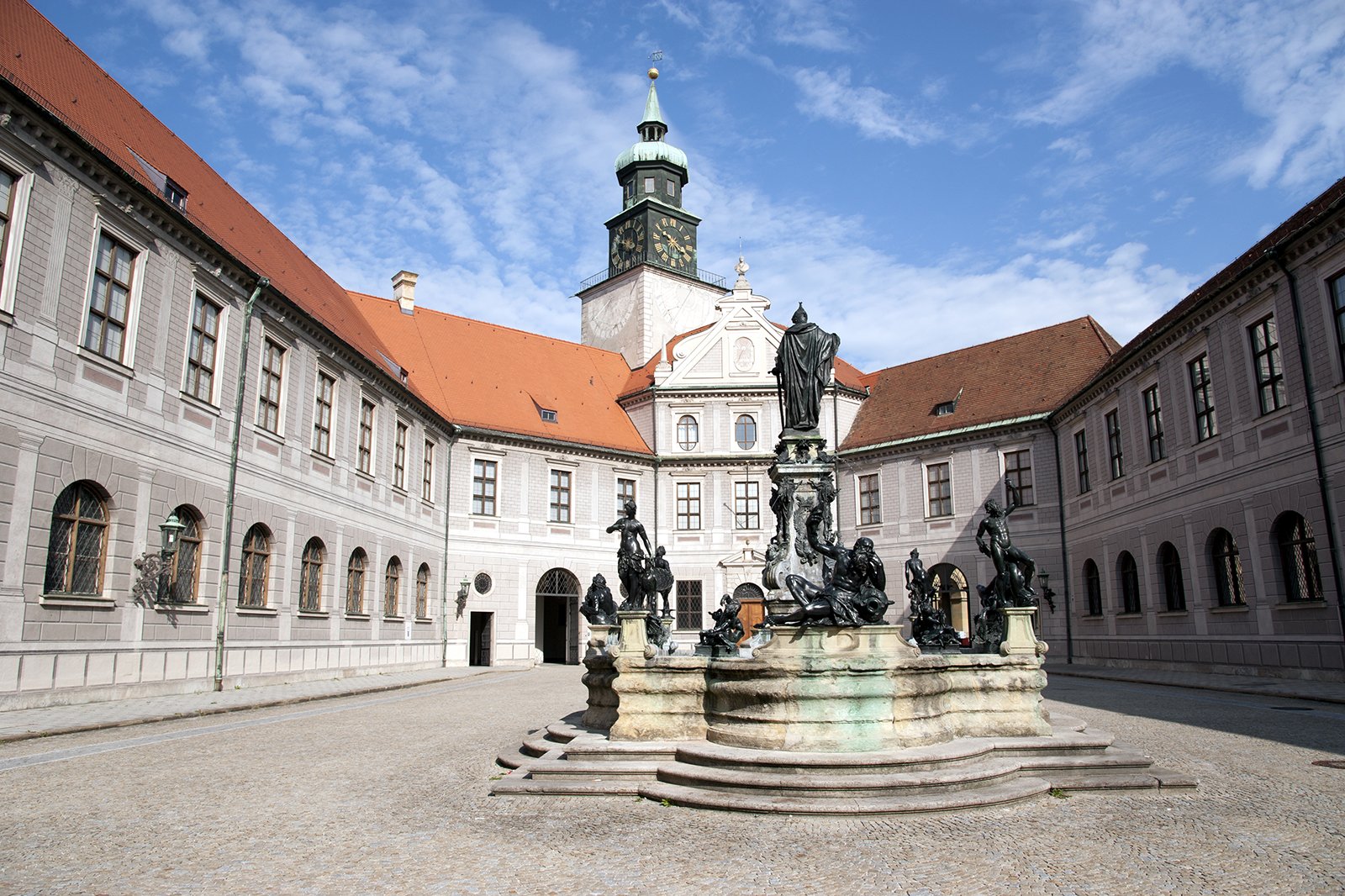 Munich Residenz
See original Renaissance and Baroque paintings, pottery, tapestries, and religious items
The grand palace of Munich Residenz is one of Bavaria's most impressive structures. You can spend hours exploring many 14th-century buildings, courtyards and gardens. There are 130 rooms inside the palace, including a museum, a 2-storey court chapel, an ancestral gallery, a treasury, and a banquet hall. Many of these rooms are furnished with antique furniture, frescoes, and tapestries dating back to the Renaissance, Neoclassical, and Baroque eras. From Marienplatz Square, you can easily walk the 1 km to Munich Residenz.
Location: Residenzstraße 1, 80333 Munich, Bavaria, Germany
Open: Daily from 9am to 6pm
Phone: +49 (0)89 290 671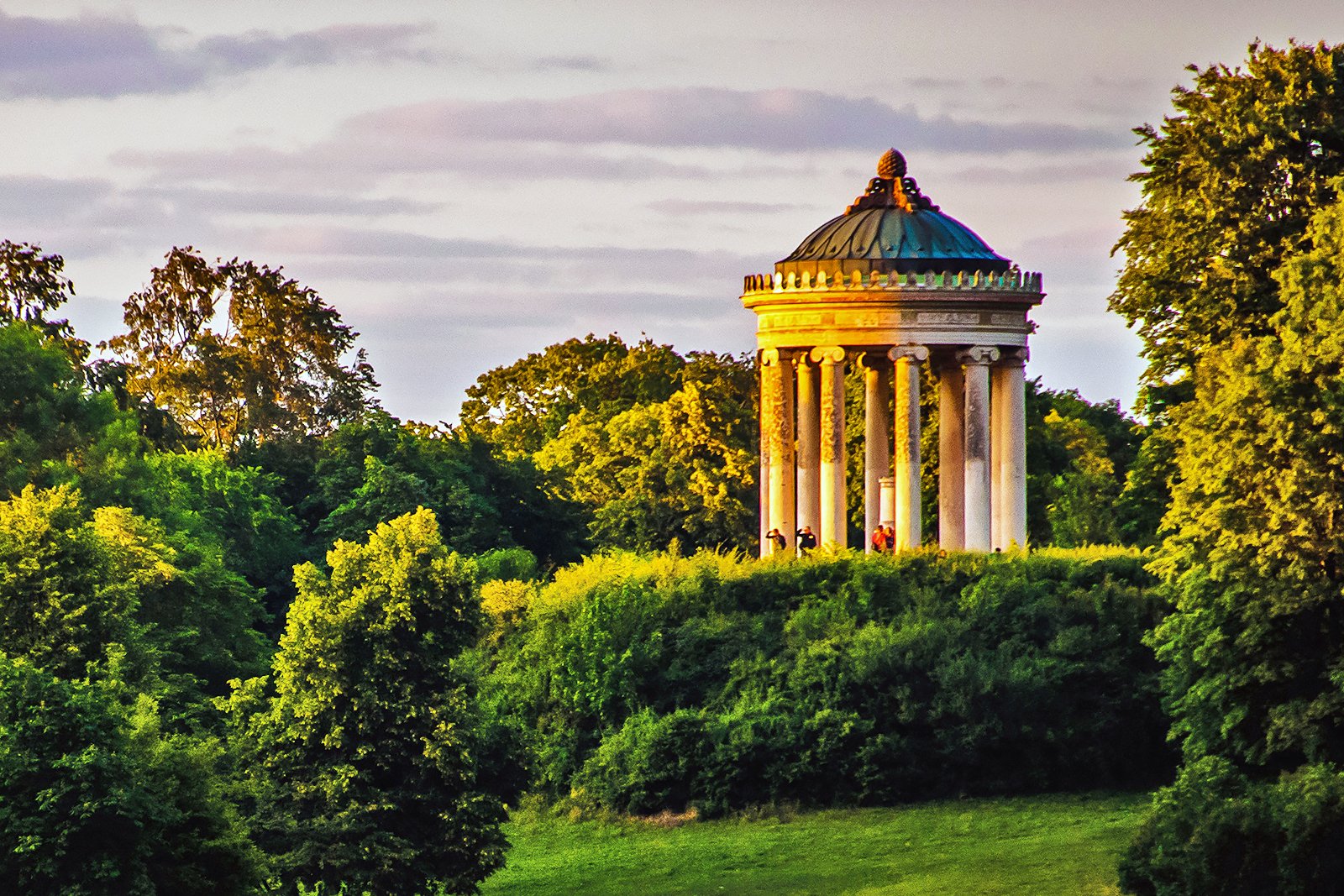 Englischer Garten
Grab a Hofbräu beer at Munich's 2nd largest beer garden
The Englischer Garten is an 18th century city park in central Munich. Covering an area of 50,000 square metres, it's a popular spot for relaxation and activities such as jogging and cycling. One of its most significant attractions is a 25-metre-tall Chinese tower called Chinesischen Turm. To enjoy the view, Munich's 2nd largest beer garden is nearby, which has almost 7,000 garden benches facing the tower. An authentic Japanese teahouse is set on an island located at the southern end of Englischer Garten, where you can enjoy traditional tea ceremonies.
On warm days, you may stumble upon a crowd of nude sunbathers in Schönfeldwiese, a green expanse beside the Japanese teahouse. This is a common sight during summertime, so give it a try if you're feeling adventurous.
Location: Verwaltung des Englischen Gartens München, 80538 Munich, Bavaria, Germany
Open: Daily from 7am to 8pm
Phone: +49 89 217 9333
photo by Polybert49 (CC BY-SA 2.0) modified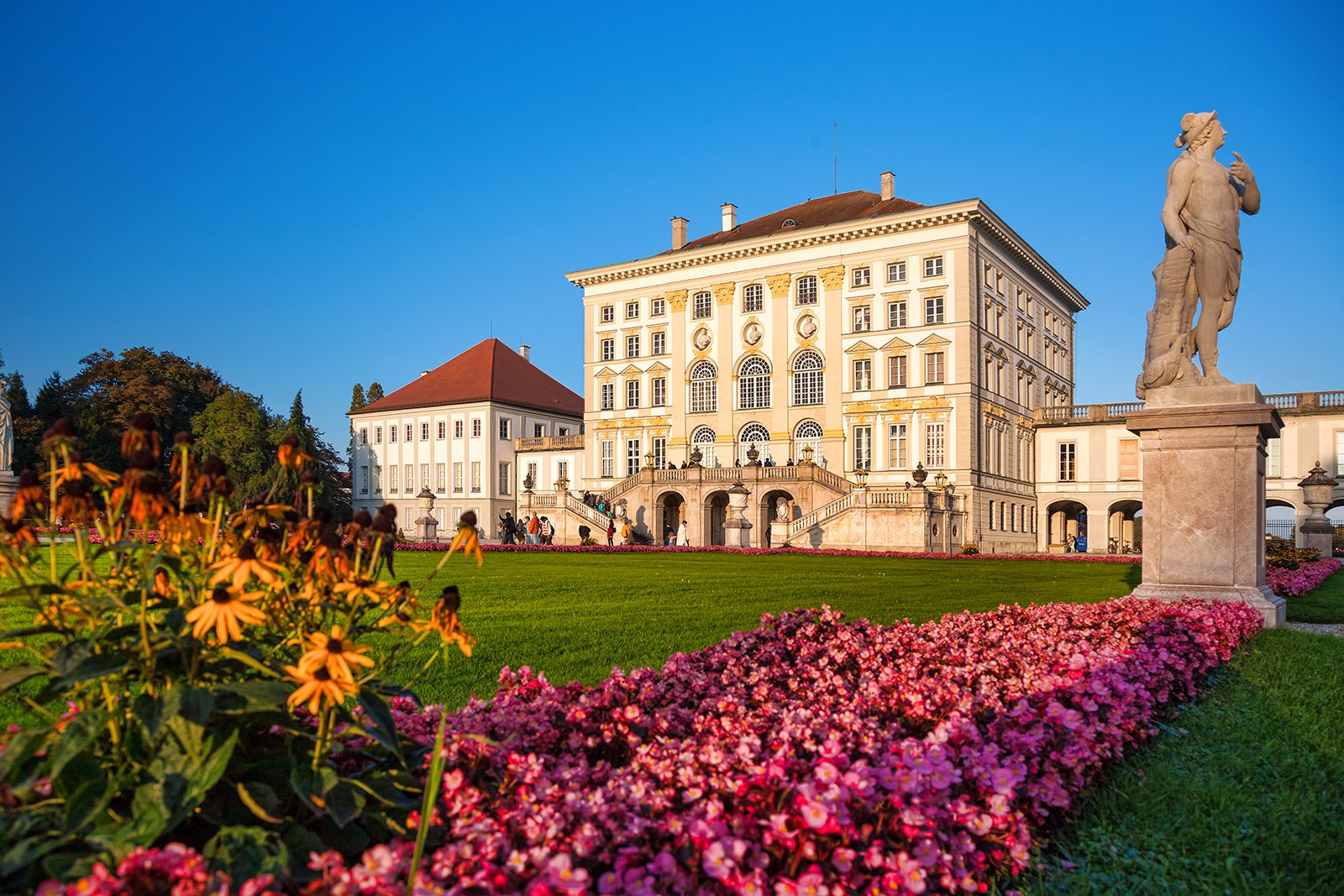 Nymphenburg Palace
Enjoy gondola rides on the central canal
Nymphenburg Palace is a grand baroque landmark that served as a summer residence for Bavarian royalty. You can explore luxurious rooms within the 18th-century palace, including the rococo-style Great Hall for its ceiling painting of the Olympian heaven. Max Emanuel's Great Gallery of Beauties has 6 paintings of ladies at the court of Louis XIV. Outside, Nymphenburg Park features landscaped gardens with canals lined with follies. During the summer season, you get to enjoy gondola rides on the central canal from 10am onwards. The 30-minute ride costs around €15 per adult.
Location: Schloß Nymphenburg 1, 80638 Munich, Germany
Open: April–mid-October: Daily from 9am to 6pm (mid-October–March from 10am to 4pm)
Phone: +49 (0)89 179 080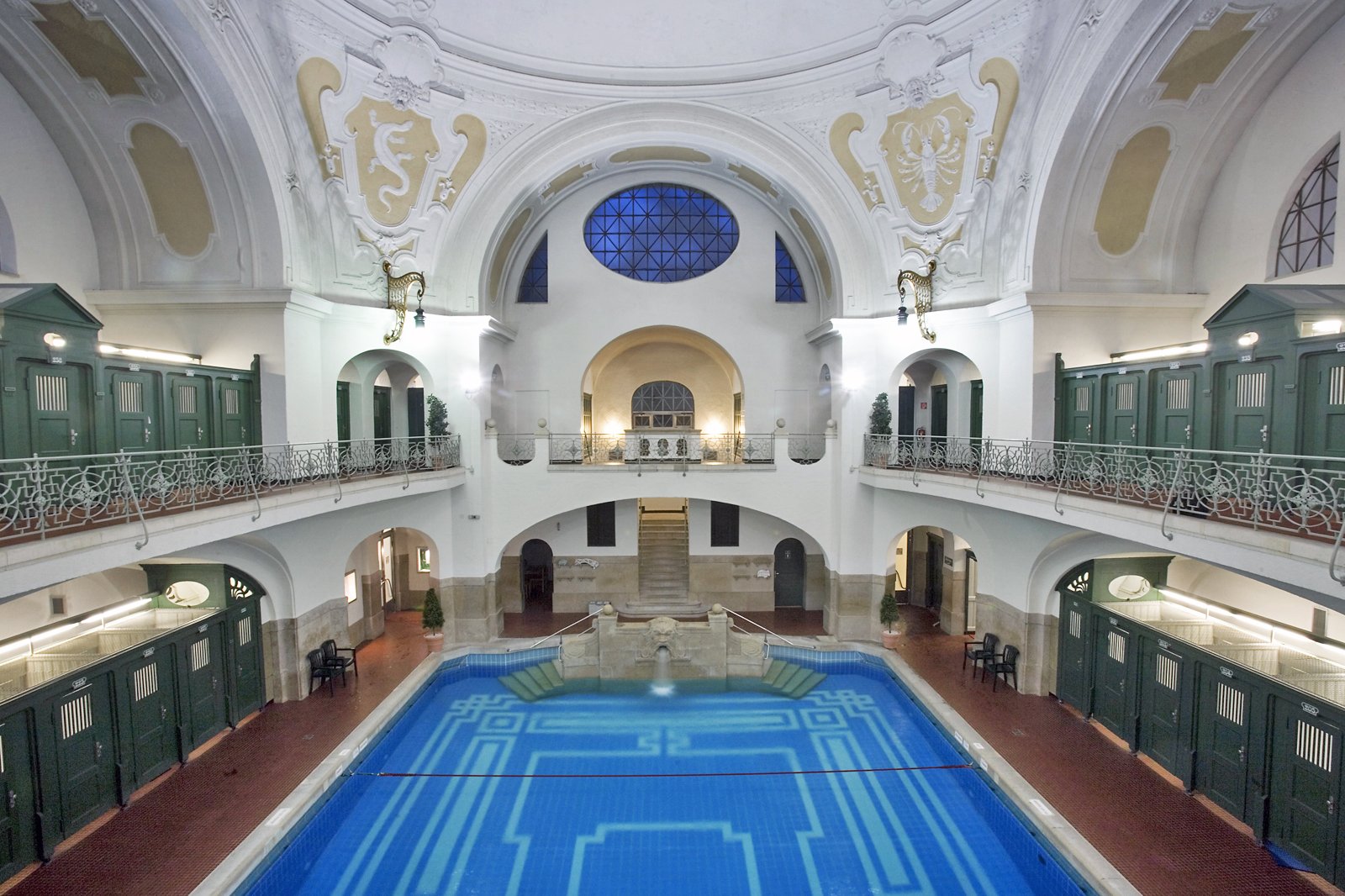 Müller'sches Volksbad
Enjoy a Roman steam bath inside an Art Nouveau building
Müller'sches Volksbad is one of Europe's most beautiful wellness centres. Founded in 1901, it features an Art Nouveau design with wrought iron banisters, stucco ceilings, marble columns, and whimsical motifs. Facilities include a Finnish sauna and a Roman steam bath with an open-air courtyard. Go for a refreshing dip in the cold-water plunge pool or enjoy massages during your visit. Water gymnastics take place at Müller'sches Volksbad's indoor swimming pools.
Location: Rosenheimer Straße 1, 81667 Munich, Germany
Open: Daily from 9am to 11pm
Phone: +49 (0)89 2361 5050
photo by Jorge Royan (CC BY-SA 3.0) modified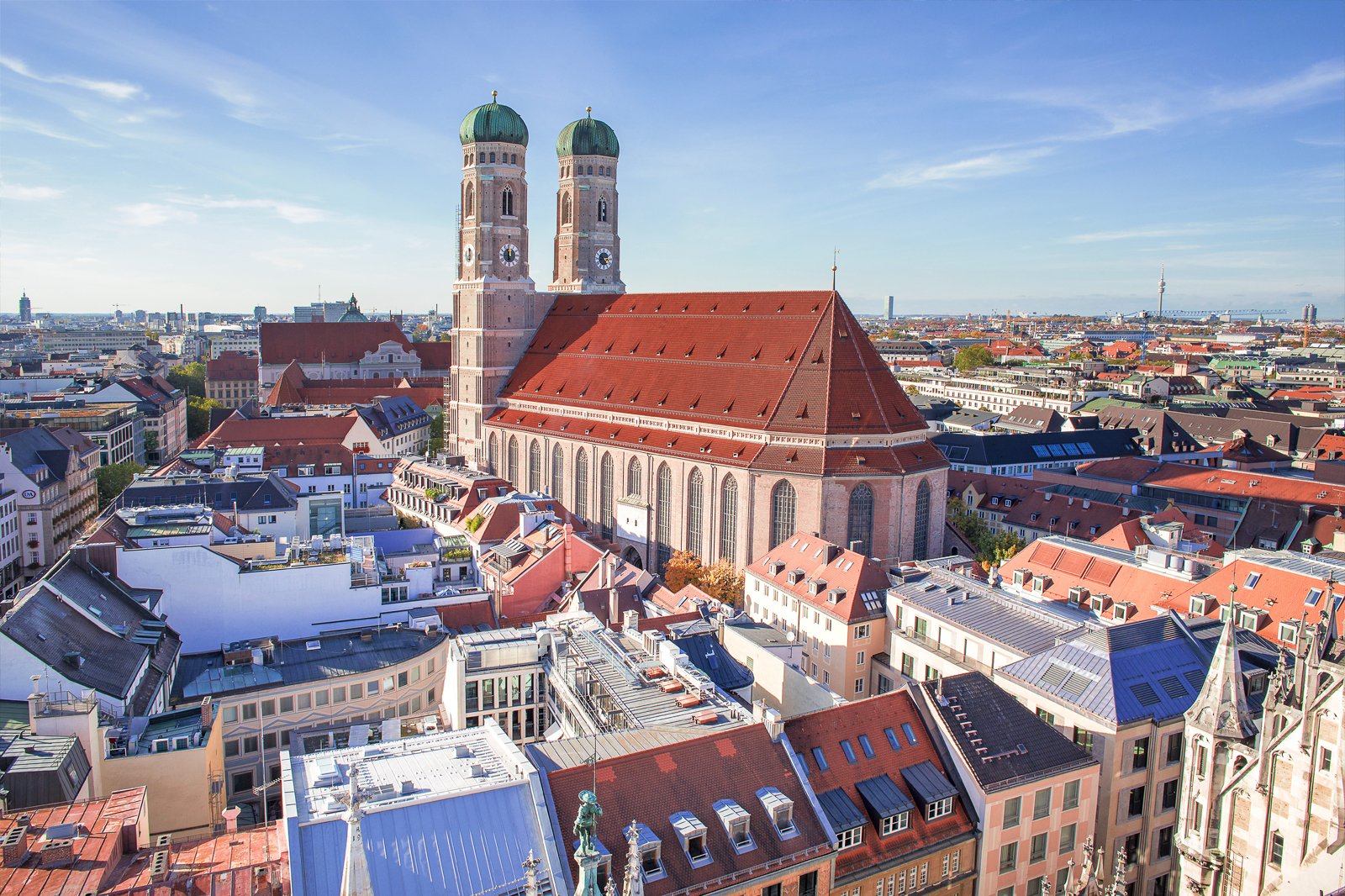 Frauenkirche
Join a guided tour of Munich's 15th-century church
The Church of Our Lady (Frauenkirche) is a late Gothic structure with over 20 individual chapels dedicated to various saints, apostles, and guilds. Check the tomb of Empire Ludwig the Bavaria, bronze figures of Dukes Wilhelm IV and Albrecht V, and a 15th-century painting of the Virgin of Mercy. Located in Frauenplatz, Frauenkirche's distinguishing feature is the 2 domed towers, both of which loom over Munich at almost 100 metres in height. Guided tours of the cathedral are typically held on Thursdays at 3pm, but it's best to check with the parish office.
Location: Frauenplatz 12, 80331 Munich, Germany
Open: Daily from 7.30am to 8pm
Phone: +49 (0)89 290 0820
Couples
History
Photo
Budget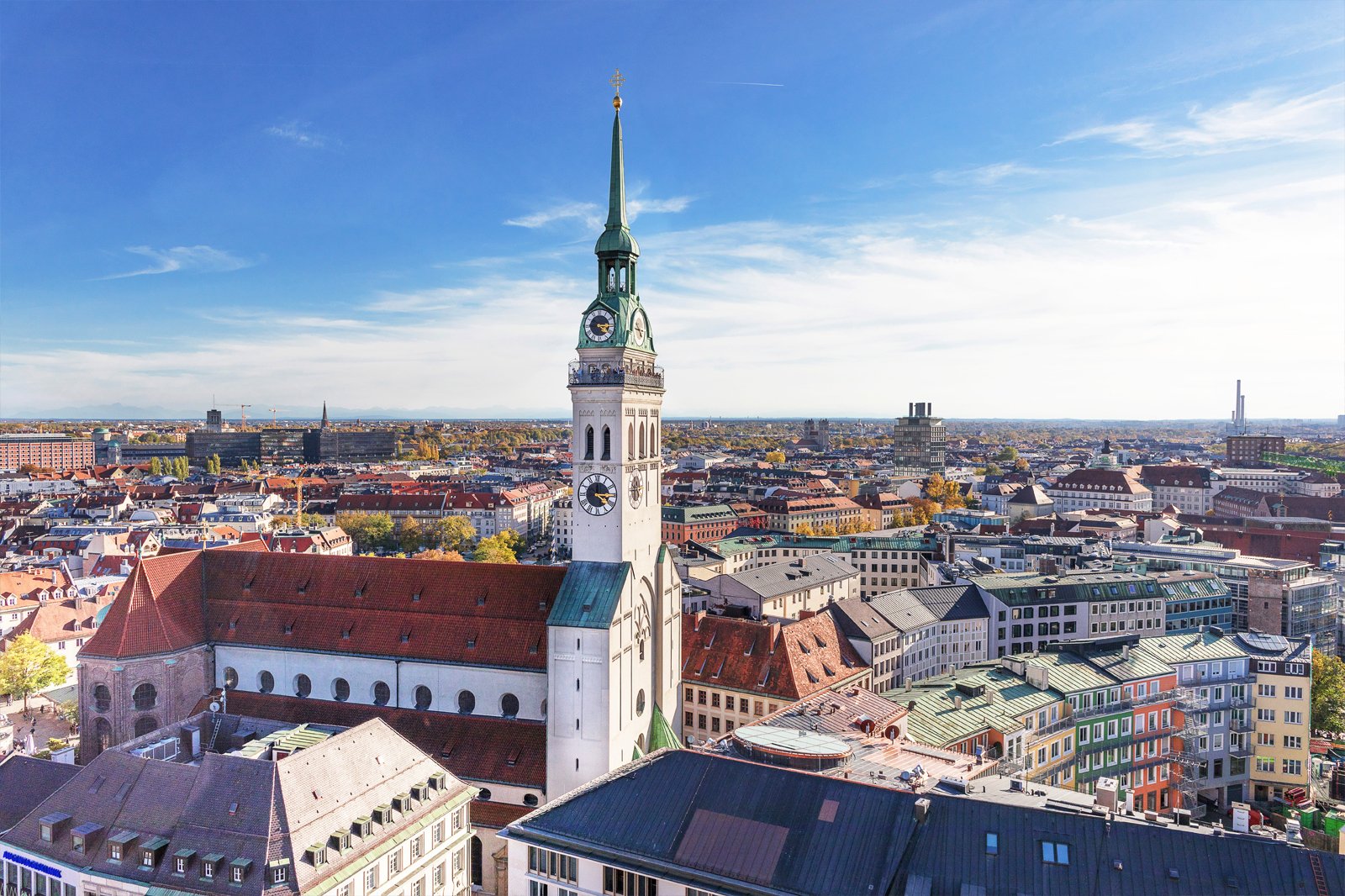 St Peter's Church
Climb the tower for views over Munich's red rooftops
Peterskirche (St Peter's Church) looms 91 metres above Munich's Old Town, providing an outstanding view from its steeple. The Romanesque structure dates back to the 12th century, and is one of the oldest buildings in Germany. Many attempt the 306-step climb to the top of the church tower as you get to see the city's skyline and, on sunny days, the frosted peaks of the Alps. Inside the church, you can see a glass case that houses the bejewelled remains of Christian martyr, Saint Munditia.
Location: Rindermarkt 1, 80331 Munich, Germany
Open: Monday–Friday from 9am to 6pm, Saturday–Sunday from 10am to 6pm
Couples
History
Photo
Budget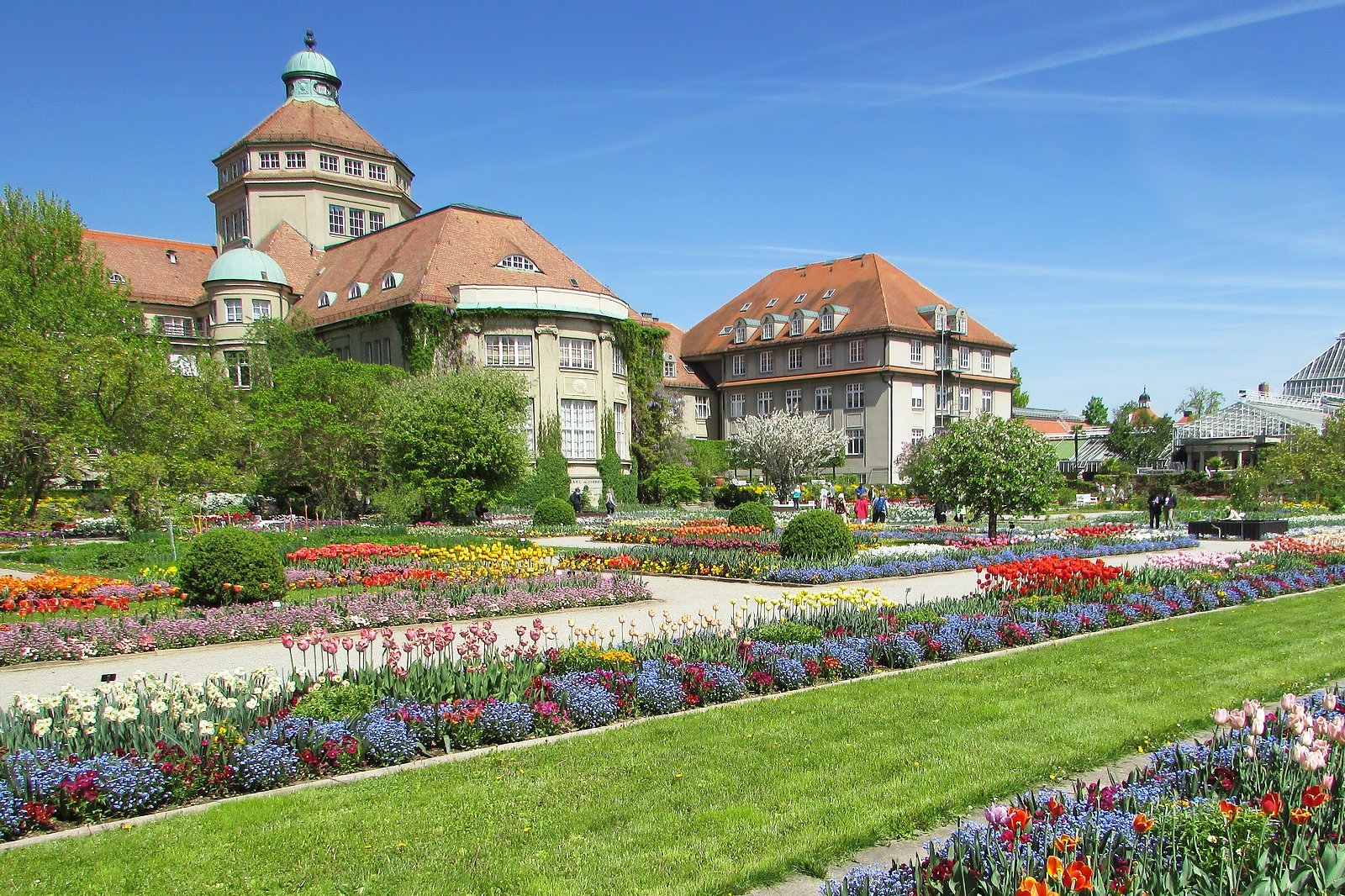 Munich Botanical Gardens
Enjoy cakes and coffee at the garden cafeteria
Munich's Botanical Gardens has over 14,000 plant species from all over the world. There's a glasshouse complex that spans 4,500 sq m, where you get to see more than 2,000 orchid species, palm trees, carnivorous plants, and cacti, as well as animals like iguanas, frogs, and koi fish. Stop by the garden cafeteria to enjoy light bites and coffee – the terrace offers views of lush gardens. Each month, guided tours in German take place every 2nd and 5th Sunday at 10am. Admission to the Botanical Gardens costs around €4.50 for adults and free for those below 18 years old.
Location: Menzinger Strasse 65, 80638 Munich, Germany
Open: May–August: Daily from 9am to 7pm. Hours vary by season
Phone: +49 (0)89 1786 1316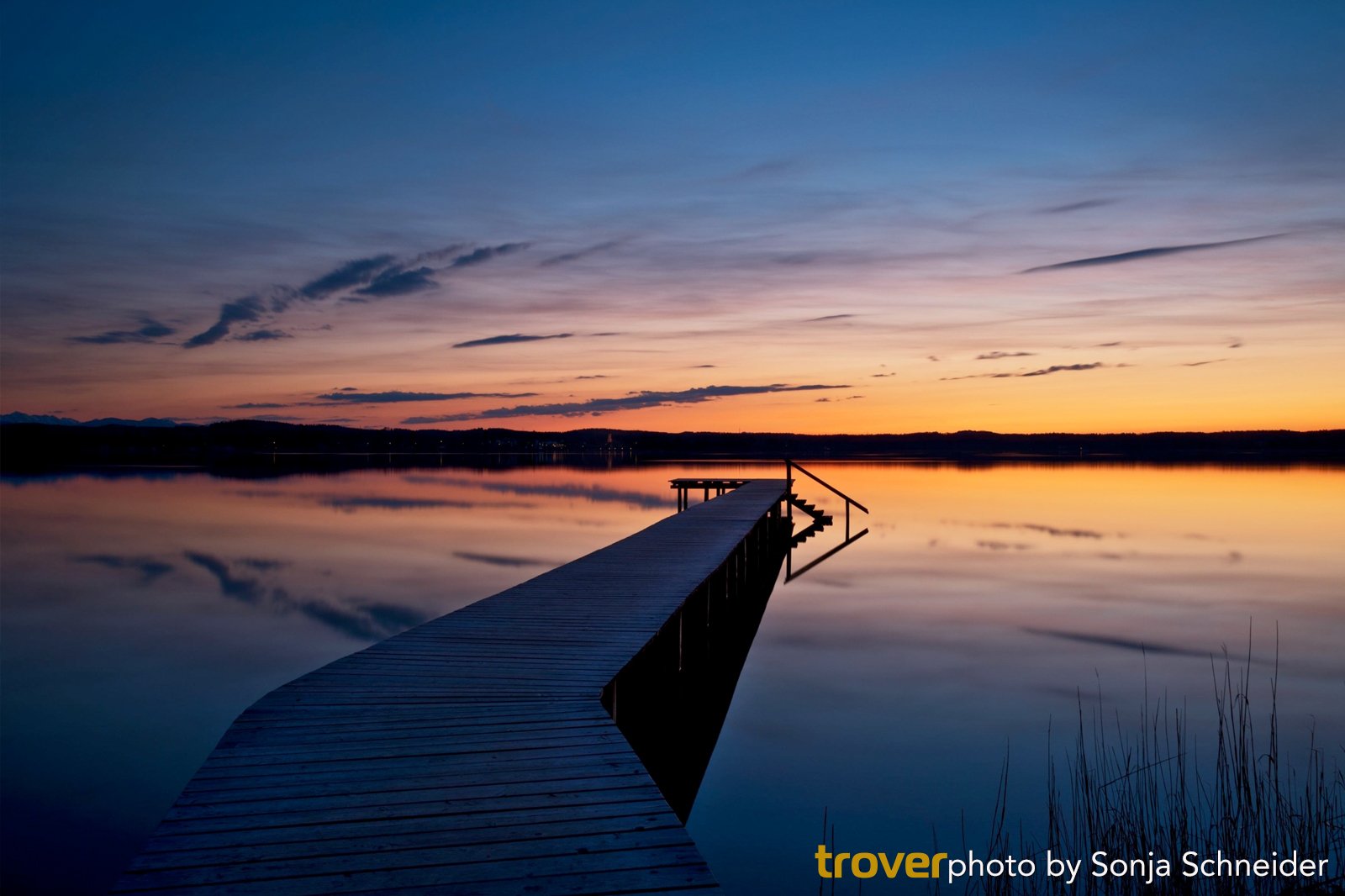 Daytrip to Lake Starnberg
Explore the freshwater lake on a pedal boat
Lake Starnberg, 35 km southwest of Munich, is one of the largest lakes in Germany. A trail circles this freshwater lake and spans over 46 km in length, which you can attempt to finish on bike or foot. If you're looking to explore Lake Starnberg in a more leisurely way, pedal boats are available for rent during the summer. Ferries can take you to Rose Island, where the royal villa of King Ludwig II of Bavaria is located.
Location: Lake Starnberg, Starnberger See, Germany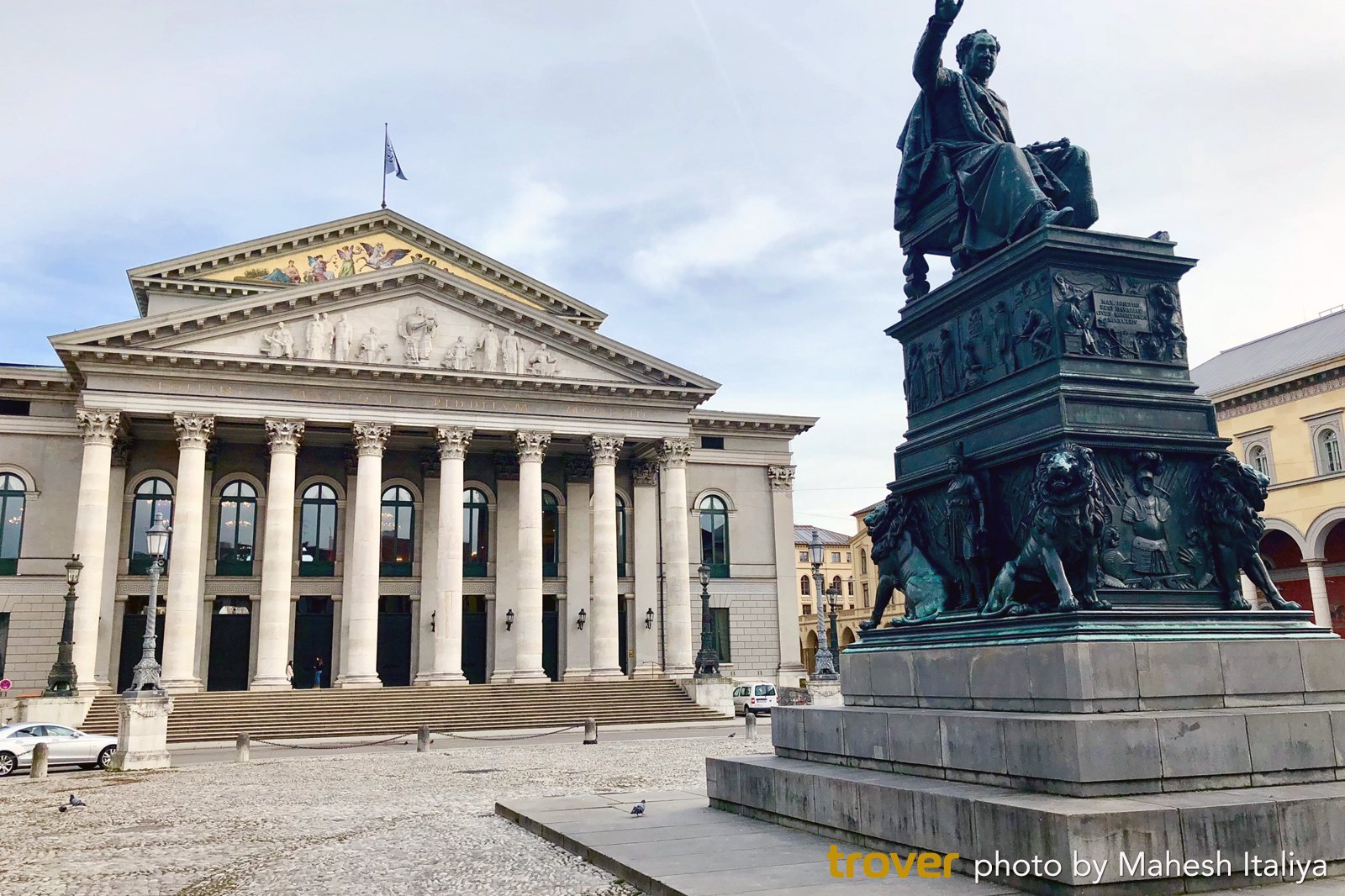 Nationaltheater Munich
Watch world-class opera at this live venue
Nationaltheater Munich is the principal venue for Germany's top classical troupes, including the Bavarian State Opera, Bavarian State Ballet, and Bavarian State Orchestra. This lavish concert hall hosts classical performances all year round, including theatre, dance, and orchestra. You can also explore the neoclassical building by joining a guided tour for about €10. Available in English, German, Italian, French, Hungarian, Japanese, Chinese, and Russian, a staff takes you to its lavish halls and the auditorium while sharing facts about the history and notable icons of Nationaltheater Munich.
Location: Max-Joseph-Platz 2, 80539 Munich, Germany
Open: Box office: Monday–Saturday from 10am to 7pm (most shows start at 7pm)
Phone: +49 (0)89 218 501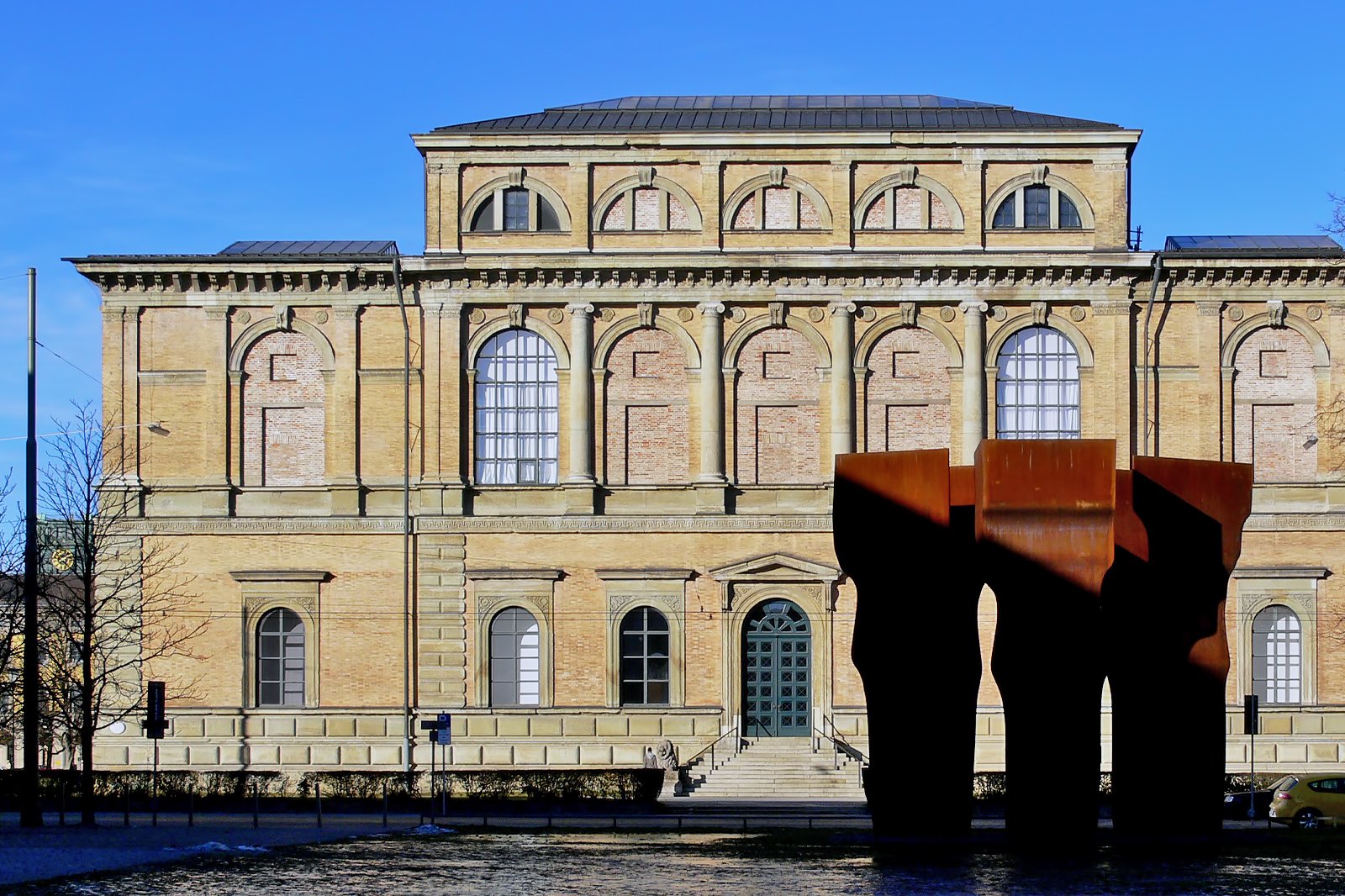 Alte Pinakothek Gallery
Check out Old Masters paintings at the permanent gallery
The Alte Pinakothek Gallery showcases over 700 artworks, including Old Masters paintings by the likes of Da Vinci, Titian, El Greco, Rubens, and Rembrandt. Founded in 1836 by King Ludwig I of Bavaria, it's one of the world's oldest art museums. Admission to Alte Pinakothek costs around €7 (€1 on Sundays) and free for people under the age of 18. If you want to learn about the paintings displayed in the gallery's permanent collection, audio guides are available in German, English, French, Italian, and Spanish.
Location: Barer Straße 27, Entrance Theresienstraße, 80333 Munich, Germany
Open: Tuesday from 10am to 8pm, Wednesday–Sunday from 10am to 6pm (closed on Mondays)
Phone: +49 (0)89 2380 5216
photo by Andreas Praefcke (CC BY 3.0) modified