Jersey Travel Essentials
Useful Information to Help You Start Your Trip to Jersey
Our Jersey Travel Essentials lays out the essential information you need to help you plan your trip to one of the most popular destinations in the British Isles. No matter how frequently you travel, some questions will always need answers: What's the weather like? How can I get from Jersey Airport to my hotel? What currency and type of plug do I need?
We have all these answers plus other basic info about the best time to go, getting there, getting around, and a few useful travel tips. You'll also learn about the most popular landmarks in Jersey such as St Brelade's Bay, Mont Orgueil Castle, and the Jersey War Tunnels and underground hospital. You'll also learn about the most popular towns and villages on Jersey Island, such as Saint Helier, St Aubin, St Brelade, and Gorey. It's all compiled in this Jersey Travel Essentials. After reading this short and easy-to-read guide, you will be a little more prepared to start your trip to Jersey.
1
What are the main towns and villages in Jersey?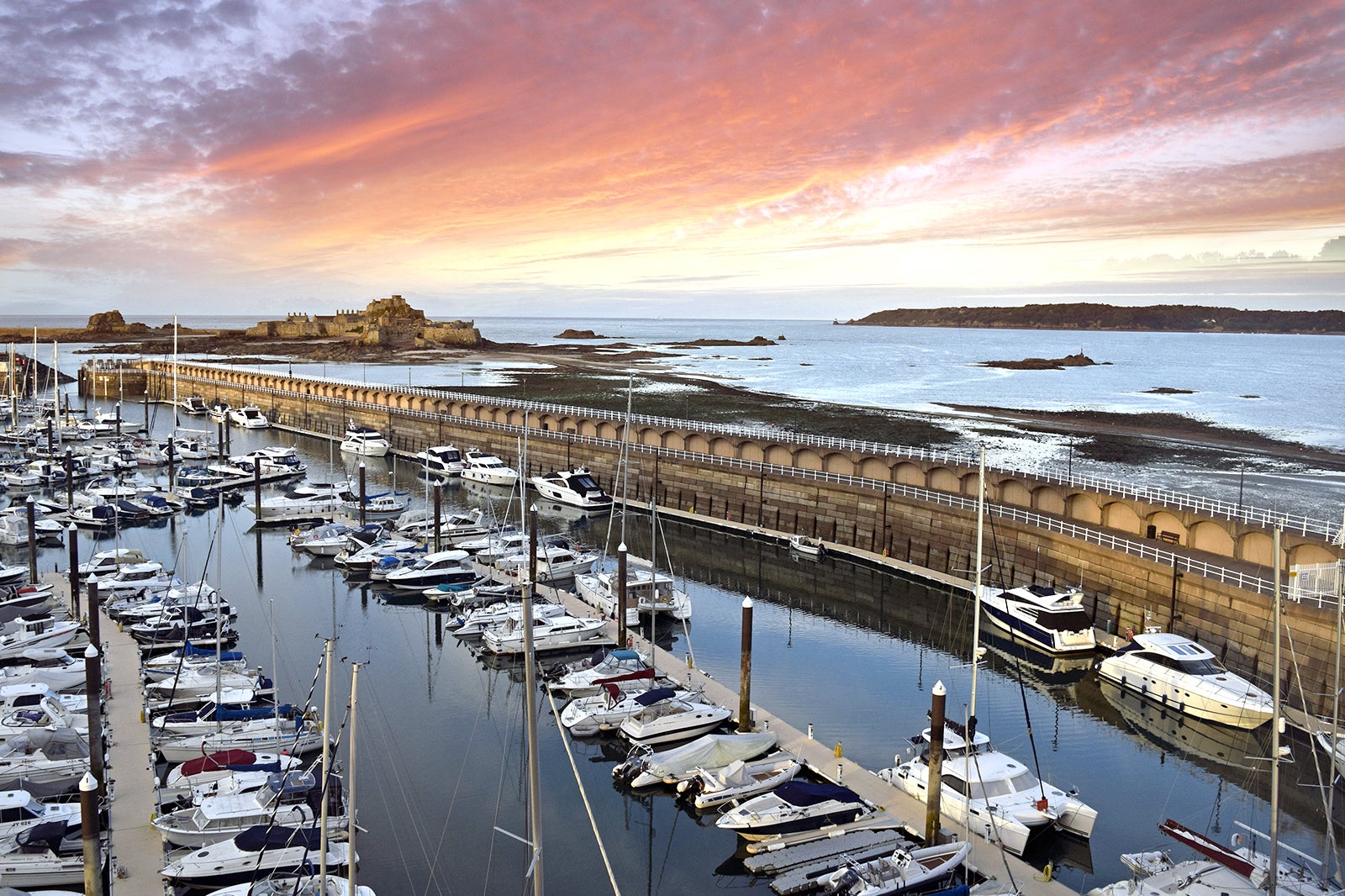 The largest of the Channel Islands, Jersey lies 14 miles from the coast of Normandy in France and over 80 miles south from the English coast. It's about 45 square miles wide and has a population of around 110,000. Originally famous for its woollen trade – from where the name 'jersey' for jumpers was taken – it's a popular holiday destination that retains a lot of its authenticity and vintage charm.
Saint Helier
The capital of Jersey is home to museums and attractions inspired by the local seafaring history. There's plenty of shopping and a variety of seafood dining options in the town centre.
St Aubin
Jersey's 2nd-biggest town faces Saint Helier from the west side of St Aubin's Bay. It's built around a charming harbour, with many of the old fishing cottages converted into trendy cafés and restaurants.
St Brelade
St Brelade on Jersey's south-west offers a nice balance of convenience and rugged nature. It's close to several outstanding small beaches and coves that regularly win awards.
Gorey
Gorey on the east coast of Jersey is home to fascinating historical sites such as Mont Orgueil Castle. It also pleases beachgoers with its long coastal stretch called Anne Port, north of the town.
2
When is the best time to travel to Jersey?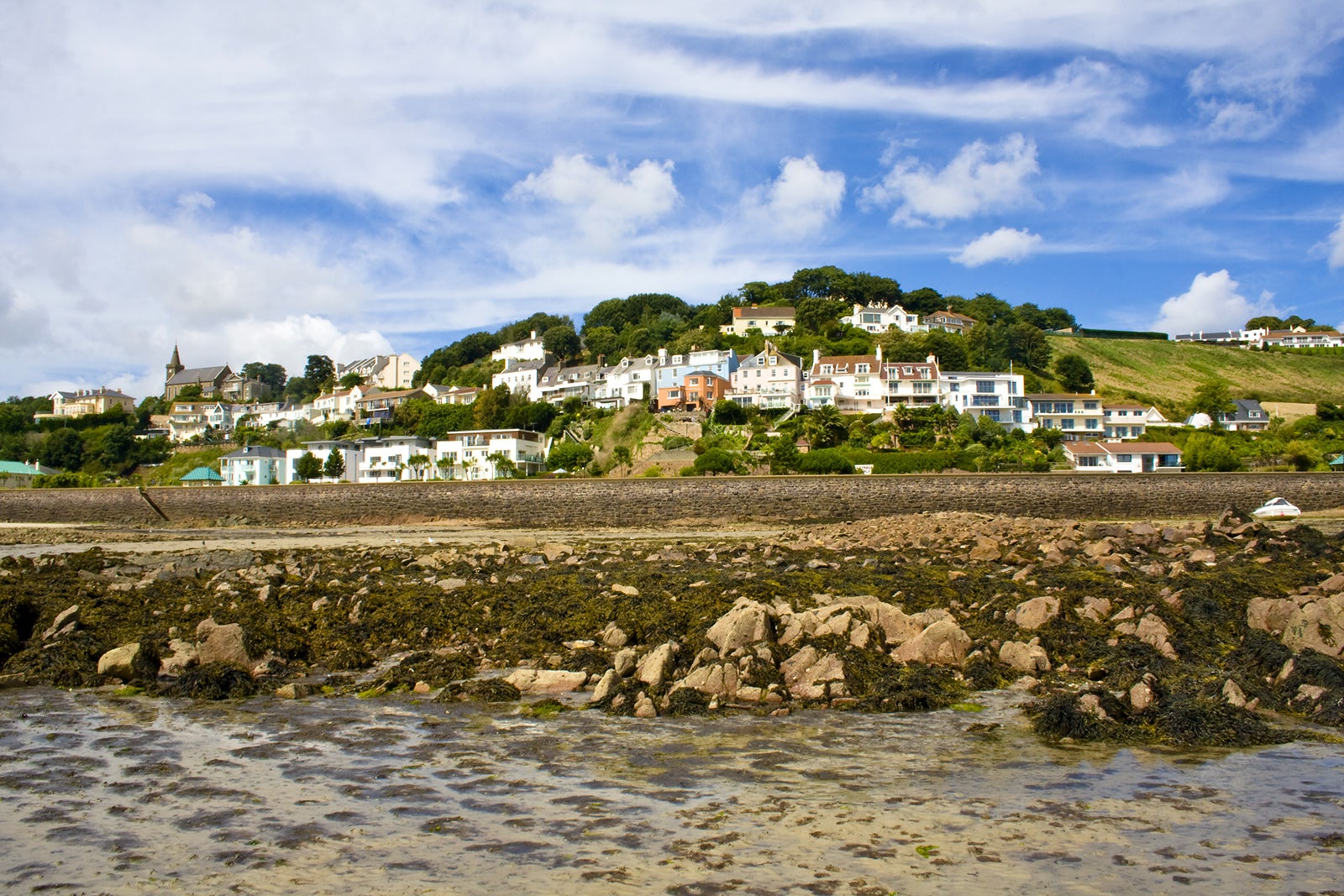 Jersey has an oceanic climate with mild weather due to the Atlantic Ocean currents that flow through the Channel Islands. Average temperatures range from 6°C in winter to 17°C in summer.
On average, it rains about 20 days per month from October to March and 13 days per month from April to September.
June–September is the warmest time of the year which is also usually the high season in Jersey. July–August is often the busiest period.
The best times to visit Jersey are in spring – from April to May – and Autumn – from late-September to October. This is when hotels are often cheaper than in the peak season, and these times offer pleasant, mild weather, and less-crowded sites.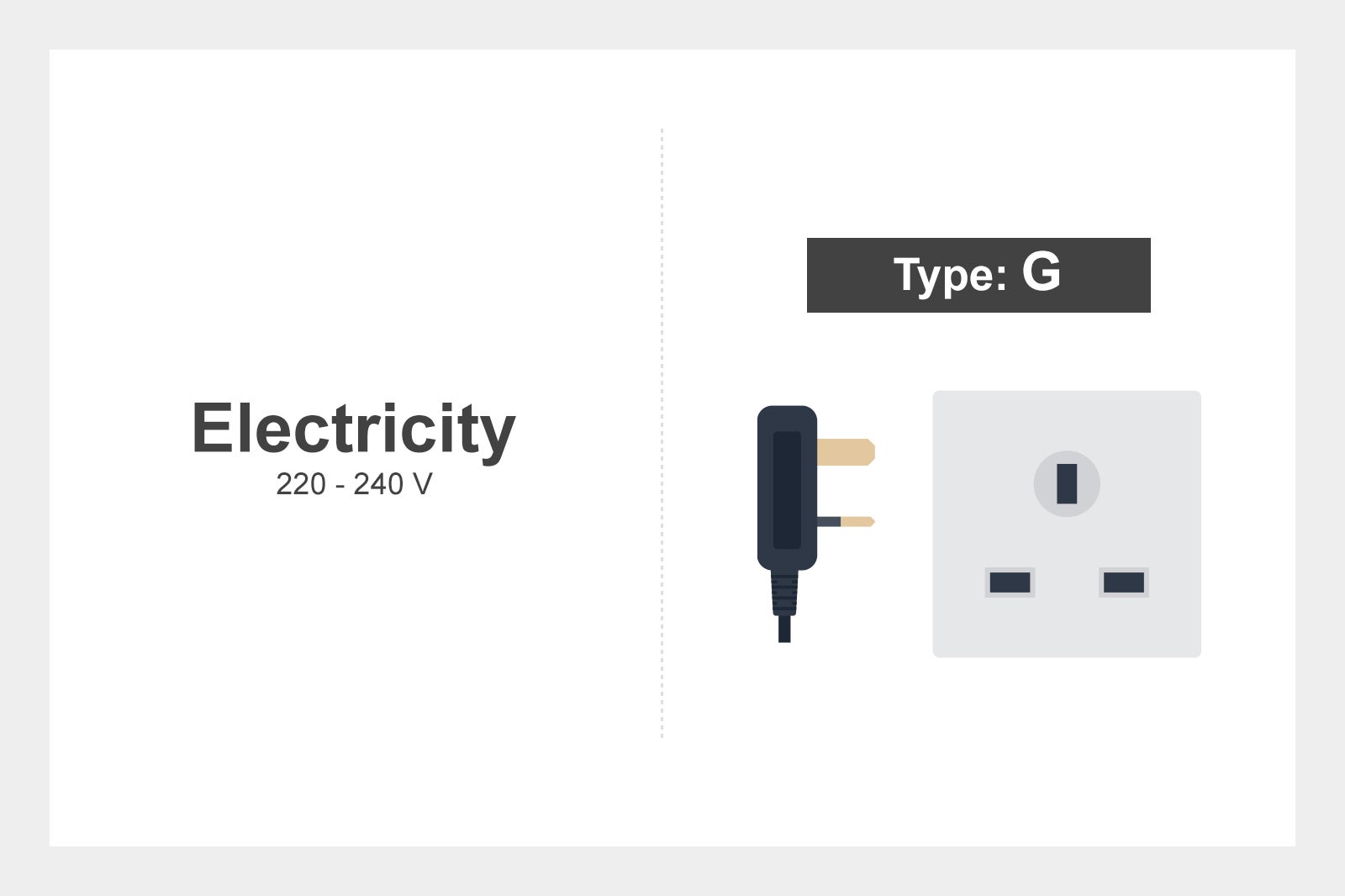 Plug type: G
Electricity: 220 - 240 V
Currency: Pound Sterling (£)
International dialling code: +44 (0)1534
Emergency telephone number: 999
4
How to get to my hotel in Jersey?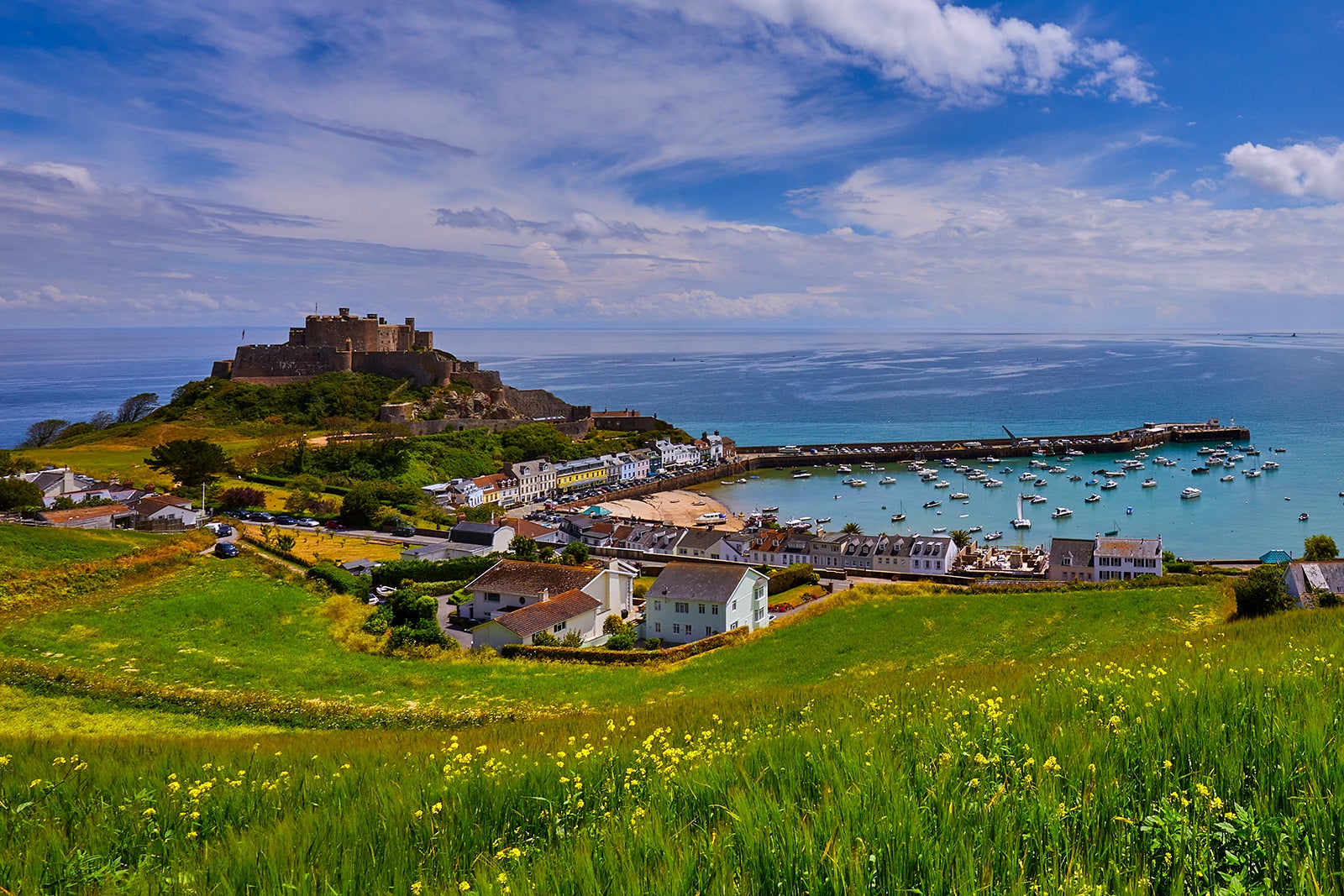 Flying is the easiest and fastest way to get to Jersey Island. Jersey Airport is only a 1-hour flight from London and you can fly to Jersey from all over the UK.
If you want to take a breath of fresh air and spend slightly less money, you can catch a fast ferry departing from Poole, on the southwest coast of England. The transfer takes about 4 hours.
As Jersey is closer to France than it is to England, you can also fly to one of the airports along the northwest coast of France – Rennes, Dinard, or Granville – then take a ferry to Jersey from St Malo, Granville, or Carteret. The crossing takes roughly 1 hour.
Jersey Airport (JER)
Jersey Airport (JER) is in Saint Peter, about 5 miles north-west of Jersey's capital, Saint Helier. It's mostly served by UK airports such as London Heathrow, Southampton, and Liverpool John Lennon Airport. Seasonal flights from/to Munich are also available.
You can enjoy free Wi-Fi throughout the airport. Below are the available ground transport options:
Public metered taxis can be found right in front of the Arrivals Terminal. The driving time to Saint Helier is usually less than 15 minutes.
The pre-booked taxi and limo designated pick-up area is to the rear of the arrival's car park.
Signature Coaches, Tantivy Blue Coach, and Waverley Coaches are the 3 private coach companies serving Jersey Airport. You can book your transfer upon arrival at the airport, or pre-book it in advance to get there.
You'll find a public bus stop immediately in front of the Arrivals Terminal. 3 routes serve Liberation Station in St Helier. The ride takes between 20 and 30 minutes.
Car rental agencies' desks are available at the airport's Departures' Terminal.
Getting to Jersey by ferry
Poole and Portsmouth are the 2 main departing ports for getting to Jersey by ferry. You have a choice between high-speed ferries which can cross the Channel in 4 hours and standard ferries which take about 10 hours to get to St Helier. Choose the standard ferries if you're taking your car.
Condor Ferries is the sole company serving the Jersey Islands by ferry from the UK. It operates daily transfers all year round. It's the most economical way to get to Jersey; the crossing by standard ferry is even cheaper than on a low-cost flight from London. You can't compare the travelling times, though.
5
How to get around Jersey?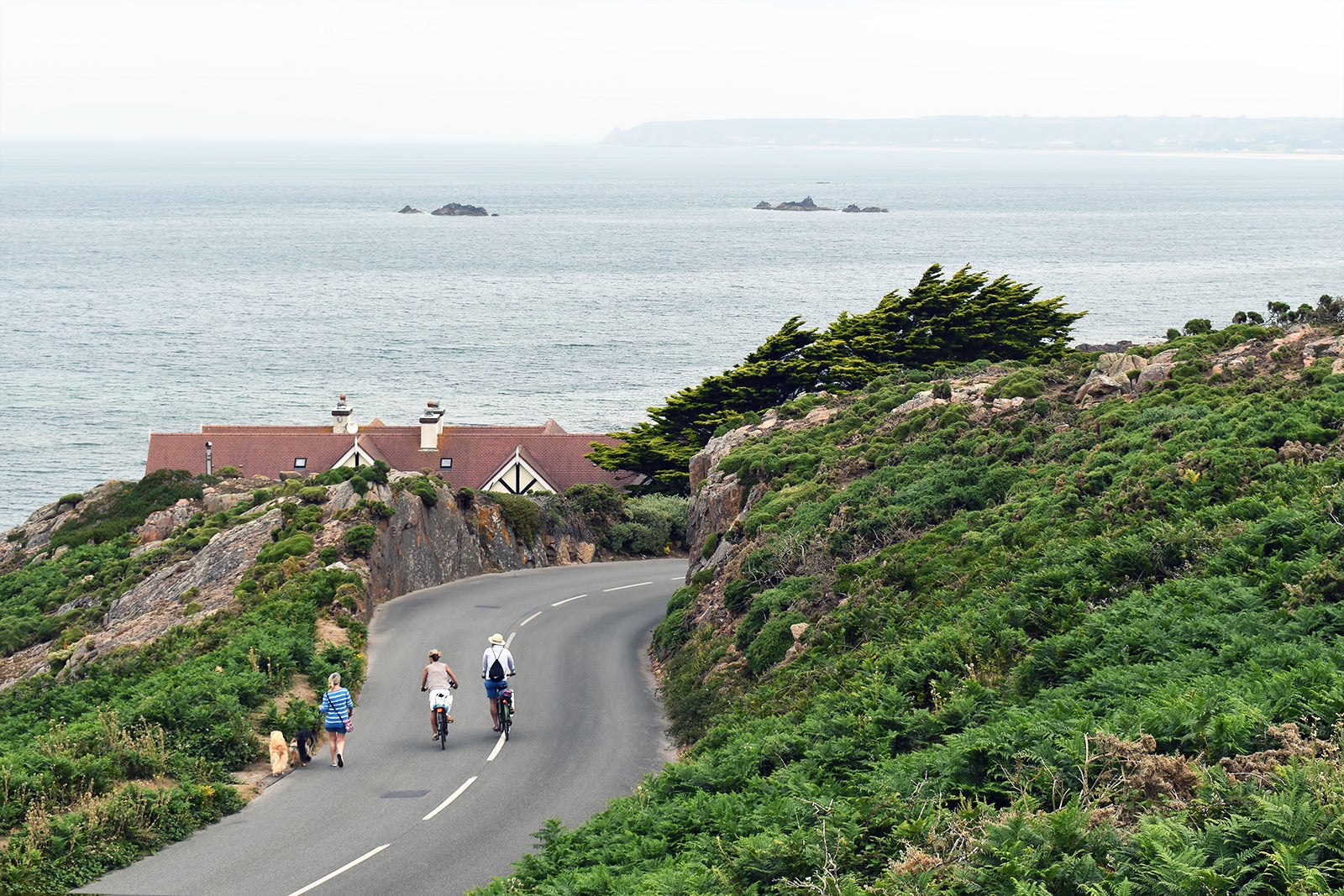 Travel tips
Jersey Island covers an area of about 45 square miles and you'll require a vehicle to be able to explore it entirely during your holiday. Walking is the most popular way for short distances, especially if you stay in St Helier. The city centre is only a half square mile wide.
Cycling is also a great way of discovering Jersey, especially in high season. Cycling lanes criss-cross the island and run along its coast. The tour around the island covers a distance of about 38 miles. A rental car, a tour coach, and public buses can come in handy for exploring Jersey depending on your budget and preference.
Travelling by bus in Jersey
Public buses provide you with a convenient and affordable way to travel around Jersey. LibertyBus operates a fleet of single- and double-decker buses that can take you almost anywhere on the island. All of them are fully accessible to wheelchair users.
Flat fare single and transfer tickets can be purchased in cash or contactless, directly on the bus. Multi-day passes are also available for visitors.
Private tour coaches are also available for day trips to specific attractions and destinations in Jersey. Check out the websites of the 3 main companies operating coach buses in Jersey: Signature Coaches, Tantivy Blue Coach, and Waverley Coaches.
Hiring a car in Jersey
Renting a car is a good option if you want to explore Jersey freely and at your own pace. Note that roads and country lanes are narrow and that the speed limit is 40 mph throughout the entire island.
Foreigners must hold the following documents for driving in Jersey: a certificate of insurance or an International Green Card, a valid driving license of their country (it can be used for up to 12 months in the UK), or an international driving license. You can find most car rental agencies at the airport and in St Helier.
Taking a taxi in Jersey
Yellow Cabs (+44 (0)1534 888888), Citicabs (+44 (0)1534 499999), and Liberty Cabs (+44 (0)1534 767700) are only 3 of the companies running taxi services in Jersey. You can find taxi ranks at the airport and the main harbour in St Helier. It's not the cheapest way of getting around, yet it can be convenient if you plan a late-night stay far from your hotel.
Cycling in Jersey
In summer, hiring a bicycle is a pleasant way to explore Jersey. Many cycling routes are available. You can find a downloadable cycling routes guide with a map on the Visit Jersey official website.
As for renting a bike, check out companies such as Aarons Bikes in St Helier (+44 1534 280989), Big Maggy's Coffee & Bike Store, also in St Helier (+44 1534 729900), and Jersey Bike Hire in St Aubin (+44 1534 746780), just to name a few.
6
What are the main annual events in Jersey?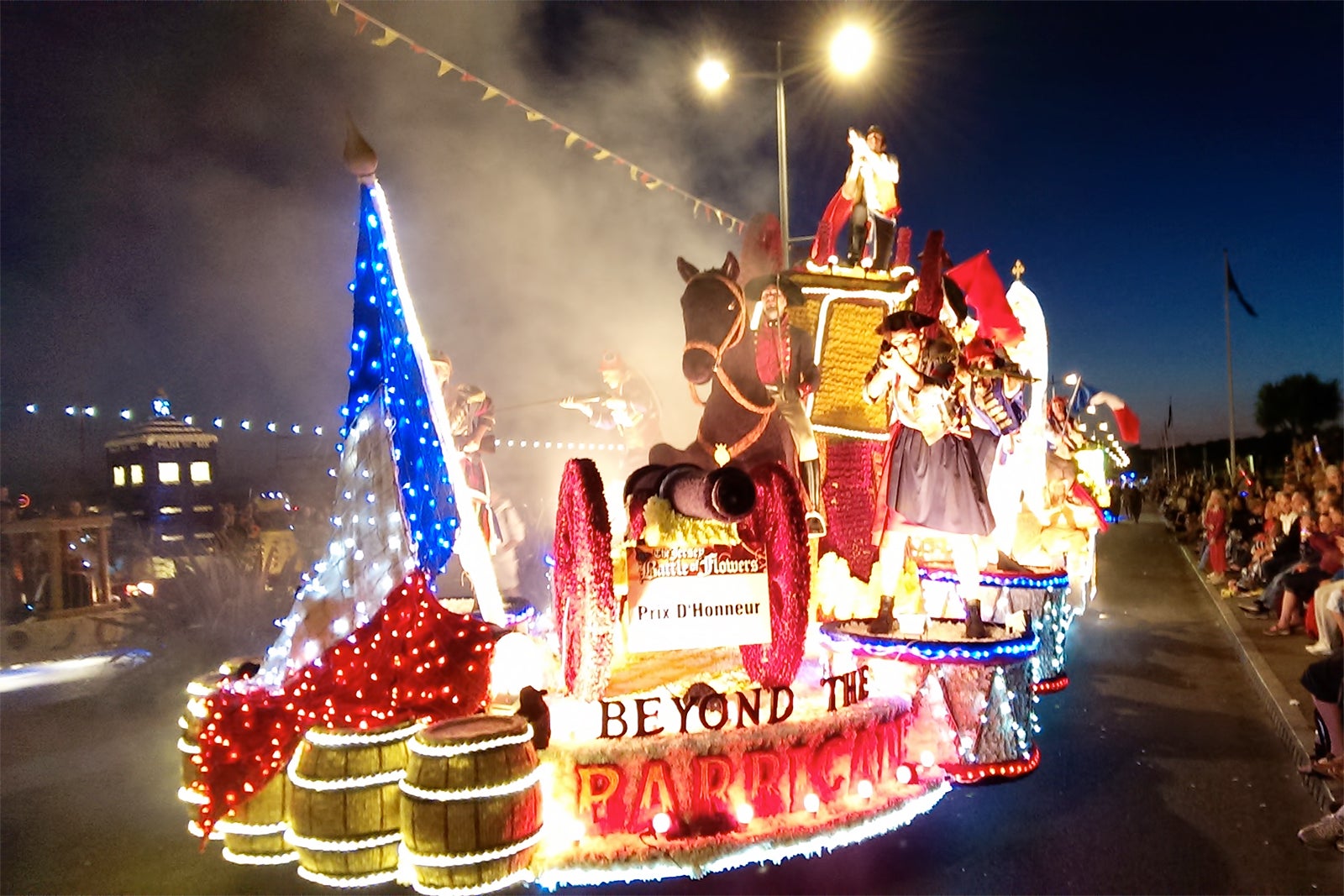 Jersey Boat Show
May
One of the largest free events in the Channel Islands held since 2008. Besides boat exhibits and on-water shows, you'll find food and drink stalls together with live entertainment.
Where: St Helier Harbour
Jersey Battle of Flowers
August
This 2-day event is one of the oldest festivals on the island. Expect funfairs, dance and music, a parade of flower floats throughout St Helier, and a climactic firework show.
Where: St Helier
Jersey International Air Display
September
St Aubin's Bay and Jersey Airport host aerobatic demonstrations at this annual event, drawing a fair number of visitors each year.
Where: St Aubin's Bay and Jersey Airport
photo by Alex Walters (CC BY-SA 3.0) modified
7
What are the main landmarks in Jersey?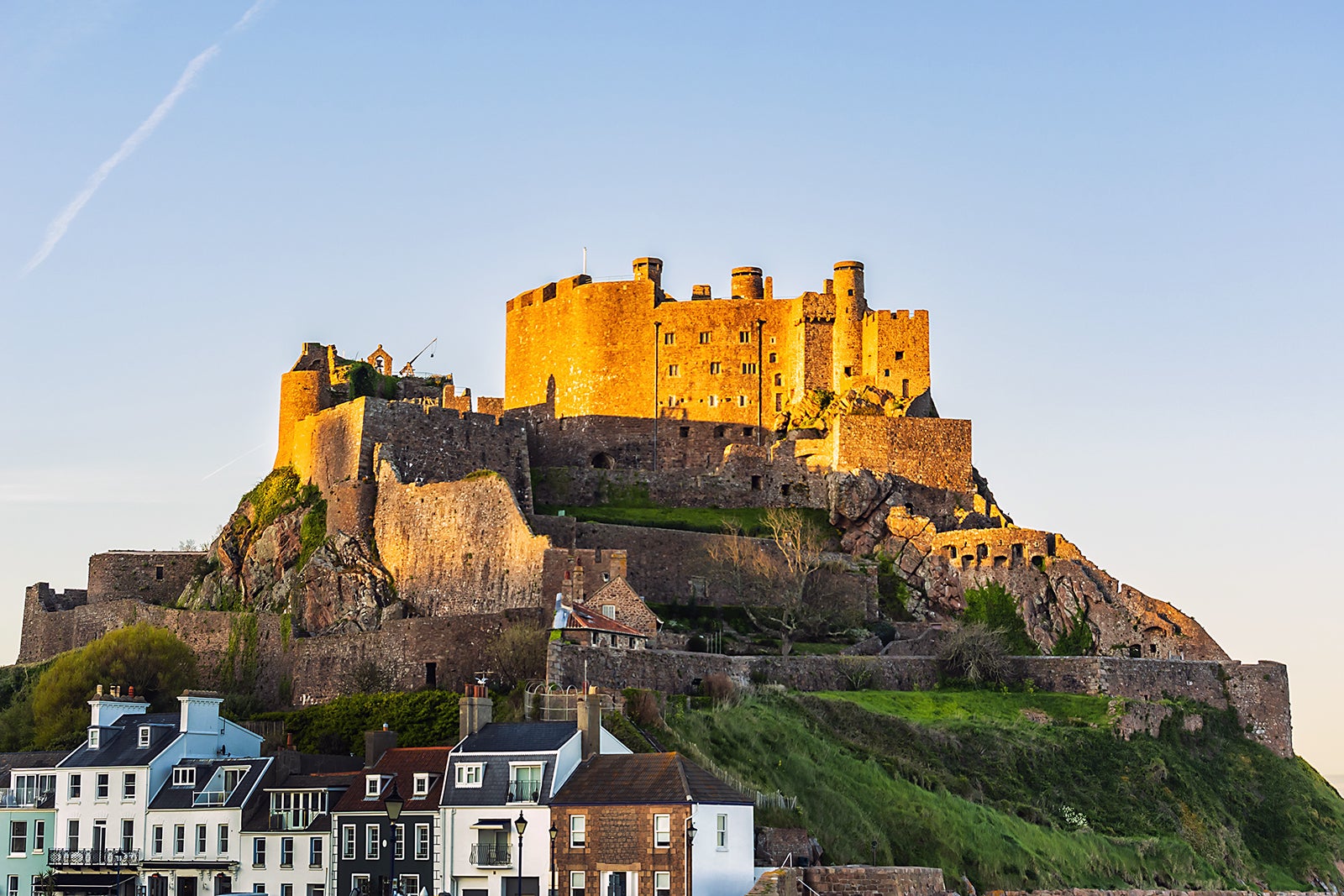 Mont Orgueil Castle
This medieval landmark overlooking Gorey Harbour on the east coast of Jersey was built in the 13th century but improved over the centuries. The views from the ramparts are especially impressive.
Jersey War Tunnels
Explore the military tunnels and underground hospital at these war tunnels. They were built by invading Nazis during WWII. Families can enjoy testing their wits in a war-themed escape room.
Hamptonne Country Life Museum
A preserved 15th-century farm where you can learn how rural life was in Jersey over the centuries. It has many hands-on exhibits that show what it was like to live here.
Seymour Tower
This 18th-century tower is one of many unusual sights you'll find on walks along Jersey's coast. It was originally built as a coastal defence tower but is now a quirky guesthouse.
Back to top