Oxford Travel Essentials
Useful Information to Help You Start Your Trip to Oxford
Our Oxford Travel Essentials lays out the essential information you need to help you plan your trip to one of the most popular destinations in the UK. No matter how often you travel, some questions will always need answers: What's the weather like? How can I get from Oxford Airport (OXF) to my hotel? What currency and type of plug do I need?
We have all these answers plus other basic info about the best time to go, getting there, getting around, and a few useful travel tips. You'll also learn about the most popular landmarks in Oxford such as Oxford Castle & Prison, the Bodleian Library, and the University of Oxford. It's all compiled in this Oxford Travel Essentials. After going through this short and easy-to-read guide, you'll be a little more prepared to start your trip to Oxford.
1
When is the best time to travel to Oxford?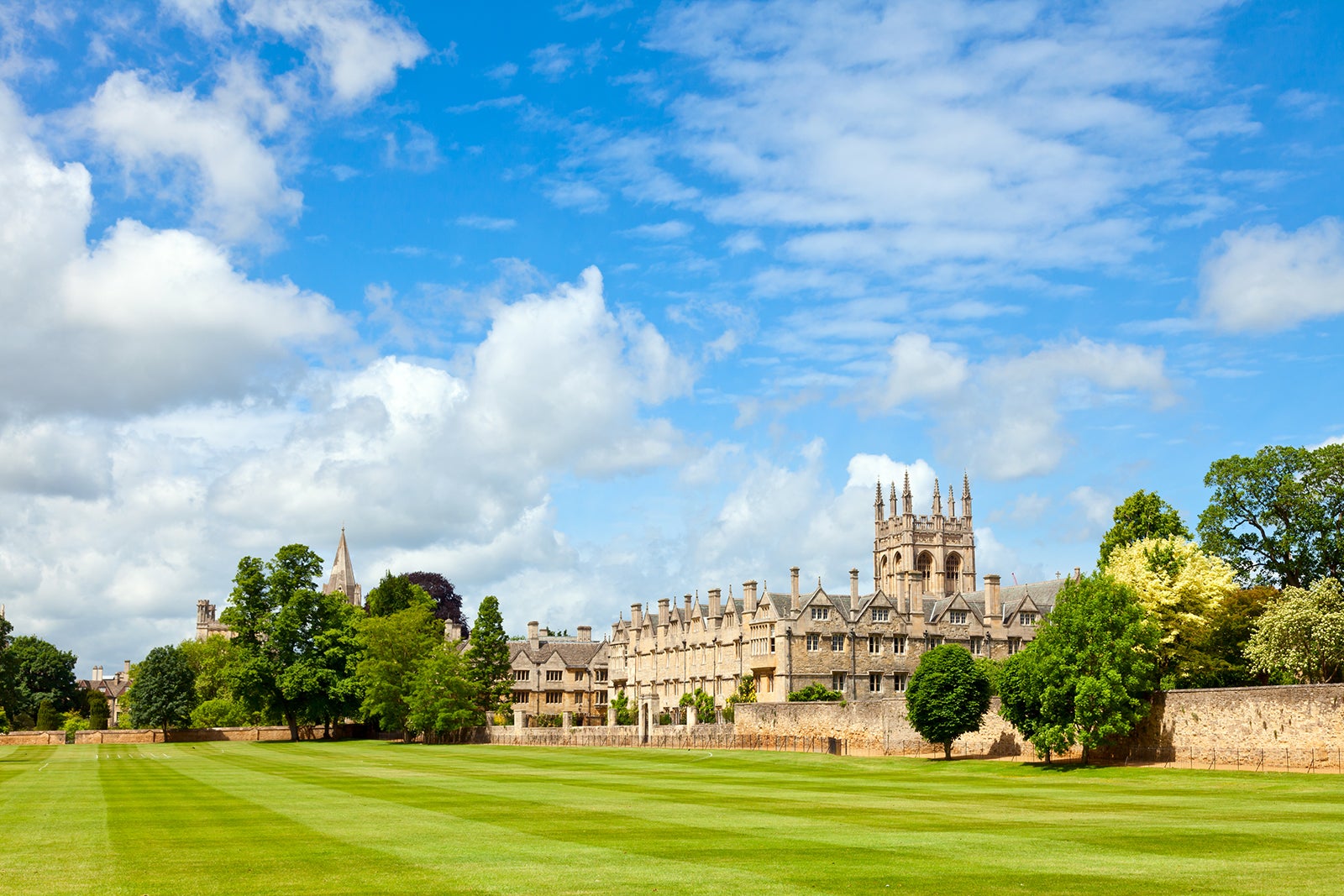 Oxford's maritime climate brings both snow and rain in winter with an average temperature of 5°C and clouds with occasional rain in summer with an average temperature of 14°C.
You can expect rainfall throughout the year in Oxford with the highest chances of rain in January, October, November, and December. November is the wettest month in Oxford.
The summer months, from June to August, are the warmest in Oxford. The usual peak season is April–August after exams and when festivities start.
Oxford offers a different kind of charm in every season. Some prefer visiting in springtime, from mid-March to mid-June when the city and its parks are in bloom. Summer festivities follow, best for sightseeing and river tours.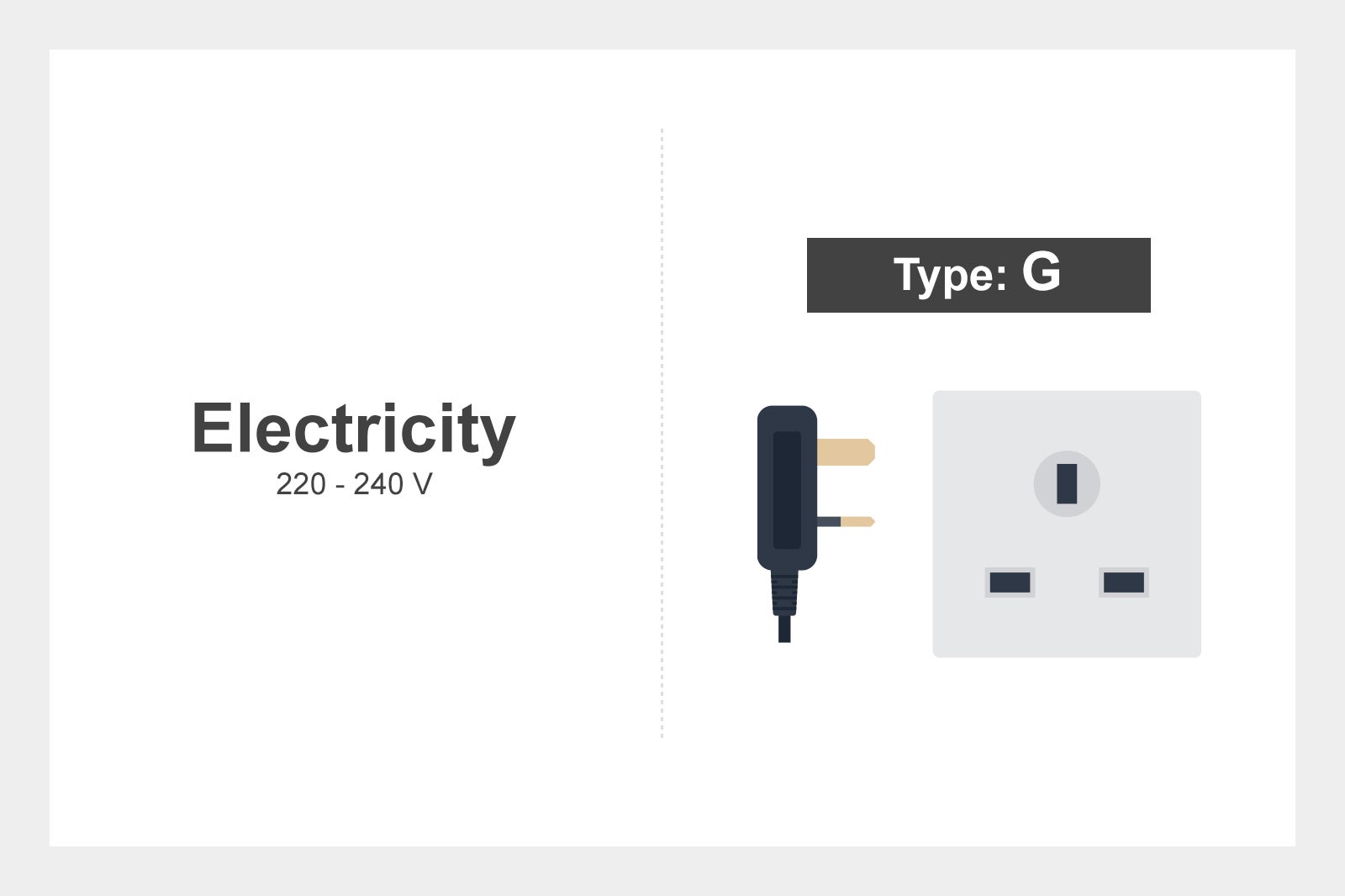 Plug type: G
Electricity: 220 - 240 V
Currency: Pound Sterling (£)
International dialling code: +44 (0)1865
Emergency telephone number: 999
3
How to get to my hotel in Oxford?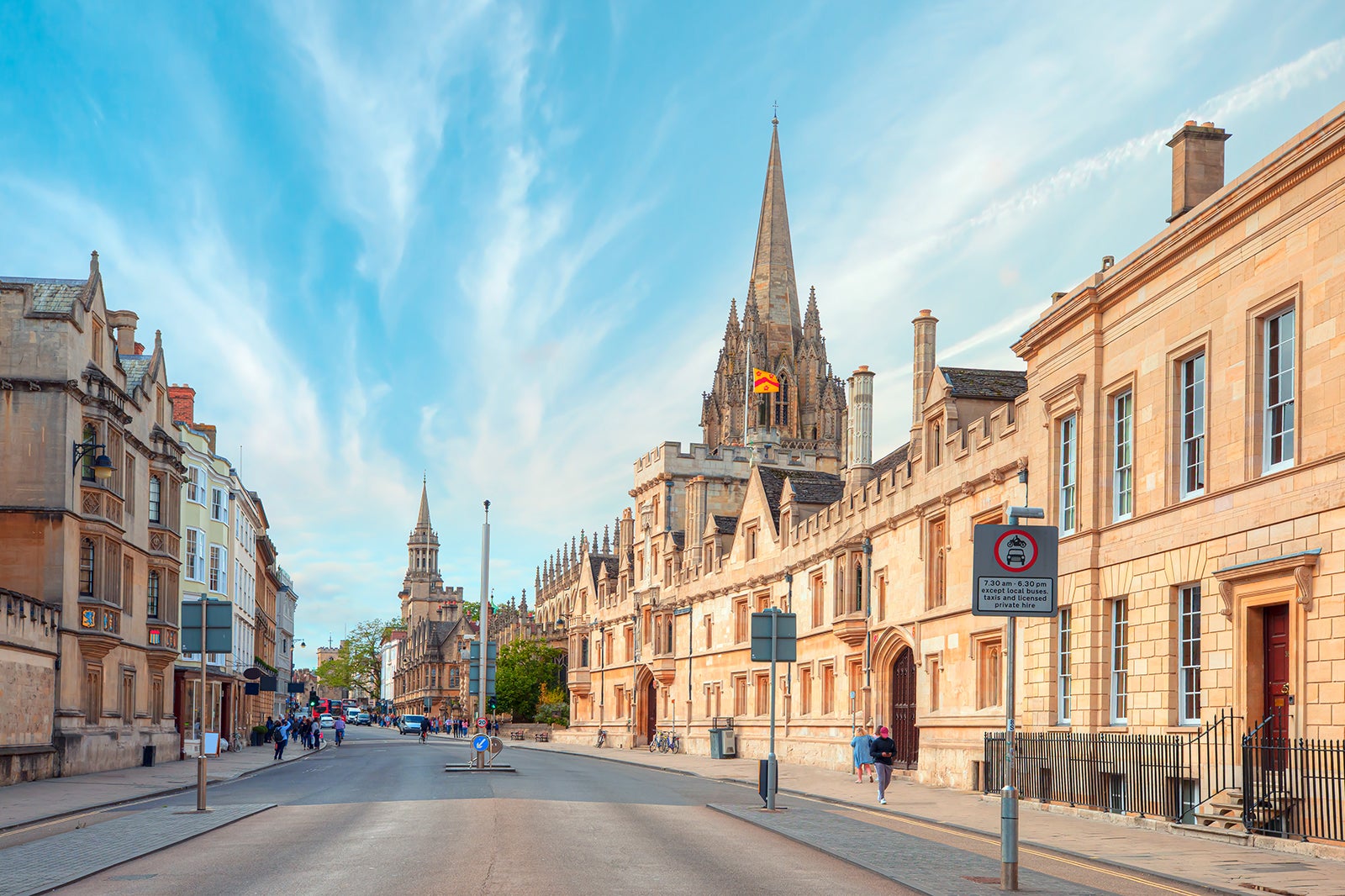 Though London Oxford Airport (OXF), 6 miles north, is the closest airport to Oxford, it serves mostly private and charter flights. Flying internationally, you'll likely land at Heathrow (LHR), west of London, or Gatwick Airport (LGW), from where you can take either The Airline coach to Oxford.
If you're already in the UK, Oxford is only around a 90-minute drive from London via the M40. By train, Oxford railway station is served by Great Western Railway trains from London Paddington that take you to Oxford within 1 hour. The Gloucester Green bus station in central Oxford is well served by buses from all over England.
Heathrow, Gatwick, Stansted, and Oxford airports
There are no direct rail services from London Heathrow Airport to Oxford. You can ride the Heathrow Express airport rail link to London Paddington first, then ride a train to Oxford station. You can also hop on the National Express 757 coach from Heathrow to Oxford which takes around 1 hour and 40 minutes.
Also, from Heathrow, you can catch The Airline coach buses run by the Oxford Bus Company, which can take you to the city centre in under 90 minutes. You can find the same coach service to take you to Oxford if you land at London Gatwick airport.
Landing at London Stansted Airport (STN), you can take the direct Stansted Express train to Tottenham Hale station, ride the London Underground to Oxford Circus, then head for Paddington Station. From there, you can catch a train to Oxford. The whole journey can take between 2 to 3 hours.
From the privately-owned London Oxford Airport in Kidlington, many bus services can take you to Oxford from the stops at the entrance and beside the airport. These include the Oxford Bus Company's Route 500 and Stagecoach's Route 2 and Route 7.
Oxford station
Oxford railway station lies about half a mile west of Oxford central and is served by trains run by Great Western Railway (GWR) as well as Chiltern Railways. Train rides between Oxford and London take about an hour.
GWR departs every half hour to London Paddington station, while Chiltern runs between Oxford station and London Marylebone underground station.
4
How to get around Oxford?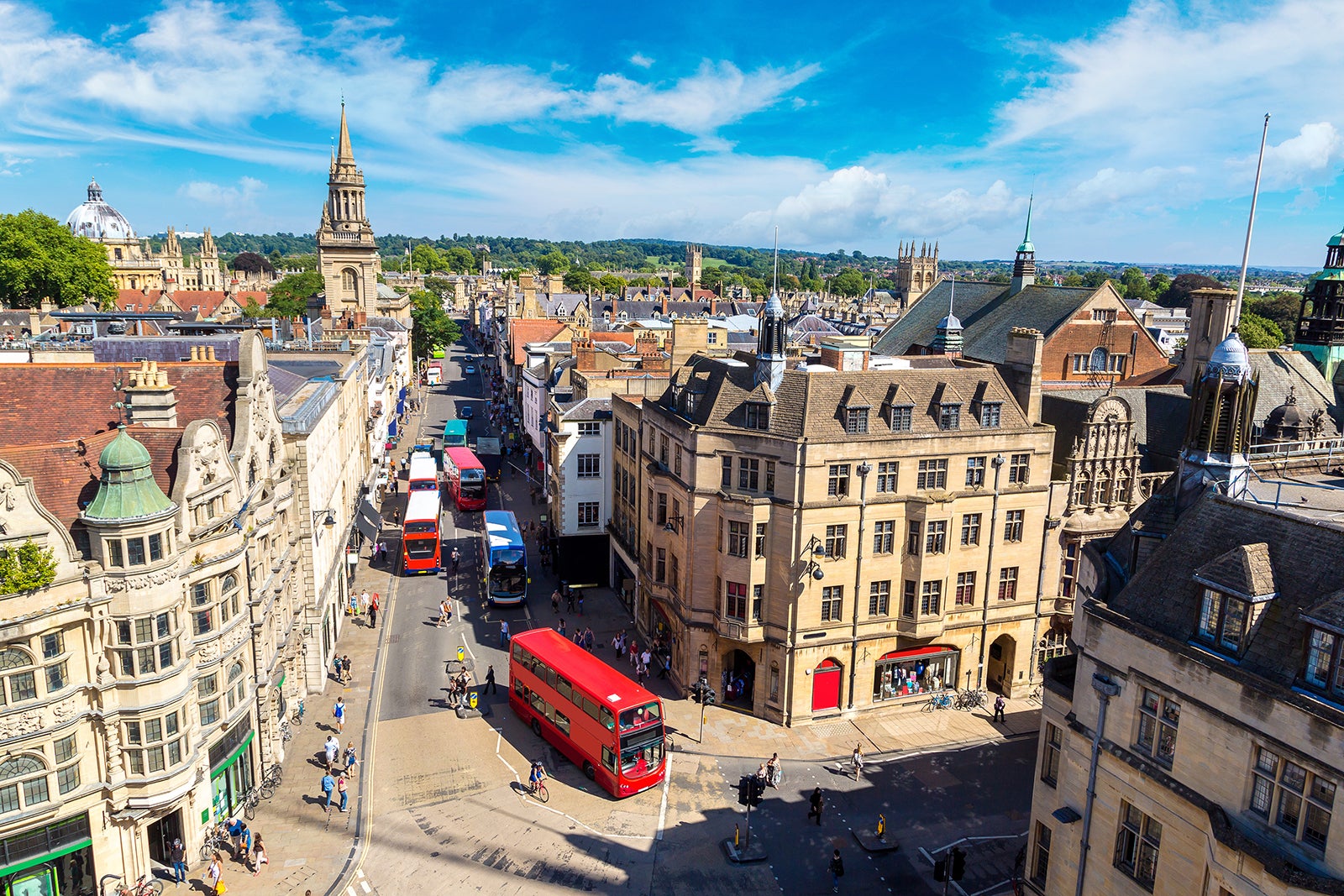 Travel tips
Oxford is a compact city measuring only 17.6 square miles, meaning it's easily navigable on foot. Walking along the city's narrow and pedestrianised streets among magnificent English Gothic landmarks is a uniquely Oxford experience.
We don't recommend driving in Oxford due to the heavy and often confusing traffic, the slim roads, and the hefty parking fees.
You can also effortlessly explore the city by bike and join the Oxford University pedalling crowd. There's always a place to park your bike. If you still prefer walking, don't let the narrow streets void of the sound of motorised vehicles let your guard down, and pay attention to cruising cyclists.
If you're done in the city centre and wish to explore farther, other modes of transport in Oxford range from buses run by the Oxford Bus Company and Stagecoach, as well as the iconic black cabs.
Taking a taxi
You can easily hail a black cab on a street in Oxford and there are various taxi stands spread throughout the city centre. Taxis can be costly, but given the compact size of the city, they're convenient for short rides when you've had enough walking.
You can't order an Uber in Oxford, though the main taxi services such as 001 Taxis Oxford (+44 (0)1865 240000) and Royal Cars (+44 (0)1865 777333) have apps you can use to book from your smartphone.
Travelling by bus
For longer stays in Oxford and when you need to explore beyond the city centre, you can consider getting the Oxford Bus Company's smartcard, simply referred to as 'The Key'. You can top up the value of the card at their Travel Shop at Gloucester Green and on High Street, or online via the Oxford Bus Company's website.
The smartcard is available in a variety of types, depending on your needs. The most affordable cityzone card entitles you to travel by bus around Oxford, while the cityzone extra cards let you ride to destinations throughout Oxfordshire.
Cycling around Oxford
Indeed, cycling is the most favoured way of getting around Oxford, as you'll see from most university students and residents commuting daily on 2 wheels. You can pedal throughout the city centre with ease along dedicated lanes. There's a bike parking spot about anywhere you go within the city.
Among the notable bicycle rentals in Oxford are Donkey Republic (+44 (0)8081 785657) which is open 24 hours, 7 days a week, and Bainton Bikes (+44 (0)1865 311610).
'Dock-less' bikes and bike-sharing schemes in Oxford had been frowned upon by locals in the past. Several firms withdrew their operations in the city and now you can hardly find them anymore.
Punting in Oxford
Punting is a popular summertime activity of you want a different view of Oxford from along the River Thames. You can hire wooden boats and push along using a long pole by yourself, or you can hire a punter so you can simply sit back and enjoy the gentle cruise.
You can check out Oxford Punting at Magdalen Bridge Boathouse (+44 (0)1865 202643), Cherwell Boathouse Punts (+44 (0)1865 515978), or Oxford River Cruises (+44 (0)1865 292025) for information on tours and rentals.
5
What are the main annual events in Oxford?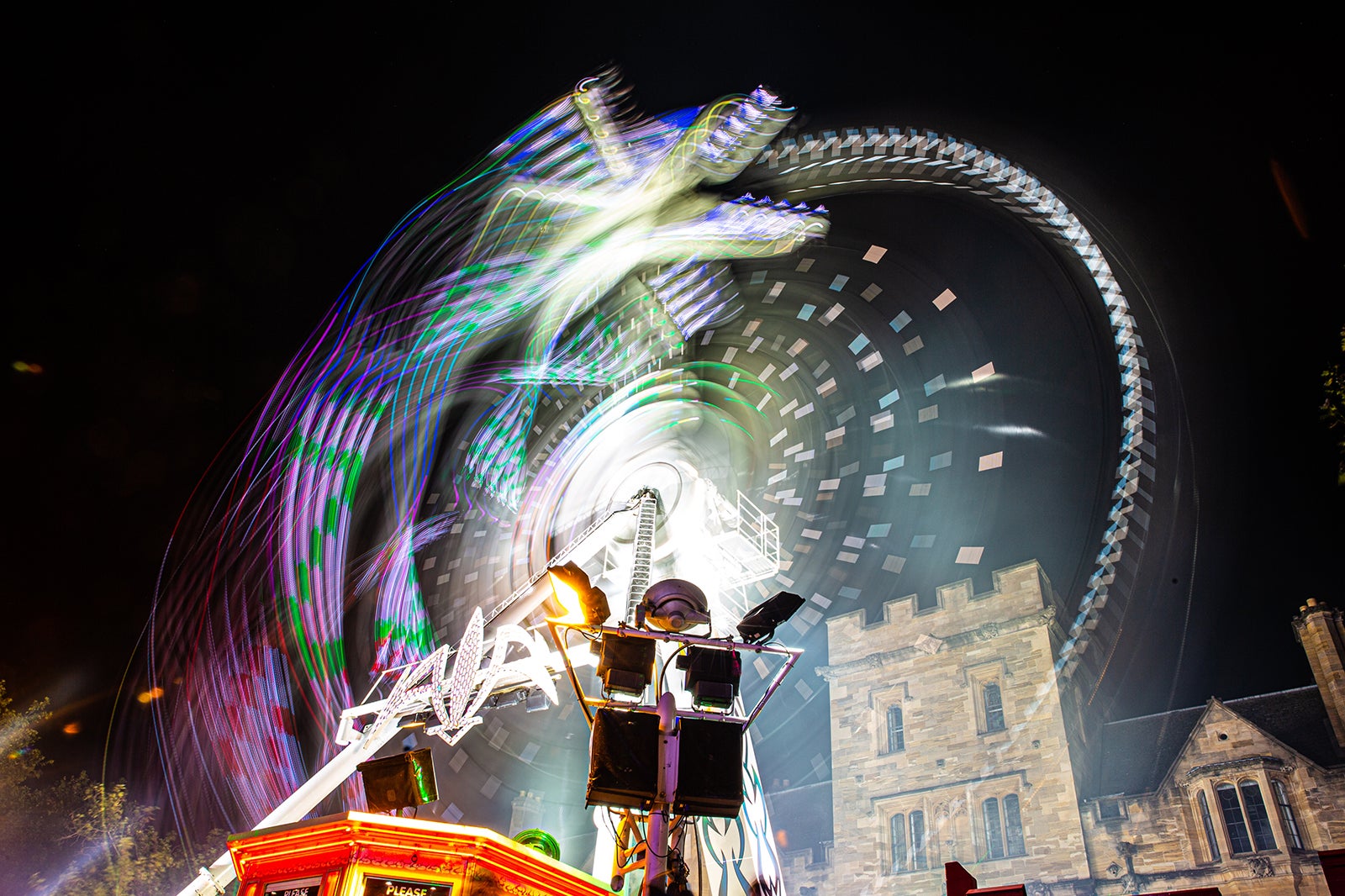 May Morning
May
A centuries-old annual May Day event that starts early morning with the Magdalen College Choir singing the Hymnus Eucharisticus from atop Magdalen Tower in Oxford.
Where: Magdalen Tower, Oxford
Cowley Road Carnival
July
A unique and free annual Oxford event organised by the charity Cowley Road Works, which features dance, music, activities, and street food from around the world.
Where: Cowley Road, Oxford
St Giles' Fair
September
An annual fair held in the wide thoroughfare of the same name in central north Oxford, whose origins harking back to medieval times.
Where: St Giles', Oxford
6
What are the main landmarks in Oxford?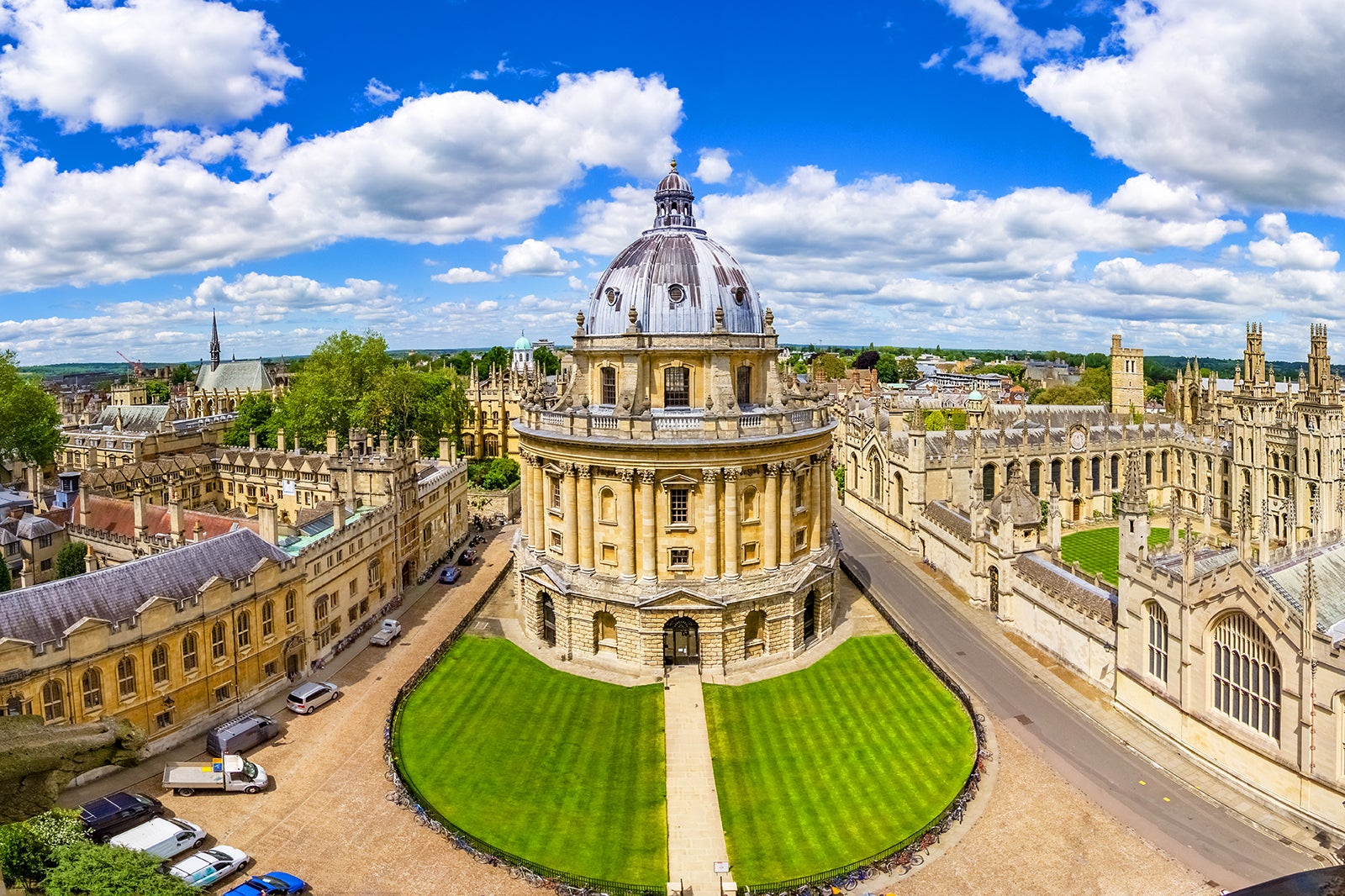 Oxford Castle & Prison
A major historical landmark whose parts are still in use today and with others ruined during the English Civil War. You can climb up St George's Tower for excellent cityscapes.
Bodleian Library
The University of Oxford's main research library is also among the oldest in Europe. It's housed in a remarkable group of buildings highly regarded for their English Gothic architecture.
University of Oxford
One of the world's oldest universities and the dominant landmark of Oxford. The magnificent architecture of its grand old buildings gives the city its nickname, the 'City of Dreaming Spires'.
Christ Church Cathedral
A stunning 16th-century landmark in Oxford with magnificent architectural highlights. Some features stood in as Hogwarts in 2 of the famous Harry Potter film adaptations.
Back to top