10 Best Things to Do in Edmonton
What is Edmonton Most Famous For?
Edmonton, the capital of Alberta, is big on Canadian history. The city traces its roots back to the North American fur trade and the early days of the Canadian Pacific Railway. You can enjoy a hands-on experience with the city's colourful past at the unique living history museum of Fort Edmonton Park or by taking a walk around some of the older districts.
For Edmonton's more contemporary highlights, you don't need to look further than downtown and around the southern bank of the North Saskatchewan River. Great things to do in Edmonton in a day include watching a Canadian Football League match or exploring the largest mall in all of North America. Here's a rundown of some of the must-dos in the city.
What are the best things to do in Richmond BC?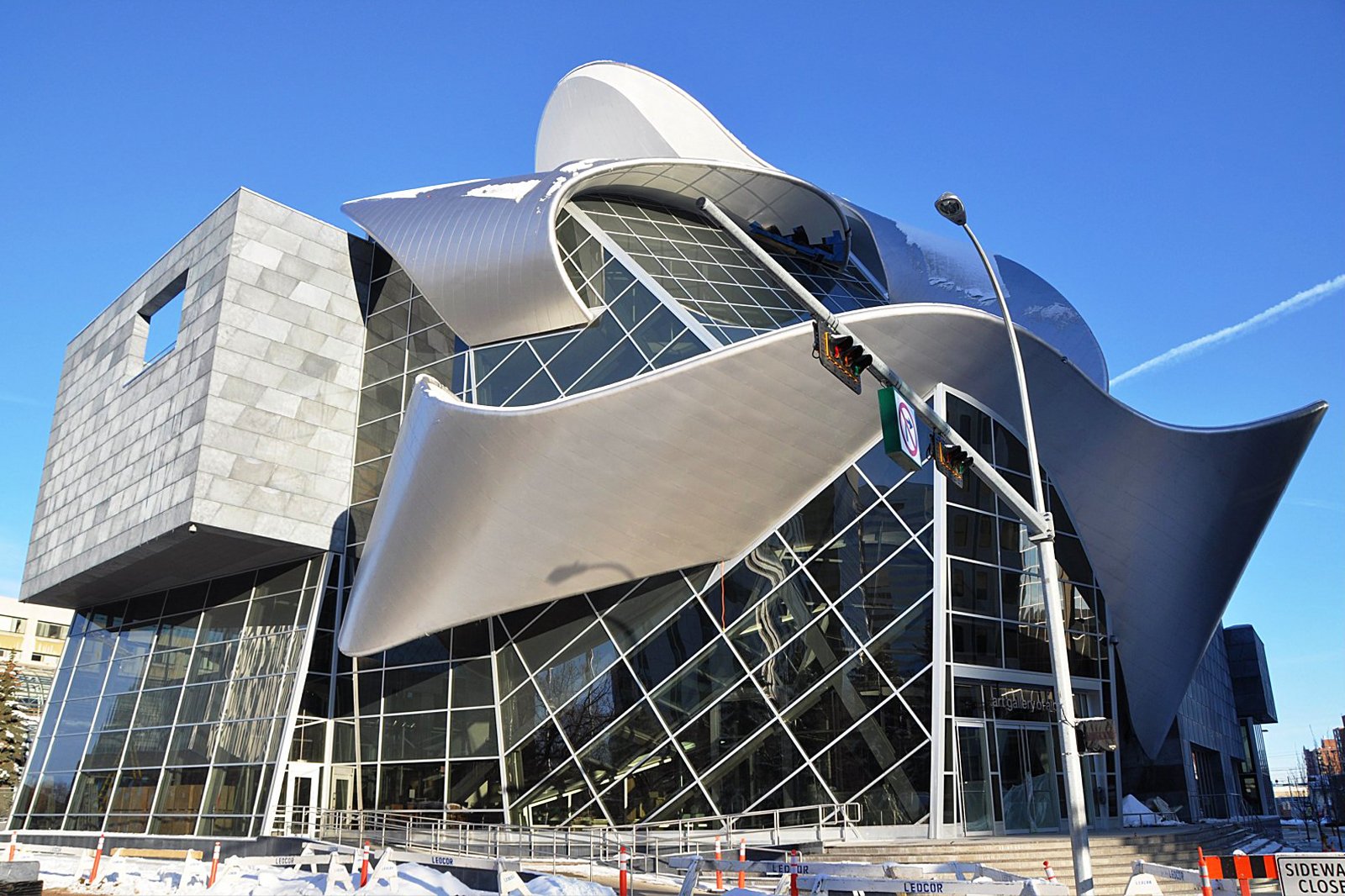 Start the day at Churchill Square
The main city square of Edmonton
You can enjoy leisurely walks through Edmonton's main city square, named in honour of the famous British Prime Minister. Sir Winston Churchill Square usually plays host to the city's big, multiday festivals, including the Edmonton International Street Performers Festival that takes place around July. On any other day, it's a great starting point for downtown sightseeing, with memorials, statues and clocks to see, and with significant buildings such as the Edmonton City Hall and Art Gallery of Alberta nearby.
Location: 100 St NW, Edmonton, AB T5J 2E5, Canada
Phone: +1 780-442-5311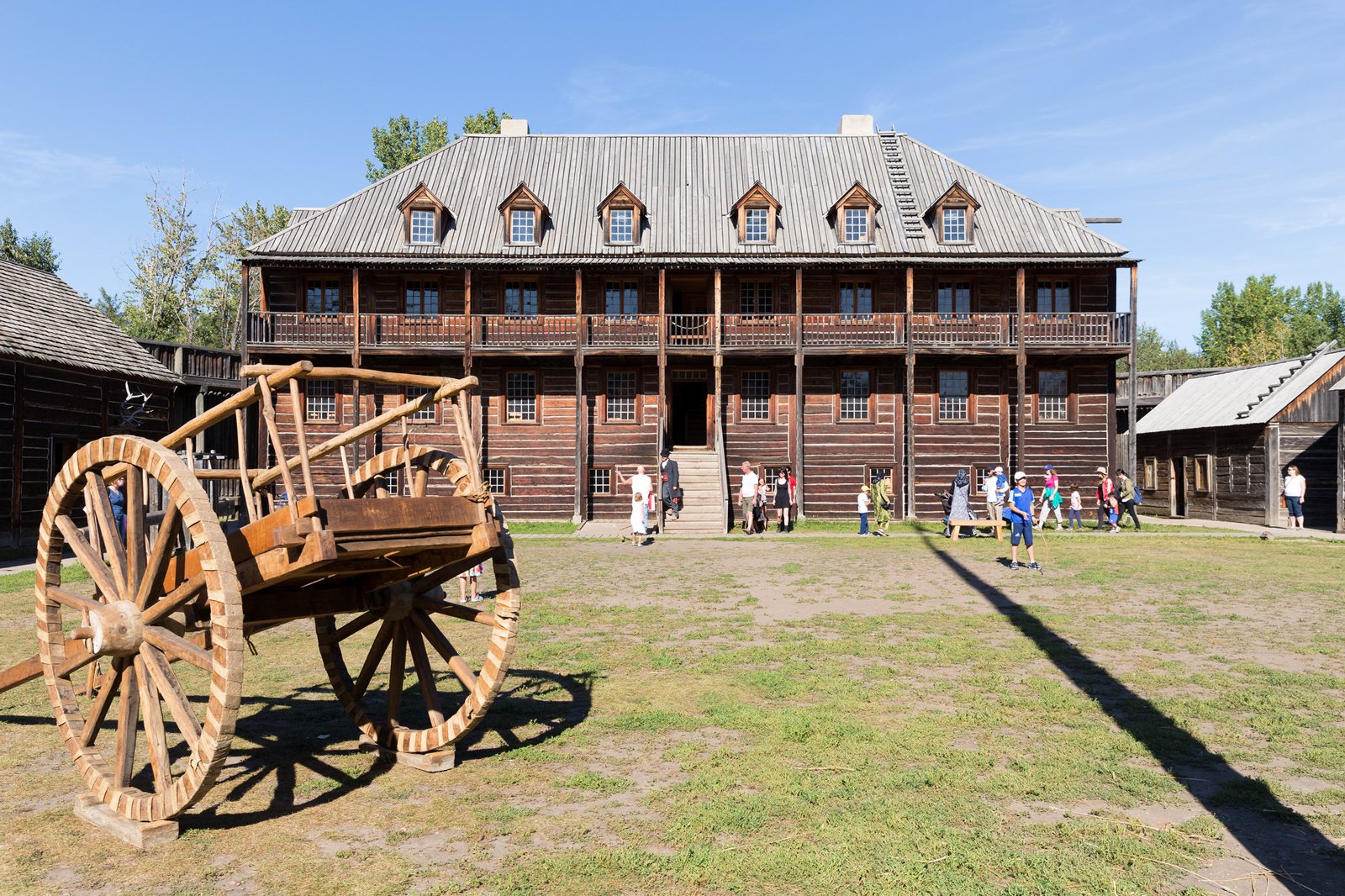 See living history at Fort Edmonton Park
Get your picture taken in period clothes
You and your family can enjoy a fun blast into the past at Ford Edmonton Park. It presents historical recreations that hark back to the city's history, spanning the North American fur trade, Alberta's oil boom, and the history of the Canadian Pacific Railway. You can watch live demos at the 1846 Hudson's Bay Company Fort, relive a settler's journey on a horse-pulled wagon, dress up in period clothing, or ride on a steam train. Tickets are around $27.50 for adults and $22 for kids aged under 17.
Location: 7000 143 Street, Edmonton, AB T5J 2R7, Canada
Open: Monday–Thursday from 10am to 5pm, Sundays from 11am to 2pm (closed on Fridays and Saturdays)
Phone: +1 780-496-7381
photo by Mack Male (CC BY-SA 2.0) modified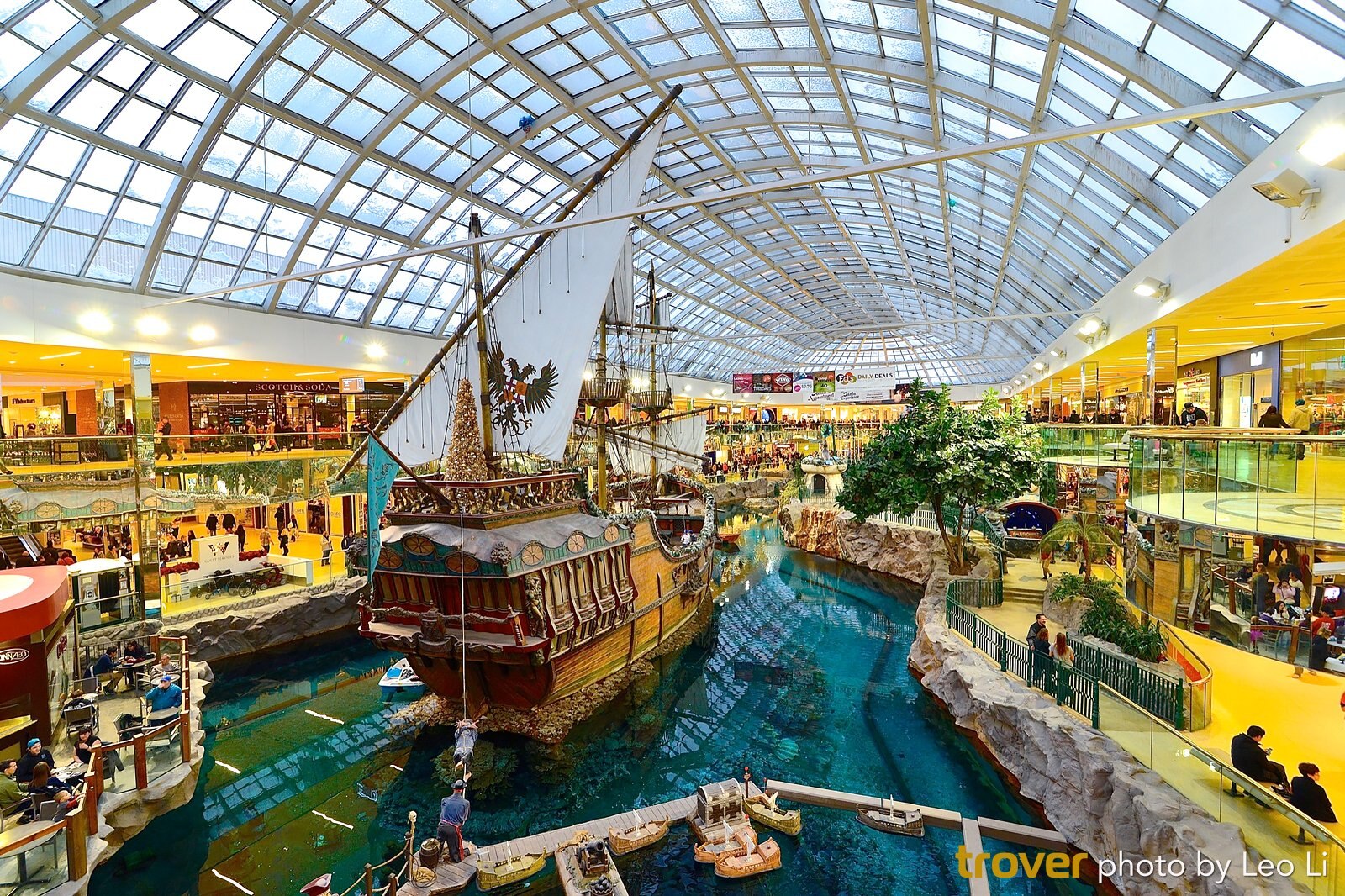 Shop at West Edmonton Mall
North America's largest mall
You'd usually need more than just a day or some revisits to experience this mall's full range of offerings. West Edmonton Mall is the largest mall in North America, with over 800 stores, 9 attractions, 2 hotels, and over 100 eateries within. You can find a vast collection of notable brand and designer fashion stores that range from Tiffany & Co. to Michael Kors. But unlike most malls, it's an appealing go-to for sightseeing, with great animal attractions such as the Marine Life aquarium and the Sea Lions' Rock inside.
Location: 8882 170 St NW, Edmonton, AB T5T 4J2, Canada
Open: Monday–Saturday from 10am to 9pm, Sundays from 11am to 6pm
Phone: +1 780-444-5321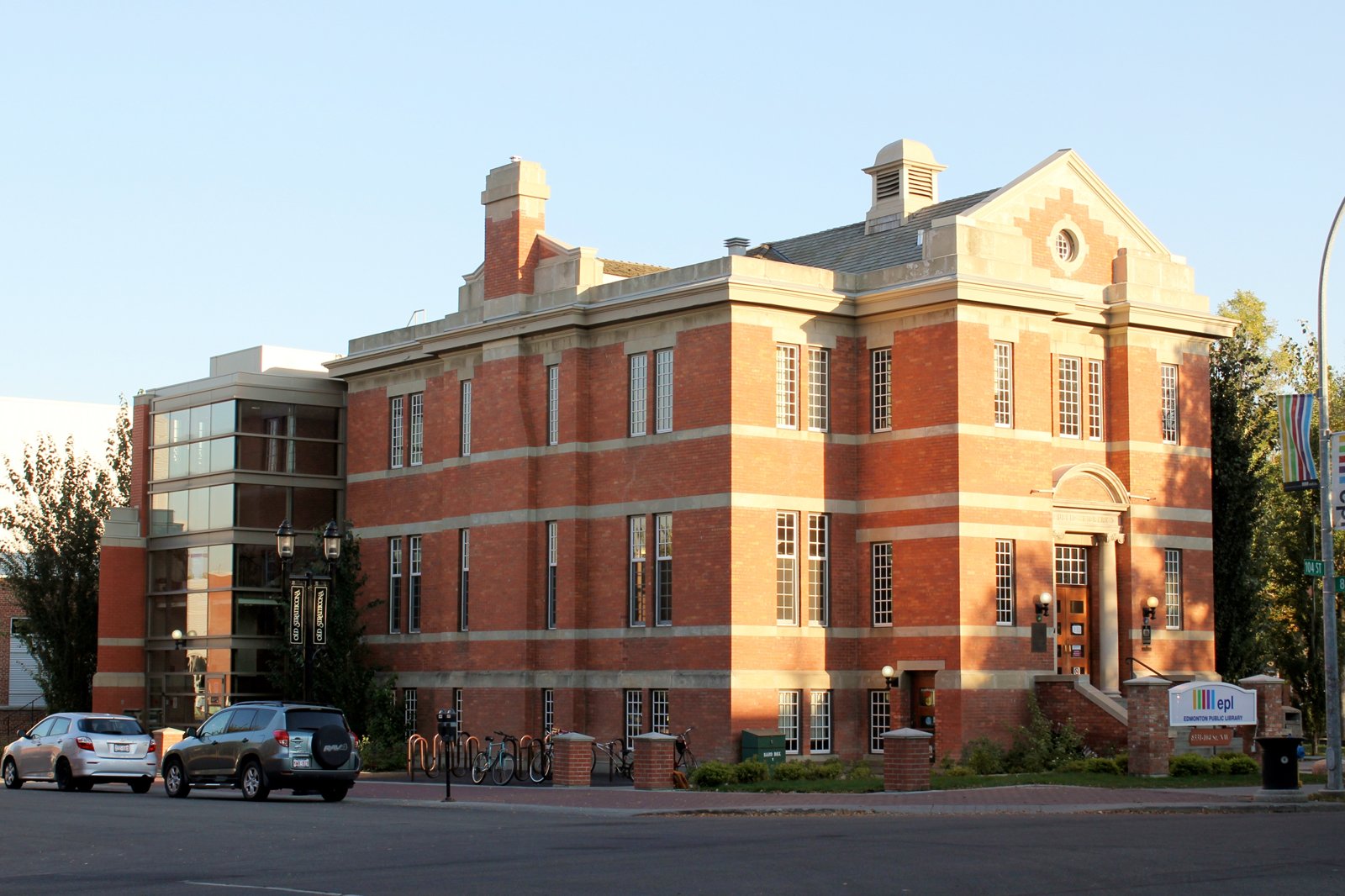 Explore Strathcona Historic District
It's home to the 1908 railway station
This historical district makes up one of Alberta's designated Provincial Historic Areas. Old Strathcona has a good collection of the city's heritage buildings, most of which line the central Whyte Avenue, which is officially referred to as 82 Avenue. You can also find Edmonton's classical theatres in the area, together with shops and dining spots that bear the iconic stylings of the Roaring '20s. Be sure to check out nearby heritage sites such as the Strathcona Hotel, the Canadian Pacific Railway Station, and the Princess Theatre.
Location: 82 Ave NW, Edmonton, AB T6E 1Z9, Canada
photo by Jeffery J. Nichols (CC BY-SA 3.0) modified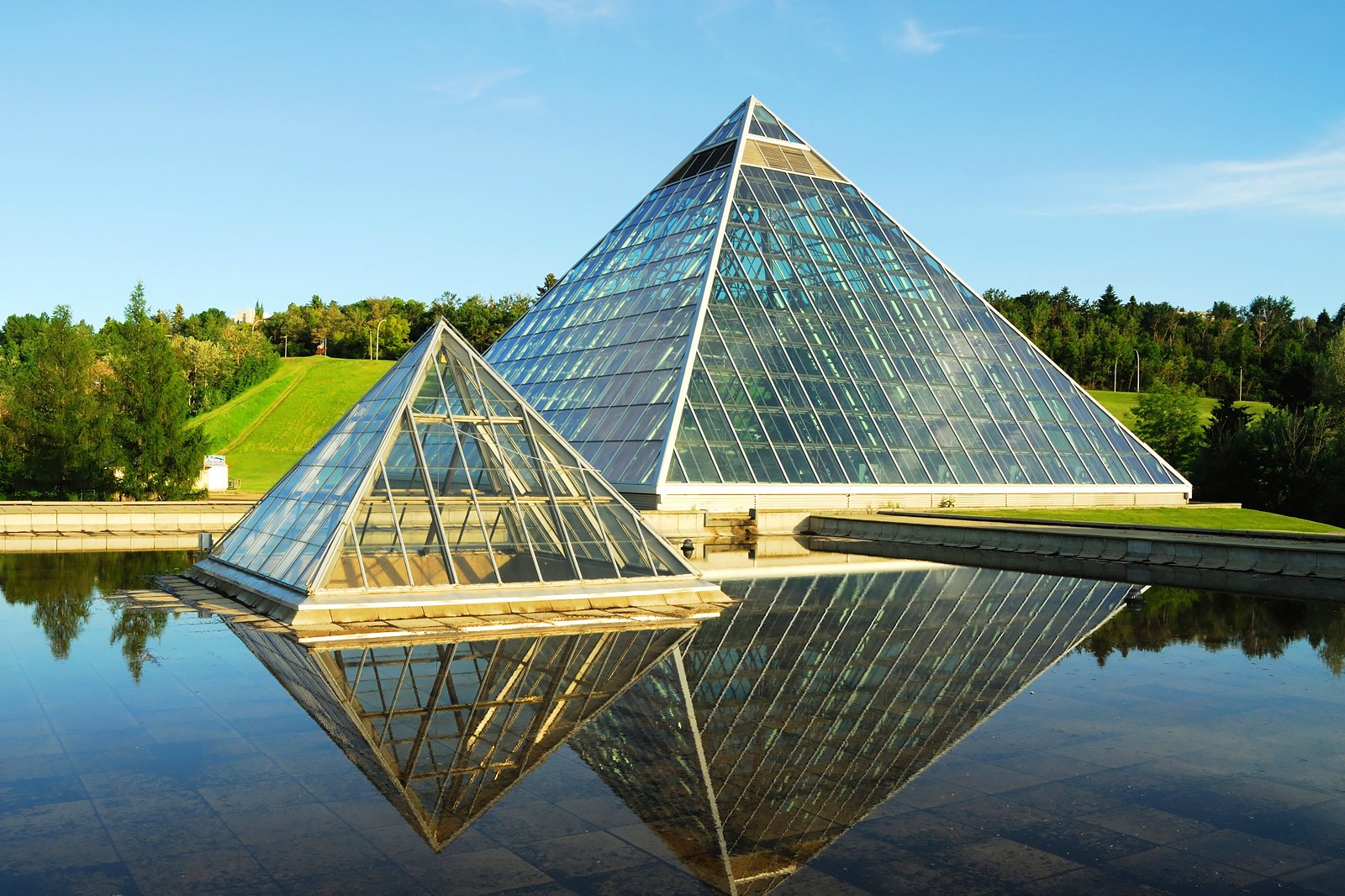 Walk through the great glass pyramids at Muttart Conservatory
Explore treasures of the great outdoors, indoors
Edmonton's Muttart Conservatory has prominent glass pyramids as its centrepiece. These also make up one of the city's skyline features over the North Saskatchewan River valley. The pyramid greenhouses shelter the conservatory's four climate-controlled biomes, each of which feature hundreds of different plant species. You can explore each through the interconnected atriums. The unique greenhouse designs make it possible for each biome to be flooded with natural light. This gives the unique sensation of exploring nature in the great outdoors while you're indoors. Tickets are around $12.50.
Location: 9626 96a St NW, Edmonton, AB T6C 4L8, Canada
Open: Daily from 10am to 5pm (Wednesdays and Thursdays until 9pm)
Phone: +1 780-496-8755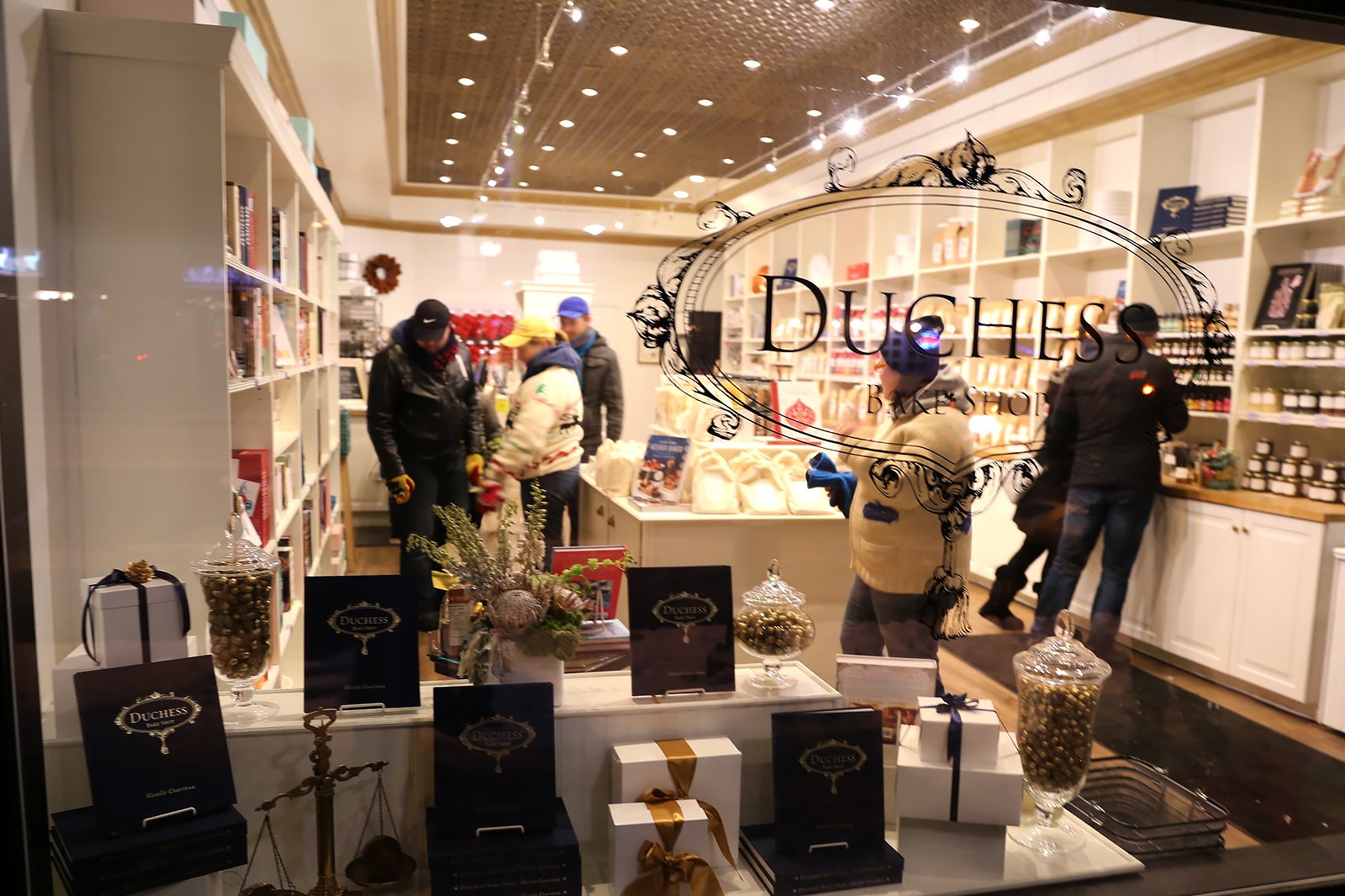 Try the key lime tart at Duchess Bake Shop
A popular spot for classic French pastries and coffee
It isn't hard to find a spot around downtown Edmonton for pleasing your sweet tooth. Edmonton's great collection of pastries and bakeries include longstanding legends and a few newcomers. Duchess Bake Shop is a prominent spot where you can select from a full display of classic French pastries. There are Florentines, croissants or éclairs to go with your coffee, and their key lime and butter tarts are very popular. You can bring home some recipes by picking up their cookbook, too.
Location: 10718 124 St, Edmonton, AB T5M 0H1, Canada
Open: Tuesday–Friday from 9am to 7pm, Saturdays from 10am to 6pm, Sundays from 10am to 5pm (closed on Mondays)
Phone: +1 780-488-4999
photo by Mack Male (CC BY-SA 2.0) modified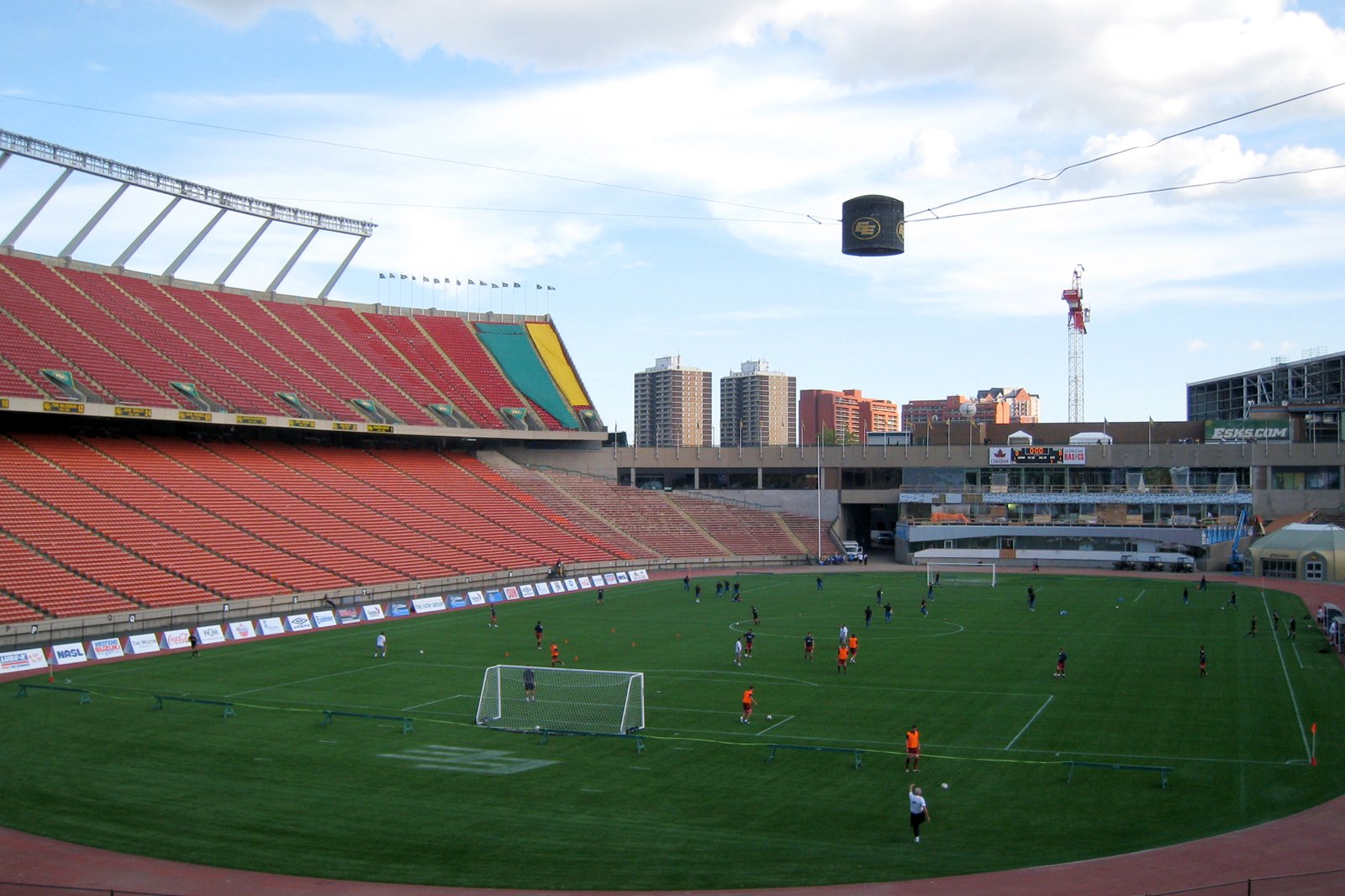 Watch a CFL match at Commonwealth Stadium
The home field of the Edmonton Eskimos
Commonwealth Stadium is Canada's largest open-air stadium, fondly nicknamed The Brick Field. Besides being the home field of Edmonton's own Canadian football team, the Eskimos, the stadium also regularly plays host to the Grey Cup playoffs, various soccer tournaments, as well as rock concerts. Past headline bands have included Bon Jovi and Pink Floyd. Home games are usually held from July to November, when the Eskimos play against other CFL teams like the Calgary Stampeders and the Winnipeg Blue Bombers.
Location: 11000 Stadium Rd, Edmonton, AB T5H 4E2, Canada
Phone: +1 780-442-5311
photo by Mack Male (CC BY-SA 2.0) modified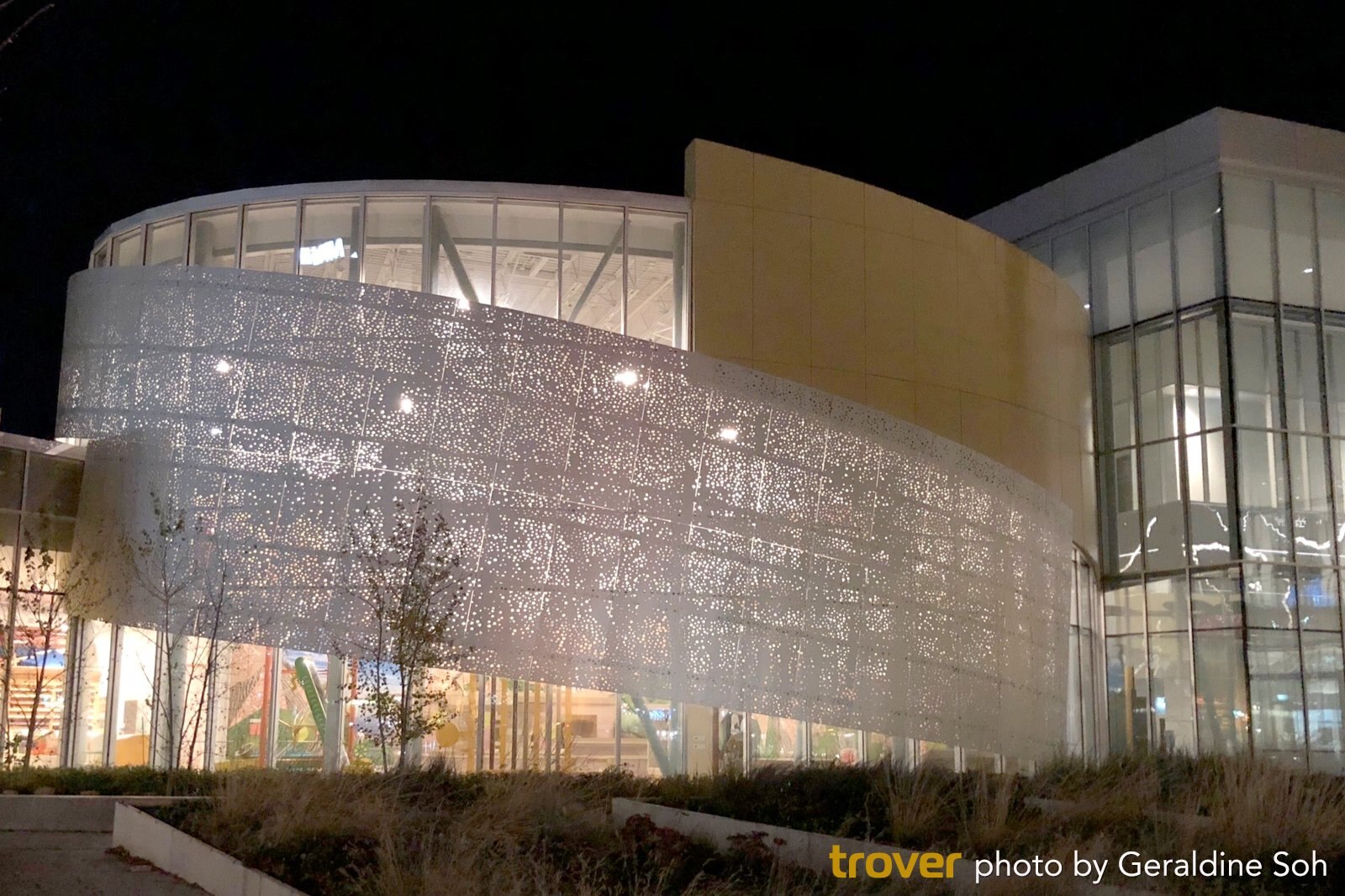 See the woolly mammoth at Royal Alberta Museum
Learn about Alberta's natural and cultural history
You can find a trove of Alberta's natural and cultural treasures inside Royal Alberta Museum in downtown Edmonton. Among the intriguing exhibits is a collection of First Nations cultural treasures, including beaded sealskin snowshoes and hunting tools. There are also life-size ice age skeletons and replicas of mastodons and sabre-toothed cats. If you're visiting as a family with kids, there's a dedicated gallery where they can engage in free play and actively build stuff through hands-on exhibits. Tickets are around $19 for adults and $10 for kids under 17 years.
Location: 9810 103a Ave NW, Edmonton, AB T5J 0G2, Canada
Open: Daily from 10am to 5pm (Thursdays until 8pm)
Phone: +1 825-468-6000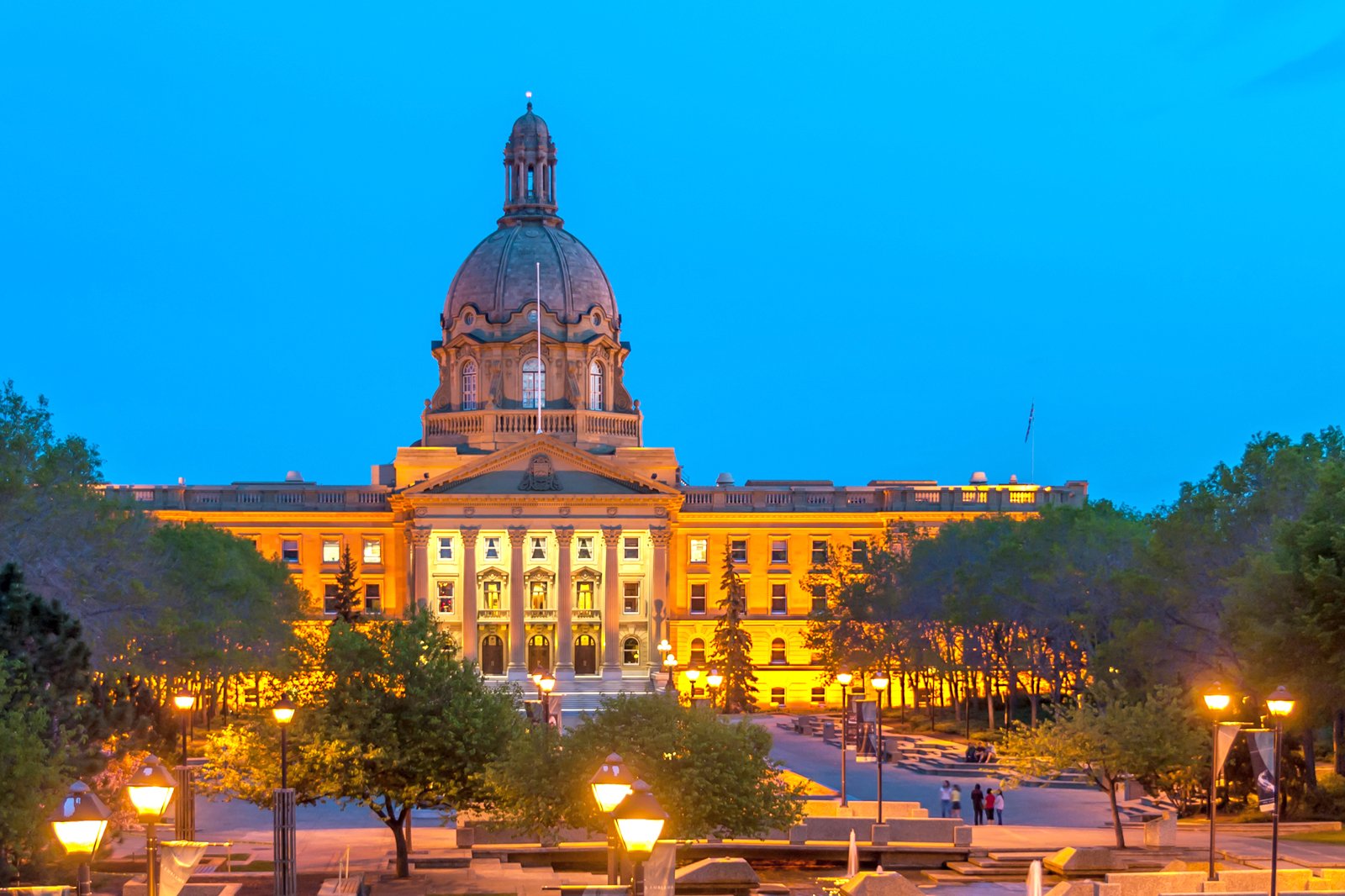 Tour the Alberta Legislature Building
Enjoy a walk through the beautiful gardens
The Alberta Legislature Building is among Edmonton's most instagrammable spots and is one of Alberta province's most important landmarks. The building dates back to 1912 and features Beaux-Arts architectural styling. It's the meeting place for the Legislative Assembly and is fondly nicknamed 'The Ledge'. The team of Heritage Interpreters here are ready to guide you on a free tour through the building, on which you can learn about Alberta's legislative history and process for a little under an hour. You can also enjoy pleasant walks through around the lovely flower gardens in the surrounding grounds.
Location: 10800 97 Ave NW, Edmonton, AB T5K 2B6, Canada
Open: Daily from 10am to 5pm
Phone: +1 780-427-7362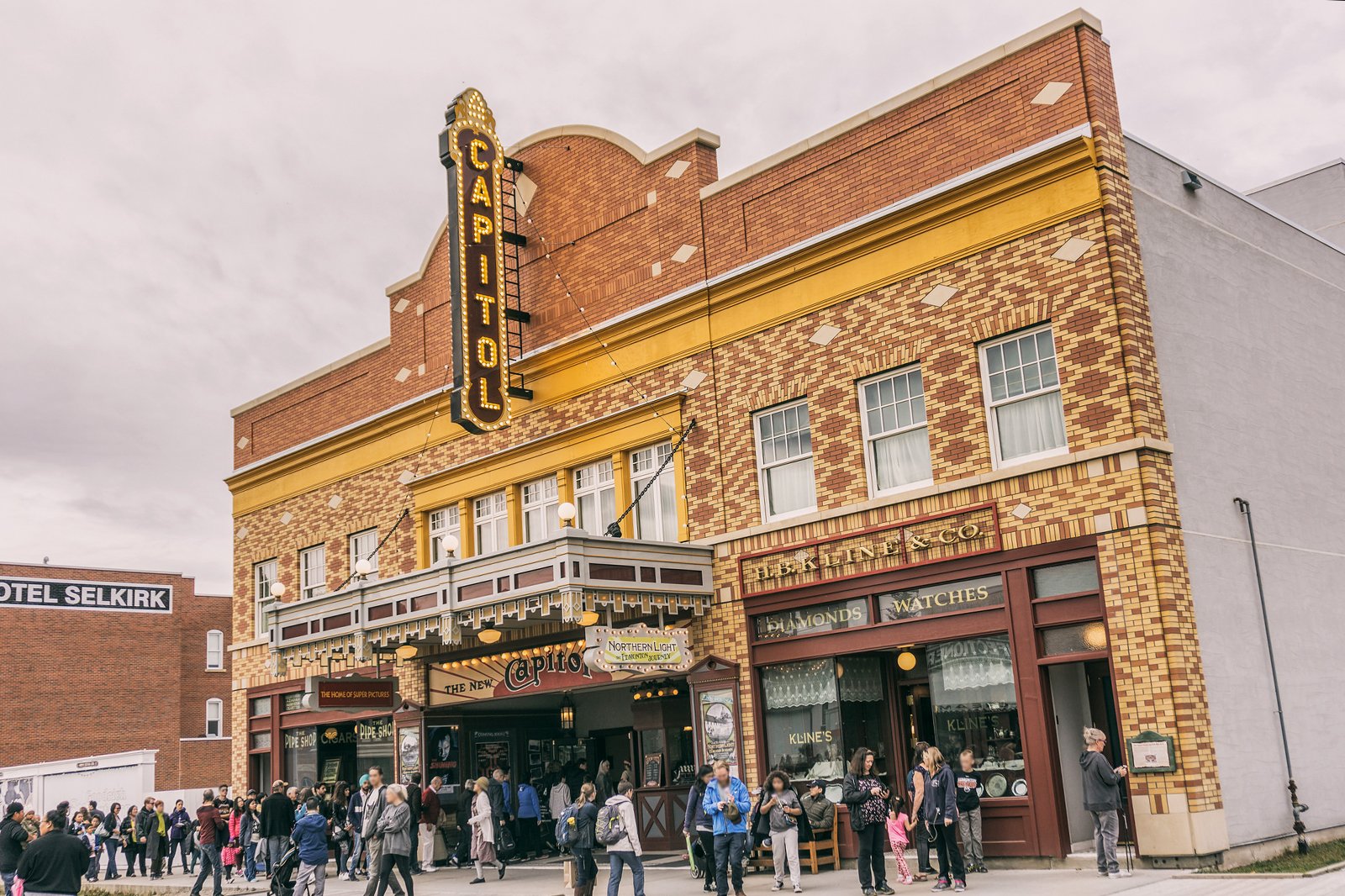 End the day watching a play at Capitol Theatre
Enjoy shows and movies in a classical setting
Fort Edmonton's Capitol Theatre is the result of restoration efforts on the city's original 1929 Capitol Theatre on Jasper Avenue, which was demolished in the early '70s. The new theatre offers much of the classical charms of the old one by keeping the historical styling and features of the original, including old-fashioned ticket booths. Live performances range from magic shows to dramas and comedic plays. Free movie screenings include 4D short films such as Northern Light, which tells of Edmonton's history from the ice age to the present.
Location: 1920 Street, Fort Edmonton Park, Edmonton, AB T6H 4P3, Canada
Open: Most shows start around 7.30pm
Phone: +1 780-496-7381
photo by IQRemix (CC BY-SA 2.0) modified