Spa Hotels in Siesta Key Village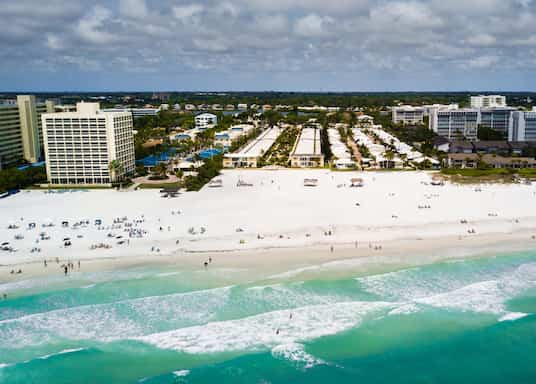 Top landmarks in Siesta Key
Find out more about Siesta Key Village
Are you looking for a spa hotel for a relaxing weekend in Siesta Key Village? We offer many romantic and tranquil spa hotels in Siesta Key Village to choose from, and many other interesting hotels in the rest of Florida for a spa stay.
To tailor your experience, you first filter for spa hotels in your chosen city in Florida. To find the hotel that suits you best, you can then choose a combination of star rating, guest reviews and price. With 0 reviews for Siesta Key Village hotels, you can be sure to find something you like. You can also choose accommodation based on what area you like the most; simply use our search filter and compare the hotels based on location and proximity to tourist attractions and transport. On our maps you will see:
- Local tourist attractions
- Train stations och airports
- Other hotels and available dates
All our spa hotels include a full service spa med swimming pool and sauna, and they offer a range of different relaxing treatments, from hot stone and deep tissue massage to facials and luxurious manicures and pedicures. And if you want to take a break from the pampering, the spa hotels offer fully equipped gyms.
Right now our top spa hotel in Siesta Key Village is Beach Retreat by SKLRP and has been booked 5 times in the last hour – perhaps worth checking out before you book?
To help you save money on your spa trip, we show all offers for accommodation in Siesta Key Village when you choose your dates. You can also join our loyalty program Hotels.com Rewards to gain 1 free night for every 10 nights you spend in participating hotels. Our price guarantee also means that you and other guests from &PosName can be sure to book a hotel for your spa weekend to the lowest available price you can find.
Search places to stay by category