Superior Gramercy Apartments
241 East 26th Street, New York, NY, 10010, United States of America
Narrow reviews:
9 verified guest reviews
The following English reviews were posted by hotel guests from other countries
BEWARE - Not the property advertised!!!
This was not the apartment advertised on the site nor on the confirmation. This is - tiny bedroom - dangerous bathroom ... lit by standard freestanding light without safety trip switch ... if it fell it would be in the shower - when sitting on the toilet, your feet are in the shower tray - only one small window - no emergency exit (window can't be opened or open to an escape - no hob or oven in kitchen - above a curry restaurant ... smell is not overpowering but is constant The owner was nice and prompt when an additional heater when it was needed. After hundreds of Hotels.com bookings. This was by far the most disappointing
Verified Hotels.com guest review
Small run down - not as shown on pics in Expedia or travelocity - needs an upgrade for the price they charge
Verified Expedia guest review
Nice getaway in NYC
Me and my wife stayed in this place and everything was smooth, we did read some of the reviews before and it looks like some improvements were made so overall it was more than we expected The only negative thing is that we stayed 3 nights and couldn't get fresh towels on a daily basis (they claim that only after 7 days they refresh it...)
Verified Hotels.com guest review
Response by Sol
We are happy to see that you had a good time! Regarding the towels, we do provide 2 bath towels and 1 hand towel per person and refresh it every 7 days
A person who gives first name only meets you at the apartment. They then insisted on taking a photograph my driver's license and credit card with a cell phone. They enter your credit card number into a cell-phone form which looks un-encrypted. No cube or other credit card reading technology. All of us found it a weird and uncomfortable experience. Would never repeat. That kind of insecure data demand should be disclosed before booking. Room photos were accurate.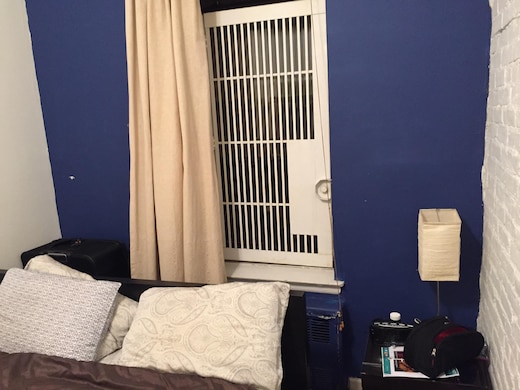 Verified Orbitz guest review
Response by Elem
We are sorry if you weren't satisfied with the process. We are using a very secured and encrypted system for that and we informed you and any other guest about this process in advance
Great time in NYC
Me and my girlfriend stayed 3 nights and we were very pleased from the apartment, area and service. There are many restaurants, coffee shops and bars near by as well as the metro. We will come back for sure
Verified Hotels.com guest review
Last minute trip to NYC
I had to fly into my corporate NYC and be at 28th street and 3rd and I found this nice apartment 2 blocks away at 26th street. I had a great time and although I didn't spend so much time in the apartment I was very happy and will use it again for sure on my next trip
Verified Hotels.com guest review
Response by Sol
Thanks Dani! we are looking forward to host you again
Dream trip!
Beautiful apartment in a beautiful area! strongly recommended
Verified Expedia guest review
The following reviews were posted by hotel guests from other countries
불편한 점들....
많이 낡아서인지 비교적 난방 상태가 좋지 않으며 특히 짐이 많은 사람들은 첵크인 아웃 할때 엘레베이터가 없고 계단이 많아서 짐을 오르 내리기에 많이 힘들다 또한 로비가 없어서 관리인과 개별적으로 시간을 정해서 다른 장소에서 만나서 키를 받아야하니까 도착시간과 맞지 않으면 기다려야하고 공항에서 숙소로 바로 이동할수없고 제 2의 장소에서 갔다가 숙소로 다시 이동해야하는 불편함이 있다. 짐 많은 사람 특히 여성들은 가지 않는편이 좋으나 이런 점들을 감수할 수있다면 .....
Verified Hotels.com guest review
Response by Superior Gramercy Apartments
우리는 엘리베이터와 함께 아파트를 광고하지 않았고 우리는 열쇠 픽업에 대해 당신에게 알렸다.
Verified Hotels.com guest review
Reviews and ratings contained within this site are the subjective opinions of customers and suppliers; they do not represent or reflect Hotels.com's position. Neither Hotels.com nor the parties involved in providing review content shall be held liable for any damages of any sort resulting from use of these reviews