Third Street Promenade is a prominent gathering place in Los Angeles. Centred on the designer shopping hub of Santa Monica Place, the palm-tree-lined and pedestrian-only promenade serves both as a shopping mecca and open-air entertainment stage. It covers 3 city blocks with a dense collection of big-name retailers, local farmers markets, theatres, and eclectic street performers.
The promenade is a full-weekend experience. Start your day with a Philz Coffee pour-over and stroll the main drag of Santa Monica Boulevard. Pop into designer outlets like Rolex and Coach, or browse for a unique gift at local boutique stores. Foodies will delight in the plethora of restaurants and unique fast-casual eats featuring locally sourced ingredients. For entertainment, head to M.I.'s Westside Comedy Club or watch the hundreds of street performers ply their trade.
Third Street Promenade in Los Angeles - one of the highlights of 11 Best Things to Do in Santa Monica and 10 Best Things to Do After Dinner in Santa Monica (Read all about Los Angeles here)
What are the highlights of Third Street Promenade?
The action of Third Street Promenade centres around 3 key areas: shopping, dining, and play. Visitors flock from around the globe to stroll the promenade and peruse the eclectic retail options.
Designer label fashionistas can stop by Santa Monica Place to find world-renowned brands like Louis Vuitton, Michael Kors, and Tiffany & Co. Looking for a one-of-a-kind gift? Head to Main Street and check out unique cards at Arts & Letters or locally made accessories at Lost & Found. Finally, swing by the legendary BookMonster store to find your next book club read among its stocked shelves.
The Gallery Food Hall is a quintessential lunch spot on the promenade, offering indoor/outdoor dining options from all over the world. Try fresher-than-fresh fish 'n' chips at Voltaggio STRFISH or sample delicious pies at Paperboy Pizza. For fine dining, New American joints like 1212 Monica and The Misfit Restaurant are local favourites. A full belly is an ideal prerequisite before finding a spot to watch a street performance or a luxe film-watching experience at Arclight Cinemas. To wrap up your day, swing by Andrew's Cheese Shop to grab necessities for your picnic basket and head to the white sand of Santa Monica Beach for an epic sunset.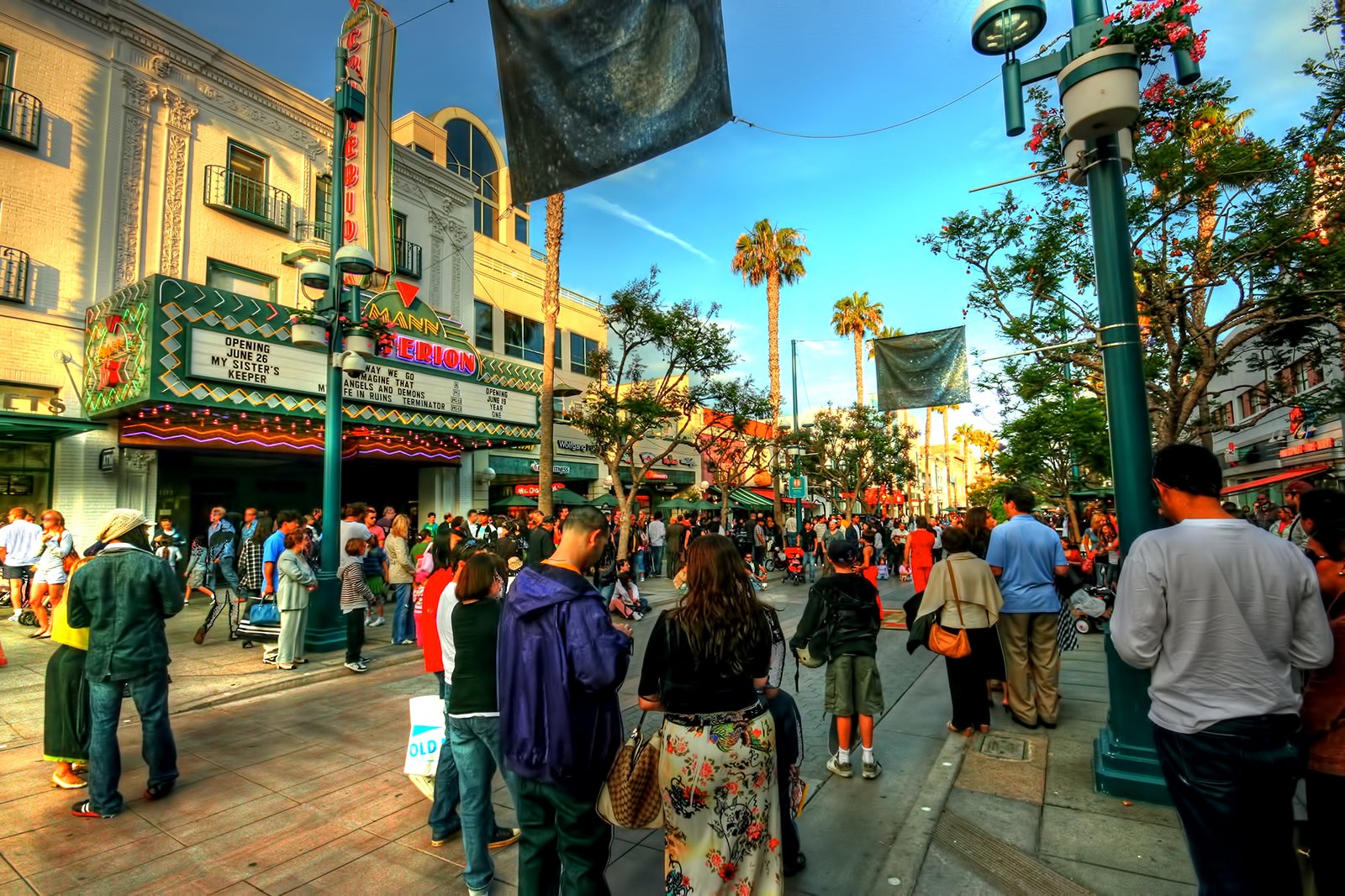 What are the most popular events at Third Street Promenade?
You will find no shortage of events at Third Street Promenade, with a year-round calendar full of concerts, festivals, and gallery exhibitions. The free summer concert series is a real draw, with local talent on full display every night of the week. For a unique experience, visit on the second weekend of June to catch the Santa Monica Pier Paddleboard Race & Ocean Festival – the costumes are outlandish.
In winter, the promenade transforms into an immersive one-stop holiday experience. Thousands of lights illuminate the storefronts and outdoor dining/retail areas, along with holiday-inspired art installations. Santa is also known to make a regular weekly appearance. The Third Street Promenade's website is the best place to stay up to date on current happenings.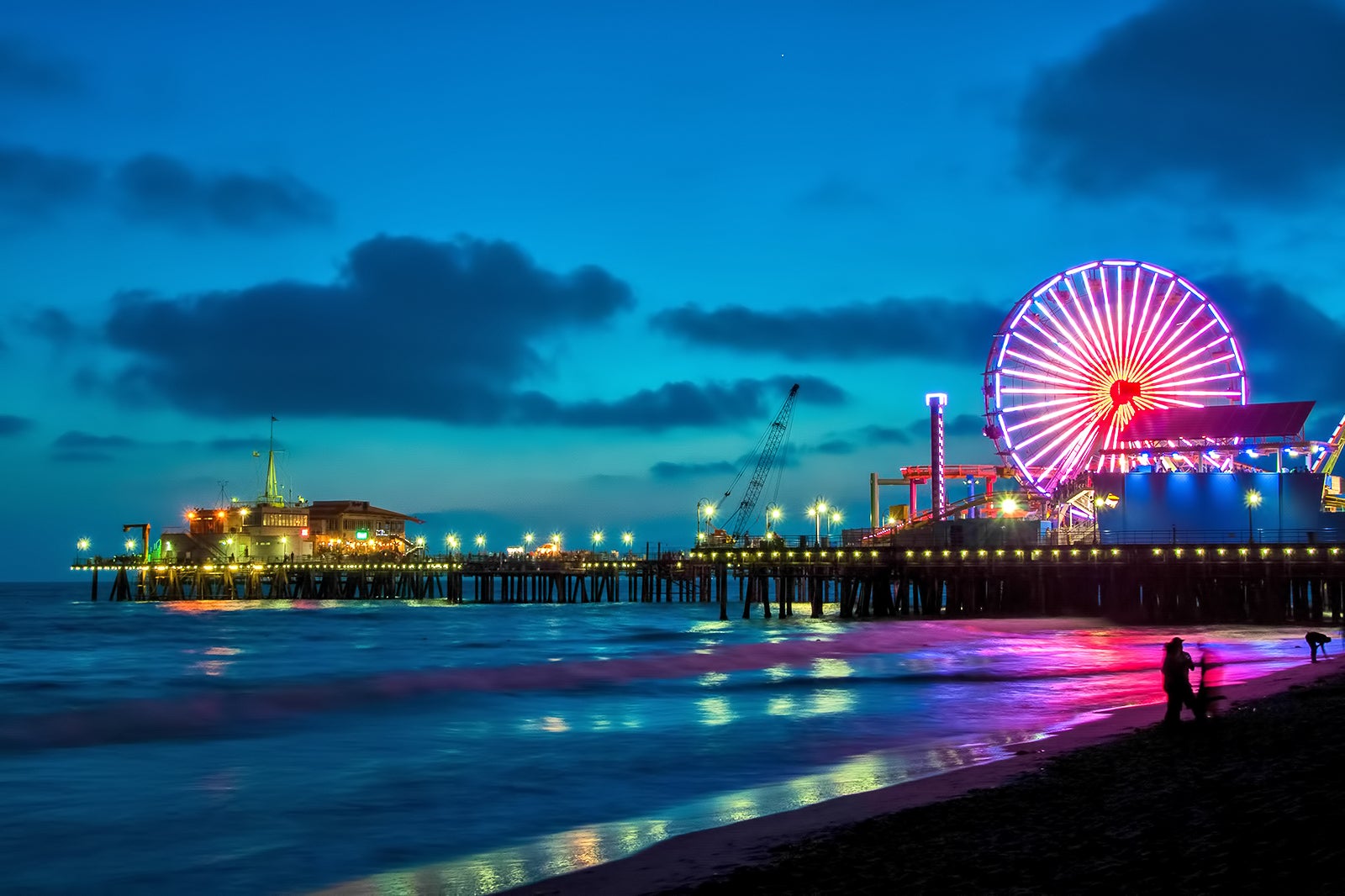 Good to know about Third Street Promenade
Santa Monica has a well-earned reputation for being a parking nightmare, so get there early to find a spot or opt for public transport. Be sure to feed your parking meter as the enforcement is notoriously strict. The terminus of the Metro Expo line is Santa Monica, which shuttles riders to downtown Los Angeles.
Santa Monica is a sun-soaked playground, so after a day at Third Street Promenade, explore the Santa Monica Pier and take a ride on the Ferris wheel. Meander on down to thriving Venice Beach or walk by the movie star mansions atop the Pacific Palisades. If you have time on your hands, consider driving up the scenic Pacific Coast Highway and visiting the picturesque towns of Malibu and Santa Barbara.
Third Street Promenade in Los Angeles
Location: 1351 3rd Street Promenade, Santa Monica, CA 90401, USA
Open: 24/7
Phone: +1 310-393-8355
Back to top