10 Quirky Places to Visit in California
Out-of-the-Ordinary Destinations Worthy of Your Time and Trip
California is more than just sun, sand and celebrities. This state has a long list of off-the-beaten-path nooks and crannies, best-kept secrets, novelties and juicy scandals.
It's the weird and wonderful places like these that can spark great conversations and fun stories to tell back home for years to come. Here are some of the top quirky places in California to add to your adventure in the Golden State.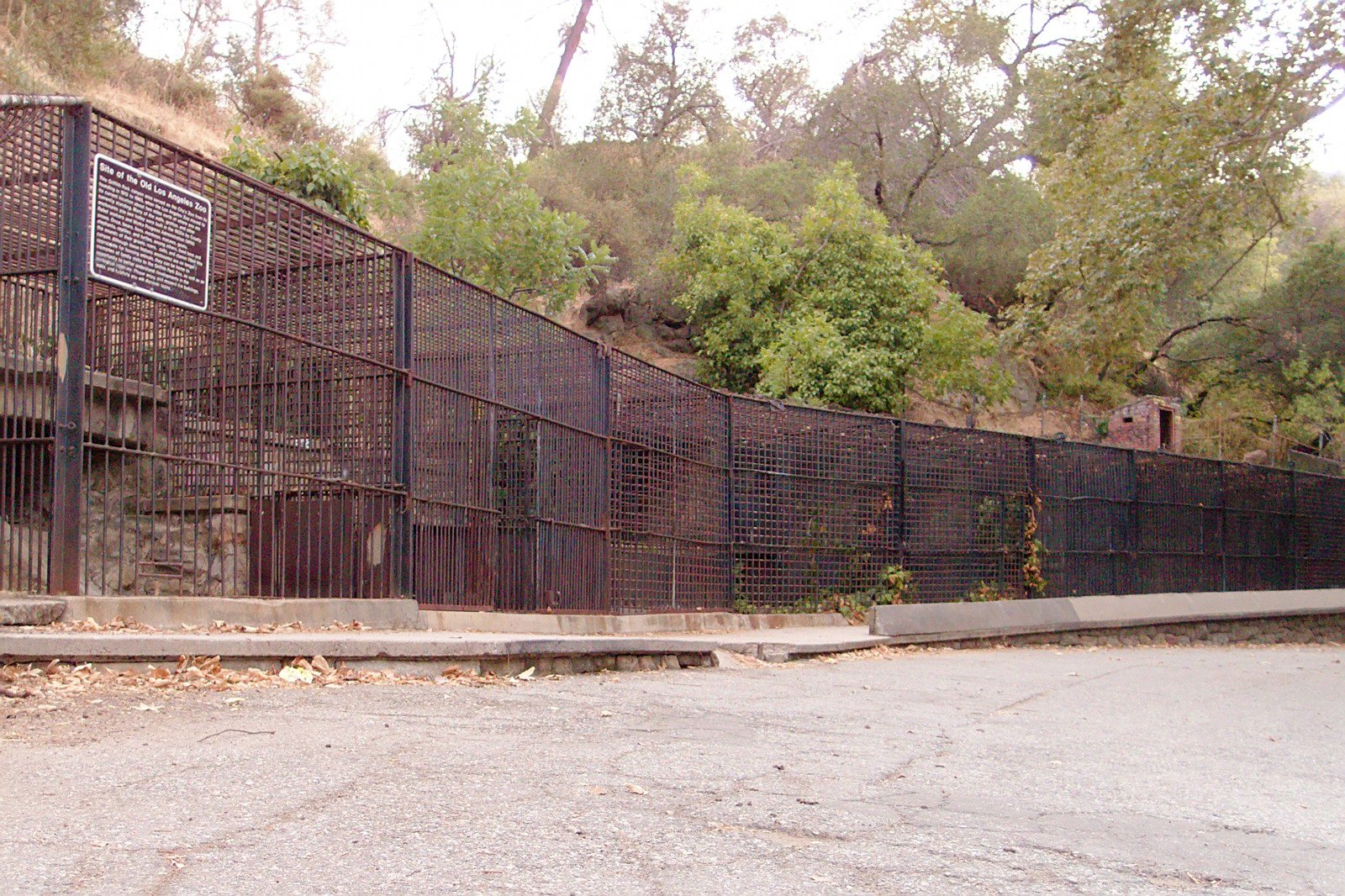 Old LA Zoo in Griffith Park
Haunted ruins in the middle of Los Angeles
The old LA zoo is an eerie remnant of how animals used to live here a century ago. This place used to house only 15 species of animals. Opened in 1912 and officially closed in 1966, the zoo lacked proper funding while the animals faced cramped living conditions, starvation and death. Hence, the new LA Zoo was moved 2 miles down the road with bigger and better infrastructure, along with improved and humane living space. The most photographed area is the chimpanzee pit with manmade cave structures and small, abandoned, graffiti-lined cages. Overall, this area still has abundant park space and trees for leisurely hiking and picnics, but it's recommended that visitors go during the daytime for safety reasons.
Curious visitors come here to debunk the story of the haunted zoo. Some may have unmasked the mysterious figure to be a vagabond wandering around the park along with occasional pranks pulled by locals.
Location: Griffith Park Dr, Los Angeles, CA 90189, USA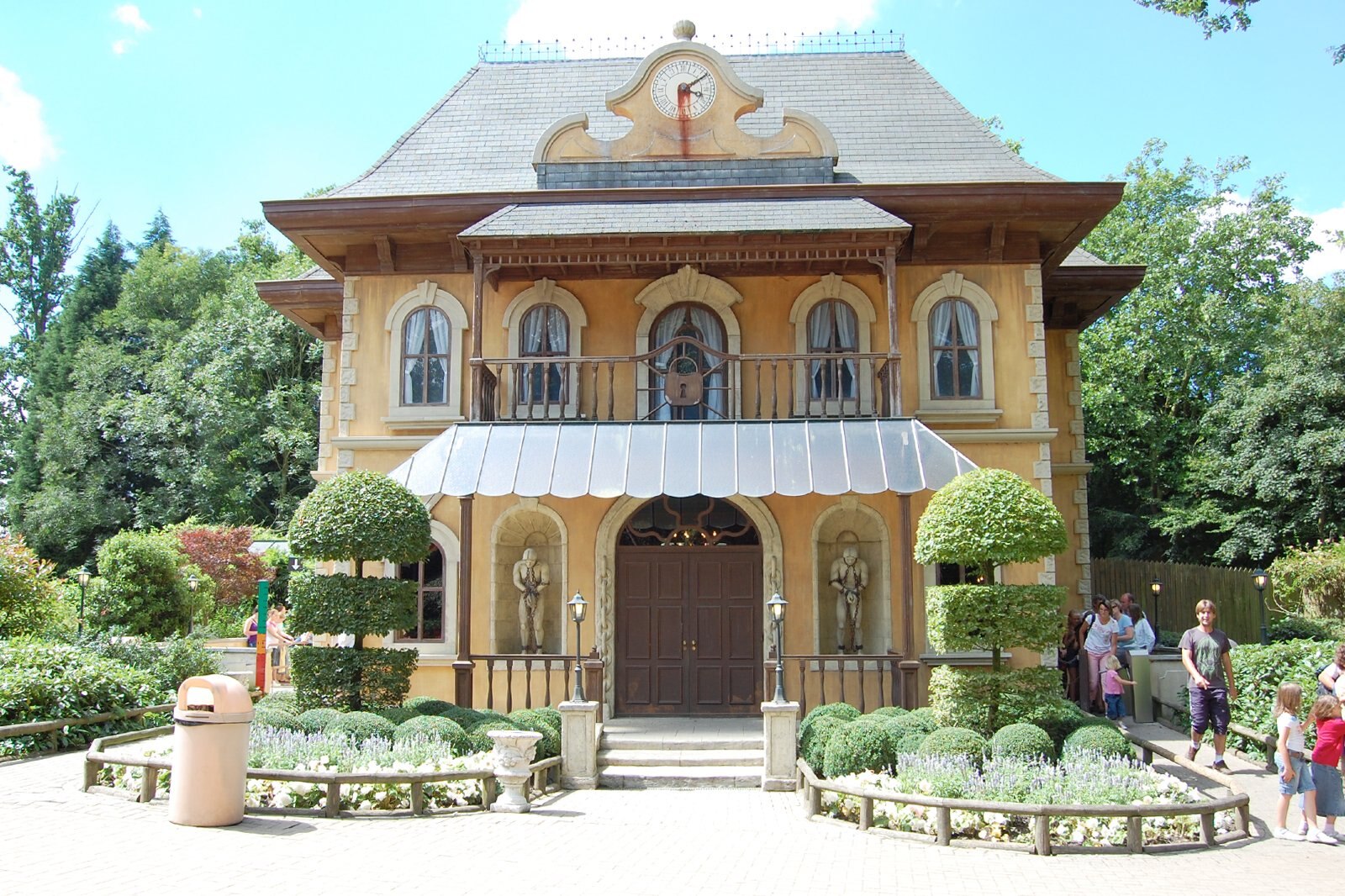 The Houdini Mansion
Mysterious sightings and misleading stories
The estate is not owned by Harry Houdini, but by Ralph Walker, a close friend of Houdini. Having gone through some brush fire, the current mansion is a restoration of the classic, palatial European house with stone carvings, waterfalls, exotic plants and French gardens. Situated in Laurel Canyon, the area was once a lookout mountain where Houdini used this place to practice his underwater routines. But there were unconfirmed documents or pictures of the man himself being photographed here. The rumour of ghost sightings, therefore, might not be related to Houdini, but to the scandalous murder cases that happened here before Houdini's time.
There are also tunnels built under the estate, but with unverified claims to why they were originally constructed. Before his death, his wife was given a secret code to communicate, where she would later host fellow spiritualists at this estate and make attempts to contact her late husband. Today, the place still operates as an event site with weddings held here regularly.
Location: 2400 Laurel Canyon Blvd, Los Angeles, CA 90046, USA
Phone: +1 323-886-4949
photo by Druyts.t (CC BY-SA 4.0) modified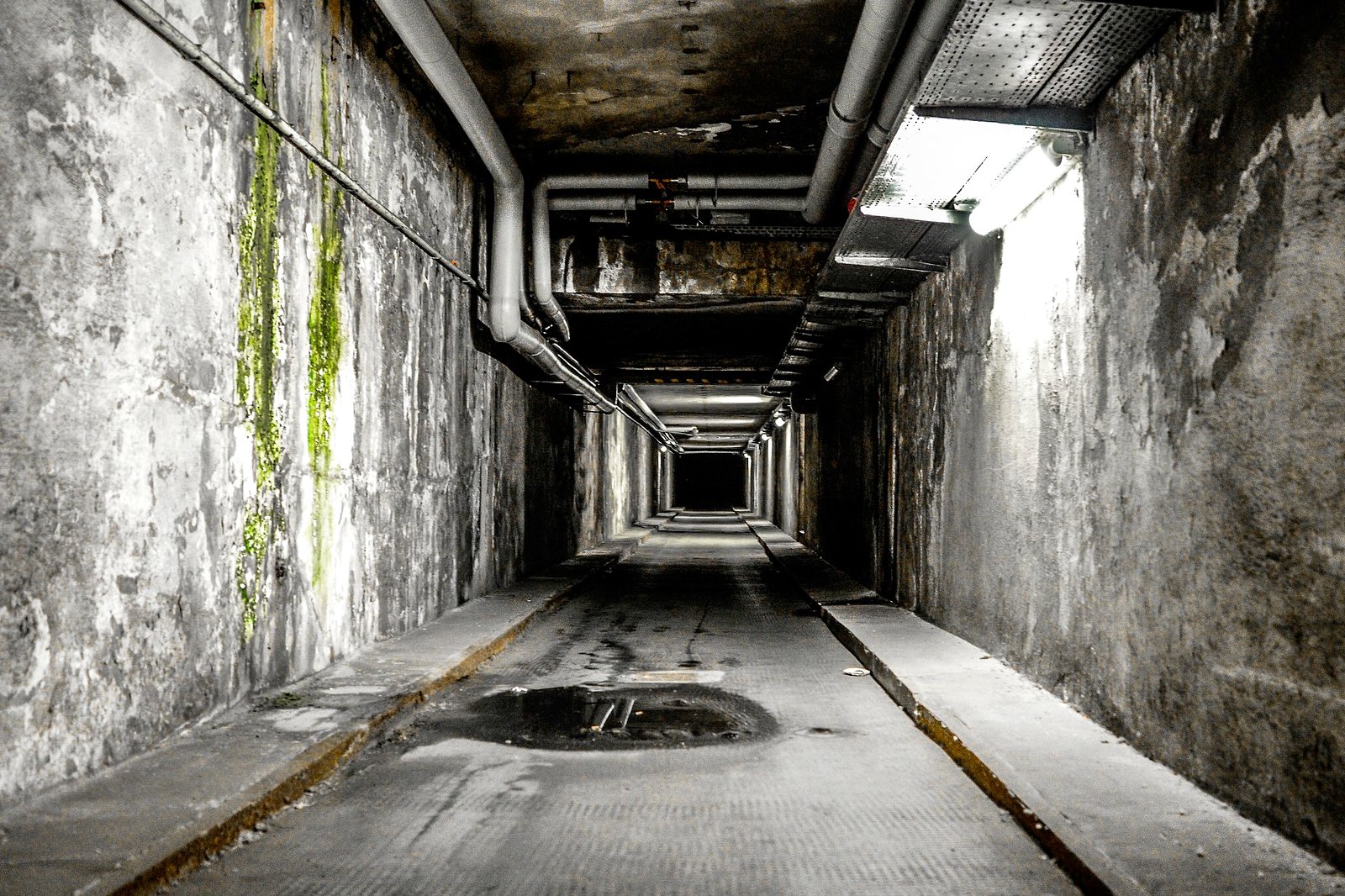 Underground tunnels of LA
A zeitgeist walk through the not-so-roaring twenties
This 11-mile long, 40 feet underground tunnel was once the clandestine drinking spot for Los Angeles. There is a public debate about whether it's open to the public or not. The answer is yes, during daytime business hours and with very tight security. The best starting point is at Temple and Hill St. entrance, near the Los Angeles County Hall of Records.
The 1920's ban on alcohol was a time of religious movement and the "dry crusade." Because of this campaign, the resistance created an underground demand for alcohol to rise, and supplying drinks outside the law became profitable, including hidden local speakeasies. Underneath the King Eddy Saloon, literally, is a former underground speakeasy with tunnel access to the City Hall where politicians and statesmen used to sneak down to for a few drinks. Today, the tunnel is part of the municipal buildings and its utilities. Visitors can walk through the corridors accompanied by the hissing sounds of engines and pipes.
Location: Los Angeles County Hall of Records 222 N Hill St, Los Angeles, CA 90012, USA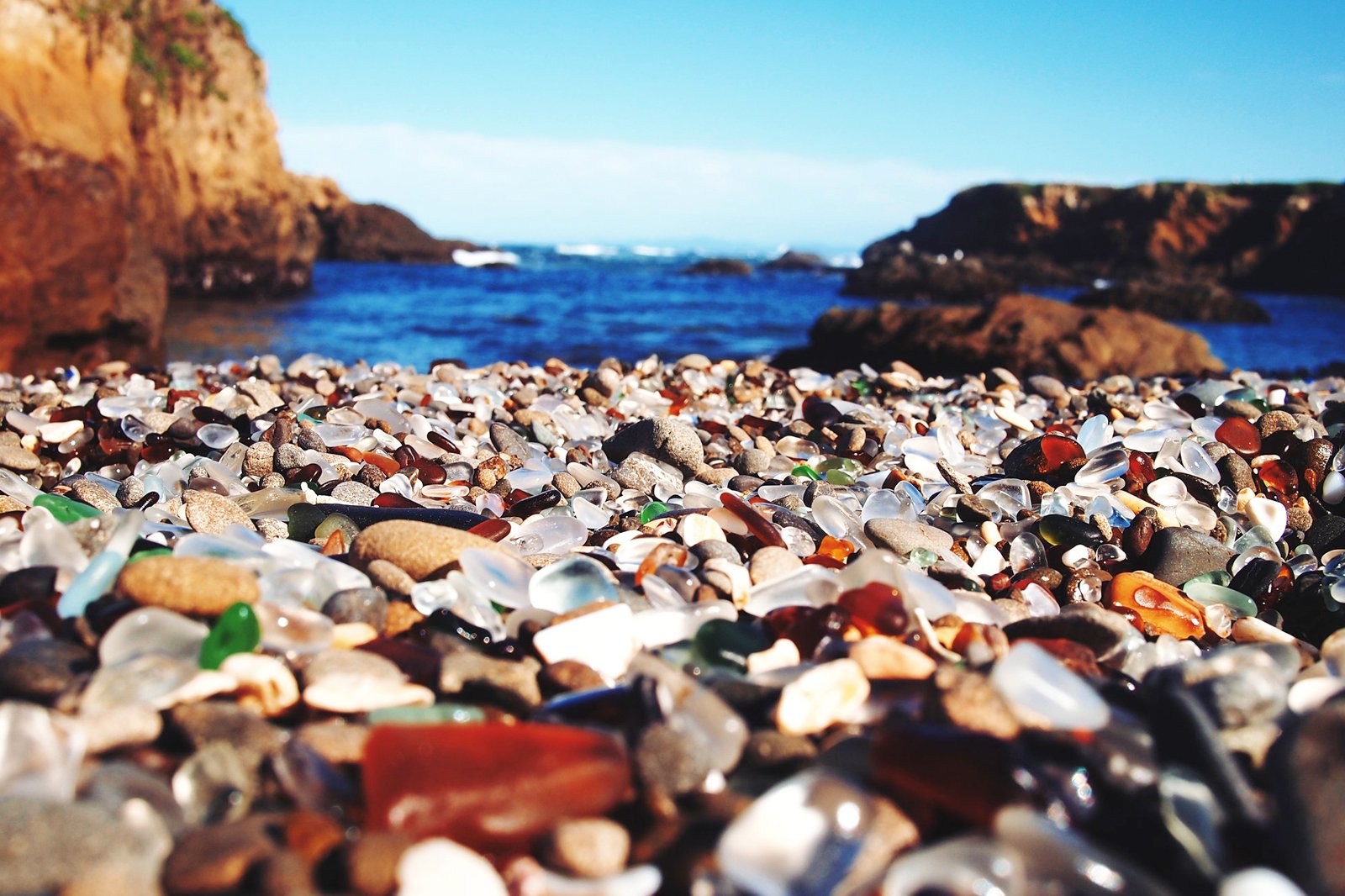 Glass Beach in Fort Bragg
From coastal trash to treasure hunting
The Glass Beach is about 6 hours' drive, north of San Francisco. From 1943–1949, this place was a dumping ground of bottles, furniture, appliances, and entire cars (not just car parts). The unsalvageable junk was the result of the damage caused by a major earthquake in Fort Bragg that created massive piles of landfill. But before it became the smooth pebbles, the trash had to be burned to reduce the size of the garbage. Luckily, nature eventually found its way to restore balance into this former junk yard.
Over a few decades, this beach has been through the process of mineralization, where the saltwater dissolves the glass and releases minerals that restored the local marine life. Surprisingly, the ocean is now a great site for snorkelling and diving. People come here to hunt for unique glass pieces, and so far, there are no signs prohibiting visitors from picking and taking the pebbles. However, there's been some depletion of the sea glass reported by the parks and recreation staff.
Location: W Elm St and Glass Beach Dr, Fort Bragg, CA 95437, USA
photo by Lisa Nottingham (CC BY 2.0) modified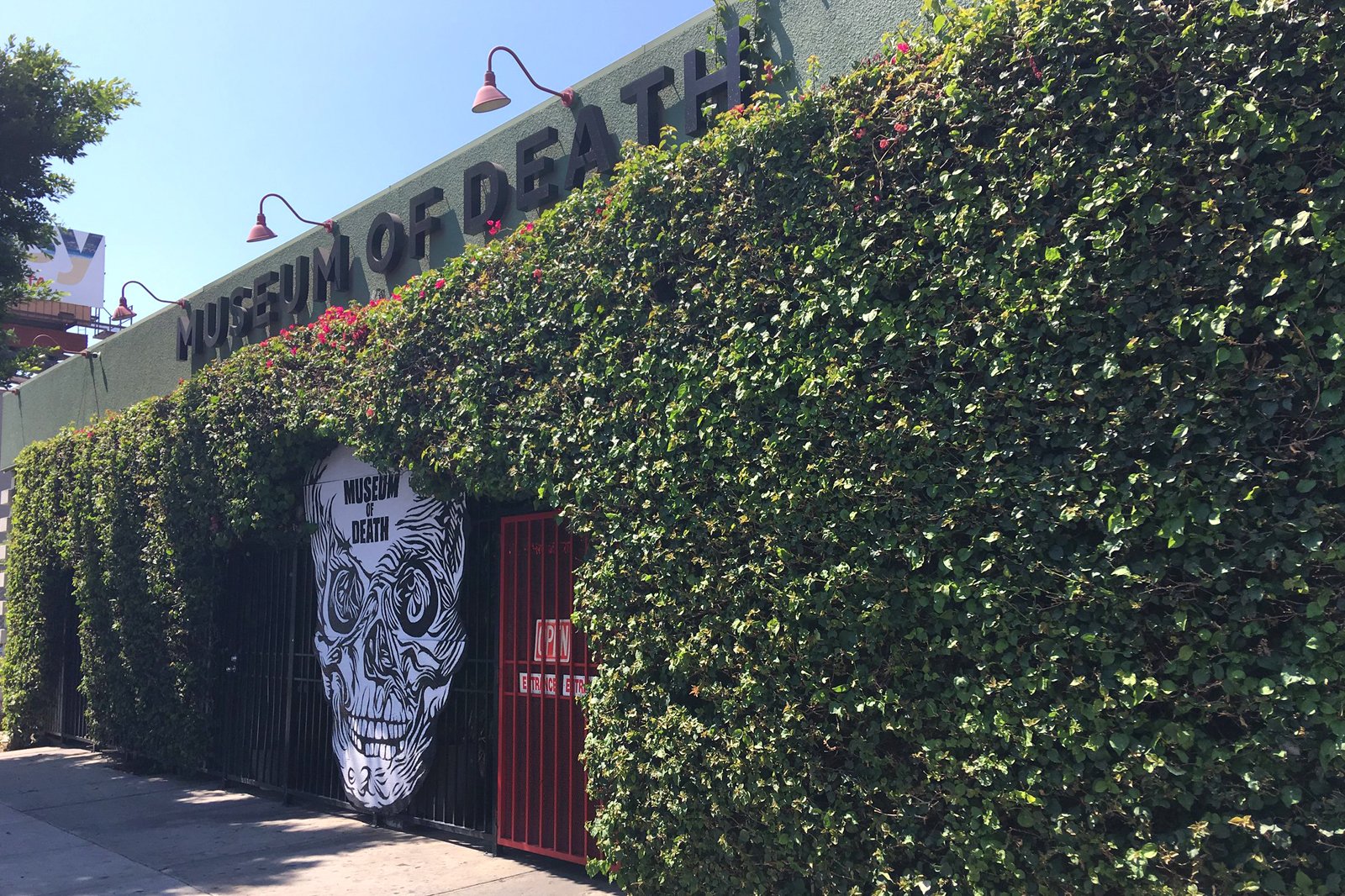 Museum of Death
Step into the minds of murderers
The Museum of Death is a collection of morbidly fascinating stories and disturbed souls. Although the space is not large, the artefacts and displays are well-consolidated in each of the rooms.
Some highlight items are severed mummified body parts, the taxidermy collection, detailed timeline of the Manson murders, autopsy videos, and artwork from John Wayne Gacy who murdered 33 people. According to the staff, the most popular subject are the letters from Jeffrey Dahmer, along with his biography that might stir some sympathy. There was speculation on how Jeffrey Dahmer may have switched overnight from a young, happy boy to a psycho, all from a hernia surgery in his childhood.
The overall ambience was not intended to be sombre, with dark-humoured displays, punk rock art and Satanism drawings throughout the premise. Although there's no age limit to enter this place, it may be distressing for young visitors. Also, photography is not allowed inside.
Location: 6031 Hollywood Blvd, Los Angeles, CA 90028, USA
Open: +1 323-466-8011
photo by unrulystowaway.com (CC BY 2.0) modified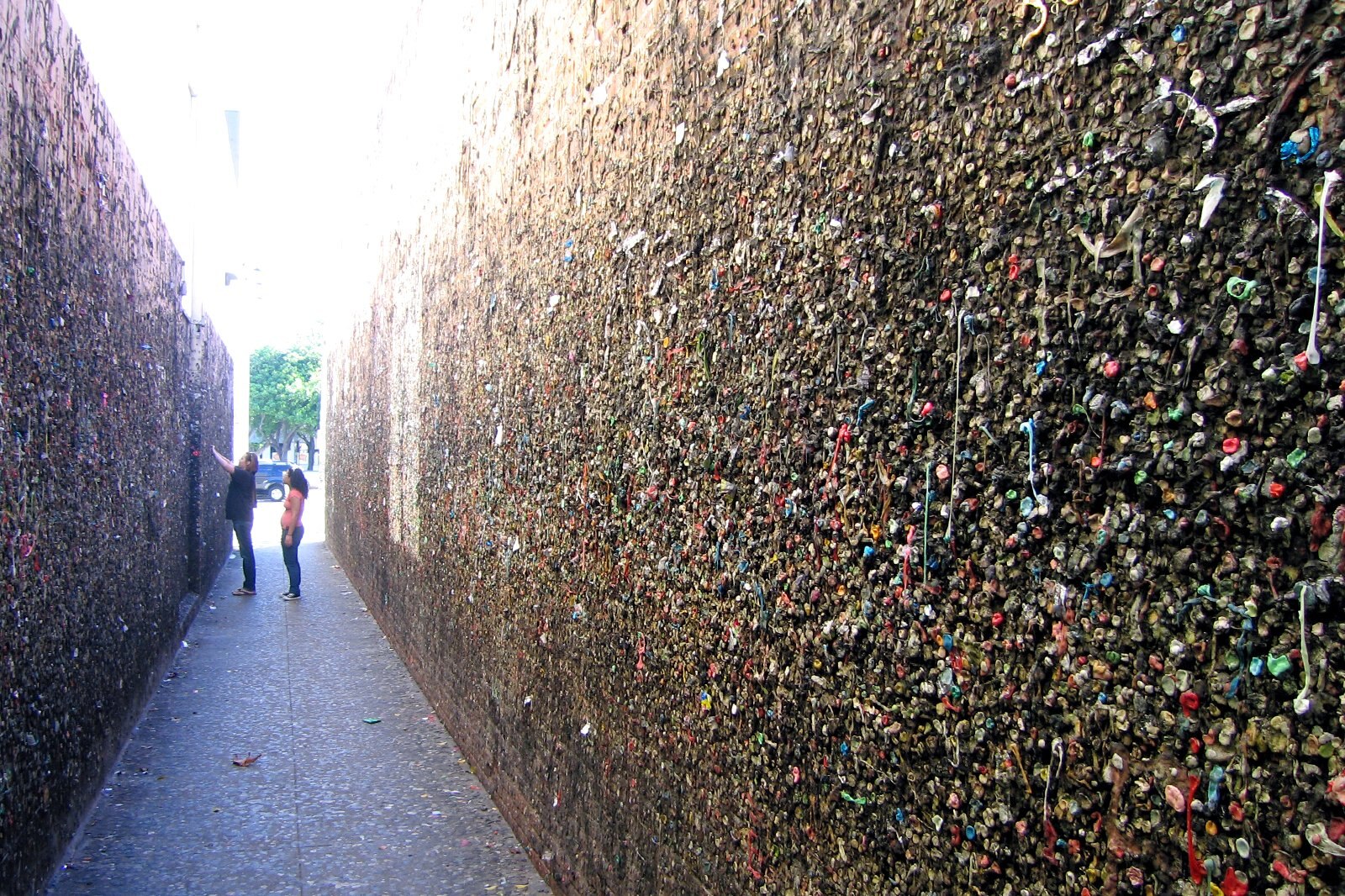 Bubble Gum Alley
A funky wall of gum graffiti
This colourful alley is a mix of yuck factor and fascinating graffiti art. It all started from college students and local rival high school students trying to prove who can make a bigger, taller gum wall. Despite having the surface cleaned every few years by locals, the gum wall rose back to the challenge and kept expanding to this day.
Conveniently, this bubble gum graffiti art can be found in the middle of San Luis Obispo downtown with shops, parks and restaurants all around. There's also a candy store in this square, SLO Sweets, with all the candies and gum that you need. Visitors are encouraged to chew some gum, make a wish and stick it to the wall. Also, try to walk in the centre of the alley while minding your hair, scarves and belongings.
Location: Bubble Gum Alley, 733 Higuera St, San Luis Obispo, CA 93401 USA
photo by Greg Schechter (CC BY 2.0) modified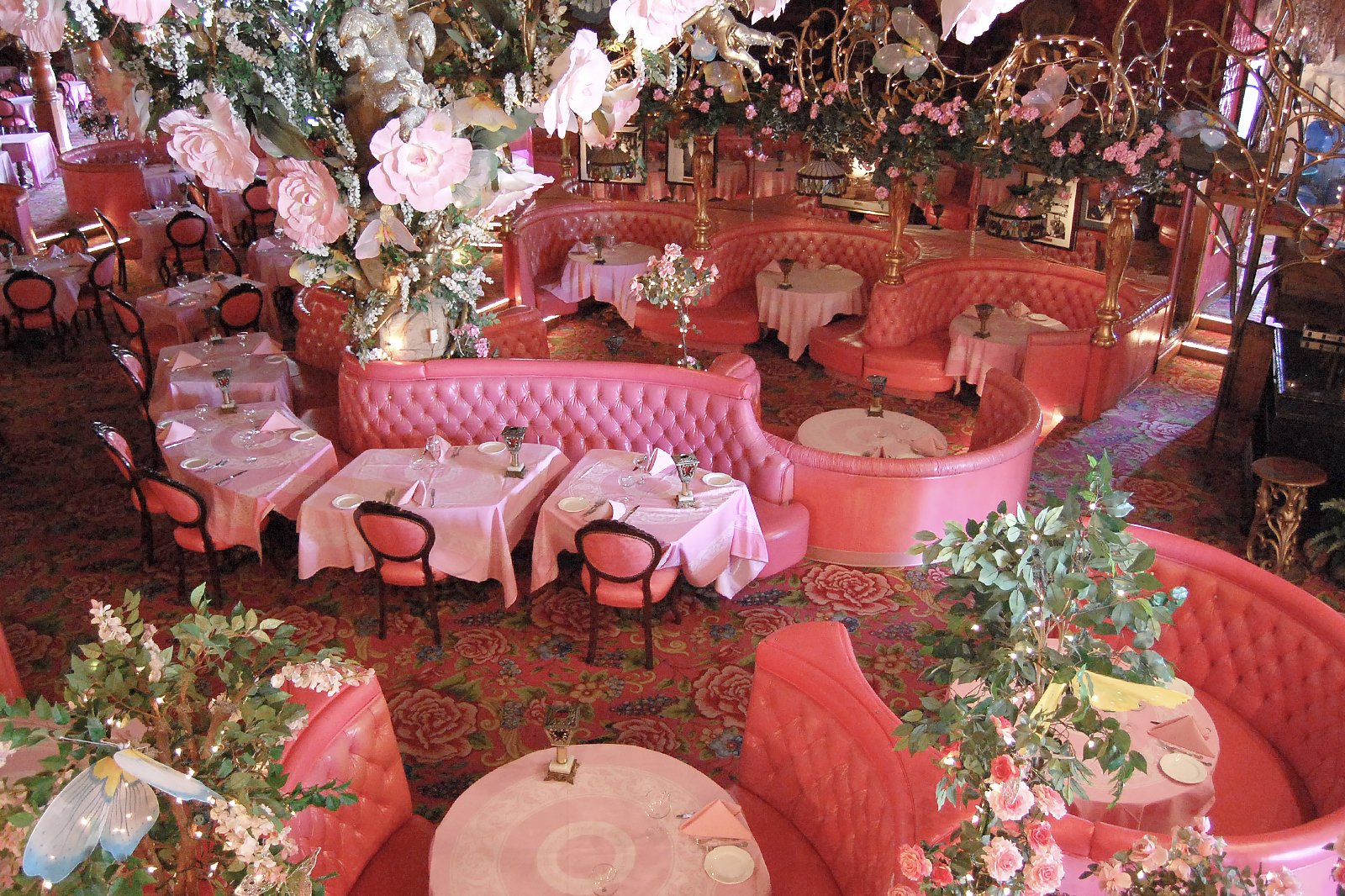 The Madonna Inn at San Luis Obispo
A camp and kitschy hotel in the Californian countryside
This hotel stands alone in the middle of the valley in San Luis Obispo, but only 15 minutes from downtown. Disclaimer; there's no relation or reference whatsoever to Madonna, the Material Girl from Detroit. The interior style can be a struggle to define, more or less like Liberace meets local grandma arts-and-craft on psychedelics. With its stone façade in the front and Barbie dollhouse in the back, this place is California's architectural quirk that's delightfully eccentric and delirious. The men and ladies' restrooms alone are worth the trip with jade-green waterfall urinals and bright pink, baroque lounge chairs.
Pay attention to the details. Some creepy-cute decorations are hidden in the cluster of Wisterias in the ceiling. The grand staircase is a mishmash of dried flowers, gold chandeliers and ceramic dolls. If you're inclined to spend the night, the rates are surprisingly affordable at about $125, depending on the season.
Location: 100 Madonna Rd, San Luis Obispo, CA 93405, USA
Open: +1 805-543-3000
photo by Omar Bárcena (CC BY 2.0) modified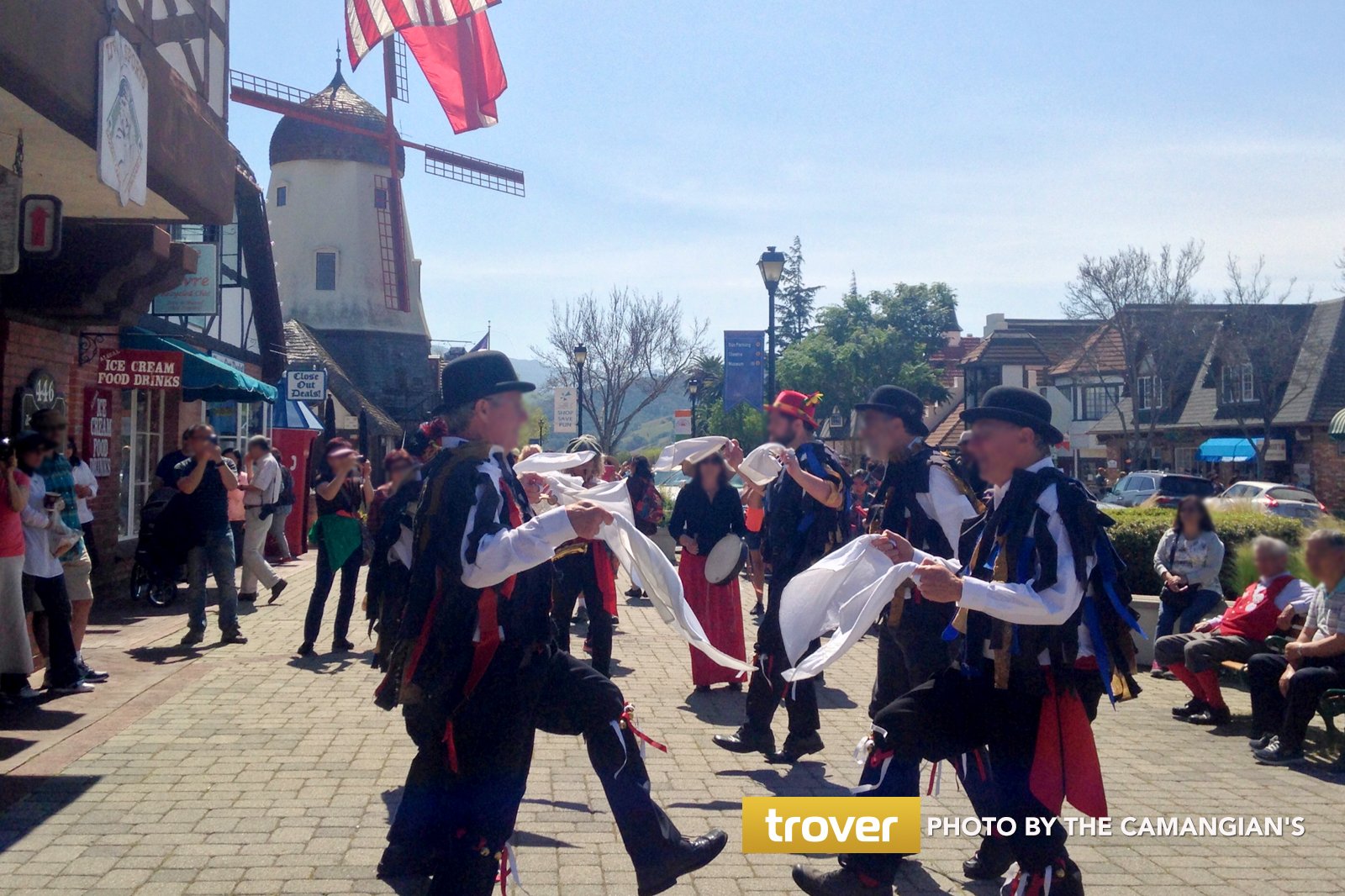 Solvang Village
Experience Old Europe on the Californian Coast
Unlike the well-known destinations in the Golden State, Solvang is a small town that many tourists delightfully stumble across as it's on the main road that connects north and south interstate highways.
Solvang was established in 1910 by a group of Danish-American scholars, where their earlier generation migrated to the Midwest states since the 1850s, straight from Denmark. Minus the snow and the cold, this town feels like Santa's village in the middle of California. The new locals have rebuilt the old-world "Danish Village" architecture with replicas of windmills, the Hans Christian Andersen statue and Denmark's Round Tower. Expect to see horse carriages passing through. While here, pick up some baked goods such as the Kringle, a traditional pastry baked with custard and raisin, or the Æbleskiver, a Danish pancake ball served with raspberry jelly and butter pecan ice cream.
Location: 1680 Mission Dr, Solvang, CA 93463, USA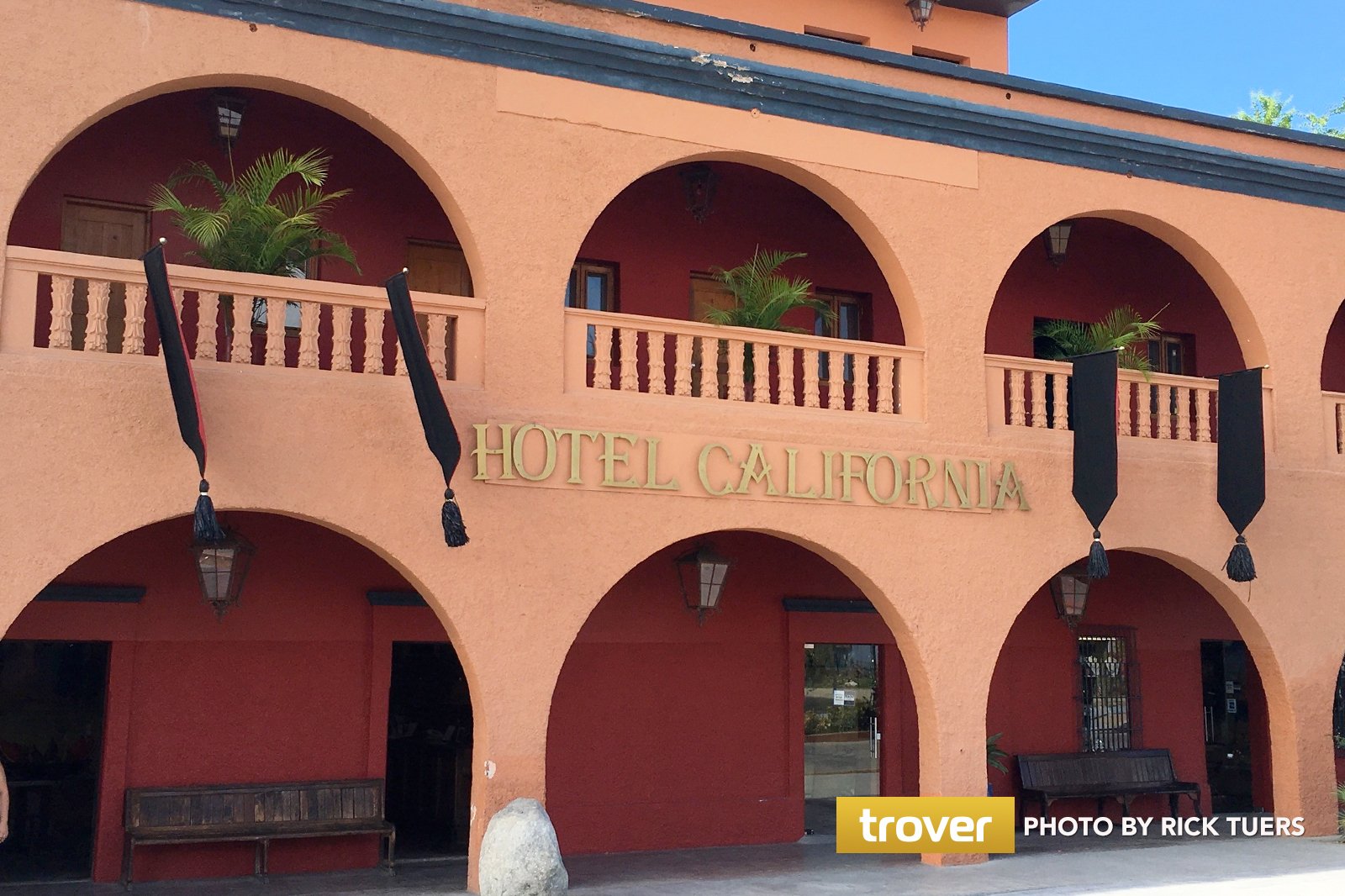 Hotel California
Welcome to the Hotel California, or is it?
Hotel California in Todos Santos on Baja California Sur has been around since 1947, about 1,000 miles south of San Diego. Okay, so it's not actually in the state of California, but it's certainly quirky.
The interior is saturated with rich palettes of colours resembling the paintings of Frida Kahlo. Originally, the 16-room hotel was founded by a Chinese immigrant who became a celebrated local entrepreneur, and was dubbed as "El Chino," or the Chinese man. However, the long-rumoured story that the famous song was based here, is an ongoing debate. Despite unconfirmed stories, this hotel attracted many 70s rock stars that come to stay, such as Keith Richards and Crosby, Stills & Nash.
The song, however, was written as a metaphor and that the hotel itself does not exist, so Hotel California had to put up a written disclaimer regarding this incident. Nonetheless, this hotel may have benefited from the myths surrounding the music, with many visitors who come to visit just to see with their own eyes the "mirrors on the ceiling, pink champagne on ice."
Be reminded that citizens of other countries need their passport to enter Mexico, while certain nationalities also need a visa.
Location: Calle Benito Juárez S/N, Centro, 23300 Todos Santos, B.C.S., Mexico
Phone: +52 612 145 0525
Beetle House Restaurant
"Tally me bananas" at the Beetle House
Beetle House is a popular theme restaurant in downtown West Hollywood. Its interior is more endearing than scary, with its cartoonish, Gothic ambience – a classic Tim Burton signature style. The space is a combination of the black hilltop house in Beetlejuice with a touch of The Nightmare Before Christmas.
With a creative menu list and cool presentations, the Edward Burger Hands is a burger with Sriracha cream, smoked bacon, and quail egg with bloody fingerprints all over. The Sweeney Beef is a filet steak in sautéed mushrooms and red wine at a $30 price tag. Don't forget to pair it with Beetle's Juice or the Edward's Lemonade cocktail. The cost can be mid-range to pricey, but people still come here for the fun experience and photographic opportunity. Character actors such as Sweeney Todd, Willy Wonka, Beetlejuice and Edward Scissorhands are there to entertain you. These guys are really committed to their craft, and won't break character easily.
Beetle House also holds its "Freak Show," a scheduled variety performance of dance, fire eaters, and contortionists. Visitors are advised to make reservations, as this place can fill up fast.
Location: 6356 Hollywood Blvd 2nd floor, Los Angeles, CA 90028, USA
Phone: +1 929-291-0337
Opaque — Dining in the Dark
Appreciate food, people, and conversations through heightened senses
This might not be for everyone, as it may trigger some claustrophobia. Visitors will have to weigh options, as the price tag of this experience is about $100, before gratuity and taxes.
The restaurant serves food in a completely pitch-dark dining space. Customers are briefed in advance and make selections from the menu, and then ushered into the dining room with other patrons. Eating here requires a keen practice of being in the moment, whether it's holding hands with your fellow diner, or recognising the server's voice, or if the steak is medium-rare as ordered. Some interesting post-dining observations can be a humbling and eye-opening recount with descriptions of fear, excitement, heightened sense of taste, smell and hearing, while managing expectations when the lights are turned on.
Location: 2020 Wilshire Blvd Santa Monica, CA 90403
Phone: +1 310-546-7619