Lincoln Square is one of the most prominent Chicago neighbourhoods. While many assume that it's relegated to the section of Lincoln Avenue running from Lawrence Avenue to Leland Avenue, the truth is that it's much larger, and actually includes several other well-known areas, such as Bowmanville, Ravenswood, and Budlong Woods.
Originally, this area was prairie land outside the borders of old Chicago, but Lincoln Square today is a bustling area filled with nightlife, dining options, shopping selections, and much more. Its central location also means that residents and visitors enjoy easy access to the L train for hassle-free travel throughout the rest of the city.
Lincoln Square in Chicago - one of the highlights of 10 Best Places to Go Shopping in Chicago (Read all about Chicago here)
What are the highlights of Lincoln Square?
You will find plenty to love about Lincoln Square, but one of the area's highlights is its food scene. It's a great place if you love German fare, but the options don't stop there. From hot fried chicken to authentic Mexican cuisine, Indian dishes to iconic Chicago-style hot dogs and pizza, it's all on offer here.
Another highlight of this neighbourhood is its commitment to shopping local. You'll find a plethora of independent businesses throughout Lincoln Square, selling handicrafts, clothing, art, and everything in between. If you're in town during December, make plans to attend Shop Late Lincoln. Participating businesses offer special deals and stay open late into the evening.
Some of the most notable local businesses include Amy's Candy Bar, The Book Cellar, Caravan Guitars, The Chopping Block, Gene's Sausage and Delicatessen, Merz Apothecary, and Timeless Toys.
For those looking for a bit of a respite from the city life, head to Charles B. Benson Grove. It's not far from Lincoln Centre and includes 30 quaking aspen trees. It's also well-lit at night, so it makes a great stopping point no matter the time of day.
Finally, there are plenty of iconic locations to explore, often sandwiched between other destinations. For instance, the historic Church of the Good Shepherd was built in 1893. The still-standing venue is located between the Julliard School and 3 Lincoln Centre apartment building.
A brief history of Lincoln Square
Lincoln Square got its start in the mid-1800s when German immigrants settled in the area. They transformed what was then featureless prairie land into a thriving community, which eventually became the Celery Capital of America.
By the early 1900s, the city of Chicago had crept up to the area's doorstep, and the accessibility of public transportation made it possible for urban dwellers to move outward, eventually allowing the city to expand and engulf Lincoln Square. In addition to the German influence, Lincoln Square also has English, Polish, and Swiss roots, although successive waves of international immigrants have left their mark, too.
Today, Lincoln Square is a neighbourhood of contrasts. Local shops and eateries stand shoulder to shoulder with historic homes. Parks can be found throughout the area, and festivals occur regularly throughout the year. Speaking of parks, you'll find seven of note, ranging from Winnemac Park, which covers more than 40 acres, to Sunken Gardens Park, a small area adjacent to the river with a handful of benches ideal for rest and quiet contemplation.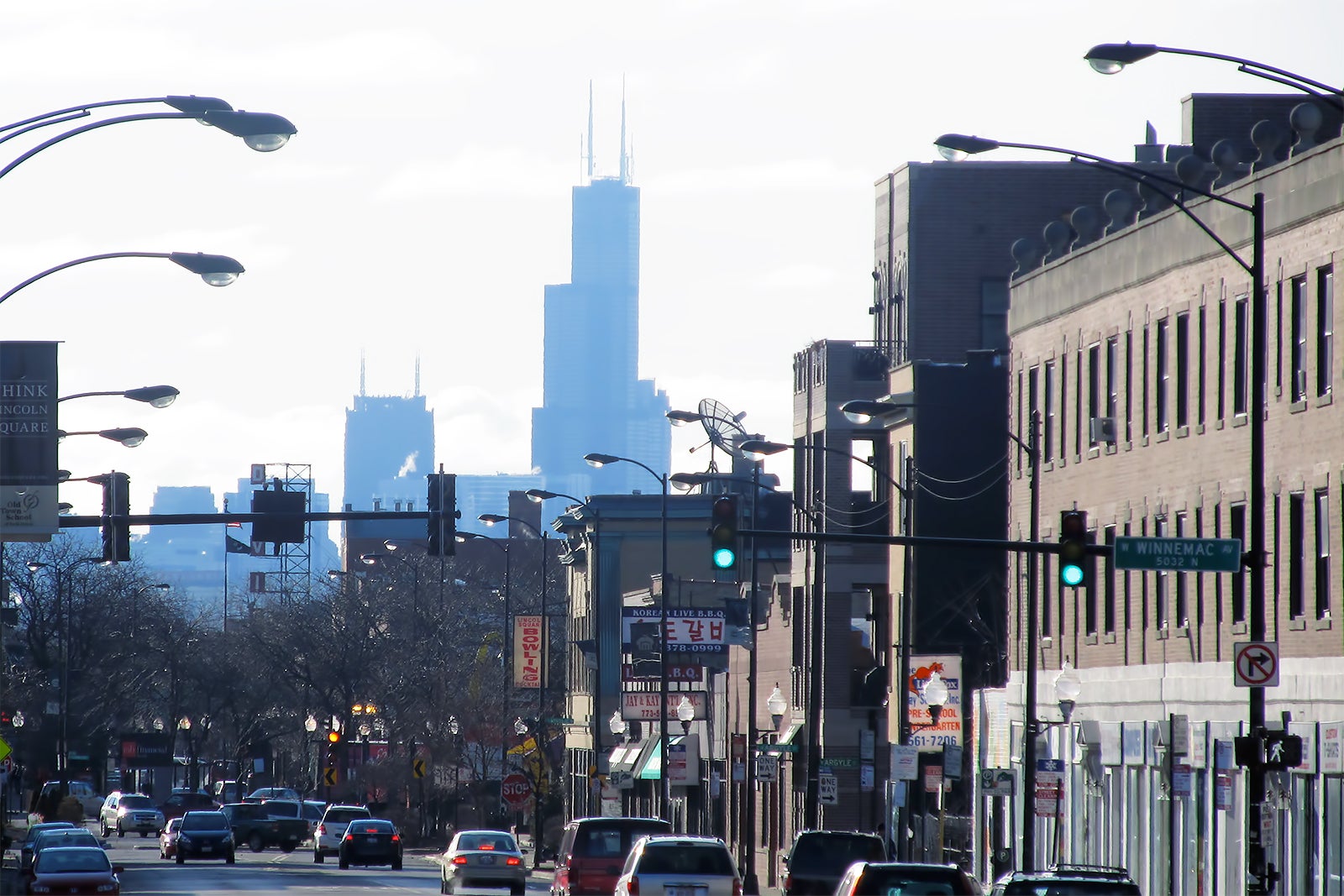 Good to know about Lincoln Square
The L's Brown Line serves Lincoln Square, providing access to the rest of Chicago with ease. The Chicago River forms the area's western boundary, and offers lots of opportunities for enjoyment, from small parks to walking paths, and more.
If you'll be in the area during fall, make time for the Apple Fest. The whole neighbourhood comes together to celebrate, including dozens of local vendors and chefs. The Square Roots Festival is also a must-see celebration. It takes place every summer and honours the area's history in music and its German roots.
Lincoln Square in Chicago
Back to top