Kansas City Travel Essentials
Useful Information to Help You Start Your Trip to Kansas City
Our Kansas City Travel Essentials lays out the essential information you need to help you plan your trip to one of the most popular destinations in Missouri, USA. No matter how frequently you travel, some questions will always need answers: What's the weather like? How can I get from Kansas City International Airport to my hotel? What currency and type of plug do I need?
We have all these answers plus other basic info about the best time to go, getting there, getting around, and a few useful travel tips. You'll also learn about the most popular landmarks in Kansas City such as the City Market, the Nelson-Atkins Museum of Art, and the National WWI Museum and Memorial. It's all compiled in this Kansas City Travel Essentials. After going through this short and easy-to-read guide, you'll be a little more prepared to start your trip to Kansas City.
1
When is the best time to travel to Kansas City?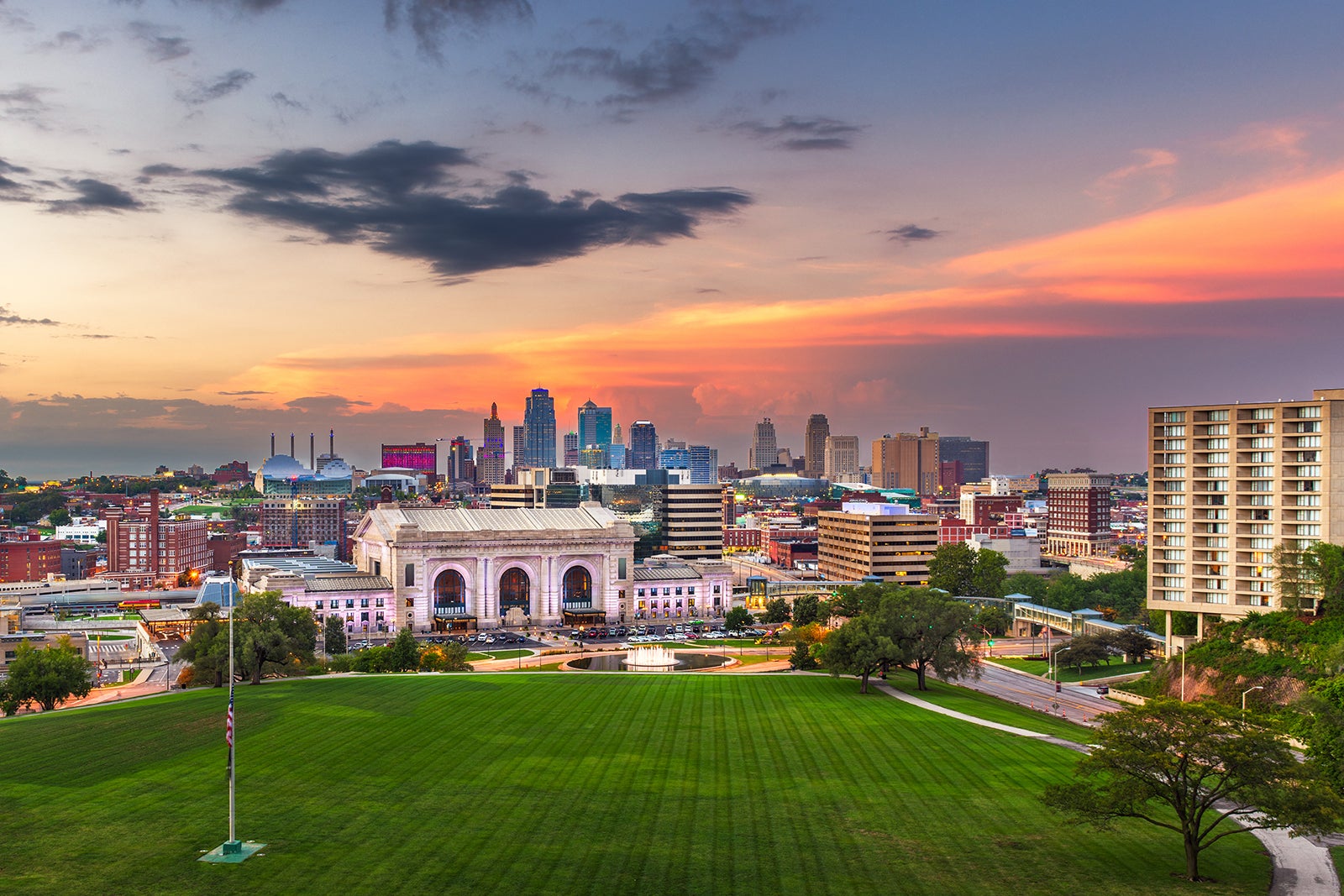 Kansas City has a warm and temperate climate where the summers are hot and wet, and the winters are cold, snowy, and windy. Average temperatures range from 24°F to 90°F.
Kansas City receives significant rainfall throughout the year, and occasional rainstorms are common between the summer months of May and August – tornadoes often occur earlier. June is the wettest month in Kansas City.
May–September is the hottest time of the year in Kansas City, with July being the hottest month. Summer, between June and August, is peak tourist time in Kansas City. Expect thicker crowds and higher accommodation rates during summer – it's wise to book a few months ahead of your visit.
The best time to visit Kansas City is September and October when the summer crowds have gradually subsided, yet the city still enjoys sunny days but overall pleasant weather for enjoying most activities.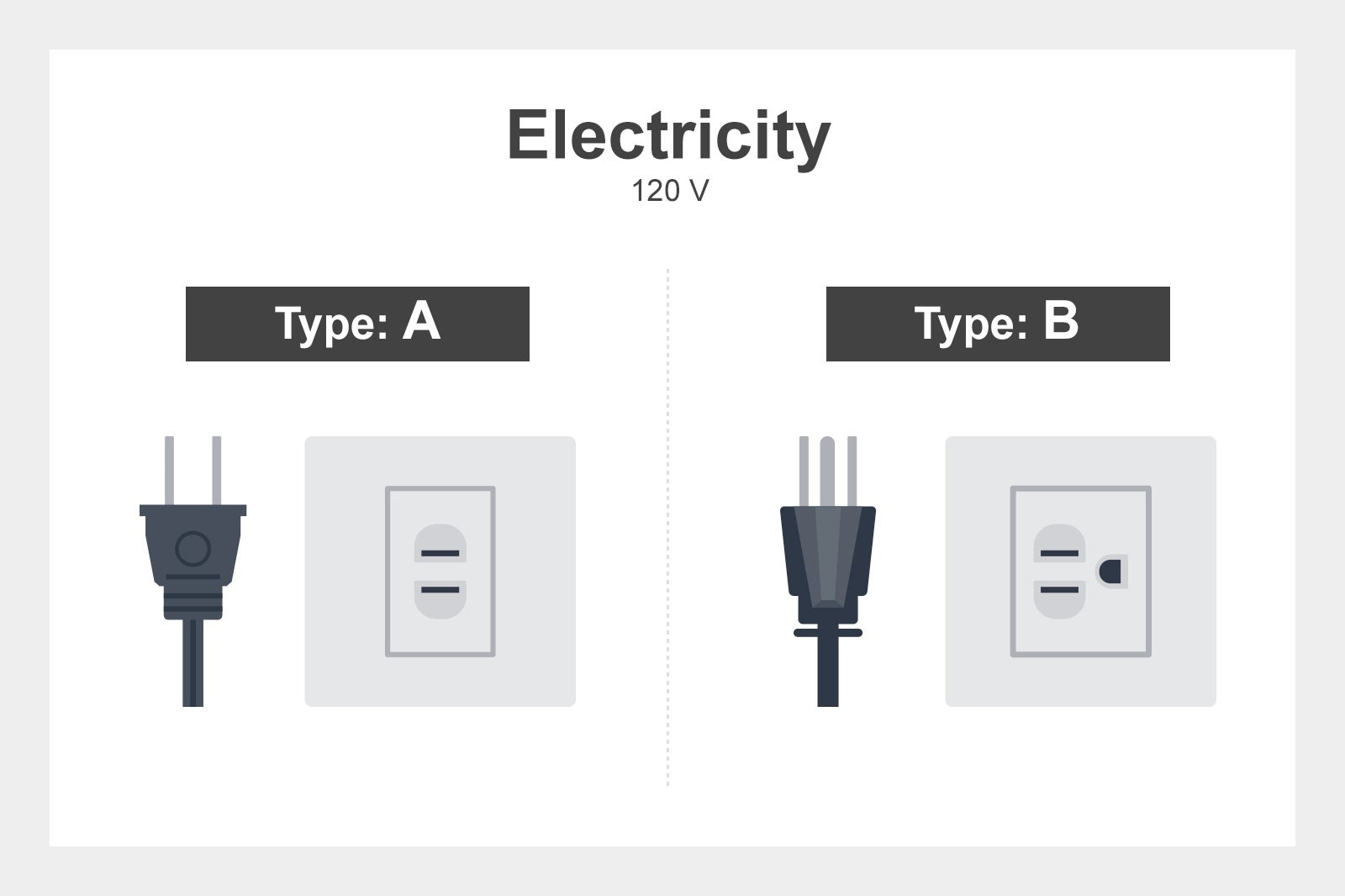 Plug type: A and B
Electricity: 120 V
Currency: United States Dollar (US$)
International dialling code: +1 816
Emergency telephone number: 911
3
How to get to my hotel in Kansas City?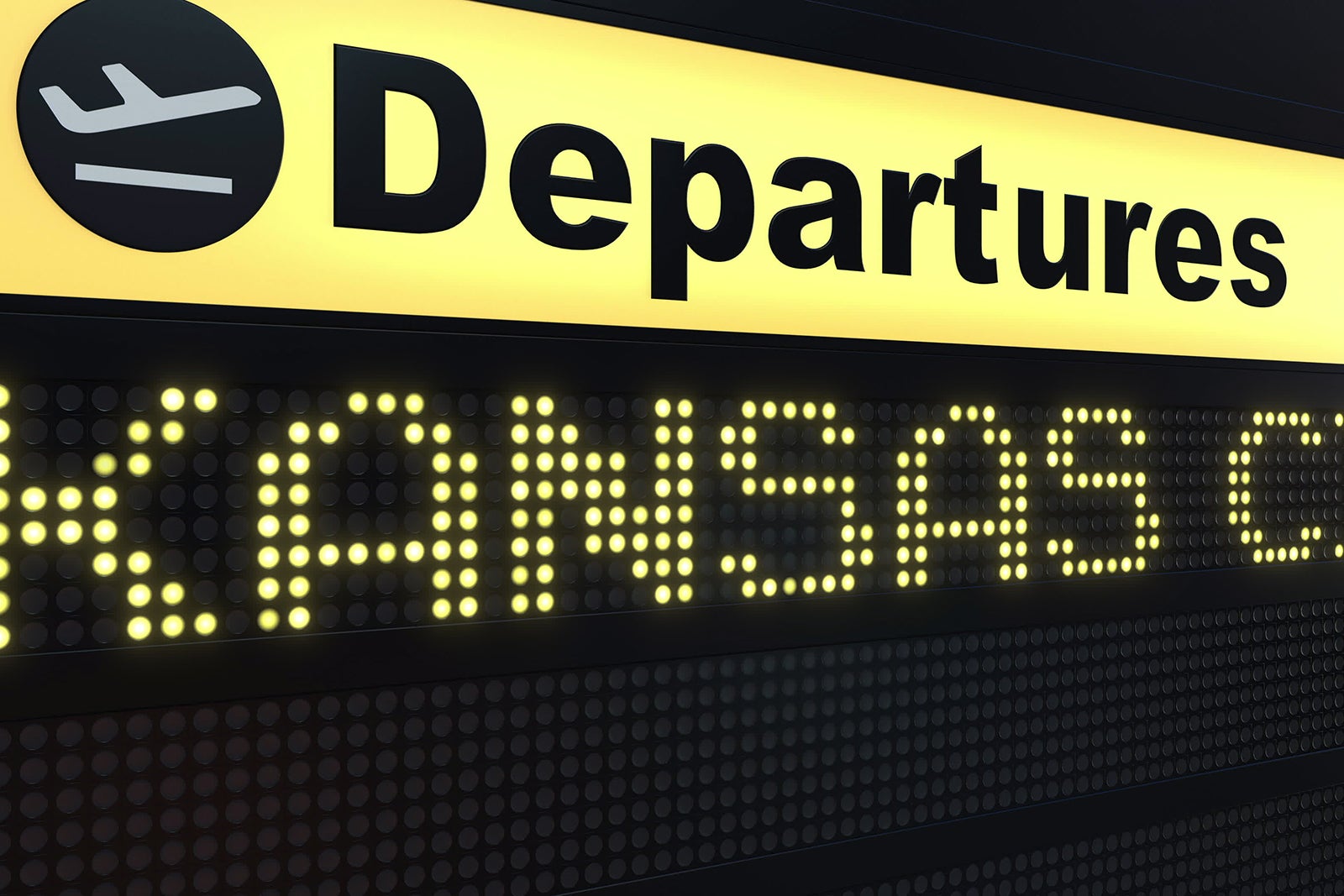 Flying into the city, Kansas City International Airport serves your main gateway. The airport lies 21 miles north-west of downtown Kansas City. Smaller charter flights may land at Charles B. Wheeler Downtown Airport (MKC), just north of downtown, across the Missouri River. By land, you can get to Kansas City by Amtrak train, arriving at Kansas City Union Station at Pershing Road in downtown.
If you're travelling on a budget, you can also get into Kansas City by Greyhound bus or other commercial coach services with the bus terminal right in the heart of the city on Troost Avenue. Driving into the city is easy as it's where 4 major interstate highways converge, namely I-29, I-35, I-49, and I-70. Other interstate highways such as I-435, I-470, I-635, and I-670 also cross through the area.
Kansas City International Airport
Kansas City International Airport (MCI) has nonstop and connecting flights to cities throughout the States as well as Mexico and Canada. Flights from other countries may require connecting routes from other major airports. Downtown Kansas is a 25-minute drive from MCI.
Ground transport options to get you to downtown Kansas City from the MCI include the following:
You can call for a taxi inside or outside the terminal at each baggage claim area as well as at other locations outside the terminal exits.
Kansas City Regional Transit buses, otherwise known as RideKC, run to and from MCI daily. Take the Line 229 bus to get to downtown. They accept cash as well as multiple-day bus passes.
Many private scheduled shared shuttle services run from MCI to downtown as well as other regional cities.
Car rental companies such as Avis, Alamo, Budget, and Thrifty, among many others, share a free shuttle service operated by First Transit and REM Inc. – there are 4 – which stop at marked shelters at the airport's terminal medians.
Kansas City Union Station
The historic Kansas City Union Station on West Pershing Road, right in the heart of the city, is a major stop on Amtrak's daily Southwest Chief line connecting Chicago and Los Angeles. Kansas City also serves as the western terminus for 4 trains running Amtrak's 283-mile Missouri River Runner passenger train route that connects Kansas City to St. Louis.
4
How to get around Kansas City?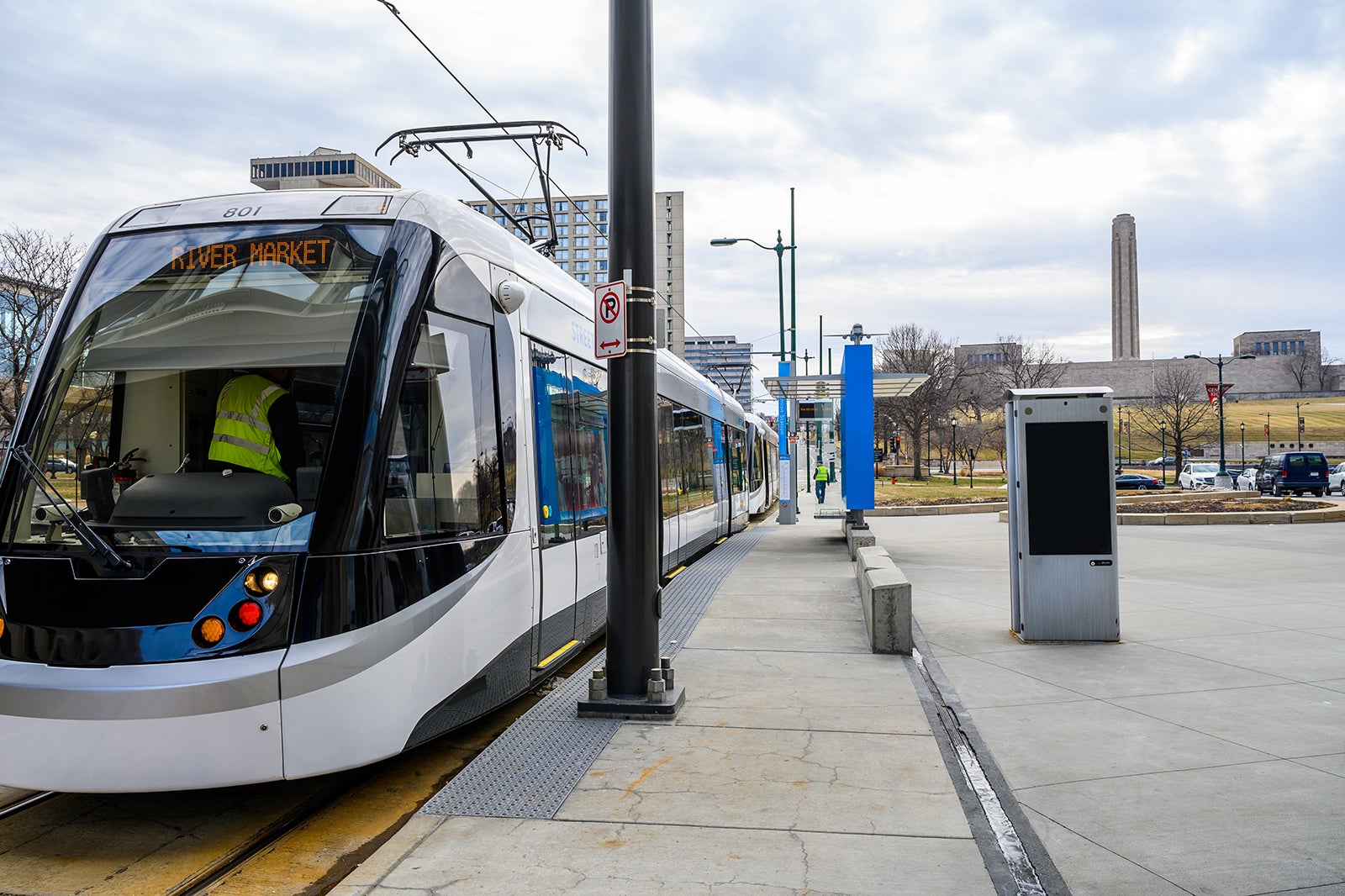 Travel tips
Kansas City is about 319 square miles wide. Even so, its downtown area is manageable on foot, with plenty of walking routes that allow you to sightsee among the city's top highlights. These include the buzzing Power & Light District that's home to the Sprint Center and down to the Historic River Market. Kansas City is also aiming to become a highly accessible city with wheelchair-friendly streetcars and pedestrian routes.
Furthermore, getting around downtown Kansas City is easy and at no extra cost, thanks to the free KC Streetcar service. For longer distances, there's RideKC offering bus services throughout the Kansas City region. Taxis, car rentals, and bike-share schemes are among the other means of getting around the city.
Kansas City Streetcar
The KC Streetcar runs a 2.2-mile route along Main Street in downtown Kansas City, connecting the River Market to Union Station Kansas City on Pershing Road. There are 16 stops along the route, from where you can hop off and explore various parts of the city.
You can hop on the KC Streetcar for free. Furthermore, most stops are sheltered and feature digital kiosks. The streetcars are wheelchair-friendly, and you can even hop aboard with your bicycle or stroller. The Streetcar runs from 6 am until midnight on weekdays and from 7 am on the weekends.
Taking a taxi
Taxi services are available throughout Kansas City, with taxi stands located at major hotels, and shopping and entertainment districts. Major operators include zTrip (+1 913-469-8747), City Cab (+1 816-474-8294), Orange Cab Co. (+1 816-842-6969), Allstar Cab Co. (+1 816-241-6500), just to name a few.
Uber and Lyft are the main ride-hailing apps used in Scottsdale. Their rates are slightly cheaper than standard taxicabs. They accept payments by credit card.
Renting a car in Kansas City
Renting a car is a good option for getting around Kansas City, especially if you plan to visit the outlying attractions or even explore Kansas on the other side. There are many options for parking in the heart of the city. You can check out Kansas City's district parking maps for downtown, the Crossroads Art District, and River Market online to find your most convenient spot.
Besides being available at the Kansas City International Airport, among the car rental companies with offices throughout the city are Avis (+1 816-931-1039), Enterprise (+1 816-842-4700), Hertz (+1 816-474-4970), and Budget (+1 913-262-2926).
Is Kansas City a bike-friendly city?
Downtown Kansas City is improving its bikeable aspect especially with the city's introduction of dedicated lanes as well as its bike-sharing scheme. RideKC Bike is the city's 24/7 public bike-share scheme jointly run by BikeWalkKC, Drop Mobility, and the KC Area Transportation Authority.
Smart electric-assist bikes are great for short trips within downtown and there are traditional pedal bike options for you to choose from as well. You can find bikes at hubs and stations around the Kansas City metro area.
5
What are the main annual events in Kansas City?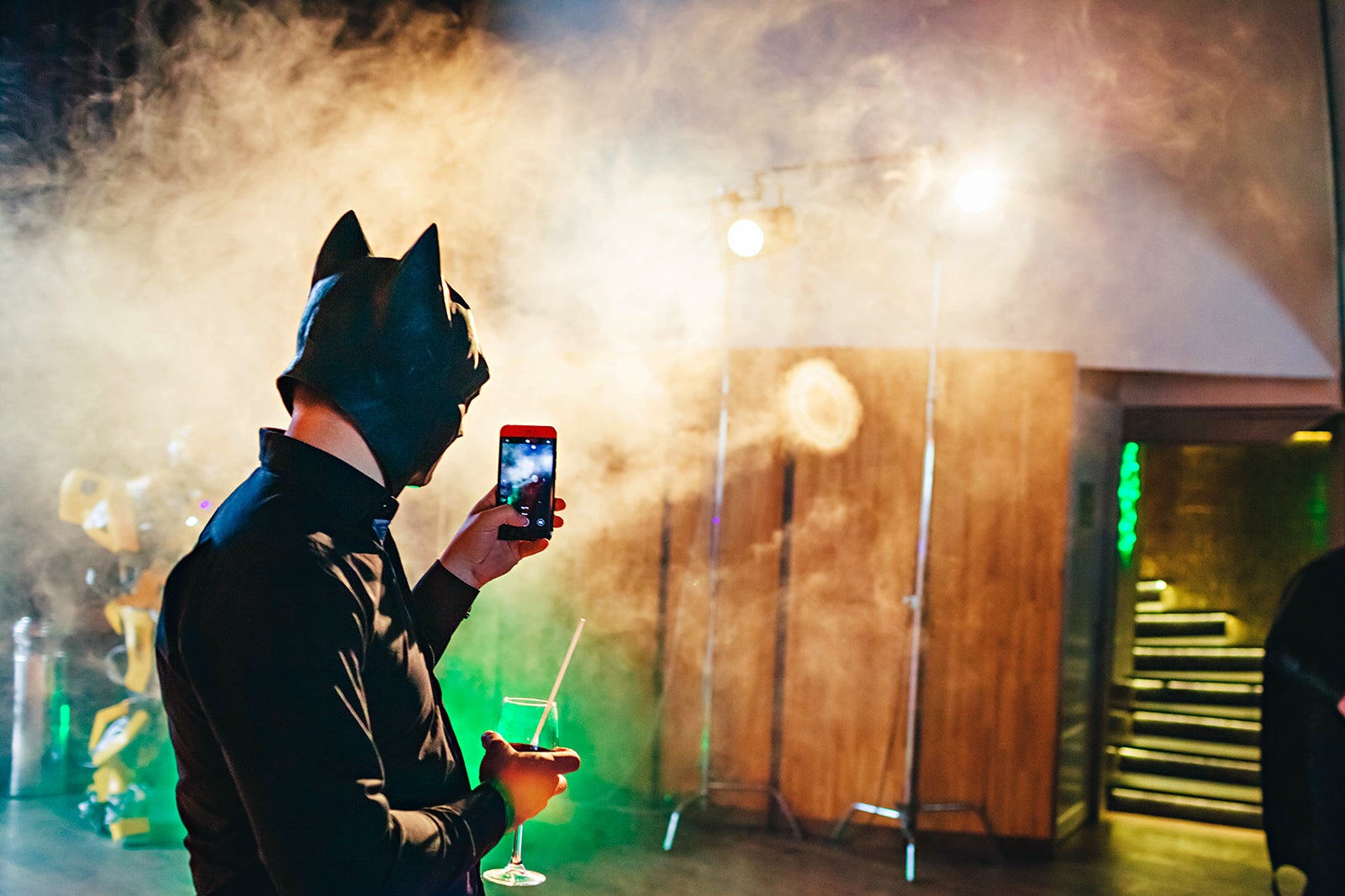 Planet Comicon
March/April
The region's biggest pop culture event featuring cosplays, a comic book festival, and autographs of pop-culture in the region. Expect signing opportunities with big-screen personalities and voice actors of popular animated films.
Where: Bartle Hall, The Kansas City Convention Center
Plaza Art Fair
September
A major annual art celebration in Kansas City covering 9 blocks and featuring hundreds of artists and art installations as well as various stages with live music performances and over a dozen restaurant booths.
Where: Country Club Plaza
Kansas City Renaissance Festival
September–October
A Renaissance fair held each fall in Bonner Springs, featuring a 16th-century-inspired European village complete with jousting knights in medieval armour and unique crafts and food on display.
Where: Bonner Springs
6
What are the main landmarks in Kansas City?
City Market
This open-air marketplace dates back to 1857 and winds its way around a series of riverfront streets with various dining, shopping and entertainment options available.
Nelson-Atkins Museum of Art
The place in Kansas City for art lovers which presents tens of thousands of historical and contemporary artworks spread across 2 striking buildings.
National WWI Museum and Memorial
America's first official WWI museum where you can learn through interactive displays, eyewitness accounts, a series of gripping films, and a massive collection of WWI artefacts.
Country Club Plaza
The European-inspired shopping plaza of Kansas City is one of the region's most vibrant landmarks with stately towers, landscaped courtyards, and stucco facades.
Back to top