11 Free Things to Do in Miami
Miami for Budget Travellers
Behind Miami and Miami Beach's façade of skyscrapers and luxurious hotspots, there are plenty of options for budget travellers. Of course, there's the sun-kissed coastal stretches bordering the blue waves of the Atlantic Ocean, but look further and you can find much more.
In Downtown Miami, sightseeing is made easy with the Metromover. You simply hop on any of these fully-automated buses and enjoy free sightseeing. At the Bayside Marketplace, you can enjoy free gigs near the marina overlooking Biscayne Bay. Even art-lovers are treated to free tours on certain days. Check out these great features in Miami for budget travellers, allowing you to enjoy this swanky metropolis on the Atlantic Coast as frugally as you wish.
1
Hit Miami's great beaches
Atlantic paradises, free for all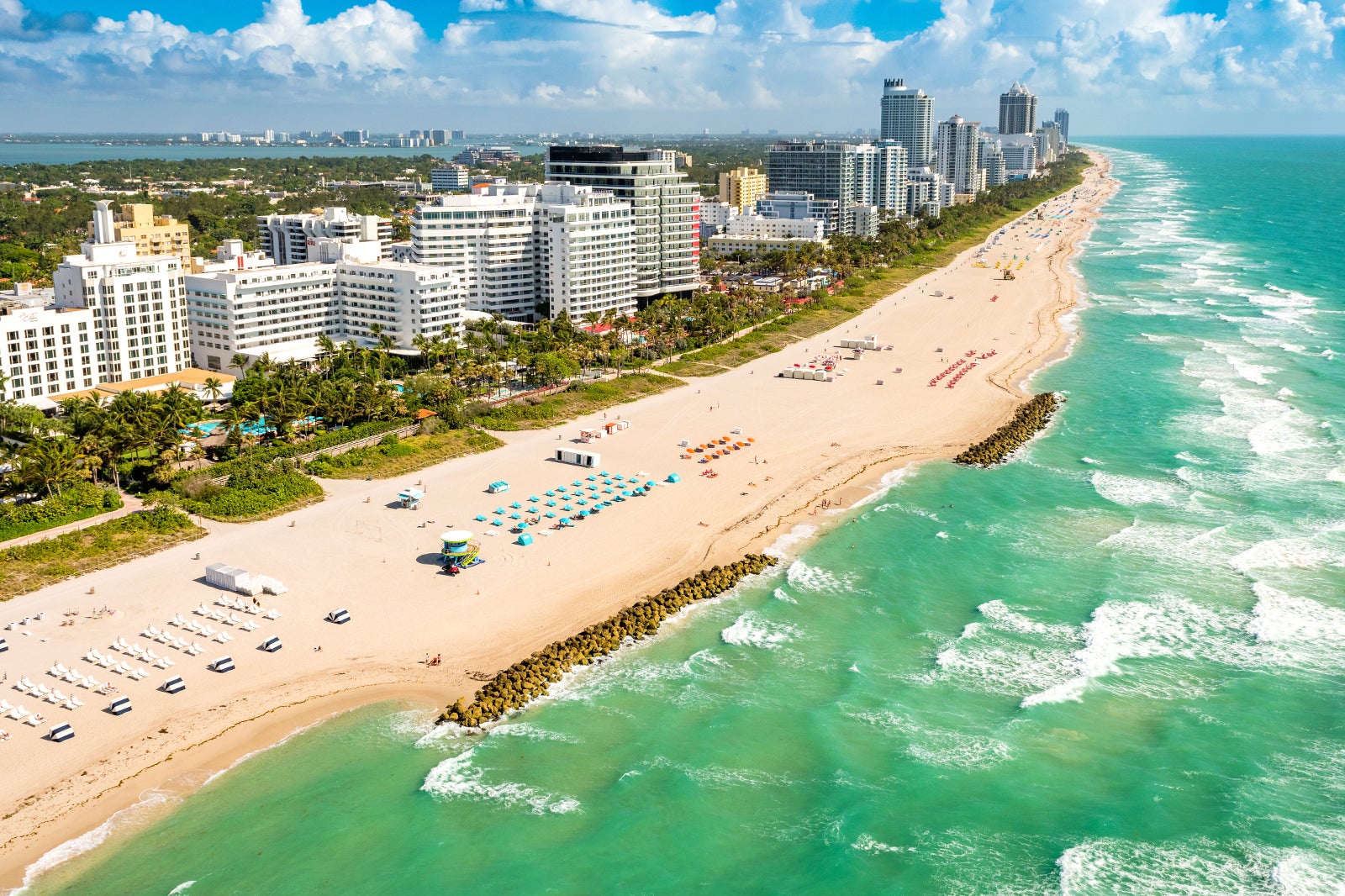 The beautiful beaches are among Miami's main draws. The island city of Miami Beach features most of the beautiful, sandy coastal stretches. From Downtown Miami, Miami Beach is just across the blue waters of Biscayne Bay. South Pointe, Surfside, Lummus, and Haulover are among the most famous and are home to great spots such as South Pointe Park and Nikki Beach Miami. Lummus Park is great for families, with palm-lined promenades and direct beach access. Besides being free, all beaches are well-equipped with facilities and are close to dining spots and other attractions.
Location: 1130 Ocean Dr, Miami Beach, FL 33139, USA
2
Hop on the Metromover
A free ride through the City of Miami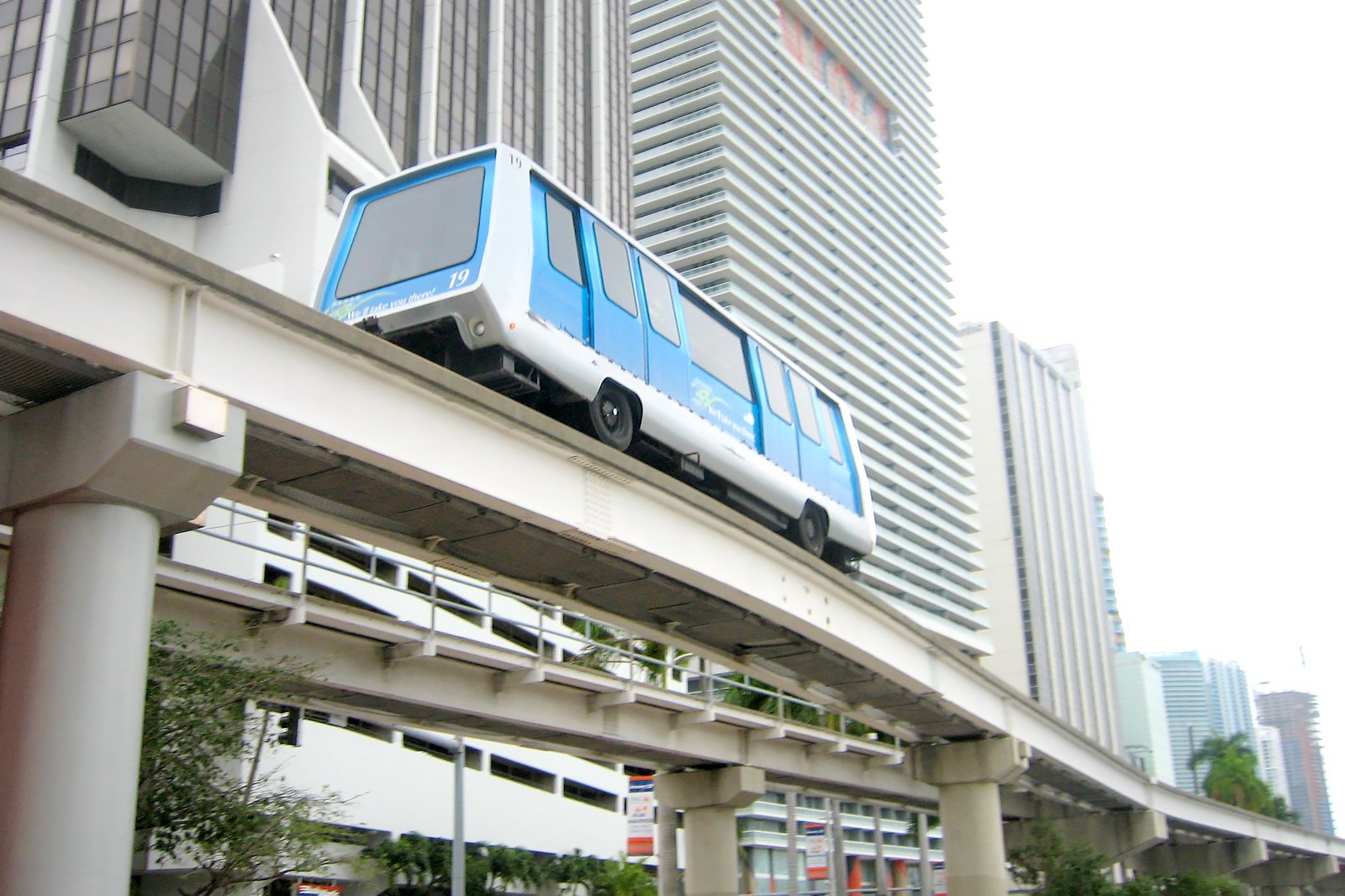 Easily get around Downtown Miami or enjoy a 4.4-mile, fully-automated electric bus sightseeing ride – all for free. On Miami's Metromover, you can take in views of Biscayne Bay, the city's high-rise skylines, and some of Brickell's urban parks. There are 3 routes, including a main one that runs from Museum Park station, between the Perez Art Museum and the Phillip and Patricia Frost Museum of Science on Biscayne Boulevard.
Location: Miami, FL 33128, USA
Open: Monday – Thursday from 5 am to 11 pm
photo by Joedamadman (CC BY-SA 3.0) modified
3
Do the Miami Riverwalk
Pleasant strolls along Downtown Miami's riverside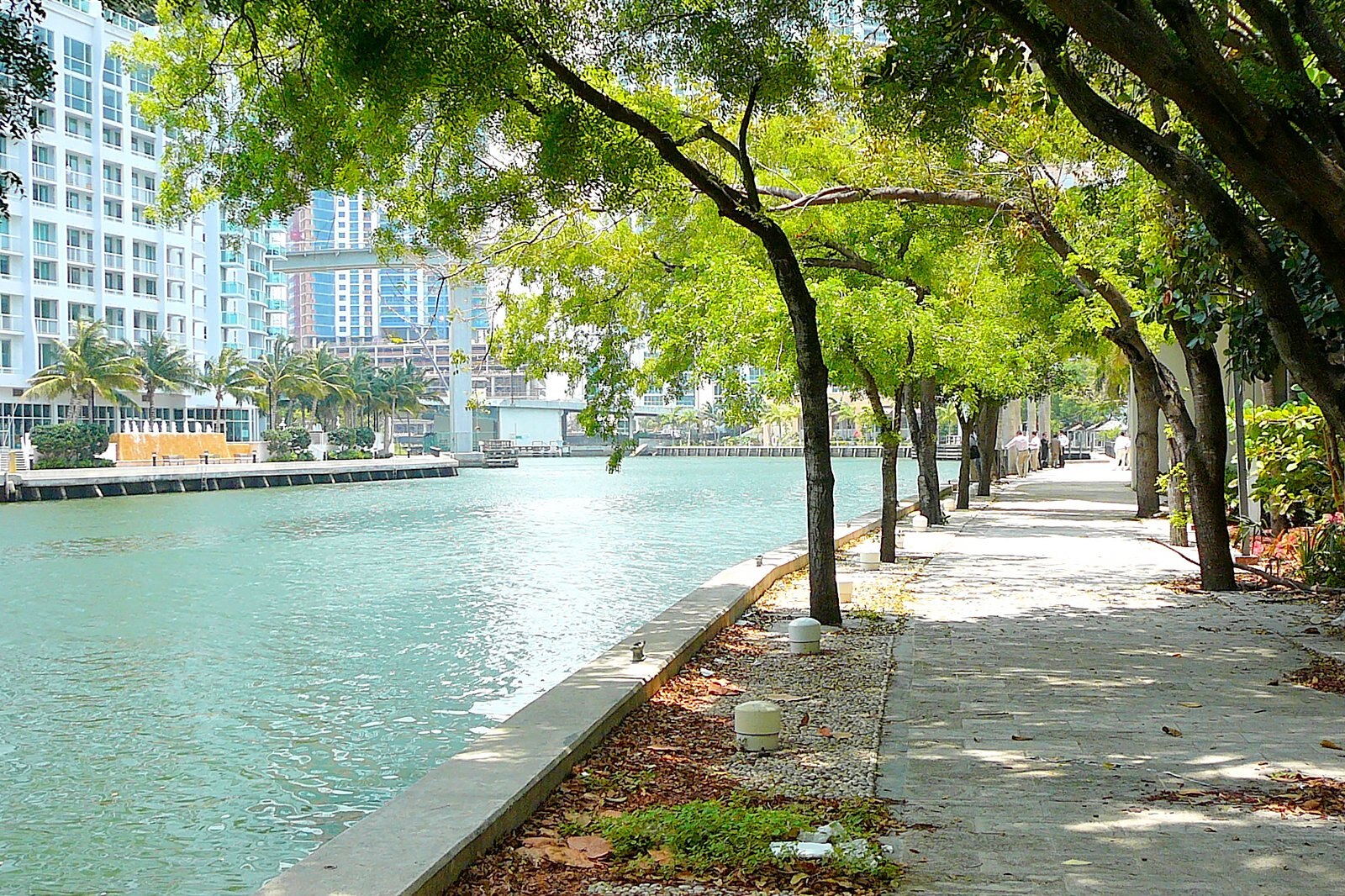 Starting off at either end of this pedestrian walkway lets you to take in Downtown Miami's impressive urban landscapes from a different angle. Most importantly, you can enjoy it at your own leisurely pace and with plenty of riverside restaurants, shops and occasional festivals held along the riverbank. The Miami Riverwalk Festival, which usually comes around each November, features a host of live performances and cultural shows. The Riverwalk can be magical in the evenings, with the reflections of high-rise buildings and city lights on the water's surface.
Location: S Biscayne Blvd, Miami, FL 33131, USA
4
See live performances at Bayside Marketplace
Shopping, dining and entertainment by the water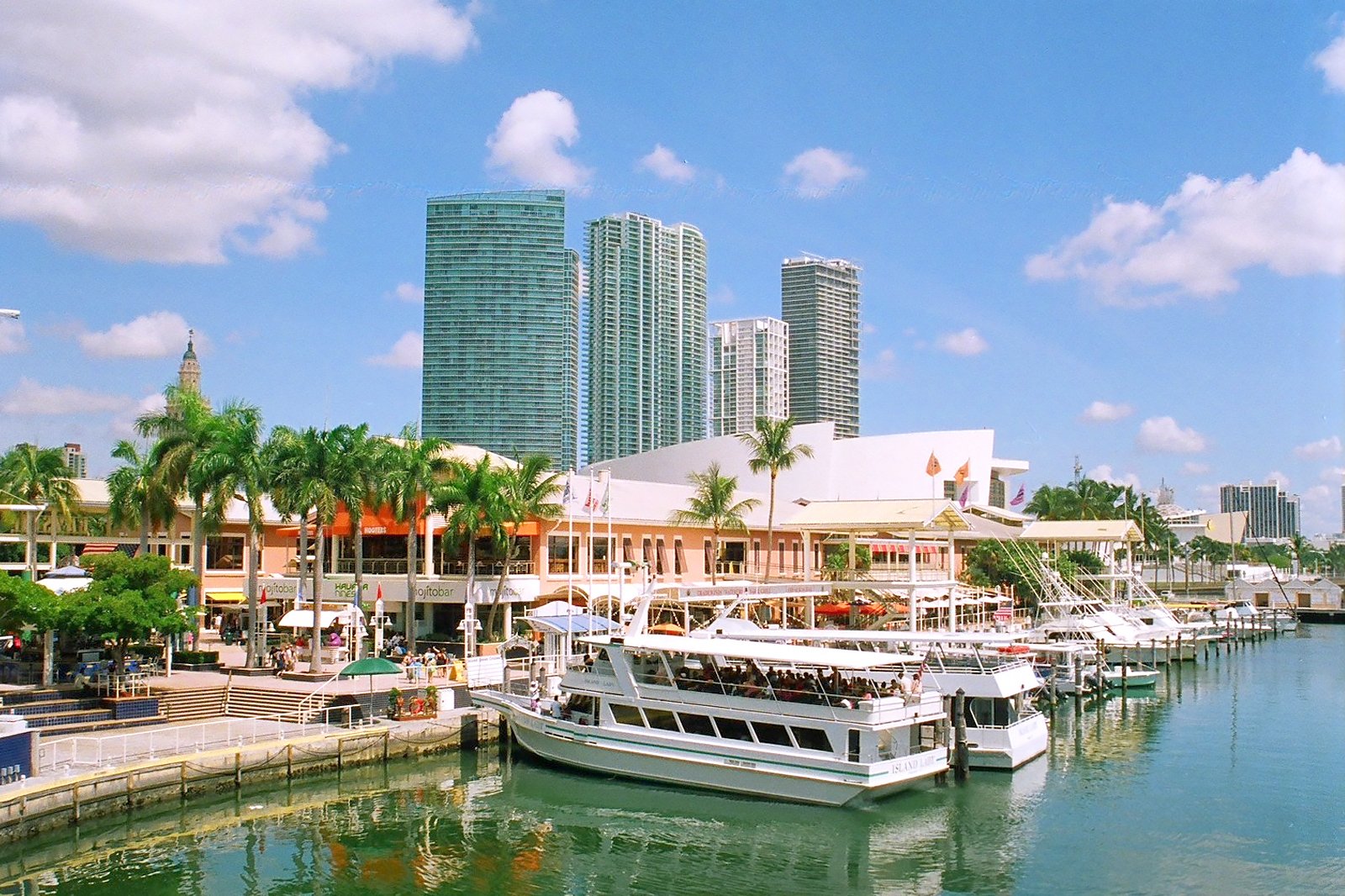 For a scenic shopping and dining experience in Miami, head down to Biscayne Boulevard. The Bayside Marketplace is a great spot to gather with locals and visitors, with various independent shops and big-brand fashion outlets overlooking the yacht-filled marina in Biscayne Bay. When you're not in a shopping mood, there's a good variety of dining options to sate your appetite, ranging from seafood to Latin, and with seating options indoors and out. Free entertainment is offered daily, with live bands and gigs performing on the Marina Stage.
Location: 401 Biscayne Blvd, Miami, FL 33132, USA
Open: Daily from 10 am to 10 pm (Friday – Saturday until 11 pm), Sundays from 11 am to 9 pm
Phone: +1 305 577 3344
photo by Phillip Pessar (CC BY 2.0) modified
5
Go on an art walk
Enjoy a showcase of street art and galleries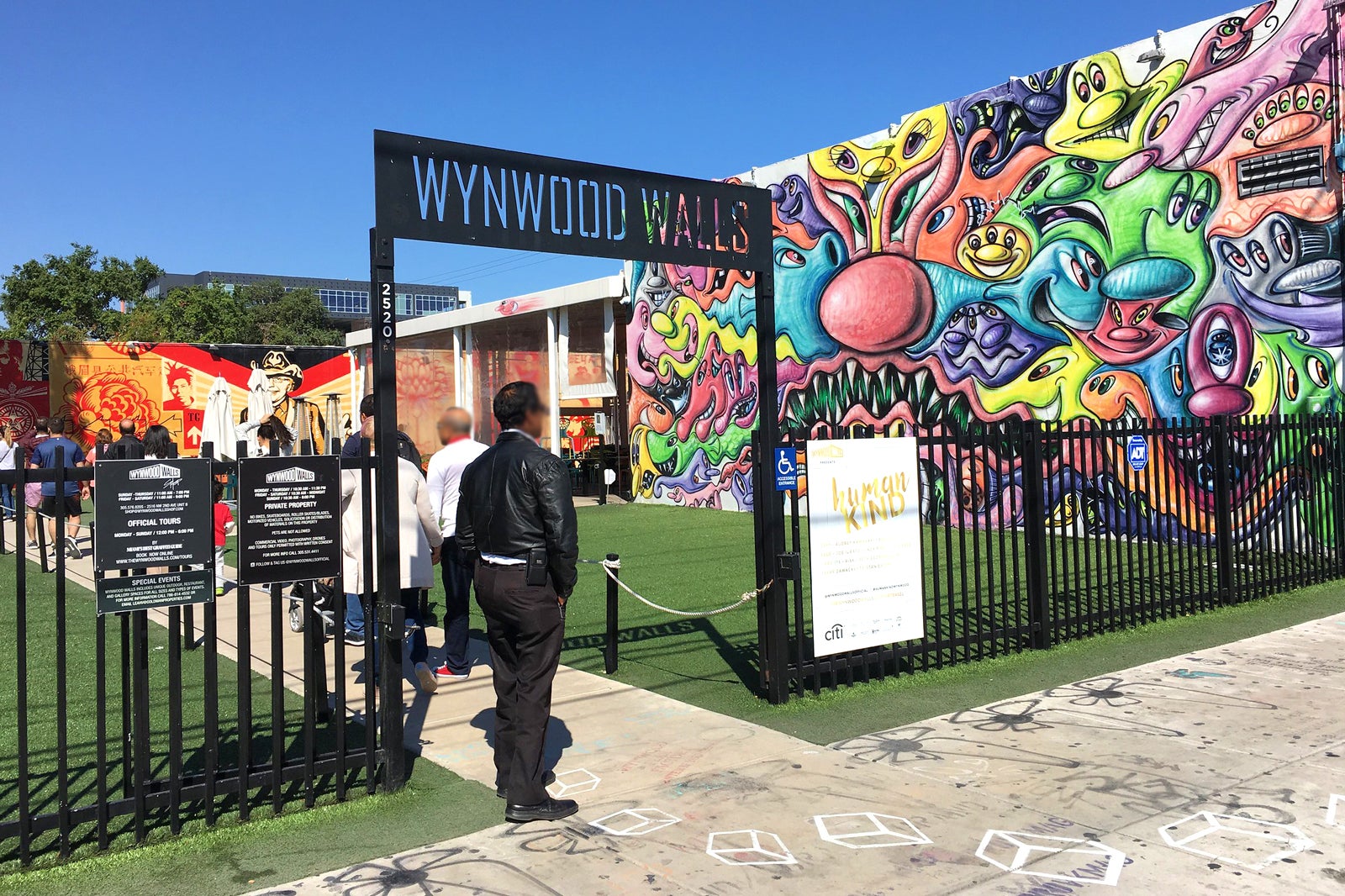 Fun art walks in Miami allow you to explore some of the city's interesting art areas. Northwest 2nd Avenue is popular for its street art gallery, the Wynwood Walls. Strolling through this neighbourhood is a feast for the eyes. A dedicated space called Wynwood Doors features around 176 feet of roll-up storefront gates covered in street art. Coral Gables is another vicinity that's home to over a dozen art galleries. They open for free art walks during "Gallery Nights", held every first Friday of the month.
Location: Wynwood Walls, 2520 NW 2nd Ave, Miami, FL 33127, USA
Open: Monday – Thursday from 10.30 am to 11.30 pm (Fridays and Saturdays until 12 am, Sundays until 8 pm)
Phone: +1 305 531 4411
photo by Phillip Pessar (CC BY 2.0) modified
6
Discover Cuban culture in Little Havana
From chorizos to rhumba and salsa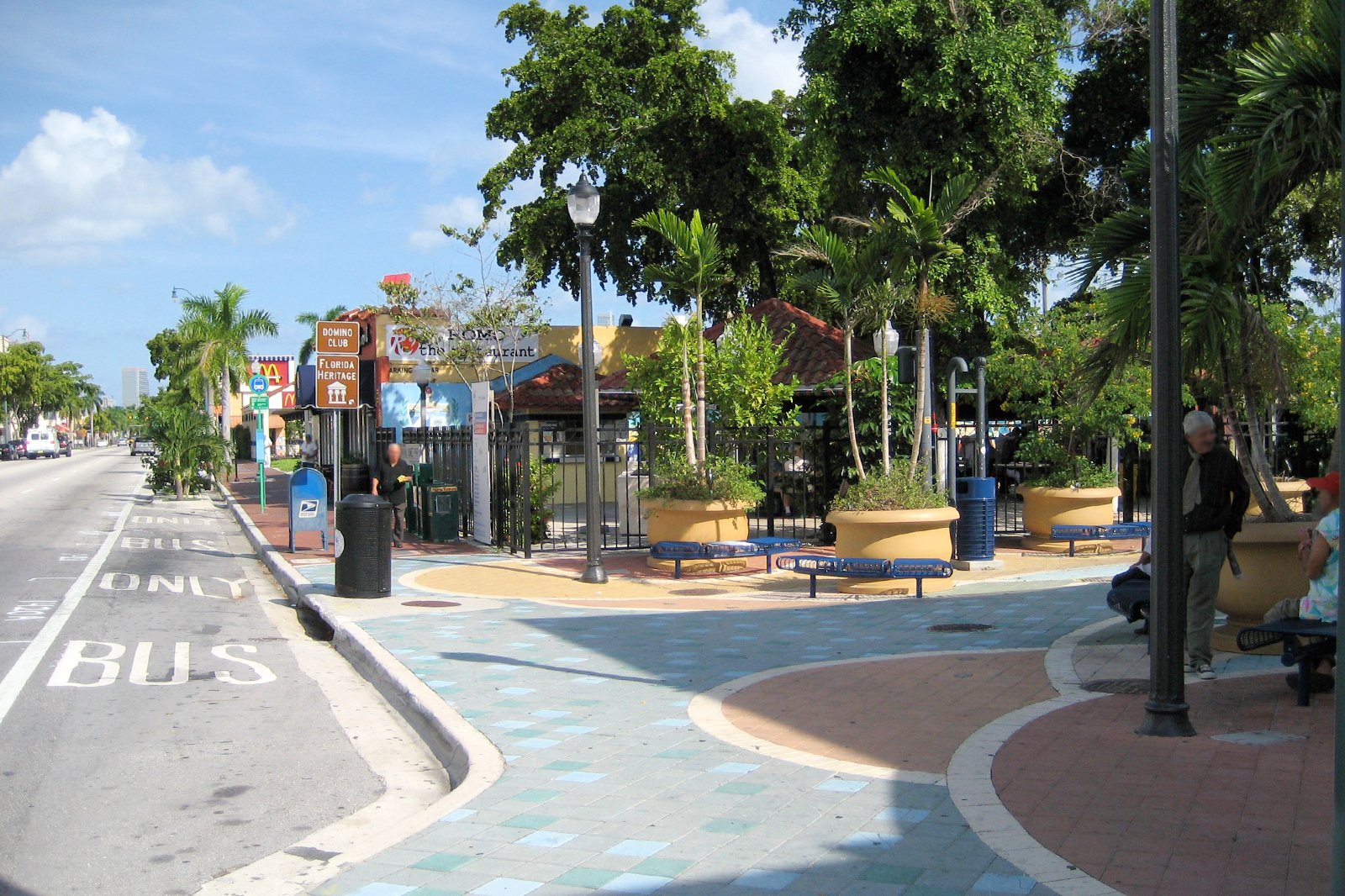 You can discover one of the most unique cultural scenes in Miami in this vibrant and lovely neighbourhood just west of Downtown Miami. Little Havana runs along most of the Calle Ocho strip. Along the route, you'll find a host of Latin American art galleries and busy restaurants, some of which serve the best Cuban sandwiches in town. For entertainment, try the repertory cinema, Tower Theater, which is one of Miami's historical and cultural landmarks that screens independent movies regularly.
Location: 1600 SW 8th St, Miami, FL 33135, USA
photo by Infrogmation (CC BY 2.5) modified
7
Watch free shows at Miami's parks
From live gigs to outdoor movie screenings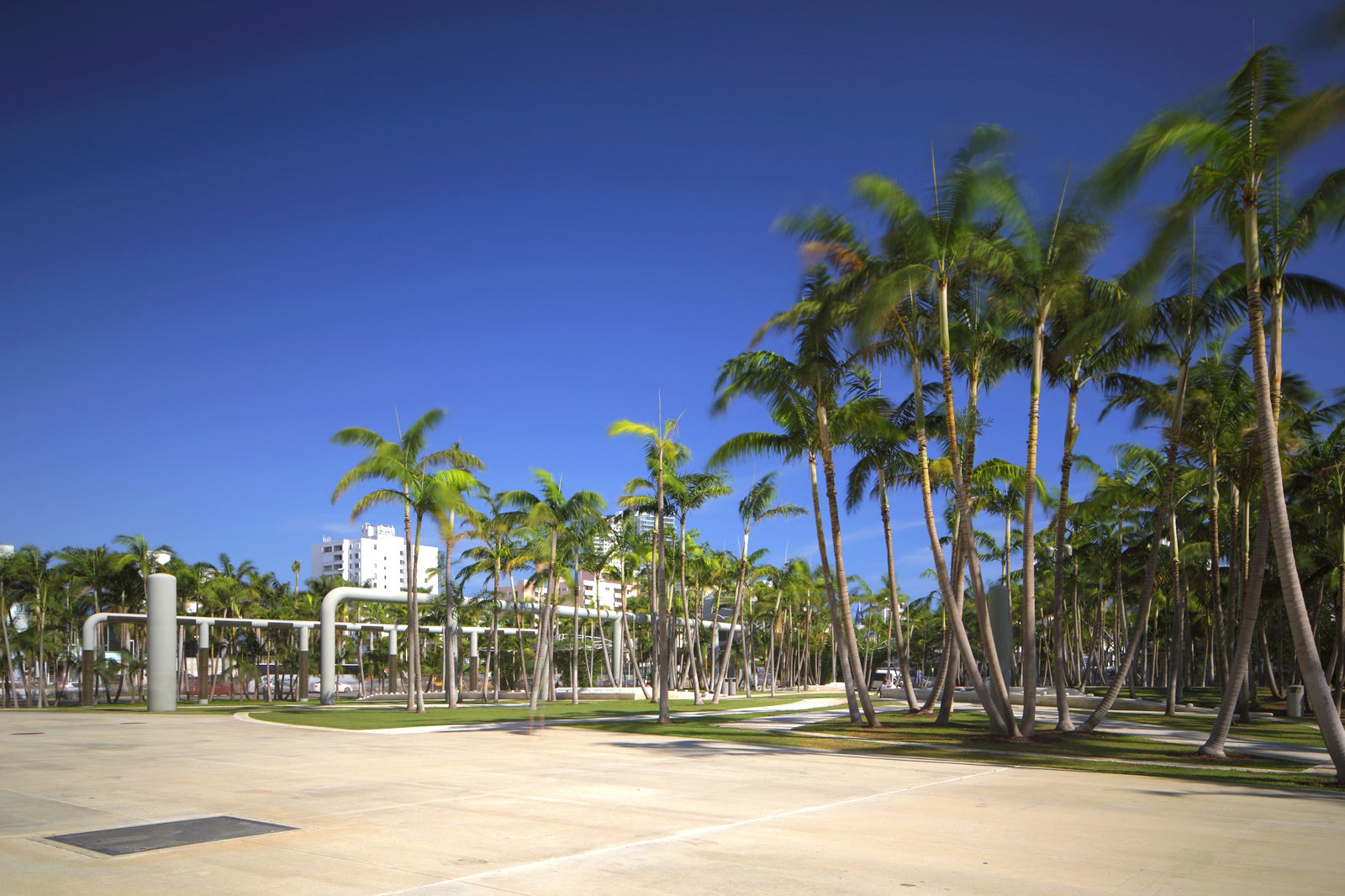 Couples
Families
Photo
Budget
Miami's rich collection of beautiful urban spaces are free for all to enjoy. They're well-maintained and usually offer regular live gigs and interesting entertainment highlights. For one, Bayfront Park in Downtown Miami is known for its free yoga classes, and its green and open spaces make for pleasant picnics and walks with beautiful bay views. In Miami Beach, Soundscape Park is known for its free movie screenings and its symphony "wallcast" featuring performances by the New World Symphony.
8
Visit Miami museums on free days
Opportune times for art and history lovers on a budget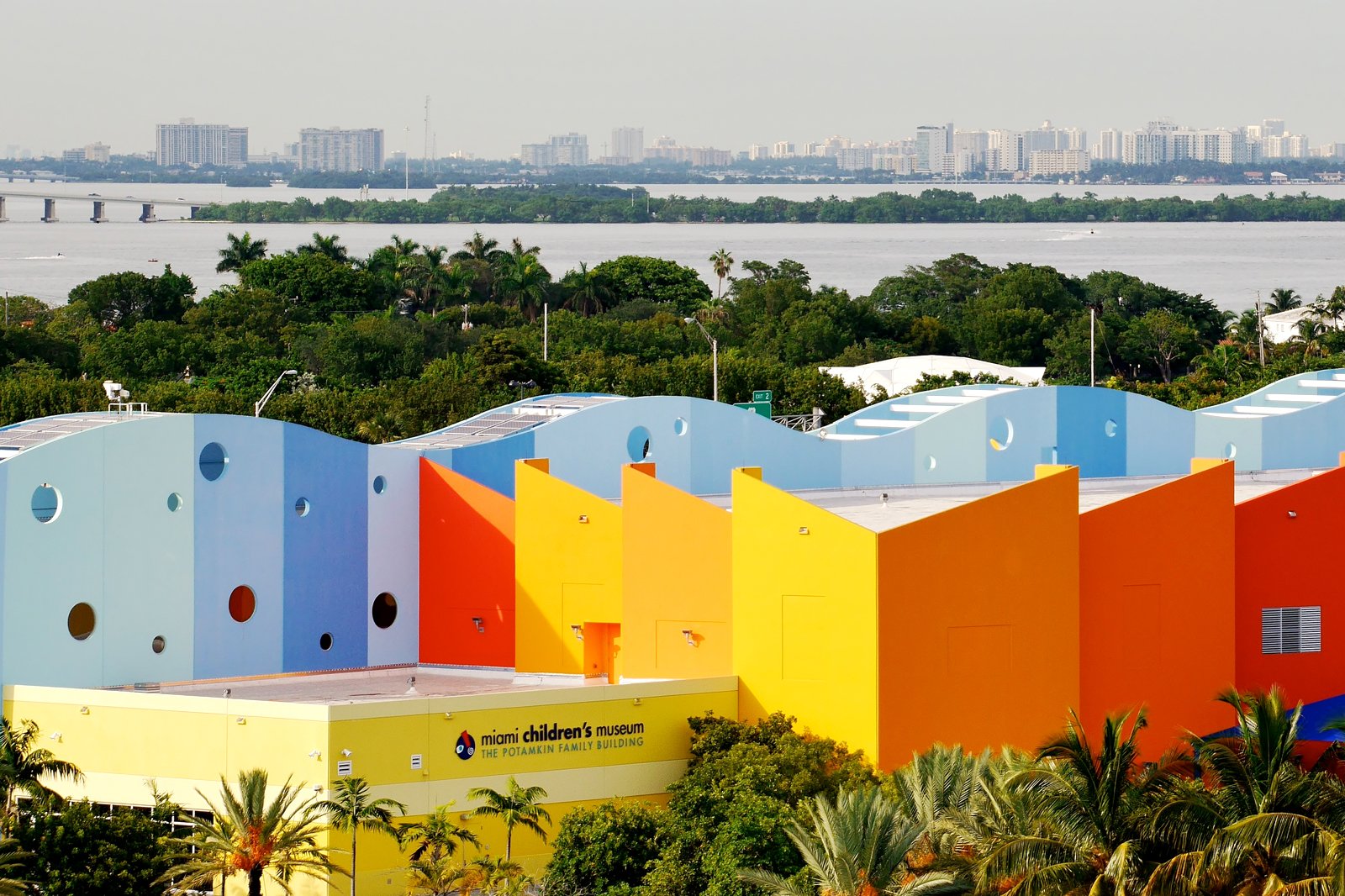 Start with the Miami Dade College Museum of Art and Design, which is free to enter inside Downtown Miami's historical landmark, the Freedom Tower. It hosts exhibitions of contemporary artworks by international and local artists. The art museum of the Wolfsonian-Florida International University is free on Fridays from 6pm to 9pm, with its collection of paintings, furniture, industrial design posters, and phonographs. Take the kids to see the free Weintraub Observatory Star Show at the Phillip and Patricia Frost Museum of Science, every first Friday of the month from 7pm onwards, or enjoy Target Free Third Fridays at the Miami Children's Museum, with hands-on exhibits of art, culture, and communication, from 3pm to 9pm.
photo by qwesy qwesy (CC BY 3.0) modified
9
Bike towards Barnacle Historic State Park
Scenic cycling routes through Coconut Grove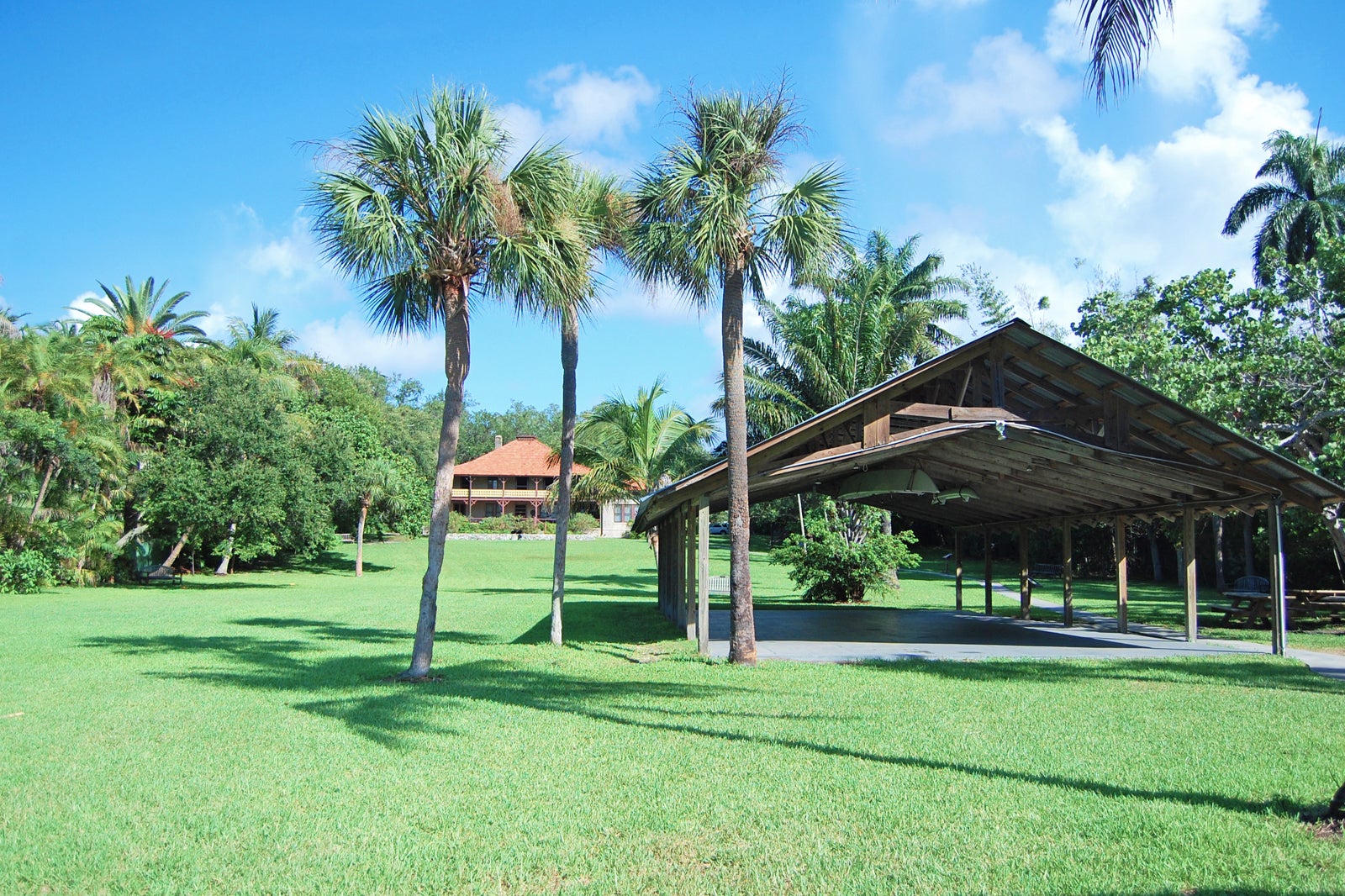 Biking is big in Miami. Around 10 minutes' drive southwest of Downtown Miami, Coconut Grove offers scenic outdoor spaces with lush trails for biking, walking, or skating. Bike Coconut Grove is a local organization that promotes cycling in the city and hosts free cycling tours every 1st and 3rd Saturday of the month. During some scheduled Friday biking events, you can also ride up to the Barnacle Historic State Park, and enjoy free bike valets, as well as free movie nights.
Location: 3485 Main Hwy, Miami, FL 33133, USA
Open: Wednesday – Monday from 9 am to 5 pm (until 7 pm on Thursdays) (closed on Tuesdays)
Phone: +1 305-442-6866
10
Join the family fest at Adrienne Arsht Center
Enjoy top performances for free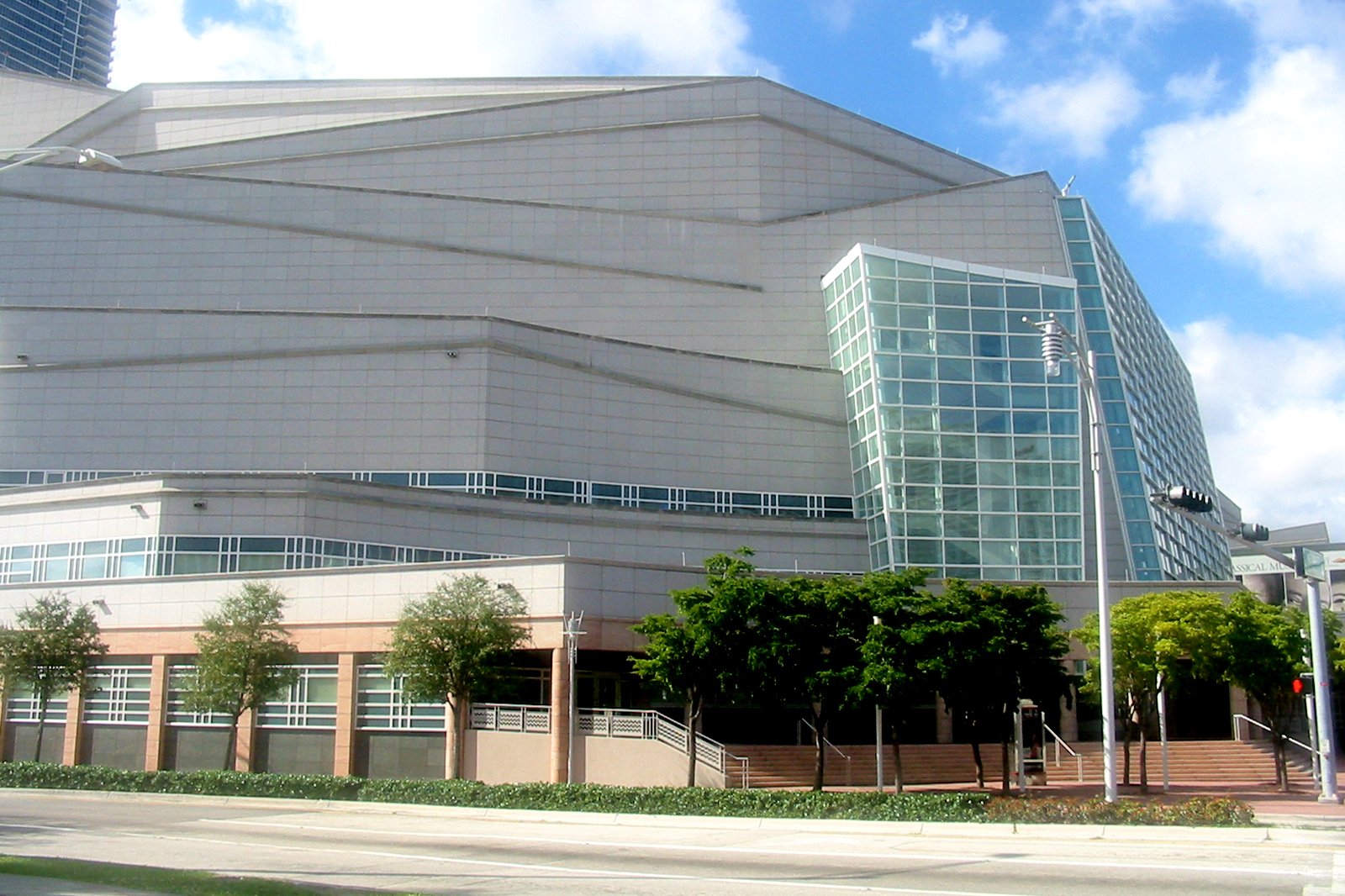 If you wish to introduce your kids to the wonderful world of performing arts, taking them to the Adrienne Arsht Center on Biscayne Boulevard can be a great idea. They regularly throw "Family Fest" events, which are a series of free, indoor, family-friendly performances, featuring a great line-up ranging from award-winning musicians to some of South Florida's best-known performing artists. Although it's free, you will still need to register for their "First-Access Passes" so that they have a better idea of the number of attendees.
Location: 1300 Biscayne Blvd, Miami, FL 33132, USA
Open: Tuesday – Friday from 12 pm to 5 pm (closed on Mondays, Saturdays and Sundays)
Phone: +1 305-949-6722
photo by Phillip Pessar (CC BY 2.0) modified
11
Browse Miami's farmers' markets
For local fresh produce and artisanal goods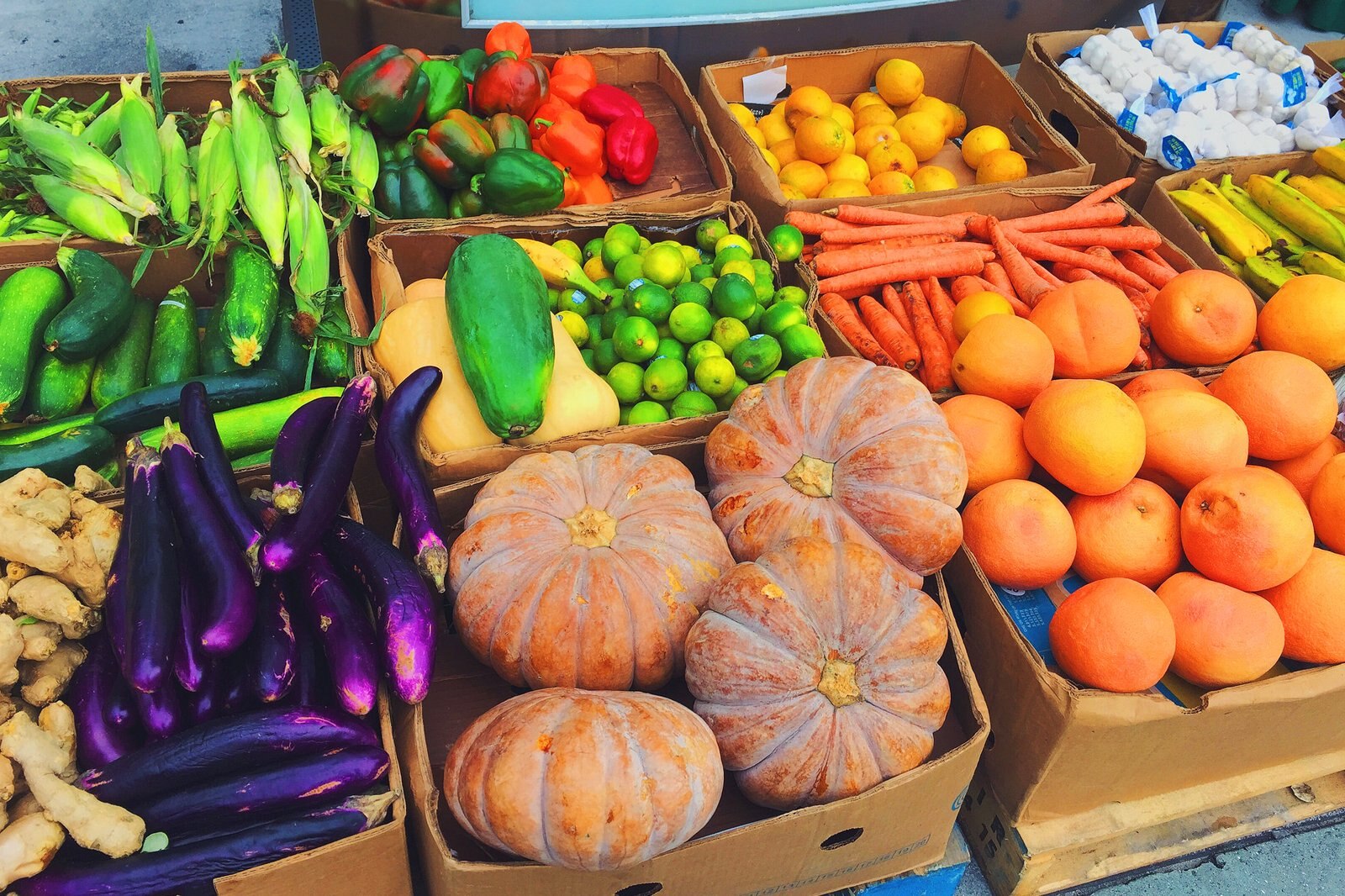 Behind Miami's glitz and its collection of top farm-to-table dining spots, you can explore local farmers' markets where many of the fresh ingredients that make up the haute cuisine are sourced. These markets can provide you with a unique sightseeing opportunity, with everything from organic produce to locally caught fish, as well as artisanal goods, on full display. You can drop by the Lincoln Road Farmers Market on Sundays, or get your freshly prepared fruit smoothies or cheeses at the Saturday farmers' market of the Brickell City Centre.
photo by Edgar Zuniga Jr. (CC BY 2.0) modified