Frank Lloyd Wright Home and Studio is a great day trip if you're a fan of the architect or architecture in general. Located just outside of the city in Oak Park, Wright's original home was built on the land he purchased in 1889, though it was much smaller. By 1909, the house had become much larger and that marks the last time he and his family lived there.
This house, and later with his studio in his expansion, is notable in that it was the first project he had full artistic control. As a result, the home is a time capsule of his artistic evolution and showcases his inspiration and creativity. Throughout the house tour, you can see his signature styles evolve through his expansions, not just within the house, but also in his studio, office, and library. The living room of the house is the only room that remains the same from the original house of 1889.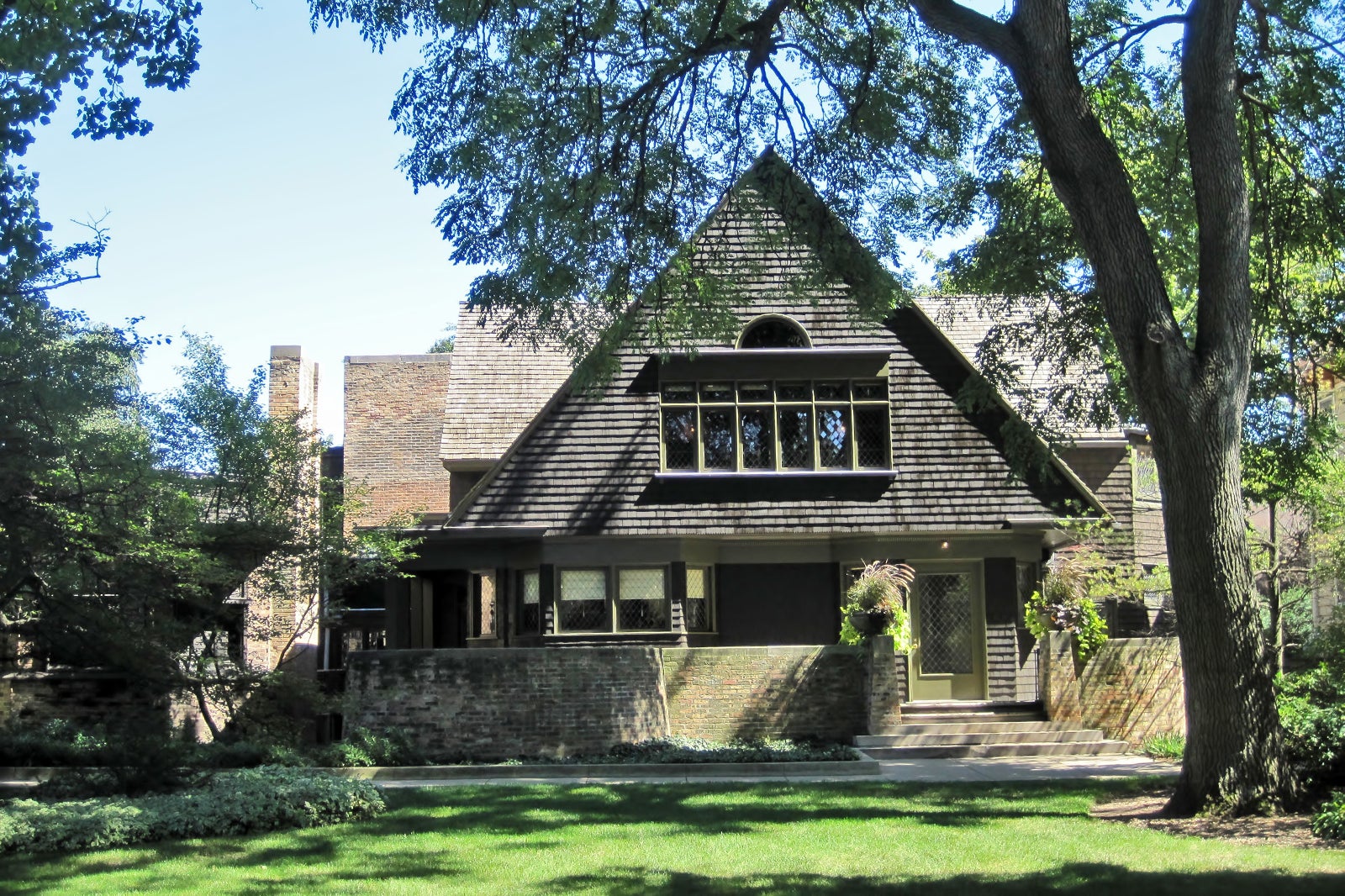 Highlights of Frank Lloyd Wright Home and Studio
One thing that might get overlooked with many buildings or homes is the exterior. Don't let that be a mistake you make. Frank Lloyd Wright is known for creating designs that look just as good outside as they do inside, that includes hidden doors and other features to watch for on the surrounding grounds. He often likes to combine nature within his creations, whether it's a tree growing through a room or a hallway going over a creek for a striking image that fuses structure with organic components.
Inside, you can visit the studio and the drafting room to see where the artist worked. Upon first inspection, it may not look like anything fancy or special, other than it is another room in the house built of wood. The highlight and marvel is when you look up and see the ceiling. You will feel dwarfed by the atrium's high ceiling, with the second floor's mezzanine wrapping around the room. Instead of unsightly support columns, the atrium is held up with a network of chains.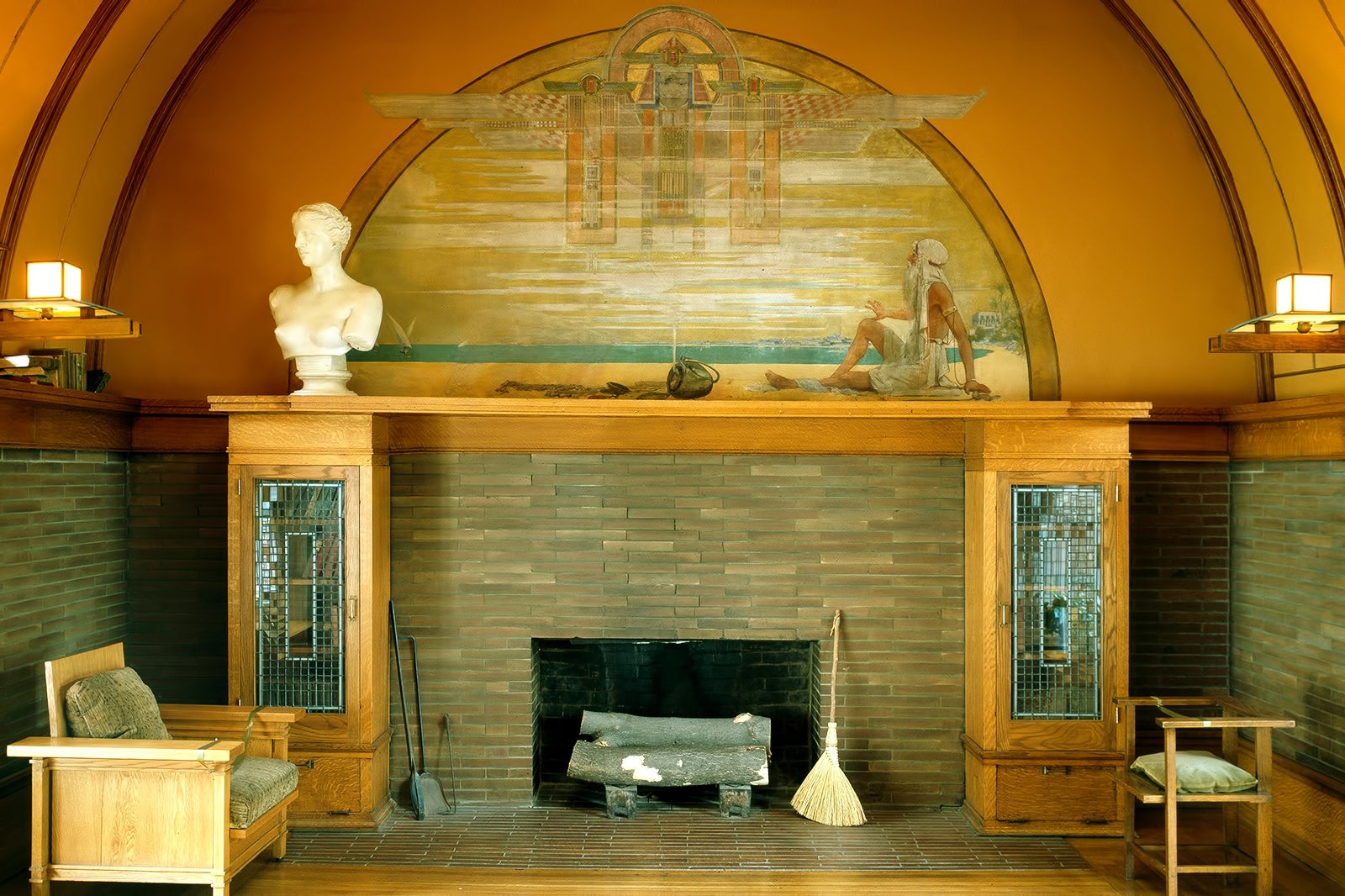 History of Frank Lloyd Wright Home and Studio
In 1889, Frank Lloyd Wright asked his boss for a loan so that he could buy a plot of land to build a house for his family. He wanted to create something for which he could have full artistic control. By 1895, he was no longer satisfied with the modest 3-bedroom house and began renovations and expansions. The first expansion was brought on due to his growing family, doubling the floor space by adding a dining room and a child's playroom.
Frank Lloyd Wright left Chicago in 1909 for Europe, but he left his mark before doing so, designing over 150 projects in his Oak Park studio. After the house was finished, the original building was the centre of the home with expansions on either side.
Good to Know About Frank Lloyd Wright Home and Studio
Frank Lloyd Wright's Oak Park neighbors were so impressed by his house and the expansions he made, that many of them commissioned him to work for them. So, as you make your way through Oak Park, you'll notice the majority of the houses in the area have been designed by Wright. There is one other house that you can view, but just driving by to look at the exteriors is worth it.
In addition to the two Oak Park locations, the Frank Lloyd Wright Trust has 3 other locations within the Greater Chicago area that you may want to check out. Get more information online about planning your day, including tour times, driving directions, and public transport information to plan your itinerary.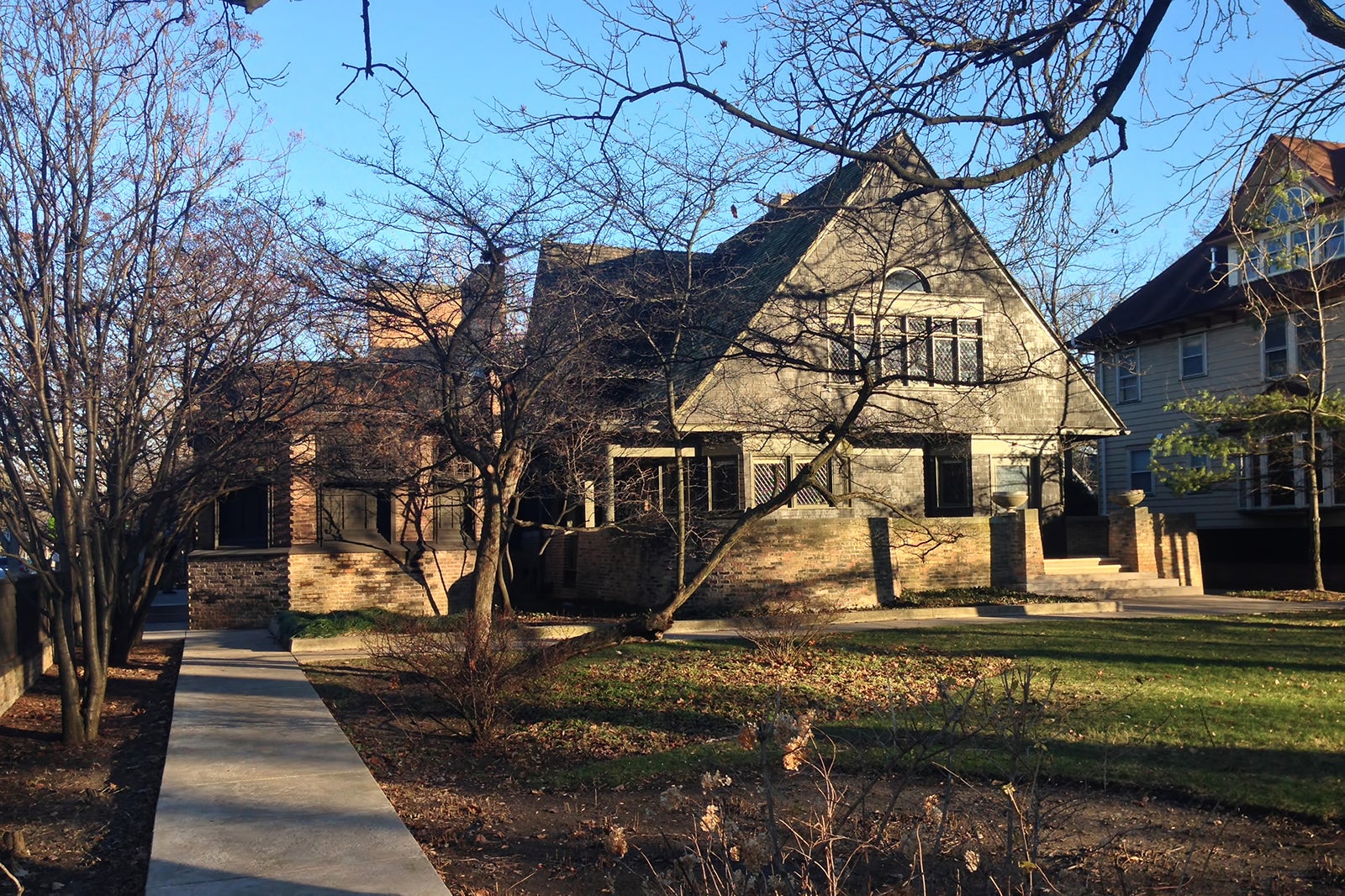 Frank Lloyd Wright Home and Studio in Chicago
Location: 951 Chicago Ave, Oak Park, IL 60302, USA
Open: Daily 10 am to 4 pm
Phone: +1 312-994-4000
Back to top