O'Hare International Airport is the largest airport in Chicago. It has 4 terminals and offers roughly 568 daily non-stop flights to 154 US cities and 45 daily non-stop flights to international destinations in Asia, Europe, North America, and South America. Built in 1942 as a factory for planes during WWII, the airport is now one of the world's busiest and has become a major hub for both American Airlines and United Airlines.
O'Hare International Airport is located on the Northwest Side, 14 miles from the Loop business district in downtown Chicago. Outside of rush hour, the driving time between the airport and downtown can take approximately 1 hour. There are plenty of things to do if you have a layover or some time to spare before a flight, from shopping and dining to airport art and an aeroponic garden. Read on to find out more about O'Hare International Airport.
Chicago O'Hare International Airport - one of the highlights of 10 Movie Locations in Chicago (Read all about Chicago here)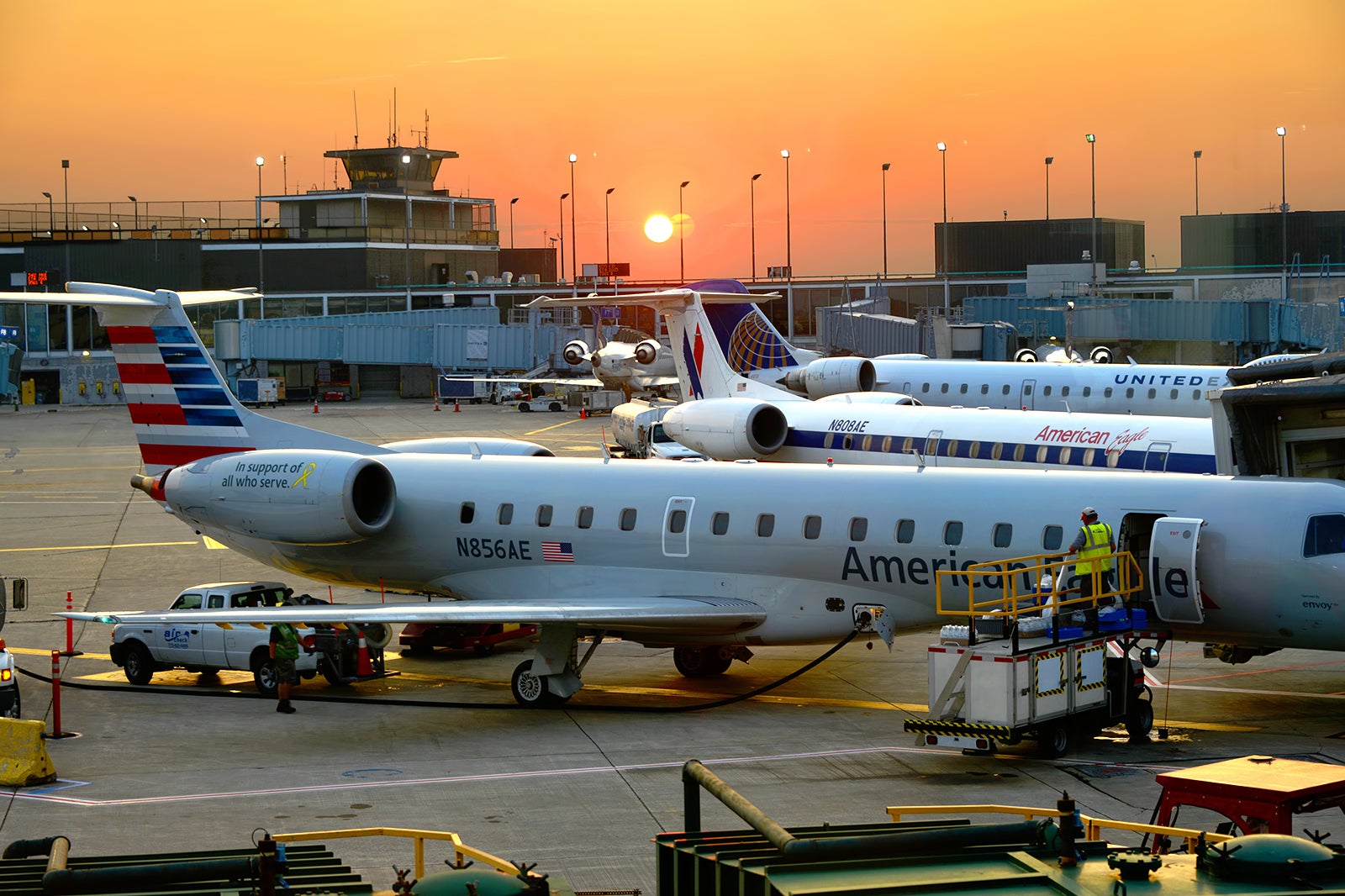 What are the highlights of O'Hare International Airport?
O'Hare International Airport offers a multitude of services and amenities throughout all terminals. If you're hungry or looking for a bite to eat, there are many top-class restaurants and snack bars to choose from. If you're travelling with young children, head to Berghoff Cafe or the Food Court seating area in Terminal 1 or Chili's Too in Terminal 3 where you can watch aeroplanes landing and taking off. Kids and adults can enjoy a Brachiosaurus skeleton model and a colourful light display in Terminal 1.
If your flight is delayed, the unlimited free Wi-Fi access will help pass the time. Alternatively, explore O'Hare's impressive Airport Public Art Program. Dotted around the airport, you'll find exhibits, murals, paintings, and sculptures. There's even a replica of a World War II F4F-3 fighter plane. There's also a Yoga Room offering a peaceful place to escape the hubbub of the airport.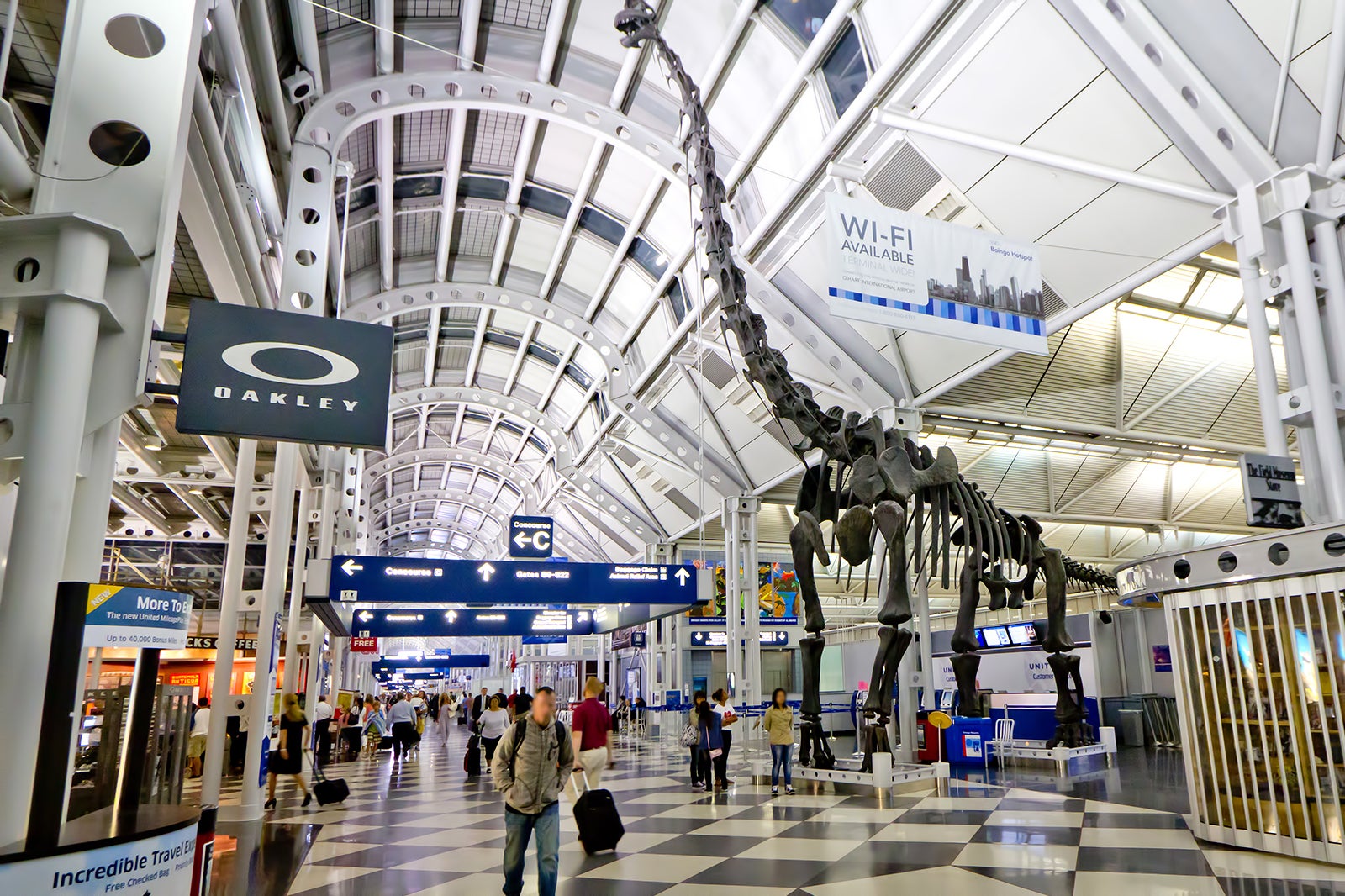 What else can you do at O'Hare International Airport?
Passengers at O'Hare International Airport can shop for books, duty-free items, electronics, gifts and souvenirs, sunglasses and much more at the airport shops found in all 4 terminals. You can also visit the aeroponic garden between Terminals 2 and 3 in the Rotunda Mezzanine. The urban garden has a relaxing lounge area where you can enjoy a meal and learn more about this unique type of farming.
If you're in the mood for some exercise between flights, become a day member at the O'Hare Hilton Health Club. You have access to cardiovascular machines, weight equipment, a lap pool, and a steam room. The health club is located directly across from Terminals 1, 2, and 3.
Good to know about O'Hare International Airport
There are several ways to travel between O'Hare International Airport and downtown Chicago. You can use a taxi, ride-sharing service, or the bus. But the most economical and often the fastest way is to take the Blue Line CTA train. The 24-hour train service connects the airport with the Washington Blue Line station in the Loop district. The journey takes approximately 30-60 minutes.
O'Hare is huge, with several terminals, so plan to get to the airport well before your flight is scheduled to depart so you can get through customs without any problems. If you have a connecting domestic flight, you can use the O'Hare Airport Transit System (ATS) or shuttle bus to transfer from the International Terminal to Terminals 1, 2, and 3.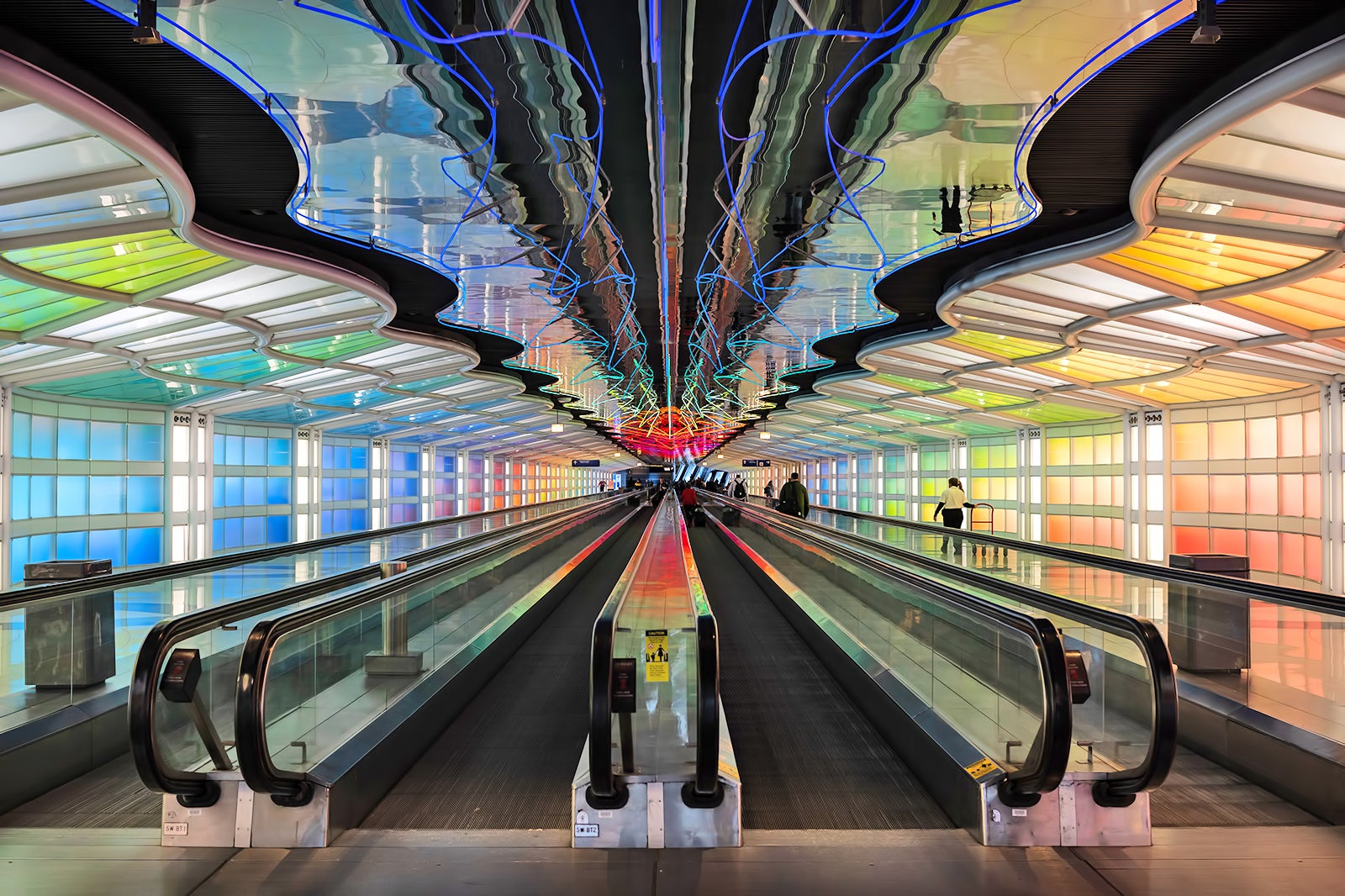 Chicago O'Hare International Airport
Location: 10000 W O'Hare Ave, Chicago, IL 60666, USA
Phone: +1 800-832-6352
Back to top