Chicago Midway International Airport
The 2nd-Largest Airport in the Chicago Metropolitan Area
Midway International Airport is the 2nd-largest airport in the Chicago metropolitan area, serving over a million passengers every month. The airport lies on the southwest side of the city, 10 miles from downtown Chicago and the famous Loop district. Its location close to downtown means business and leisure travellers are within easy distance from the city's top attractions. Depending on traffic, the driving time from Midway International Airport to the CBD is about 20-50 minutes.
While you're waiting for your flight, you can stay hydrated and keep hunger pangs in check at one of the airport's many restaurants. There are also plenty of shops to browse at the airport, from electronics to bookstores to toy stores. So if you're planning to visit Chicago, here's what to expect when you pass through or have a layover at Midway International Airport.
What are the highlights of Midway International Airport?
Midway International Airport is a hub for domestic and regional passenger flights. The airport hosts several airlines, including Delta and Southwest Airlines. It has 1 main terminal with 3 interconnected concourses (A, C, and C). While entertainment options are minimal, the free Wi-Fi should help you pass the time on arrival or waiting for departure. If you need to withdraw cash, there are ATMs available.
Families travelling through Midway International Airport will appreciate the convenient amenities and services. The Mother's Room in Concourse C offers a quiet, private spot for nursing mothers to breastfeed. There are also baby care and change facilities at hand. Several restaurants offer kids' meals and high chairs. To ensure smooth security checks, you'll find 3 checkpoint lanes at Midway Airport: business travellers, casual travellers, and travellers with children. The Family Lanes allow passengers who need extra time to get through security at their own pace.
If you need a relaxing stretch, head to the Yoga Room, next door to the Mother's Room. Thirsty? There are free water bottle refill stations in all 3 concourses. It's a smart idea to have a full battery on your mobile. So before you leave the airport, charge your phone at one of the mobile charging stations.
Where to eat and drink at Midway International Airport?
Passengers flying into and out of Midway International Airport are spoilt for choice regarding eating and drinking. Enjoy local dining options such as Arami, BIG & little's, Billy Goat Tavern, and DeColores. The airport's restaurants and snack bars also cater to travellers with vegan, vegetarian, and gluten-friendly dietary needs. Several eateries are open 24 hours a day.
Midway Airport has launched a contactless food ordering service called GoEatMDW. You access the website through your smartphone by scanning QR codes or visiting GoEatMDW.com. Once you've browsed the menus and know what you want, call the food vendor to place your order. You can either pick up your meal or have it delivered anywhere in the airport.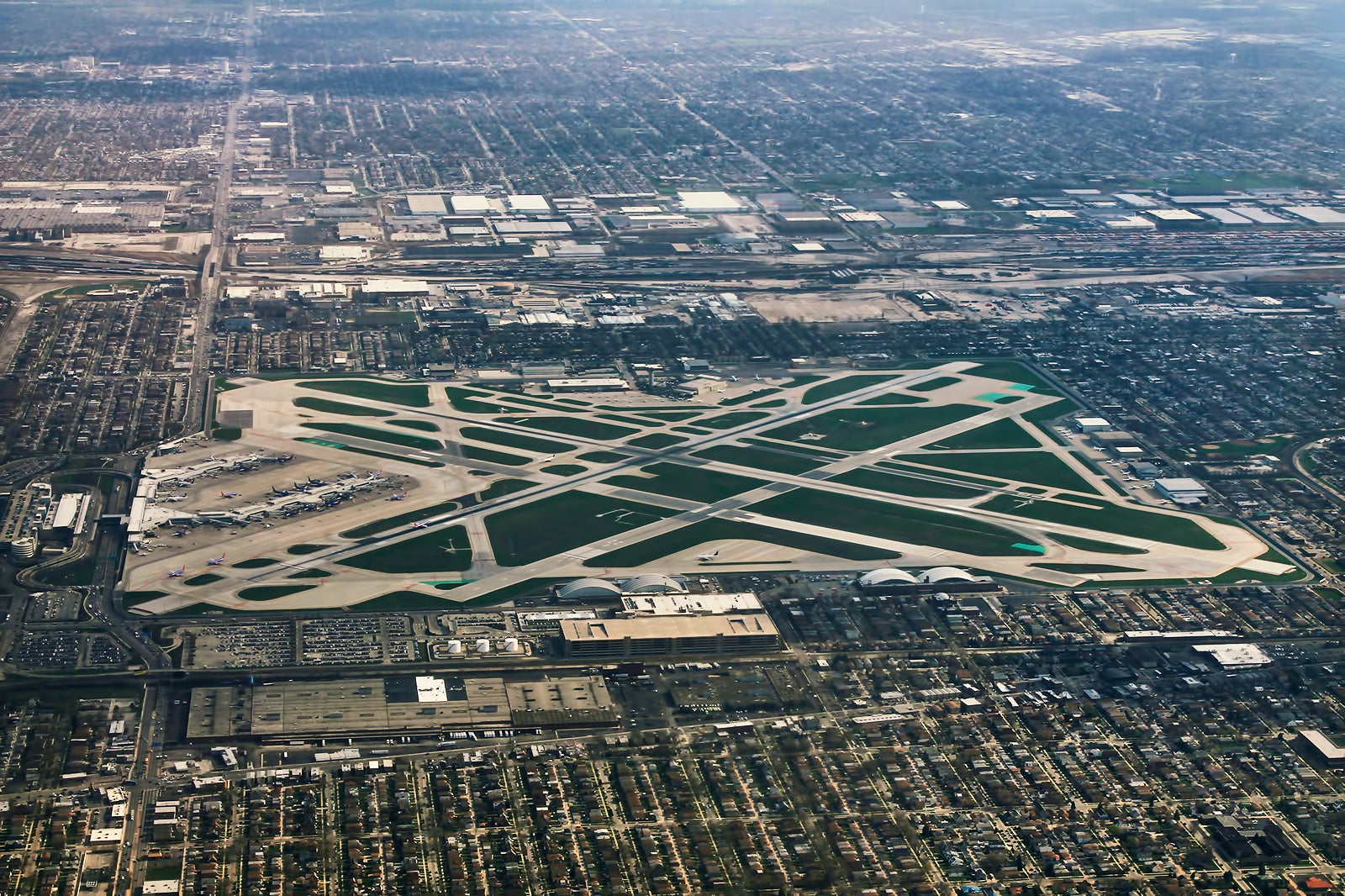 Good to know about Midway International Airport
Midway International Airport is easily accessible on public transport. The Chicago Transit Authority (CTA) Orange Line trains are the most convenient and affordable way to get from Midway to downtown. The travel time is typically 20 to 25 minutes. The train service runs from approximately 4 am to 1 am every day. It also connects to most other CTA train lines. Also, passengers can use CTA buses, taxis or ride-sharing services.
If possible, avoid flying out of Midway during winter. The notorious wind and heavy snowfall make delays and flight cancellations common occurrences. And to save yourself a headache, travel outside of popular holiday periods such as Thanksgiving and Easter.
Chicago Midway International Airport
Location: 5700 S Cicero Ave, Chicago, IL 60638, USA
Phone: +1 773-838-0600
Back to top