10 Best Things to Do in Pittsburgh
What is Pittsburgh Most Famous For?
There are great things to do in Pittsburgh, a city that seamlessly combines a passion for nature and the outdoors with innovative science and tech industries. You can find a sophisticated arts and culture scene by exploring world-class museums, founded by prominent industrialists. Sprawling parks and gardens are spread across the city, while several gorgeous state parks are just a short drive away.
First settled in the mid-18th century, Pittsburgh has a wealth of historical sights, from historic forts to exquisitely decorated churches. Its prominent industrial history has left it with elegant beaux-arts buildings, soaring skyscrapers, and 446 bridges, as well as the nickname "Steel City". Read on for a rundown of the amazing things to see and do in Pittsburgh.
What are the best things to do in Pittsburgh?
1
Point State Park
Admire riverside greenery and explore Pittsburgh history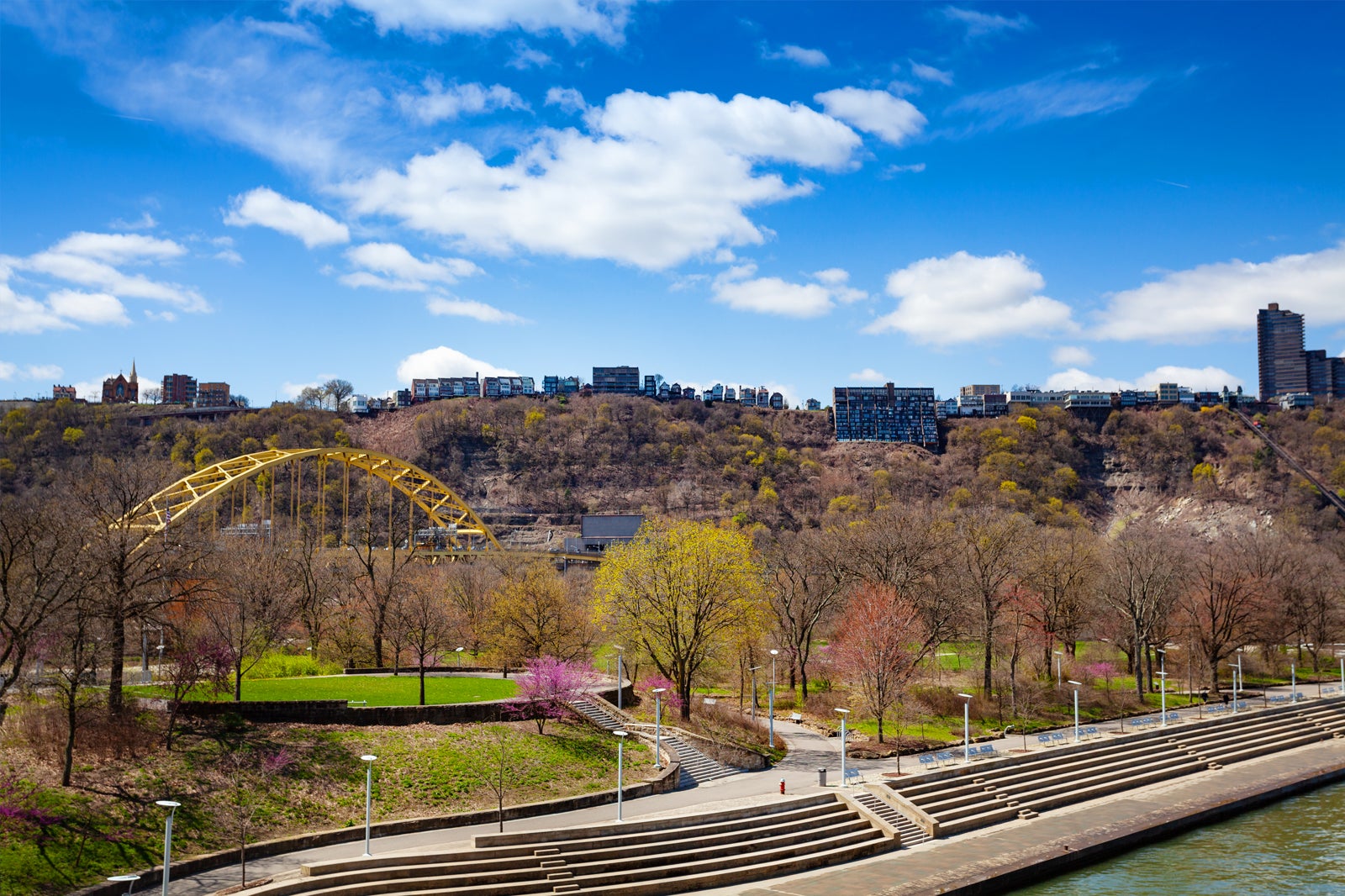 Point State Park is right at the centre of the city, 36 acres of land on a spit where the 3 rivers meet. It was the first area to be settled in the 18th century and bitterly fought over by the British and French. Only the foundations of the original forts remain. Even so, the Blockhouse built in 1764 still stands.
Explore the riverside trails with a picnic, cycle the promenade, canoe along the river, or just enjoy the elegant grounds. You can also learn about Pittsburgh's frontier history and the part it played in the American Revolution at the Fort Pitt Museum. Don't miss the spectacular 150-ft fountain at the very edge of the point.
Location: 601 Commonwealth Pl, Pittsburgh, PA 15222, USA
Open: Daily from 7 am to 11 pm
Phone: +1 412-565-2850
2
Phipps Conservatory and Botanical Gardens
Sunken Japanese gardens and ornamental French planting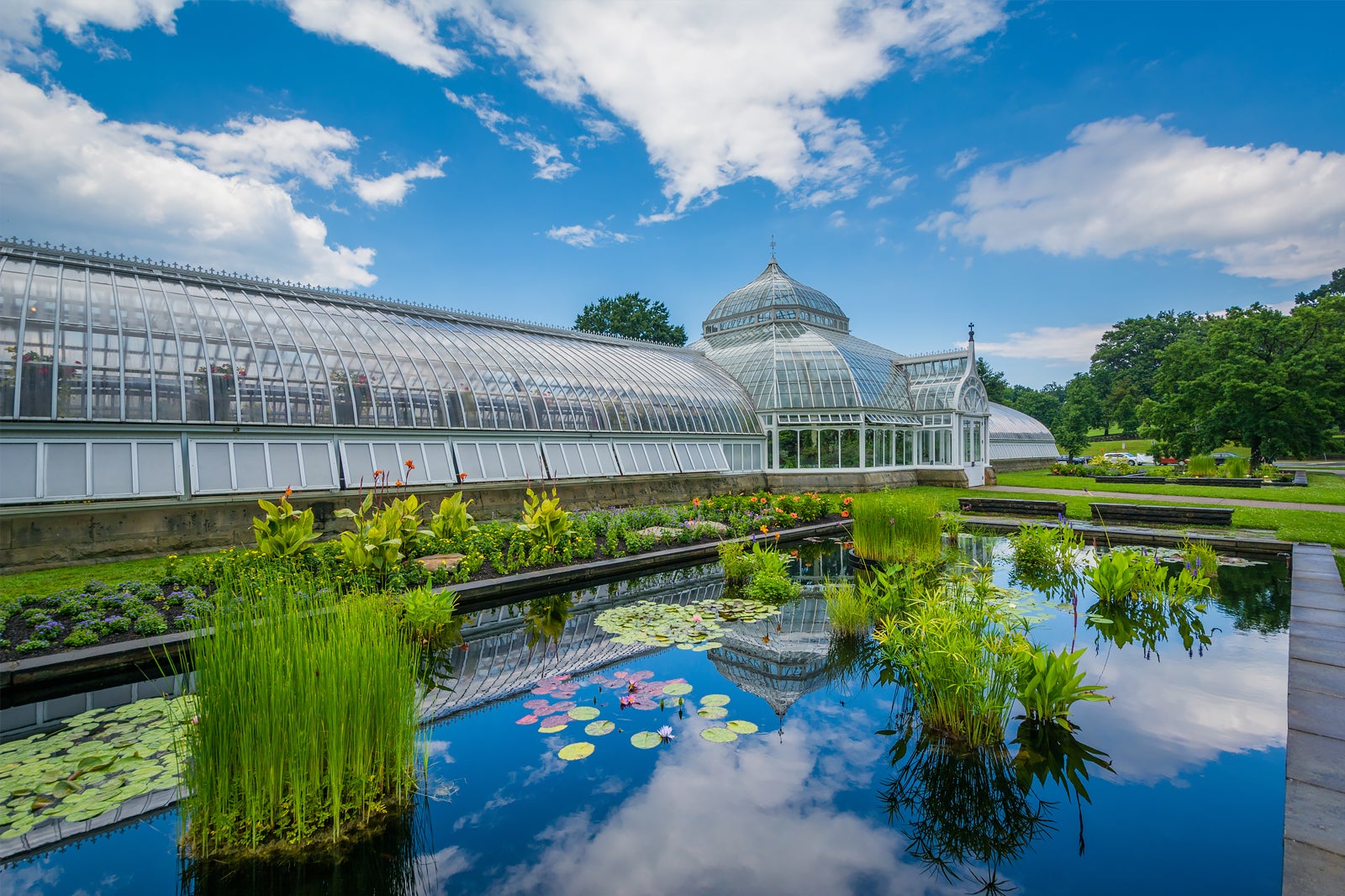 Phipps Conservatory and Botanical Gardens is a tranquil leafy retreat spread across 15 acres of green space in Schenley Park. The centrepiece is the magnificent Victorian glass and steel greenhouse, which holds a spectacular collection of orchids, desert plants, tropical flowers, and a butterfly forest. Outside, you'll find a medicinal garden, herb garden, sparkling fountains, and numerous shaded walkways.
Don't miss the Tropical Forest Conservatory, with its gushing waterfalls and luxuriant tropical plants, or the cinnamon, coffee and allspice grown in the Fruit and Spice Room. The gardens also have a remarkable collection of art, ranging from a 19th-century bronze statue of Neptune to modern glass art sculptures made to imitate the colours and shapes of the flowers.
Location: 1 Schenley Drive, Pittsburgh, PA 15213, USA
Open: Friday from 9.30 am to 10 pm, Saturday–Thursday from 9.30 am to 5 pm
Phone: +1 412-622-6914
3
Carnegie Museum of Art
See local history and masterpieces of contemporary art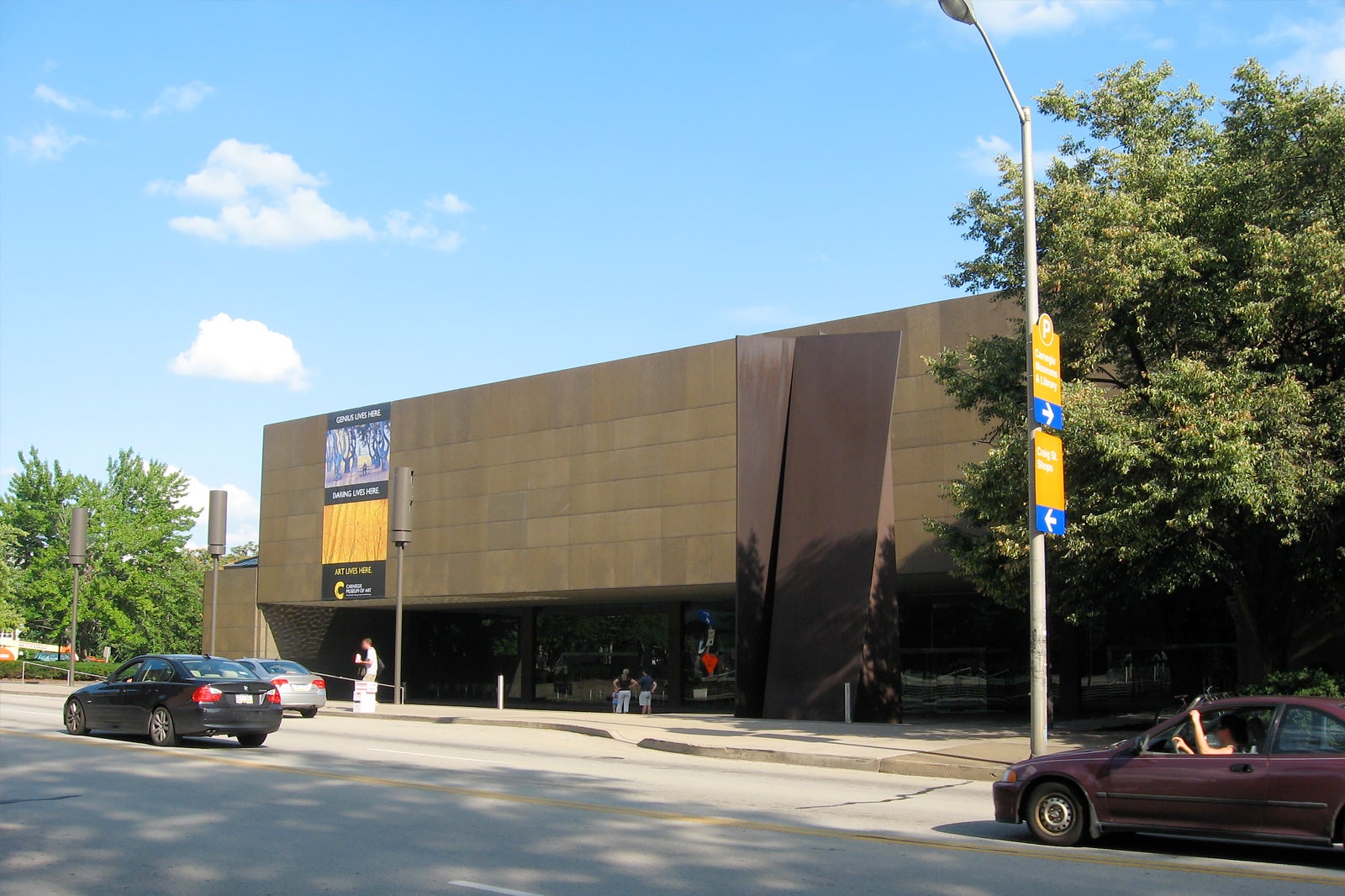 The Carnegie Carnegie Museum of Art is one of the foremost contemporary art museums in the USA, founded in 1895 by famed Pittsburgh industrialist Andrew Carnegie. The focus is on 20th-century art, with more than 32,000 paintings, sculptures, prints and photographs. Some of its most famous and recognizable pieces of art include Ansel Adams photographs, Rembrandt sketches, Rodin sculptures, and several of Monet's landscape paintings.
The museum also houses a vast collection of photographs by local newspaper photographer Charles Harris, who captured daily life in Pittsburgh's African-American neighbourhoods from the 1930s to the 1970s. Want to take one of the masterpieces back home? The shop offers custom prints of many artworks in the collection.
Location: 4400 Forbes Ave, Pittsburgh, PA 15213, USA
Open: Wednesday–Monday from 10 am to 5 pm (closed on Tuesdays)
Phone: +1 412-622-3131
photo by HoboJones (CC BY-SA 3.0) modified
4
Eat a Primanti Brothers' sandwich
Iconic Pittsburgh sandwich with fries and slaw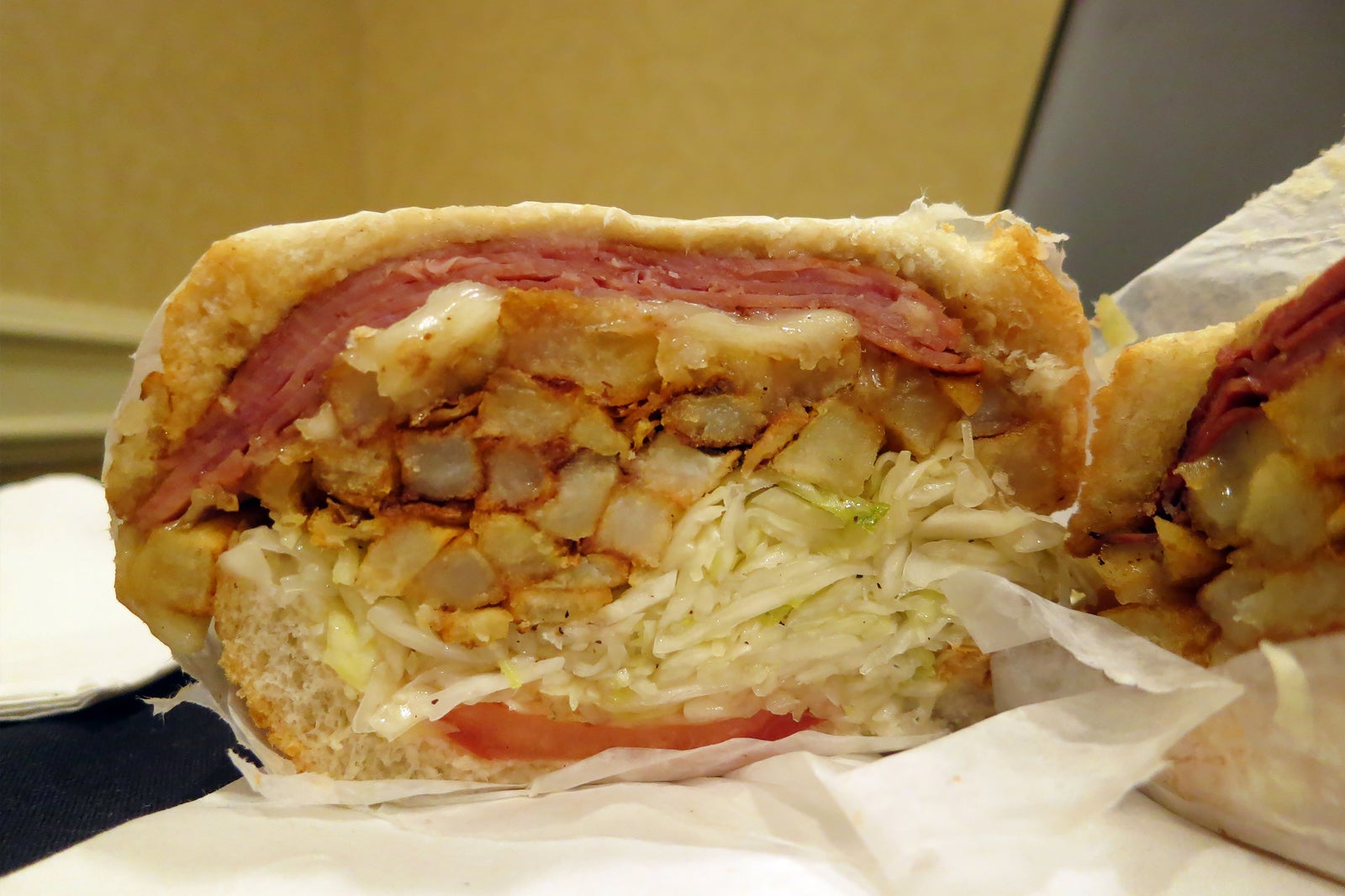 Primanti Bros. Restaurant and Bar has been serving Pittsburgh since 1933, starting as a small lunch stand for hungry truckers. Their sandwiches are enormous and very satisfying, made with massive hunks of Italian bread and stuffed to the brim with a variety of fillings. Choose from pastrami, roast beef, bacon, tuna or salami, all topped with melted provolone cheese and sliced tomatoes.
It's traditional to put the coleslaw and fries inside the sandwich instead of on the side, and for an authentic Pittsburgh taste, locals like to top theirs with a fried egg and hot sauce. There are locations all over the city but the original counter-serve restaurant in the Strip District has the best atmosphere.
Location: 46 18th St, Pittsburgh, PA 15222, USA
Open: Thursday–Saturday from 11 am to 10 pm, Sunday–Wednesday from 11 am to 9 pm
Phone: +1 412-263-2142
photo by Daniel Lobo (CC0 1.0) modified
5
Kennywood Amusement Park
Exhilarating rides and all-round entertainment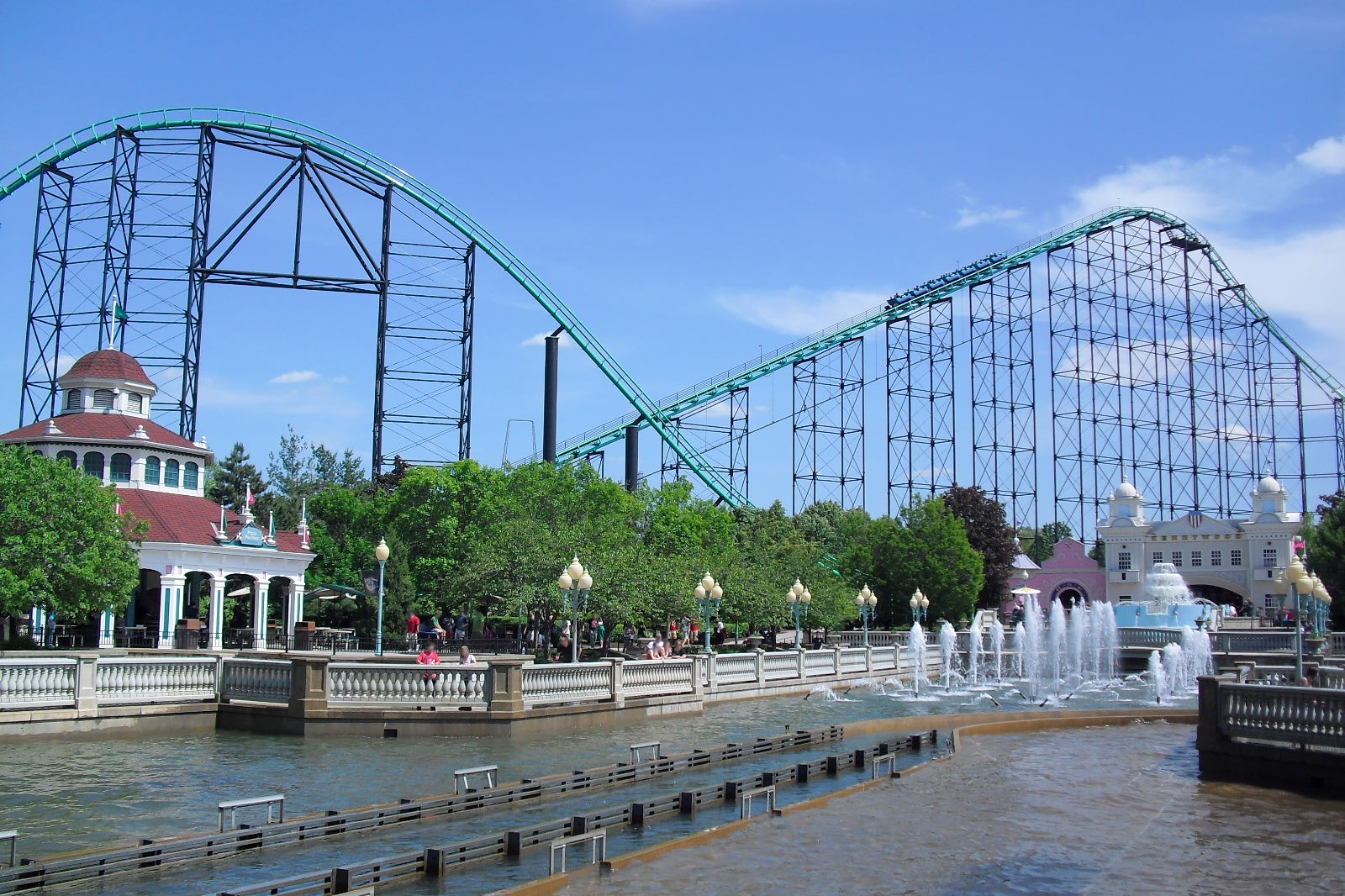 Kids have the time of their lives at Kennywood Amusement Park, which combines thrilling rollercoasters with gentler fairground rides and lots of splashy fun. Adrenaline junkies will get a kick out of Black Widow, a giant wheel that flings riders 146 ft in the air, or soaring 75 mph through the loops of Steel Curtain. Younger visitors can take a relaxing turn on Whirlwind or ride the small hills and dips of Turtle Chase.
The watery side of the park has paddleboats, whirling rapids and the Pittsburg Plunge waterslide, which guarantees you a good soaking on a hot day. There's also a year-round program of parades, cultural festivals, fireworks, and haunted houses.
Location: 4800 Kennywood Blvd, West Mifflin, PA 15122, USA
Phone: +1 412-461-0500
photo by ChubbyWimbus (CC BY-SA 3.0) modified
6
Ride the funicular railway
Take a trip on a piece of Pittsburgh history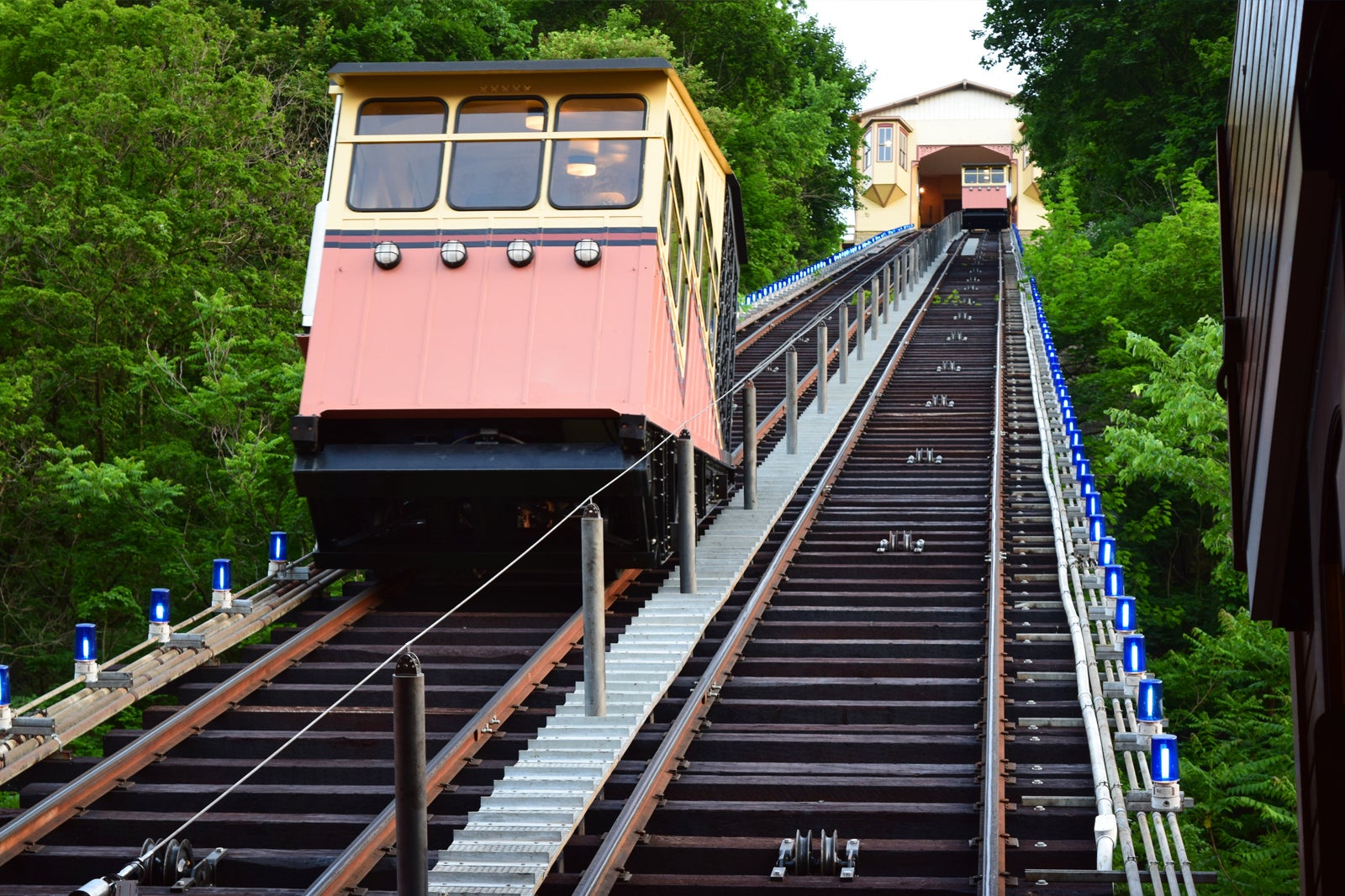 It's a tough climb up the steep ascent of Mount Washington, so in the 19th century, several steam-powered funicular railways were installed to transport people and goods up and down. Duquesne Incline is still in operation today, ferrying passengers up to experience the spectacular hillside views.
Climb into the original, fully renovated 140-year-old wooden car for your journey to the top. Historical exhibits, period photographs and old newspaper clippings fill the waiting room, and it's also possible to peek inside the machinery and watch it in operation. At the top of Duquesne is an observation deck where you can enjoy a panorama of the city and its rivers.
Location: 1197 W Carson St, Pittsburgh, PA 15219, USA
Open: Monday–Saturday from 5.30 am to 12.30 am, Sunday from 7 am to 12.30 am
Phone: +1 412-381-1665
7
Shop at Market Square
Shop for unique clothing, food and souvenirs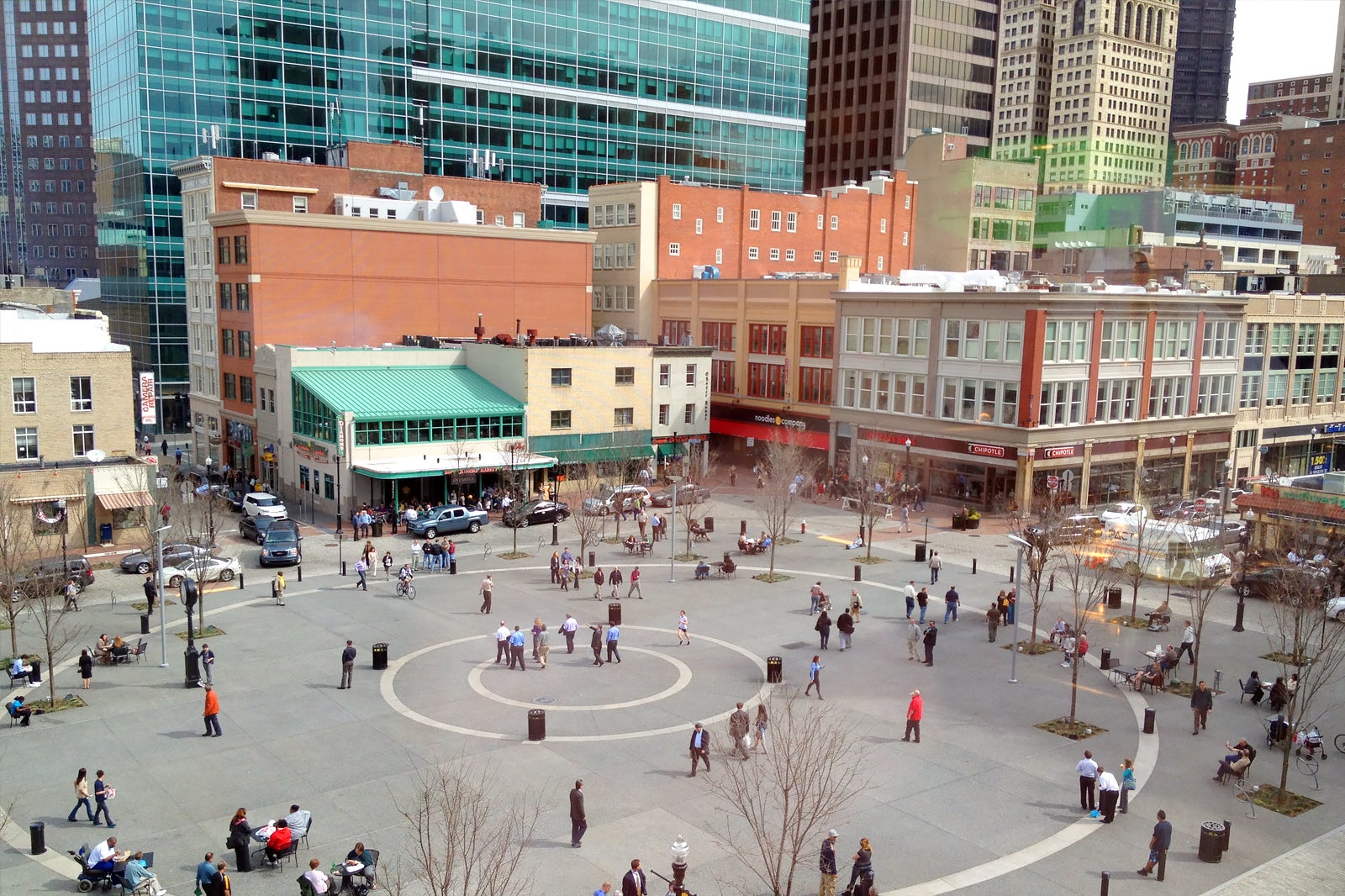 Market Square is part of the historic centre of Pittsburgh, home to the first courthouse, jail, and newspaper office in the 18th century. Today, it's lined with shops and restaurants, making it a great place to window-shop and people watch. In the area around the square, you'll find boutique clothing stores, fragrant cosmetic stores, and artisan beer and cheese suppliers.
Every Thursday the square hosts Pittsburgh Farmer's Market, which offers fresh homemade food and locally grown produce. Eat pierogi made from a secret family recipe at Gosia's, sample artisan truffles and gourmet fudge at Chocolate Fusion, or stock up on spiced rum and maple liqueur from Wigle Whiskey.
Location: Market Square, Pittsburgh, PA 15222, USA
photo by John Marino (CC0 1.0) modified
8
Saint Anthony Chapel
See a breathtaking array of centuries-old religious treasures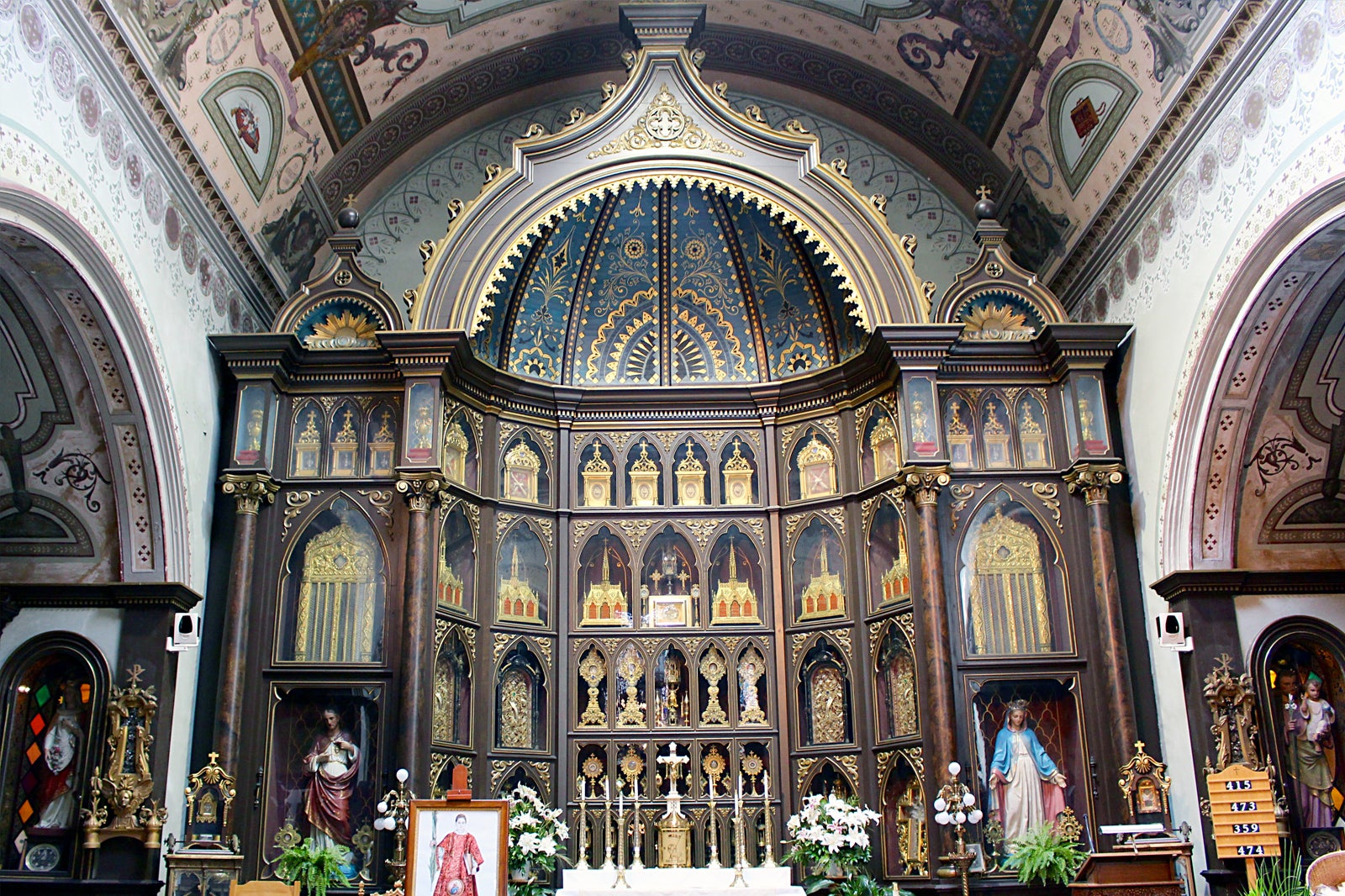 Saint Anthony Chapel is a must-see for its breathtaking interior, ornately painted ceilings, and beautiful stained-glass windows. The chapel was built in the late 19th century by Father Mollinger, who travelled across Europe looking for treasures to decorate the church, including a striking series of life-sized wooden carvings which depict scenes from Christ's crucifixion.
The chapel also houses more than 5,000 religious relics, the largest collection of Catholic relics outside the Vatican. A splinter of the True Cross, a thorn from the Crown of Thorns, and the tooth of St. Paul of Padua are all displayed in exquisitely carved reliquaries made of solid walnut. Call in advance to arrange a guided tour of the chapel.
Location: 1704 Harpster St, Pittsburgh, PA 15212, USA
Open: Saturday–Thursday from 1 pm to 4 pm (closed on Fridays)
Phone: +1 412-999-4401
photo by Giovanni Guida (CC BY 3.0) modified
9
Take a riverboat cruise
Glide along miles of arresting urban waterways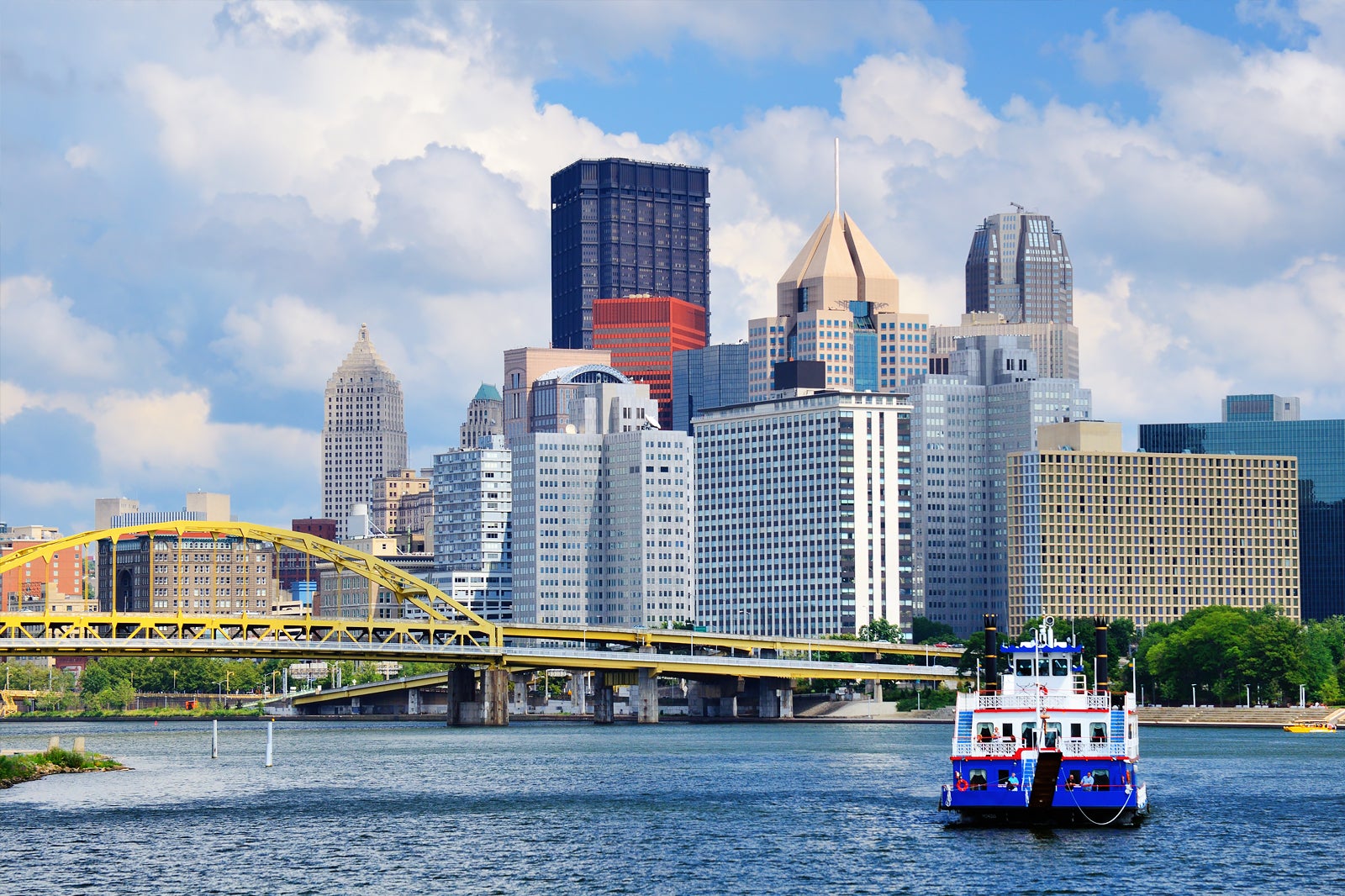 Pittsburgh was built around the confluence of 3 rivers, so taking a cruise along them is one of the best ways to see the city. Sightseeing trips take you along the main waterways, with narration covering everything from the history of the city to its most significant architectural sights and its tech revolution.
Dinner cruises are a great option if you enjoy a buffet and some music with your views, and many ships also offer beer, wine or bourbon tastings, fun themed activities for kids, or holiday specials like Thanksgiving Dinner or Fourth of July fireworks. If you want to see more of Pittsburgh then try an amphibious cruise, which will also take you around major land-based sights.
10
Barhop along Carson Street
The most buzzing nightlife spot in Pittsburgh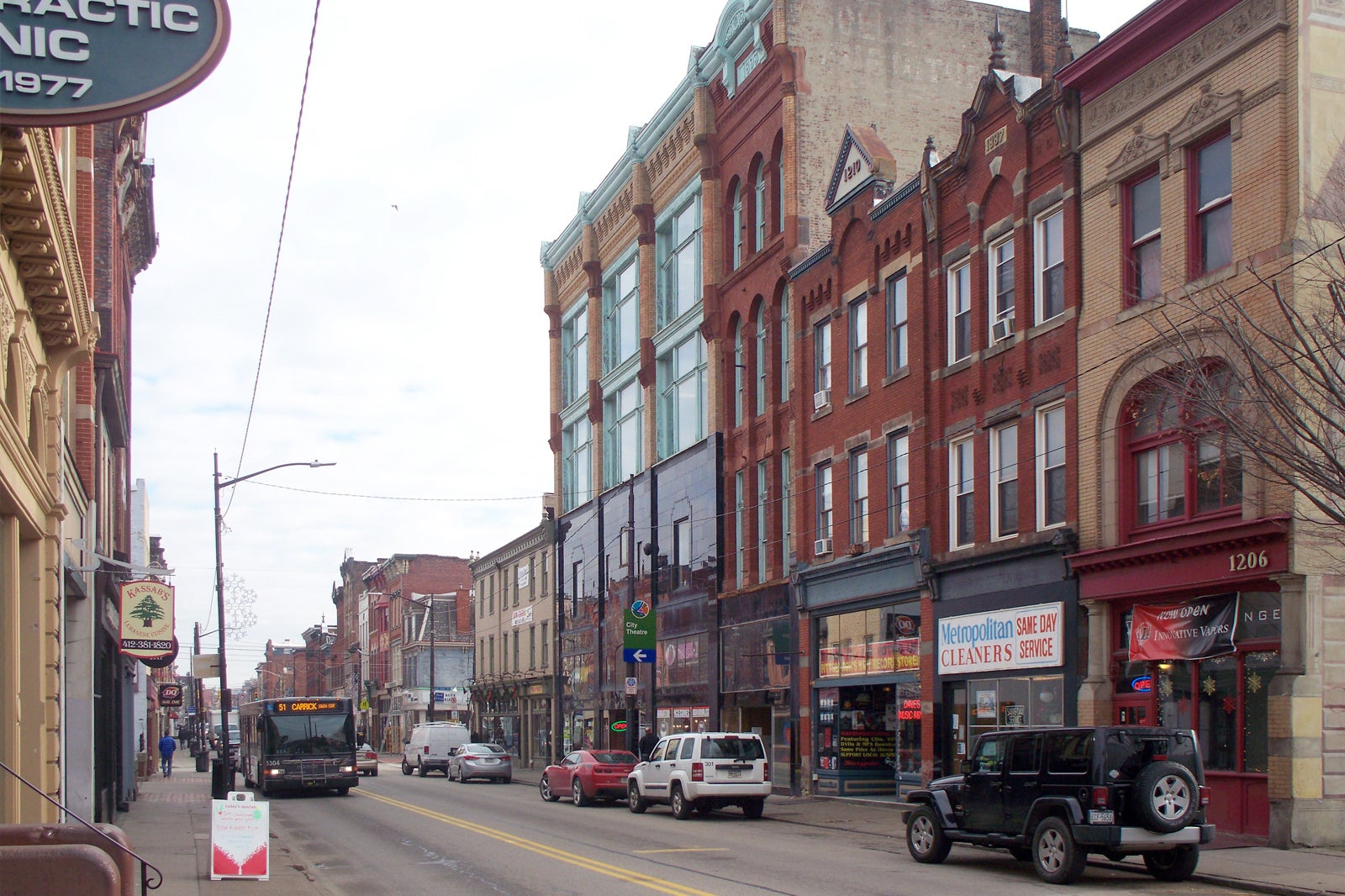 East Carson Street is a hot spot for nightlife, packed with sports bars, cocktail lounges, concert venues, dance clubs and casual saloons. Start at Skybar, a rooftop lounge with frozen cocktails, a pool, and sweeping views of Pittsburgh's skyline, then head to Acacia for a craft cocktail served in elegant, Prohibition-themed surroundings.
If you're looking for something more casual, try the long menu of wings and beer-pong tournaments at Carson City Saloon, or join the locals at Jack's Bar, the oldest on the South Side, for beer cocktails and enormous pitchers. Tiki Lounge is also a fun spot for a relaxing drink, featuring lush cocktails that match the tropical island interior.
Location: E Carson St, Pittsburgh, PA 15203, USA