10 Best Things to Do in Guam
What is Guam Most Famous For?
Guam may be famed for its military bases rather than its tourism sector, yet this far-flung tropical destination is a hidden paradise for holidaymakers in the know. The Micronesian nation offers beautiful white beaches, exotic wildlife, and intriguing culture and history.
Naturally, many vacationers go there to enjoy aquatic pursuits. Mesmerising coral-clad reefs and ancient shipwrecks lie beneath the surface, forming vivid underwater worlds that teem with marine life. Above the surface, water sports like jet skiing, kayaking, parasailing, and paddleboarding provide everyone with plenty of fun in the sun. Best of all, if you're from the US, there's no need to bring your passport to visit this official American territory.
What are the best things to do in Guam?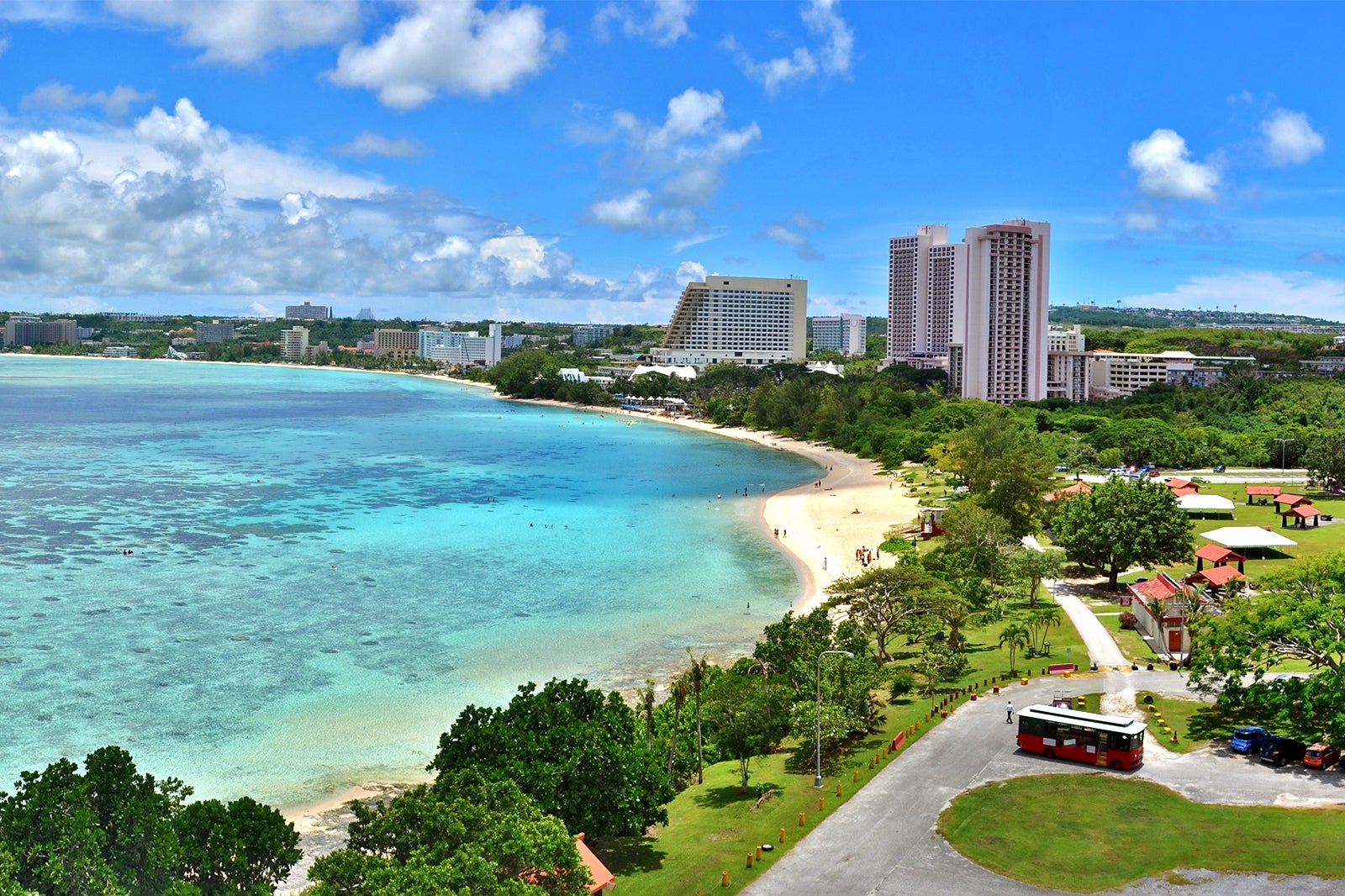 Pull up a towel at Tumon Beach
Beautiful beaches abound
Tumon is arguably the most famous of Guam's stunning beaches and serves as the country's focal point. It's lined by a palm tree-fringed promenade full of lavish beach resorts and hotels. A string of upmarket restaurants and bars line the shore, creating a festive atmosphere that continues into the early hours. And despite the crowds, Tumon is an idyllic spot to soak up some rays or partake in your favourite water sport.
If you prefer something a little more secluded, Guam has plenty of blissful empty beaches to explore. Talofofo is worth a look for its unique green sand, while Gun Beach and Ritidian Beach offer natural beauty away from the masses.
Location: Tumon Beach, Tamuning, 96913, Guam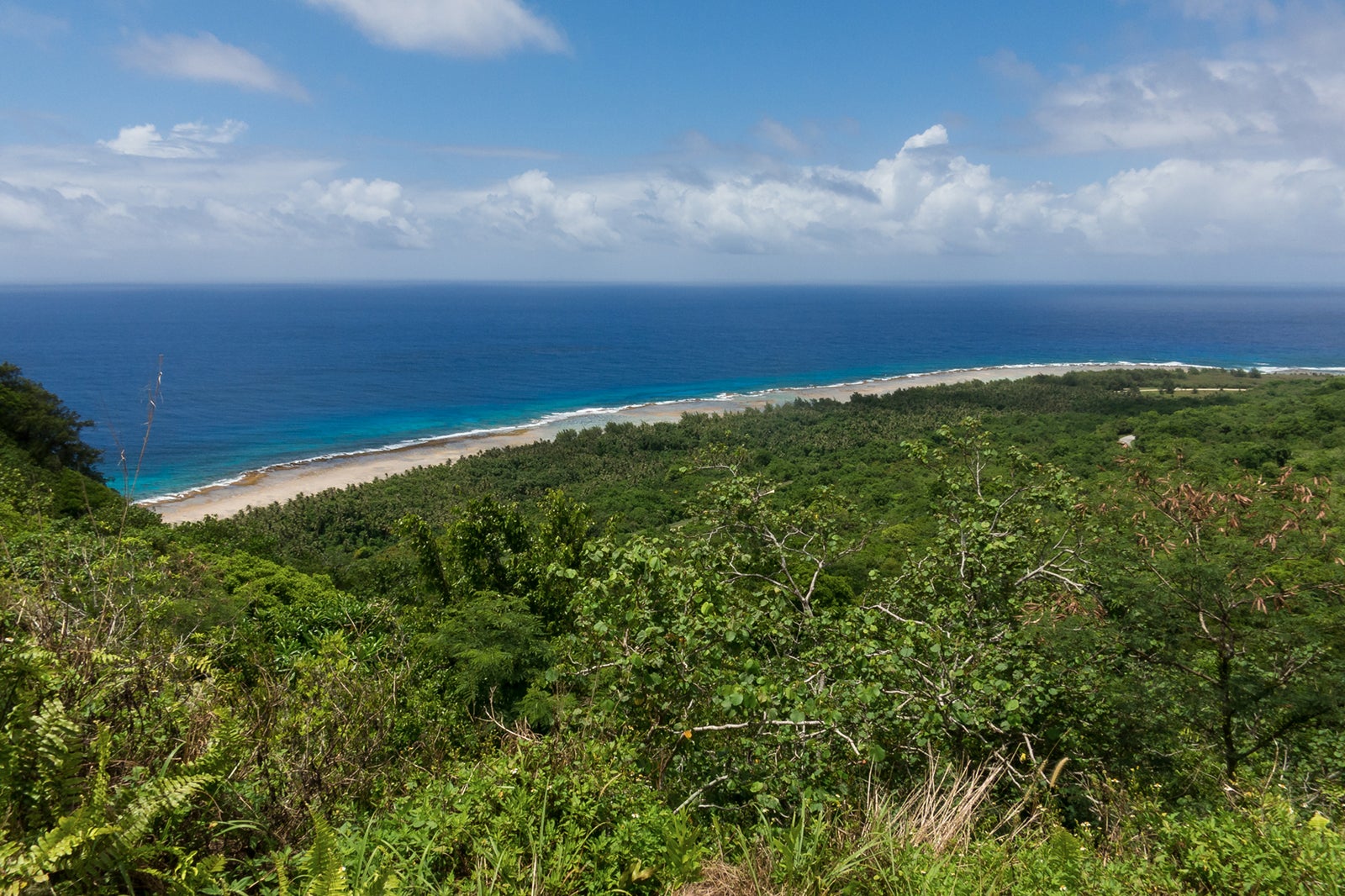 Get back to nature at Ritidian Point
The ideal nature escape
Ritidian Point resides within the Guam National Wildlife Refuge, a 1,203-acre park that's teeming with native fauna. It's tucked away on the northern tip of the country, about 35 minutes from Tumon. Tree snails, Mariana fruit bats, geckos, toads, butterflies, and monitor lizards are just some of the species that roam the thick jungle. Exploring is easy, as the refuge has 3 family-friendly nature trails to traverse: Latte Loop (0.75 miles), Nature (1.25 miles), and Ritidian Caves (0.5 miles).
After working up a sweat on the trails, cool off in the crystal-clear waters of Ritidian Beach for some much-needed rest.
Location: Guam National Wildlife Refuge, Yigo, Guam
Open: Daily from 7.30am to 4pm
Phone: +1 671-355-5096
photo by Jonathan Miske (CC BY-SA 2.0) modified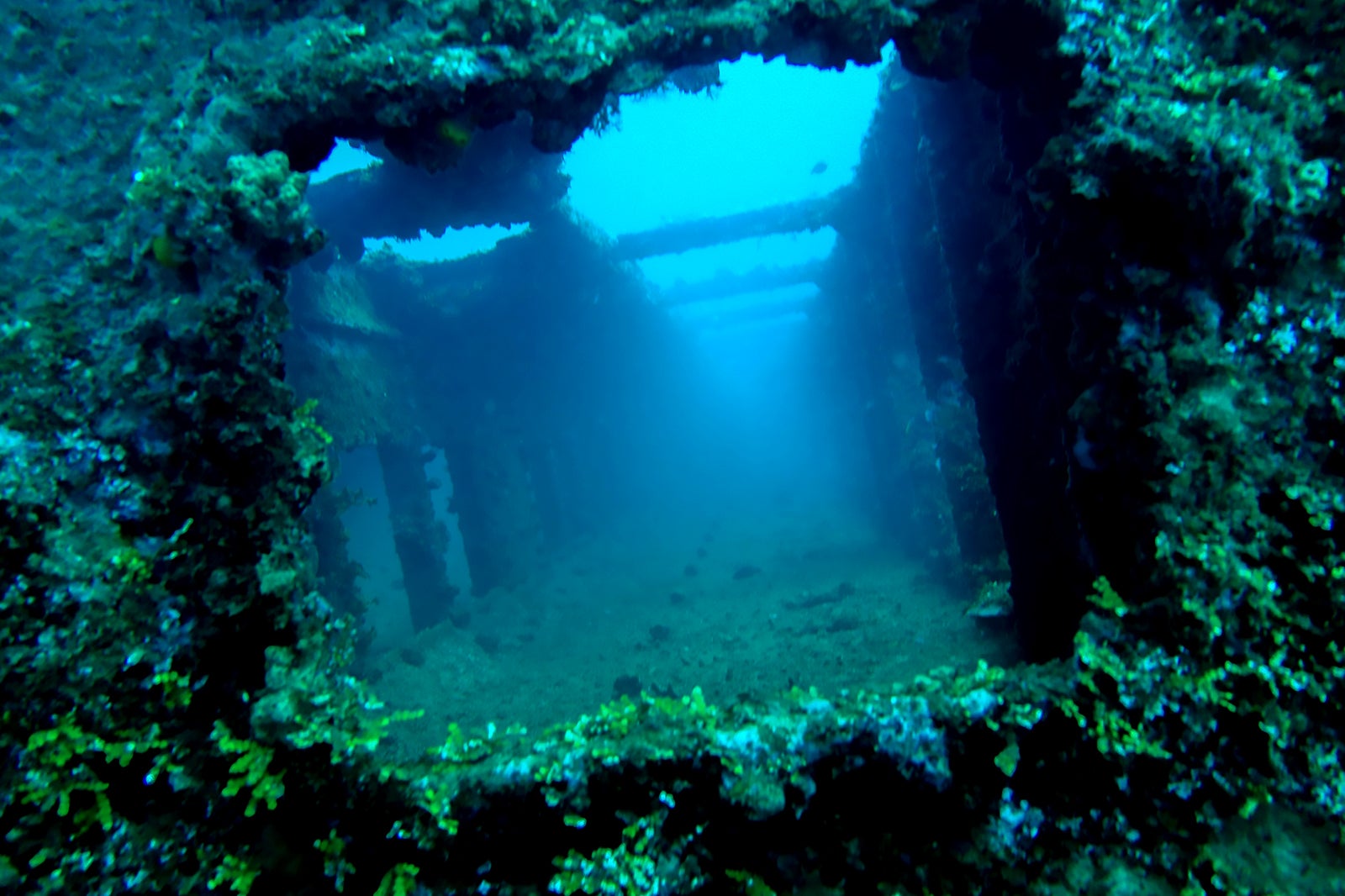 Dive between shipwrecks from both World Wars in Apra Harbor
The ultimate underwater novelty
Scuba divers in search of something different should book themselves a trip to Apra Harbor, where 2 historic shipwrecks literally lie side by side. The oldest is a German vessel, the SMS Cormoran, which the US Navy sunk during WWI. By chance, the US Navy downed a Japanese passenger-cargo ship in the exact same spot almost 20 years later during WWII.
Both shipwrecks lie right next to each other and are close enough to touch at the same time. It's the only place on Earth where you can dive wrecks from both world wars and the experience grants you cool bragging rights. Other superb diving spots are scattered around the island, offering an abundance of marine animals and colourful coral.
Location: Apra Harbor, Piti, Guam
photo by Foxegurl266 (CC BY-SA 4.0) modified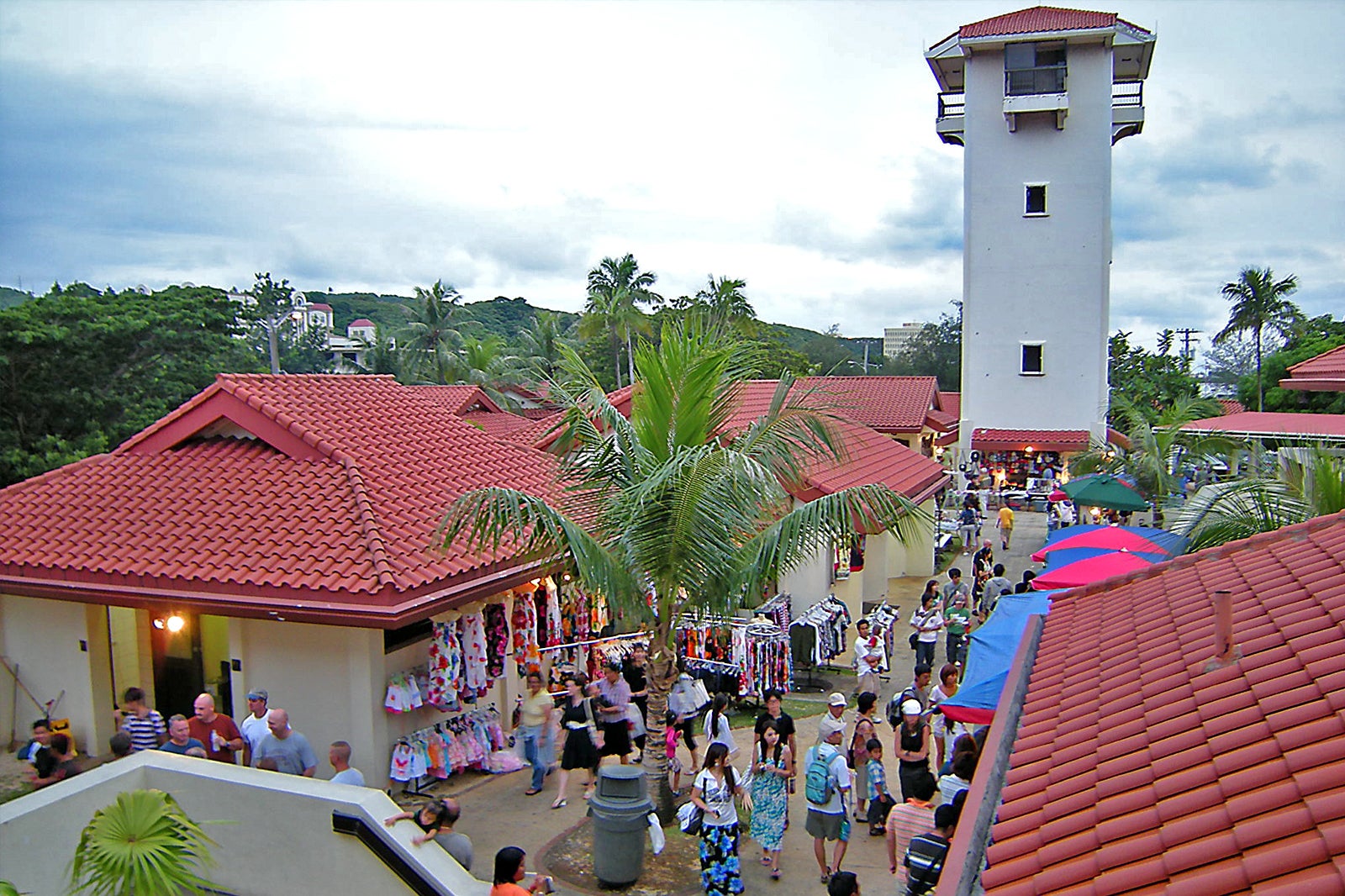 Experience local culture at the Chamorro Village Market
A Chamorro culture fix
A visit to the Chamorro Village Market is an excellent way to experience the ancient traditions of the island's original inhabitants. If possible, arrive on a Wednesday evening when the market is usually in full swing. Around this time, captivating dance performances, intriguing cultural presentations, and kid-friendly water buffalo rides make it a memorable event.
Even so, it's still worth visiting on other days to sample tasty Chamorro cuisine or pick up traditional handicrafts as a souvenir. The market is about 20 minutes west of Tumon.
Location: Chamorro Village Market, Hagåtña, 96913, Guam
Open: Thursday–Tuesday 10am to 10.30pm, Wednesday from 10am to midnight
Phone: +1 671-475-0375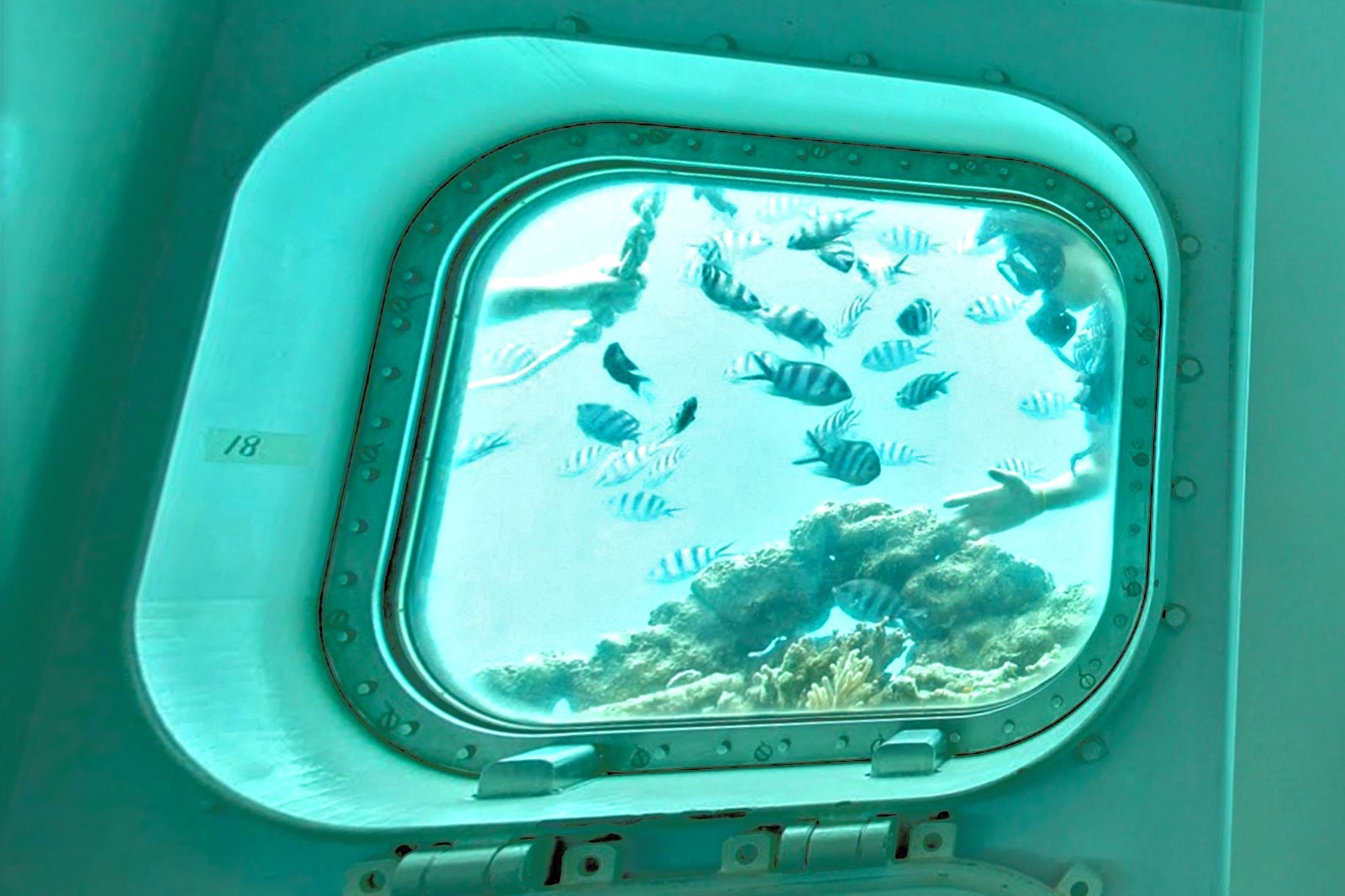 See aquatic animals at Fish Eye Marine Park
A more accessible underwater world
Head to Fish Eye Marine Park to marvel at an array of aquatic animals without getting your feet wet. The underwater bunker features 24 panoramic windows so visitors can observe the local marine life under the sea; no need to don a snorkel or a wetsuit at this underwater attraction.
To spice up the experience, bring some bread to feed the fish from the dock above or join a cruise to check out wild dolphins swimming in the ocean. The marine park is particularly popular with younger children, who will love being able to experience a more authentic underwater world than your everyday aquarium.
Location: 818 N Marine Corps Drive Piti, 5524, 96915, Guam
Open: Daily from 8am to 6pm
Phone: +1 671-475-7777
photo by Foxegurl266 (CC BY-SA 4.0) modified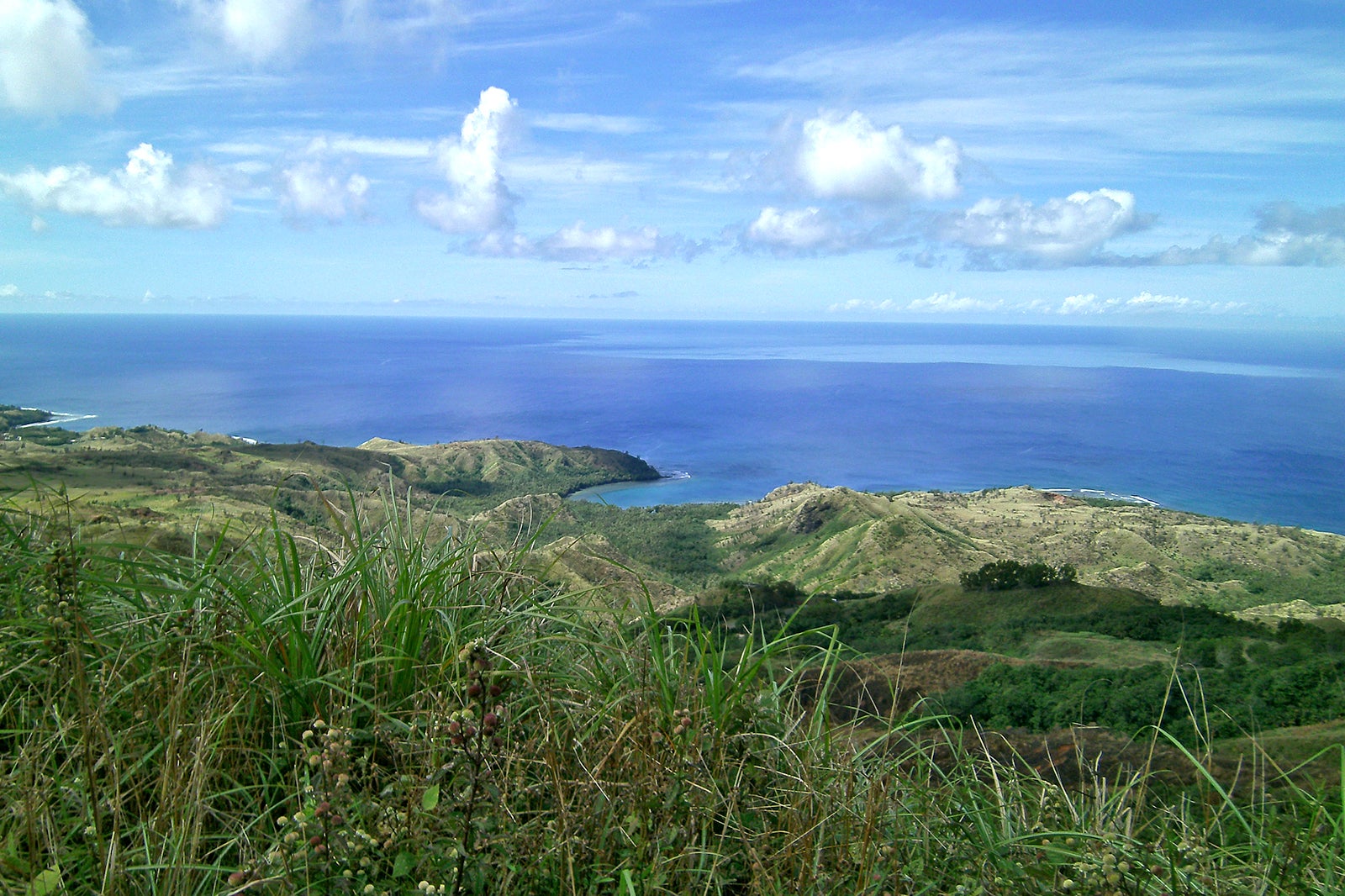 Climb Lamlam, the world's tallest mountain
An easy record-breaking climb
Even an unfit hiker could reach the Lamlam summit, earning you the right to brag about scaling the world's tallest mountain (Everest being the highest). As the loftiest peak in Guam, Lamlam protrudes 37,820 ft from the bottom of the Mariana Trench, which is known as the greatest elevation change on Earth.
Lamlam is only 1,332 ft above sea level, making for a leisurely 2-hour ascent that's doable by anyone in good health. If you decide to hike the mountain, be sure to bring sunscreen, enough snacks and plenty of water on the hike. The trailhead is within a 40-minute drive south of Tumon Beach.
Location: Mount Lamlam, Agat, Guam
photo by amanderson2 (CC BY 2.0) modified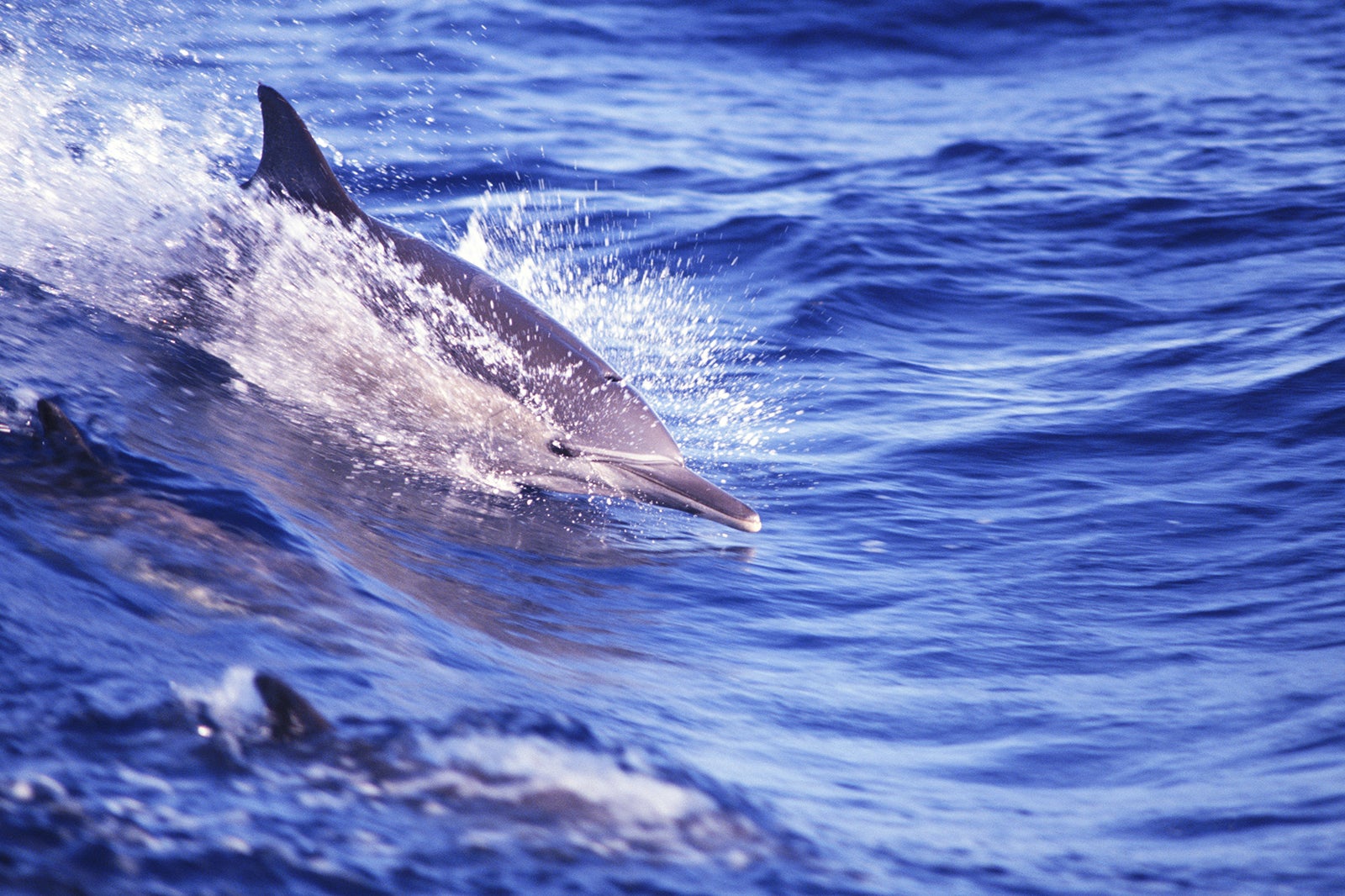 Go dolphin spotting around Piti Bay
Meet curious marine mammals in their natural habitat
Dolphins inhabit the warm waters around Guam in droves, so the island is an excellent place to marvel at these curious creatures in their natural habitat. Local companies offer half-day cruises that let you get up close and personal with wild spinner dolphins, some of which perform playful acrobatics as they glide alongside passing boats.
If you're lucky, you might even spot a majestic humpback whale as it breaches from the waters below, a breathtaking display that can be experienced year-round. If time permits, your tour will usually conclude with a snorkelling excursion to a colourful coral reef that's teeming with tropical marine life.
Marvel at the magic of Encore!
A magical night out for the whole family
Clever comedic routines, death-defying stunts, and unbelievable illusions define Encore!, a glitzy magic show that's become a Guam institution since opening night in 2016. A state-of-the-art theatre within the Fiesta Resort sets the stage for the stars of the show: a magician, a silent comedian, a circus performer, and a white lion named Rio.
The extravaganza has a strong focus on audience participation, so don't be surprised if one of the performers invites you to hop on stage. Encore! often receives rave reviews, particularly among children who adore the hour-long show. There's plenty of entertainment for the adults as well, however, making it a truly all-ages event.
Location: Fiesta Resort Guam, 801 Pale San Vitores Rd, Tamuning, 96913, Guam
Open: Monday–Saturday from 8.30pm (closed on Sundays)
Phone: +1 671-647-7227
Explore the uninhabited Alupat Island
Enjoy a quiet respite just outside the city
Marooning yourself on a deserted tropical island is all too easy on Alupat, an uninhabited isle just off Tumon Beach. The tiny island is less than 1,000 ft from the shore so you can kayak, jet ski, or swim your way there.
There isn't much to do other than relaxing on its picture-perfect sandy cove, so consider packing some food and drinks for the trip. Outside of the high season, you might even have the whole place to yourself – it's an authentic desert island experience to remember! Access to Alupat is via the Onward Beach Resort.
Location: Onward Beach Resort, FQWG+22 Tamuning, Guam
Get a history fix at the Pacific War Museum
Understanding Guam's military past
Head 20 minutes west of Tumon to the Pacific War Museum to learn about Guam's military history. Guam's strategic location near the Pacific's major maritime powers led the tiny island to become a crucial U.S. military base, from WWI right up until the present day.
The museum mostly focuses on the US Marines who fought the Japanese for control of the island during WWI. After initially losing the land, the Americans regained power in 1944 and have maintained a strong presence ever since. These days, about 7,000 military personnel work in the Anderson Air Force Base and the Guam Naval Base. Military top brass often refer to the island as America's "permanent aircraft carrier."
Location: 6th St, Hagåtña, 96910, Guam
Open: Daily from 9am to 4pm
Phone: +1 671-477-8355