10 Best Things to Do for Couples in Lake Tahoe
What to Do on a Romantic Trip to Lake Tahoe?
There are plenty of things to do for couples in Lake Tahoe, a fantastic place hidden away up in the heart of the Californian and Nevadan peaks. It's legendary for its gorgeous alpine scenery and get-away-from-it-all vibes. Couples can get stuck into all the usual pursuits, from skiing down zigzagging pistes to hiking uber-famous trails.
However, there's more to it for loved-up duos on a Tahoe jaunt. Spas in the spruce forests combine with romantic sunset cruises. Then you've got Venetian-style boat rides and even hot air balloon excursions to chase views that you'll never forget. Read through our guide for ideas on the best things to do for couples on a romantic trip to Lake Tahoe.
1
Zephyr Cove
A spot for the sunset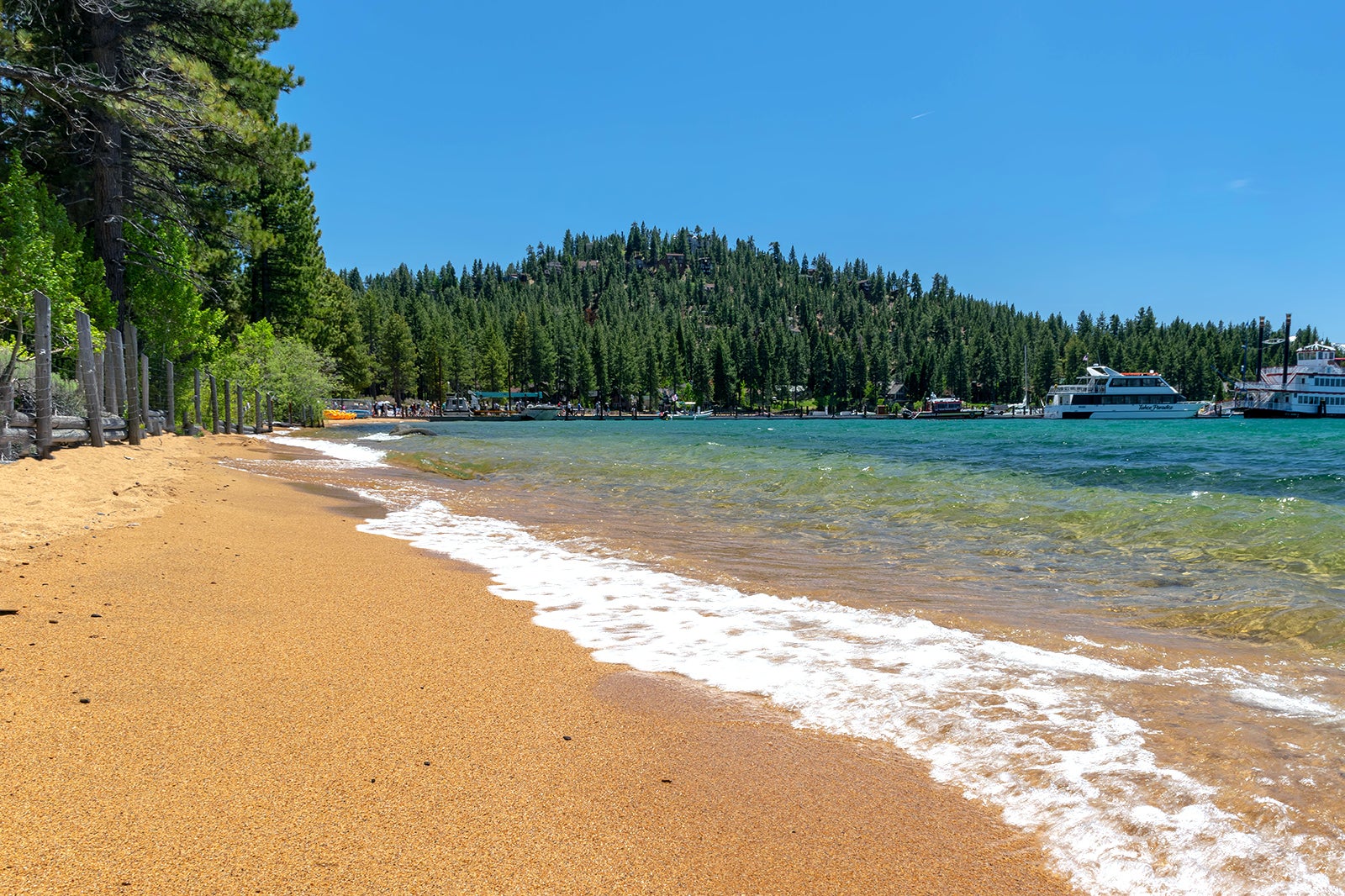 Couples
Families
Photo
Budget
Zephyr Cove is all about cranking up the R&R on the shores of Lake Tahoe. Cutting into the coast of the eastern banks of the lake, it's a quick cruise of about 5 or 10 minutes from Stateline on the Nevada side. The location is perfect for gazing out towards the peaks of the Sierra Nevada in California, which glow pink and orange at sunset.
But you'll want to get in earlier because Zephyr Cove packs in a huge horseshoe beach with pristine powder and clean water. There are pockets of spruce forest to wander with your other half, along with some uber-romantic waterside restaurants.
2
Sunset dinner cruise
All aboard for a special evening experience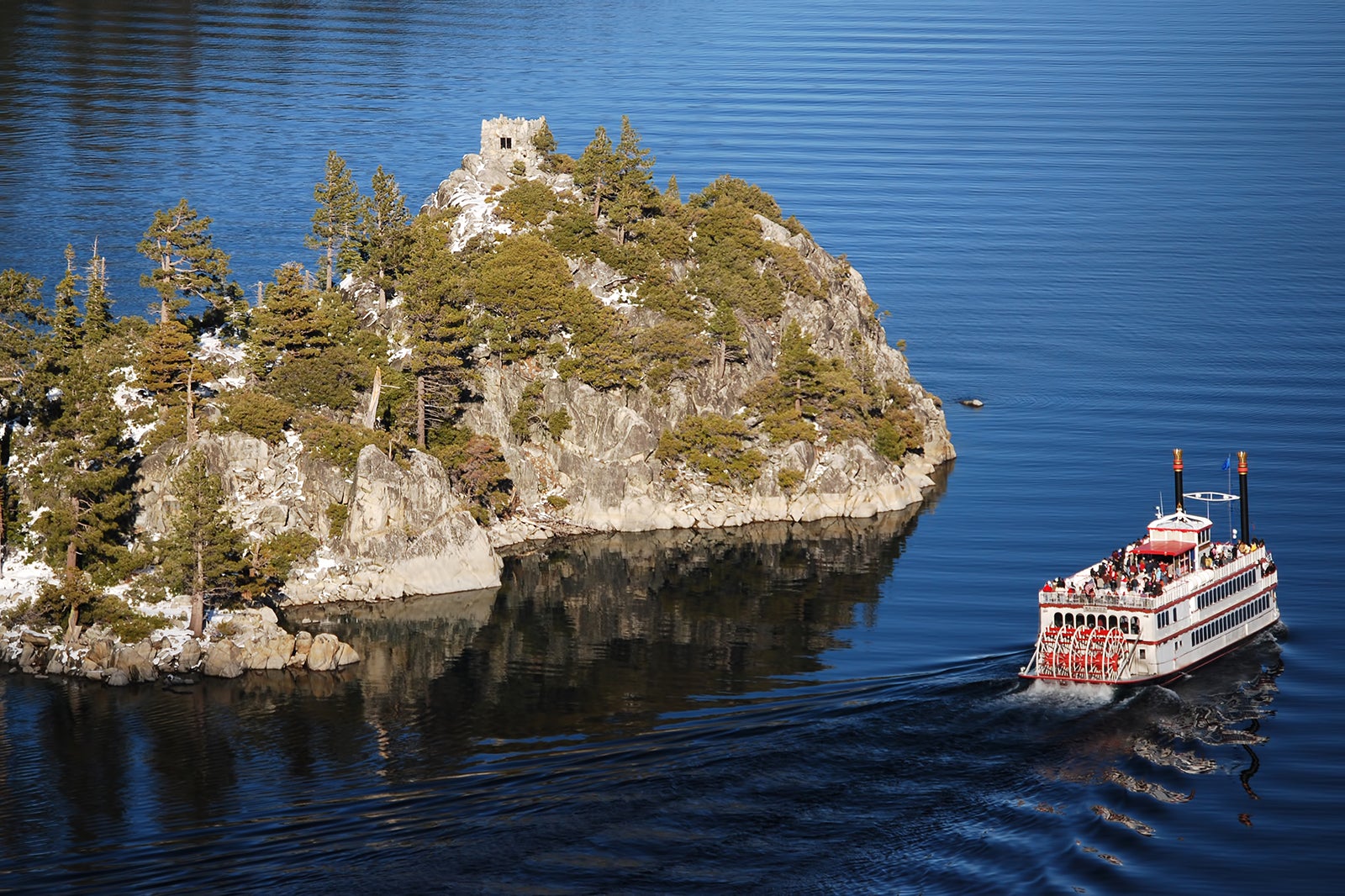 Couples
Food
Photo
Nightlife
Luxury
Sunset dinner cruise experiences on Lake Tahoe come in all shapes and sizes. Some boats leave from the marinas of South Lake Tahoe, but the most famous – and romantic – start in the Nevada town of Zephyr Cove. You'll often find yourself boarding a traditional US paddle steamer for a couple of hours on the water.
Packages typically last between 2 and 3 hours. They start when it's light, with the boat drifting westwards across the lake as the sun begins to dip low. The sunset itself is viewed from up on deck, as the serrated peaks shimmer white and pink on the horizon. Then, it's down below for a dinner of refined Californian cuisine and locally sourced wines.
3
Emerald Bay State Park
Escape to real Tahoe country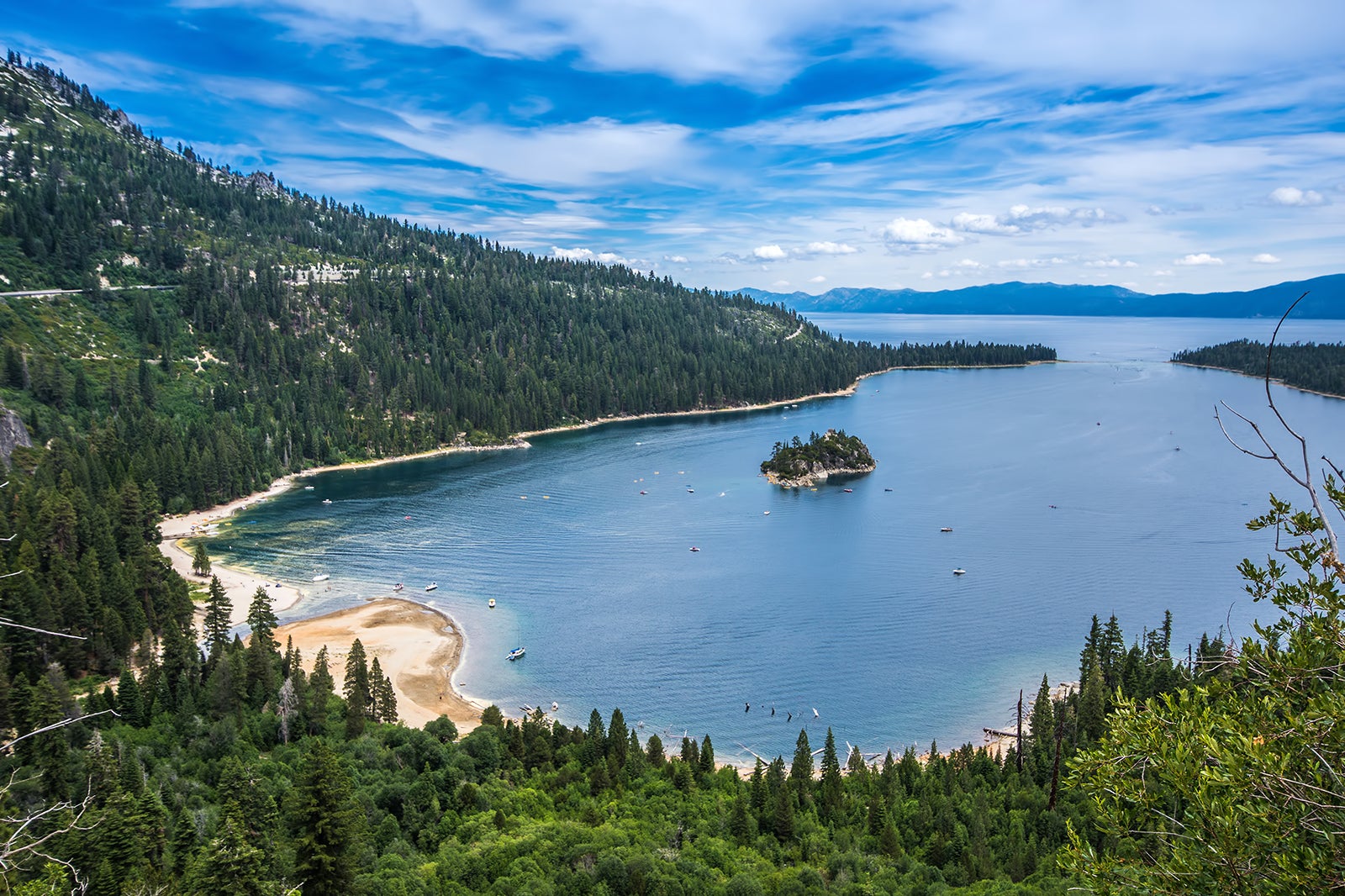 Emerald Bay State Park is often mentioned up there with the top 3 most breathtaking locations in Lake Tahoe. It's hard to argue. When you cruise into the big inlet on the meandering Emerald Bay Road that runs west from Camp Richardson and south from Tahoma, you'll be greeted with a landscape of spear-like spruce trees, gnarled crags of rock, and glimmering greenish waters.
It's stunning stuff for couples who want to get away from it all. There's even a local campsite where you can pitch up your canvas and share a night under the stars. Or, just drop in to hike the trails and witness the wonderful historic landmark that is Vikingsholm.
4
Sierra Hot Springs
Bathe amid the peaks and forests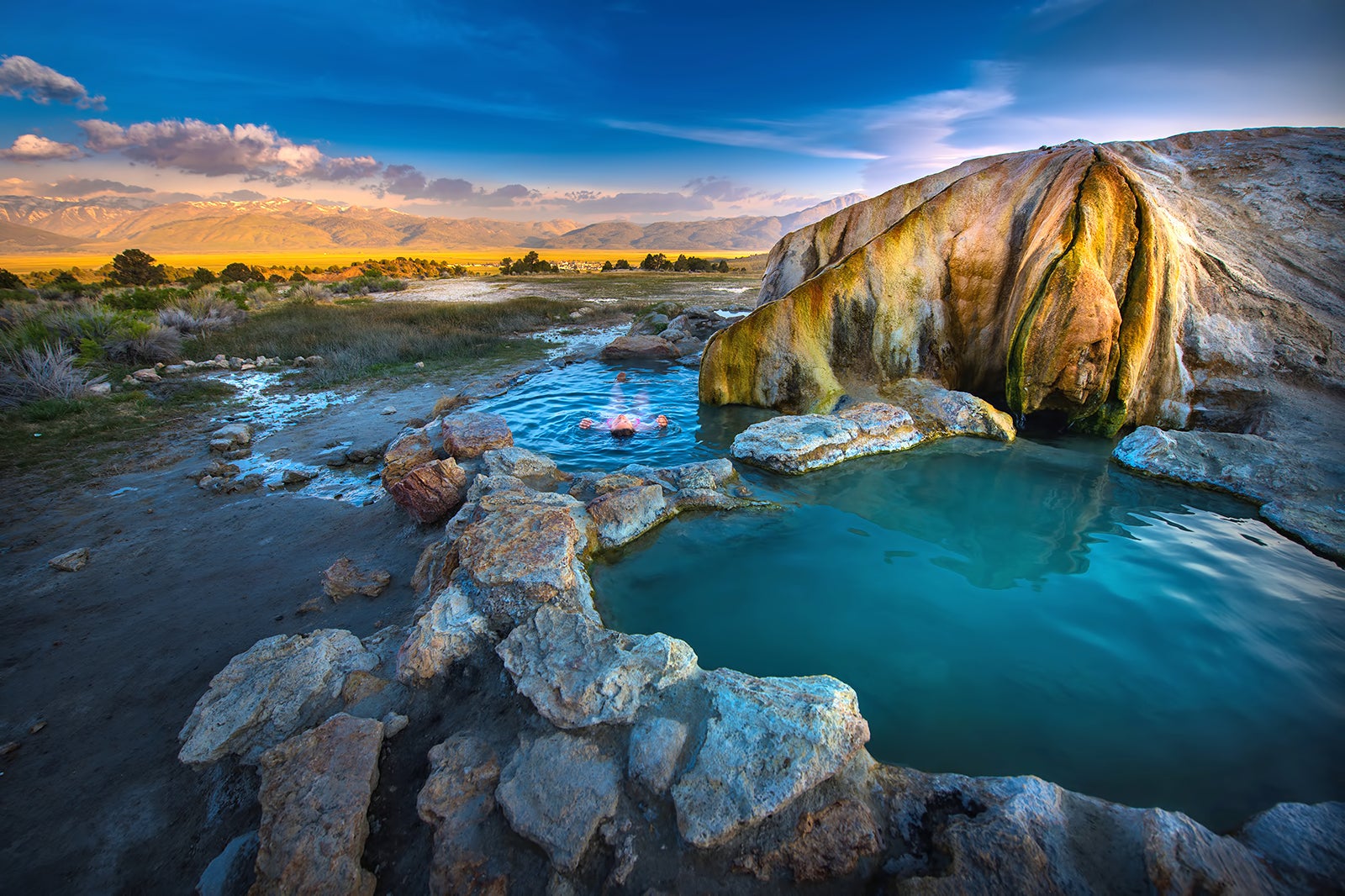 The Sierra Hot Springs resort occupies a truly rejuvenating location. Set in a wide valley of the Sierra Nevada less than an hour's drive up the 89 Highway from Tahoe Vista, it's got steaming pools and baths of all shapes and sizes. You can come and take the plunge while gazing at cow-dotted meadows and alpine ridges.
Aside from a few balmy water pools, a sauna, and cold plunge pools, there's an offering of bespoke health treatments to boot. Couples can book hydration massages or regenerating pain-relief massages together. There are also regular workshops in wellness, mindfulness and yoga.
Location: 521 Campbell Hot Springs Rd, Sierraville, CA 96126, USA
Phone: +1 530-994-3773
5
Balloon rides
Views you simply can't beat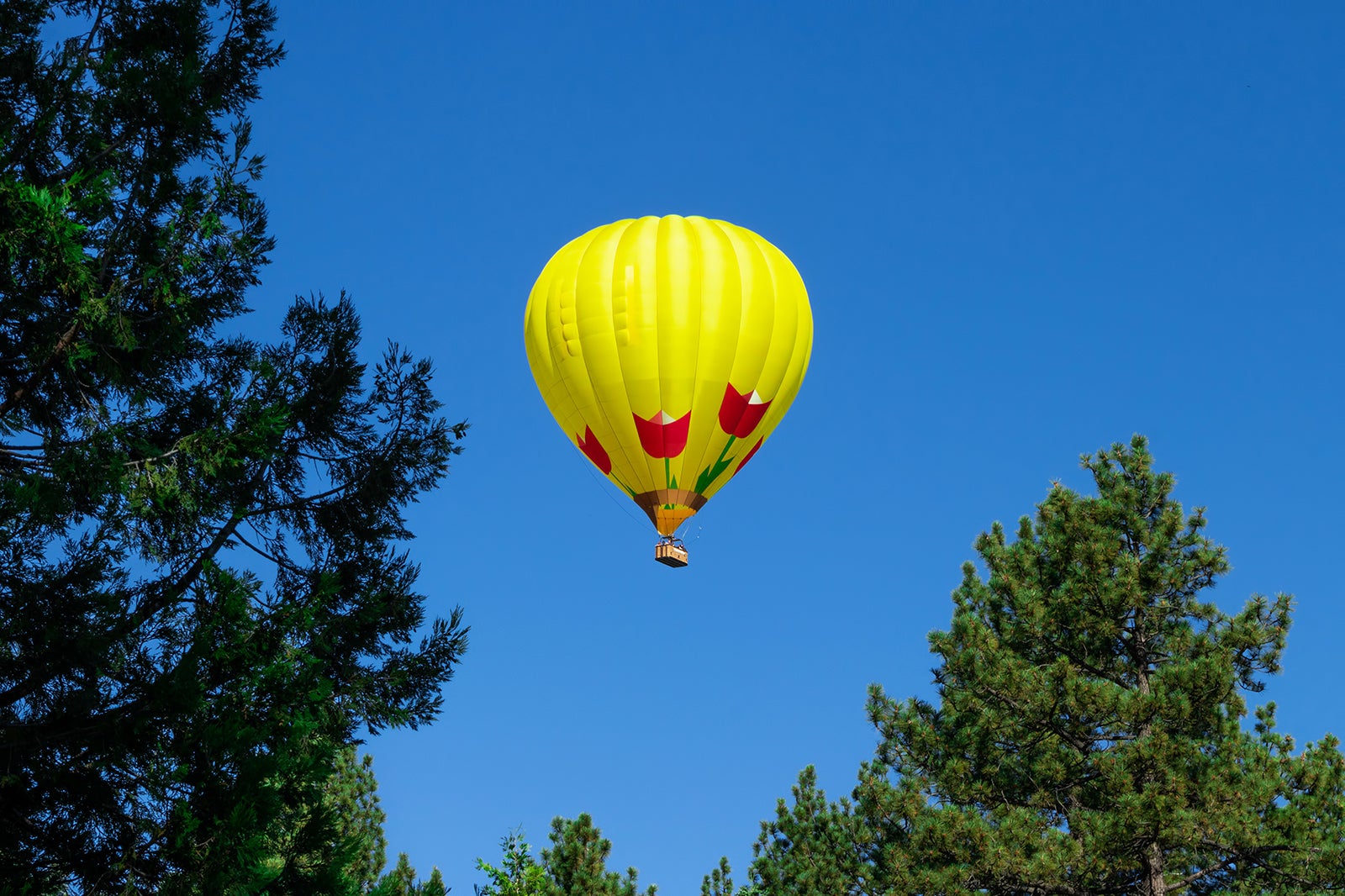 Couples
Families
Photo
Luxury
Balloon rides are a unique way to share the jaw-dropping landscapes of Tahoe with your other half. They take off in different locations at different times of the year. However, they always guarantee sweeping 360-degree views of the lake and the spiked peaks that surround it.
Winter rides will whisk you to the farm fields of the bucolic Carson Valley in Nevada. There, the balloon takes flight over rust-red woodland and cattle-filled farms. In the summer months between May and October, there are other places to lift off. Some options offer to soar over the glimmering waters of Lake Tahoe itself. Others go at sunset, to spy the light dying between the ice-caked Twin Peaks to the west.
6
Secret Cove
Picnic amid stunning nature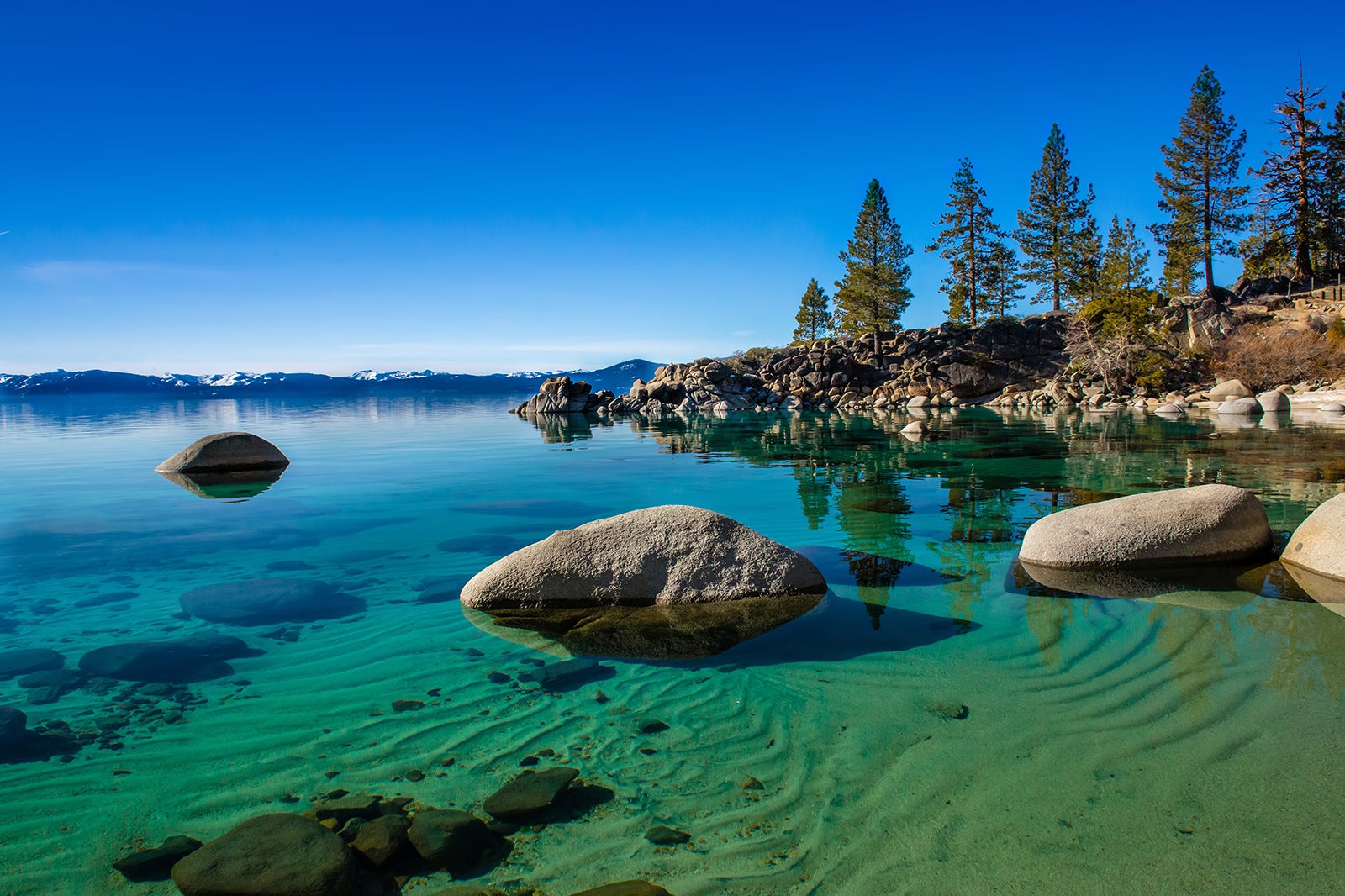 Secret Cove is something of a remote and hidden corner of Lake Tahoe, perfect if you're looking to escape somewhere spectacular with a special someone. However, it isn't all that secret anymore. It's got a name and an address – along the 28 Highway around 10 minutes' drive to the south of Incline Village in Nevada.
Spectacular it certainly is, too. Secret Cove dashes into the mountains from the lake with waters of Greek-island turquoise. Pockets of perfectly green spruce and fir clamber over each other on the banks. A speckling of boulders rolls down the shore like something from a postcard. Surely, it's one of Tahoe's top picnic places.
7
Heavenly Gondola
Claim views across the tops of the Sierra Nevada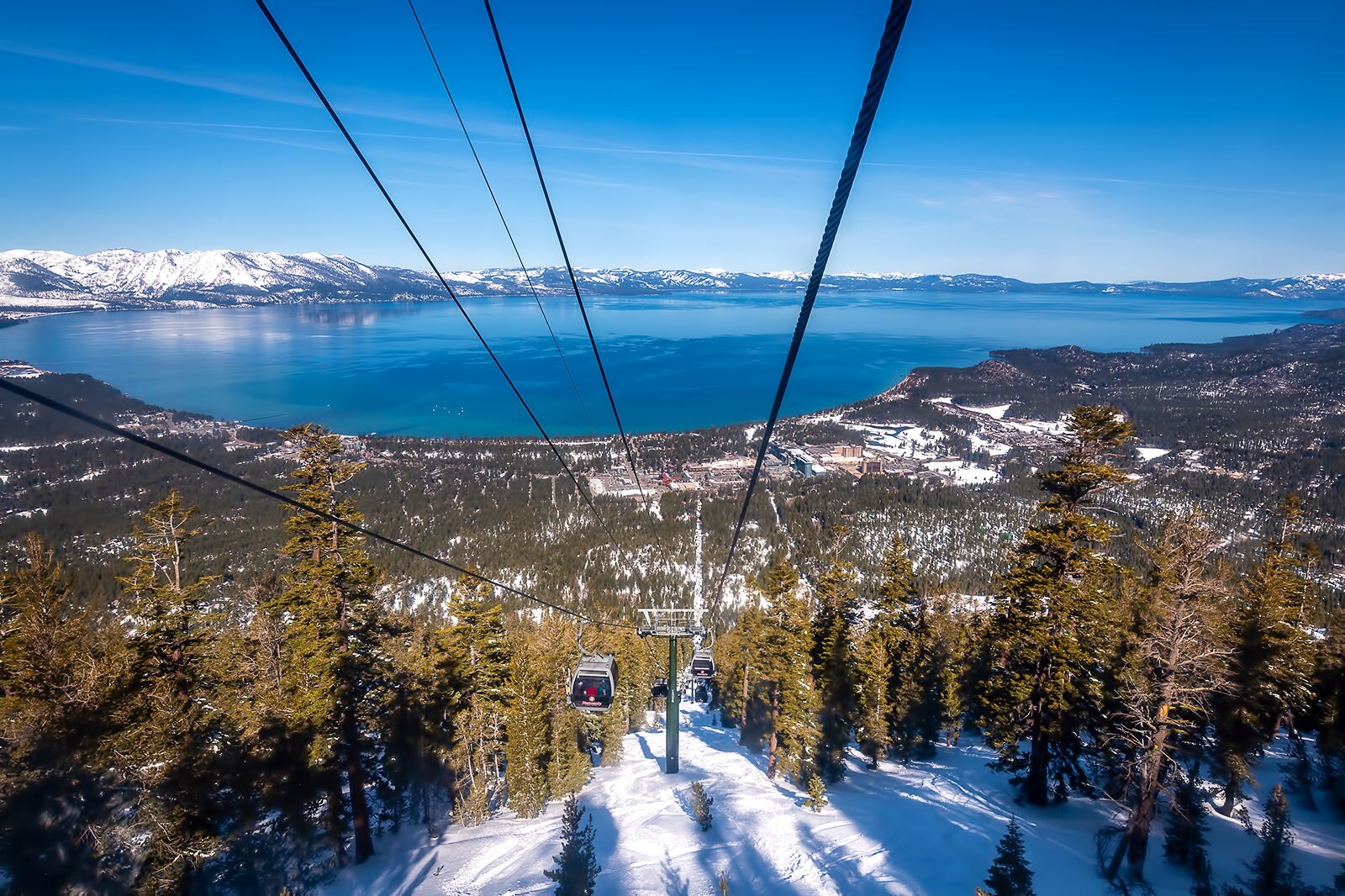 The Heavenly Gondola is a ticket to the soaring heights of the Heavenly Mountain Resort in South Lake Tahoe. It leaves from a station right in the heart of South Lake Tahoe and takes you more than 2 miles across the peaks, a whopping 10,000 ft above sea level.
Of course, the views are something special. Even the lookout points from the midway station will have you snapping the camera lens continuously. The top station's Observation Deck is even better, with panoramas that take in the summits of Nevada and California, not to mention the sparkling blue of Lake Tahoe to the north.
Location: 4080 Lake Tahoe Blvd, South Lake Tahoe, CA 96150, USA
Open: Daily from 8 am to 5 pm
Phone: +1 775-364-1198
8
Sleigh and carriage rides
Fun and romantic in the winter months in Tahoe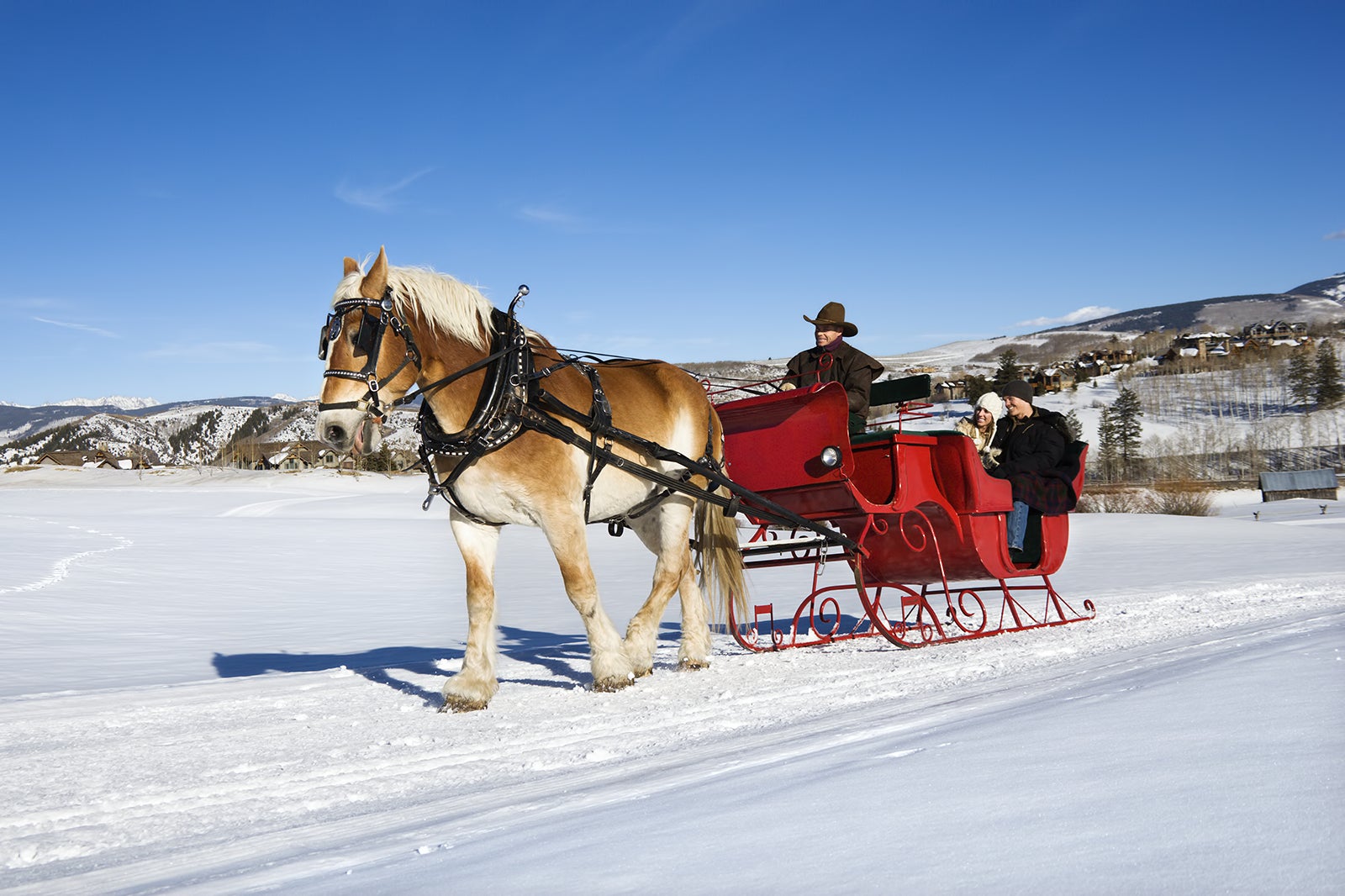 Sleigh and carriage rides in Lake Tahoe are a popular romantic experience in the winter months. They're available all over, but Borges Sleigh & Carriage Rides in South Lake Tahoe are one of the top providers in the region. They organise outings up the gorgeous east shoreline of the lake, culminating with sleigh trips in the snow-dusted wonderland of the Sand Harbor reserve.
Tours are just for the 2 of you, and some even come with private narration. Expect to be serenaded with ditties and poems as you ride through the ponderosas. There are plenty of photo stops, and the horses are elegant Belgian blonde breeds well experienced in traversing the Tahoe snowdrifts.
9
Tahoe Amore
Venetian gondola rides on Lake Tahoe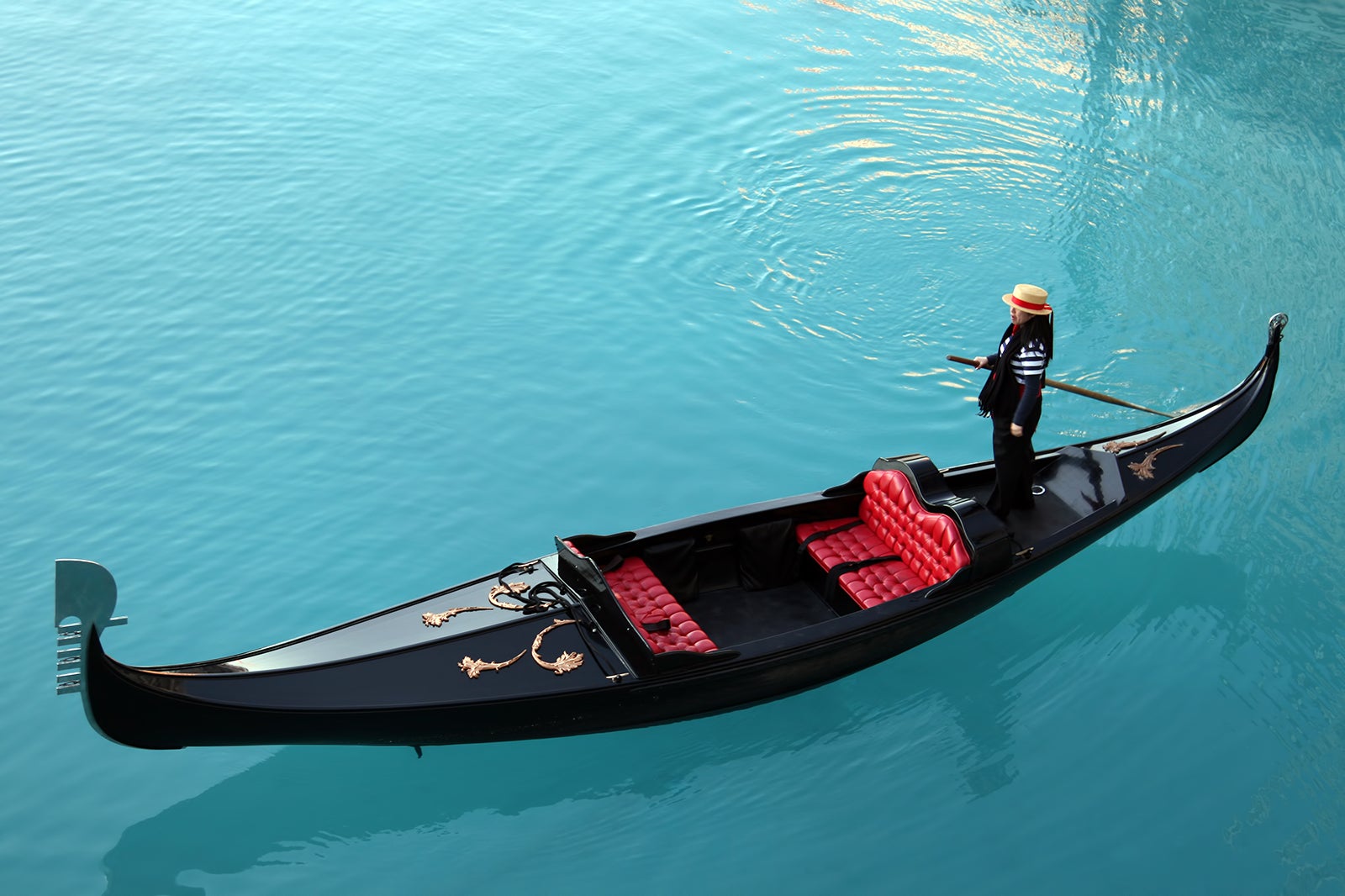 Tahoe Amore is the local specialist in Venetian gondola rides on Lake Tahoe, an experience that'll tug at the heartstrings with a touch of Italy. You'll find them operating out of the harbours of Lake Valley, just a few clicks to the west of South Lake Tahoe and Stateline, NV. Inspired by the punters of northern Italy's City of Canals, they beckon with a unique and unusual experience on the glistening lake waters.
The gondola cruises typically last 1 hour. Some options take you out in the morning to get the fresh Tahoe airs into the lungs. Or, you can choose the Sunrise Spectacular, to catch the emerging light on the peaks of the Sierra Nevada. There's even a stargazer's tour, which lets you sip a fine wine while enjoying the canopy of celestial lights above.
Location: 2435 Venice Dr E, South Lake Tahoe, CA 96150, USA
Open: Daily from 9 am to 11 pm
Phone: +1 530-314-8866
10
Kayaking
Explore Tahoe by water, together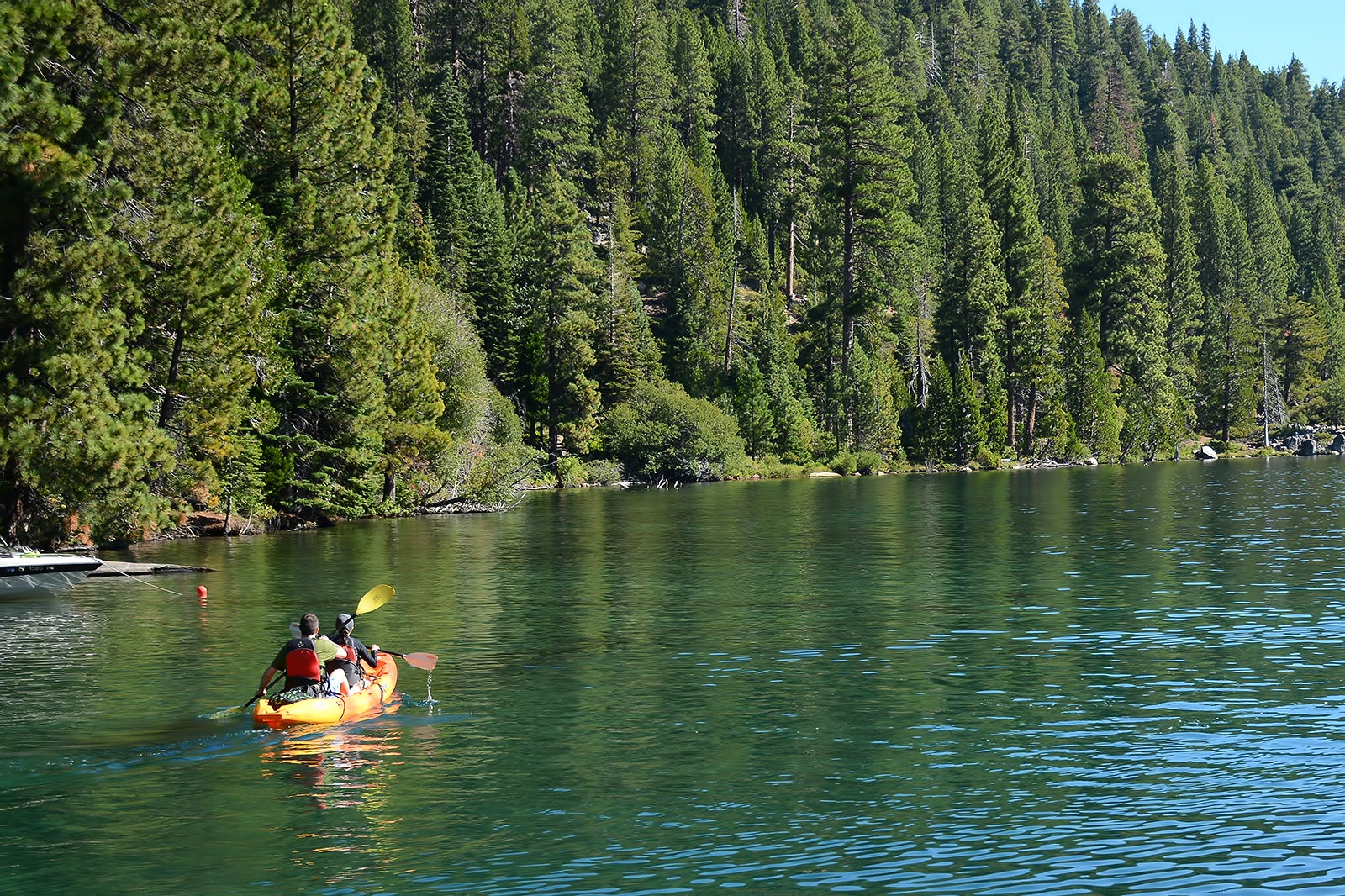 Kayaking on Lake Tahoe is one of the best ways to explore this vast water in the middle of the Californian and Nevadan mountains. Rental spots are just about everywhere. You'll find them speckling the marinas around Crystal Bay in the north, and in abundance by the yacht moorings of South Lake Tahoe in the south.
It's a good idea to decide the sort of shoreline you'd like to see before choosing your rental. The lovely Emerald Bay State Park is one of the most enchanting corners of the lake, but you'll need to get a kayak close by to paddle your way there. Secret Cove and Zephyr Cove are other hotspots on the west coast.
Back to top