11 Best Things to Do in Clearwater
What is Clearwater Most Famous For?
There are plenty of things to do in Clearwater, a coastal city along the sandy shores of the Gulf of Mexico. It's especially popular among travelling families and sunseekers in the summer, as you can enjoy miles of pristine beaches and plenty of fun, kid-friendly things to do.
There's a beachfront promenade lined with excellent cafes and restaurants, as well as a well-maintained path for cyclists to glide along. Whether you want to stretch your legs on a scenic hiking trail, unwind at the beach, or play a round of golf on one of the numerous courses, Clearwater is a delightful destination to visit in West Florida.
What are the best things to do in Clearwater?
1
Clearwater Beach Island
Have fun at one of the best beaches of Clearwater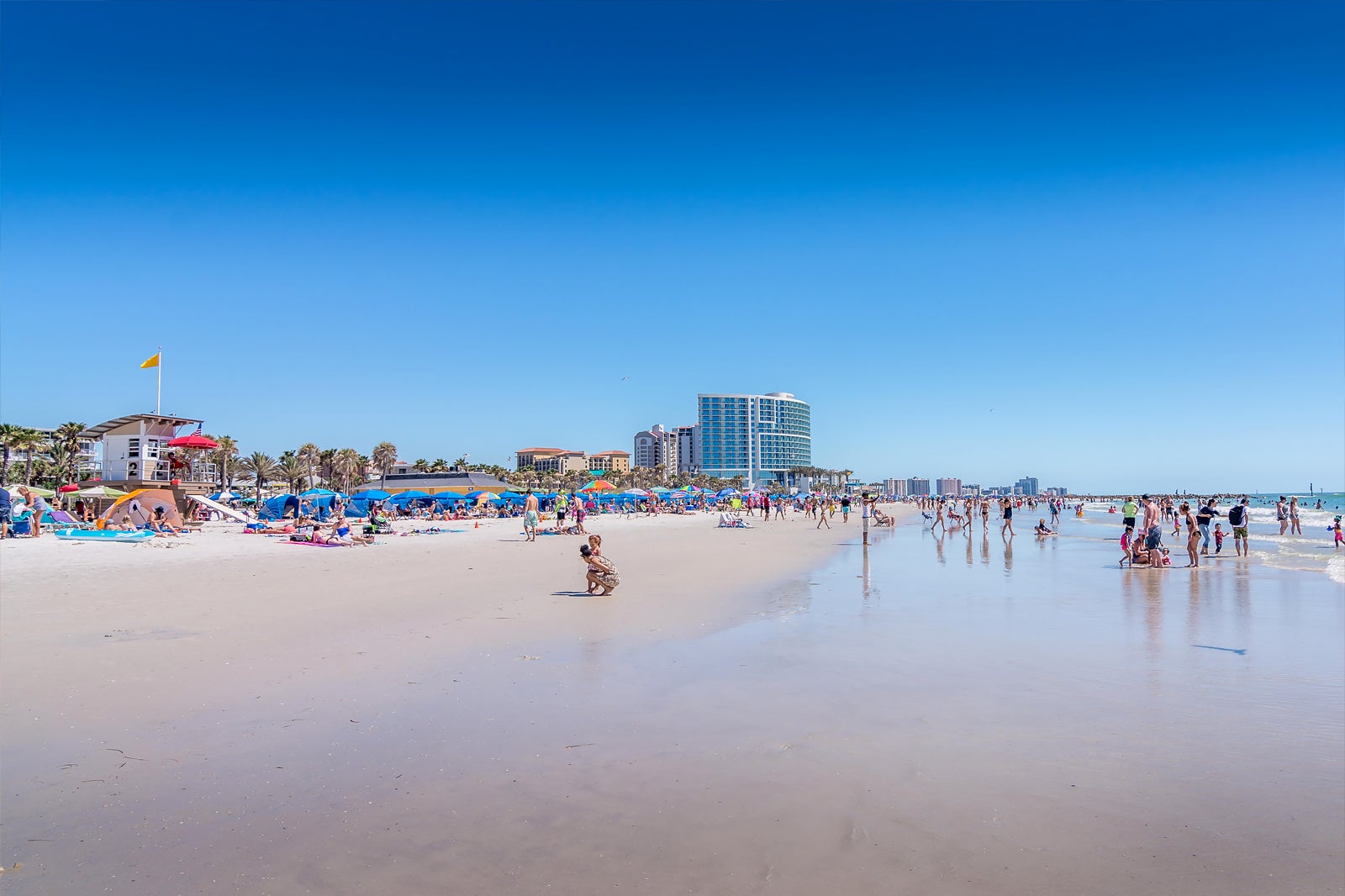 Clearwater Beach Island makes for an excellent day trip near the central city, as it has a long stretch of beach with powdery sand. You can unwind on a rented sunchair, dip into the turquoise waters of the Gulf of Mexico, or rent a kayak to explore the island.
The island offers plenty of restaurants and beach bars, where you can sip on refreshments on a warm day. Head for Pier 60 if you're into fishing or looking to admire pelicans waiting for a possible treat. Bait and fishing rods are available in the visitor's centre at the pier.
2
Moccasin Lake Nature Park
Take a stroll through a nature reserve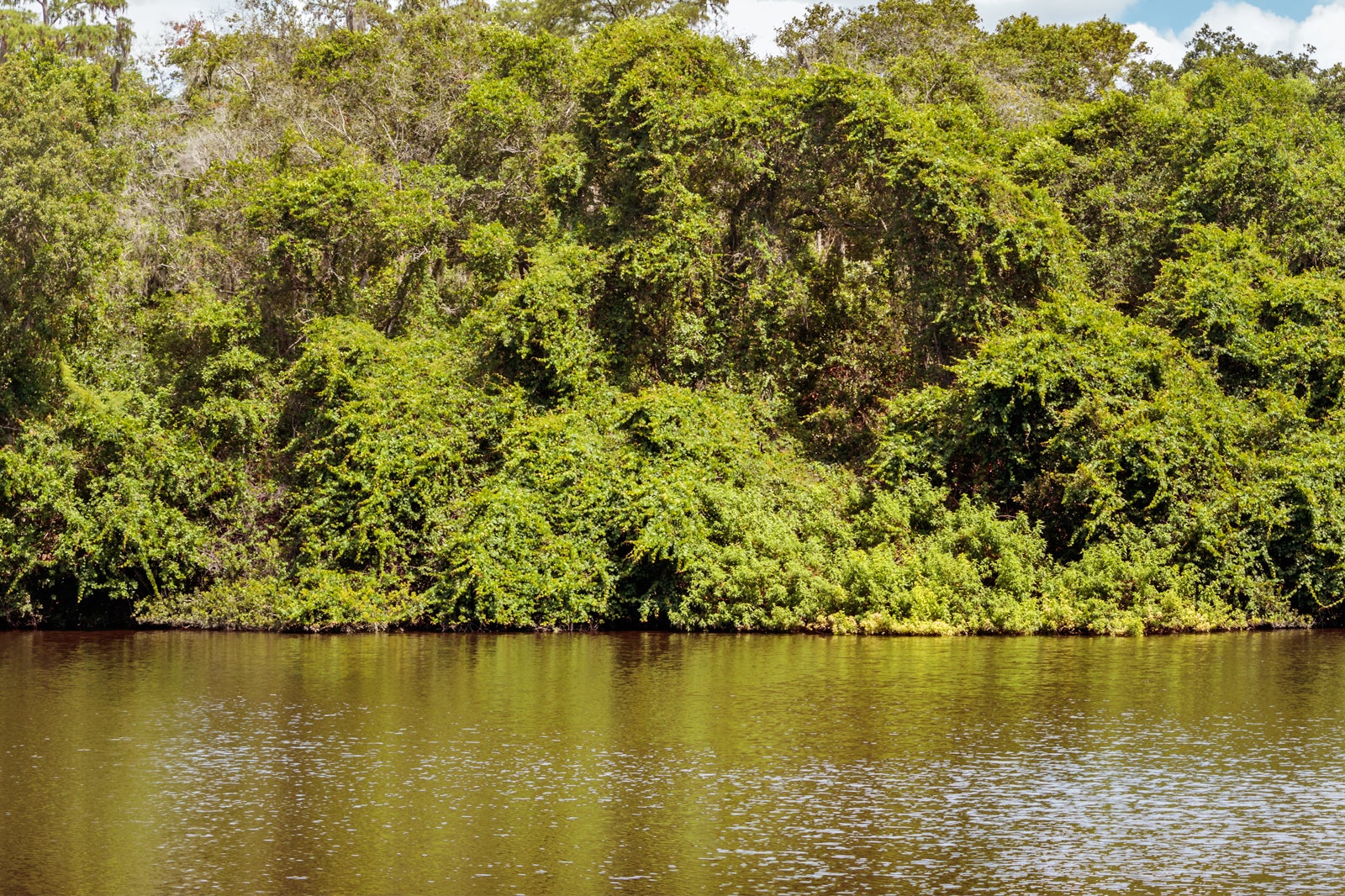 Couples
Families
Photo
Budget
Moccasin Lake Nature Park is a 51-acre green oasis in the middle of Clearwater, ideal for a relaxing stroll surrounded by nature. You can explore the reserve via trails and boardwalks that meander through a dense oak forest. Along the way, you'll pass by a colourful butterfly garden and a little lake that's often flocked with aquatic birds.
Moccasin Lake Nature Park has a wildlife centre that rehabilitees injured birds of prey. There's a loop track through the park that's about a mile long – it's fully paved and accessible for strollers and wheelchairs.
Location: 2750 Park Trail Ln, Clearwater, FL 33759, USA
Open: Wednesday–Sunday from 10 am to 5 pm (closed on Mondays and Tuesdays)
Phone: +1 727-562-4315
3
Clearwater Marine Aquarium
Learn more about rescued sea animals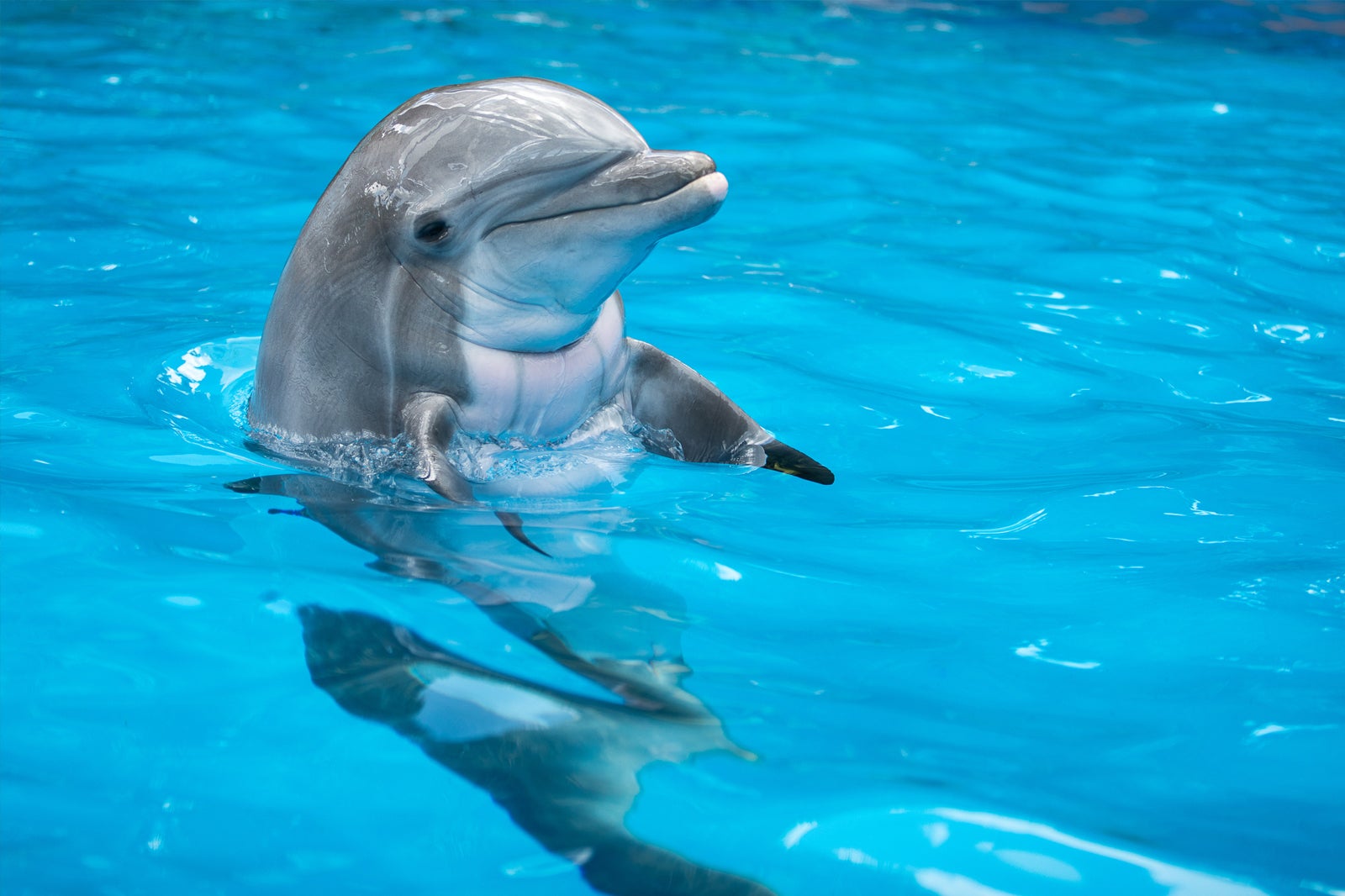 The Clearwater Marine Aquarium is a fantastic place for those looking to see various sea creatures. The marine exhibit is home to dolphins, turtles, rays, otters, just to name a few. All animals at Clearwater Marine Aquarium are rescued and raised in a safe environment. Explore the Sea Cavern to observe smaller critters such as pufferfish and crabs.
For an exceptional encounter, enquire for the Dolphin Care Experience. A staff member provides information on these highly intelligent creatures and helps you feed them. The aquarium also organises 60-minute-long dolphin and wildlife boat tours, letting you meet the local dolphin pods and birdlife in their natural habitat.
Location: 249 Windward Passage, Clearwater, FL 33767, USA
Open: Daily from 10 am to 6 pm
Phone: +1 727-441-1790
4
Fred Marquis Pinellas Trail
Hike or bike on this 38-mile-long route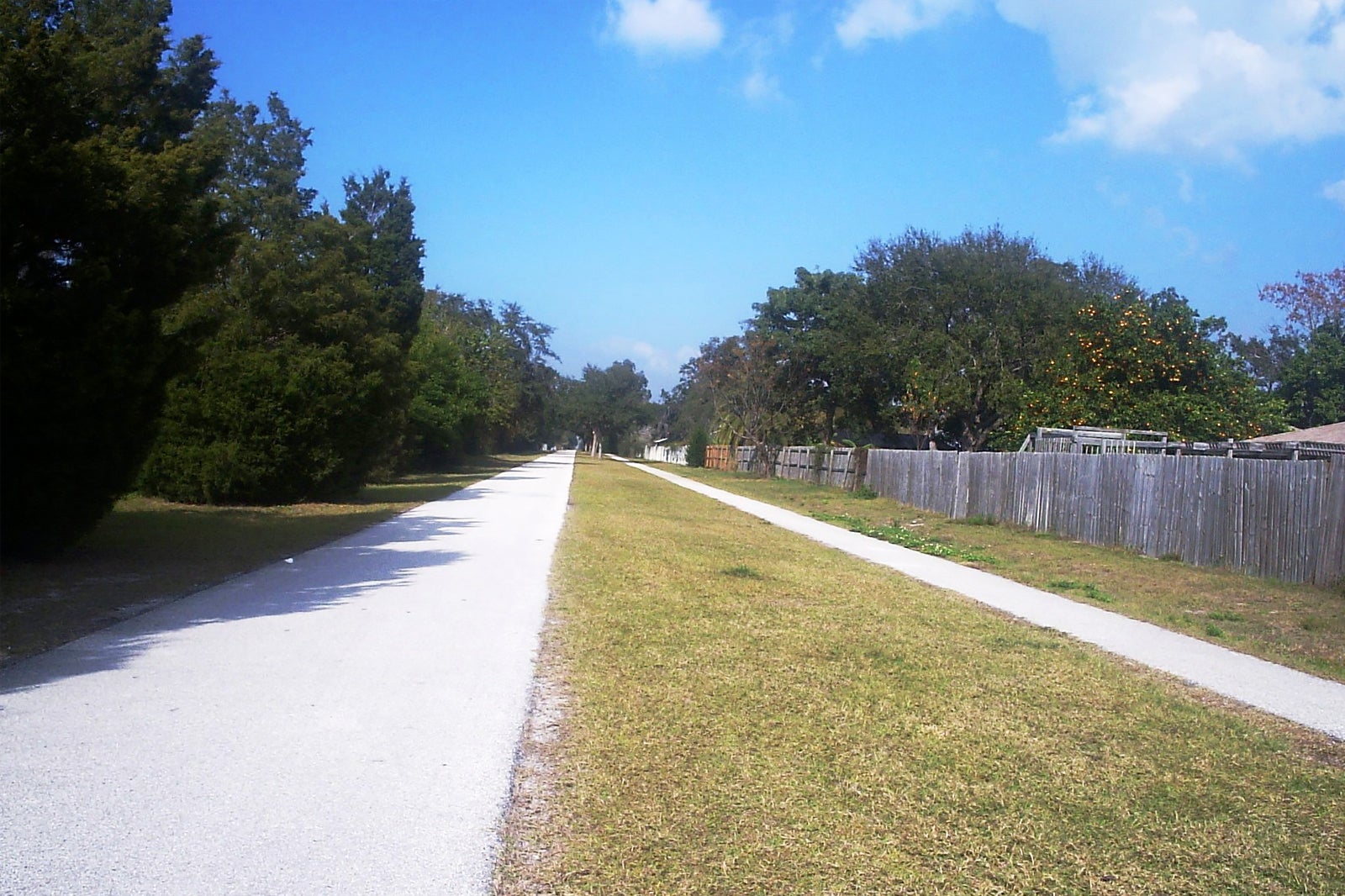 The Fred Marquis Pinellas Trail winds its way from Tarpon Springs to St Petersburg, over a length of 38 miles. It's one of the longest and most beloved urban walking routes in Florida. By following this route, you'll pass by many parks, rural residential areas, and beaches with stunning coastal views.
The part of the trail near Clearwater primarily covers the coastline. It's possible to travel on this trail by walking, jogging, and cycling. Leashed dogs are allowed to walk along on this track, so you won't have to leave your furry friends at home.
photo by Philipp Michel Reichold (CC BY-SA 2.5) modified
5
Pelican Walk Plaza
The main shopping mall of Clearwater Beach Island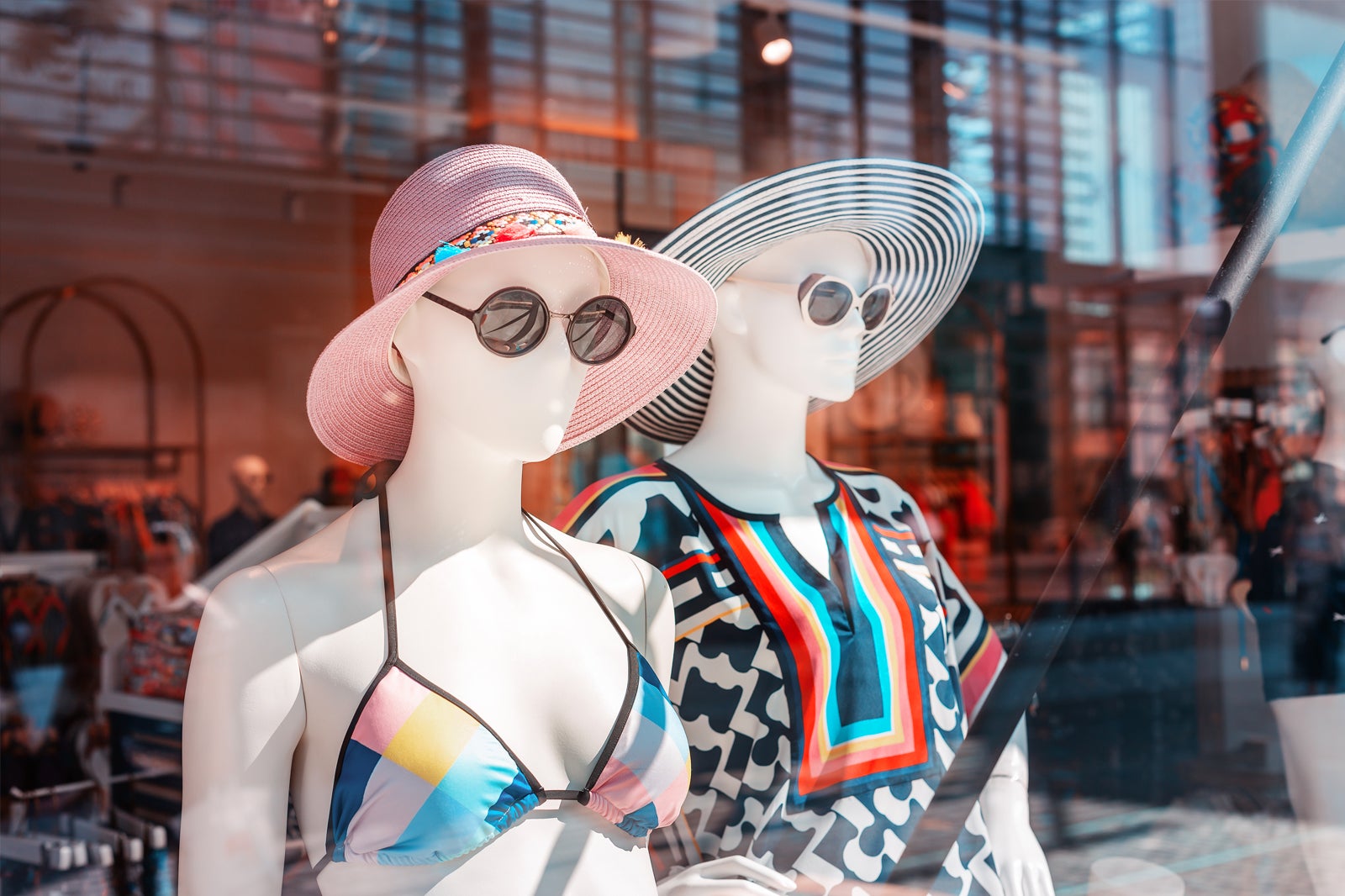 The Pelican Walk Plaza is on Clearwater Beach Island, less than 3 miles away from downtown. This shopping centre is an excellent spot to go for a shopping spree or sit down for a meal or drinks.
Sit down for an early lunch at Another Broken Egg Cafe, go for dinner in the cosy Frenchy's Original Cafe, or propose a toast in The Brown Boxer pub. The Pelican Walk Plaza is near the beach, so it's easy to combine sunbathing with a stroll through the shopping mall.
Location: 483 Mandalay Ave, Clearwater, FL 33767, USA
Open: Daily from 9 am to 3 am (hours may vary)
Phone: +1 914-961-0406
6
Play golf
Head for one of Clearwater's 18-hole courses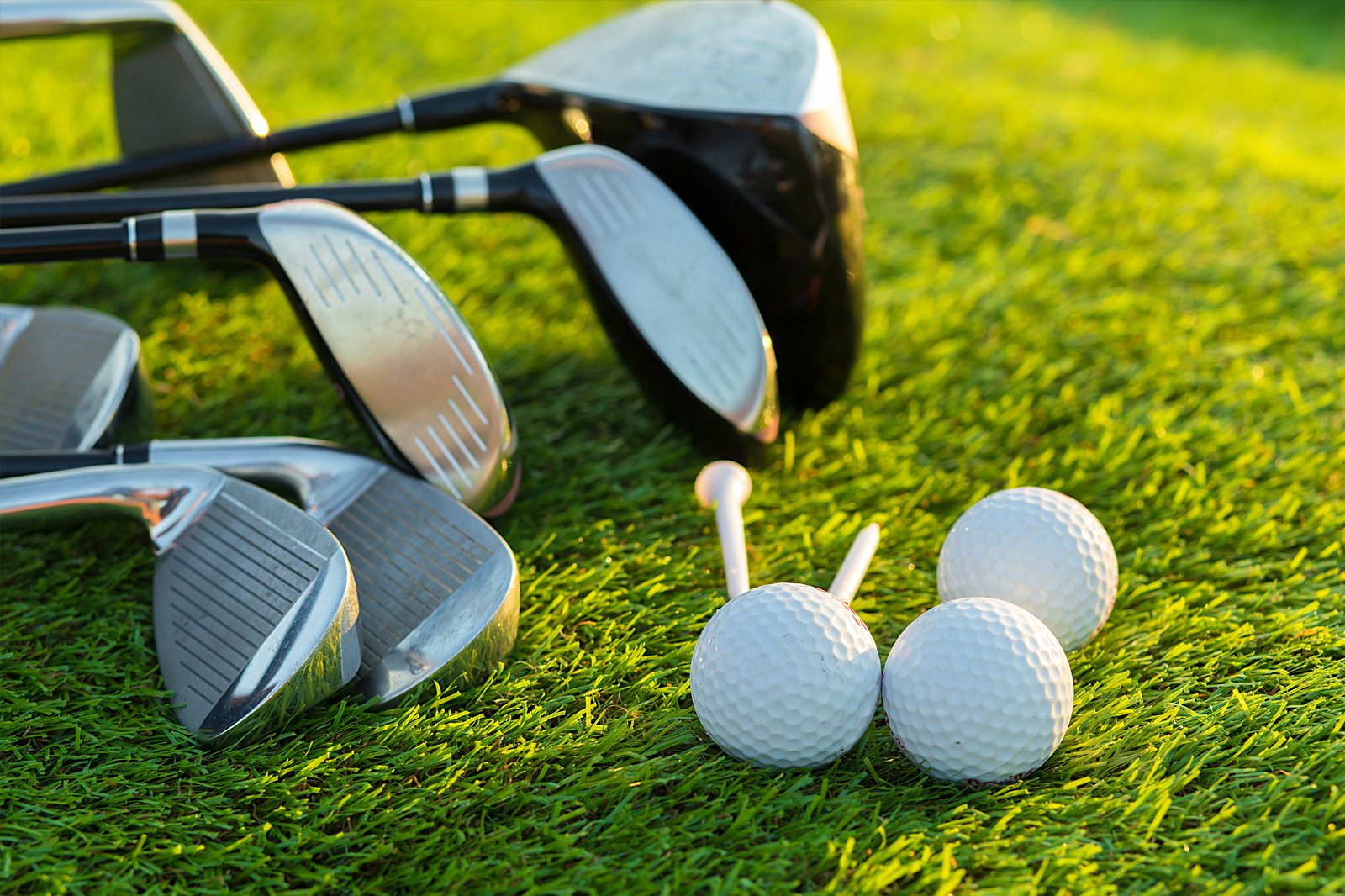 One of the most relaxing ways to spend your holiday in this area is by hitting a ball on one of Clearwater's golf courses. Within its city borders, Clearwater has 3 greens to choose from: Clearwater Country Club, The Landings, and Cove Cay Golf Club. These golf courses are wonderfully curated, with a couple of nice ponds and palm trees decorating the greens.
If it's your first time to get involved in this game, both the Clearwater Country Club and Cove Cay Golf Club organise individual lessons and group lessons.
7
Sand Key Park
The best of both worlds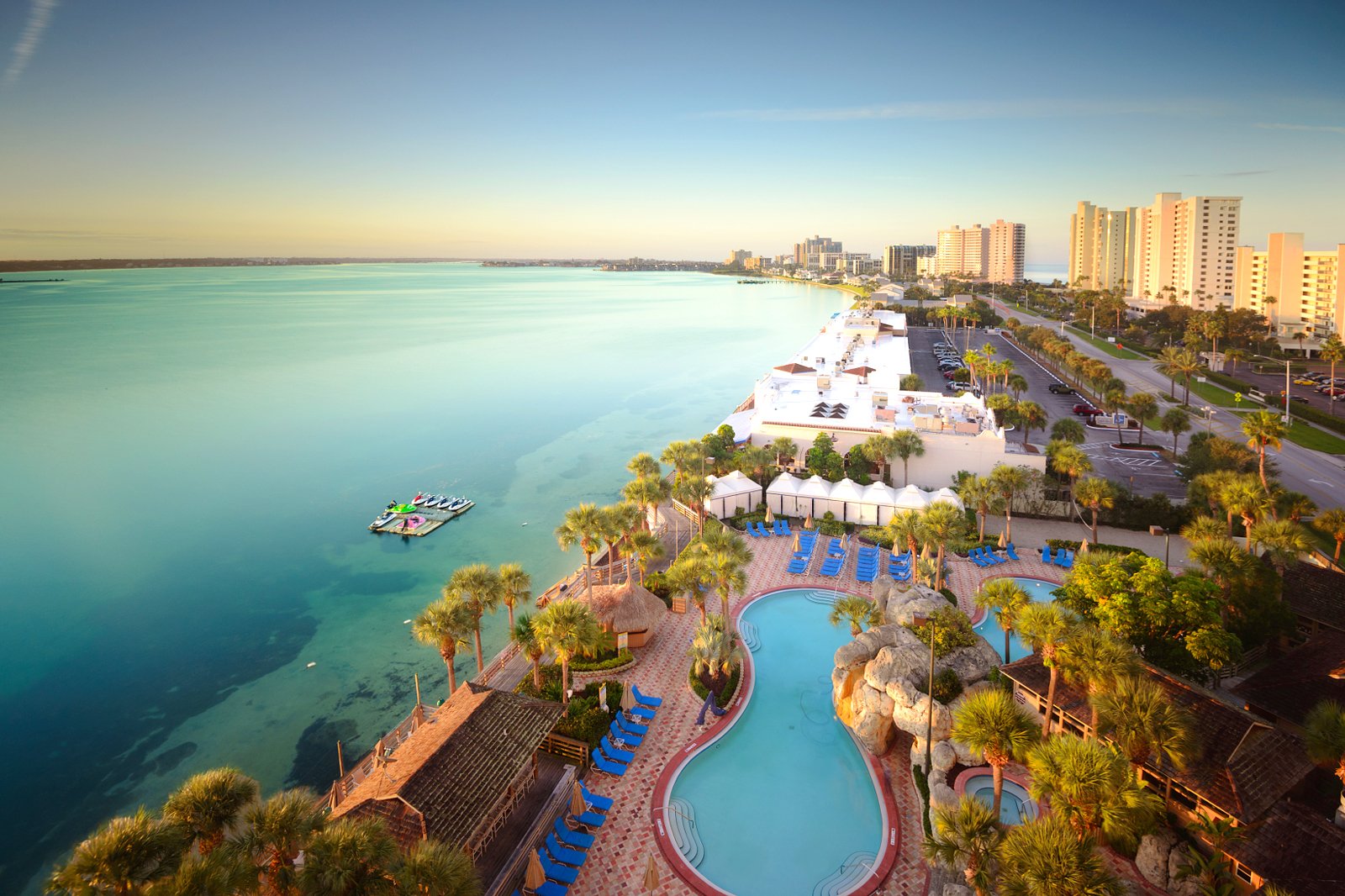 Sand Key Park is a hefty expanse of sand, ideal for families looking to spend the day on a beach with excellent facilities. With beach cabanas, bathhouses, a dog park, a playground and a seasonal lifeguard, the beach almost guarantees a stress-free day of basking in the sun.
Kayak or surf on the sparkling blue waters before or after settling down for lunch at one of the picnic shelters. For a bit of fun on dry land, explore the nature trails, where you can see a wide array of birdlife, such as ospreys, egrets and herons. Endangered sea turtles frequently lay eggs on parts of the beach, so look out for these magical creatures.
Location: 1060 Gulf Boulevard, Clearwater, FL 33767, USA
Phone: +1 727 582 2100
8
Join a sunset cruise
Discover scenic bays and meet dolphins at dawn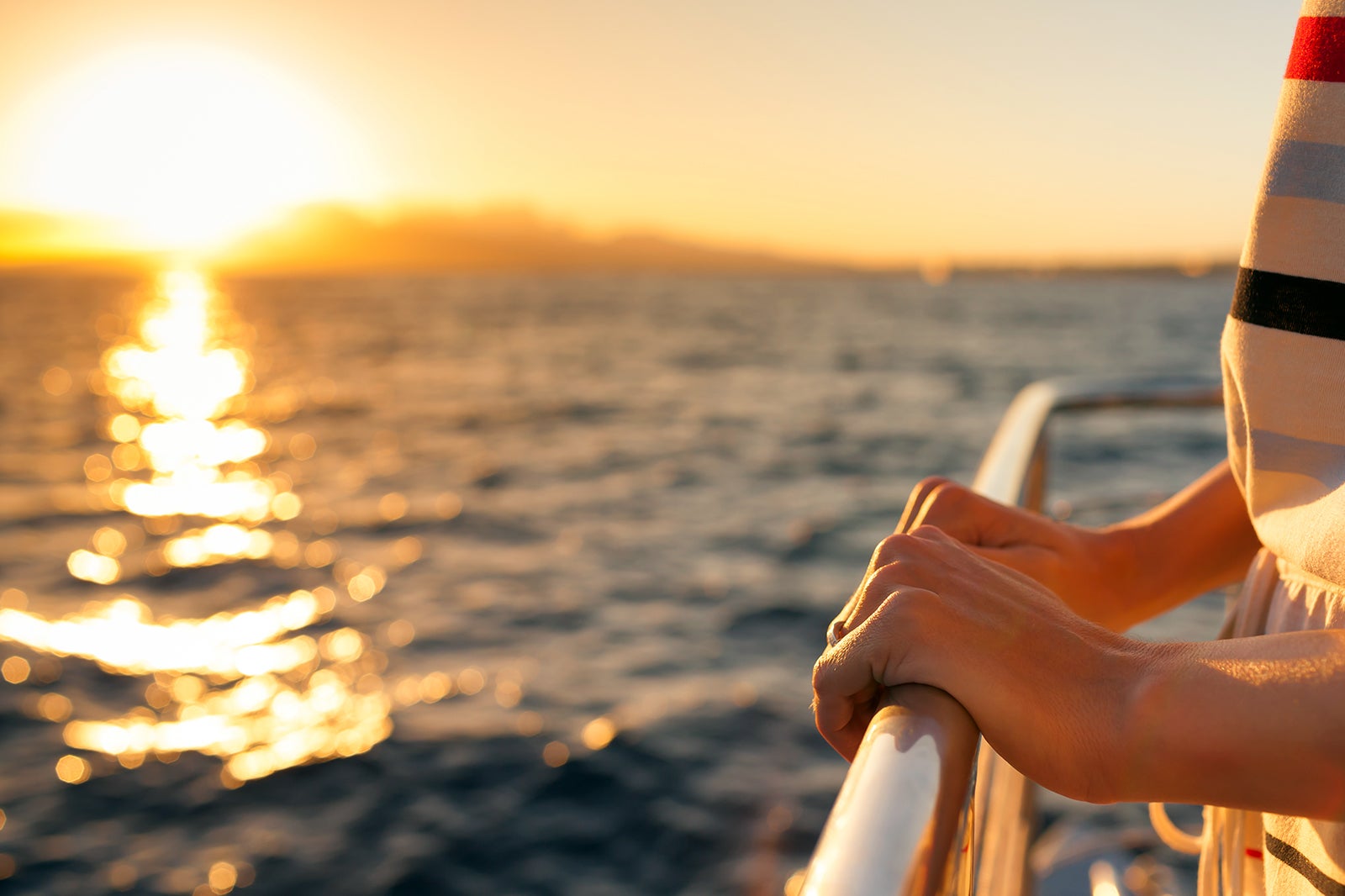 With its sandy ocean fronts and Florida's iconic sunsets, Clearwater is a great base for boat rides at sunset. These cruises show you Clearwater's coastline in the calm Clearwater Bay and continue to the Gulf of Mexico if the weather allows. Some even offer chartered sailing trips, on which you'll be accompanied by delicacies and beverages.
Most cruises depart from Clearwater Beach Island and last for about 2 hours. Apart from a stunning sunset and city views, chances are high that you'll see a pod of dolphins playing around the boat.
9
Clearwater Brewing Company
Sample some of the finest local brews in Clearwater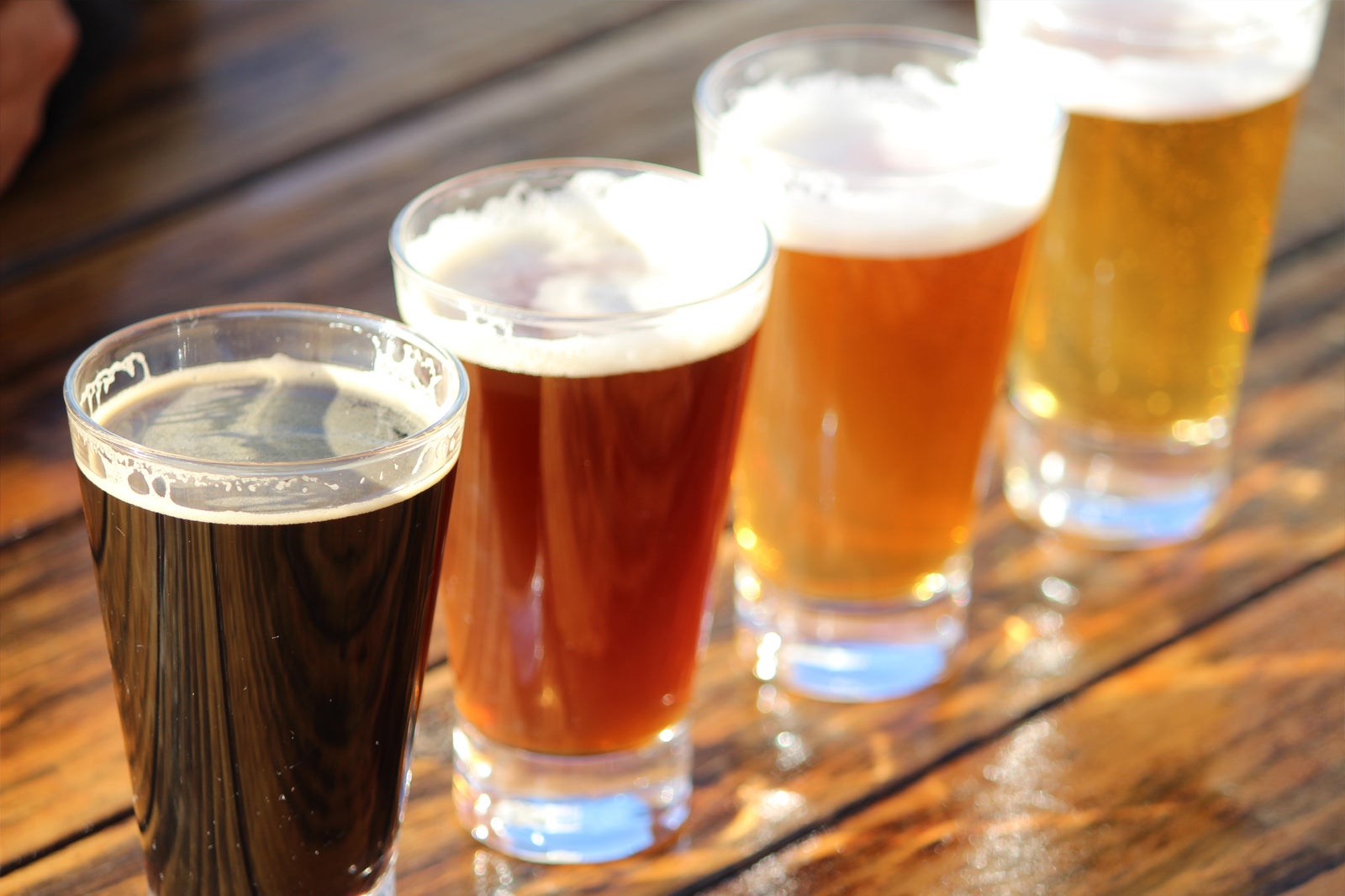 Clearwater Brewing Company is one of the most popular places where locals love to pop in for a refreshing brew. The brewery was founded in 2017 in an old petrol station in the northern part of town and is a fantastic place to share a local beer with fellow travellers.
Take a seat in the taproom, where you can see the hissing machinery of the brewery at work. You can pick from 15 beers on tap, all made in this brewhouse. The friendly bartenders are happy to share the brewery's unique story and recommend a brew that suits your palate.
Location: 1700 N Fort Harrison Ave, Clearwater, FL 33755, USA
Open: Tuesday–Thursday from 3 pm to 9 pm, Friday from 3 pm to 10 pm, Saturday from noon to 10 pm, Sunday from noon to 9 pm (closed on Mondays)
Phone: +1 844-737-1700
10
Cliff Stephens Park
Enjoy a walk or picnic in this nature reserve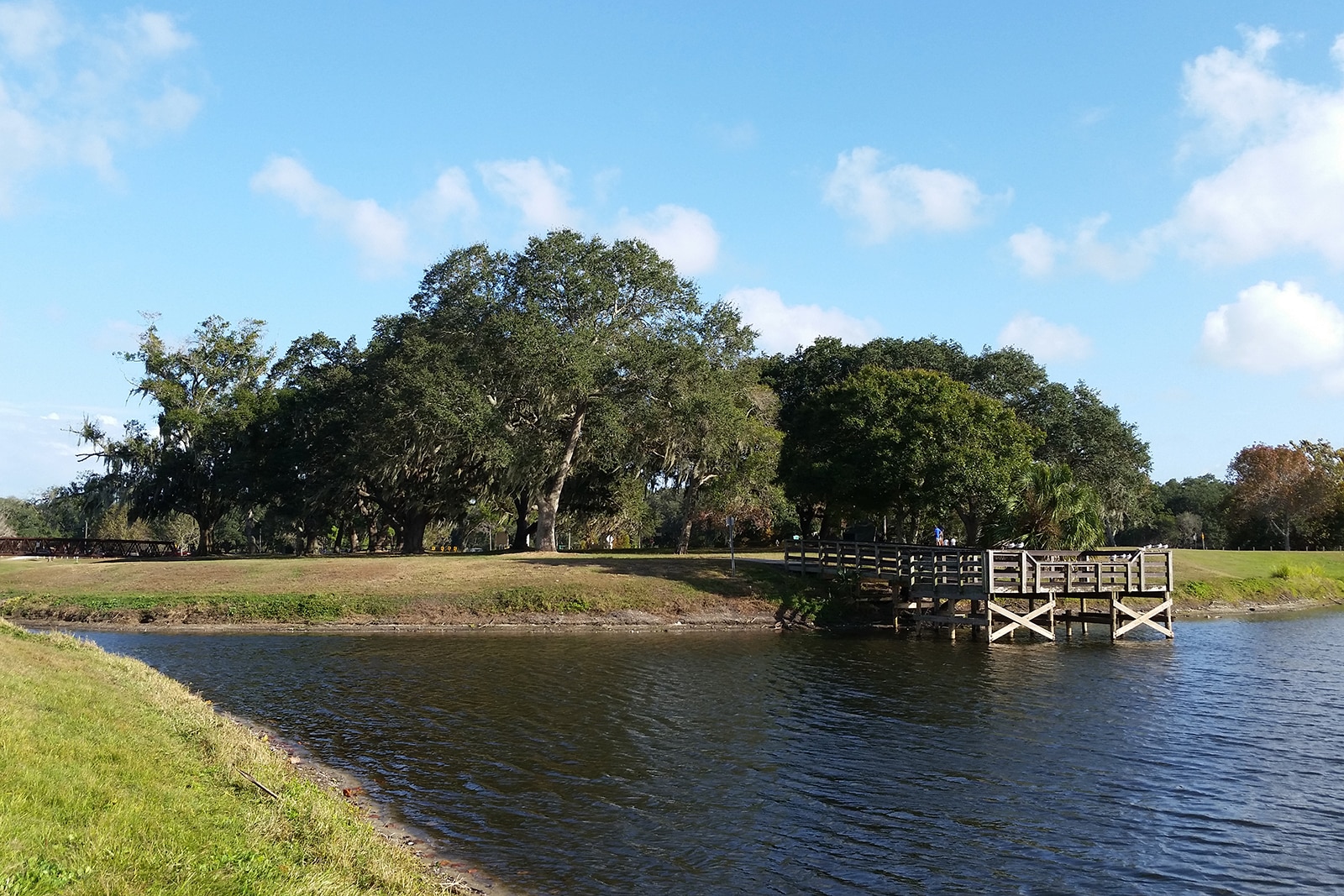 Cliff Stephens Park is an excellent area to enjoy the great outdoors with friends and family in Clearwater. The reserve lies around 4 miles east of the city's downtown, stretching out over 44 acres of lush greenery.
It has miles of cycling and walking trails, a disc golf course, and a large pond that's often flocked by waterfowl. The pond is meant for leisure purposes, so you can hit the water in a paddleboat or canoe. If you're planning to stay fit during your holidays, Cliff Stephens Park has an exercise station. Tables and grills are available throughout the area, so it's very convenient for picnic parties on the lakeshore.
Location: 600 Fairwood Ave, Clearwater, FL 33759, USA
Open: Daily from 6 am to 10 pm
Phone: +1 727-562-4800
photo by Michel Curi (CC BY 2.0) modified
11
Ruth Eckerd Hall
End the day with a concert or dance performance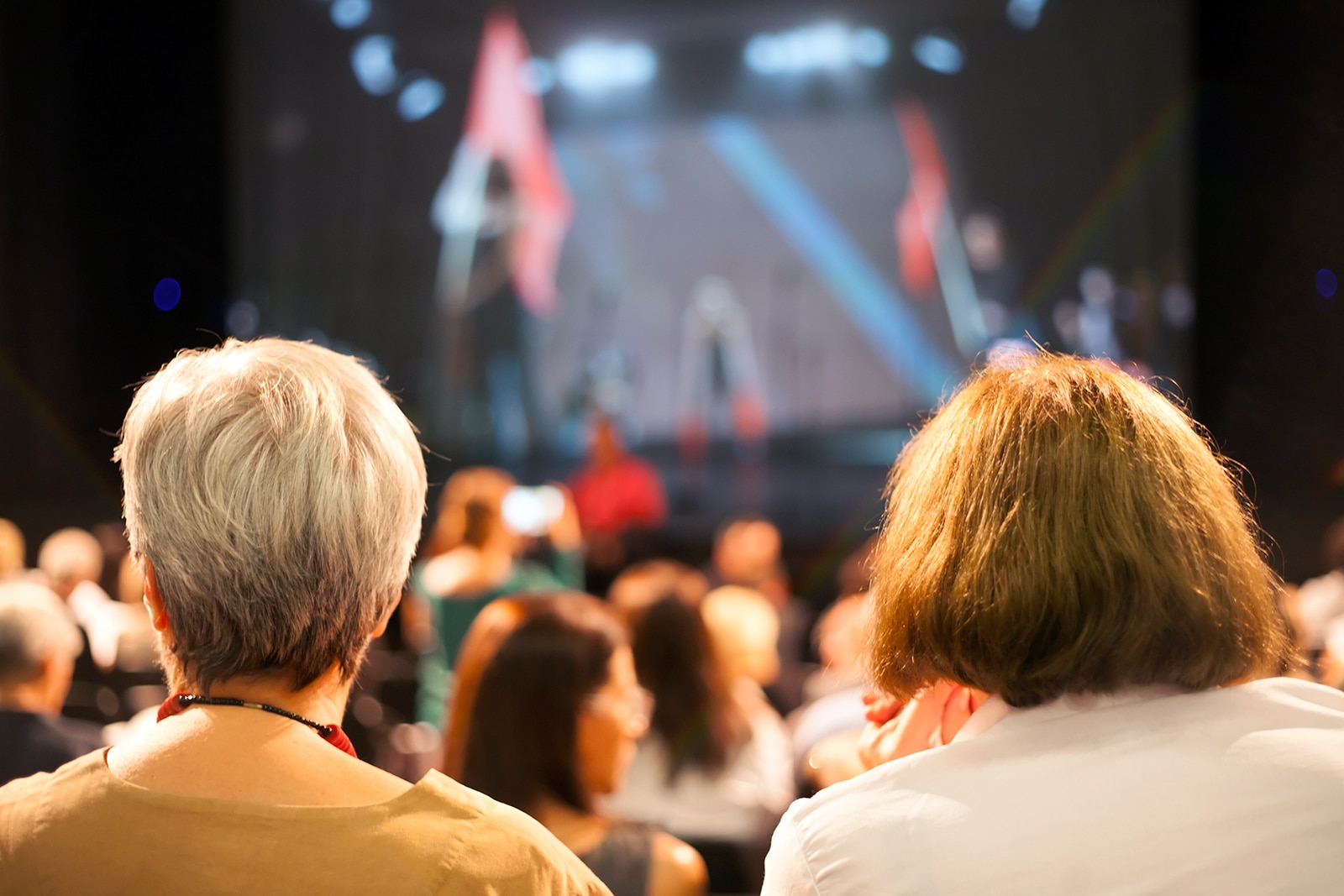 The Ruth Eckerd Hall is a modern theatre in the eastern part of Clearwater. This centre for the performing arts spans 73,000 sq ft, with a vast auditorium that can accommodate up to 2,200 spectators. Don't miss the opportunity to catch a cabaret or live music performance in this majestic hall.
You can buy snacks and drinks to go with the theatre experience, but it's also possible to book a fine-dining and entertainment package for a great night out. After a performance, the Frenchy's Rooftop Terrace Lounge is the right place to chat about the show, with stellar views of Clearwater as a backdrop.
Location: 1111 McMullen Booth Rd, Clearwater, FL 33759, USA
Phone: +1 727-791-7400
Back to top