10 Best Things to Do After Dinner in Colorado Springs
Where to Go in Colorado Springs at Night
While Colorado Springs is synonymous with hiking, mountain biking, and other activities best done during the daylight hours, the city has a variety to offer once the sun sets, too. After you've enjoyed a delightful dinner, it's time to head into the surrounding area to discover what awaits.
Top after-dark attractions include the temptations of Tejon Street, unique arts, and crafts options, or enjoying a musical interlude under the night sky. From bar crawls to stargazing, craft breweries to comedy clubs, you'll find something to suit a wide variety of preferences in our list of the best things to do after dinner in Colorado Springs.
1
Tejon Street
A nightlife hub of Colorado Springs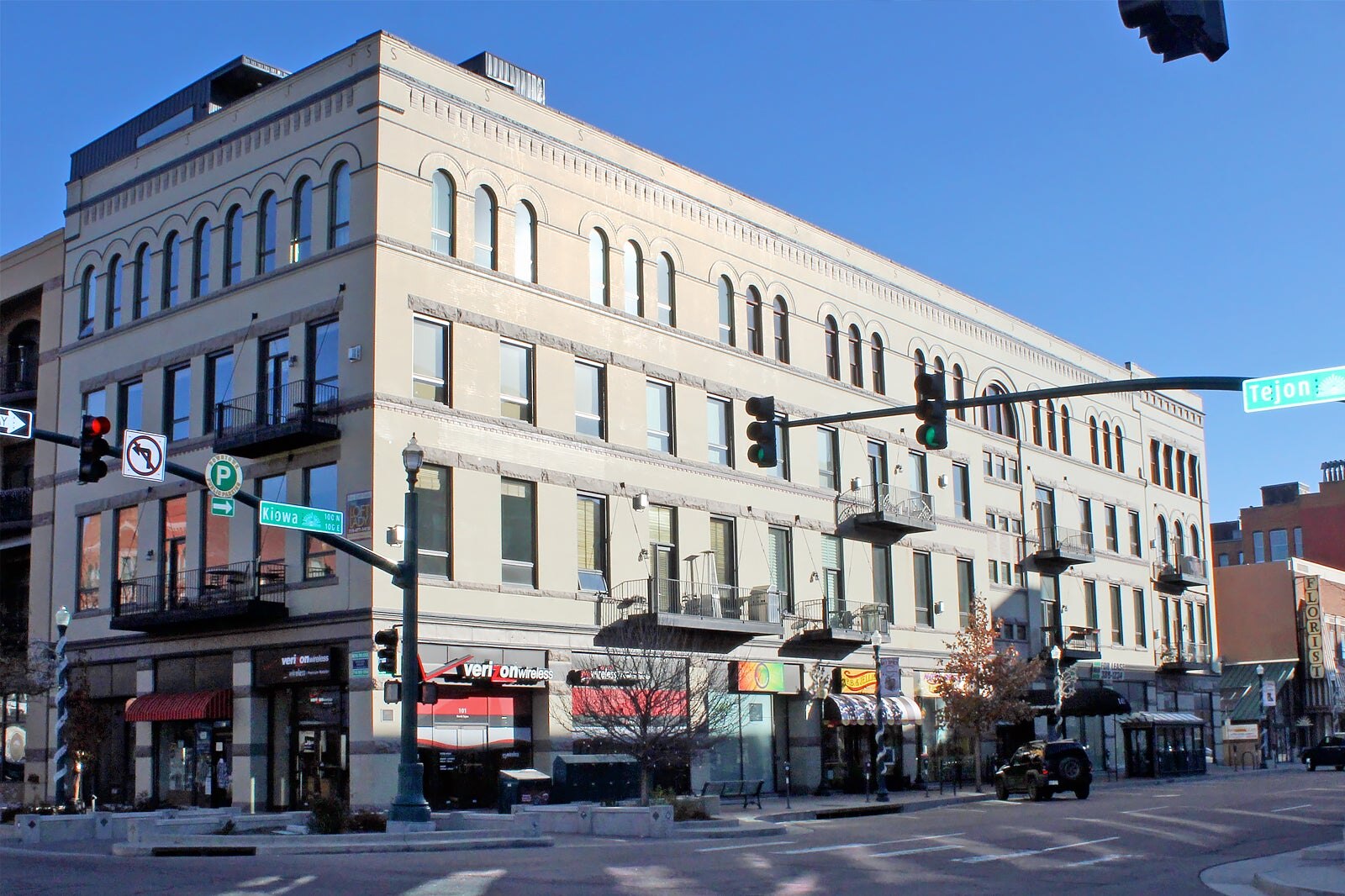 Tejon Street is, in many ways, the hub of Colorado Springs. You'll find restaurants, parks, shops, and more here. You'll also find plenty of bars, pubs, and other watering holes.
A bar crawl down Tejon Street can be just the thing for anyone looking to blow off a little steam. However, it also offers an introduction to the local craft beer scene, as well as a way to get acquainted with local musical acts. There are lots of options, from Oskar Blues Grill & Brew to Colorado Craft, Tony's, Red Martini, Jack Quinn's Irish Pub, Rendezvous, and District Elleven.
photo by Jeffrey Beall (CC BY-SA 3.0) modified
2
Loonees Comedy Corner
A small comedy club in East Colorado Springs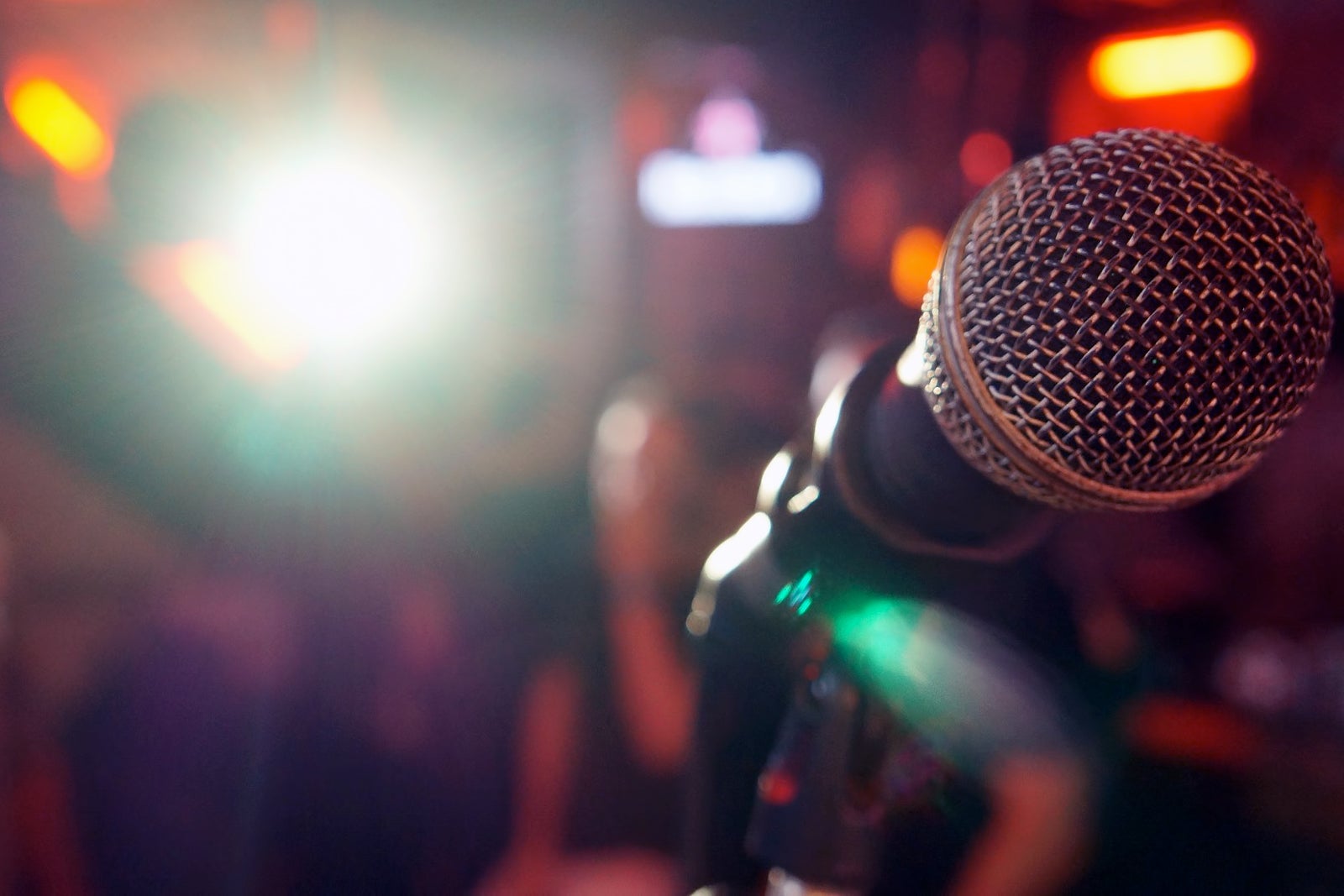 A local favourite, Looneees Comedy Corner is a small comedy club in the East Colorado Springs neighbourhood. It hosts touring comedians and other acts, and there's a regular open mic night where audience members can try their hand at eliciting a laugh from the crowd.
There's only a single show on Thursday, but on Friday and Saturday, the venue offers 2 shows each night. Note that there is a 2-item minimum (covering food, alcoholic beverages, and non-alcoholic beverages) per person in the showroom.
Location: 1305 N Academy Blvd, Colorado Springs, CO 80909, USA
Open: Thursday from 6.15 pm to 10 pm, Friday–Saturday from 6.15 pm to 11 pm (closed Sunday–Wednesday)
Phone: +1 719-591-0707
3
Seven Falls at Night
Waterfalls with rainbow colours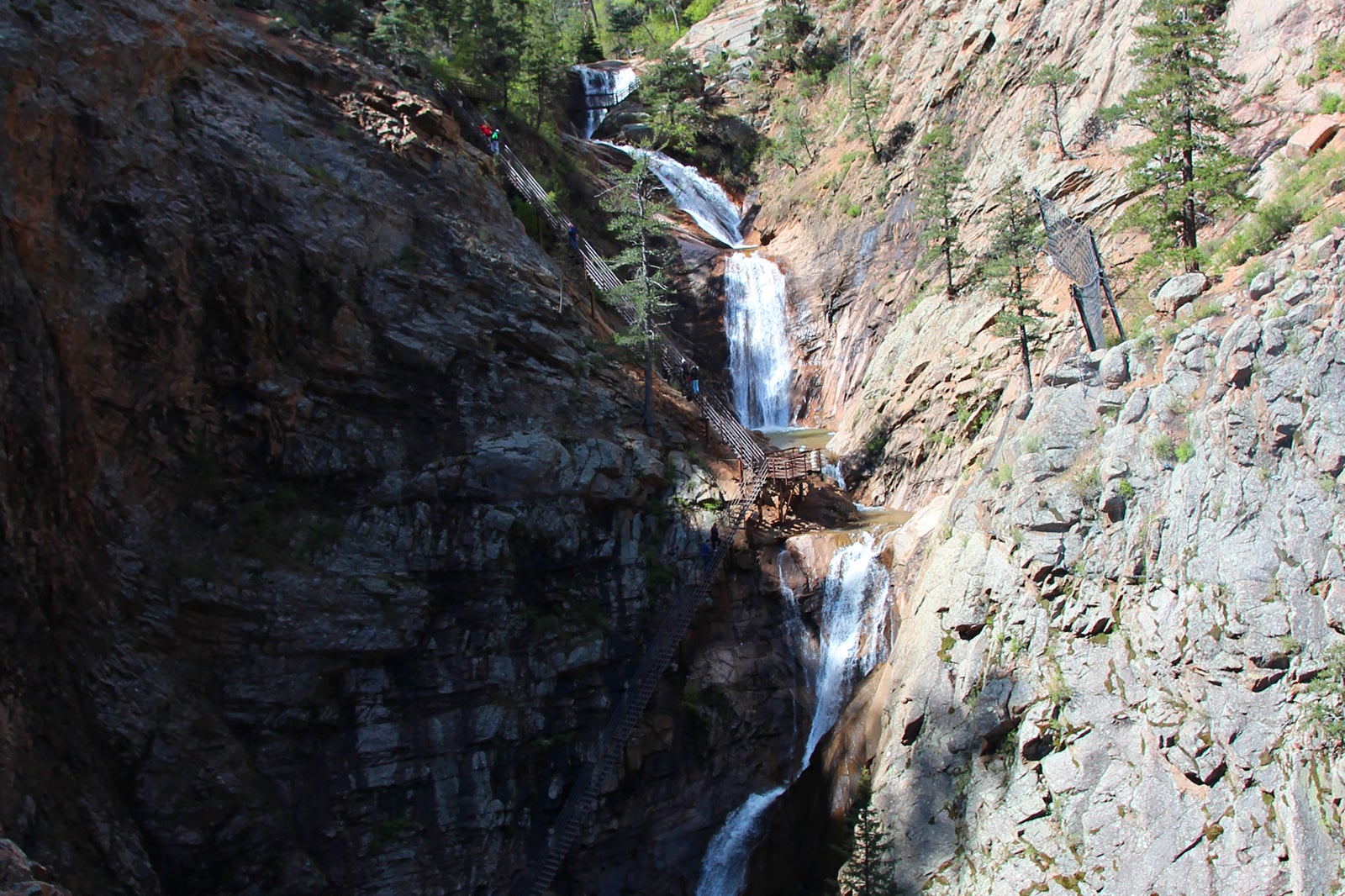 Nightlife
Photo
Budget
Adventure
At just a mile from The Broadmoor, the Seven Falls at Night attraction is easy to fit into about any itinerary. While Seven Falls offers glorious views during the day, it truly comes to life as darkness falls.
You'll climb up 224 steps, ascending to the top of an almost 200-foot-high waterfall between the Pillars of Hercules. As you climb, the water cascading beside you transforms, changing from one hue to the next in a rainbow display illuminated from within. Note that the light display is only available during the summertime. During the rest of the year, the park closes at dusk.
Location: 1045 Lower Gold Camp Rd, Colorado Springs, CO 80905, USA
Open: Summer: Friday–Monday from 10 am to 10.30 pm (closed Tuesday–Thursday)
Phone: +1 855-923-7272
4
Exploring Colorado Springs' craft breweries
For ice-cold, handcrafted beers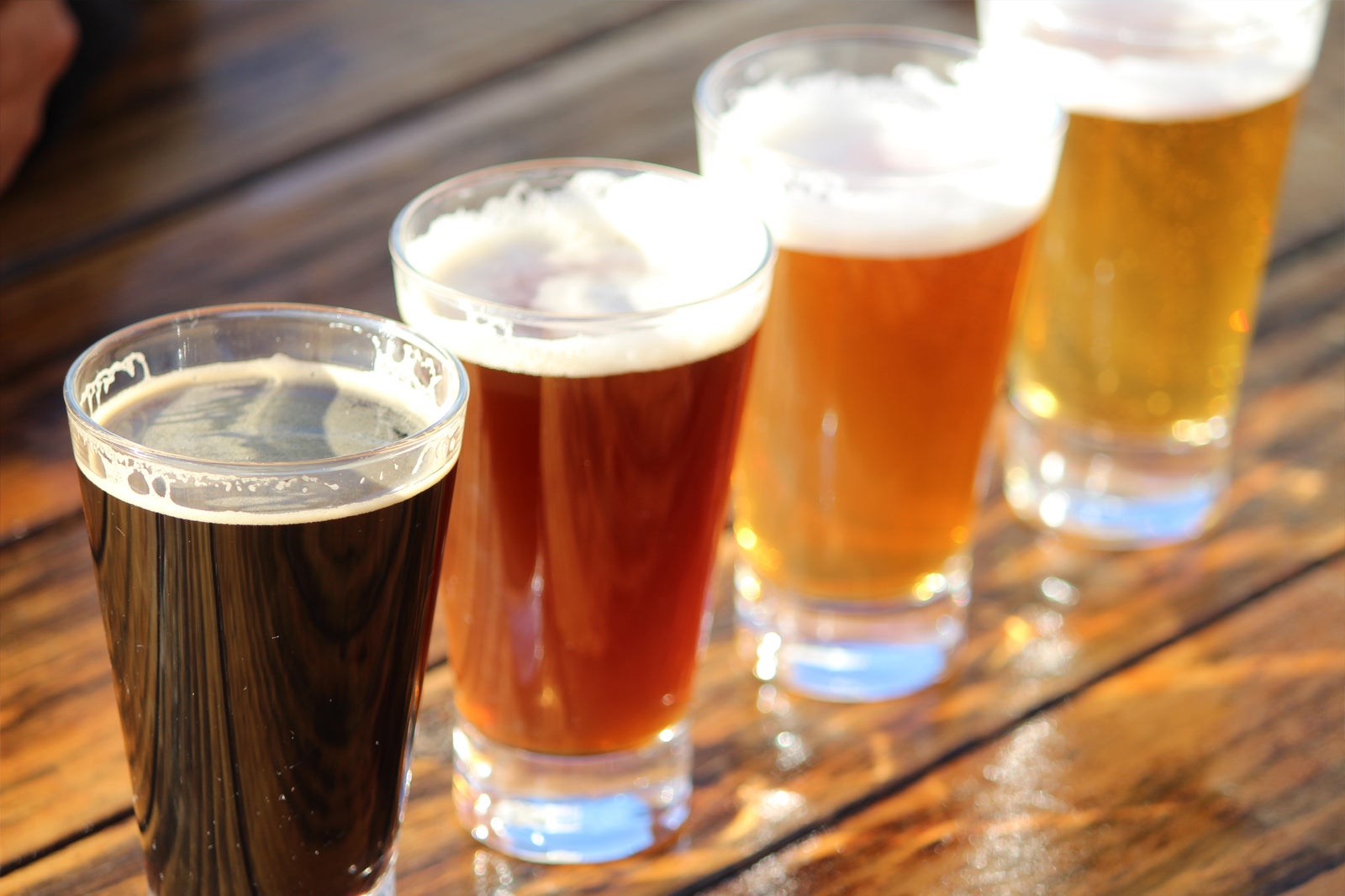 If you're a beer lover, then Colorado Springs has a great deal to offer in the way of craft breweries. You'll find options on the east side, along Tejon Street, within a short drive of Garden of the Gods, and scattered around the rest of the city, so you're always within easy reach of a cold beer.
Some of the breweries of note in the area include Cerberus Brewing Company off I-25 near the south end of town, Bristol Brewing Company located in an ex-school building, Atrevida Beer Company, Goat Patch Brewing Company, Peaks N Pines, Colorado Mountain Brewery not far from the Air Force Academy Airfield, and Trinity Brewing and Gastropub to name just a few.
5
Cripple Creek
Gambling and Old West fun at the base of Pikes Peak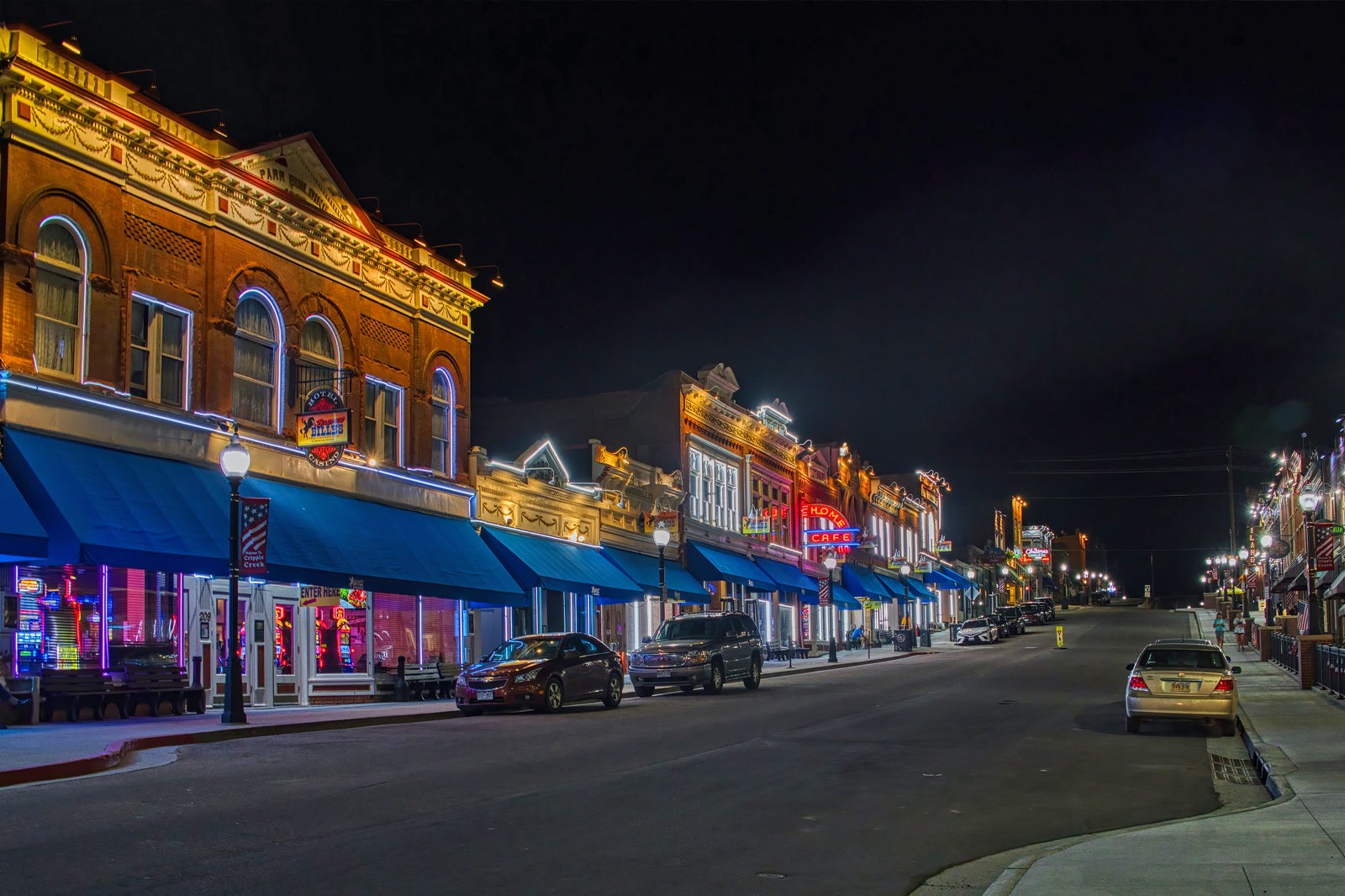 Cripple Creek is at the base of Pikes Peak, a short drive from Colorado Springs itself. The site of a former gold-mining camp, the area has been revitalised and is now home to 9 different casinos, all set within a historic downtown area that features Old West design. The area comes alive with lights and music as the sun sets behind the mountains.
The casinos are open 24 hours, and you'll also dining options in town. Depending on when you visit, you may also be able to enjoy local events, ranging from trick or treating at Halloween to the Gold Camp Christmas festival or the annual Ice Festival.
6
Supernova Bar and Arcade
Classic '80s arcade games for nostalgia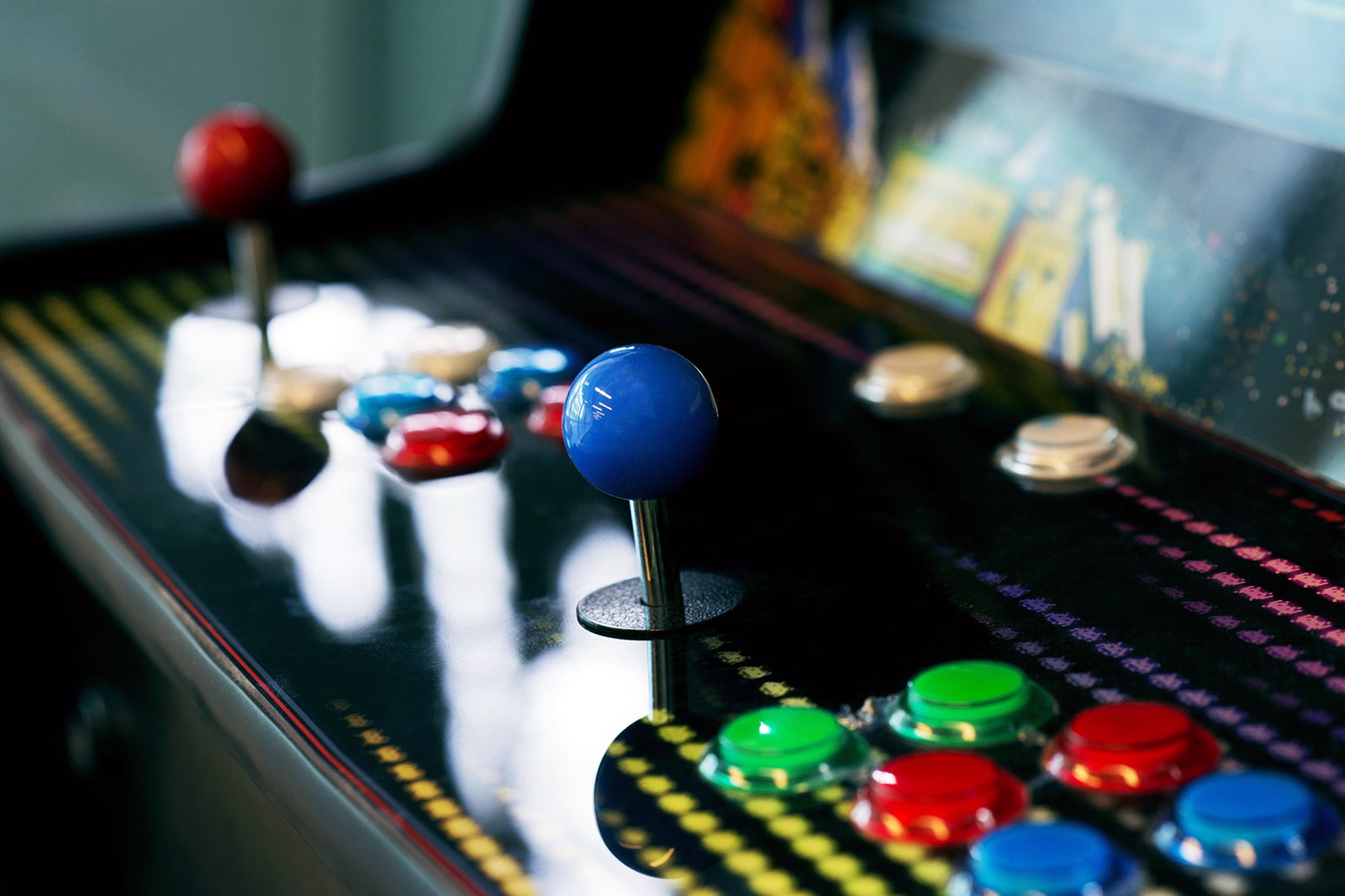 Step into Supernova and take a trip back in time. Grab your beverage of choice and then dive into nostalgia with among the most popular arcade games of yesteryear, like Q*bert, Joust, and Street Fighter, as well as more recent games.
If you weren't quite satisfied with dinner or skipped it entirely, make sure to sample the food. Supernova offers a full menu, starting with appetisers like fried pickles and onion rings to burgers and wraps, quesadillas, and even dessert options. Happy hour runs Monday through Friday from 3 pm to 6 pm, offering specials on wine, and draft beer.
Location: 111 E Boulder St, Colorado Springs, CO 80903, USA
Open: Monday–Thursday from 3 pm to midnight, Friday from 3 pm to 1.30 am, Saturday from noon to 1.30 am, Sunday from noon to midnight
Phone: +1 719-418-3484
7
Downtown Colorado Springs Creative District
Art installations, concert halls, events, and more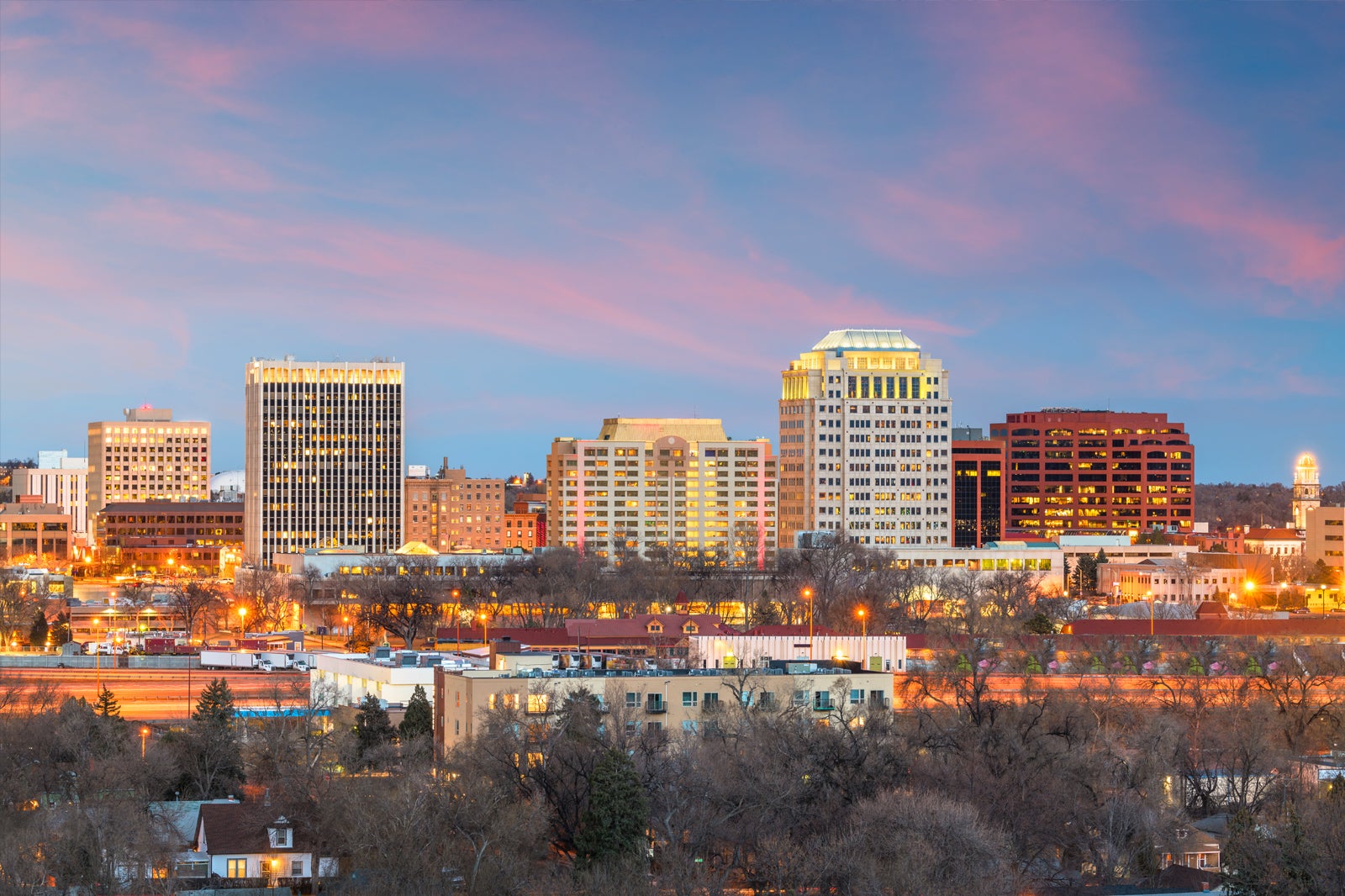 State-certified, the Downtown Colorado Springs Creative District is your destination for art, entertainment, culture, and so much more. It encompasses a wide swathe of the downtown area, including a 50-piece permanent art installation, as well as multiple institutions and venues that house everything from art shows to concerts throughout the year.
The heart of the district is The Fine Arts Center, which is inside the University of Colorado COS. Here, you'll find a museum, an art school, and a theatre. It's also home to significant collections of Native American, Latin, and American art.
Location: 111 S. Tejon Street, Ste. 404, Colorado Springs, CO 80903, USA
Phone: +1 719-886-0088
8
Jazz in the Parks
Music in the city's green spaces and under the stars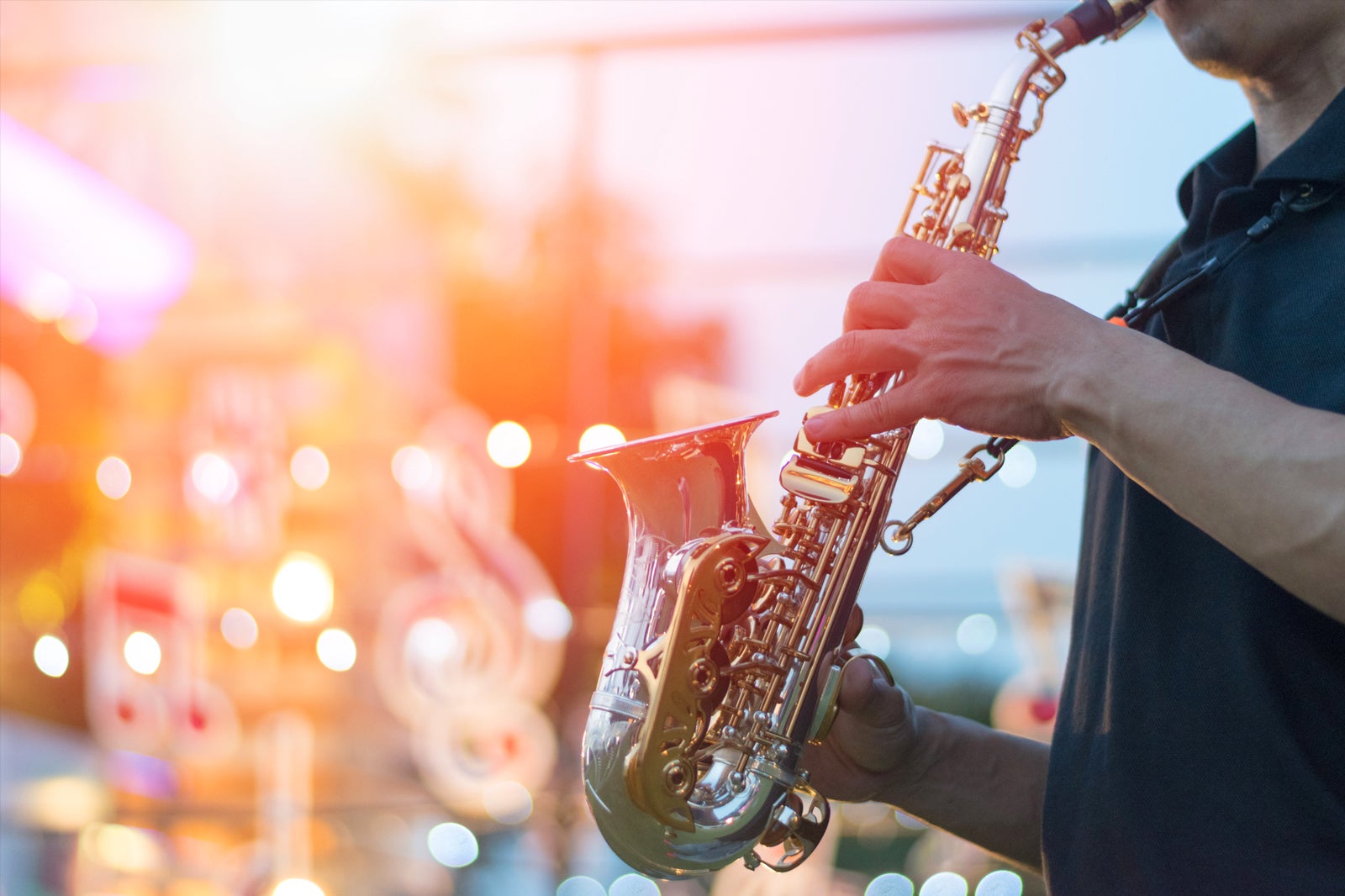 Jazz in the Parks features from May through August, courtesy of the Pikes Peak Jazz and Swing Society. These take place in the city's green spaces, such as Bear Creek Regional Park, and give residents and visitors the chance to enjoy live jazz and swing music in the beauty of nature. Note that performers vary from evening to evening and include local bands, as well as the USAF Academy Band, the Falconaires.
Attendees should bring chairs and blankets to enjoy the evening. You can also picnic in the park. Note that the concert organisers don't offer food or beverages, although local food trucks and pop-up restaurants may be available from time to time.
9
Stargazing at Florissant Fossil Beds National Monument
An ideal place for experiencing the beauty of the universe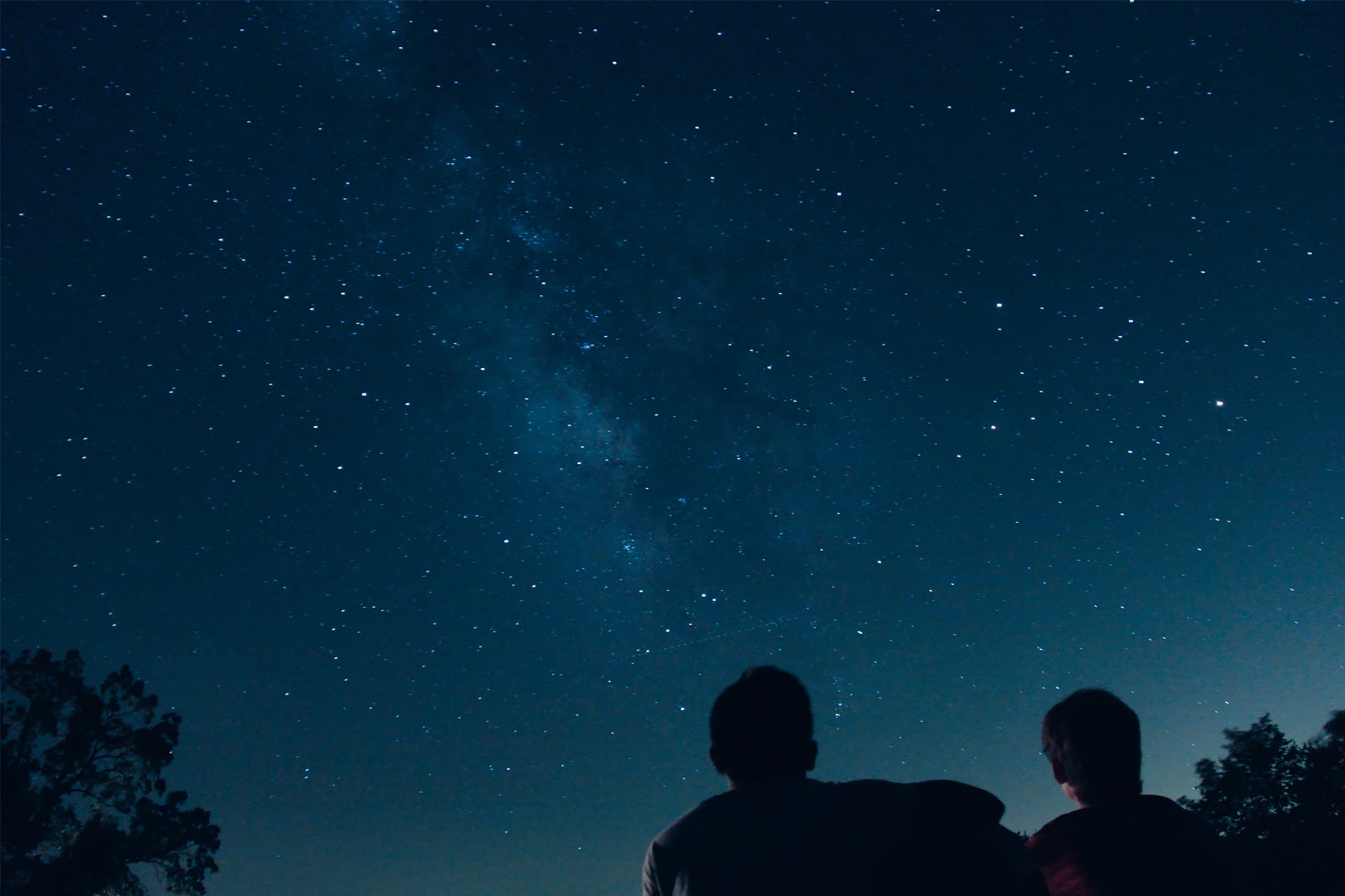 Away from the light pollution of the city, the beauty of the universe unfolds in the night sky. Florissant Fossil Beds National Monument makes an ideal place to enjoy stargazing, and the Night Sky Program is enjoyable for novices or experts. The Milky Way, star clusters, planets, and even other galaxies are visible.
Each programme begins with a 30-minute presentation delivered by a park ranger at the Visitor Centre, followed by 90 minutes of stargazing. Volunteers from the Colorado Springs Astronomical Society bring their telescopes and allow visitors to use them, but you can also bring your telescope.
Location: 15807 Teller County Road 1, Florissant, CO 80816, USA
Phone: +1 719-748-3253
10
The Broadmoor
Historic adventures in the heart of the Rockies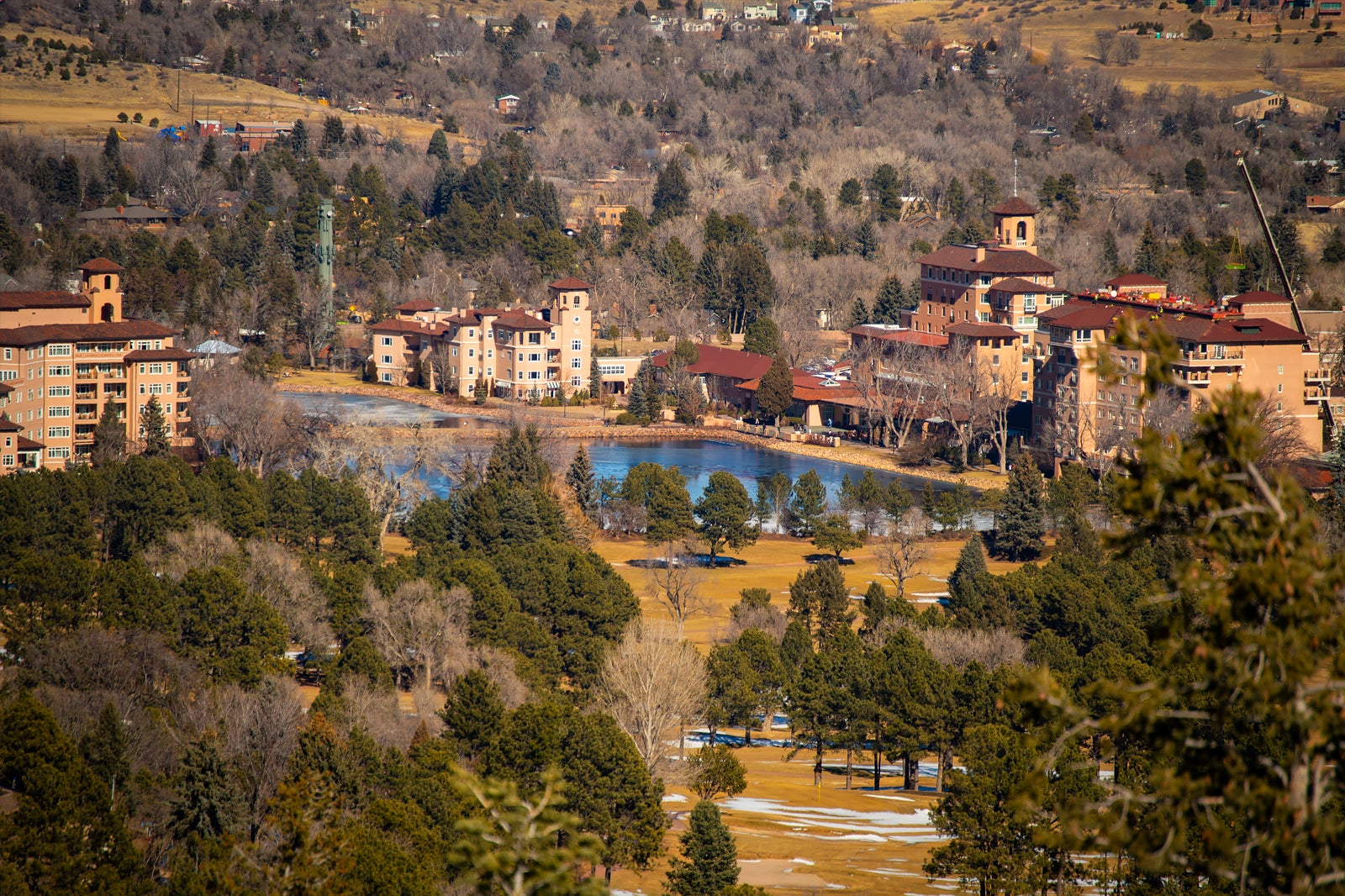 Nightlife
Photo
Food
Adventure
The Broadmoor is a world-renowned resort destination, but it's also so much more. It's the gateway to adventure in the Rocky Mountains, but it's also a world unto itself. Visitors can indulge in the full-service spa or explore over 25 exclusive shops and art galleries that still are open after dark.
One of the most popular activities is simply strolling along the shore of the artificial lake – the resort offers lighted pathways and grounds. If you weren't quite satisfied with dinner, The Broadmoor is also home to dining options, including the vaunted Restaurant 1858.
Location: 1 Lake Ave, Colorado Springs, CO 80906, USA
Phone: +1 800-755-5011
Back to top