8 Best Beaches in Atlantic City
Which Atlantic City Beach is Right for You?
Atlantic City's beaches, along with those of the adjacent cities along the Jersey shore, are among the coastal city's main draws in the summer. From downtown, you can simply follow down several avenues that lead you to sections of the beach where soft and wide sand awaits and with good surfable waves rolling in from the Atlantic.
The Atlantic City Boardwalk is pleasant and convenient – you only need to take a stroll and literally pick a beach to hit. This portion of the Jersey shore is home to beaches that offer not only beachgoing fun, but also pristine coastlines that offer an escape from it all. What's great is that they're within only a short drive from Atlantic City's centre. Find the best beaches in Atlantic City and its nearby areas, below.
1
Brigantine Beach
For a nearby secluded escape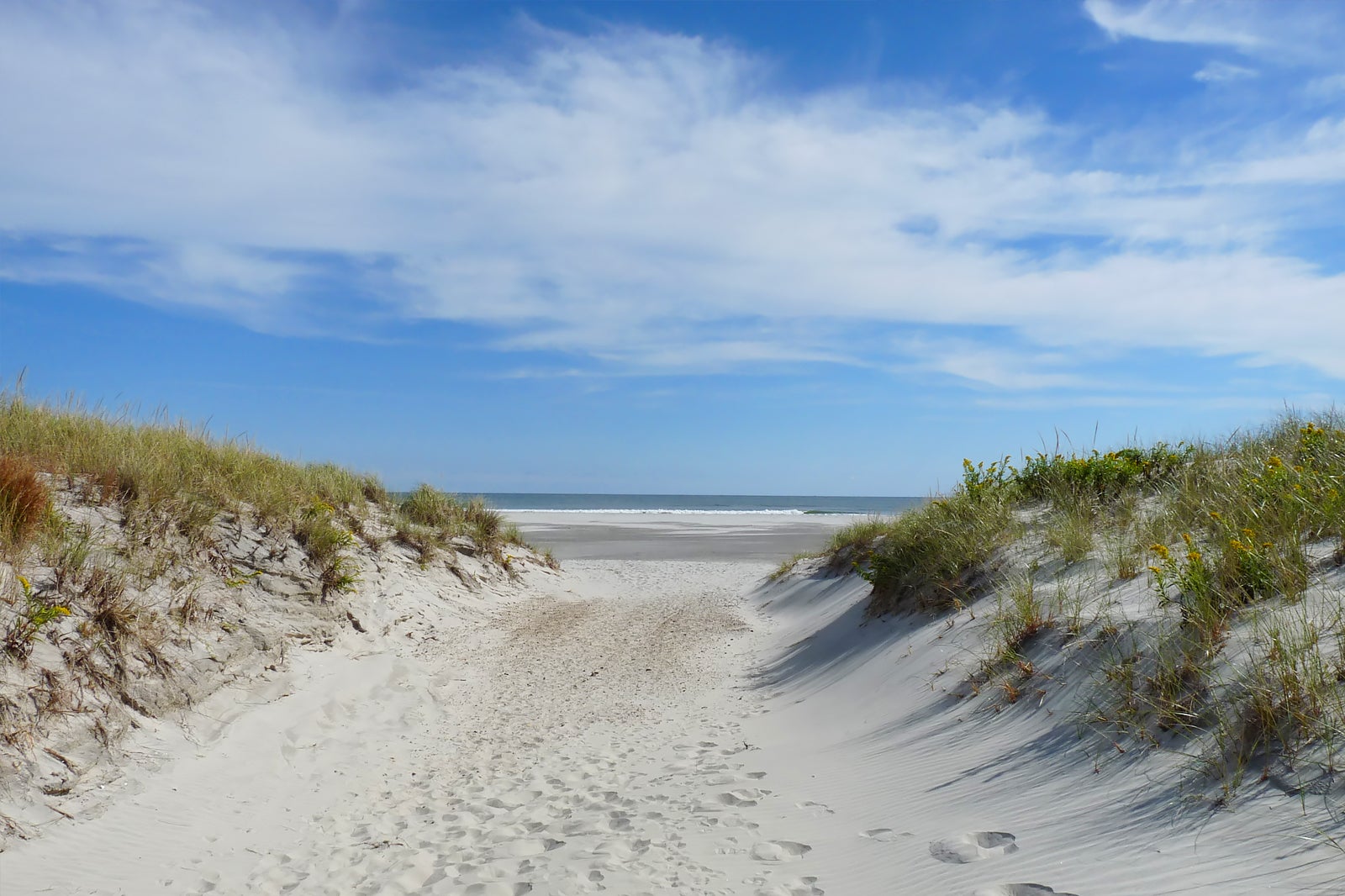 Brigantine Beach is one of the most beautiful coastal stretches along the Jersey Shore, which flanks the Absecon Wildlife Management Area. It offers a great alternative escape for those wanting a change of scene from the more central beaches of Atlantic City – it's only a 12-minute drive northeast from the city centre.
You'll require beach tags to access Brigantine Beach, as well as permits if you have 4x4s and jet skis. There are no boardwalks here, though there are trails for cyclists. That simply says that it's popular among those looking for a break and an adventurous time on the sand and in the surf.
Location: Brigantine Beach, New Jersey 08203, USA
See nearby properties
2
Atlantic City Beach
AC's beach that's not on the oceanfront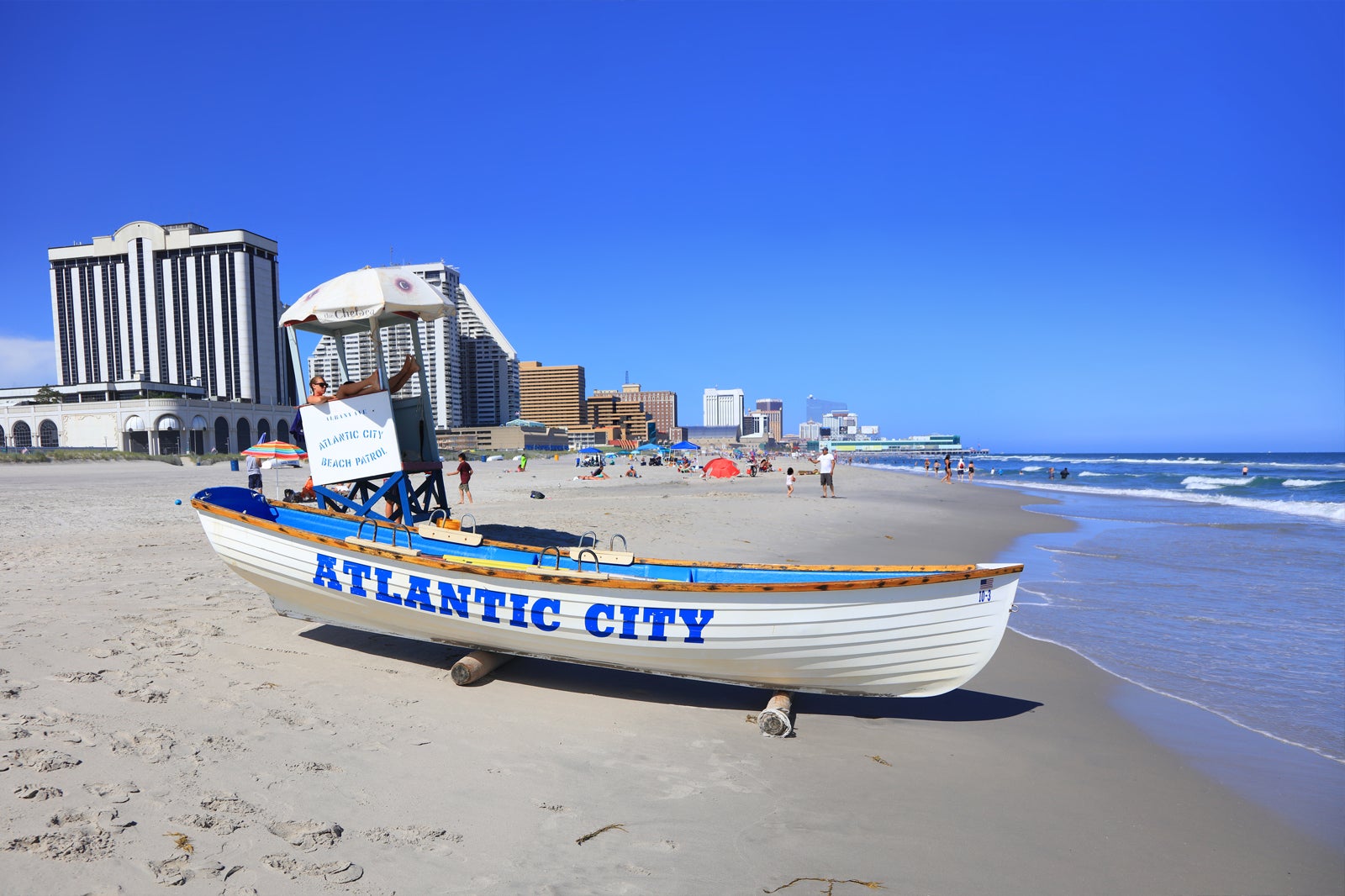 Families
Budget
Photo
Adventure
Atlantic City Beach is the city's namesake coast that's interestingly set apart from the main southeast-facing oceanfront. The small and 'hidden' beach is also referred to as Caspian Avenue Beach and faces the waters of the Absecon inlet, with the Atlantic City Aquarium close by and views across to the neighbouring city of Brigantine on the near horizon.
Regarded by locals in the know as the first beach in Atlantic City, Atlantic City Beach offers a slight break from the central beachgoing scene, with calming views and calm waves – great for swimming and kayaking. On the northern end are public bathrooms as well as a beach station headquarter with plenty of local history to tell.
Location: North Maine Avenue, Atlantic City, NJ 08401, USA
See nearby properties
3
Margate Beach
A popular beach southwest of Atlantic City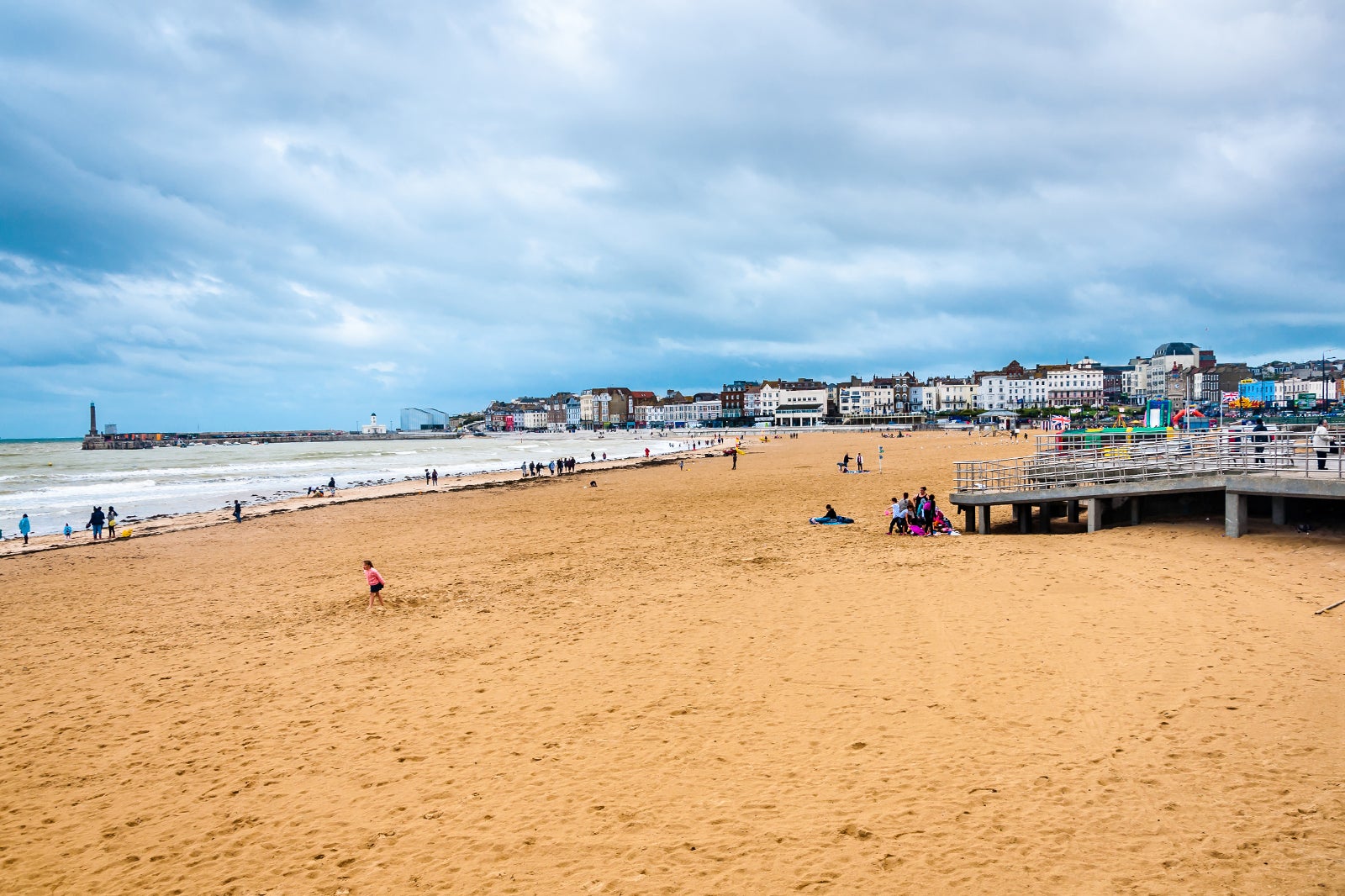 Margate Beach on the gorgeous oceanfront of Atlantic City's southwestern neighbour, Margate City, is one of the most popular stretches of sand on the Jersey shore. It's also known as Jefferson Avenue Beach, after the road that leads you from Downtown right onto the coast.
Especially during the summer, Margate draws beachgoers to its soft golden sand and great surf with plenty of beach activities to enjoy. Depending on the tide conditions, you can often stroll further out along a sandbar. You'll easily spot some of the city's highlight attractions nearby. These include Lucy the Elephant, a 65-ft-tall wooden elephant structure built back in 1881 – one to spice up your Instagram stories.
Location: Jefferson Avenue, Margate City, NJ 08402, USA
See nearby properties
4
Longport Dog Beach
A sandy coast to meet furry friends
Longport Dog Beach is a coastal strip on the Jersey shore where folks can take their furry partners to play and roam freely. Even if you don't own a dog, you can come and make new friends with the poodles, doodles, and their humans. Photographers will find plenty of moments to capture with the 4-legged models splashing about or emerging from the foam.
The dog-friendly beach is free to access, but swimming in the waters is inadvisable due to the lack of lifeguards. Part of the Malibu Beach Wildlife Management Area, the beach has portions that are off-limits as they're nesting grounds for some species of endangered birds.
Location: Longport Dog Beach, Egg Harbor Township, NJ 08244, USA
See nearby properties
photo by Eli Christman (CC BY 2.0) modified
5
Atlantic City downtown beaches
Hop off the boardwalk, across the sand and into the surf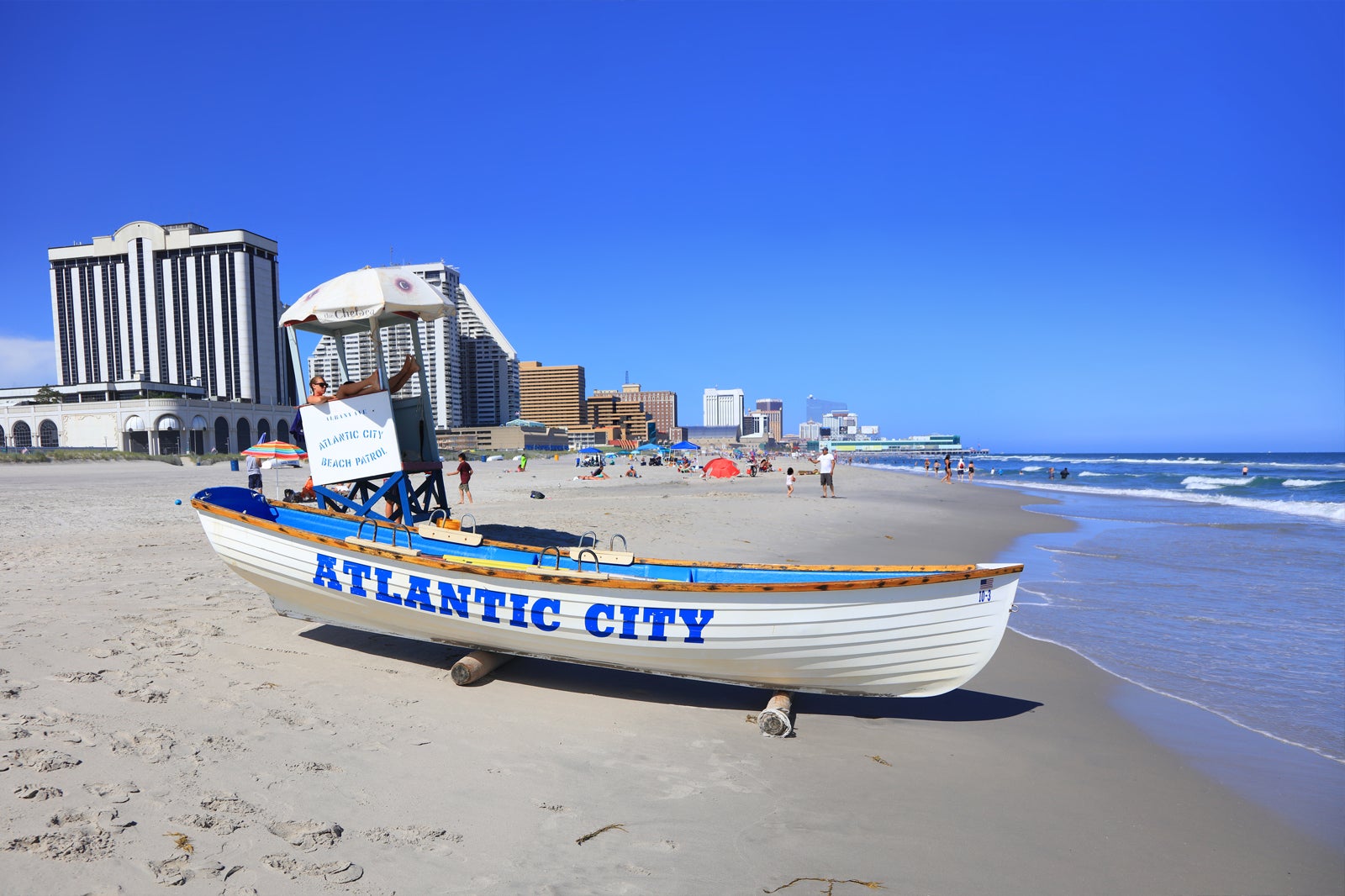 Families
Budget
Photo
Adventure
Atlantic City's downtown beaches are easily accessible from both the Atlantic City Boardwalk and by simply following the city's avenues that lead you down to the different sections. Each of these sections offers a sandy shoreline and similarly draws wave riders to their good sets of waves – they're considered Atlantic City's beaches designated for surfers.
First, following down Raleigh Avenue leads you down to the main Downtown Beach. You can also reach through to the end of Delaware Avenue to the namesake Delaware Avenue Beach. Finally, New Hampshire Avenue leads you down to Crystal Beach. Non-surfers aren't left out on the fun, with plenty of fun on the sand for families with kids. Lifeguards keep a keen eye in summer from 10 am to 6 pm.
Location: Atlantic City, NJ, USA
6
North Brigantine Beach
Nature, away from the crowds
Hit North Brigantine Beach for one of the 'wilder' beach scenes on the Jersey Shore and for whenever you need a break from Atlantic City's central crowds. This northern stretch of Brigantine Beach faces the waves of the Atlantic Ocean, while behind it lies North Brigantine State Natural Area's wildlife refuge. It's popular among the birding community since it's a breeding ground for the cute piping plover.
The wide and beautifully secluded beach is also home to many other species of shorebirds, and the calm waves add to the tranquil seascape. In autumn (September–December), expect monarch butterflies nectaring on seaside goldenrods along their journey south. On most of your visits, you'd meet only a few fishermen and fellow beachcombers on the sand.
Location: North Brigantine, Brigantine City, NJ 08203, USA
7
The Cove
Seaside fun on Brigantine's southwestern tip
The Cove of Brigantine Beach is a popular go-to for weekenders, with barbecues on the sand and the skyline of Atlantic City across the Absecon inlet. You can reach the cove on a 13-minute drive northeast from Atlantic City's centre via the Brigantine boulevard and bridge. But if you're staying in Brigantine, you can easily reach this sandy area on foot or by 4x4. As with all Brigantine beaches, you need a beach tag to access The Cove that you can buy from inspectors on duty.
A great family summer spot, you can let the kids run freely on the sand or swim or play on floaties on the calm waves, all while you get the barbecue going. Most would stay on well into the late afternoons for a sunset over the Atlantic City skyline.
Location: Brigantine City, NJ 08203, USA
8
Chicken Bone Beach
Bask in the sun and learn a bit of local history
Families
Budget
History
Photo
Check out Chicken Bone Beach in the midsection of Atlantic City's coastline for a bit of interesting history – it was once a racially segregated section of the coast. The beach attracted African Americans between the '30s and '60s who were back then isolated from the rest of Atlantic City. These residents didn't have the privilege to dine at AC's restaurants. So, they brought their own food – mostly fried chicken – to the section of the beach to have a good time.
Times have changed and today, the beach offers fun on the sand and in the waves just like the rest of the Atlantic City shoreline. If you look closely enough, you can find the memorial plaque on the boardwalk with black and white photos, one showing legendary musician Sammy Davis, Jr. among its beachgoers.
Location: Boardwalk, Atlantic City, NJ 08401, USA