Atlantic City Travel Essentials
Useful Information to Help You Start Your Trip to Atlantic City
Our Atlantic City Travel Essentials lays out the essential information you need to help you plan your trip to one of the most popular destinations in the USA. No matter how frequently you travel, some questions will always need answers: What's the weather like? How can I get from Atlantic City International Airport (ACY) to my hotel? What currency and type of plug do I need?
We have all these answers plus other basic info about the best time to go, getting there, getting around, and a few useful travel tips. You'll also learn about the most popular landmarks in Atlantic City such as Atlantic City Boardwalk, The Steel Pier, and Absecon Lighthouse. It's all compiled in this Atlantic City Travel Essentials. After reading this short and easy-to-read guide, you will be a little more prepared to start your trip to Atlantic City.
1
When is the best time to travel to Atlantic City?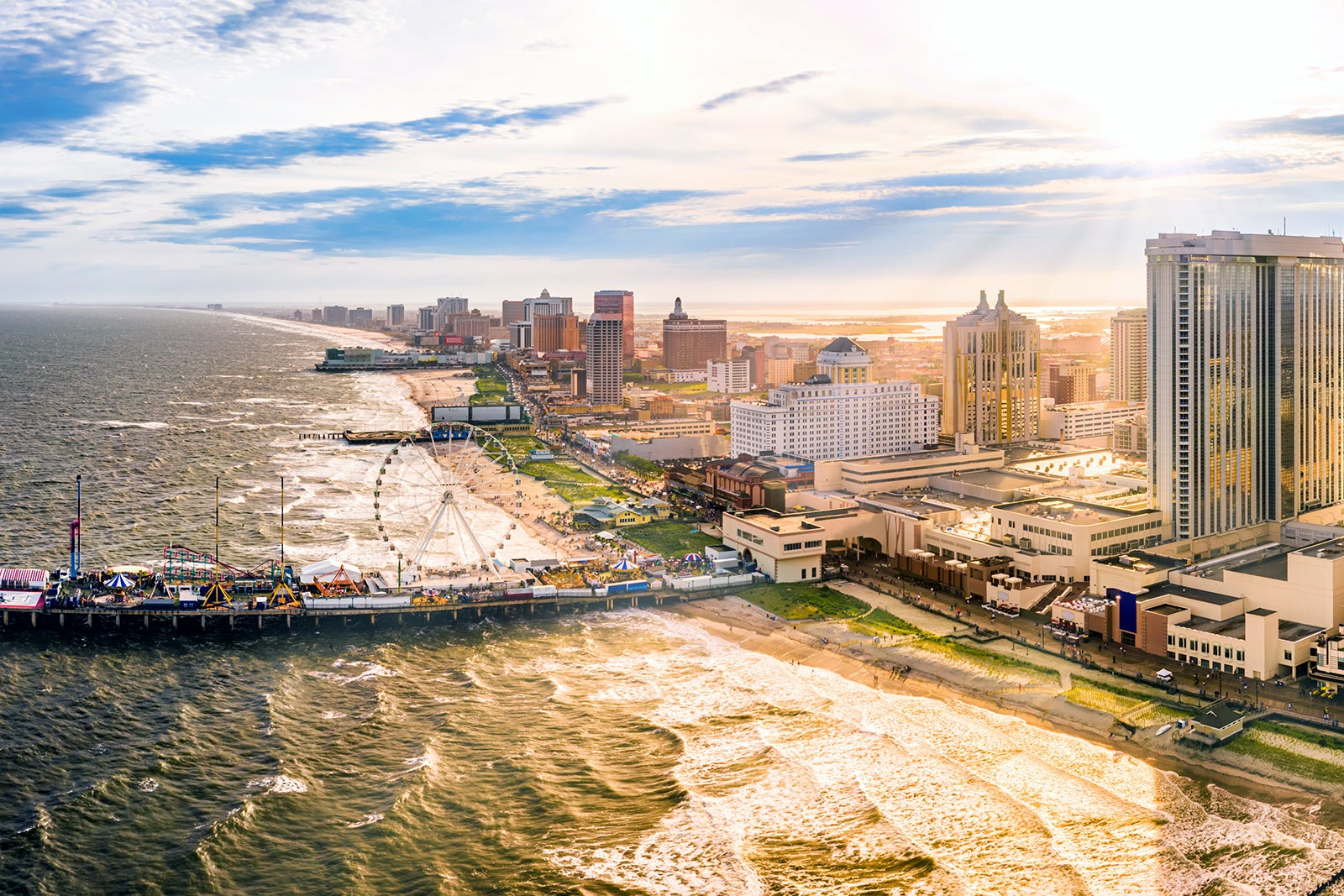 Atlantic City lies in the subtropics. It gets quite humid throughout the year. Average temperatures range from 24°F in winter to 80°F in summer.
Most rainfall occurs in March, July and August, with an average of 9 rainy days per month.
The sunniest time of the year is from May to July and you can expect the summer crowds between June and September.
A great time to visit Atlantic City is between March and August, when the weather is most pleasant. Visiting before summer also means fewer crowds and more affordable flight and hotel prices.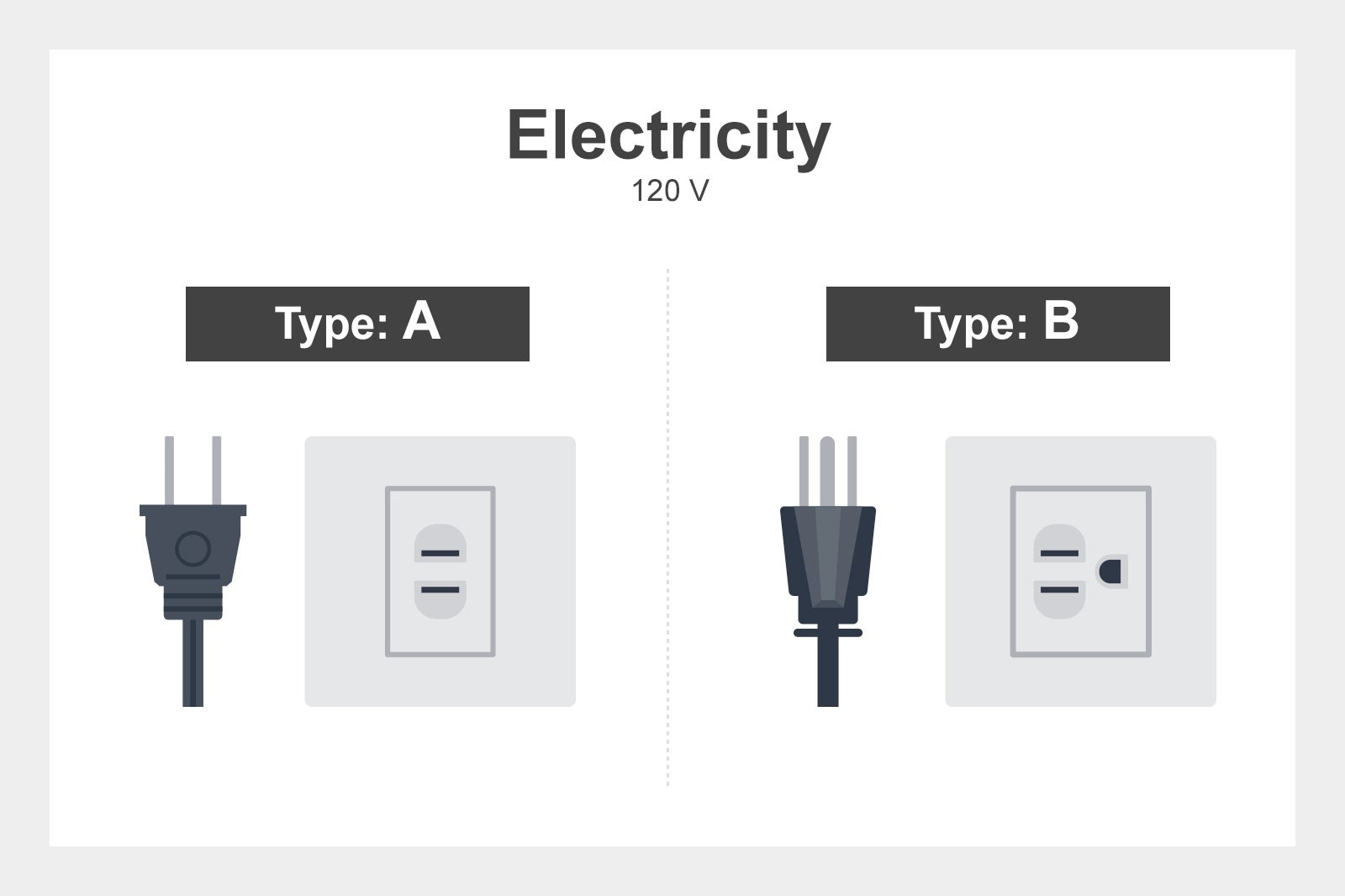 Plug type: A and B
Electricity: 120 V
Currency: United States Dollar (US$)
International dialling code: +1 609
Emergency telephone number: 911
3
How to get to my hotel in Atlantic City?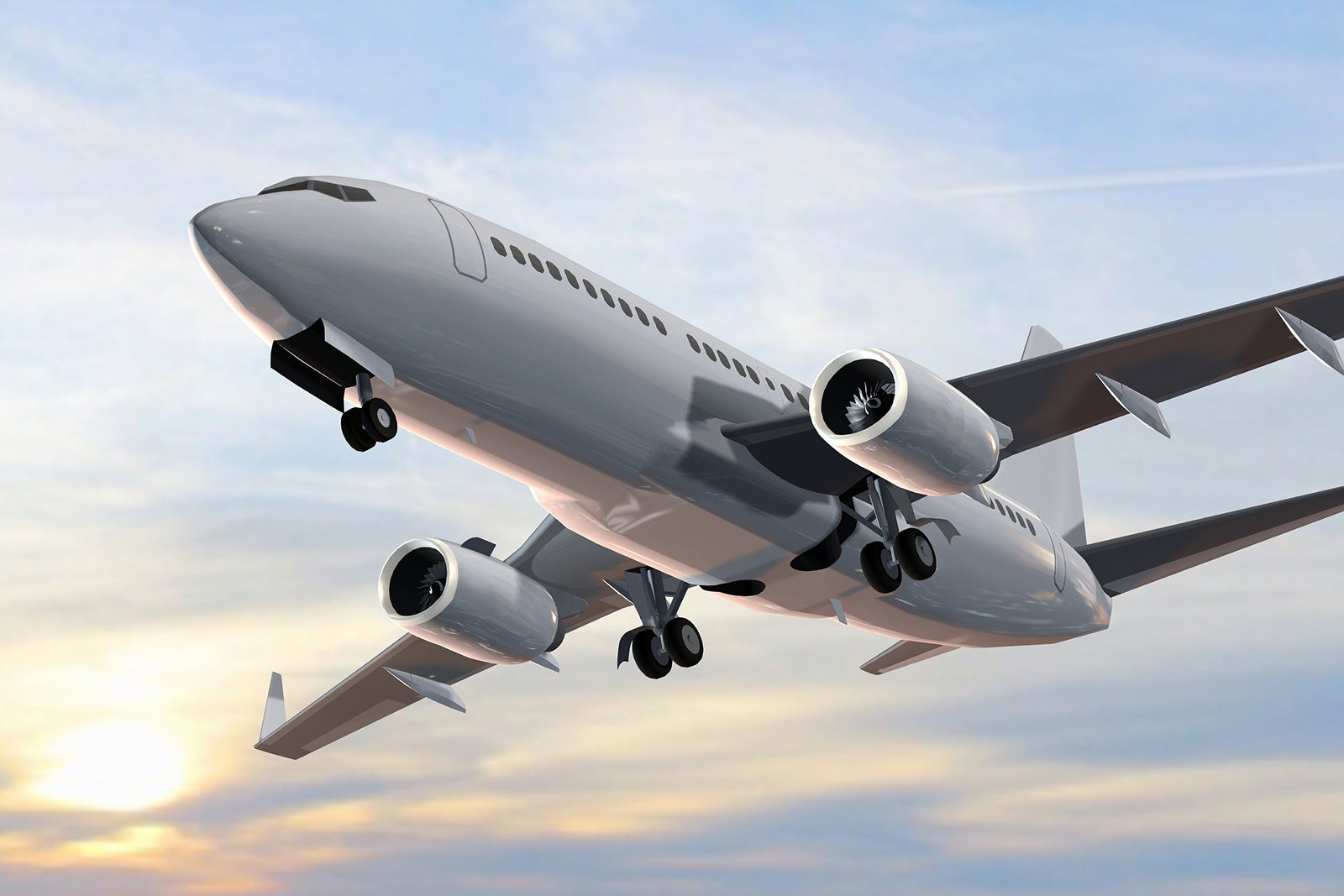 Most travellers fly into Philadelphia, with the Philadelphia International Airport (PHL) serving a huge choice of domestic and international flights, then reach Atlantic City by car, bus or train. Domestic travellers can also fly into Atlantic City International Airport from other cities served by Spirit Airlines.
Atlantic City International Airport (ACY)
Atlantic City International Airport is located in Egg Harbor Township, about 13 miles northwest of the city centre (a 15-minute drive). Spirit Airlines is the only major airline flying into this airport.
The larger Philadelphia International Airport is about 60 miles west of Atlantic City. It has more flights and is where most visitors to Atlantic City fly into. You can take a train, bus or rent a car for an hour's drive southwest to Atlantic City.
Atlantic City International Airport is a single-terminal airport connected by SJTA TransIT Link's free shuttle buses. They run every 30 minutes between the airport and Pleasantville Bus Terminal, from where you can catch the Line 559 bus to Atlantic City. Taxis and rental cars are also available.
From Terminal A at Philadelphia International Airport, you can take a 2-hour train ride on the Airport Line to Jefferson Station, then board a bus on Route 551 towards Atlantic City Bus Terminal. Driving from the airport on Atlantic City Expressway E takes you to Atlantic City in an hour.
Atlantic City Rail Terminal
Located inside Atlantic City Convention Center, Atlantic City Rail Terminal has 5 tracks served by 3 platforms. It's the eastern terminus of NJ Transit's Atlantic City Line, serving commuters between Atlantic City and Philadelphia's 30th Street Station.
NJ Transit has several train stops between Philadelphia and Atlantic City, including Egg Harbor City and Absecon. The whole trip to Atlantic City takes about 90 minutes.
From New York City, a train ride along the Northeast Corridor Line from Penn Station includes a couple of transfers before taking the Atlantic City Rail Line. The whole trip is about 3 hours and 45 minutes.
4
How to get around Atlantic City?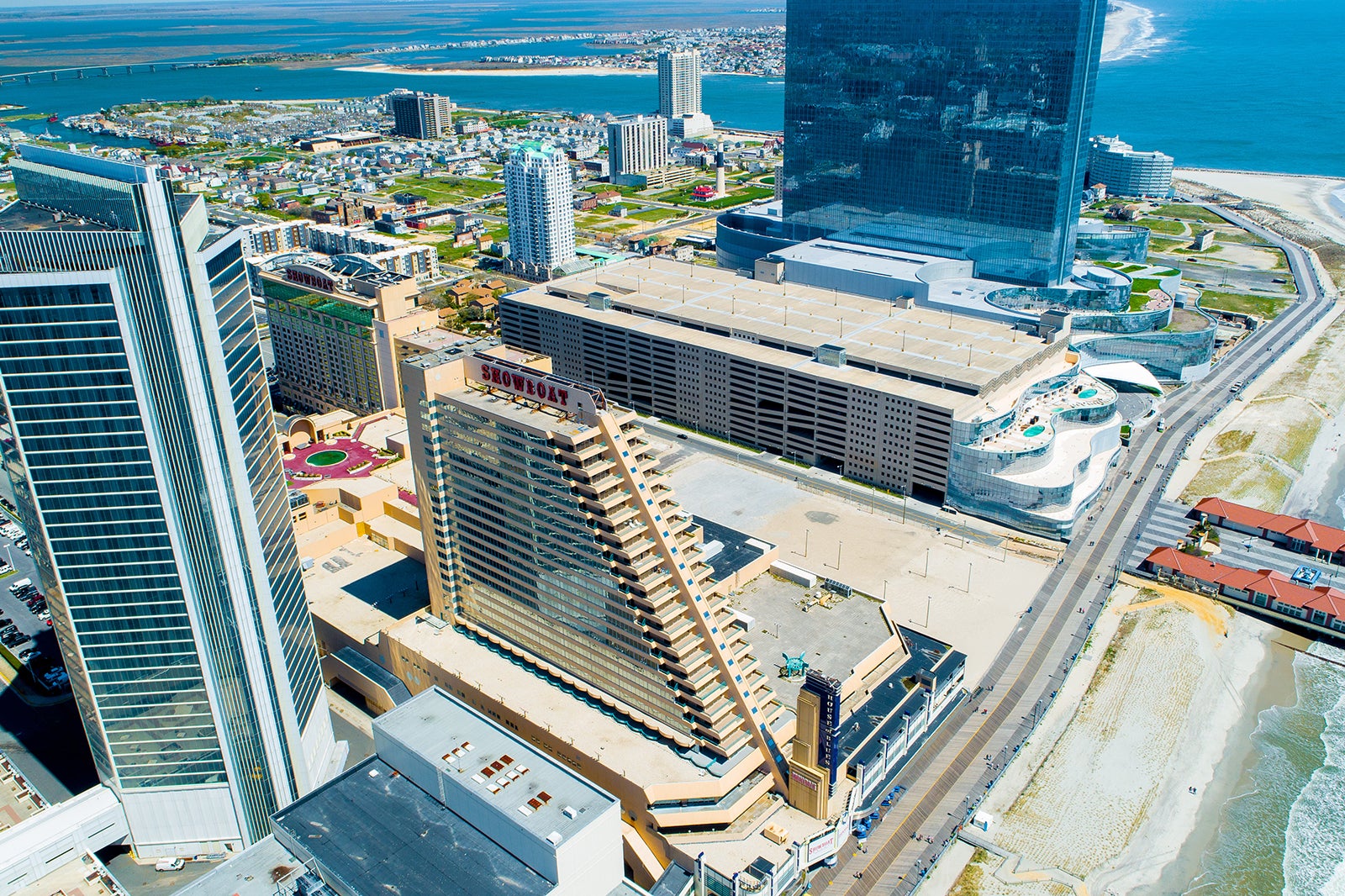 Travel tips
Atlantic City faces the North Atlantic Ocean and is well-known for its casinos. A hotel in Atlantic City would put you inside or next to casinos and within a short walk to the 4-mile-long Boardwalk.
The city size is 12 square miles and the most common way to get around is on foot. You can also hop on a Jitney bus to roll around town or on a rolling chair along the boardwalk, both for a small fare.
Taking a taxi in Atlantic City
You'll find taxis available at any time of the day in Atlantic City, which can be helpful if you want to get to a casino at the opposite end of the Atlantic City Boardwalk.
A taxi stand is usually available in front of major casinos. Otherwise, you can try ride-hailing apps such as Uber, Lyft or luxury chauffeur service Blacklane.
Travelling by jitney
Jitneys – minibuses from the Atlantic City Jitney Association – are convenient options for getting around. They operate 24/7 and have 4 fixed routes. They stop at 66 spots covering points of interest, dining places, banks, shopping spots, casinos and hotels. You can buy your tickets at the Atlantic City Jitney Association on Pacific Ave or online.
Do you need to rent a car in Atlantic City?
You won't need to rent a car in Atlantic City, though there are car rentals available. The driving experience throughout the city isn't the best. Considering the tolls and gas, you'd be better off hopping on a jitney to get around instead.
Cycling and rolling chairs in Atlantic City
Besides rolling chairs, a convenient and inexpensive way to roll down the iconic Atlantic City Boardwalk or throughout the city itself is by bike. You can as easily traverse the 4-mile boardwalk on 2 wheels as on 2 feet, and usually a lot quicker (within about 2 hours). Over a dozen bike rentals line the boardwalk. Most offer baby seats and overnight rentals.
5
What are the main annual events in Atlantic City?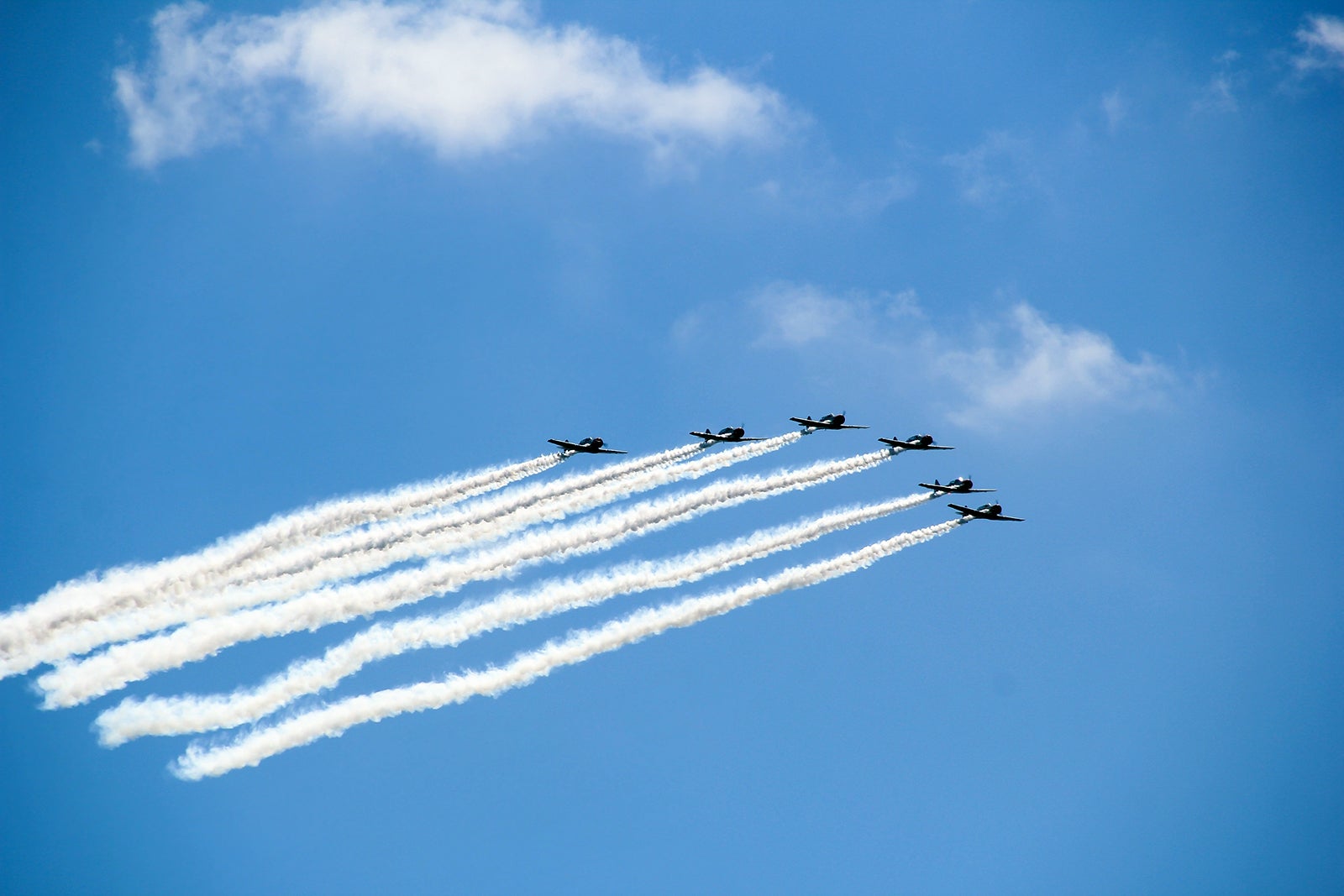 Atlantic City International Airshow
August
Atlantic City's famous annual air show featuring hair-raising stunts in the skies above the boardwalk.
Where: Atlantic City Beach and Atlantic City Boardwalk
Atlantic City Beer & Music Festival
April
An event celebrating dozens of craft breweries and their creations since 2006. Besides beer, the event is also filled with music and fun.
Where: Various venues
Atlantic City In-Water Power Boat Show
September
The premier boat show in the Northeast and Mid-Atlantic Region features cruisers, yachts, bowriders and more.
Where: Farley State Marina
6
What are the main landmarks in Atlantic City?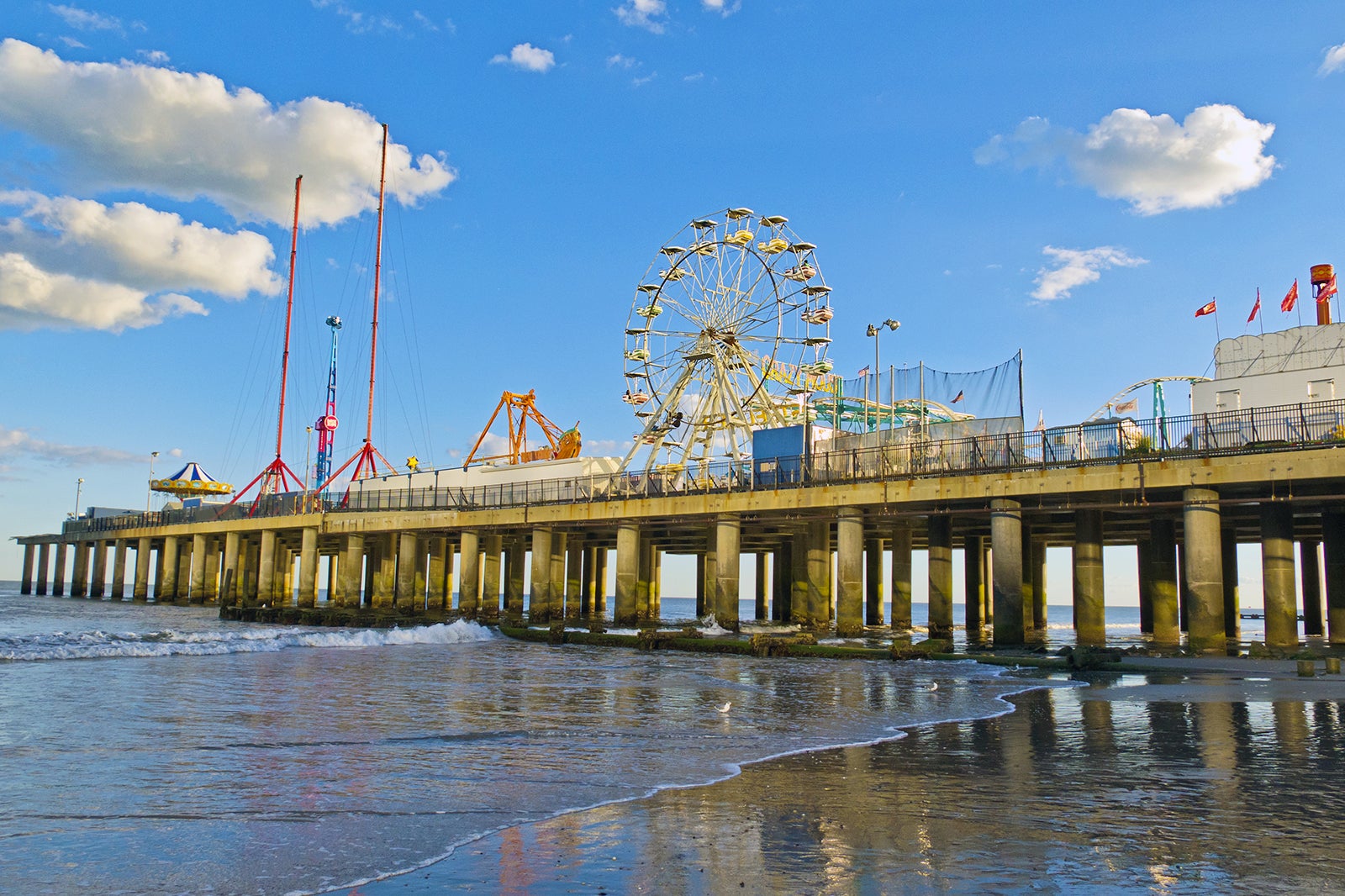 Atlantic City Boardwalk
An iconic boardwalk that's home to most of Atlantic City's main attractions.
The Steel Pier
Famed amusement pier for thrilling rollercoaster rides, dining and leisure.
Absecon Lighthouse
A 171-ft-tall, 228-step lighthouse dating back to 1857 that has an onsite museum.
Boardwalk Hall
Atlantic City's most popular concert and event venue since 1929.
Atlantic City Aquarium
Fun and educational, with interactive exhibits showcasing marine life.
Back to top