American Folk Art Museum in New York
Examine Works by Self-Taught Artists from Around the World
The American Folk Art Museum features modern and traditional folk art by self-taught artists from America and around the world. The main collection displays over 8,000 pieces representing each continent and spanning over 4 centuries.
Works here highlight life experiences and focus on community, social progress, national identity, and religion, as true folk art should. You should allow an hour or 2 to view all of the exhibits, and the schedule of events will show you upcoming live music, speeches by cultural leaders, art discussions, workshops, and more so you can plan your visit.
American Folk Art Museum in New York - one of the highlights of 10 Alternative Museums in New York Only Locals Know (Read all about New York here)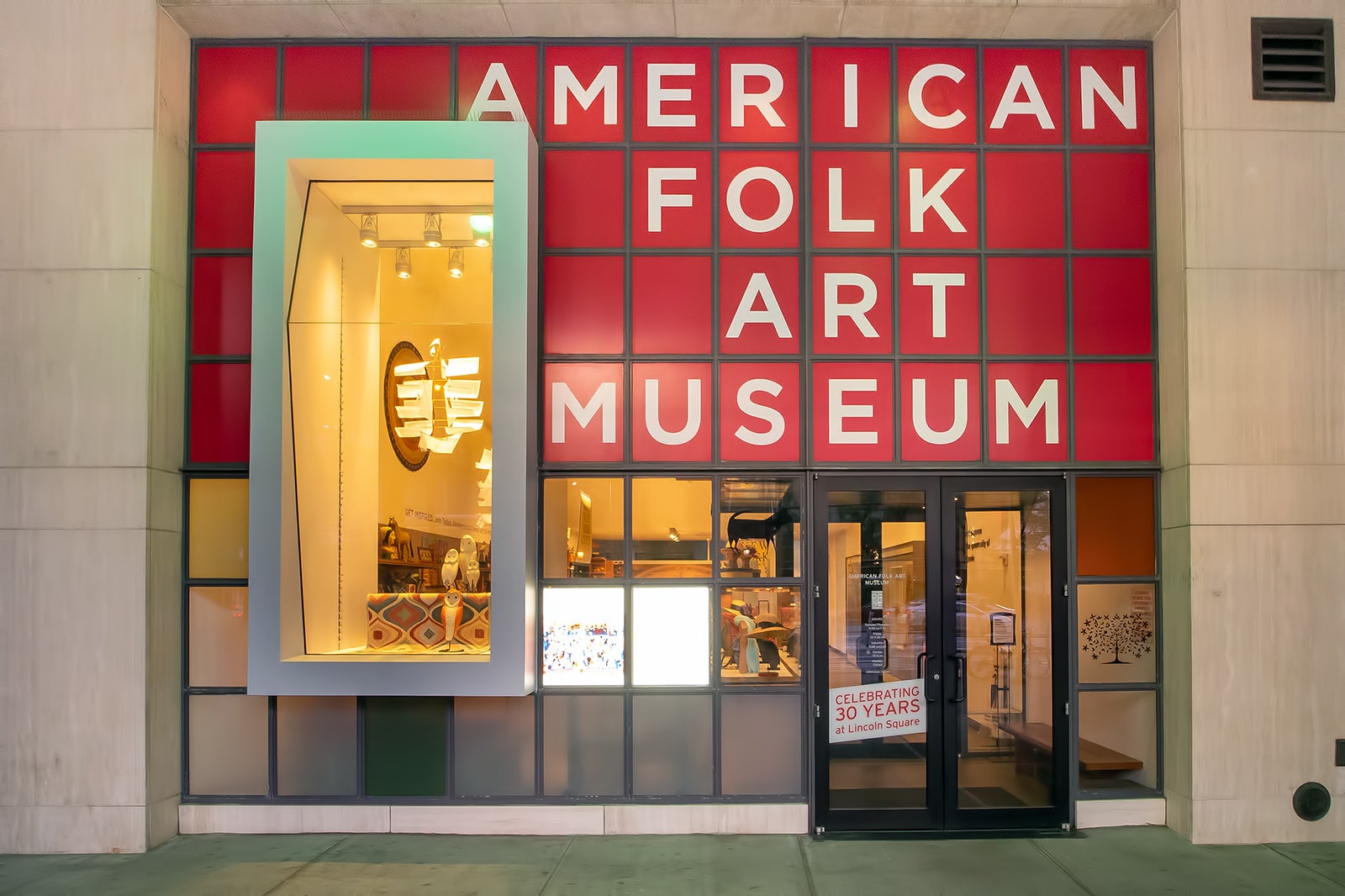 Highlights of the American Folk Art Museum
In the permanent exhibit, you can find unique gallery items you don't typically see in art museums, such as ornate pottery, religious items, quilts, portraits, weathervanes, and much more. You'll find an impressive amount of information detailing the significance and historical background of the pieces, and staff members are happy to answer any questions you have.
Temporary exhibitions have included "Memory Palaces: Inside the Collection of Audrey B. Heckler" and "A Piece of Yourself: Gift Giving in Self-Taught Art," which examines the relationship between the United States' gifting of standard items versus those of a unique piece of art.
Good to know about the American Folk Art Museum
In the American Folk Art Museum Shop, you can find unique gifts and souvenirs, including artist prints, jewellery, informational books, ties and scarves, artistic rugs, and children's arts and craft kits. If you'll be visiting with children, you can stop at the welcome desk to get a free Family Guide to encourage child exploration.
You can find the American Folk Art Museum situated at the crossroads of West 66th Street and Columbus Avenue. While you're in the area, you may enjoy a visit to the showplace of the New York City Ballet, The David H. Koch Theatre, or the Metropolitan Opera House.
American Folk Art Museum in New York
Location: 2 Lincoln Square, New York, NY 10023, USA
Open: Wednesday–Sunday from 11.30 am to 6 pm (closed Monday–Tuesday)
Phone: +1 212-595-9533
Back to top