14 Best Street Food in Phuket
Phuket Street Food Guide
Street food in Phuket is one of the cheapest ways to enjoy genuine Thai cuisine. The convenience and affordability make it the meal of choice for many Thais, as well as tourists seeking an authentic dining experience during their holiday.
In Phuket, you can find market stalls, large carts, motorbike sidecars, and wandering vendors carrying rattan baskets filled with a variety of Thai street food. Groups of vendors often gather in specific areas in the evenings, creating an impromptu and entirely mobile market. We've compiled a list of the best Thai street food you have to try in Phuket.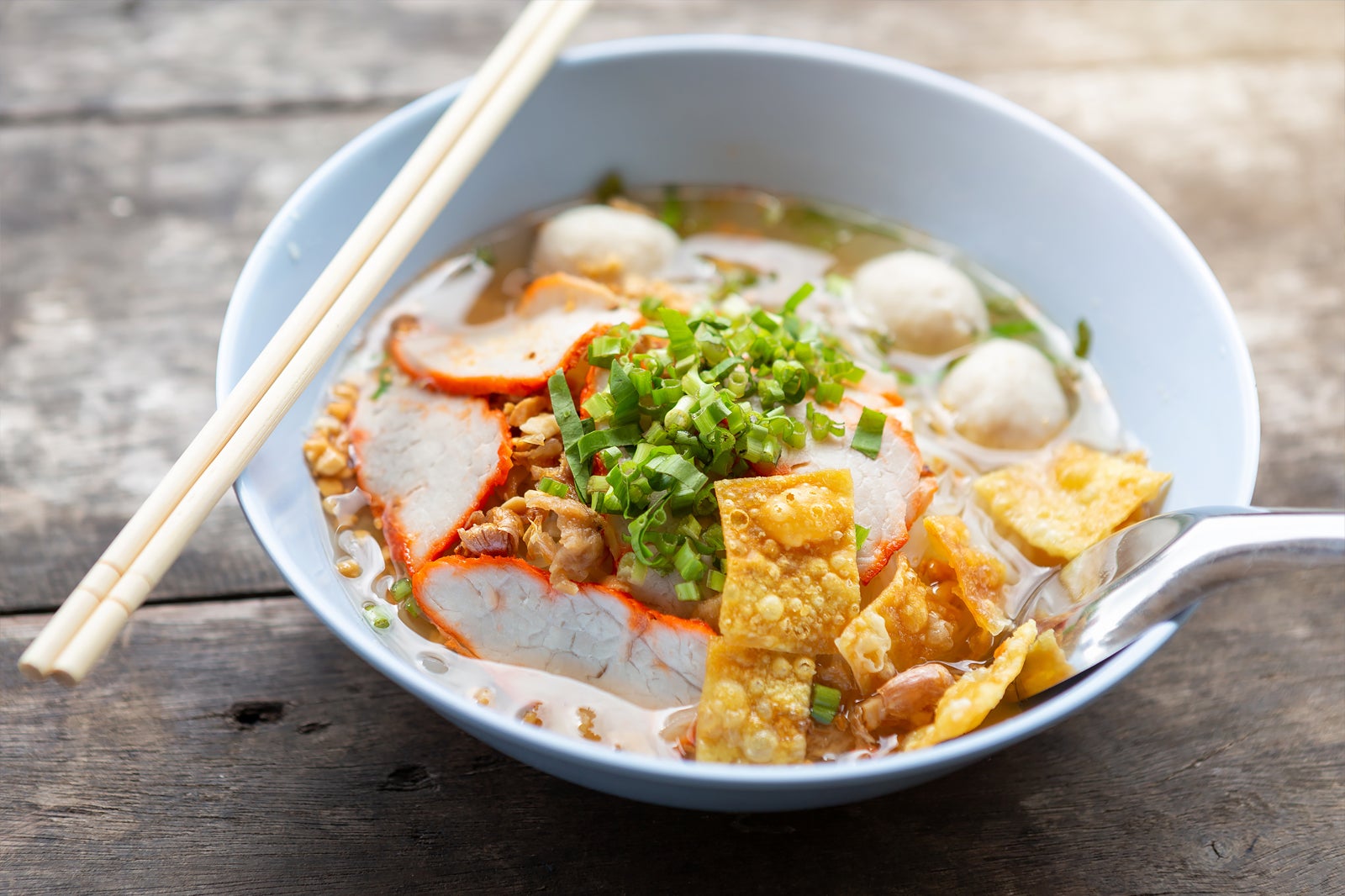 Noodle soup is made from egg or rice noodles in broth, usually with beef, chicken, pork or fish balls, as well as ground beef, seafood, vegetables or tofu. It's usually served with many condiments, including as ground chilli flakes, fish sauce, and chilli in vinegar, so that you can spice it up as much as you please. This cheap, filling and tasty dish is very widely available in Phuket. Most stalls and restaurant offer different types of noodles, such as glass vermicelli, flat white noodles, and instant noodles.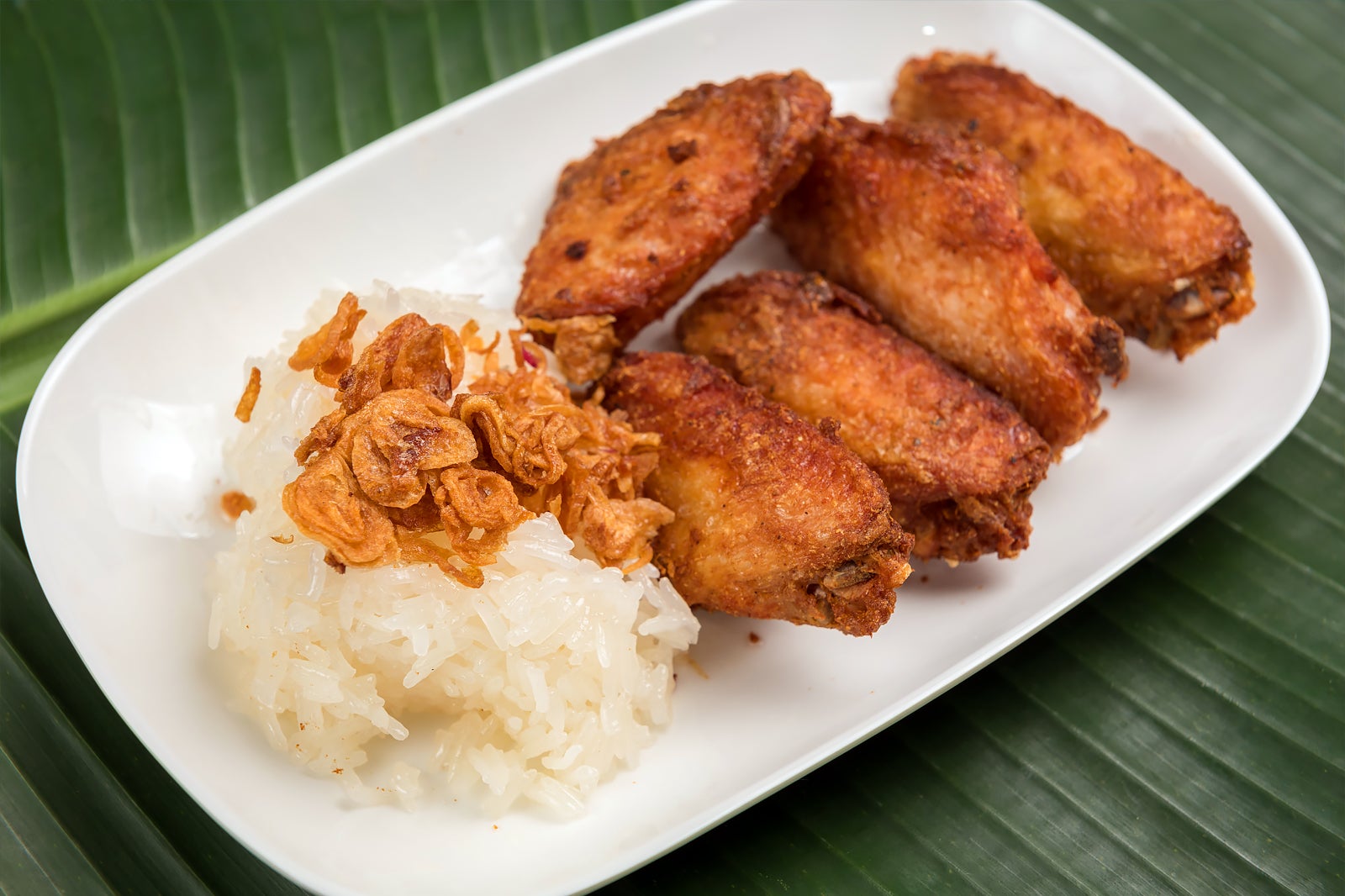 Many street food stalls in Phuket offer large portions of deep-fried chicken drumsticks, wings and thighs at affordable prices. The Thai-style batter makes this street food significantly tastier than your regular fast-food restaurant. It's also quite cheap – you can enjoy a large piece of fried chicken (with sticky rice) for around 60 baht. Fried chicken stalls are especially common in Phuket's street and night markets.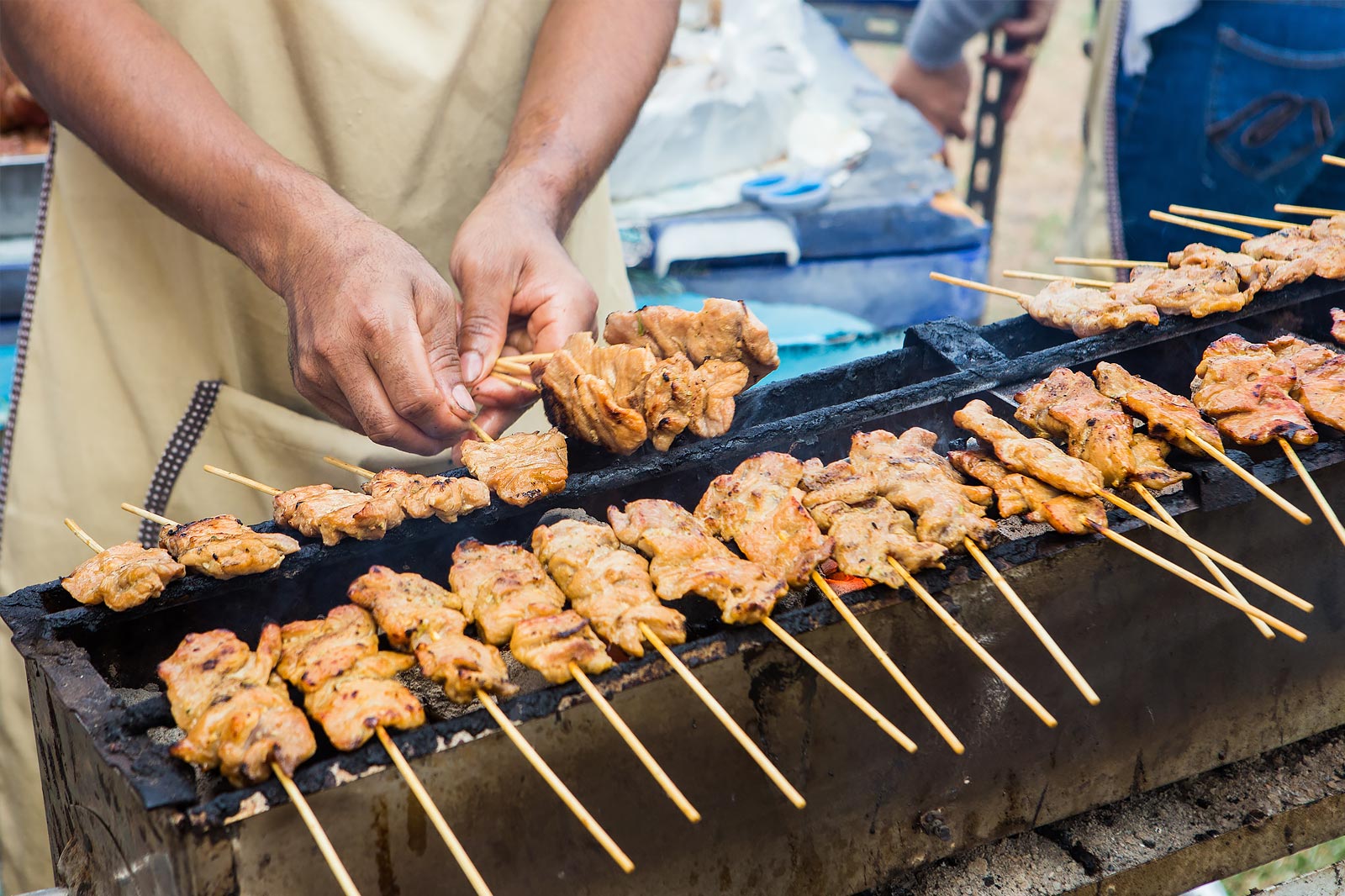 Moo ping is marinated grilled pork on a skewer that's usually served with khao niao (sticky rice). The sweet and tasty marinade contains fish sauce, palm sugar, garlic, and coconut milk. The meat is particularly tender and aromatic, but quite sticky as well. Moo ping is popular as a quick breakfast, though many street stalls and restaurants offer it throughout the day.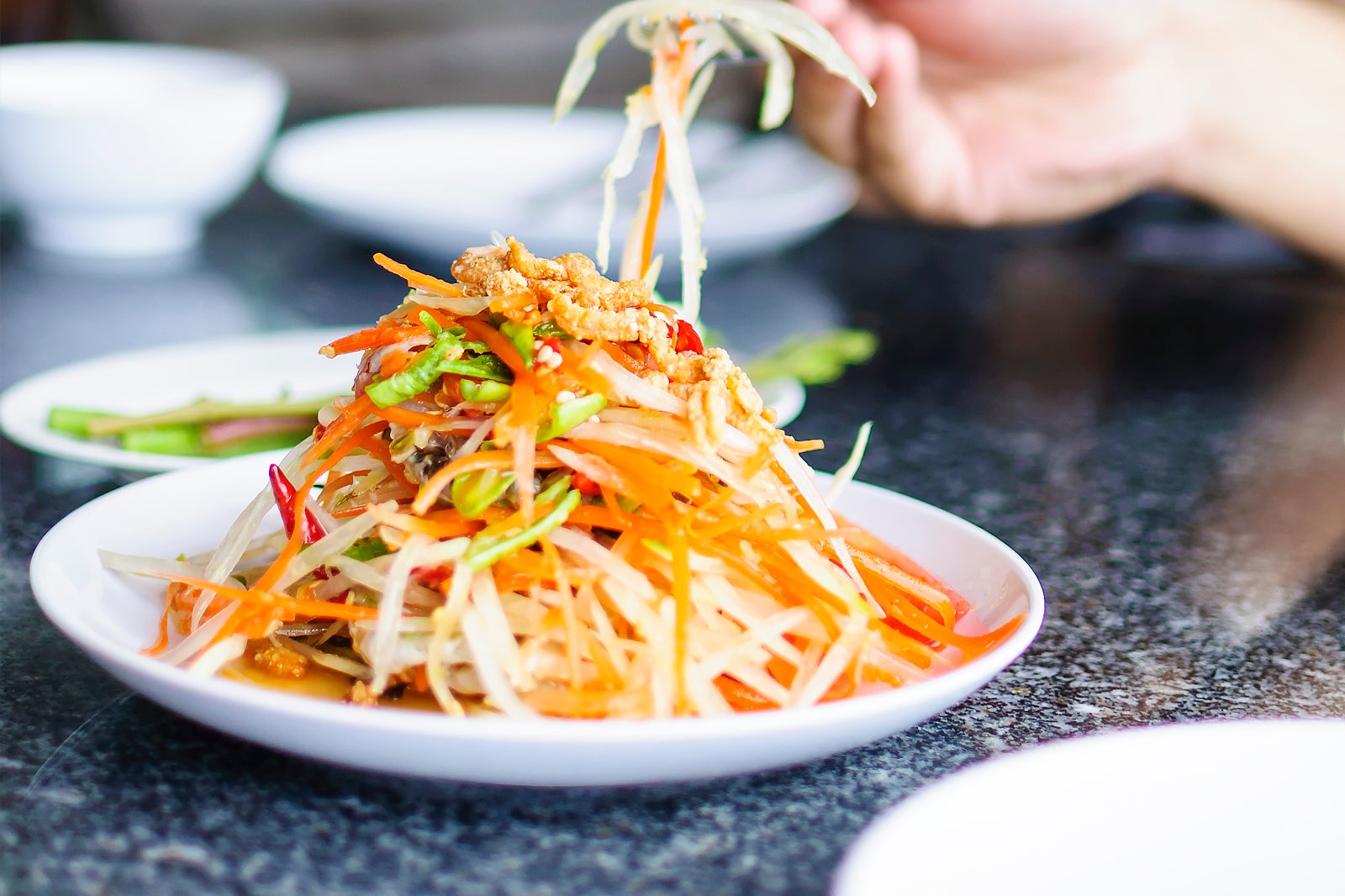 Som tam (green papaya salad)
Som tam (green papaya salad) is practically the national dish of Thailand. You'll find vendors with pestles and mortars attached to their carts constantly churning away at it. The main ingredient is green papaya, mixed with chilli, lime, fish sauce and palm sugar. This salad often has brined crabs, tomatoes, yardlong beans, and carrots. Som tam is an acquired taste for most travellers, thanks to its combination of sweet, sour, spicy and salty flavours. While this dish originates from the Issan region of northeastern Thailand, it's particularly easy to come across in Patong.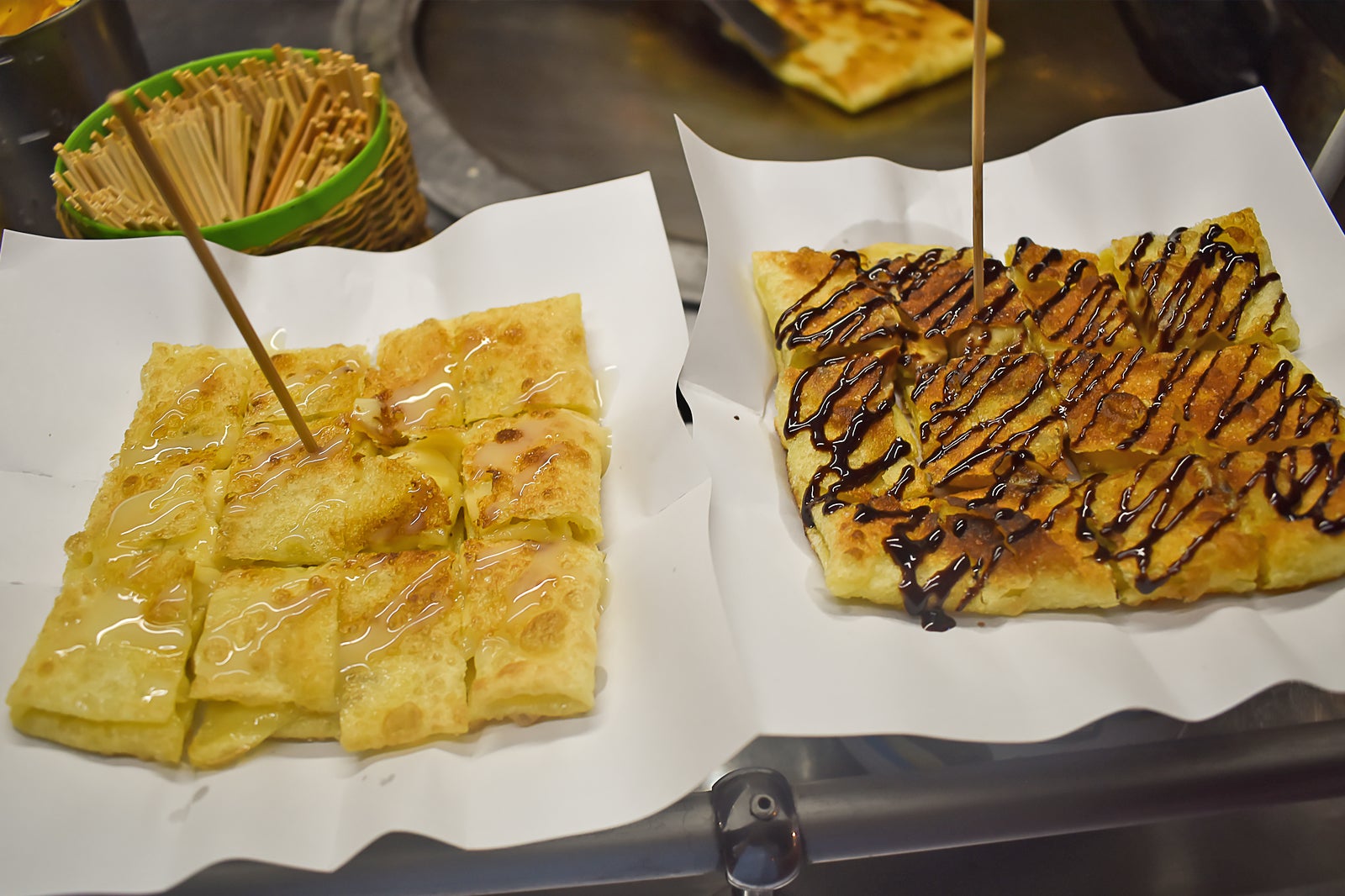 Roti is essentially a Thai-style pancake which you can enjoy with sweet or savoury fillings. It's best known as a dessert – a common variation is roti stuffed with banana slices, slathered in condensed milk, and cut into small squares. The savoury version is popular among Thais, which is enjoyed for breakfast with a curry dish on the side. You can spot a roti vendor by their cart, which has a large hotplate to cook it on the spot.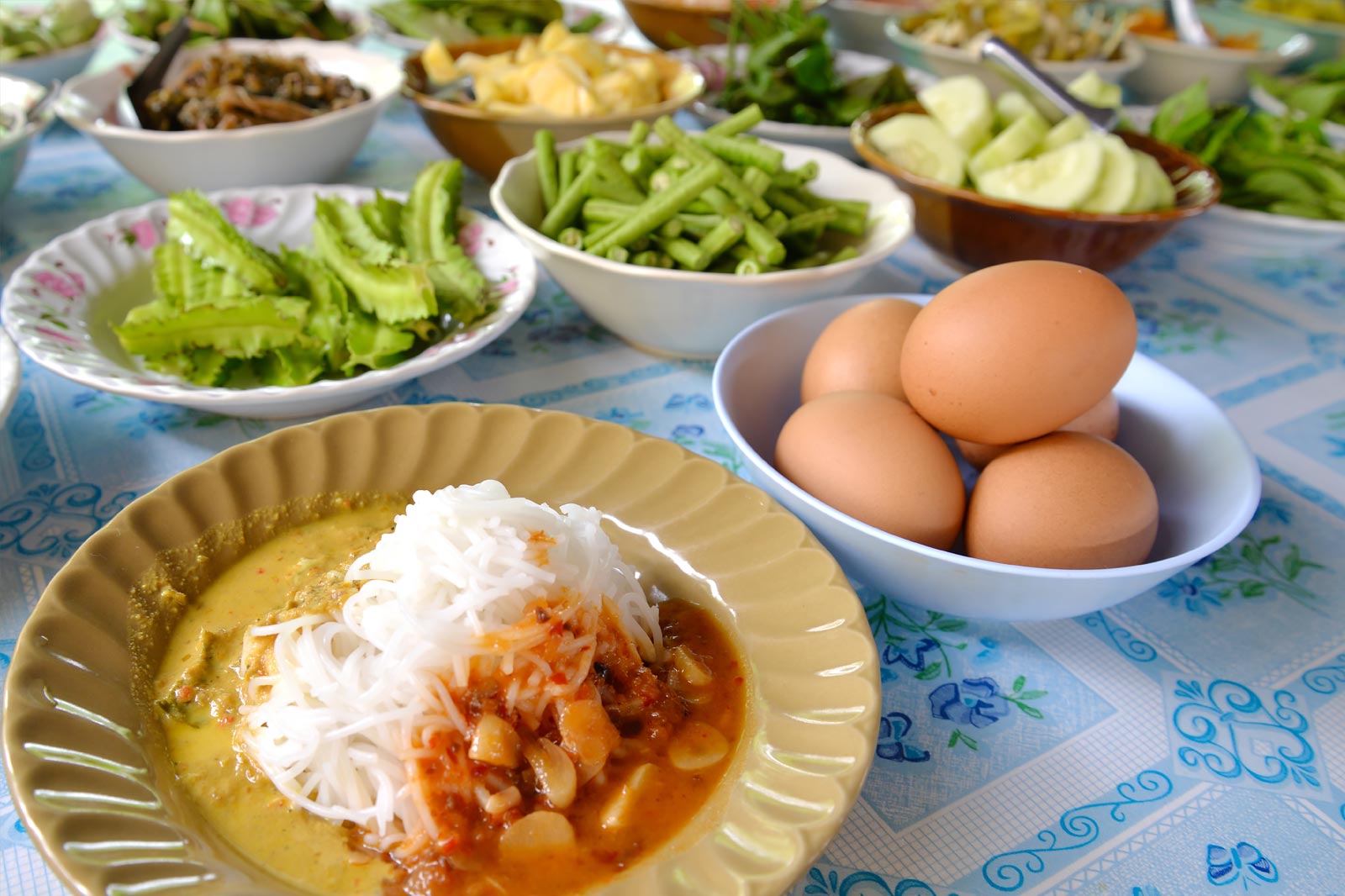 Kanom jeen consists of sticky rice noodles in tight little bundles, topped with your choice of curries and crunchy vegetables. This breakfast staple in Phuket is usually served by large food carts and stalls, often with a few tables and chairs closeby. Ingredients include beef, chicken, fish and crab curries, along with radishes, beansprouts, and green beans. It's a big mix of textures and tastes, from the soft noodles and savoury curries to the tender meat and crisp veggies.
Satay is one of the most convenient street foods in Thailand. It consists of sliced or diced chicken, beef or pork on a skewer, grilled with a mildly spicy seasoning. You can also find vegetarian satays made with tofu. It's almost universally served with peanut sauce, sometimes with a vinegary salad.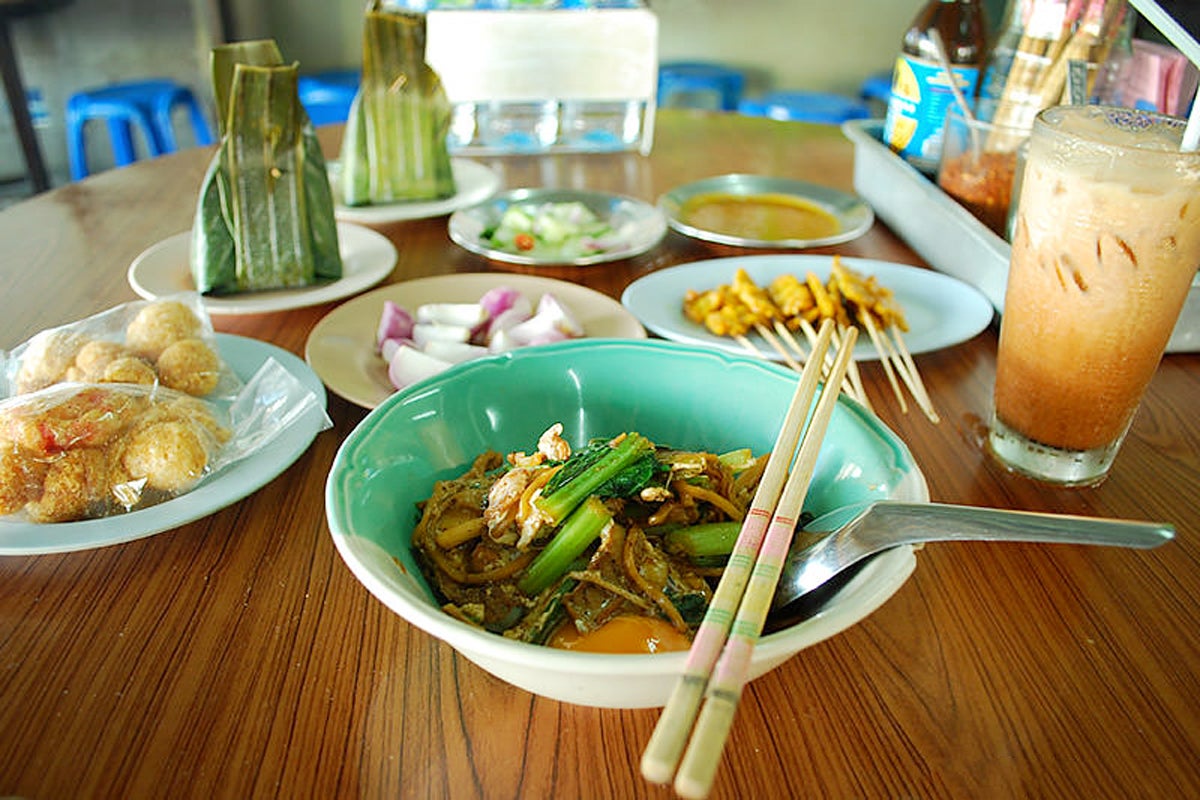 The Hokkien noodle dish has 2 distinct types – mee Hokkien (stir-fried noodles) and mee nam Hokkien (noodle soup) consist of seafood and thinly-sliced barbecue pork, with variations that include eggs and dumplings. This dish, originating from the Fujian province of China, came to the island along with immigrant families several centuries ago. It has since become a staple dish of Phuket, especially in the Old Town.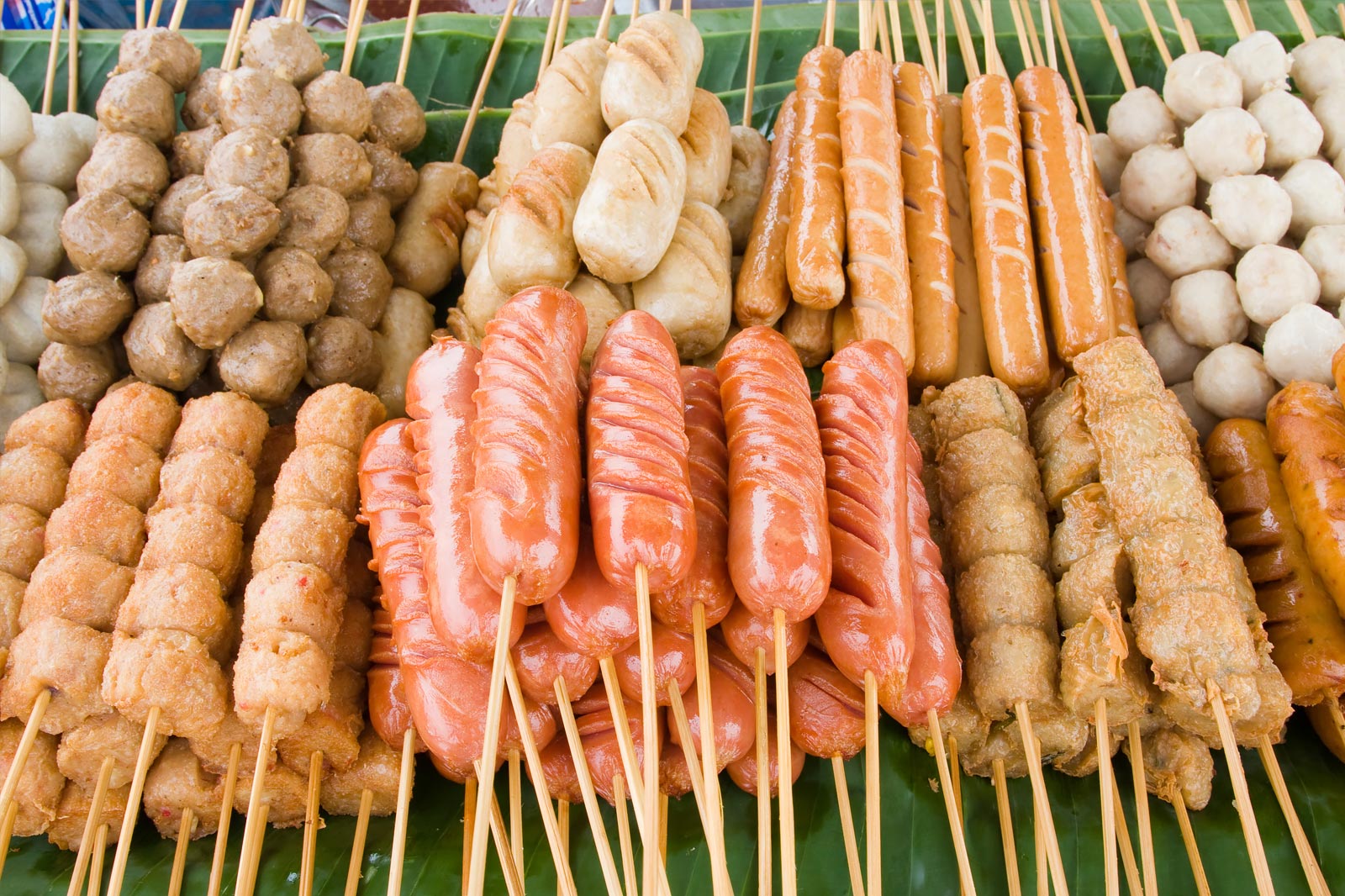 Look chin basically consists of grilled meatballs on a stick, such as beef, pork, chicken and fish. You'll also find sausages and even an entire squid, similarly skewered, all of which are served with sweet chilli sauce and/or nam jim (spicy dipping sauce). Look chin makes for a filling satisfying and affordable snack – a skewer of chicken meatballs usually starts from 15 baht.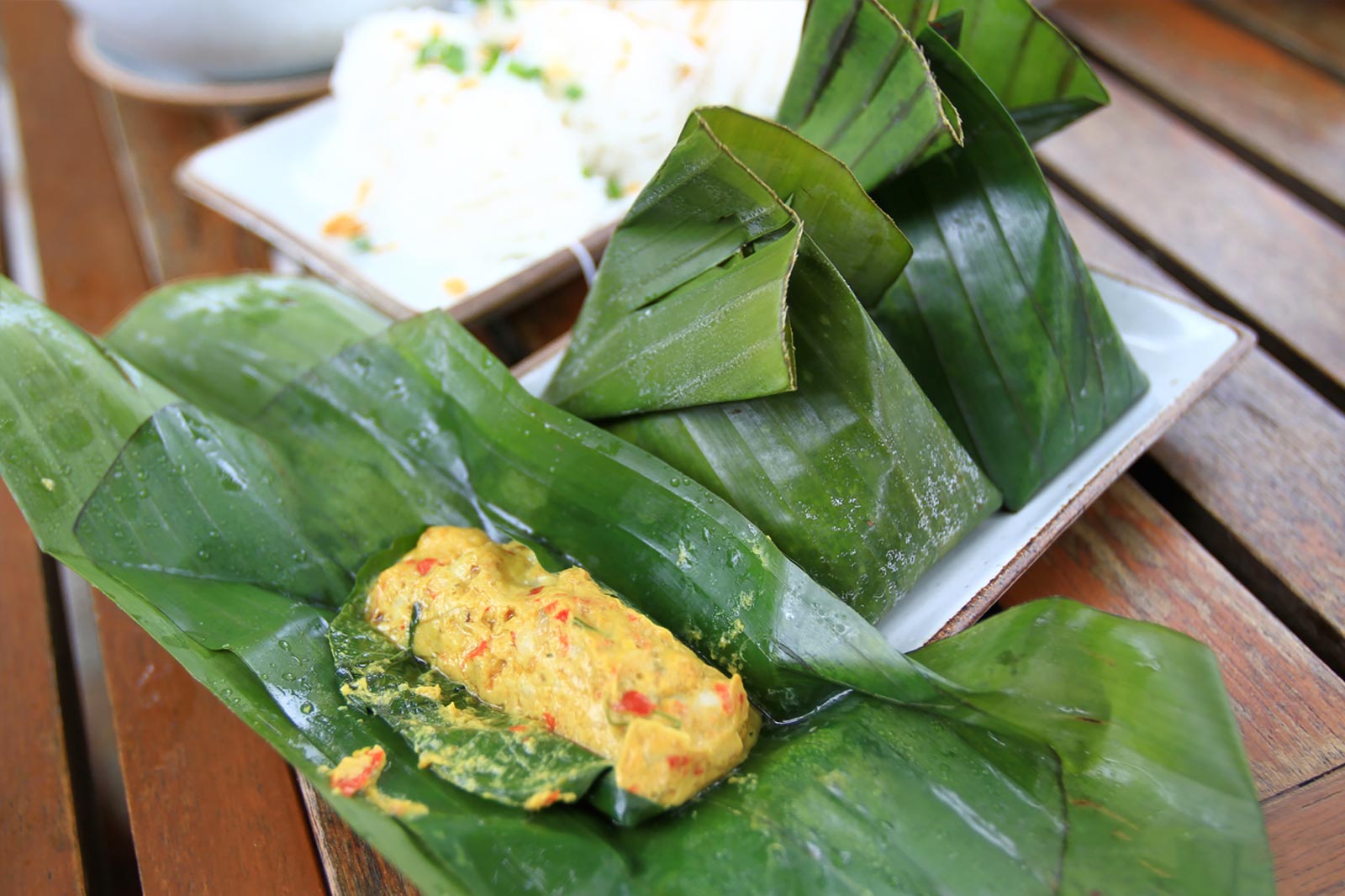 Haw mok is a small serving of steamed and curried crab or fish mousse made with chilli paste and coconut milk. Resembling a custard tart, it's parcelled up in a tiny bun case made with banana leaf. This snack is very light on its own, so pair it with rice or kanom jeen (thin rice noodles) for a more substantial meal.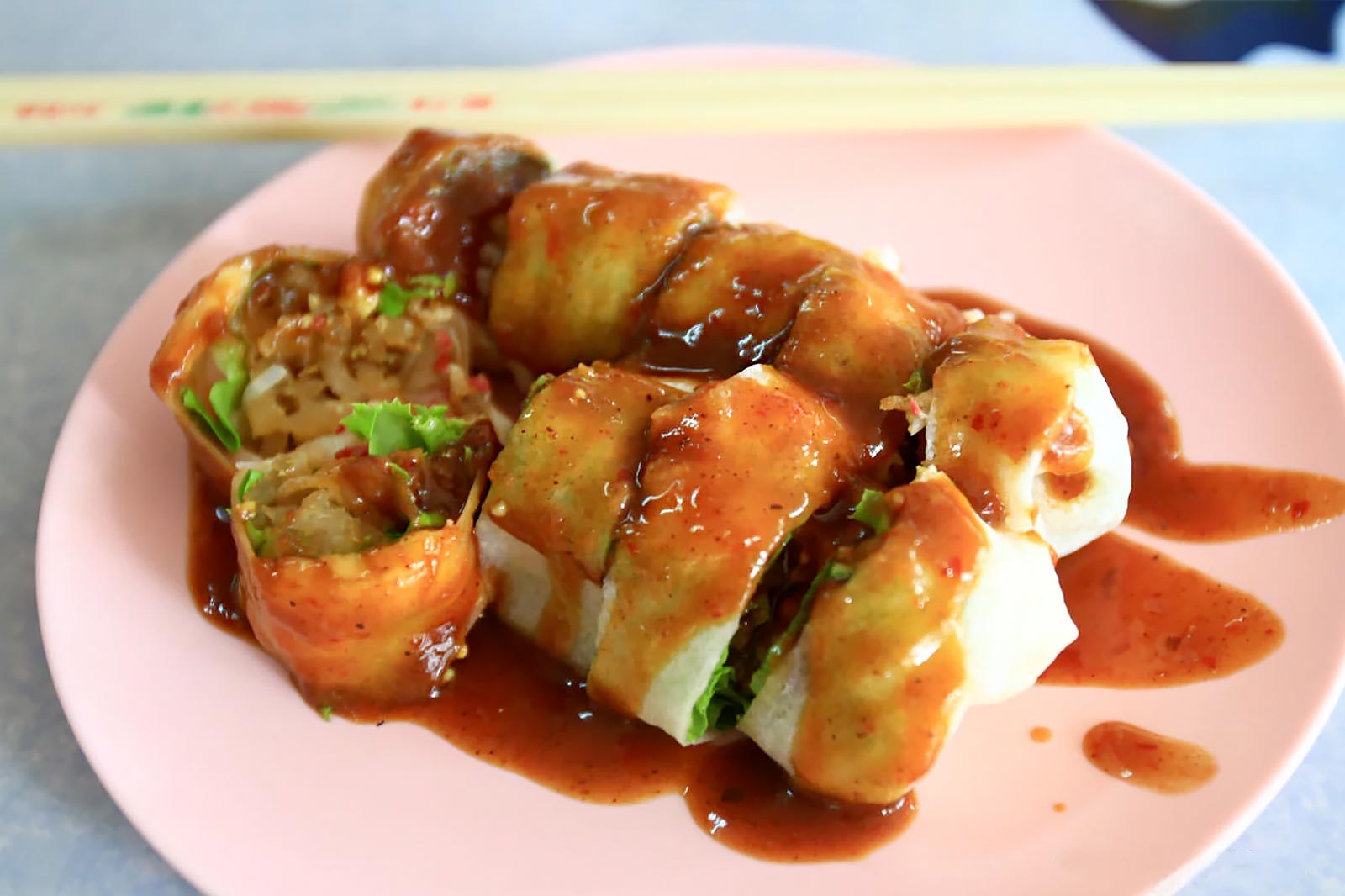 Por pia closely resembles a spring roll, except that it's not deep-fried. This street food contains fresh ingredients in a thin and translucent wrapping. It's usually vegetarian, containing carrots, cucumber, roasted nuts, lettuce and herbs, but there are street vendors in Phuket that make it with grilled chicken. Por pia often comes topped with sweet chilli sauce or peanut sauce.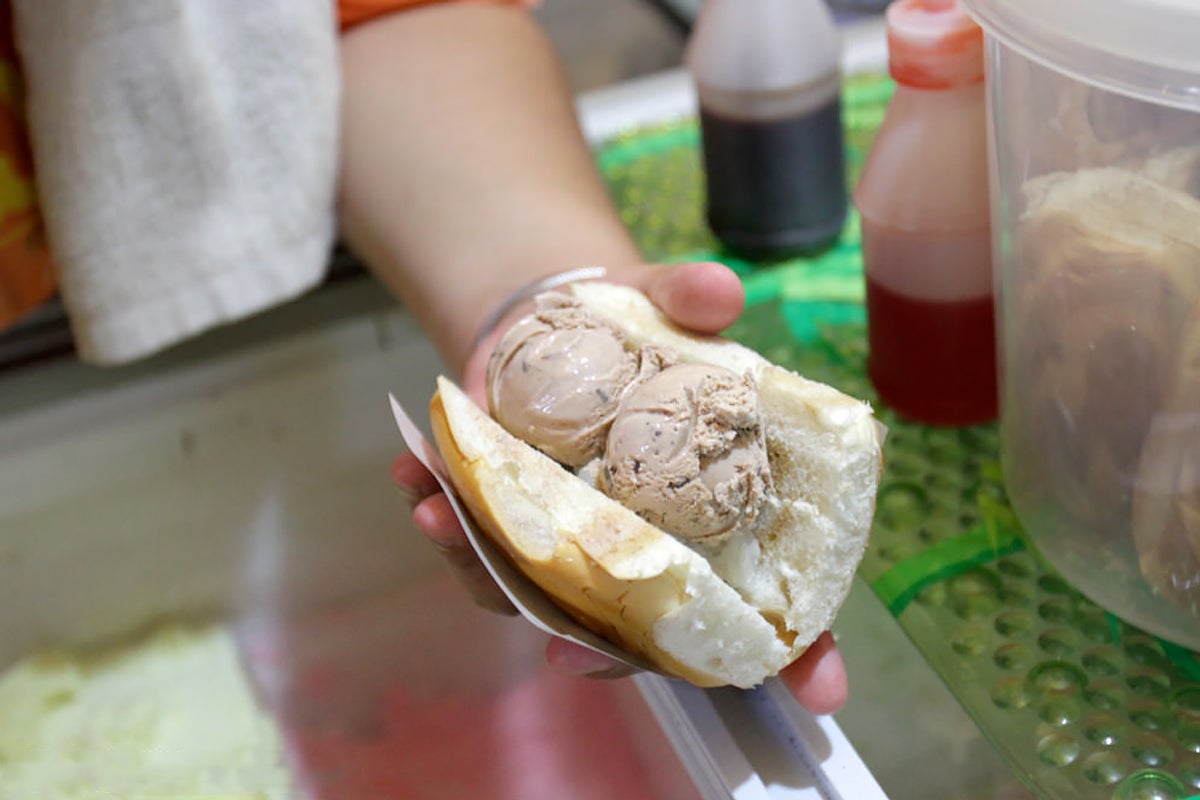 The ice cream sandwich is one of the common snacks in Phuket. This simple Thai dessert includes a variety of fillings stuffed inside a hotdog bun, followed with your choice of ice cream (coconut is particularly popular). You can enjoy it like a real hotdog or sandwich – no spoon needed. Choices of fillings include banana, sweet taro, sweet corn, sticky rice, raisins, peanuts, jackfruit, and candied palm seeds.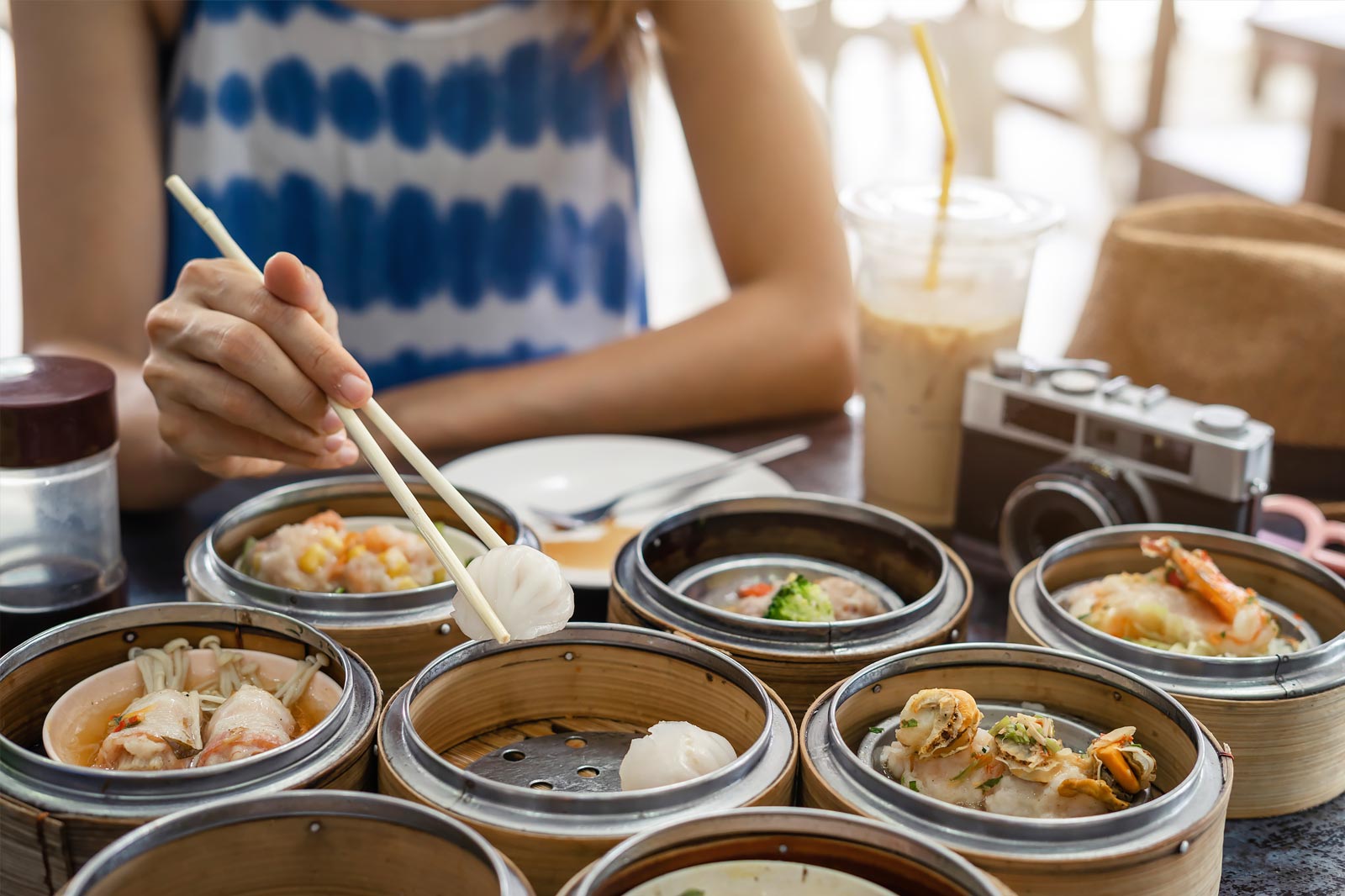 Thai dim sum is quite interesting, usually consisting of 5 to 10 bite-sized dishes prepared in a large steamer. Popular options include fish tofu, shrimp dumpling, and pork sausages.
There are 2 types of sala pao (steamed buns) in Phuket – sai wan (steamed sweet bun) and sai kem (steamed bun with a savoury filling). Sala pao stuffed with pork and salted egg is particularly popular in most street markets and local restaurants in Phuket Old Town.
Bue tord is a traditional recipe from the Baba communities in Phuket Town. This surprisingly tasty street food has shrimp and grass that are battered and deep-fried. Many market stalls in local areas of the island offer bue tord, though it's harder to find touristy areas like Patong or Kamala.