10 Things to Do in Taichung on a Small Budget
Most Popular Budget Things to Do in Taichung
The wonderful metropolis of Taichung is home to a variety of exciting attractions. You don't have to spend a fortune to have fun here. Start by visiting the famous Rainbow Village to appreciate the bright and colourful paintings before heading to Painted Animation Lane to see the fantastic murals featuring popular animation characters. Next, make your way to Guangfu New Village to learn about the transformation of the old military dependants' village into a cultural and creative hub. Last but not least, make a beeline for Yide Mansion to admire the traditional buildings and the Japanese-Western eclectic architecture.
If you're a baseball fan, be sure to visit Taichung Arena to learn about the history of baseball in Taiwan. Fancy some outdoor activities? The Tanya Shen Green Bikeway is a great spot for a leisurely bike ride. The bald cypress boulevard next to Central Taiwan Science Park is a top choice for nature lovers. The gorgeous scenery makes this place a must-visit attraction.
1
A psychedelic tour of Rainbow Village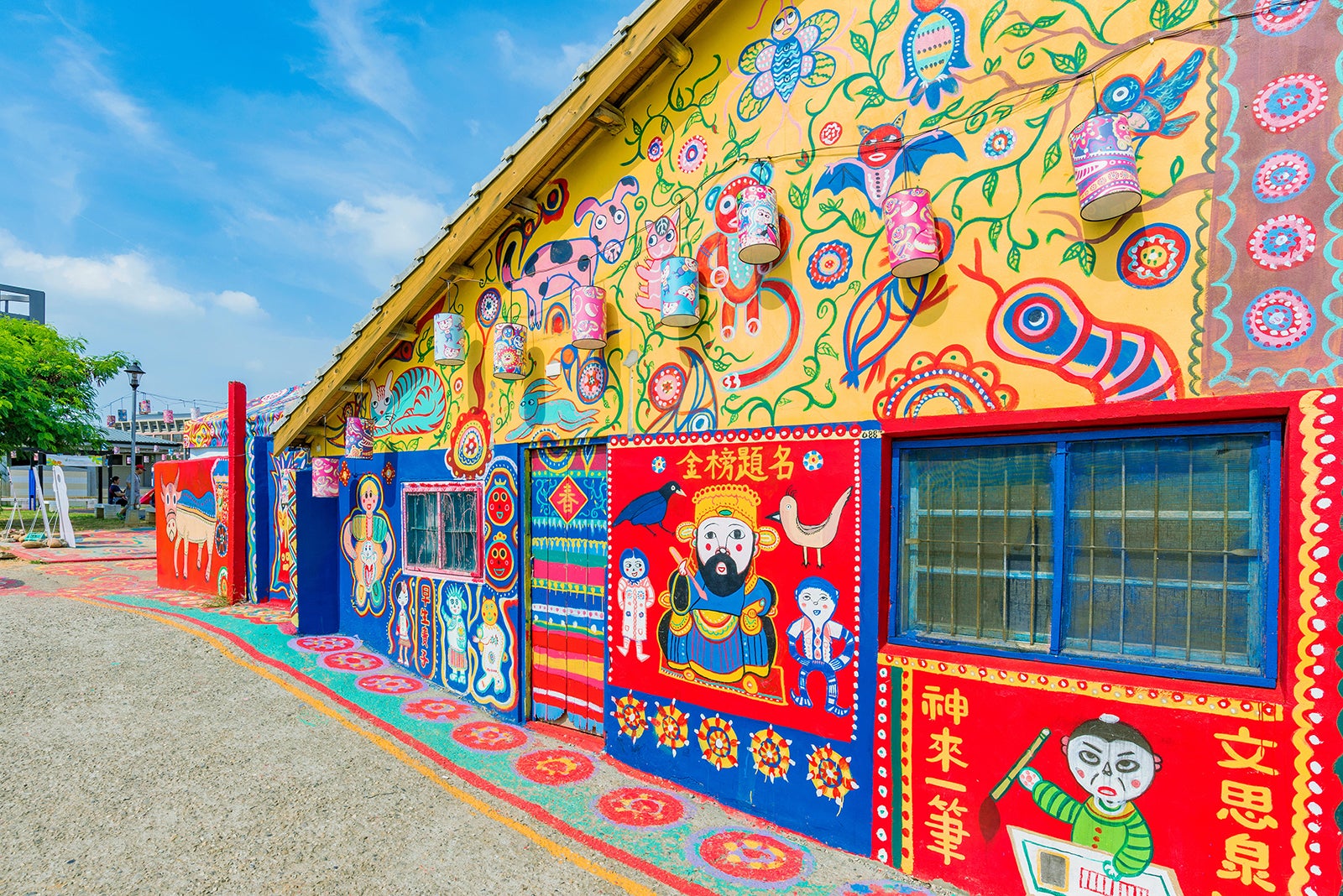 Rainbow Village in Nantun District, Taichung City, has been selected by travel guide Lonely Planet as one of the "Secret Marvels of the World". If you're visiting Taichung, don't miss the chance to see this unique attraction, which is a favourite Instagram check-in location. Rainbow Village was formerly a military dependants' village and was scheduled to be demolished. With his skilful hands, a local resident, affectionately named Grandpa Huang, painted the exterior walls of the houses in the village and the ground between the alleyways with various vivid and playful motifs in bright and psychedelic colours. The themes include characters and animals and interesting idioms are sometimes added for effect.
These murals have transformed the village into a colourful world of childlike wonder. As you walk through the village, it's impossible not to smile at the sight of all the fascinating motifs and vibrant colours of these images. It's as if they convey positive healing energy. Once you've finished your tour of Rainbow Village, you'll leave with a spring in your step. You don't need a ticket to visit Rainbow Village, but remember to have your mobile phone and camera ready so that you can take pictures of this amazing and colourful world.
Location: No. 22, Lane 56, Chun'an Road, Nantun District, Taichung City, Taiwan 408020
Open: Daily from 8 am to 6 pm
2
Sea view at Wuqi Fishing Harbour
Wuqi Fishing Harbour in Qingshui District, Taichung, is Taichung's first fishing port for motor boats and an important fishing port in Central Taiwan. Development of the harbour for leisure tourism only began in recent years. The main draw here is Wuqi Fishing Harbour Direct-Sale Seafood Market, one of the largest centres in Taiwan where you can buy fish directly. You can sample fresh seafood, buy fish or take a sightseeing boat tour around the harbour. It's now one of the most popular attractions in Taichung.
Other than being the place to go for delicious seafood, Wuqi Fishing Harbour is also a great spot to relax and enjoy the sea view. You don't have to pay an entrance fee to enjoy the view from the shore or the sea breeze. You can stroll around and explore the area at your own pace. In addition to the fantastic sea views, Wuqi Fishing Harbour is known for its amazing sunsets. Watch the fiery red sun sink slowly into the sea at the harbour for a perfect end to your day out.
Location: No. 30, Beiti Road, Qingshui District, Taichung City, Taiwan 436455
Open: Daily from 9 am to 7 pm
3
Cycling tour on Tanya Shen Green Bikeway
Tanya Shen Green Bikeway in Tanzi District, Taichung, is a cycle path built along the old Shengang railway line. It starts from Zhongshan Road in Tanzi District and extends westwards to Ching Chuan Kang. It then further connects to Central Taiwan Science Park and other cycle paths around Zhongke. The total length of the path is about 8.7 miles (14 km). Along the way, you'll pass green trees that offer shade, pleasant and scenic landscapes, a unique S-bend (at around the 3-mile (4.8 km) mark) and then a pump track.
Tanya Shen Green Bikeway is popular with tourists, who come to take pictures and check in here. It has a gentle slope and is suitable for cyclists of all ages. You can enjoy the gentle breeze while admiring the scenic Tanzi District along the route. Renting a bike is fairly inexpensive and you can experience the pleasure of cycling through lush green countryside without breaking the bank.
Location: No. 1-2, Section 3, Zhongshan Road, Tanzi District, Taichung City, Taiwan 427018
Open: 24/7
4
Check in at Painted Animation Lane in West District
Are you looking for a unique attraction to take fantastic photos but don't want to spend too much money? Head to Painted Animation Lane in the West District of Taichung. The lane is located behind a motorcycle shop. The entrance to the lane is a Totoro (famous Japanese animation character) bus stop with Angry Birds (from the game and film) painted on the side wall, so it's hard to miss it. As soon as you enter the lane you're greeted by characters from animated films, comics and movies, filling the walls on both sides. Classic scenes from the famous Japanese animated film "Your Name" are here along with other popular characters such as Doraemon, Conan and Maruko.
The animation characters are drawn in great detail and are incredibly lifelike, making the lane a popular destination among fans of animation. But who created these wonderful pictures? The answer is right at the entrance to the lane. One by one, these animation characters were drawn by the owner of the motorcycle shop and over time, this unique cartoon lane was created. Whether you come here to take photos, check in on social media or just stroll and soak up the unique atmosphere is entirely up to you.
Location: Lane 100, Linsen Road, West District, Taichung City, Taiwan 403004
Open: 24/7
5
Maze adventure in Dingyuliao Park
Dingyuliao Park is located in Wuqi, Taichung and its vast area makes it one of the largest parks in Wuqi. Admission is free for the public. The park is equipped with various sports and recreational facilities, while public facilities such as parking and toilets are also available, making this a suitable destination for people of all ages. There are many landscape features in the park, with highlights including the lifelike 3D painted landscapes, sailing boats and whale slides.
The maze of grass hedges is great fun, although the height of the hedges is less than half that of most adults. The striking emerald green leaves of the maze have also made it a popular photography spot, and you can take aerial shots of the maze at various angles to create interesting photo effects. Another popular attraction in the park are the painted 3D landscapes featuring very realistic-looking whales and carps. The placing of markings on the ground at good spots to take photos is a nice touch. Designed for visitors of all ages, Dingyuliao Park is definitely worth adding to your itinerary for a sightseeing trip in Taichung.
Location: Bade East Road, Wuqi District, Taichung City, Taiwan 435058
Open: 24/7
6
A cultural heritage excursion
Taichung has developed into a modern city since the Japanese occupation but many valuable monuments and historic buildings from bygone eras have been preserved. Many of these offer free admission. You may wish to take the opportunity when you're in Taichung to plan a one-day itinerary to visit the local cultural heritage sites. You don't have to spend a lot of money to enjoy a rewarding cultural tour. For a deeper understanding of the development of Taiwan's democracy and politics, you can visit the Taiwan Provincial Assembly Memorial Park, formerly the Taiwan Provincial Assembly, to learn about the history of Taiwan in the beautifully landscaped park.
If you have a soft spot for historic buildings, don't miss the beautiful Wufeng Lin Family Garden, a National Historic Monument. You can also read the diary and letters of the pioneers of Taiwan's Parliament and see other precious cultural relics. Alternatively, visit the local Taiping Tobacco Factory to learn more about the tobacco trade or admire the iron sculptures and prints of internationally renowned artist Chen Tingshi in the memorial hall in the park.
Location: Taiping Tobacco Farm No. 464, Dongping Road, Taiping District, Taichung City, Taiwan 411001 Lin Family Garden (Lai Garden) No. 91, Laiyuan Road, Wufeng District, Taichung City, Taiwan 413006 (in Mingtai High School) Taiwan Provincial Assembly Memorial Park No. 734, Zhongzheng Road, Wufeng District, Taichung City, Taiwan 413015
Open: Taiping Tobacco Farm: Tuesday–Sunday from 9 am to 12 pm, 1 pm to 5 pm (closed on Mondays and public holidays). Lin Family Garden (Lai Garden): daily from 8 am to 6 pm. Taiwan Provincial Assembly Memorial Park: Monday–Friday from 9 am to 12 pm, 2 pm to 5 pm
7
Day trip to a military village
Villages that accommodate military personnel and their families are something unique to Taiwan due to its history, and Guangfu New Village in Wufeng District, Taichung, is a typical example of such a settlement. The village has neatly planned streets and lush green trees, and its red brick walls that are archetypal of early military village buildings evoke a feeling of nostalgia. At its peak, Guangfu New Village had as many as 400 families living here. It had not only schools, parks and markets, but also the very first sewerage system for separating rainwater and wastewater in Taiwan.
Today, this military village is a shadow of its former self, but its historical and cultural settings still attract many newlyweds to take their wedding photos here. It's also a popular filming location. In recent years, the community has been revitalised and many cultural and creative enterprises have moved in to sell coffee, snacks and handicrafts, injecting new life into this old military village and transforming it into a tourist hotspot. Admission is free, so why not take a trip to Guangfu New Village to experience the new energy in this nostalgic military village and its emerging entrepreneurial and youth culture?
Location: No. 2-3, Heping Road, Wufeng District (Guangfu New Station), Taichung City, Taiwan 413004
Open: 24/7
Located in Beitun District, Taichung, Yide Mansion was the former residence of a local official called Lin Maoyang. Built in the 1920s, the mansion consists of two adjacent buildings. One building is based on the traditional courtyard of southern Fujian. The other building has a modern Japanese-European style with a semi-circular balcony and pebbledash exterior walls, an architectural style said to be trending when the building was constructed. Yide Mansion is a designated historic building in Taichung City.
After having been converted into a military village, then abandoned and finally refurbished, it's now a combined art, cultural and dining space. The mansion is open to everyone and is a popular hotspot that attracts many here to eat, have coffee, take pictures and check in on social media. You don't need a ticket to tour its interior. You can visit the dessert shops, coffee shops and cake shops at this historic site. Perhaps you may even want to bring a book and find a quiet corner to read and enjoy some quiet leisure time in an old building full of memories.
Location: No. 1, Lane 14, Wenchang East 11th Street, Beitun District, Taichung City, Taiwan 406020
Open: Monday–Friday from 9 am to 6 pm. Saturday–Sunday from 9 am to 9 pm
9
Baseball at Taichung Arena
Taichung Arena is a multifunctional sporting and event venue in Beitun District, Taichung, in the very heart of Taiwan. It's also one of the few multifunctional sports venues in Central Taiwan that provides food and beverages. The arena occupies a large area and its hemispherical building shaped like a baseball attracts a great deal of attention. Inside, there are various venues designed for different ball games and international sporting events. The arena is next to the Intercontinental Baseball Stadium, the Intercontinental Baseball Cultural and Creative Park and Taichung Baseball Museum. There are also speciality shops selling baseball-related products, making this an absolute paradise for baseball fans.
Taichung Baseball Museum is the first permanent exhibition on baseball in Taiwan. Inside the museum, you can see the commemorative jerseys and equipment of professional baseball stars as well as precious photos and cultural relics that mark the development of baseball in Taiwan. Once inside, you really won't want to leave. Admission to the Intercontinental Baseball Cultural and Creative Park is free, but the Taichung Baseball Museum charges an admission fee. If you love baseball, make sure to catch a game at the baseball stadium and perhaps pay a visit to the Cultural and Creative Park while you're here.
Location: No. 833, Section 3, Chongde Road, Beitun District, Taichung City, Taiwan 406034 (main entrance is on the side of Chongde 19th Road)
Open: Daily from 9 am to 9 pm
10
Magical bald cypress boulevard in Zhongke
Located in Xitun, Taichung, this attractive bald cypress boulevard is adjacent to Central Taiwan Science Park. It offers two contrasting views, one of the waterfront and the other of the land. In late autumn, when the leaves of the bald cypress begin to change colour (approximately December–January), many visitors are drawn to this place to enjoy the stunning scenery. The bald cypress boulevard is open to the public for free. You can cross the wooden walkway and admire the reflections in the water or stroll through the rows of tall and straight cypress trees.
With the changing of the seasons, the bald cypress turns various shades of green, orange, red and yellow that transform the entire area into a spectacle of colour. If you want to take unforgettable photos of these magical scenes, the best time to visit the bald cypress boulevard in Zhongke is just as autumn begins to give way to winter.
Location: No. 205, Guangfu Road, Xitun District, Taichung City, Taiwan 407011
Open: Daily from 6 am to 6 pm
Back to top