12 Best Beaches in Andalucia
Which Andalucian Beaches Are the Best?
Andalucia is Spain's sunniest region – with over 300 clear days each year – and is home to nearly 1,000 km of breathtaking coastline. Thanks to resorts like Torremolinos and Malaga, the area has developed a bit of a party reputation, but there are also plenty of quiet coves and whitewashed villages to enjoy. Nearly a third of the land is environmentally protected, and sterling conservation work has brought back Iberian ibex and bearded vultures.
The coast is split between the Atlantic side to the west, where you can expect big waves and excited surfers, and the warmer, quieter waters of the Mediterranean to the east. Wherever you go, be sure to try Andalucia's famous pescaito frito (fried fish), of which the locals are rightfully proud. To help you choose between east and west, peace and partying, here's our guide to Andalucia's best beaches.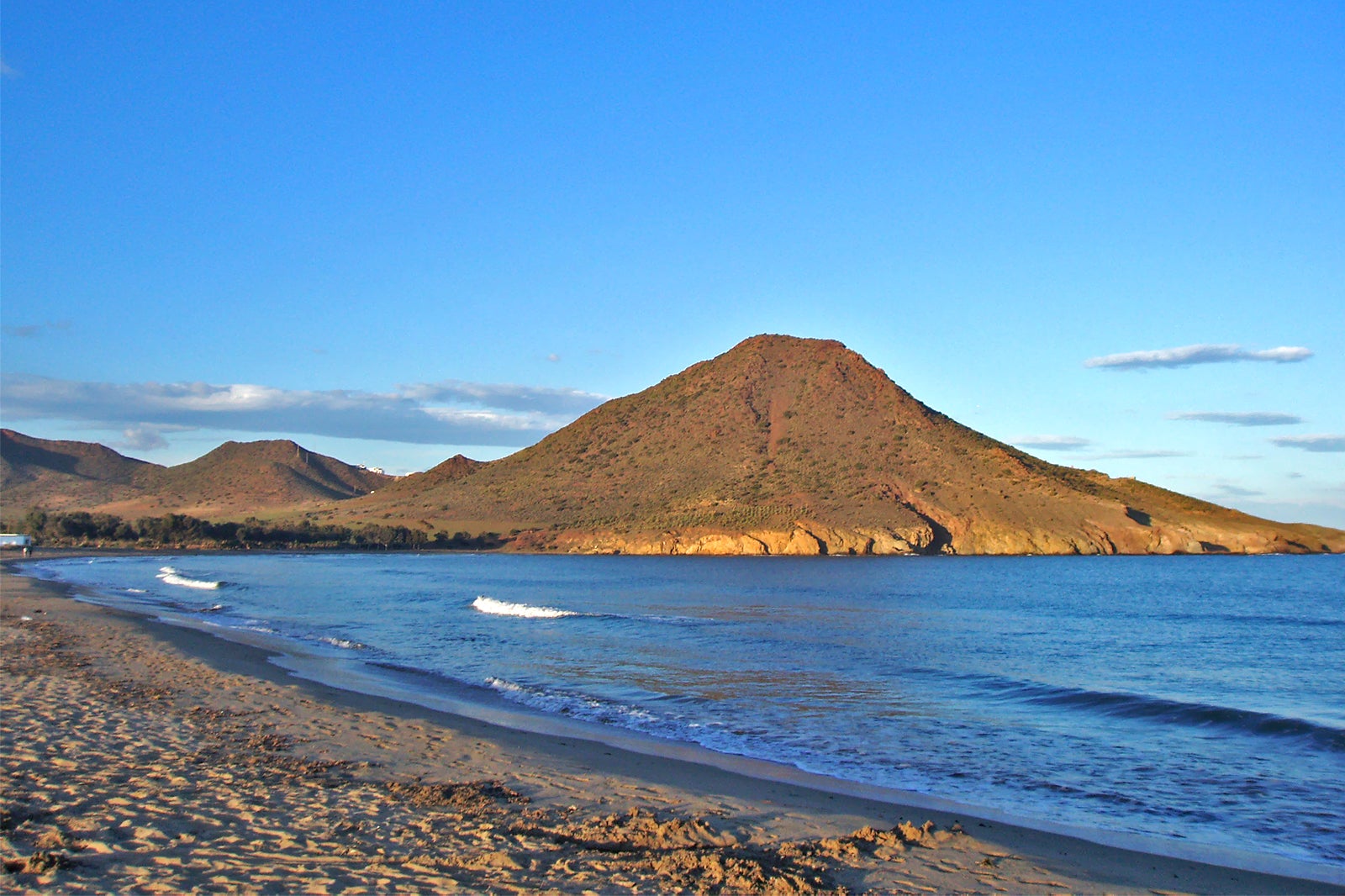 Playa de los Genoveses, Almería
A secret beach in Almeria
Located in Cabo de Gata-Níjar Natural Park, Playa de los Genoveses is one of Andalucía's best beaches. The little clam-shaped bay and the golden sand of the beach makes it a wonderful place for a quiet day of sunbathing. It remains quiet because it's only accessible along a dirt track, and there's no sign of touristy facilities, restaurants, and hotels. Fortunately, there is a bus service in the high season, and it's well worth the journey.
Location: Parque Natural Cabo de Gata-Nijar, Almeria, 04118, Almeria, Spain
photo by manel rodriguez (CC BY-SA 2.0) modified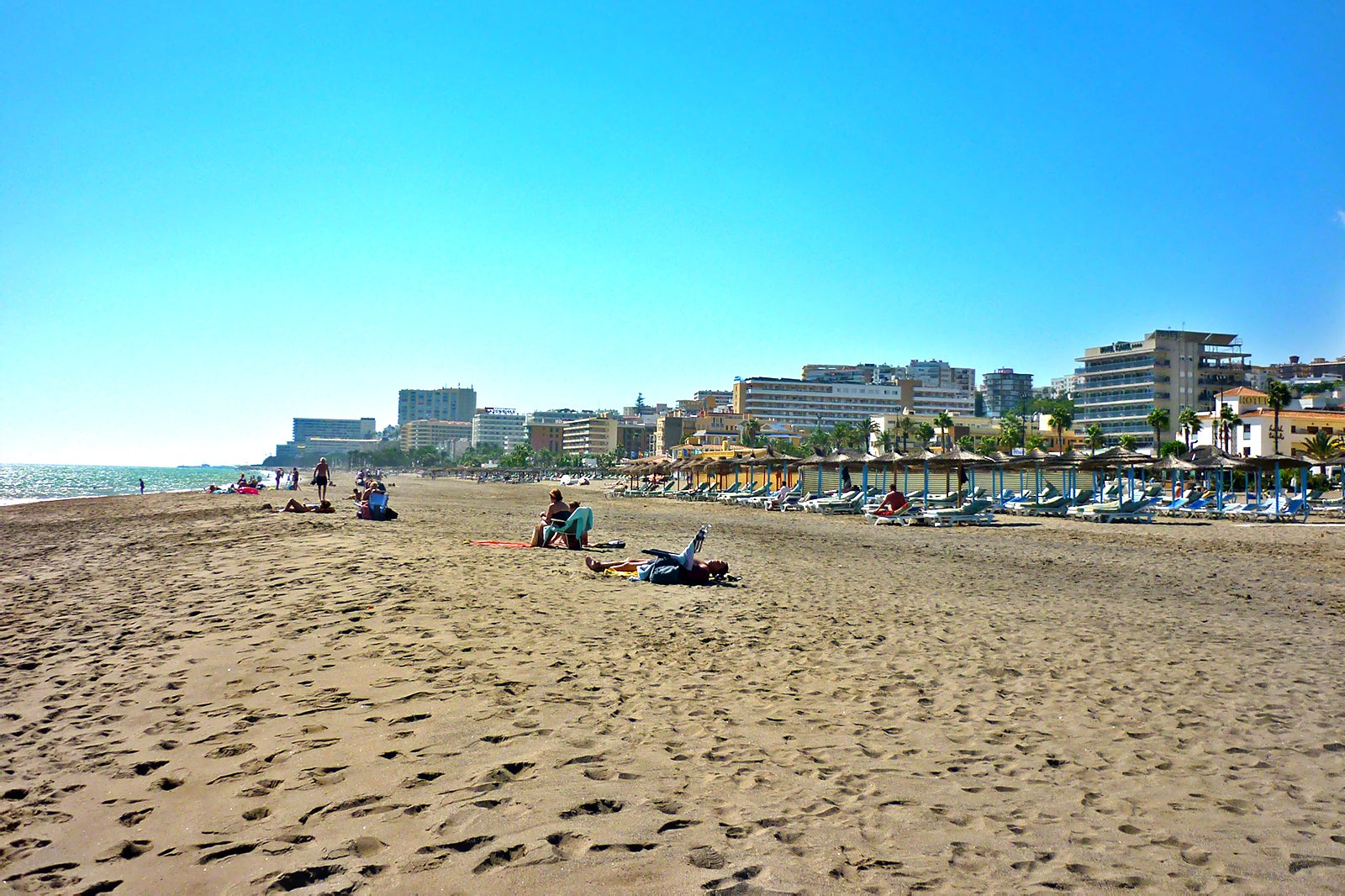 Torremolinos, Costa del Sol
Spain's best LGBT beach
Torremolinos in Costa del Sol has been a popular name among British tourists since the 1960s. While it's undergone a lot of renovation and beautification, the town and beach are still just as gay-friendly as they always have been. The large seaside town has a great choice of places to eat and party and is also quite a good family destination. The La Nogalera district is especially gay-friendly, as shown by the rainbow flags flying all over.
Location: Torremolinos, 29620, Malaga, Spain
photo by Jeanne Menj (CC BY 2.0) modified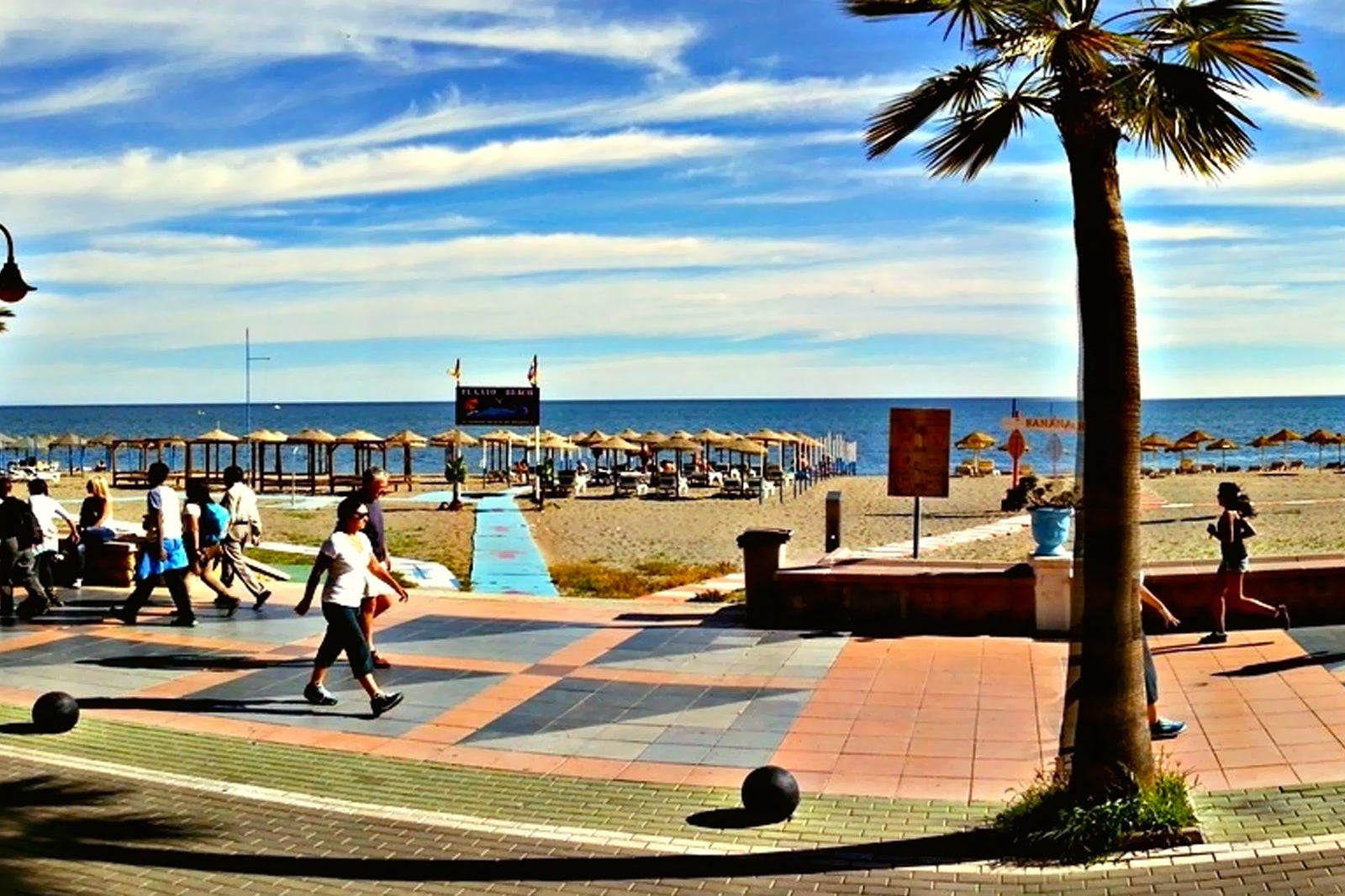 Playa de Bajondillo, Torremolinos
Fun in the sun
A package holiday classic, Torremolinos has outgrown its tacky, lager-swilling image to become a terrific destination for sunbathing, shopping and nightlife. Don't expect to experience authentic Spain here, but do expect endless white-sand beaches, a palm-tree-lined promenade, and clubs that stay open until dawn.
Playa El Bajondillo, close to the centre of town, is the most dynamic and outgoing of the beaches. There are sun loungers, parasols and a profusion of shops and restaurants, although in summer you may have to spend some time hunting for a spot on the sand. If you get tired of sun-worshipping, there are beach volleyball courts free for public use, and jet-skis and banana boats available to hire.
Location: Playa Torremolinos Zona Bajondillo, 29620 Torremolinos, Malaga, Spain
Couples
Adventure
Single
Group
photo by Jeff7xs (CC BY-SA 3.0) modified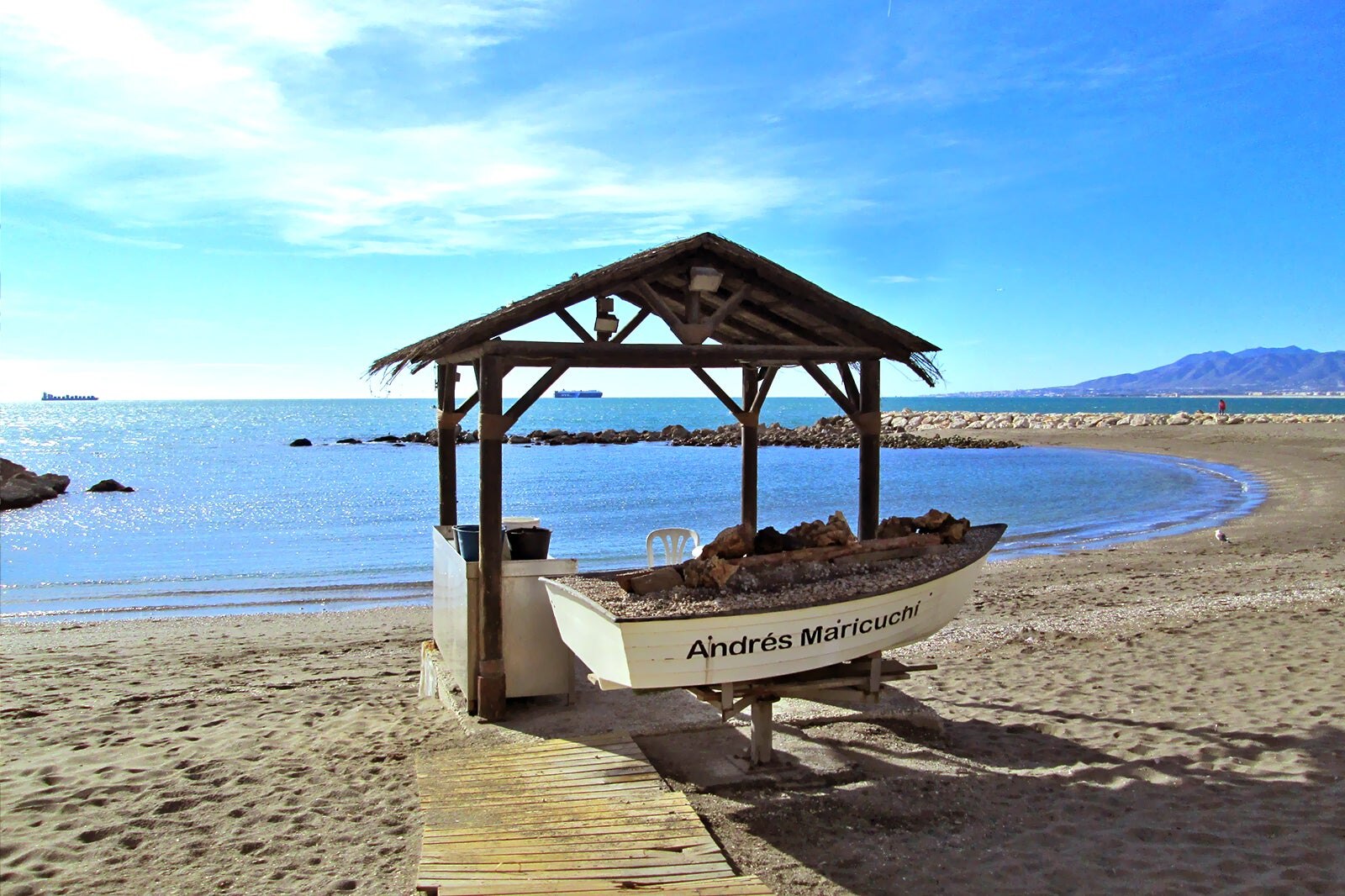 Playa Pedregalejo, Malaga
Party central on the Andalucian coast
Malaga supposedly boasts more bars per sq metre than anywhere else in Europe, and Pedregalejo Playa certainly lives up to that reputation. The strip is lined with beachfront bars selling tapas and beer by day and cocktails accompanied by live music at night. It's popular with students from the nearby university and the vibe here is young and hip.
The beach itself is a sheltered, palm-fringed bay that used to be an old fishing village, and still does some of the best seafood in Andalucia. Check out La Tortuga's quirky bar made of tree trunks, and grab a coveted spot on their terrace for cool sea breezes and killer views of the sunset.
Location: Playa de Pedregalejo, 29017 Malaga, Spain
photo by Tyk (CC BY-SA 3.0) modified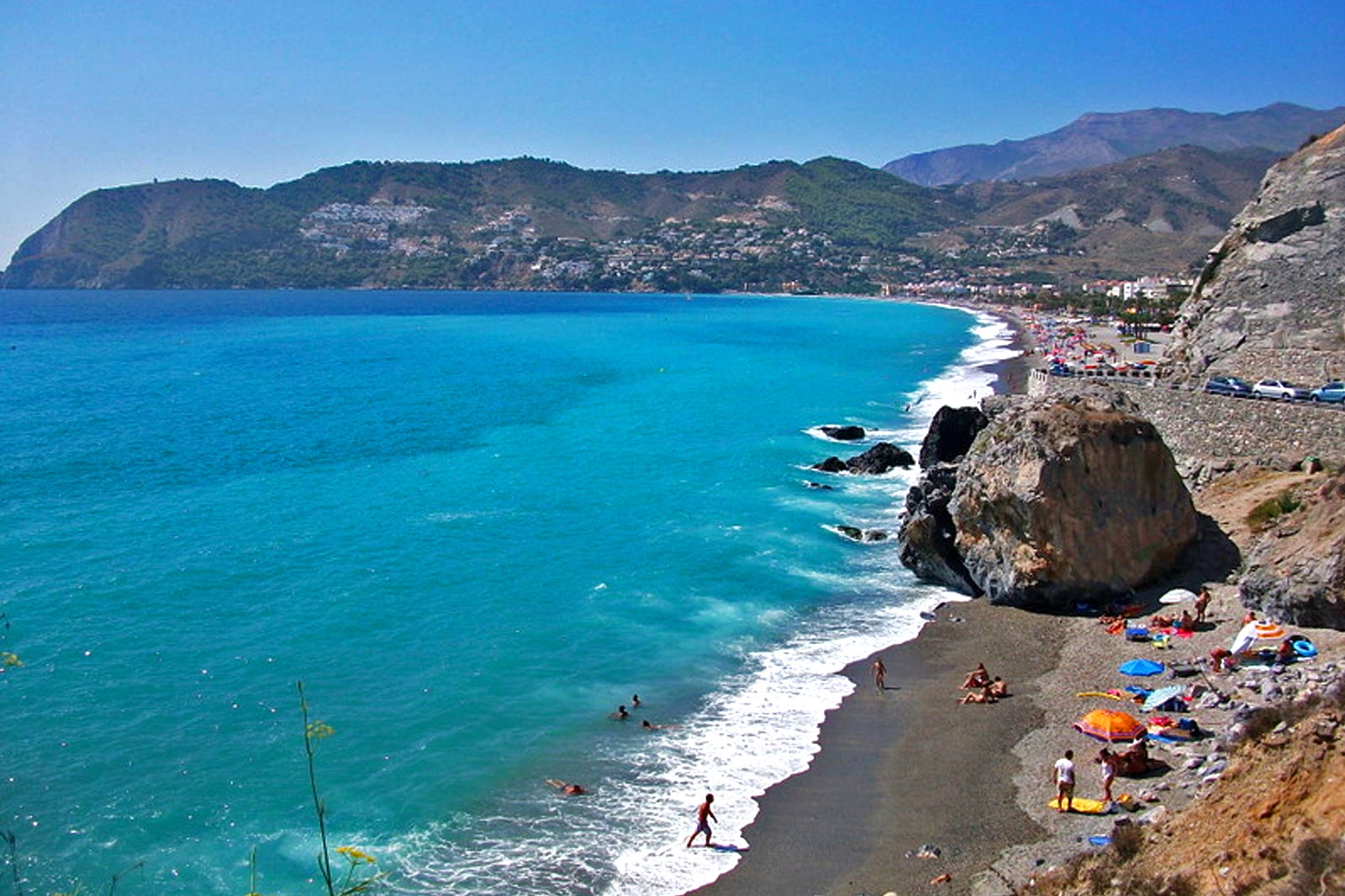 Playa de la Herradura, Granada
Best for windsurfers and sporty types
Playa de la Herradura is a horseshoe-shaped bay with waves that draw windsurfers from across Europe. There are dozens of schools providing sailing, windsurfing and kayaking lessons, or you can hire equipment and take off on your own. Of course, this means conditions can get a little breezy on the water, although the bay is sheltered.
If you can drag yourself away from the beach, the old town is full of charming traditional whitewashed houses with blue-shuttered windows. The 16th-century Moorish castle, San José Church and the Friday market at Plaza de la Independencia are all worth exploring. Head to the east end of the beach at lunchtime to try paella cooked on an open wood fire at Joaquin's bar.
Location: Paseo Andres Segovia, 18697 La Herradura, Granada, Spain
Families
History
Adventure
Single
Group
photo by Feranza (CC BY-SA 3.0) modified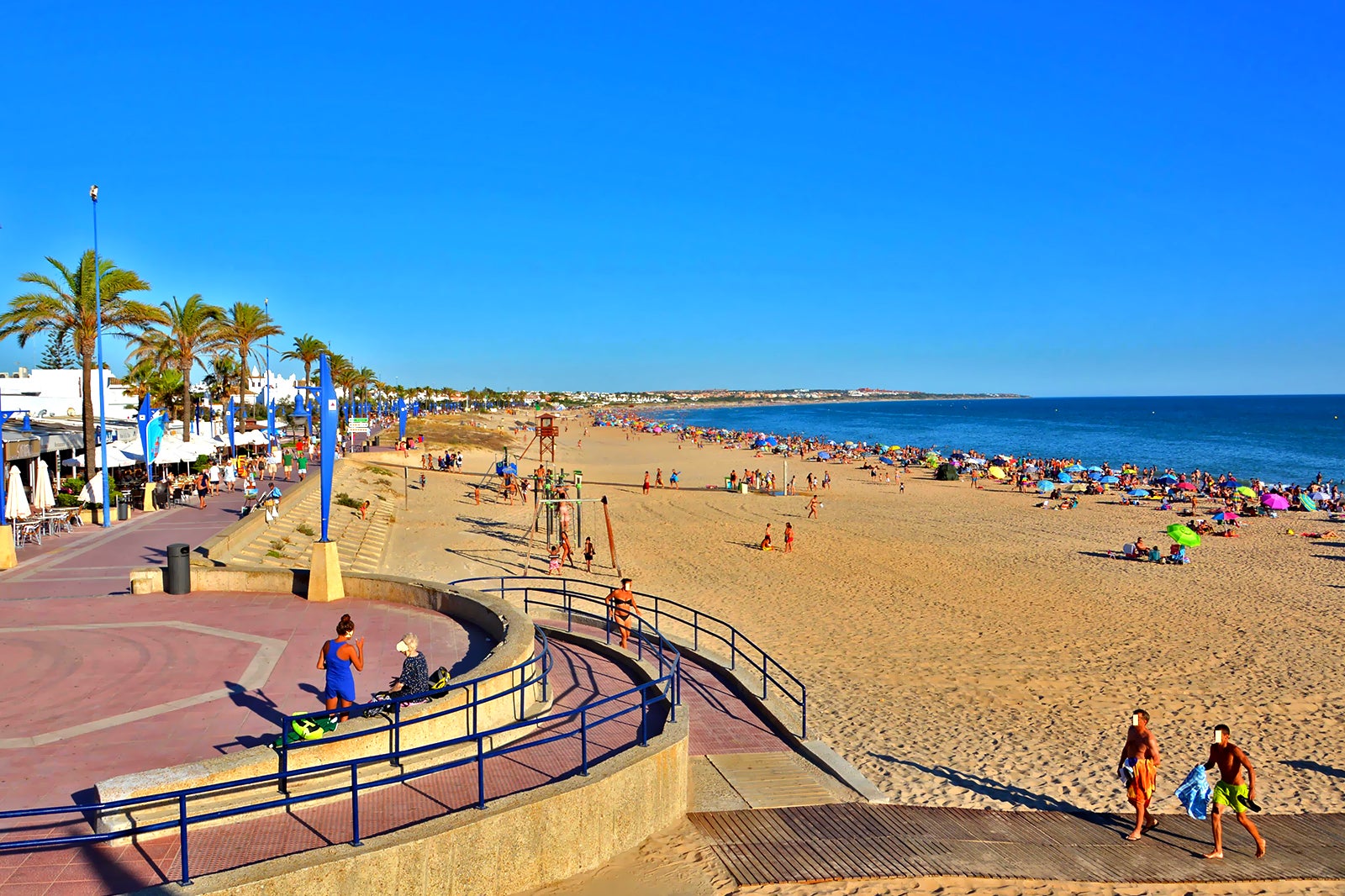 Playa de la Barrosa, Chiclana de la Frontera
Laidback and great for families
This relaxed, family-friendly beach is a bit of a local secret. There are a handful of small cafes and bars scattered along the beach but otherwise, it's nothing but 6 km of soft golden sand backed by dunes and pine trees. The beach was awarded the Blue Flag for its high safety standards and spotless cleanliness.
The sea is shallow and gentle, so even the little ones can swim in comfort. There's plenty of other entertainment for kids too, with a playground near the promenade, water sports facilities, and guided horse rides along the beach.
Location: Calle Maritimo, 4, 11139 Chiclana de la Frontera, Cadiz, Spain
photo by El Ayudante (CC BY-SA 3.0) modified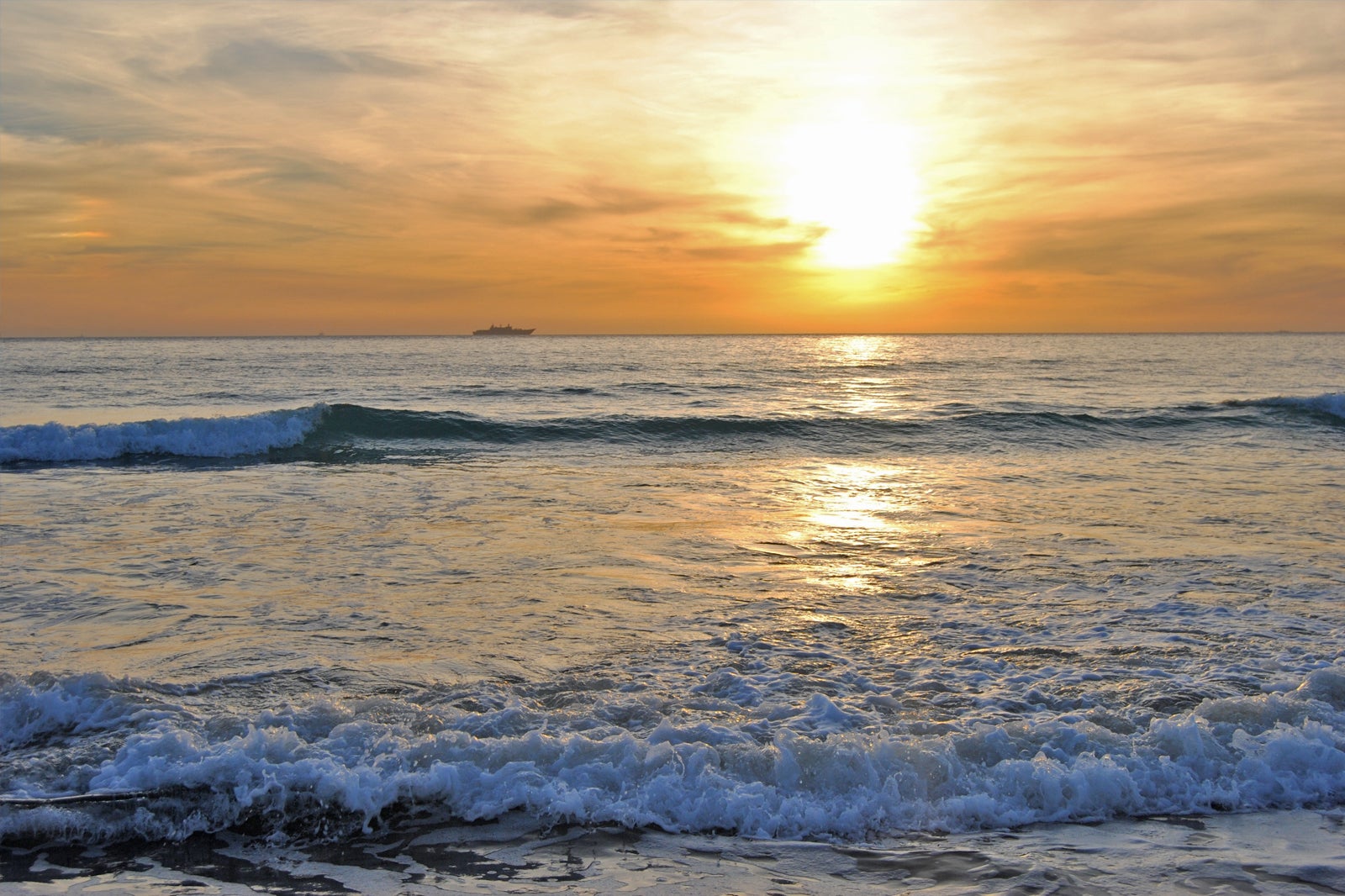 Playa de Zahara, Zahara de los Atunes
Delightful beach with an appeal to cinephiles
The sun-kissed sand and gleaming turquoise seas of Playa de Zahara are reminiscent of the Caribbean. The Atlantic waters here are cooler than those on Andalucia's Mediterranean coast, and refreshing on a hot day. Kids will get a kick out of swimming around the remains of an old steamship sunk about 50 metres offshore.
You can feel safe thanks to a first aid hut and lifeguards patrolling the beach during high season. Playa de Zahara is kitted out with sun loungers and showers, as well as restaurants where you can sample the local bluefin tuna. Uniquely, the beachfront also has an open-air cinema in the warmer months, set up in the atmospheric ruins of Palacio de la Chanca.
Location: Playa de Zahara, Cadiz, Spain
Couples
Families
Adventure
Single
Group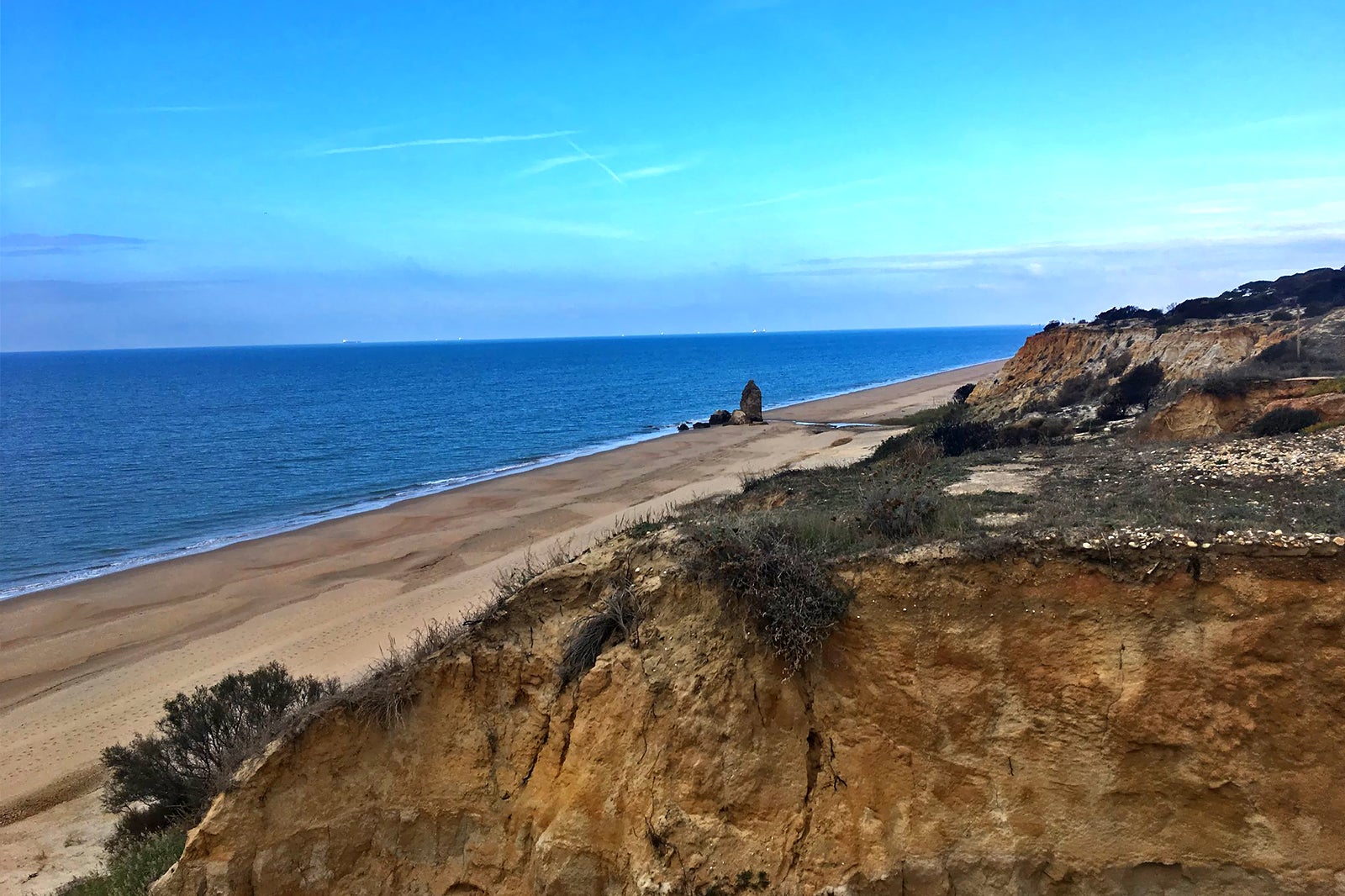 Playa de Castilla, Doñana National Park
Best for getting back to nature
The virgin beach of Playa de Castilla is part of the magnificent, untouched coastline of Doñana National Park. With 20 km of pristine sand backed by sweeping sandstone cliffs, this is the place for some genuine peace and quiet. Often the only other people here are local fishermen, whose catch of the day is cooked and sold in the huts up on the cliffs.
Be prepared to get some exercise, as the beach is 1.5 km from the carpark along a wooden walkway through sand dunes. If you feel like exploring further inland, the national park's hiking trails take you through pine forests where you might spot the local Iberian lynx.
Location: Playa de Castilla, Doñana National Park, Almonte, Huelva, Spain
photo by Miguel López Cano (CC BY 2.0) modified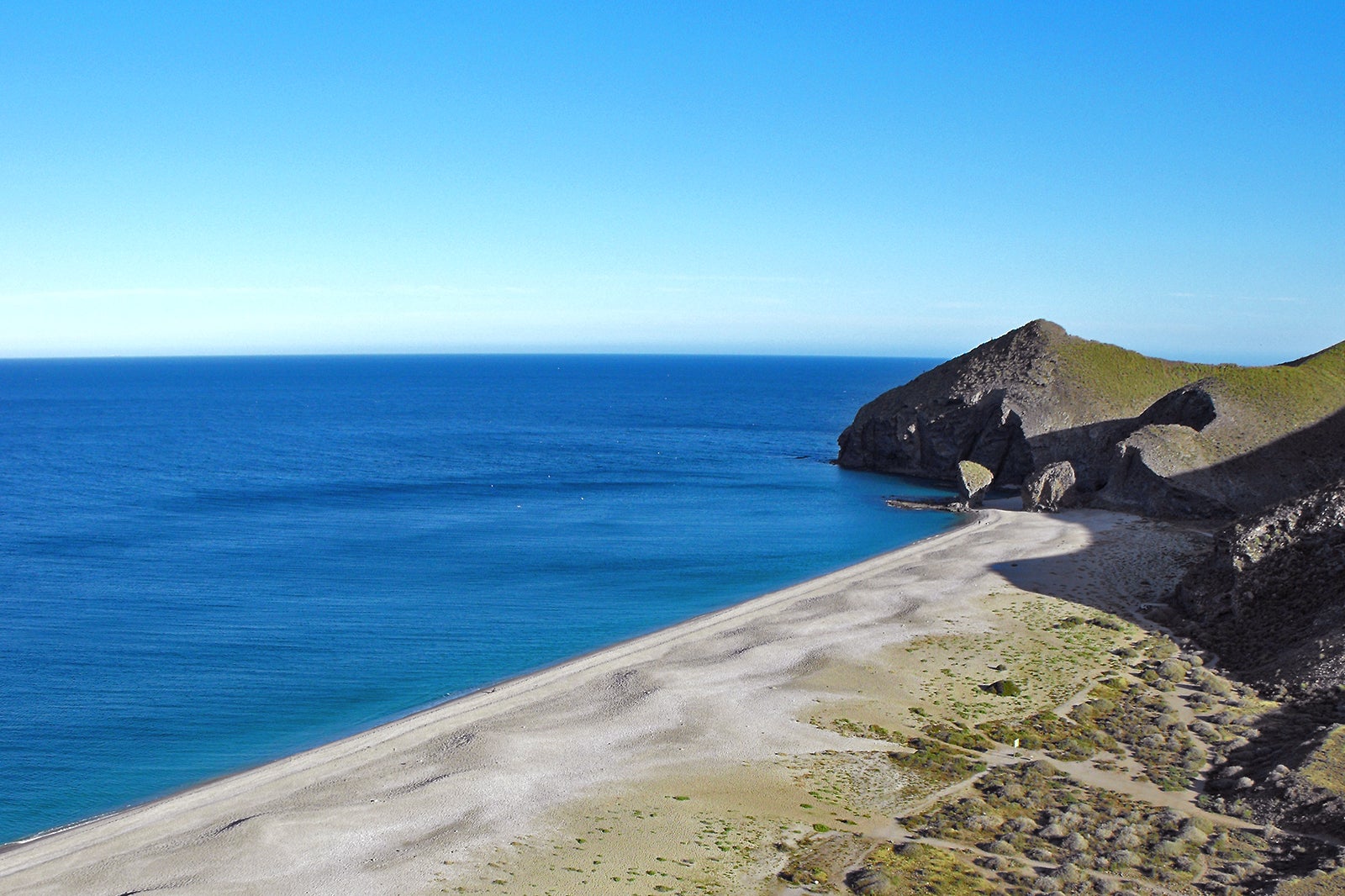 Playa de los Muertos, Almeria
An isolated beach at the bottom of a rocky descent
The 'Beach of the Dead' could have been named for the dead straight line of the shore, which stretches like a ruler between craggy black rocks at either end. The 15-minute descent from the carpark can be steep and rocky in places, but your efforts will be rewarded with fine white sand and sparkling seas that regularly appear on Almeria's postcards.
Don't be surprised to see some of your fellow swimmers going au naturel, as Playa de los Muertos is often mentioned as one of Spain's best nudist beaches. There's little shade here so no matter what you're wearing, a beach parasol is a good idea.
Location: Playa de los Muertos, 04149 Carboneras, Almeria, Spain
Playa de Bolonia, Tarifa
Family-friendly beach with Roman ruins
Playa de Bolonia is a favourite with Spanish families for its acres of fine white sand, clear waters and tranquil atmosphere. The small ex-fishing village has a handful of restaurants and beach bars but is otherwise gloriously isolated. Shallow waters and lifeguard huts make Playa de Bolonia a good spot for kids to swim safely.
Just behind the sand dunes are the ruins of Baelo Claudia, one of the best examples of urban Roman architecture in Spain. Several marble statues are on display in the visitor centre, which also explains the trading history of the area. Stand at the edge of the site on a clear day and you can just about make out the coast of Morocco across the strait.
Location: Playa de Bolonia, 11391 Tarifa, Cadiz, Spain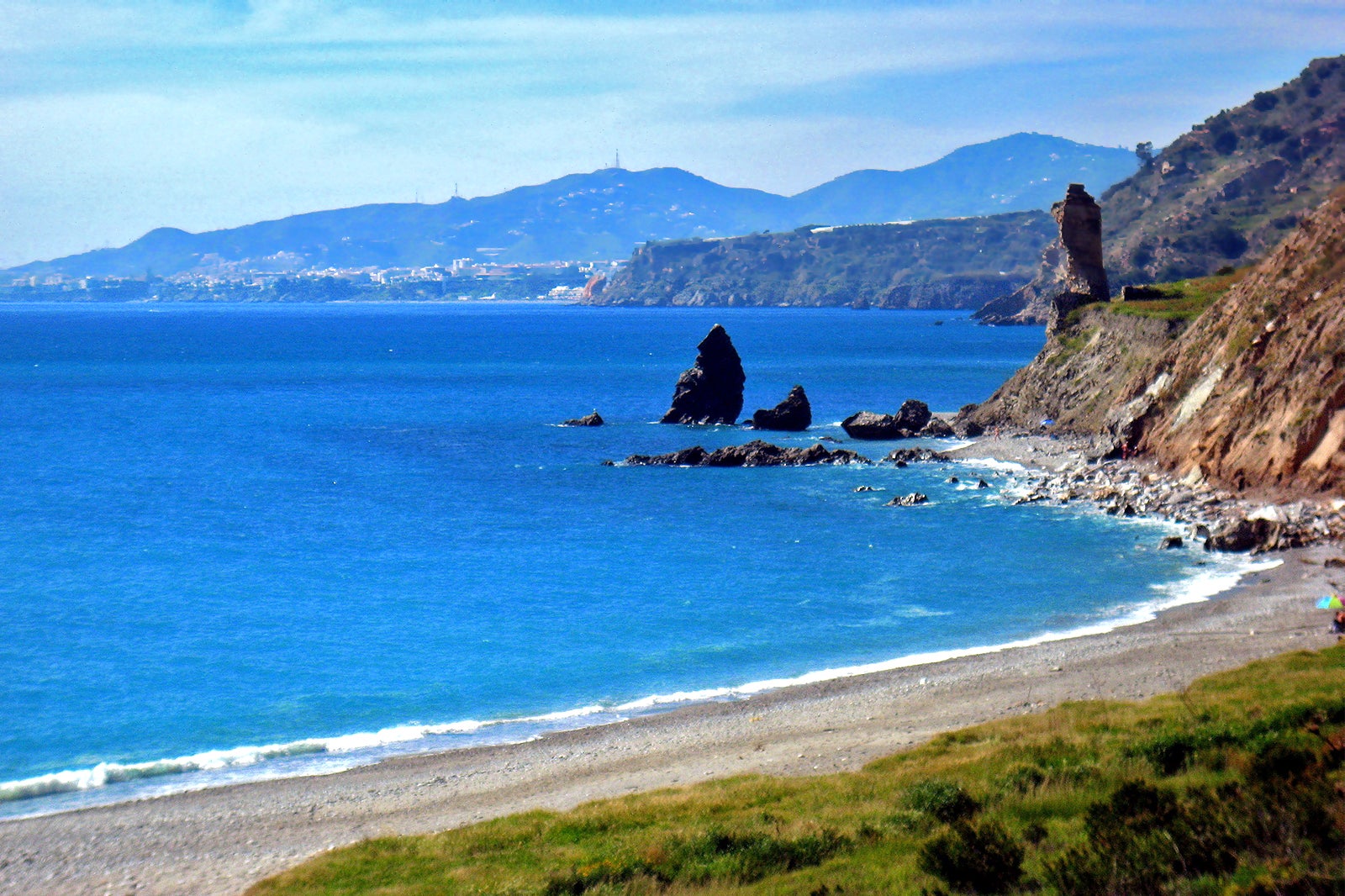 Playa de Maro, Nerja
Best for diving, snorkelling and exploring
Part of a protected zone that does not allow fishing, Playa de Maro has an extraordinary abundance of marine life, which is easily seen in its Evian-clear waters. Snorkelling and diving to see the colourful Mediterranean wrasse are massively popular here, as is hiking up to an ancient Arab watchtower and idling under an umbrella on the coarse-sand beach.
The nearby Nerja caves warrant a visit for their extraordinary rock formations, and they're refreshingly cool on a hot day. There are also plenty of picturesque waterfalls around the cliffs that are best viewed from the sea, either by swimming or on a rented kayak.
Location: Playa de Maro, Spanje, 29787 Nerja, Málaga, Spain
Couples
Photo
Adventure
Single
Group
photo by Cayetano (CC BY-SA 2.0) modified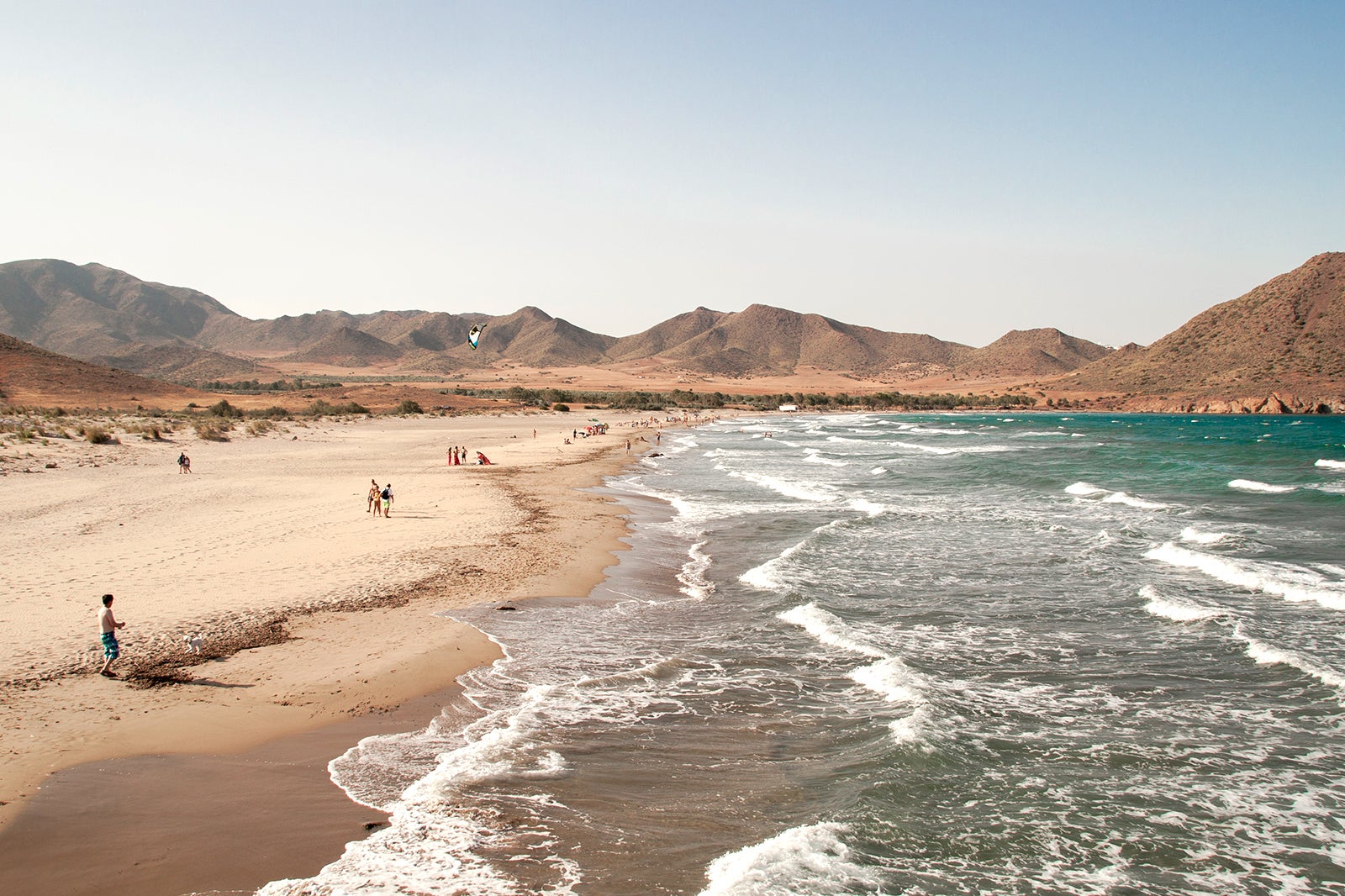 Playa de Cerrillos, Roquetas de Mar
Remote beach near protected wetlands
The vast stretches of sand and grassy dunes at Playa de Cerrillos feel very far from civilization. The beach is 2.6 km long and often deserted even in the middle of summer. It's part of a wetland nature reserve and is a paradise for bird watchers, who come to see cormorants, flamingos and the rare Audouin's gull.
Waves are moderate this far into the Mediterranean which makes it pleasant for swimming, and there's an area fenced off for nudists if you want to work on your full-body tan. There are no facilities here, so come prepared with sunscreen, food and plenty of water.
Location: Playa de Cerrillos, 04740 Roquetas de Mar, Almeria, Spain
photo by Kevin Pacheco (CC BY-SA 2.0) modified