10 Best Tours in Qatar
Popular Activities in Qatar You Can Book Today
Steeped in tradition yet awash with modern extravagance, Qatar is a captivating blend of old and new. Ancient Arabic culture continues to thrive here, best experienced on a stroll through exotic souqs or on a sunset camel ride between the dunes. If you'd rather embrace its economic excess, then upscale restaurants and glitzy hotels abound through the futuristic city of Doha and manmade islands of The Pearl-Qatar.
Relatively few visitors find themselves in this oil-rich Arab state (at least, compared to it's more famous neighbours), but that's all set to change once the FIFA 2022 World Cup kicks off. So check out the exciting things you can do over the dunes and beyond – before the crowds take over – with these best tours in Qatar.
1
Road to FIFA Qatar 2022
A stadium tour of Doha's World Cup treasures
Count down to the World Cup in style by gazing upon Doha's mindboggling new stadiums firsthand. One for the true football fanatic or architecture aficionado, an expert guide will explain the monumental construction process as you obtain a full appreciation of these modern-day marvels.
The itinerary takes in the top 4 custom-built city stadiums: the floating Ras Abu Aboud Stadium which will be engulfed by a glistening waterfront; the intricate Al Thumama Stadium which will resemble a traditional Taqiyah cap; the majestic Khalifa Stadium which will serve as the epicentre of Sports City; and the world-famous Al-Janoub Stadium which will feature the first-ever stadium-wide air-conditioning system.
Duration: 4 hours
photo by Matt Kieffer (CC BY-SA 2.0) modified
2
Doha: 5-Hour Safari, Camel Ride, Sandboarding & Inland Sea
A half-day desert foray with a dash of adrenaline
Enjoy a fun-filled taste of Qatar's jaw-dropping desert landscapes through this 5-hour tour. Get ready to leave Doha's ultramodern cityscape behind as you venture deep into the dunes in a 4-wheel-drive. Upon arriving at a traditional Arabian desert camp, you'll hop on the back of a camel for a Lawrence of Arabia-style ride through the desert.
Next, you'd best buckle up as your highly skilled driver takes you on a hair-raising dune-bashing ride. If these death-defying stunts weren't terrifying enough, you'll get the chance to try your hand at sandboarding down a towering dune. The day concludes with a stop off at the Khor Al Adaid inland sea, the ideal spot to relax and take a few desert pics.
Duration: 5 hours
3
Qatar Islamic Heritage Exploration Tour
The best of Qatari culture
If you'd like to learn more about Qatari culture, this is certainly the tour for you as it takes in Doha's most esteemed religious, cultural, and historic institutions. The epicentre of Qatari faith is the majestic National Mosque. Spanning a whopping 19,500 sq m, it's the biggest mosque in the country and can host up to 30,000 worshippers come prayer time. Although not quite as large, you'll also get to visit the Fanar Mosque, which is equally impressive for its spiralling minaret – the tallest in Qatar and a postcard-worthy attraction.
You'll stroll through the labyrinthine streets of the Souq Waqif market as you savour its exotic sights, smells, and sounds. To cap off the day, a trip through the Museum of Islamic Arts showcases some of the most beautiful artwork from across the Arabic world.
Duration: 4 hours
4
Delights of Doha and City Tour
All the city highlights in a 1-day tour
For the best of Doha in 1 afternoon, this half-day tour encompasses all the essential highlights. Those who've always dreamed of living among the financial elite will love visiting The Pearl-Qatar: a dazzling array of luxury islands built entirely from reclaimed land. The exclusive estate is packed full of some of the world's most prestigious residences and restaurants.
Next, strolling along the waterfront promenade of the Corniche lets you savour the city's towering skyline as you enjoy views of the glimmering bay. You'll then drop into the Katara Cultural Village, where the country's fascinating architecture and history sit proudly on display in a stunning waterfront setting. And finally, a detour via the enormous National Mosque showcases the best of Islamic architecture in Qatar.
Duration: 4-6 hours
5
Full-Day Desert Safari Tour
An extensive desert adventure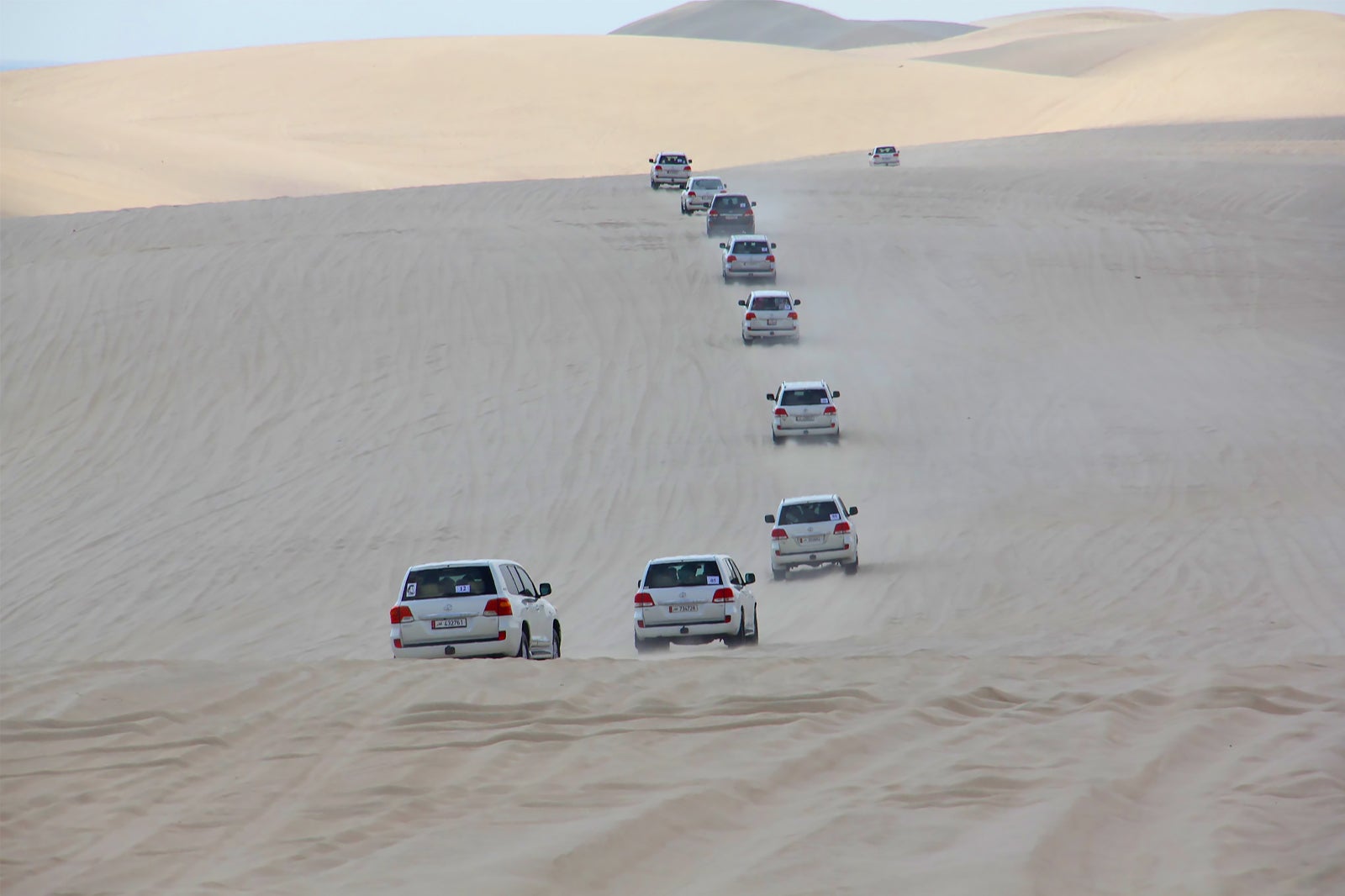 Would-be desert dwellers with a full day to spare will love this tour, which provides plenty of time to absorb the natural beauty of this tremendous sandy expanse. The trip begins with white-knuckle action, as your highly trained driver takes you on a hair-raising dune-bashing excursion. Sandboarding downhill brings extra thrills, although more subdued camel riding is available, too.
You'll also enjoy a tranquil visit to the scenic Khor Al Adaid inland sea on the border with Saudi Arabia, which transforms into a glimmering oasis at high tide. A local lunch or dinner is provided in a traditional Arabian desert camp. Those on the afternoon tour will also get to watch the sunset over the dunes.
Duration: 8 hours
6
Sunset Dhow Cruise with Doha Corniche Walk
Sublime sailing and sunset city views
Enjoy Doha's principal promenade on a walking tour of the Corniche, which includes a dhow cruise around the bay. Stretching for about 7 km along the shoreline, the attractive waterfront walkway is a popular spot for locals to mingle in the evening as the temperature starts to cool. Come nighttime, it's also a great place to admire the dazzling light display of Doha's ultramodern skyline.
Jumping aboard a traditional Qatari dhow is a pleasant way to experience ancient local traditions. The beautifully decorated vessel will cruise the bay around the Corniche at sunset, ensuring you'll enjoy nothing but the most photogenic panoramas of the city.
Duration: 2 hours
7
Doha: Sunset Desert Safari with Camel Ride and Sandboarding
Adrenaline-fuelled desert adventures with a sunset
Departing mid-afternoon, this is the half-day desert tour of choice for travellers seeking a pretty sunset to complement their sandy escapades. But it's certainly not for the faint-hearted, for the action-packed excursion begins with a heart-thumping dune-bashing ride courtesy of your highly trained and mildly insane daredevil driver.
You'll get the chance to try your hand at sandboarding down the desert's most daunting dunes, while a camelback ride offers a more relaxed way to soak up the sights. Finally, as the sun sets over the horizon, you'll take in the colourful display from the shores of the tranquil Khor Al Adaid inland sea.
Duration: 5 hours
8
Over Night Desert Safari Tour
Sleep in a traditional desert camp for an unforgettable Arabian experience
Ever yearned for dreamy Arabian nights as you gaze out at the stars? Then you need to book yourself an overnight desert safari in Qatar – an enchanting 2-day journey to experience the serenity of the desert during the dead of night.
The tour includes all the usual daytime desert tour activities: sandboarding, dune-bashing, camel riding, and watching the sunset over the beautiful Khor Al Adaid inland sea. Rather than heading home come nightfall, you'll savour a delicious barbeque dinner cooked by the friendly inhabitants of a far-flung Bedouin desert camp. Enjoy traditional music from live performers around a bonfire before drifting off to sleep.
Duration: 19 hours
9
Private Tour Katara Cultural Village in Doha
Discover Qatar's fascinating history, arts, and culture
For a taste of Qatari culture, treat yourself to a private tour of the Katara Cultural Village. Since opening in 2010, the central Doha institution has become a 1-stop destination for Qatar's eclectic arts, culture, and history scene. A rotating roster of exciting events such as exhibitions, carnivals, concerts, and symposiums ensure no 2 visits are ever the same.
The tour takes in the most impressive architecture, which combines the techniques of old. Landmarks include the Katara Amphitheatre, a blend between ancient Islamic and Greek styles, and the Opera House with its mix of Asian influences and 19th-century European design. Naturally, you'll get the chance to enjoy a spot of souvenir shopping at the open-air Katara Plaza Mall.
Duration: 2 hours
10
Doha and Al Wakrah Souq Tour
A shopping tour with a traditional twist
Shopping doesn't get much more exotic than Doha's bustling souqs, the best of which you'll visit on this exciting half-day tour. Situated near the picture-perfect waterfront of the Corniche, Souq Waqif is famed for its bustling labyrinth-like alleyways. Traditionally dressed merchants tout goods such as spices, perfumes, and textiles, while some specialise in live falcons to cater to the avid bird collectors among the Qatari ruling class.
South of the city centre lies Al Wakrah Souq, which you might also find called Al Wakrah Heritage Village for its adherence to ancient Qatari culture. Fresh fish and camels are flogged off at this odorous affair, also making it a fabulous spot to snap some pictures of traditional Qatari life.
Duration: 4 hours
Back to top