23 Best Things to Do in Cebu
What is Cebu Famous For?
Our list of the best things to do in Cebu has something for most visitors to this tropical beach destination in the central part of the Philippines. The province of Cebu belongs to the Visayas region and features no less than 168 islands and islets. It should come as no surprise that Cebu is a prime beach holiday destination and most of the things to do gravitate around sun, sea, and sand.
From stunning waterfalls to historical landmarks, and from religious sites to pristine beaches, Cebu's most popular attractions will spice up your holiday in this warm and relaxing area of the Philippines.
What are the best things to do in Cebu?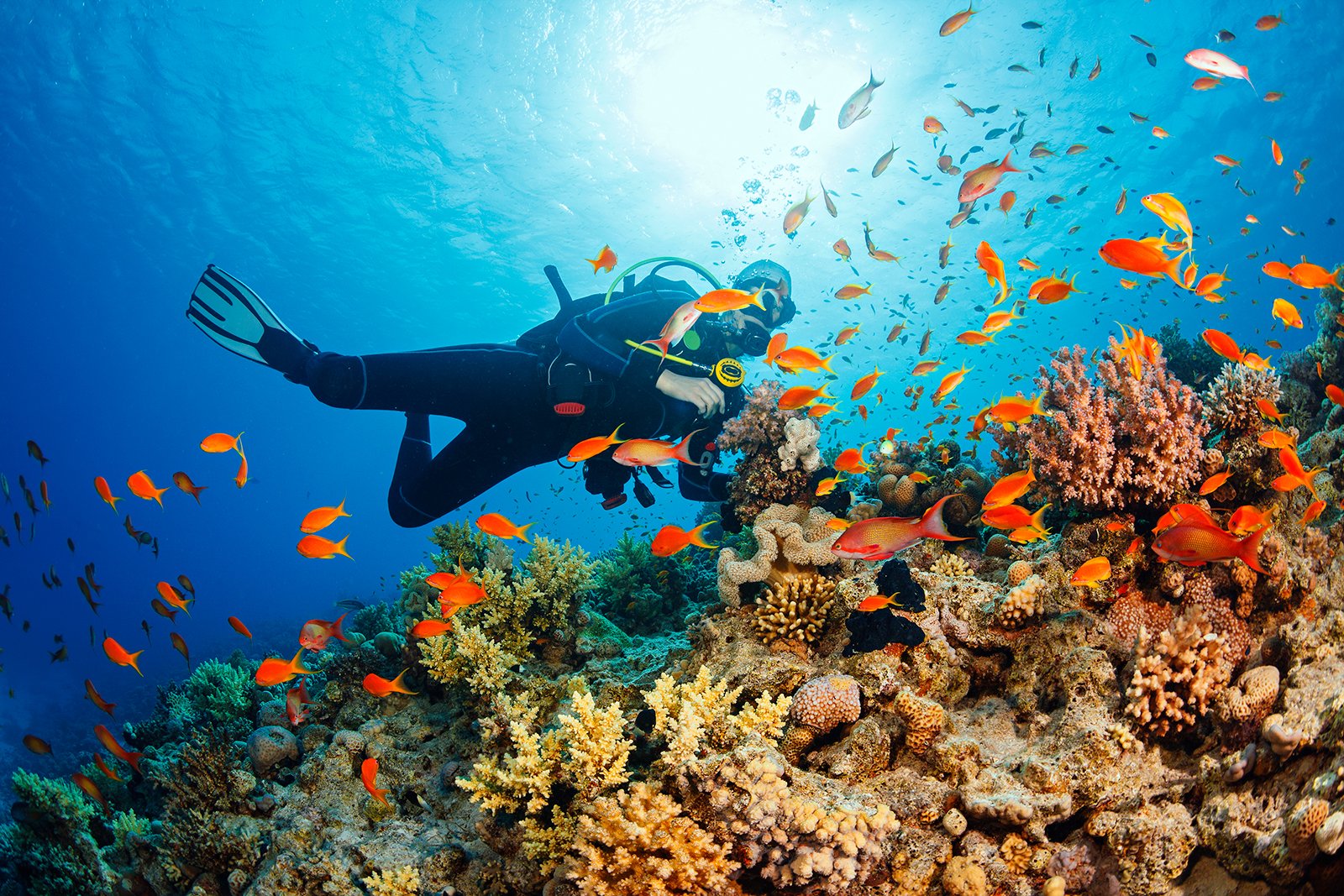 Scuba diving or snorkelling
Scuba diving and snorkelling are 2 prime activities in the Cebu Province. Most of the islands that compose this area are surrounded by crystal-clear warm waters which house an impressive marine life, including large species such as manta rays, whale sharks, and the rare thresher shark.
Dive sites such as Monad Shoal near Malapascua Island, Pescador Island near Moalboal and Kansantik in the Olango Channel have gained an international reputation, and many dive centres in Cebu and nearby islands run daily diving excursions.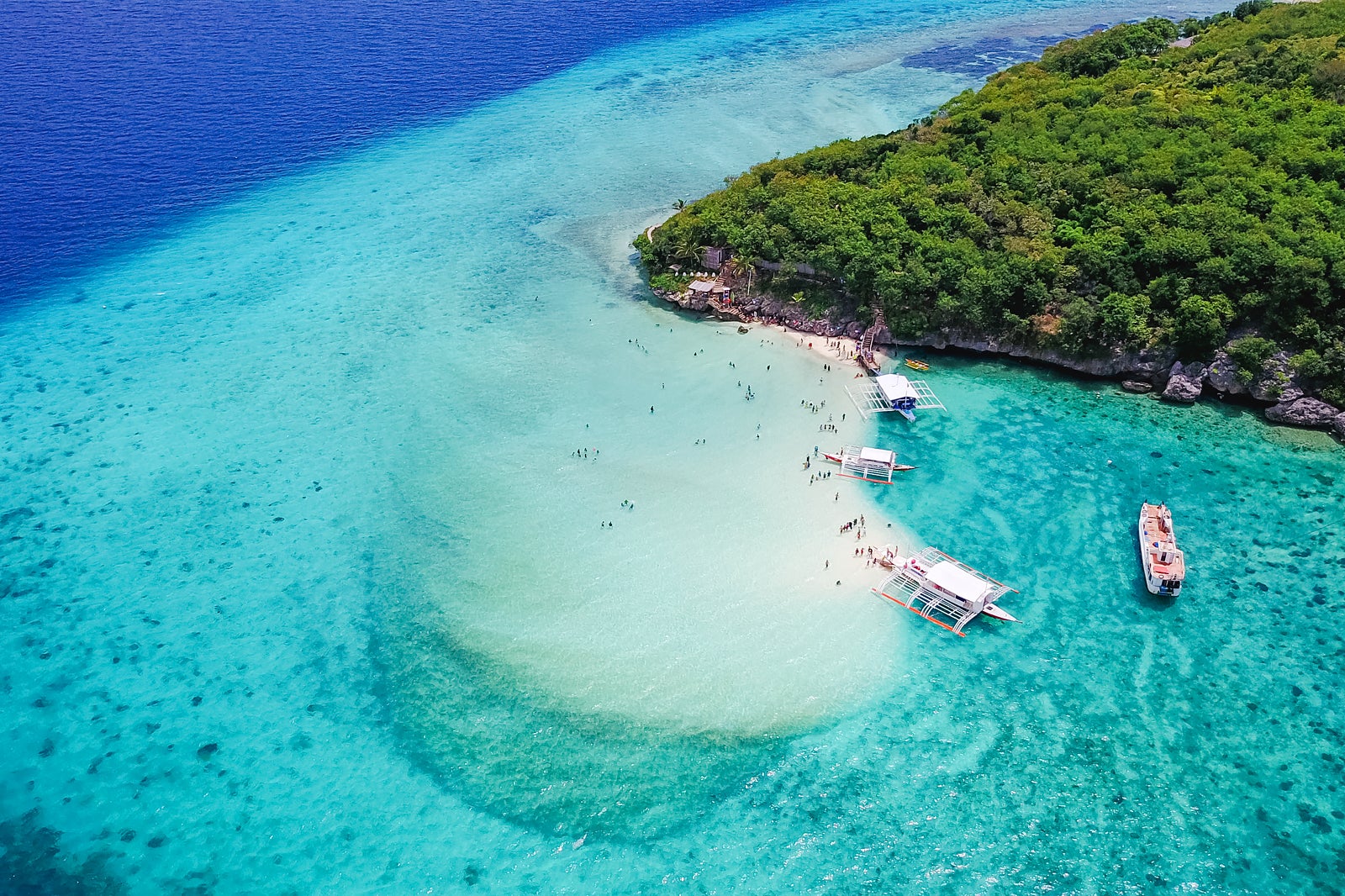 In a province that counts 168 islands, boarding a boat for a day of island hopping is one of the most popular things to do in Cebu. Whether you stay on Cebu, Mactan, Malapascua, Bantayan, or any other island nearby, there's always an island-hopping day trip at hand from where you are.
Pescador Island is the main day trip destination from Moalboal, while Dakit-Dakit, Biliran, and Kalanggaman islands are three great island-hopping destinations from Malapascua Island. If discovering soft sand beaches lapped by turquoise waters is your idea of a successful holiday, then Cebu Province delivers.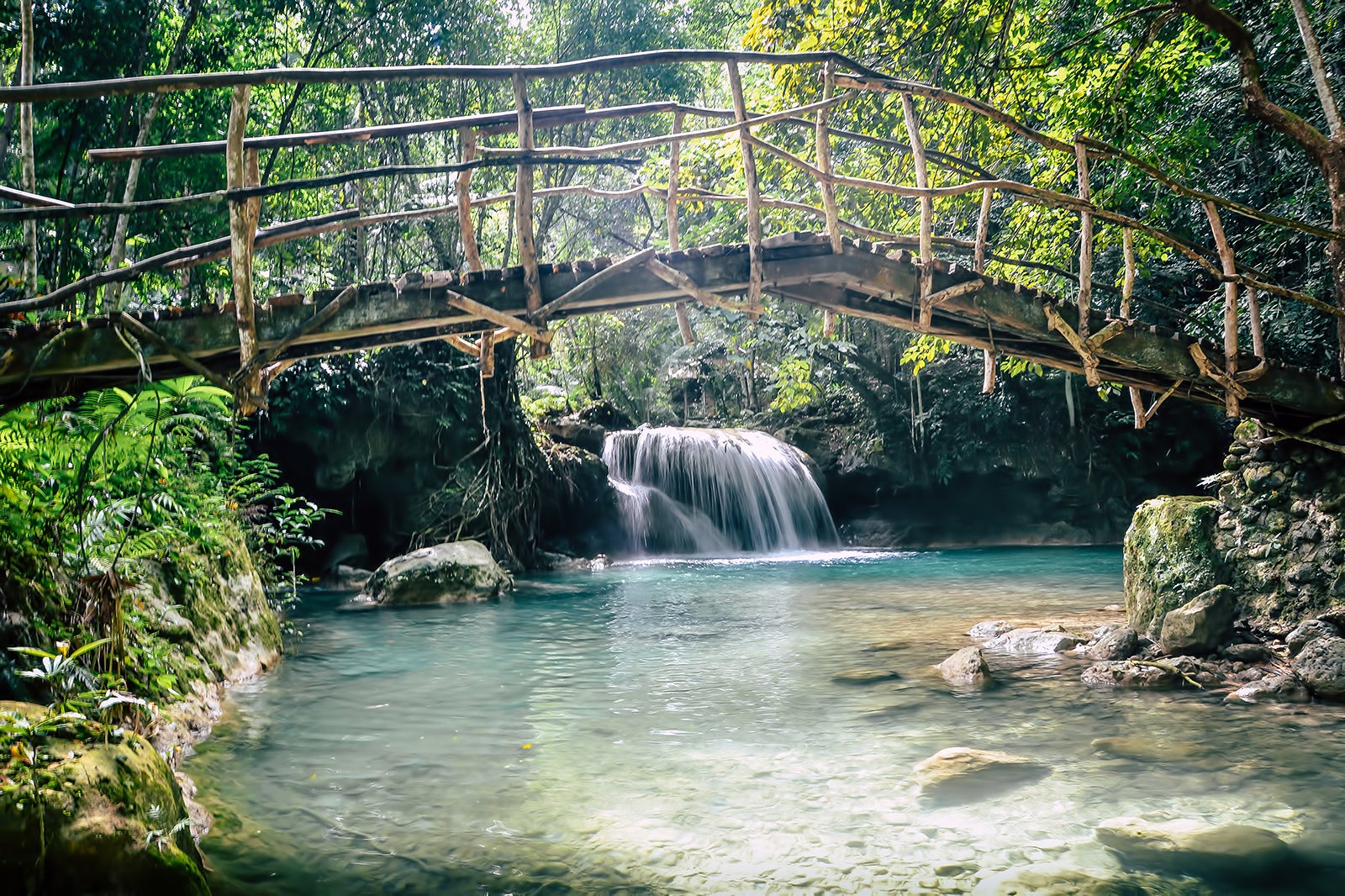 Covering an area of over 4,000 sq km, Cebu Island features rugged mountain areas and limestone plateaus to the north and south of Metro Cebu.
You can find more than 90 waterfalls in the thick jungle around Cebu. A few of them have become famous: Tumalog Falls near Oslob, Kawasan Falls near Moalboal, Aguinid Falls near Samboan, and another Kawasan Falls in Badian Island, near Malapascua Island. Organised tours and guides are available to help you access these stunning waterfalls.
Couples
Families
Budget
Adventure
Group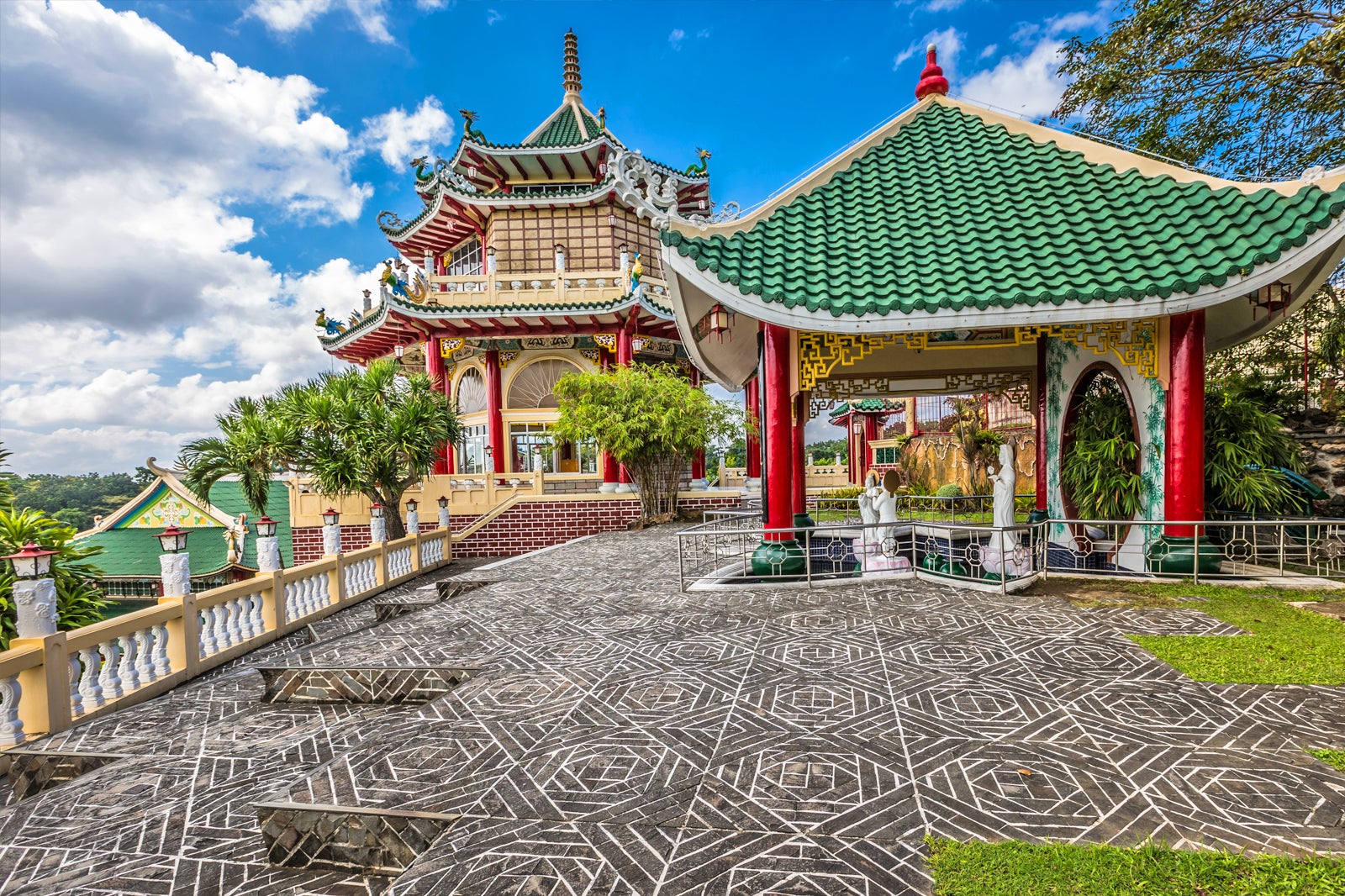 Visit sacred and religious sites
The long and hectic history of the Philippines started in Cebu, which was the first European settlement in the country. The different nations that occupied or simply visited the country since the 16th century have left a lot of sacred and religious sites in the province of Cebu.
From the Basilica del Santo Nino on Osmena Boulevard to the Taoist Temple in Beverly Hills, and from the Monastery of the Holy Eucharist in Simala to the Chapel of San Pedro Calungsod on Cebu South Road, you'll find a wide range of religious edifices on Cebu.
Couples
History
Photo
Budget
Group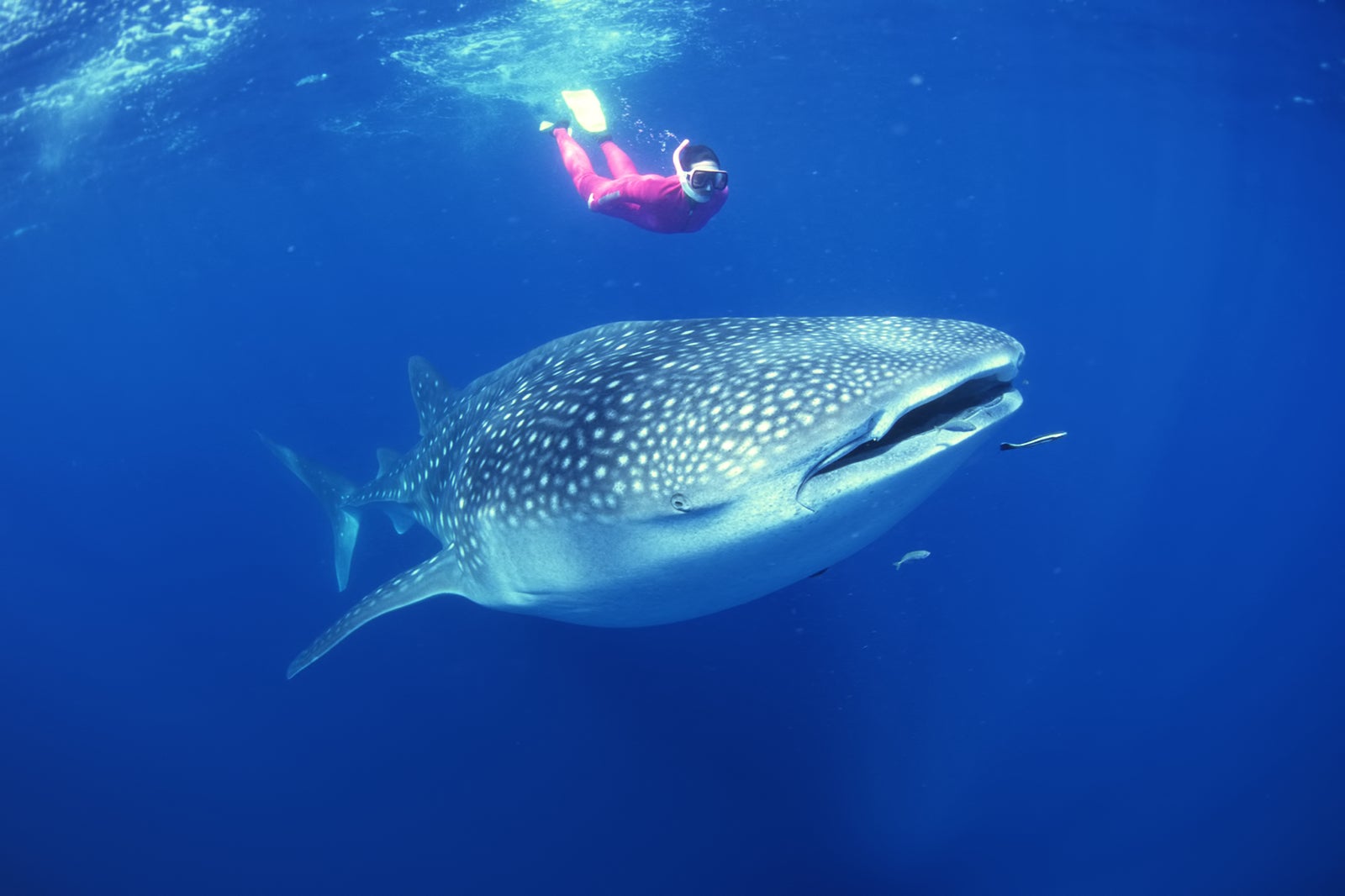 Go dolphin and whale watching
Dolphin and whale watching are very popular attractions in Cebu. Located on the southeastern coast of Cebu Island, Oslob is the prime destination to go whale shark watching, while Moalboal – on the southeast coast of Cebu Island – is famous for its dolphin watching day trips.
The Cebu Strait between Cebu and Bohol Islands is home to plenty of large pelagic species. Thankfully, most tour companies try to implement strict rules to ensure the safety and well-being of the animals.
Couples
Families
Photo
Adventure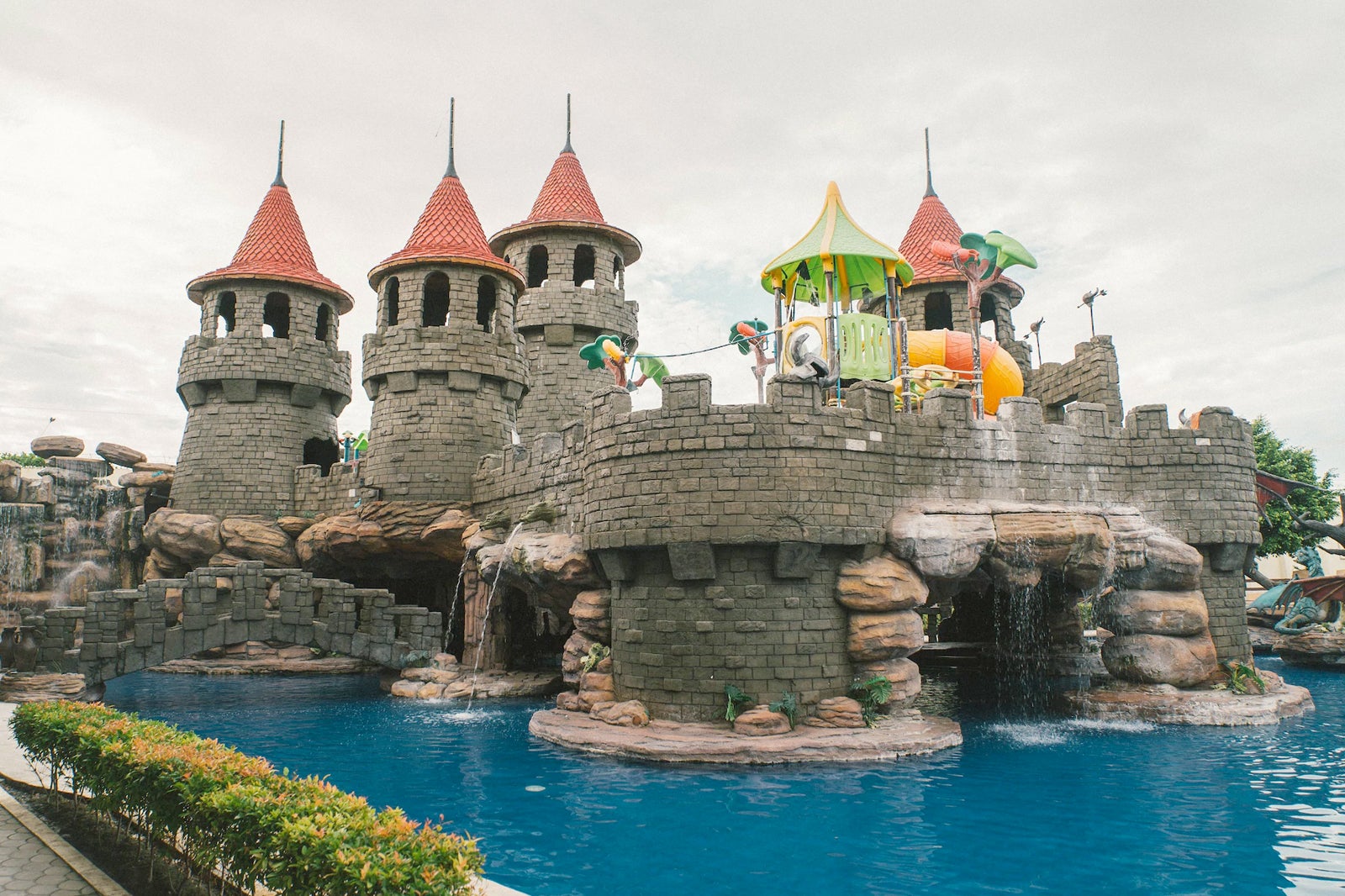 Take the kids to Cebu Westown Lagoon
Located in Mandaue City, just north of Cebu City, Cebu Westown Lagoon is a resort with a water park settled in a large manmade lagoon. It's equipped with giant slides and water fountains, as well as 2 large Jacuzzis for adults to take a break while sipping a cocktail.
Other leisure amenities include Happy Jacqs Café & Bistro, and karaoke with a selection of tracks in English and Tagalog. It's the perfect place to spend the day with your family, or as a base for a longer vacation in Cebu.
Location: FF Cruz Moonlight St, Subangdaku NRA, Mandaue City, 6014 Cebu, Philippines
Phone: +63 (0)977 215 8529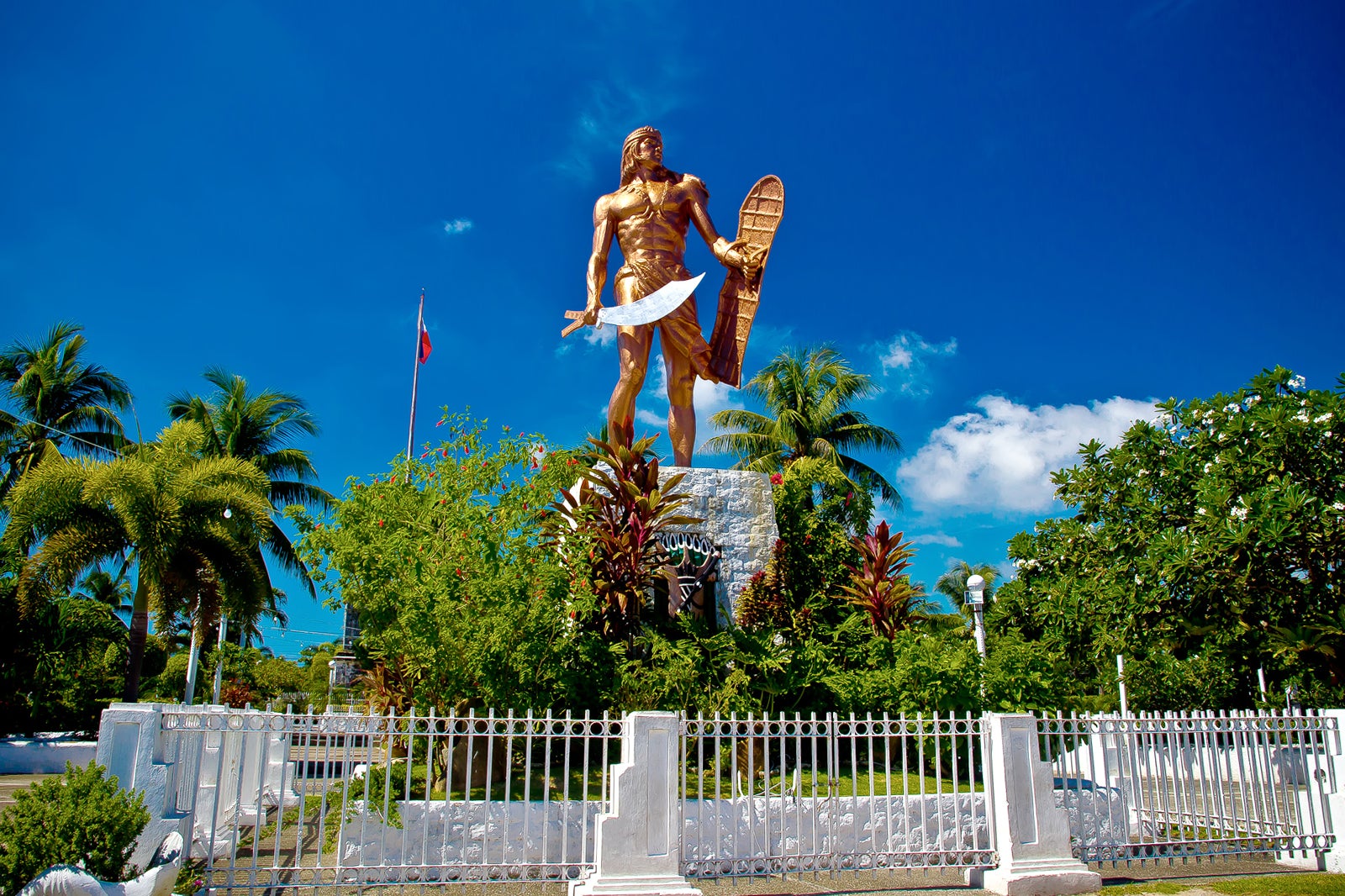 Visit historical landmarks
Cebu was the first island of the Philippines colonized by the Spanish, led by the Portuguese Magellan, during the 16th century. This long and tumultuous history has left plenty of landmarks, many of them located in Cebu City.
From Fort San Pedro to Yap Sandiego Ancestral House, and from Colon Street – the oldest street in the Philippines – to Lapu-Lapu Shrine, there's a great choice of secular historical landmarks to visit in Cebu. If you're pushed for time, there are several museums in Cebu City that explain the history of the region in detail.
photo by Ipepot (CC BY-SA 3.0) modified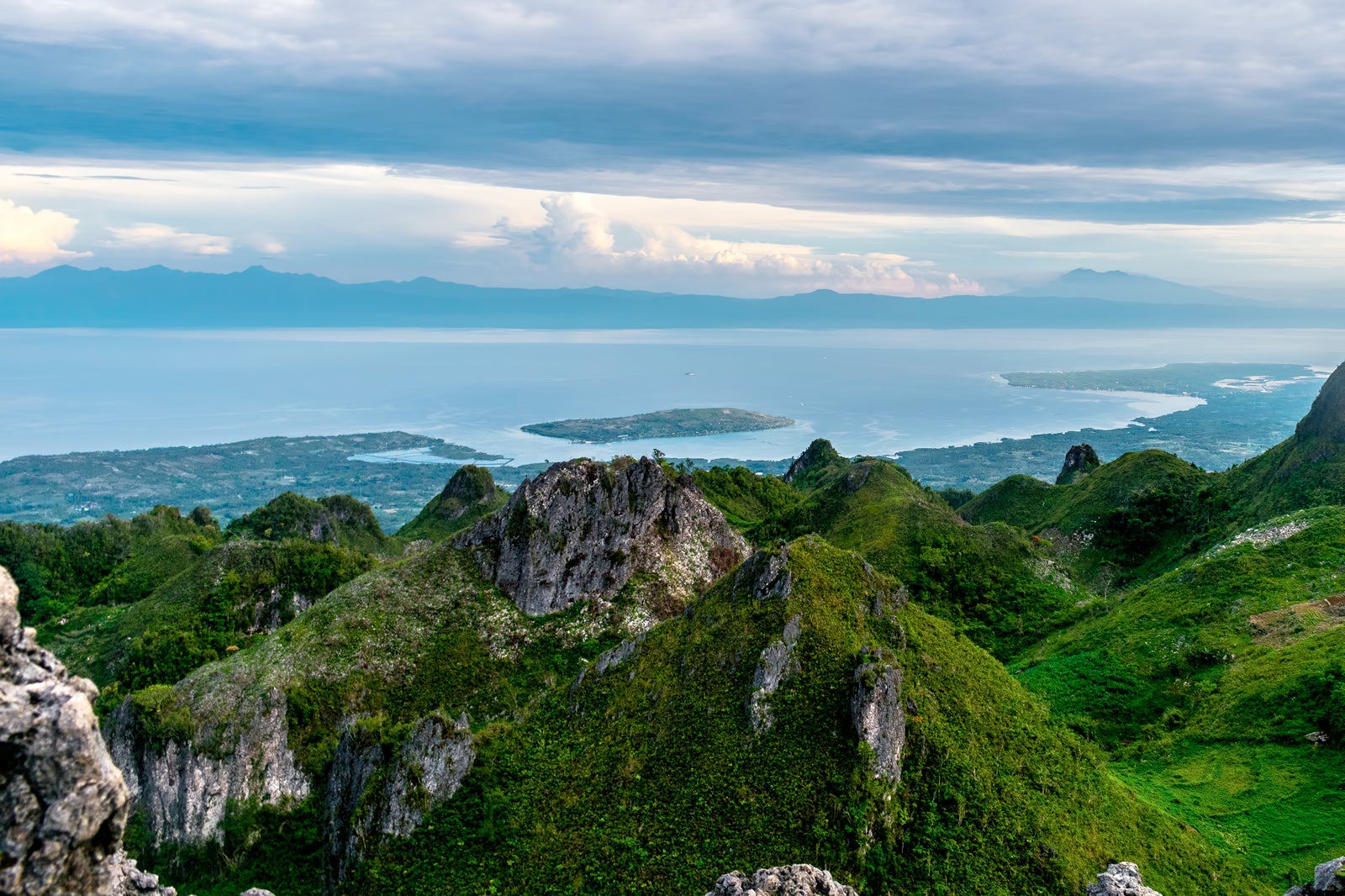 Hike to Cebu's viewpoints
Cebu Island is rather mountainous, which offers visitors a fair deal of viewpoints and observation decks. For instance, you can enjoy panoramic views of Cebu City from Tops Lookout at Busay Hill, and from Mountain View Nature's Park, also on Busay Hill.
Other stunning viewpoints that require serious hiking can be found in the southern part of Cebu. The tallest mountain on the island, Osmena Peak, is located in Dalaguete municipality, some 90 km south of Cebu City. Tours to this summit and many others throughout the island are readily available.
photo by Tyrll Adolf Itong (CC BY-SA 4.0) modified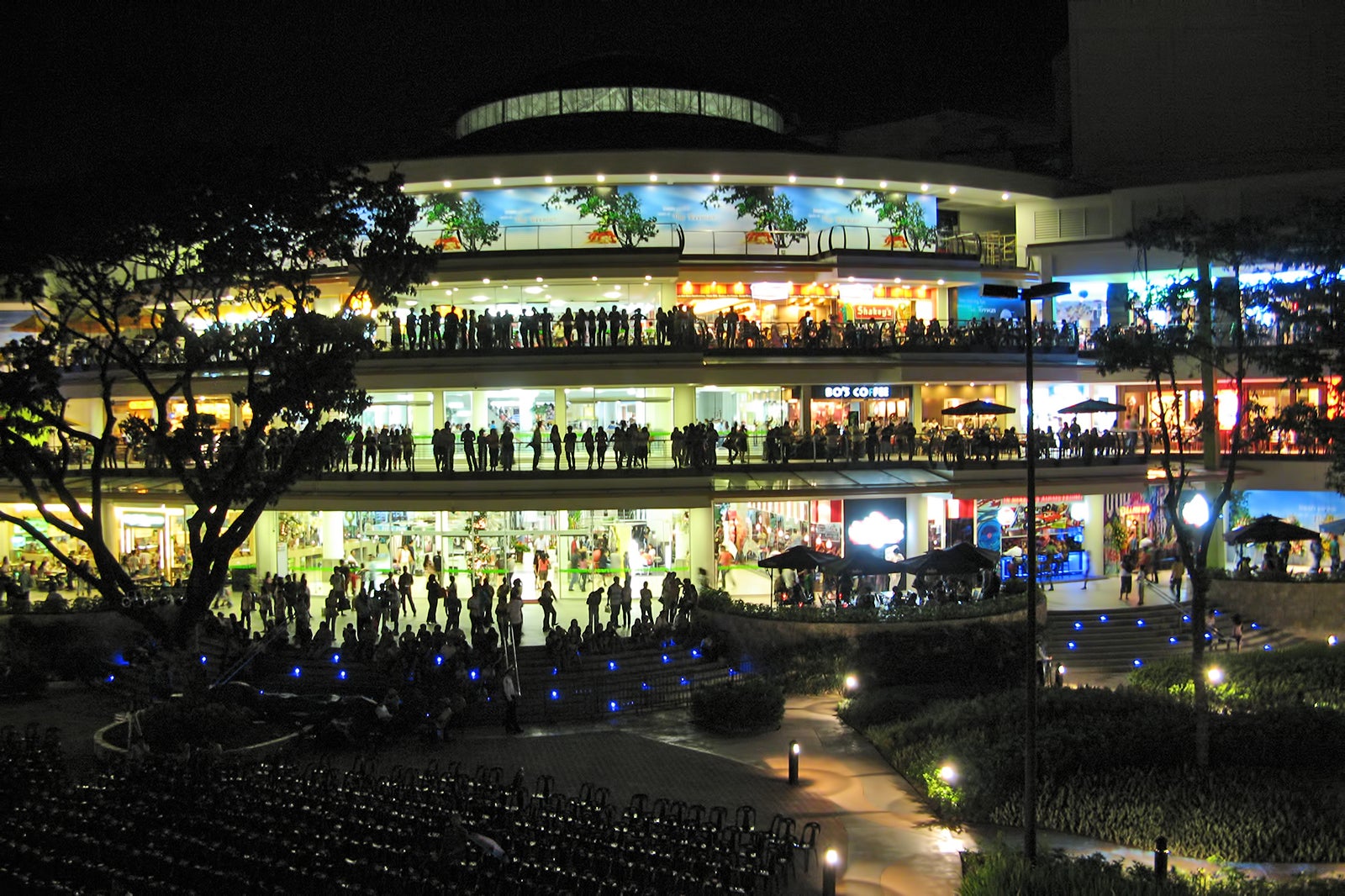 Shop and dine at Ayala Center Cebu
Ayala Center Cebu is a large shopping mall that features all the necessary facilities to spend a pleasant day when it rains in Cebu (it's also good on sunny days). From health and beauty centres to sportswear, and from electronics to brand-name fashion, you'll find a wide selection of goods to browse here.
With a choice between over 40 restaurants, there's no chance you'll starve in Cebu come meal times. Ayala Malls Cinema and other leisure entertainment venues are also at hand for some popular any-weather activities.
Location: Cardinal Rosales Ave, Cebu City, Cebu, Philippines
Open: Daily from 10am to 9pm (open until 10pm on weekends)
Phone: +63 32 888 3777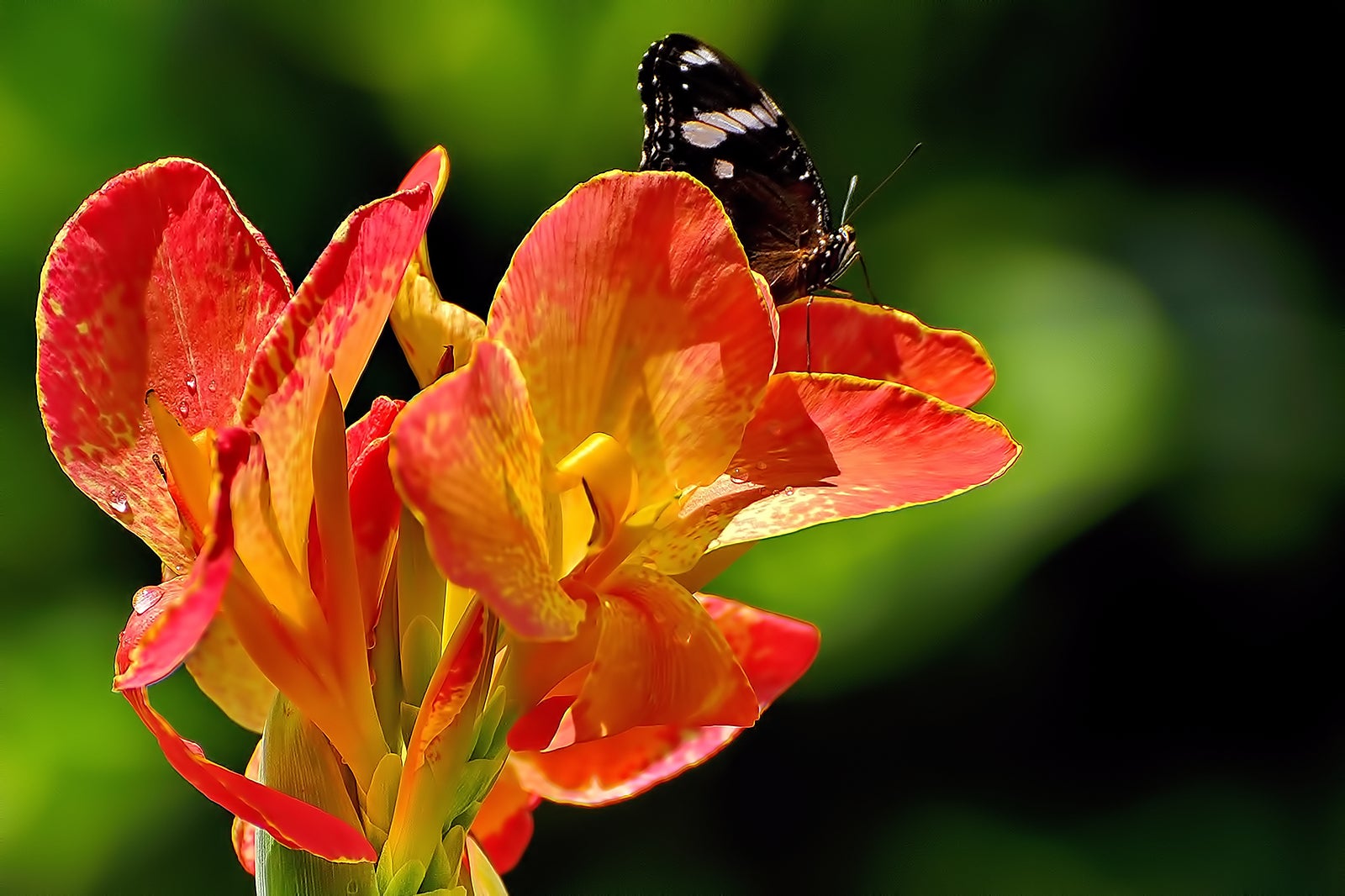 Visit the Terrazas de Flores Botanical Garden
If you're looking for an escape from the hustle and bustle of Cebu City, then Terrazas de Flores Botanical Garden is a great place to breathe some fresh air, discover over 120 species of plants and flowers, and enjoy a meal or simply a drink at this quaint venue.
Settled on the flank of a mountain in Malubog, a 15-minutes drive from Cebu City, you are surrounded by majestic mountain views, enhanced by the terraces covered with colourful flowers and plants.
Location: Cebu Transcentral Hwy, Cebu City, Cebu, Philippines
Open: Daily from 7am to 8pm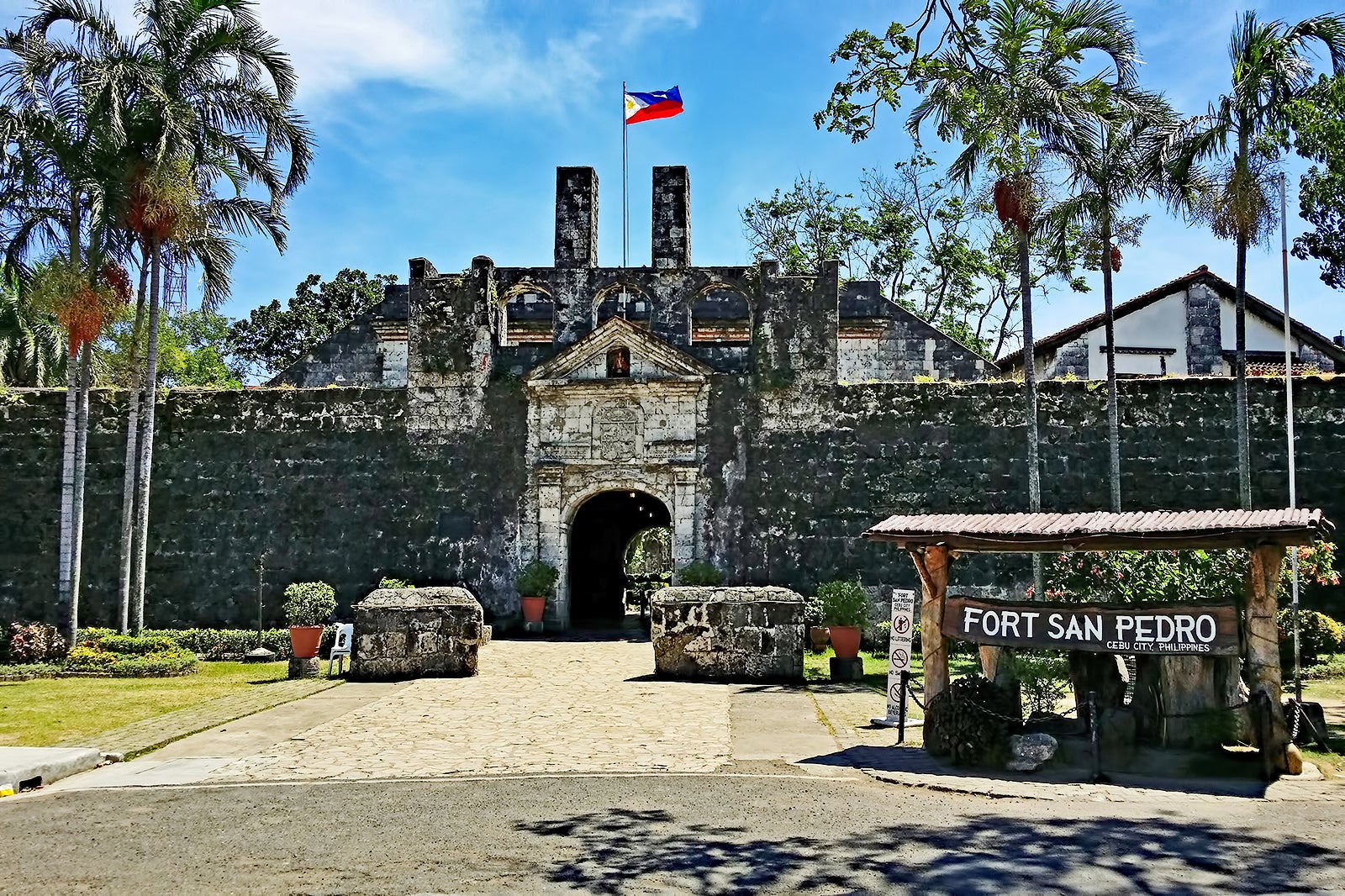 Fort San Pedro was built in 1565 and was the brainchild of the conqueror of the Philippines, Miguel Lopez de Legazpi. The smallest and oldest tri-bastion fort in the country, it's served as an army barracks, a Filipino rebel stronghold, a prison and a city zoo.
It's now a peaceful, crumbling ruin that offers visitors a respite from the chaos of downtown Cebu, especially at sunset. A beautiful structure with walled gardens, it's triangular in shape with two sides facing the sea.
Location: A. Pigafetta Street, Cebu City, 6000 Cebu, Philippines
Open: Daily from 8am to 7pm
Phone: +63 (0)32 256 2284
Couples
Families
History
Photo
Jumalon Butterfly Sanctuary
Jumalon Butterfly Sanctuary is not just a butterfly sanctuary but an art gallery and museum as well. Built in 1974 by local lepidopterist Julian Jumalon, the garden contains 100 butterfly food plant species, around which flutter 50 magnificent types of butterfly.
Guests receive both a tour and lecture on the various stages of the butterflies' lifecycle. The sanctuary also houses a collection of artworks made from butterfly wings. We advise a morning visit and, if possible, between February and June – breeding season.
Location: J.N, Jumalon St, Cebu City, 6000 Cebu, Philippines
Open: Daily from 9am to 5pm
Phone: +63 (0)32 261 6884
photo by William Cho (CC BY-SA 2.0) modified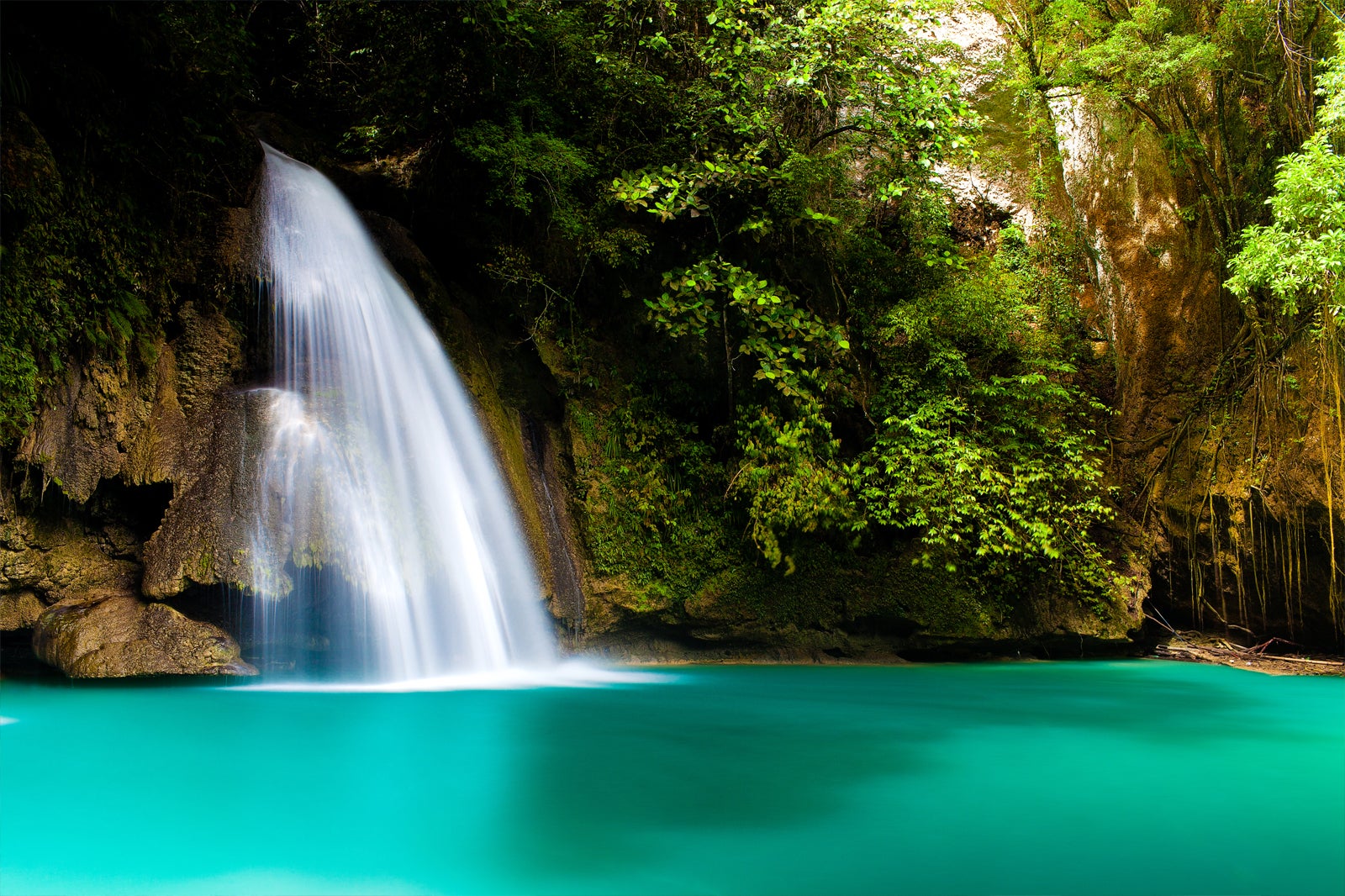 The 3 beautiful Kawasan Falls are near Badian, south of Cebu. When you arrive at Badian, a 15- to 30-minute walk along a narrow and rocky path awaits, which will bring you to this stunning destination once you've crossed 3 small bridges.
Once there you can swim and dive under the waterfalls for the most natural sort of massage. The falls are surrounded by strangely shaped rocks and tropical vegetation that really set the scene here.
Location: Badian, 6031 Cebu, Philippines
Phone: +63 (0)918 654 4111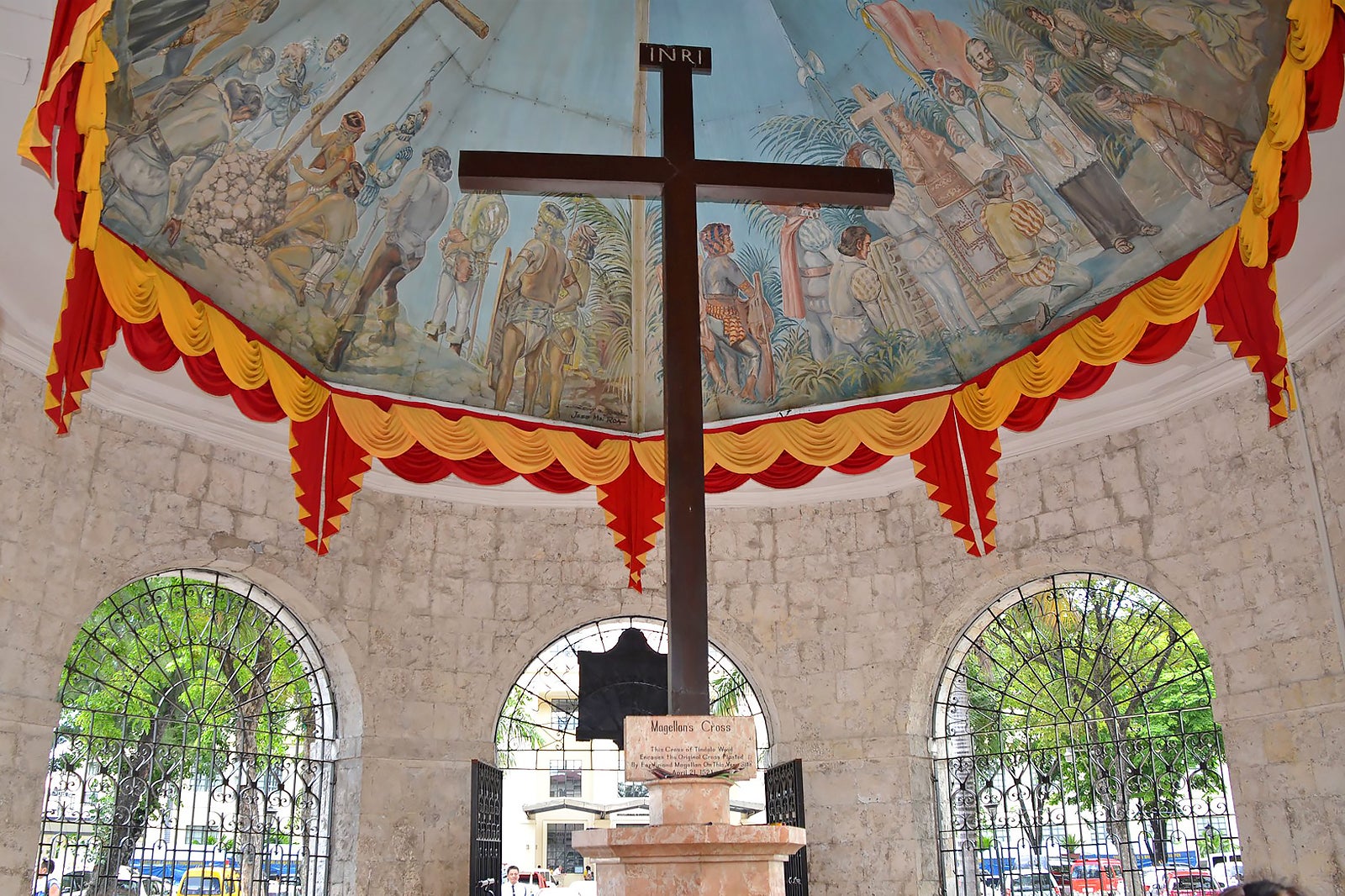 Magellan's Cross was erected by the Spanish and Portuguese in 1521 and is among the Philippines' more revered Catholic attractions. It's situated across the way from Cebu City Hall and is considered to be the most important religious relic after the Santa Niño. Essentially, the Cross of Magellan symbolises the beginning of Christianity in the Philippines.
Location: P. Burgos St, Cebu City, Cebu, Philippines
Open: Daily from 8am to 6pm
photo by shankar s. (CC BY 2.0) modified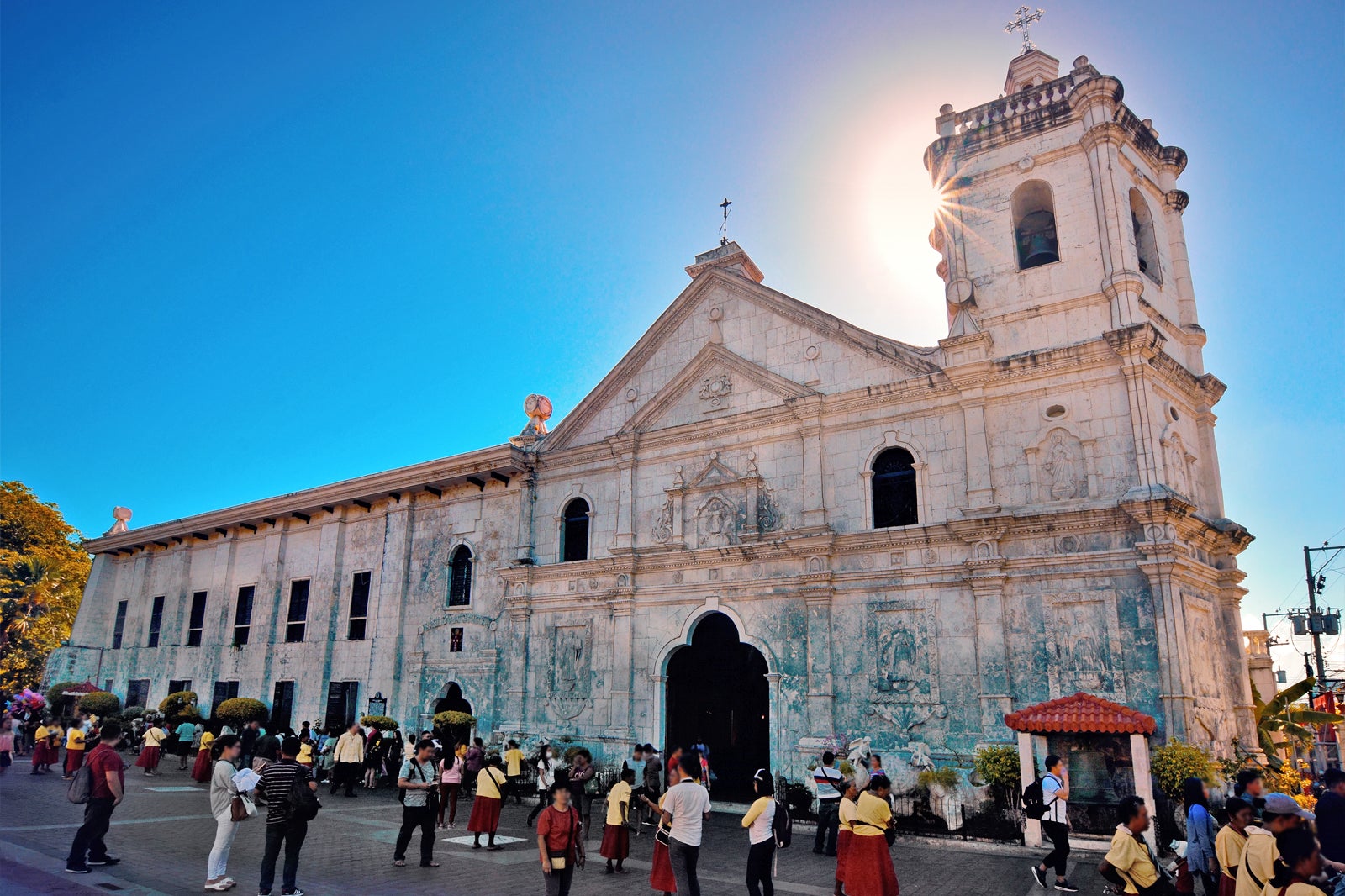 Basilica Minore del Santo Niño de Cebu is one of the oldest churches in the Philippines, which houses one of the country's oldest relics. Santo Niño is a carving of a young Jesus, depicted as a black child, dating back to the 16th century. The church was founded by an Augustine priest named Andres de Urdaneta in 1569. Having burnt down 3 times, it was rebuilt in its current form in 1737.
Inside, there's a small museum about Christianity in Cebu and the ceiling murals are pretty impressive. The church, in the heart of Cebu City, was purposely built on the spot where the Santo Niño was discovered. It has been built in a baroque and neo-classical style.
Location: Pilgrim's Center, Osmeña Blvd, Cebu City, 6000 Cebu, Philippines
Phone: +63 (0)32 255 6697
photo by Allan Jay Quesada (CC BY-SA 4.0) modified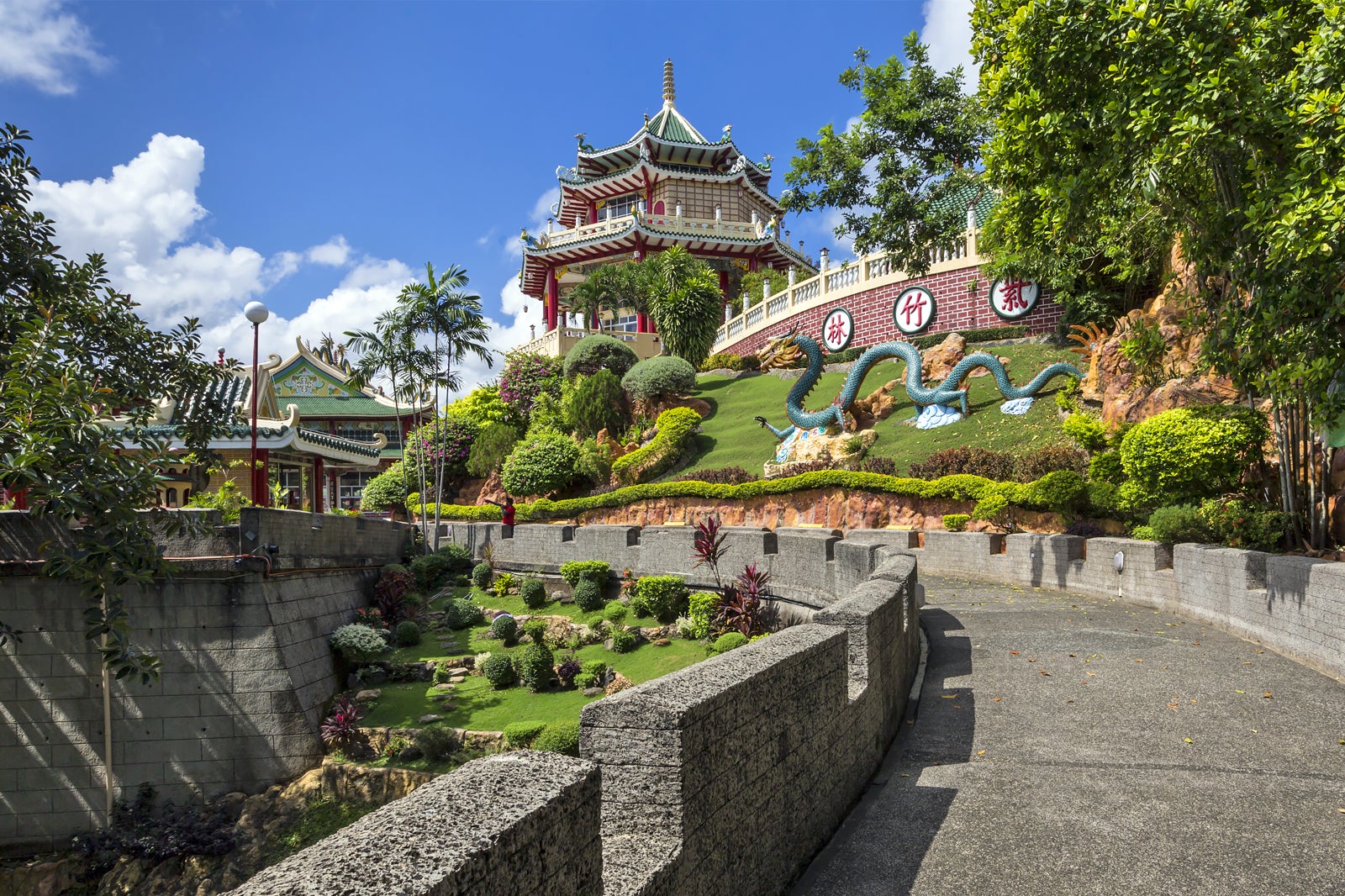 The Cebu Taoist Temple in Beverly Hills was built by the huge Chinese population in the province. On Wednesdays and Sundays, Taoist devotees climb the 99 steps of the temple to light joss sticks then have their fortunes read by the monks. Built in 1972, the temple is 300 metres above sea level and topped with a pagoda-style roof – something of a novelty in this city.
Location: Beverly Hills, Cebu City 6000, Philippines
Phone: +63 (0)32 254 6503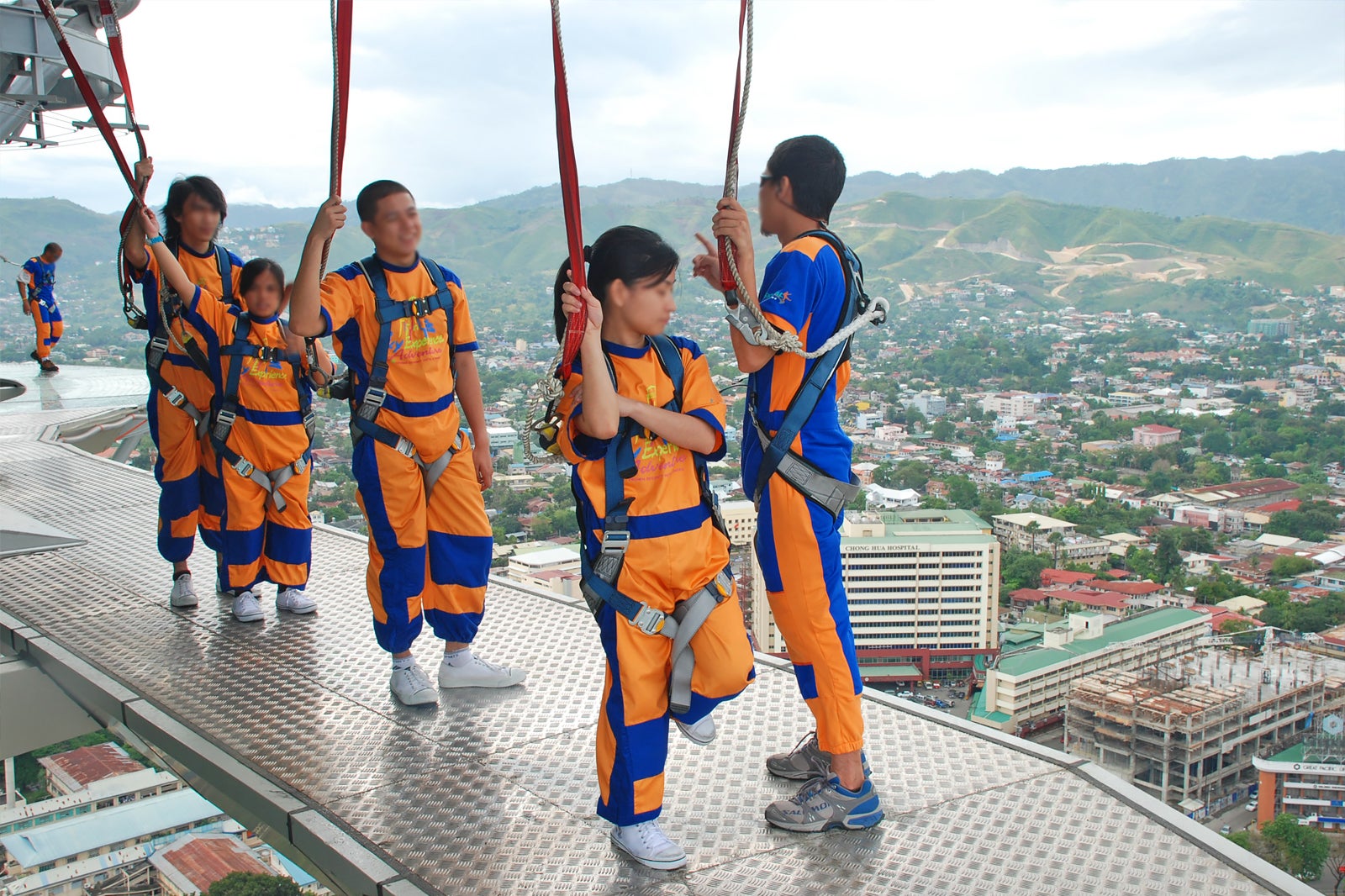 If you want to experience extreme sensations and challenge your fear of heights, head to Crown Regency Hotel and Towers in the centre of Cebu City. Tower 1 of this 4-star hotel has a great choice of fun and thrilling activities available. Test your mettle on the see-through Sky Walk platform that goes around the building 126 metres above the ground.
For those who really want to push themselves, there's the Edge Coaster, a 2-seater platform on rails that can be inclined by 55°, giving you a clear view 130 metres down to the ground. If you're looking for a quieter activity, the Melvin's Reef Black Light Mini Golf will surely please you and family.
Location: Crown Regency Hotel & Towers, Osmeña Blvd, Cebu City, 6000 Cebu, Philippines
Open: Monday–Friday from 2pm to 12am, Saturdays from 10am to 2am, Sundays from 10am to 12am
Phone: +63 (0)32 418 7777
photo by Joel Mendoza (CC BY 2.0) modified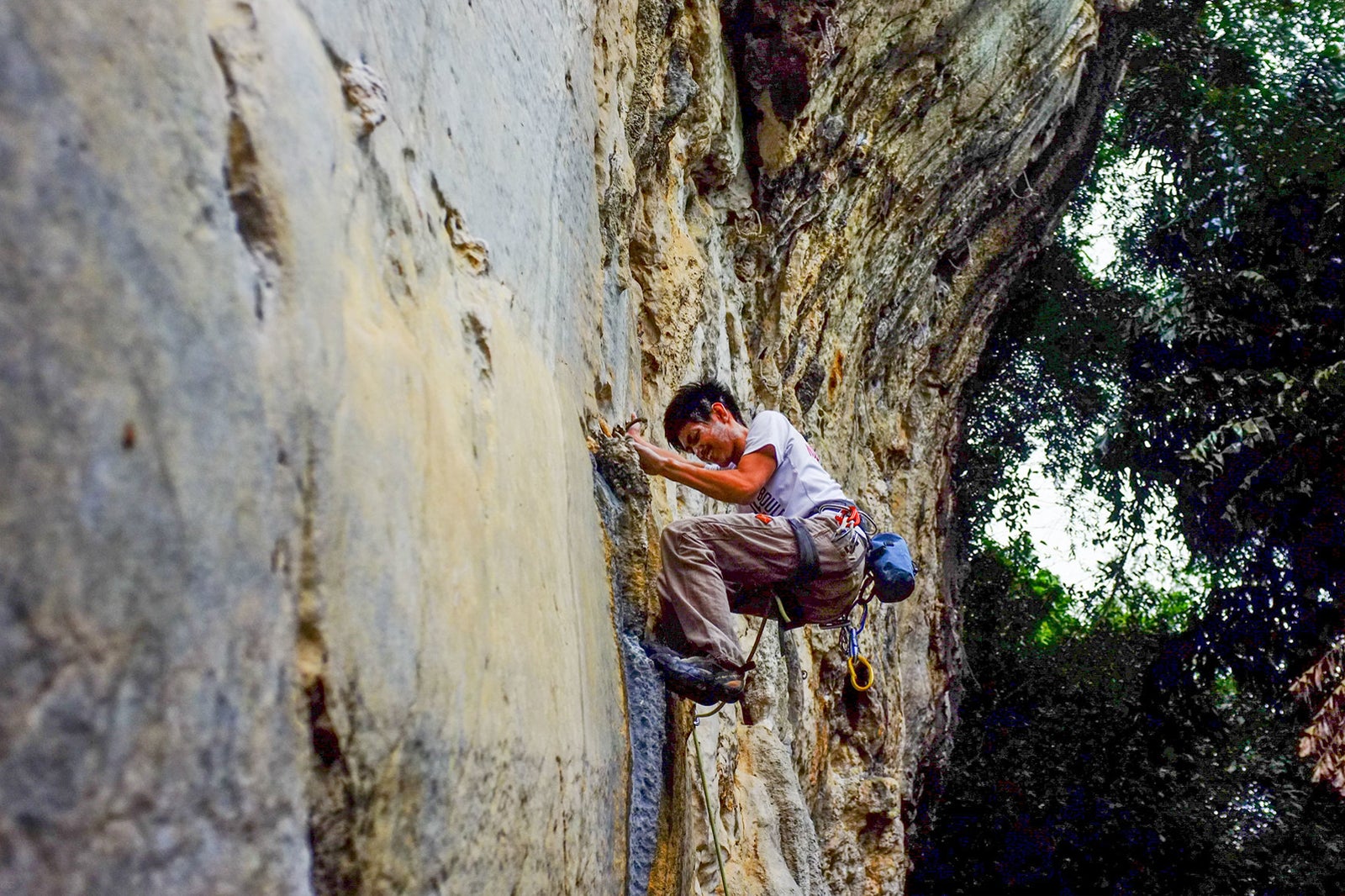 Rock climbing is an increasingly popular sport on Cebu Island, with new climbs still being discovered. The island is made of different geological formations, including limestone plateaus that offer great rock climbing playgrounds.
The best area is Cantabaco, in Toledo City, located in the central area of the island, just south of Biga Pit. You'll find tall limestone cliffs here that are just waiting to be scaled. Despite the scarce development of this area, you'll find a small community of climbers that'll take you to the most beautiful crags around, with some skilled local guides to choose from.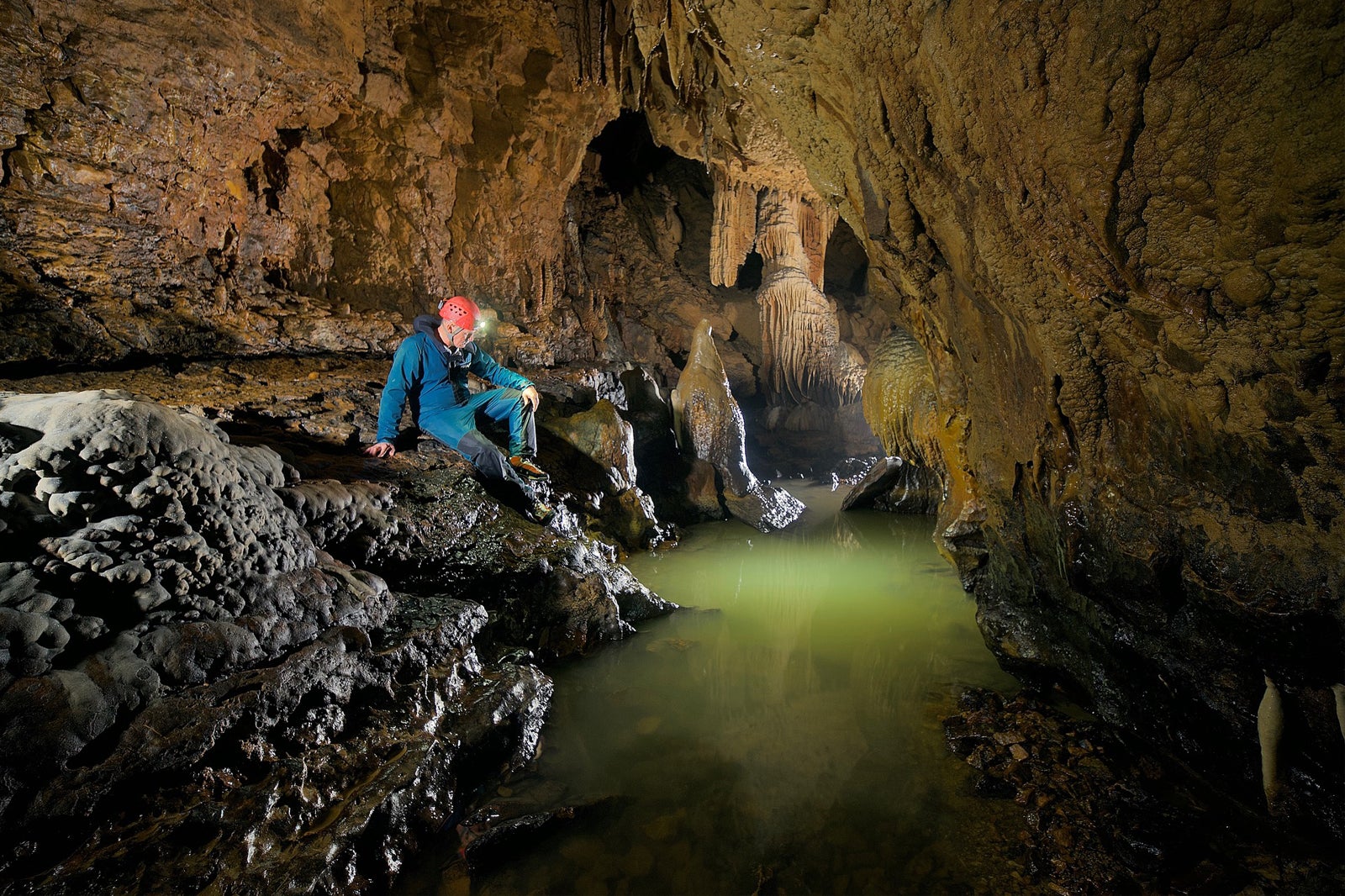 If you love potholing and cave exploration, the geologic formations of Cebu Island will be something like your idea of heaven. The limestone rocks have been eroded into large caves and twisting tunnels, plenty of which are very safe to explore.
From Guadalupe Cave in Cebu City, to Balay Sa Agta in Argao, to Lagtang Cave in Talisay, and many others, you can find exciting cave exploration opportunities all around Cebu province.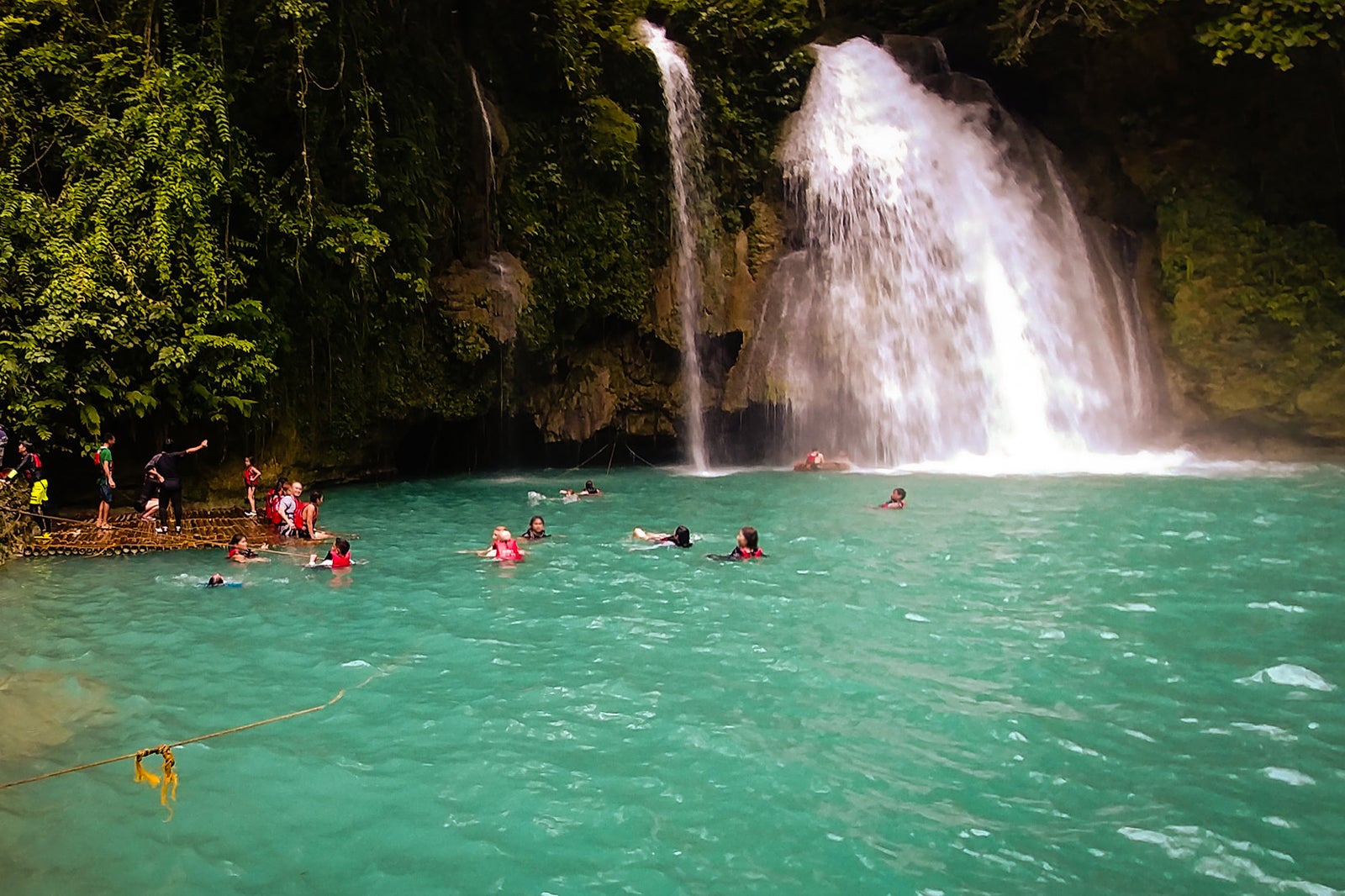 Canyoning is an exhilarating activity that has become very popular in Cebu, thanks to the region's limestone plateaus and rugged mountains. Canyoning is a rather demanding activity that blends climbing, walking, swimming and scrambling. The most famous canyoning site in the province is at Kawasan Falls on Bantayan Island.
Cebu Island also has a good choice of mountainous rivers and cascades offering a wild playground for canyoning. The best areas to enjoy this activity are around Moalboal, at Montaneza and Tison Falls. Professional tour guides are available to help you discover this thrilling activity.
photo by John Carkeet (CC BY 2.0) modified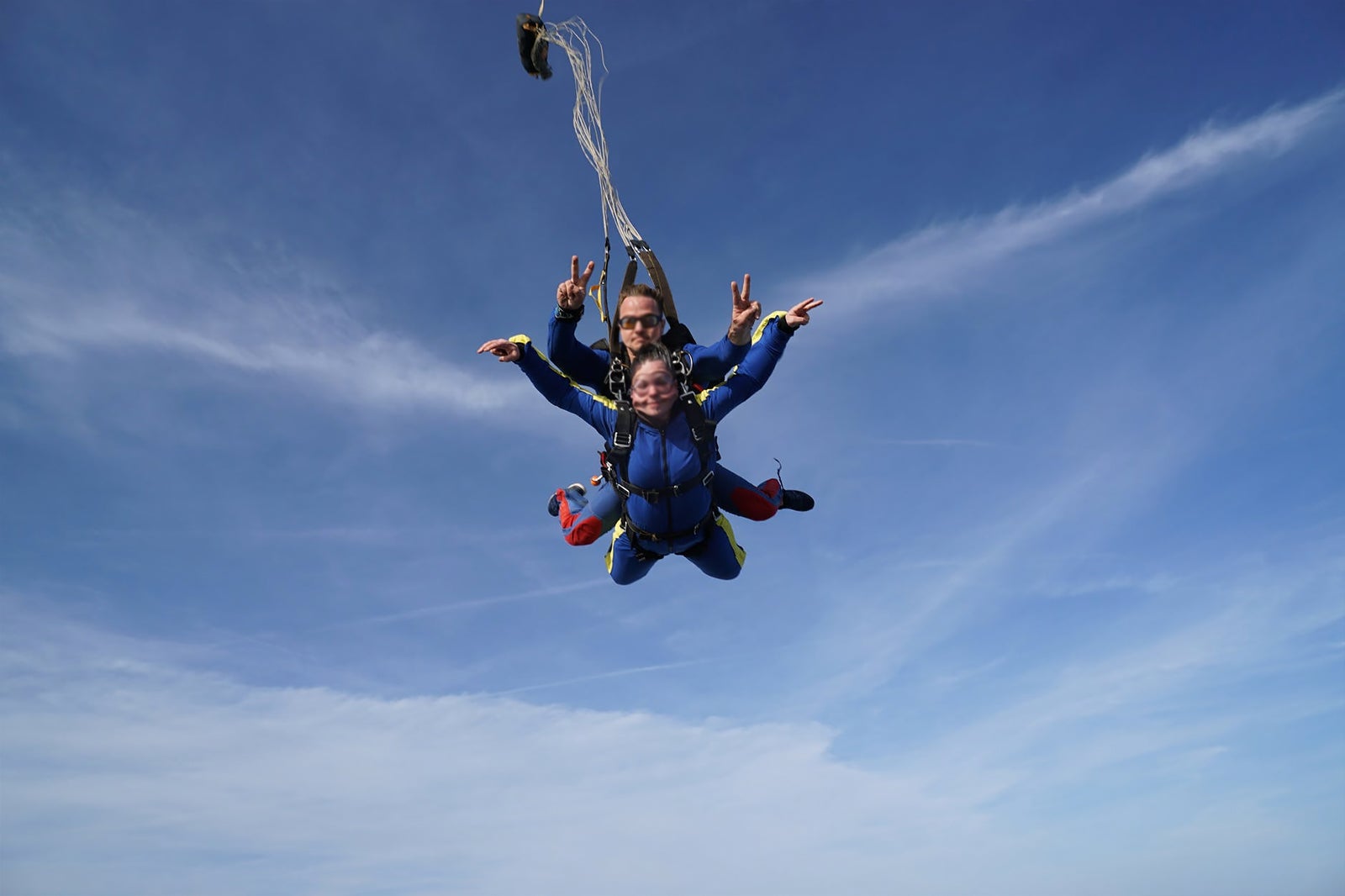 Run by a certified USPA Tandem, AFF instructor and Safety and Training Advisor, Skydive Greater Cebu offers a memorable experience above the turquoise waters that surround Bantayan Island. You can do a tandem jump from a plane over the island lying 20 km east of Cebu Island's northern tip.
The experience is exhilarating and will surely give you the taste to go for a second jump. If you become passionate about it, Skydive Greater Cebu also has courses for you to learn to skydive solo.
Location: Santa Fe Airport, National Road, Santa Fe, 6047 Cebu, Philippines
Phone: +63 (0)923 875 1689
Built in the mid-19th century, Casa Gorordo Museum seeks to illustrate the elegant lifestyle of over 100 years ago. One of Cebu's best-kept secrets, the unique architectural and design features include upper-storey living quarters made from Philippine hardwood, held together by wooden pegs, as opposed to nails.
The lower part of the house has walls built out of Mactan coral, keeping the area nice and cool. The property also practices elements of feng shui and features antiques and historical furniture.
Location: 35 Eduardo Aboitiz St, Cebu City, 6000 Cebu, Philippines
Open: Tuesday–Sunday from 9am to 5pm (closed on Mondays)
Phone: +63 (0)32 411 1767
Upon entering Guadalupe Cave, visitors are required to cover their heads with Our Lady of Guadalupe's blue veil to receive any of the healing powers the cave is believed to have. The water dripping from above is claimed to cure ailments. It's a narrow cave, so you'll have to join the long, slow-moving line to get in.
Location: Our Lady of Guadalupe Shrine, Cebu City, 6000 Cebu, Philippines