Torget in Bergen, often called Fisketorget, is an area in the heart of Vågen that has been used as a market since early in the city's millennial history. It is especially known for the sale of fish and seafood, and has become a major tourist attraction in recent decades.
As both a coastal and trading city, Bergen has always been a place where fishermen have come to sell their catch. Many people from Bergen still have a nostalgic relationship with Fisketorget as a place where you could buy fish straight from the boats that lay by the quay, or live fish from basins on land. Changing requirements for hygiene and control together with a change in people's shopping habits led to a reorganisation and decline in the business on Torget. Today the market varies greatly between the summer and winter seasons, where tourism dominates the outdoor market in summer, while activity in winter is limited to indoor sales in Mathallen, which was completed in 2012.
Highlights on Torget
Now that most people buy their food in local grocery stores that have their own fish counter, there's no longer a great need for a central market. And yet, there's something special about Fisketorget. Traditions and the need to offer varied, attractive and perhaps exotic goods mean that few can compete with the market stalls' selection of fresh produce. And market traders are much more involved in acquiring their products and have greater contact with customers than the grocery chains. This means that Fisketorget is the place where you can always count on finding items out of the ordinary, which are guaranteed to add a wow factor to everyday meals or special occasions. The produce includes exclusive shellfish such as king crab, lobster and crayfish, unusual specialities such as salmon roe, or traditional fare such as smoked fish in all its varieties.
But you don't have to be planning an elaborate feast to visit the market. This is also the perfect market to visit on a sunny summer's day. That's when the prawns are probably the most tempting. Most stalls offer prawns in different price ranges, but it's worth indulging in some freshly cooked fjord prawns from the local area. They may be twice the price of the frozen prawns, and half as large, but they are crunchy and deliciously salty. Pick up half a kilo and throw in a couple of ready-cooked crab claws too. Stop by a grocery store for some accompaniments and head out to Nordnesparken or Bergenhus Fortress for a delicious summer picnic.
Nostalgics are horrified at the seating areas and catering facilities that have turned Torget into a large outdoor fast food restaurant in summer, but these remain popular with tourists, and you'll often hear a dozen or so different languages spoken here. So if you're looking to hone your Italian or Japanese, this is the place! The range of food available is equally global. You'll find Norwegian classics such as open sandwiches with prawns, salmon or other smoked food alongside grilled crayfish, wok fish dishes and seafood paella.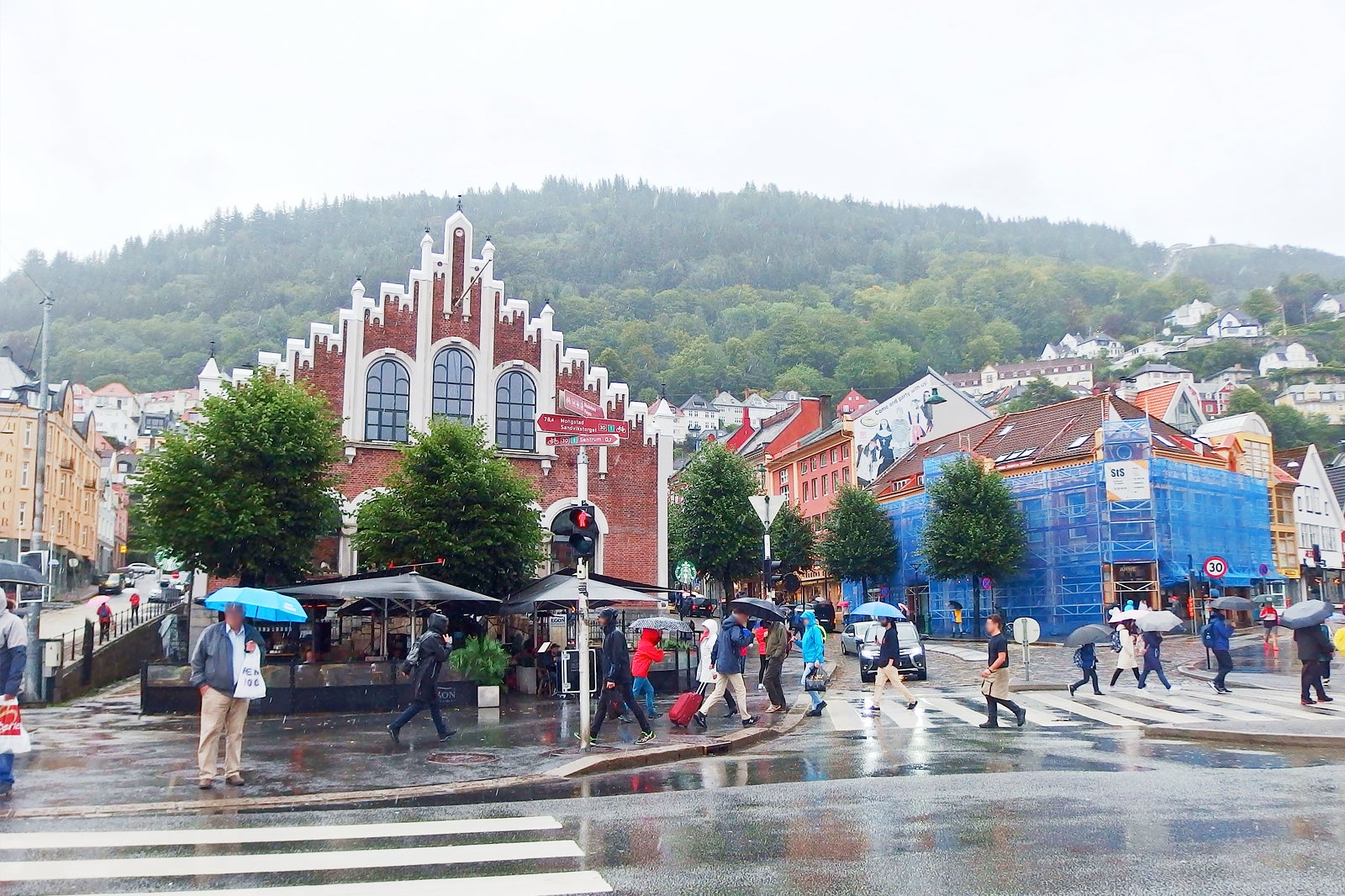 Farmers' Market
The range of produce on offer in summer is usually very global, but on certain days, the focus becomes distinctly local. Farmers' Markets are regularly set up here, where local food producers sell their own products from makeshift stalls in an area on Torget. This is a great opportunity to sample traditional pastries, cured meats, fruit products and cheese from the local area. And this is also when waffles and lefser are in hot supply, with many stalls offering tastings. This is a great opportunity to find speciality and high-quality products.
Worth knowing about Torget
As mentioned, Torget undergoes an almost complete transformation from season to season, and it's easy to forget that it even exists in the darker months. This is a great shame, because this is actually the time when many of the products are at their best, especially the shellfish. Some of the market traders keep going throughout the year in Mathallen.
Mathallen is also home to Bergen's tourist information centre, where you'll find plenty of information about everything worth seeing and experiencing in the city and region.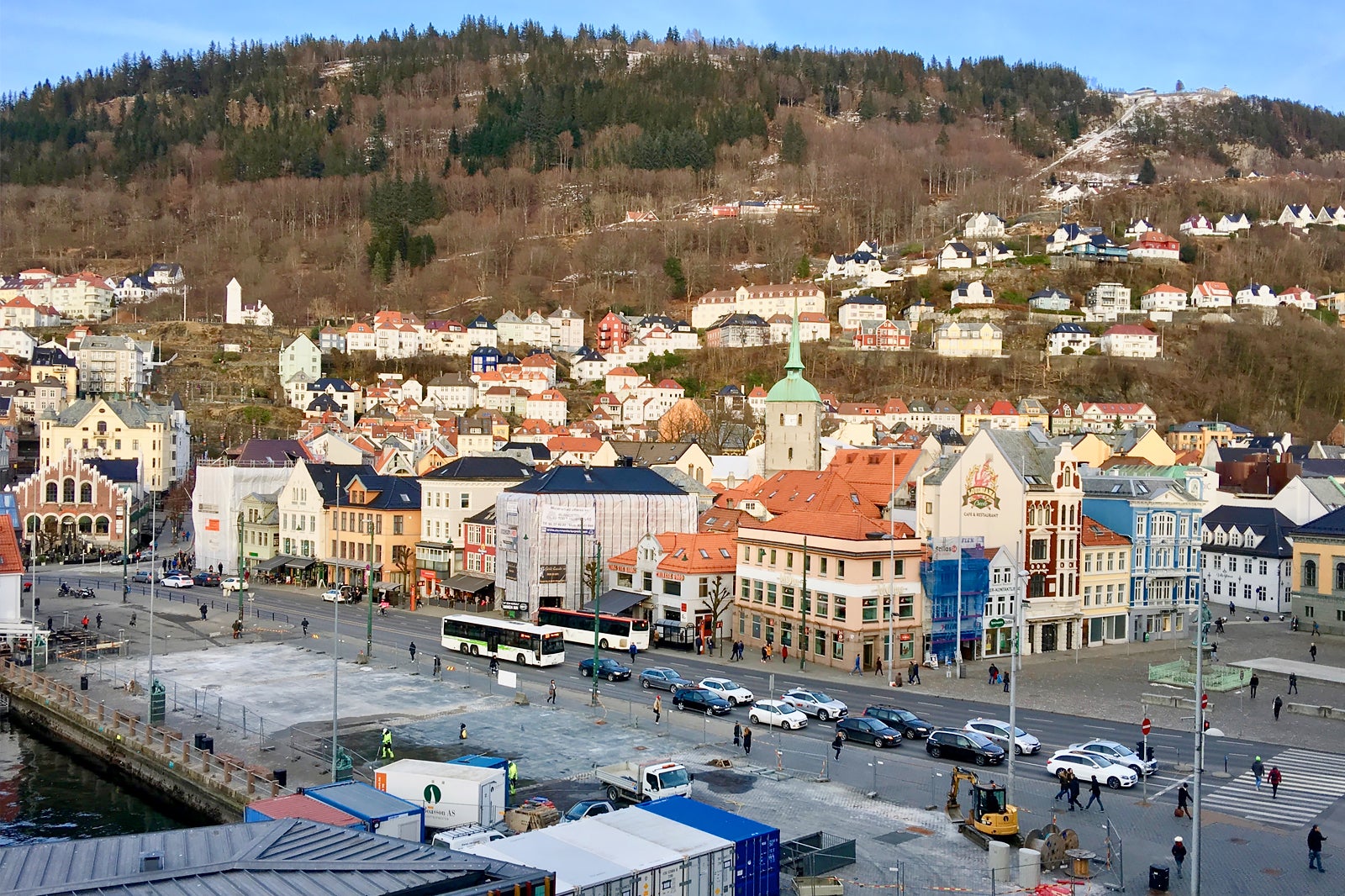 Torget in Bergen
Location: Torget 5, 5014 Bergen, Norway
Open: From October to April: Mathallen From Monday-Thursday: 10.00-22.00. Friday-Saturday: 09.00-22.00. Sunday: 11.00-22.00. Torgflaten: closed From May to September. Mathallen From Sunday-Thursday: 10.00-23.00. Friday-Saturday: 09.00-23.00. Torgflaten: From Monday to Saturday: 08.00-23.30. Sunday: 09.00-20.00.
Phone: +47 55 56 56 90
Back to top