10 Things to Do in Amsterdam with Kids
Best Family-Friendly Places in Amsterdam
Amsterdam may not be your first thought when you're listing family-friendly cities, but the range of attractions available offer something for many different ages and interests. Despite being a bustling urban centre, Amsterdam is scattered with parks and waterways all waiting to be explored. Enjoy a day at the city's flower-filled parks, where you can enjoy picnics, games, and even free concerts during the summer.
Child-friendly museums are where budding minds will be inspired, thanks to creative programmes and workshops that take place all year round. Amsterdam is also home to a scattering of cool, quirky, and interactive city centre exhibition spaces which the family will relish. Plan a memorable holiday by checking out our guide of things to do in Amsterdam with kids.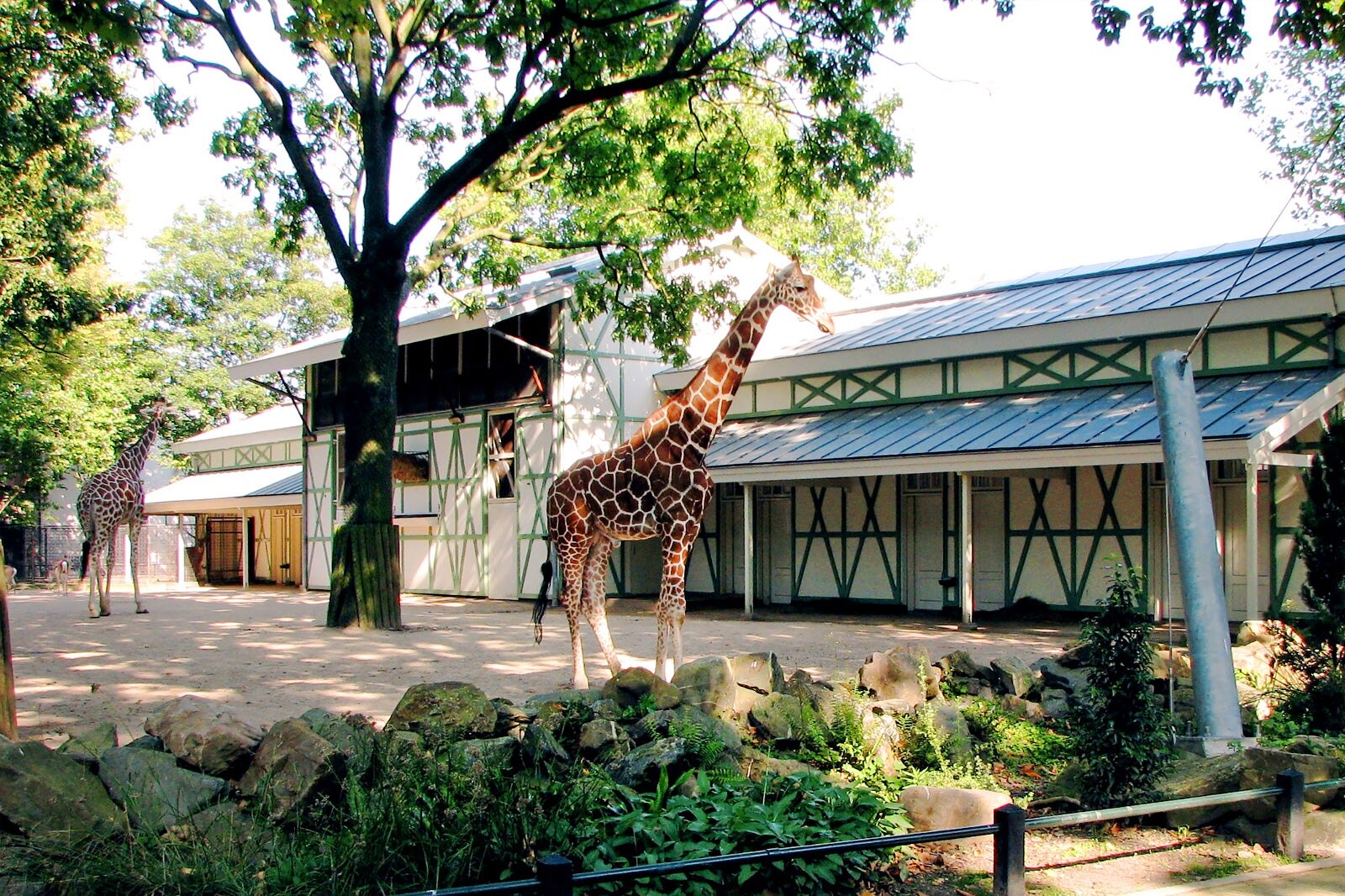 Artis Zoo
Watch 3D movies about space at the Planetarium
Artis Zoo has been a go-to spot for Amsterdam's families since 1838. You can see over 900 species of animals, including elephants, zebras, and giraffes. There's also a large aquarium that houses animals living in the waters of Amsterdam's canals, and a planetarium showing movies about the solar system and coral reefs. Zookeeper talks take place throughout the day, with topics covering penguins, elephants, and lemurs, just to name a few.
Location: Plantage-Kerklaan 38-40, 1018 CZ Amsterdam, Netherlands
Open: Daily from 9am to 5pm
Phone: +31 (0)20 523 3670
photo by pelican (CC BY-SA 2.0) modified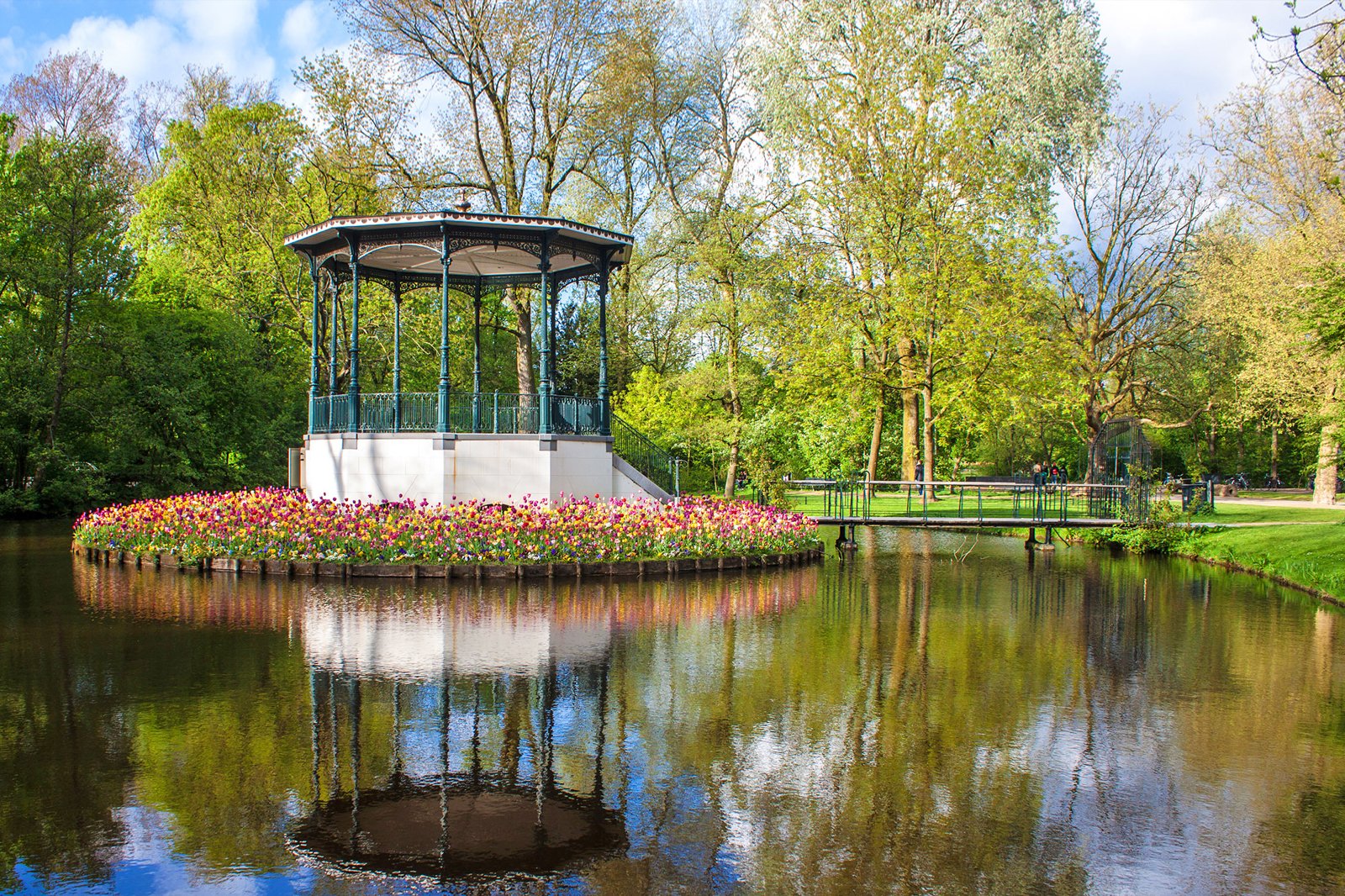 Vondelpark
Catch dance and music concerts in summer
Vondelpark is Amsterdam's equivalent to New York's Central Park, spanning nearly 50 hectares of green space filled with flowery lawns, ponds, playgrounds, and pathways. Families get to frolic about at the park's 6 play areas, rent skateboards or bicycles, and enjoy picnics with views of a large pond. Vondelpark is particularly special in summer, when a never-ending festival vibe takes over at the Openluchttheater, an open-air theatre in the middle of the park.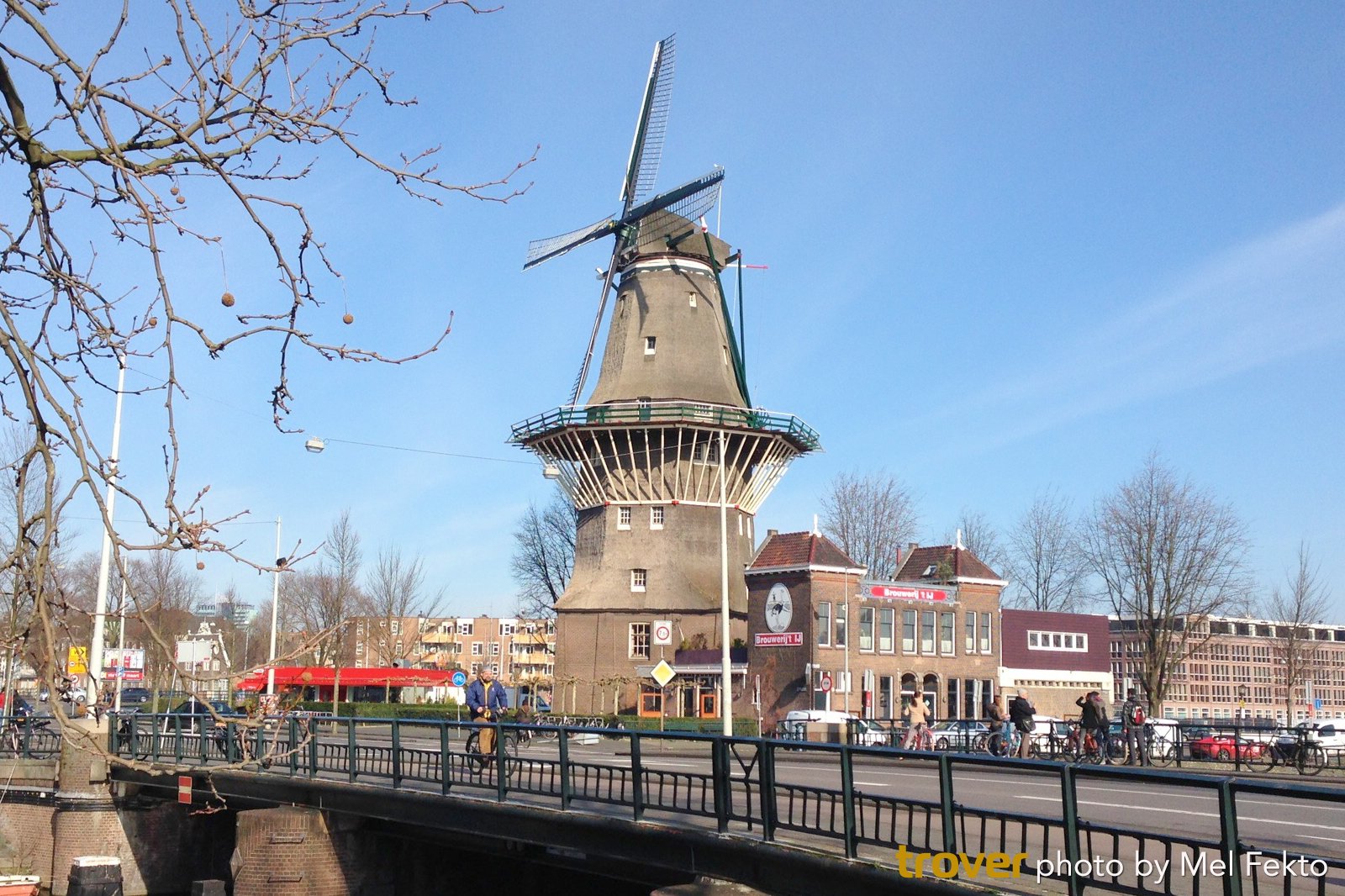 De Gooyer Windmill
Take photos of the 18th-century windmill
De Gooyer Windmill is a grand, octagonal windmill dating from 1725. Standing at over 26 metres, it's one of the tallest windmills in the Netherlands. While there isn't much to do other than taking photos, the little ones may enjoy the sight of this grand structure and the surrounding greenery. Parents get to relax with a beer or two at the next-door Brouwerij 't IJ microbrewery. Grab a spot on the terrace for the best view of De Gooyer Windmill.
Location: Funenkade 5, 1018 AL Amsterdam, Netherlands
Phone: +31 (0)20 662 3972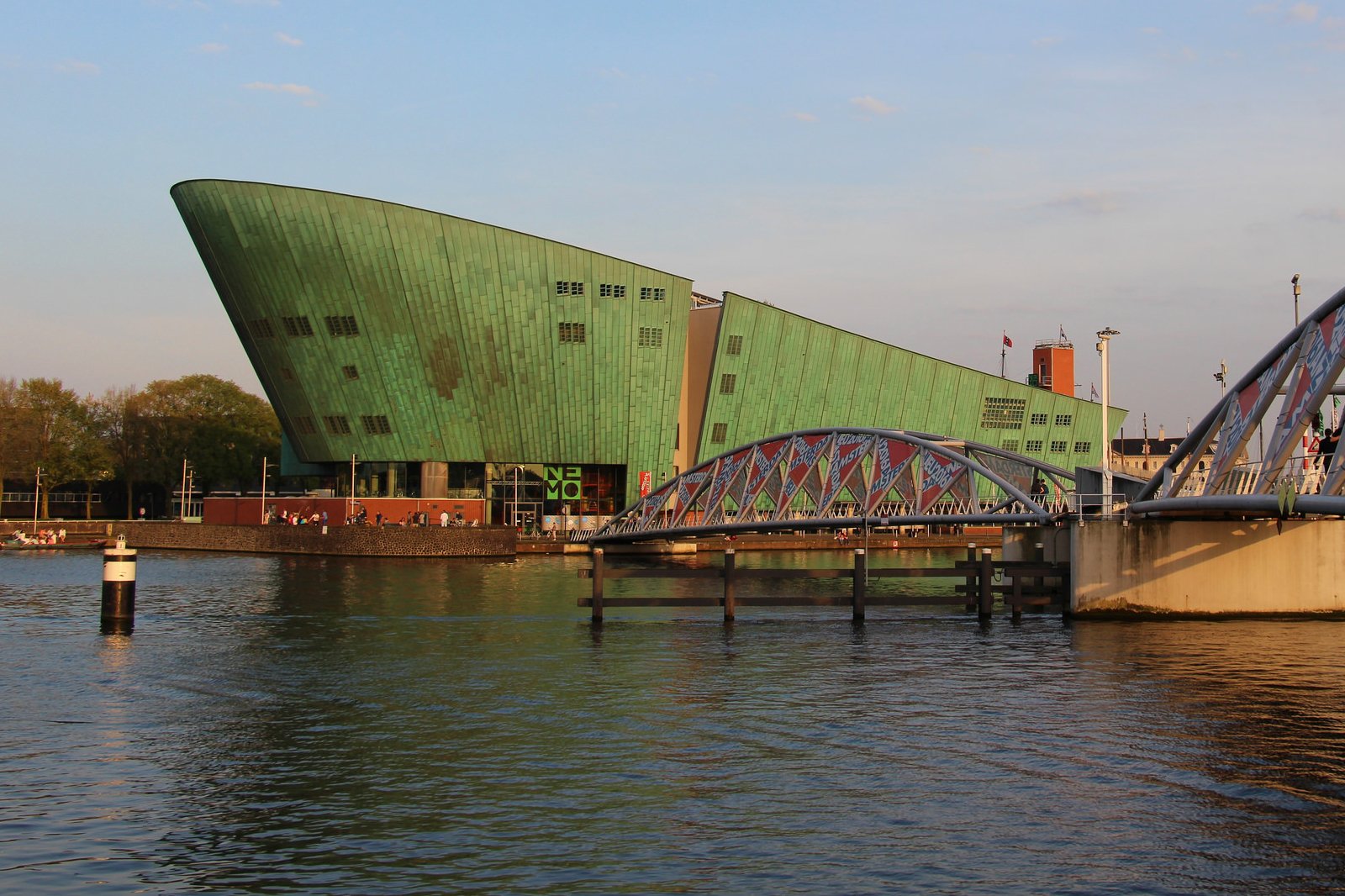 NEMO Science Museum
Learn how to build a dam at this interactive centre
The NEMO Science Museum will keep you and the children entertained for hours as they learn about extra-terrestrial life, how to make clean water and how to build a dam. This kid-friendly science centre has plenty of fun, hands-on exhibits for visitors of all ages, including an interactive laboratory. Located on the rooftop of NEMO Science Museum, the Energetica exhibit features chairs fitted with solar panels, unique sculptures that move with the wind, and an enormous sundial.
Location: Oosterdok 2, 1011 VX Amsterdam, Netherlands
Open: Mid-February–early September: Daily from 10am to 5.30pm. Mid-September–mid-February: Tuesday–Sunday from 10am to 5.30pm (closed on Mondays)
Phone: +31 (0)20 531 3233
photo by Fred Romero (CC BY 2.0) modified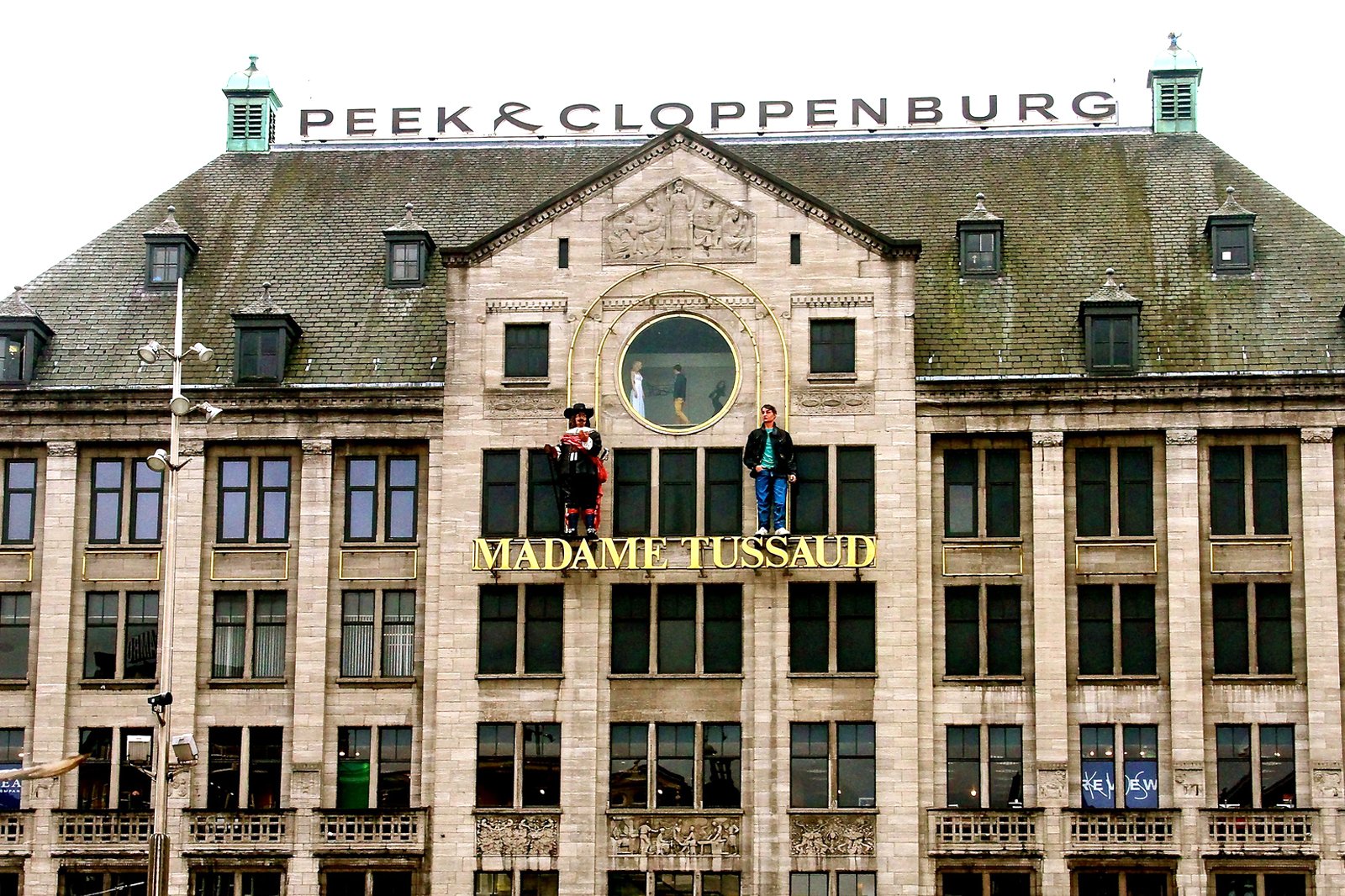 Madame Tussauds Amsterdam
Become a painting at the I Am Art exhibition
Madame Tussauds Amsterdam is an interactive wax museum in Dam Square, nearby the Royal Palace of Amsterdam. There are galleries dedicated to art, music, and sports, all of which are home to life-like figures of prominent icons. The Royal exhibition features wax models of Dutch royalty such as Queen Máxima and Queen Beatrix. Art lovers may enjoy the interactive I Am Art exhibition, as they get to become part of paintings by renowned artists such as Salvador Dali and Rembrandt van Rijn.
Location: Dam 20, 1012 NP Amsterdam, Netherlands
Open: Daily from 10am to 9.30pm (hours vary by season)
Phone: +31 (0)20 522 1010
Families
Photo
Unusual
Group
photo by Sam Leech (CC BY-SA 2.0) modified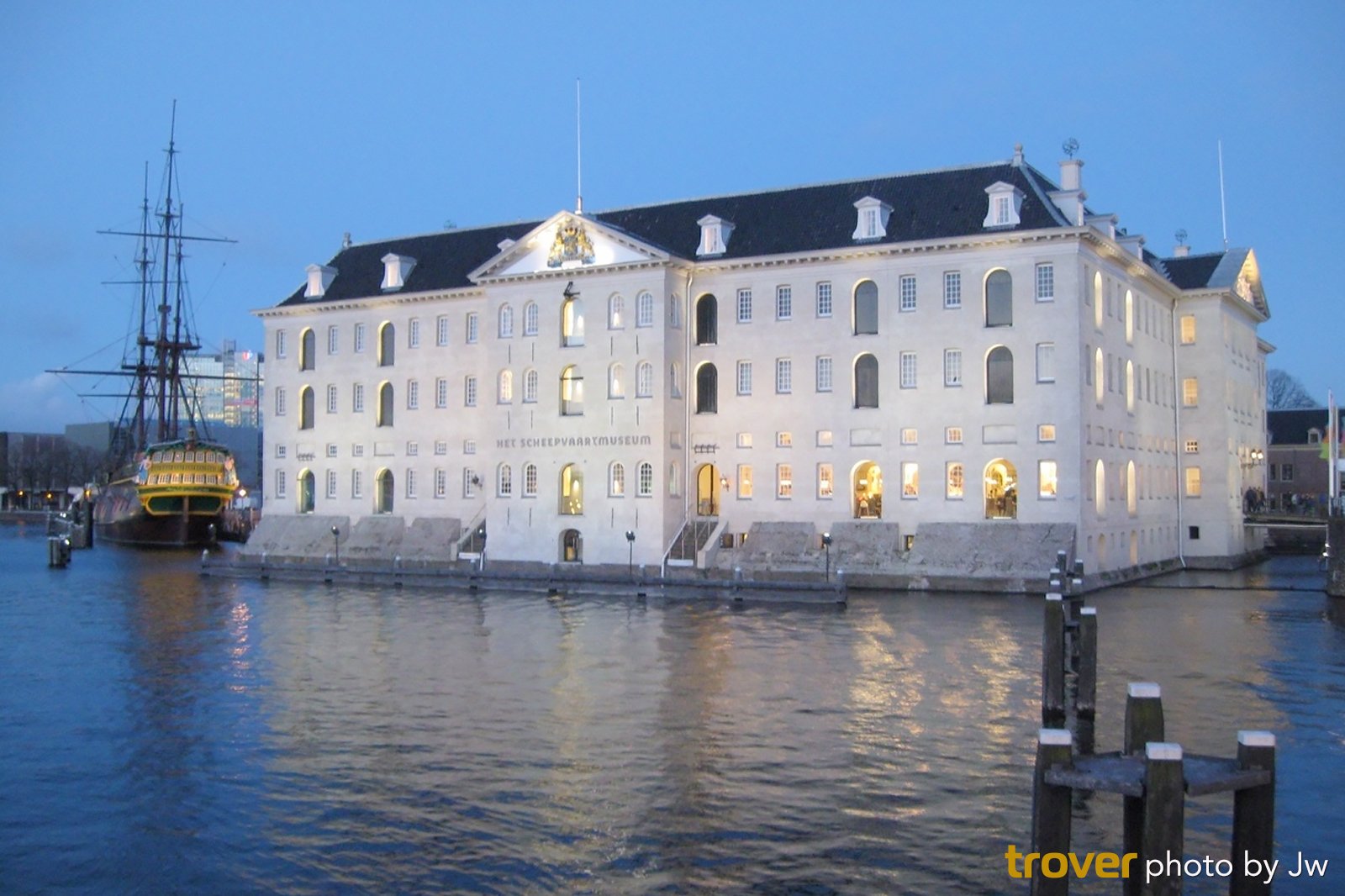 National Maritime Museum
Explore the replica of an 18th-century cargo ship
The National Maritime Museum, also called the Het Scheepvaartmuseum, is where kids can pretend to be pirates on the impeccable replica of a traditional tall-ship. Located 1.4 km southeast of Amsterdam Centraal Station, it occupies a harbourside naval warehouse dating back to 1656. The museum's standout feature is the replica of the Amsterdam, a cargo ship of the Dutch East India Company. You get to crawl through the holds and even fire cannons, as well as enjoy a virtual reality experience of Amsterdam's maritime history.
Location: Kattenburgerplein 1, 1018 KK Amsterdam, Netherlands
Open: Daily from 9am to 5pm
Phone: +31 (0)20 523 2222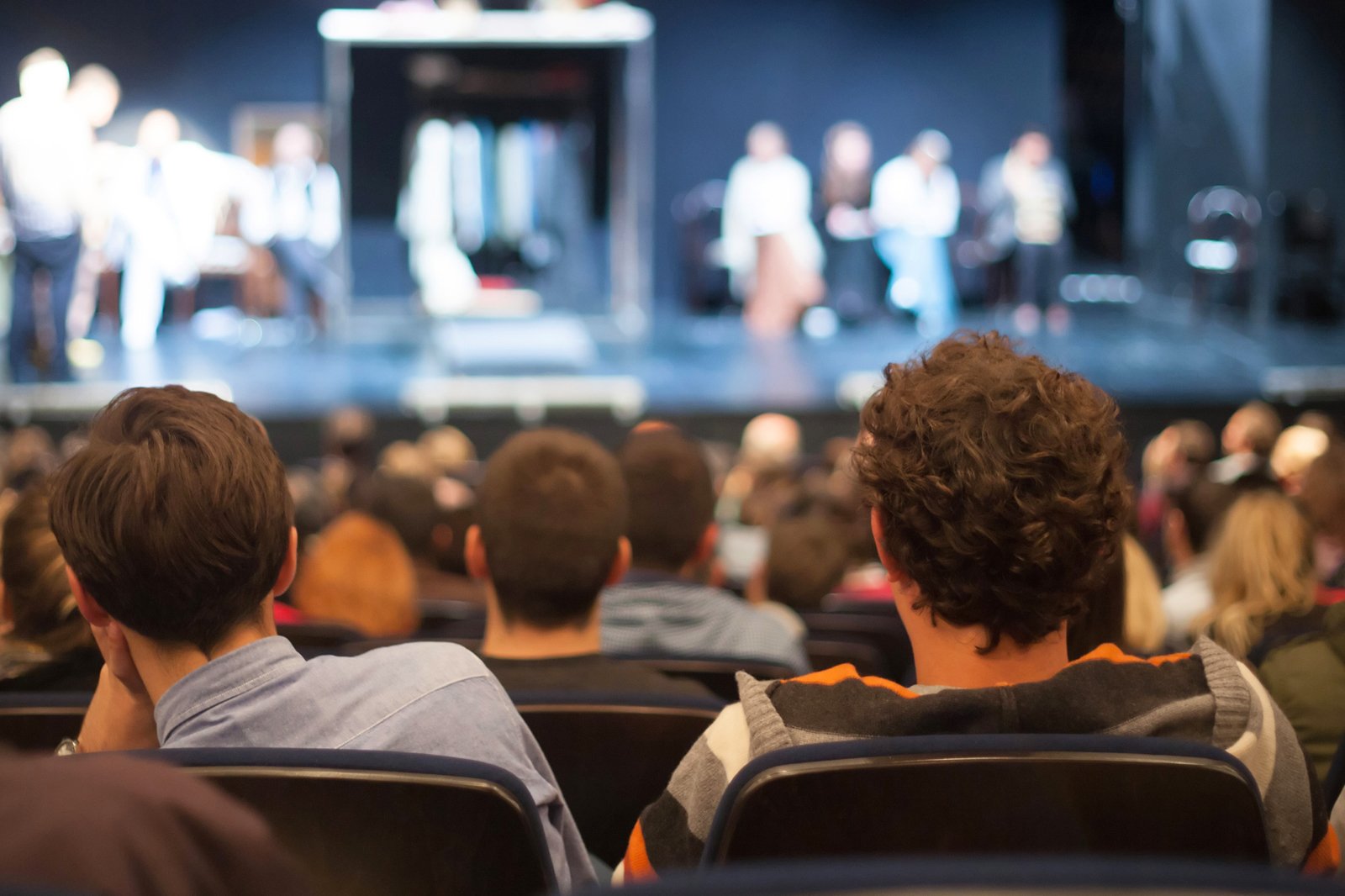 Theater De Krakeling
Watch a variety of live performances at this kid-friendly theatre
Theater de Krakeling is a historical youth theatre in Amsterdam which dates back to 1978. It predominantly showcases comedy, magic, dance, and music in Dutch and Flemish, with selected shows performed in English and others without any spoken language at all. Prices vary by performance, but typically start from €6 for children and up to €17 for adults.
Location: Nieuwe Passeerdersstraat 1, 1016 XP Amsterdam, Netherlands
Open: Most shows start at 10am
Phone: +31 (0)20 624 5123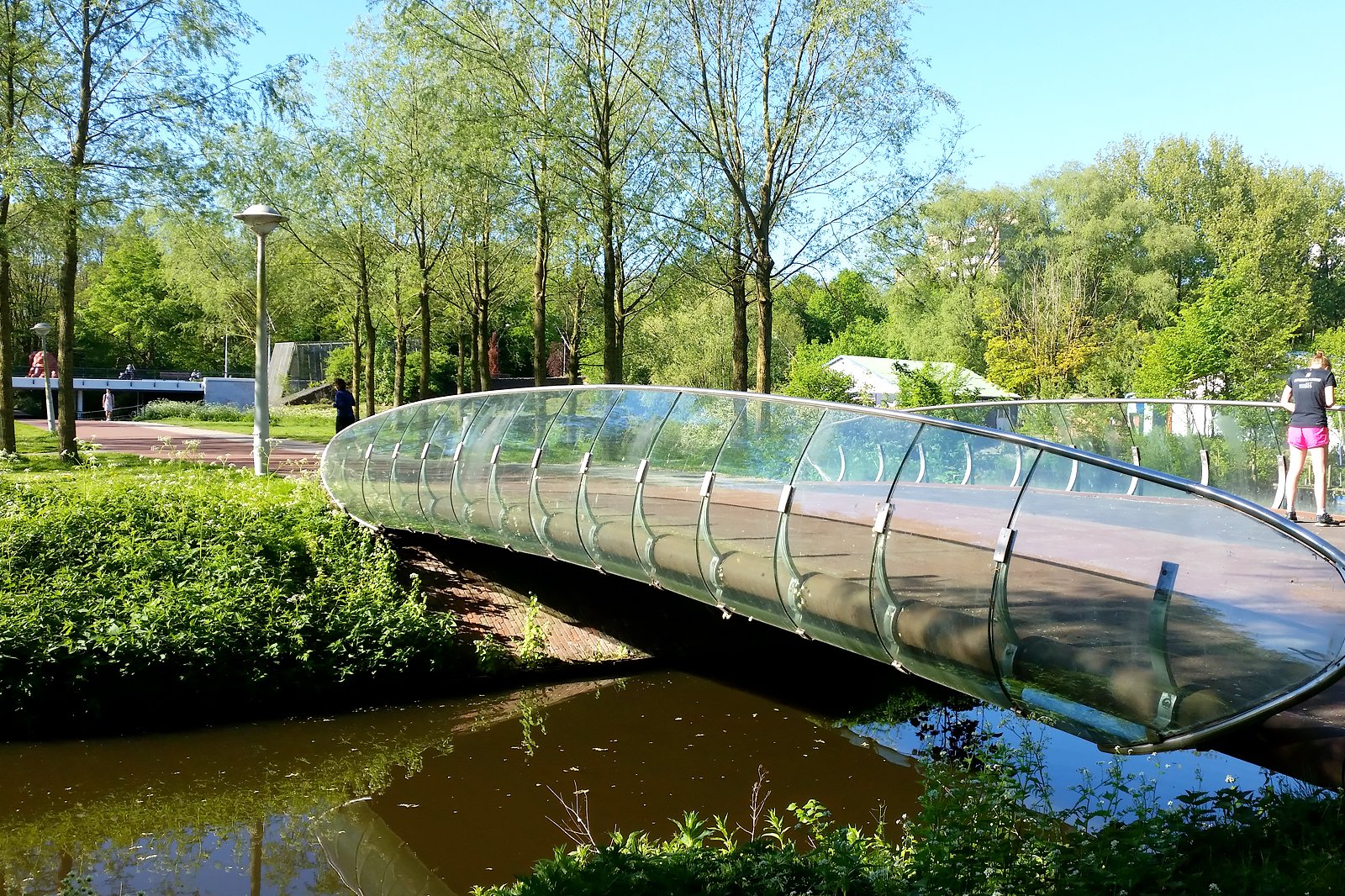 Rembrandtpark
Play with animals at the De Uylenburg petting zoo
Rembrandtpark is a city park with idyllic ponds, paved pathways, playgrounds, and children's centres. It's located in Amsterdam West, about 1.7 km northwest of Vondelpark. You can visit horses, peacocks, and chickens at De Uylenburg, a petting zoo named after Remembrant's wife. The park also has a children's amusement centre, where they can learn how to build cabins, ride horses, and make jewellery.
Location: Orteliuskade 57, 1057 Al Amsterdam, Netherlands
Couples
Families
Budget
Group
photo by Ceescamel (CC BY-SA 4.0) modified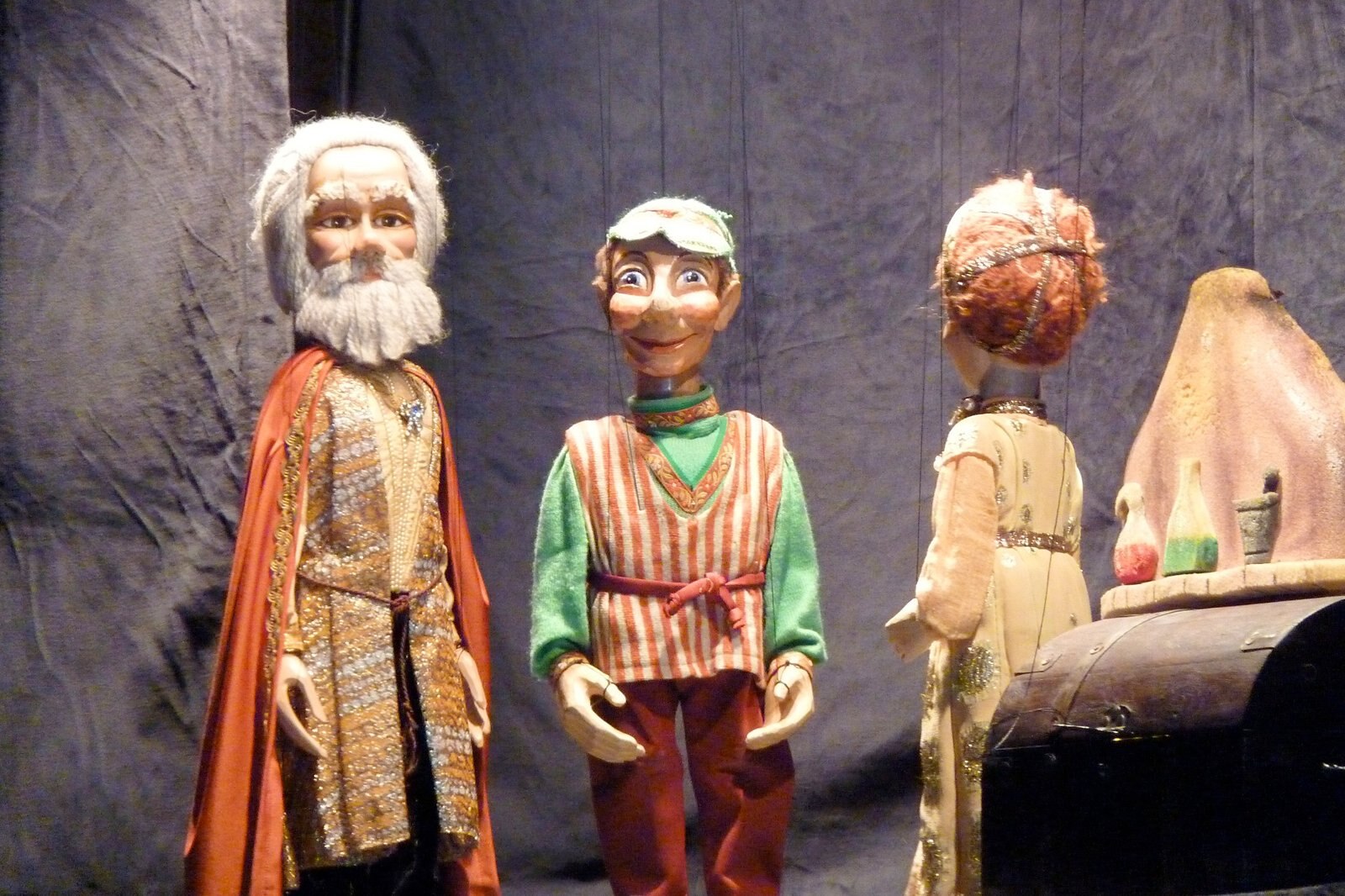 Amsterdam Marionette Theatre
See how marionettes are made at the workshops
The Amsterdam Marionette Theatre, founded in 1985, is an intimate venue that showcases traditional puppet shows for visitors aged 6 and above. Resident puppeteers use hand-carved marionettes in vibrant silk and velvet costumes, presenting musicals and sketches to classical music by Mozart and Offenbach. Join a backstage tour to learn about the history of the theatre and see how the puppets are created at the onsite workshops. The Amsterdam Marionette Theatre is 700 metres northeast of De Wallen, Amsterdam's Red Light District.
Location: Nieuwe Jonkerstraat 8, 1011 CM Amsterdam, Netherlands
Open: Shows start at 3pm and 8pm
Phone: +31 (0)20 620 8027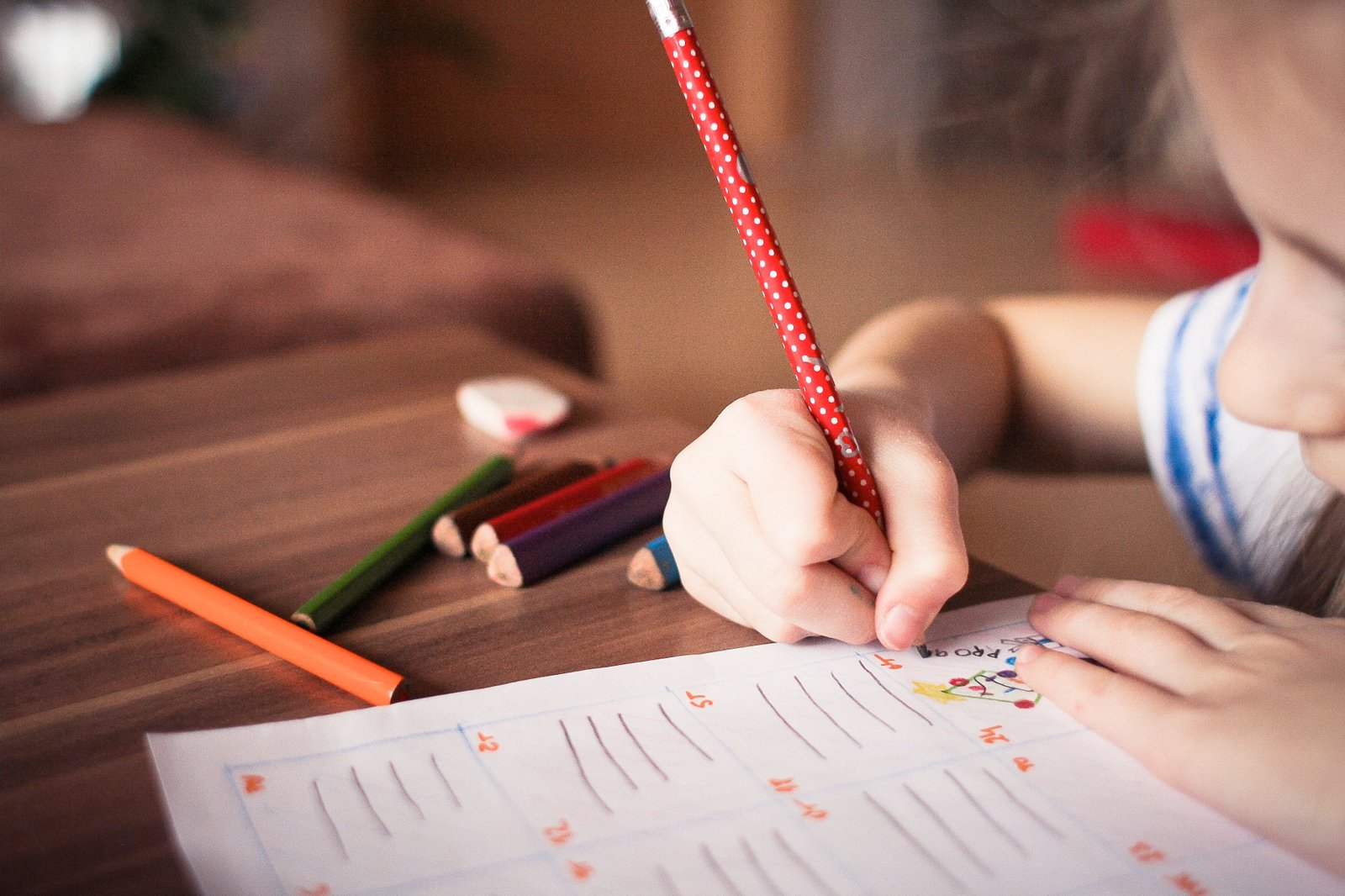 Tropenmuseum Junior
Learn about Morocco through dance, food, and craft-making
Tropenmuseum Junior, founded in 1975, is the sub-museum of an ethnology museum of the same name. It features interactive spaces and workshops for children to learn about cultures from all over the world. A popular attraction in Tropenmuseum Junior lets you learn about Moroccan culture and history through dance, calligraphy, and fashion. Older visitors may enjoy Tropenmuseum's permanent exhibits, which showcase cultures from Southeast Asia and New Guinea.
Location: De WallenTropenmuseum, Linnaeusstraat 2, 1092 CK, Amsterdam, Netherlands
Open: Tuesday–Sunday from 10am to 5pm (closed on Mondays)
Phone: +31 (0)20 568 8200