7 Best Things to Do in Savannakhet
What is Savannakhet Most Famous For?
One of the best things to do in Savannakhet is exploring its historic sights on foot. Buddhist temples, museums, and Catholic churches are located in the town centre, while natural landscapes like waterfalls and lakes are reachable by tuk-tuk or motorbike.
While Savannakhet isn't as big as Luang Prabang, Vientiane, or Pakse, the city has a number of fascinating sites you can visit. These include the That Ing Hang Stupa, Khmer ruins at Heuan Hin, Wat Xayaphoum, and the Dinosaur Museum. Don't forget to enjoy Savannakhet's incredible scenery, which stretches along the Mekong River.
What are the best things to do in Savannakhet?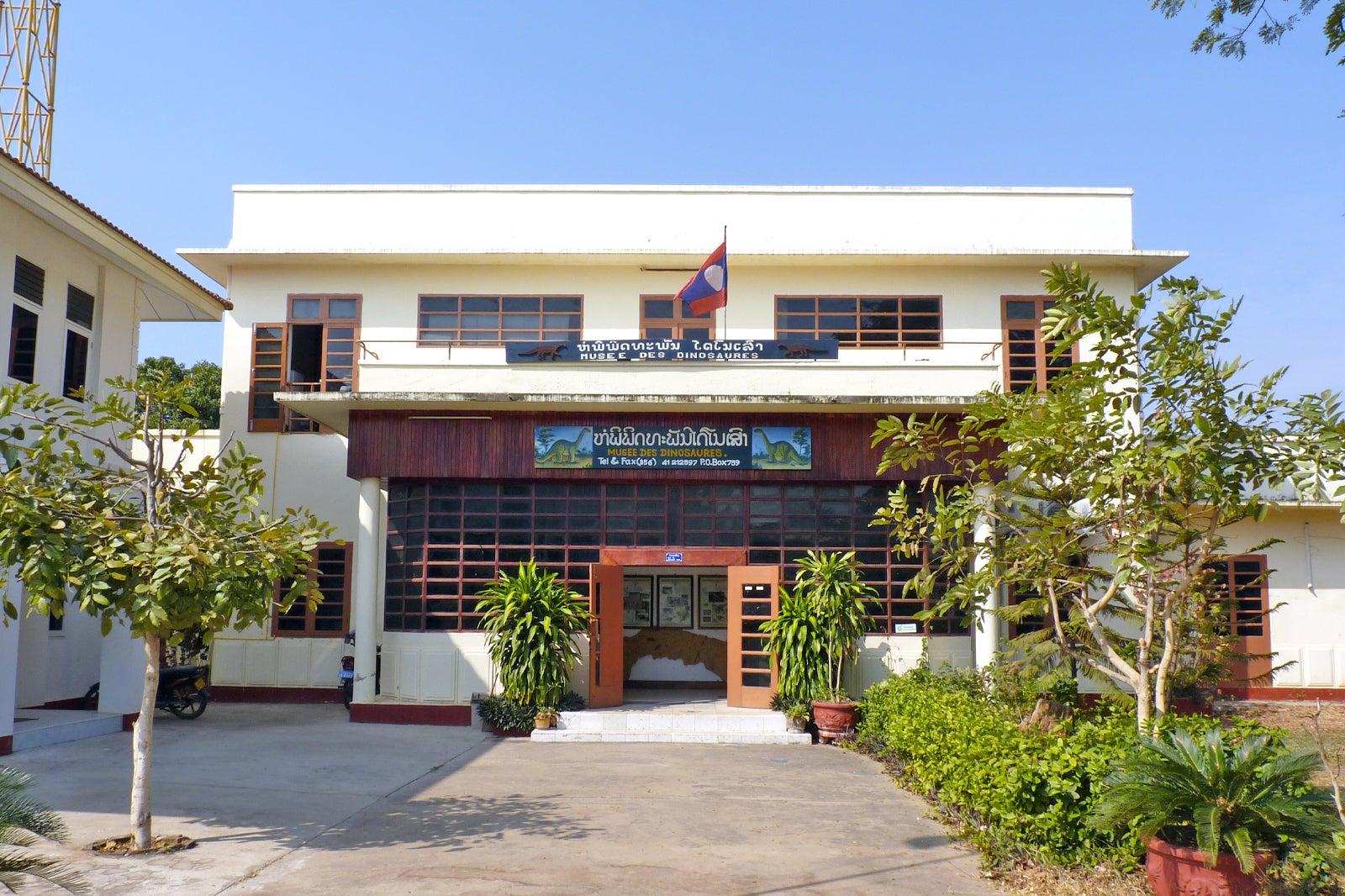 Savannakhet Dinosaur Museum has extensive exhibits on Savannakhet's prehistoric period. Despite its compact size, the hall displays a collection of fossils excavated between 1930 and the present day.
Skeletal remains of 4 dinosaurs and early mammalian remains from 200 million years ago are on display at the museum. You can even see fragments of a meteorite that fell to earth over 100 million years ago. Descriptions are in Laos and French, but the museum has guided tours for English-speaking visitors.
Location: Thanon Khanthaburi, Savannakhet 1300, Laos
Open: Daily from 8 am to 11.30 am and from 1.30 pm to 4 pm
Phone: +856 41 212 597
photo by Adriaan Castermans (CC BY-SA 3.0) modified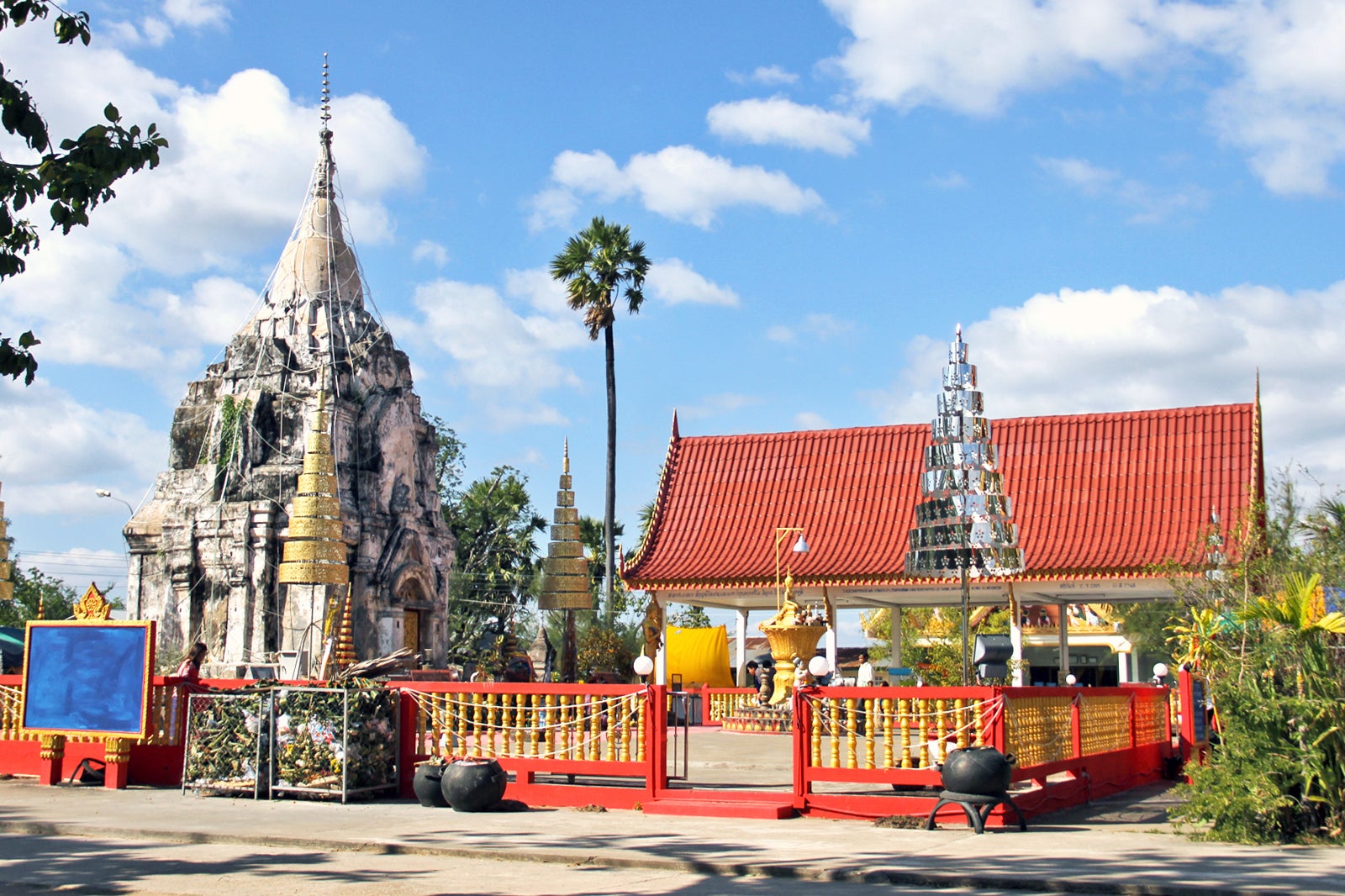 That Phonh Stupa is a reliquary tower in Phonethat Village, about 45 km northeast of Savannakhet. It was constructed over a long period between AD 557 and 700 and is believed to have sacred links with That Phanom in Thailand.
The temple served as a shrine for offerings made to Shiva and other Hindu Gods. There's an annual festival in honour of That Phonh Stupa, which takes place during the full moon period in February.
Location: Phonethat Village, Xayaphouthong, Savannakhet, Laos
Open: Daily from 8 am to 6 pm
photo by Oulaysone (CC BY-SA 4.0) modified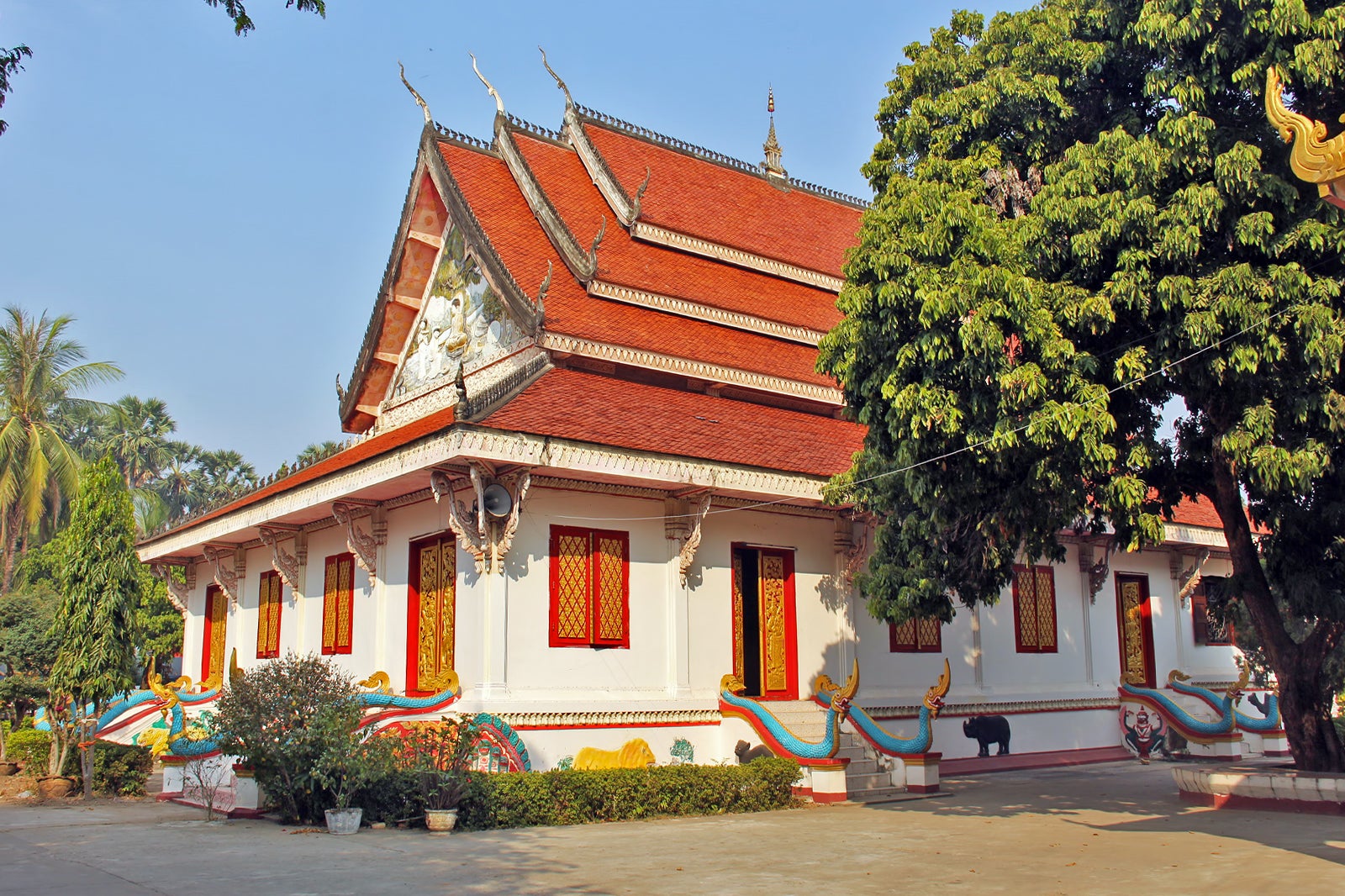 Vat Sayaphum sits on the banks of the Mekong River in Ban Xayaphoum Village. One of the most beautiful temples in Kaysone Phomvihane, it dates back to 1542 and acts as a school for Buddhist novices and monks.
Visit the sim (sanctuary) to see well-preserved red and gilded wood shutters feature floral carvings. You can also find an onsite workshop where local artisans craft sculptures of Buddha by hand. Vat Sayaphum also hosts major Buddhist festivals and ceremonies, including Pi Mai Laos (New Year) in April and the Boat Racing Festival in October.
Location: Savannakhet, Laos
Open: Daily from 8 am to 6 pm
photo by Mattana (CC BY-SA 3.0) modified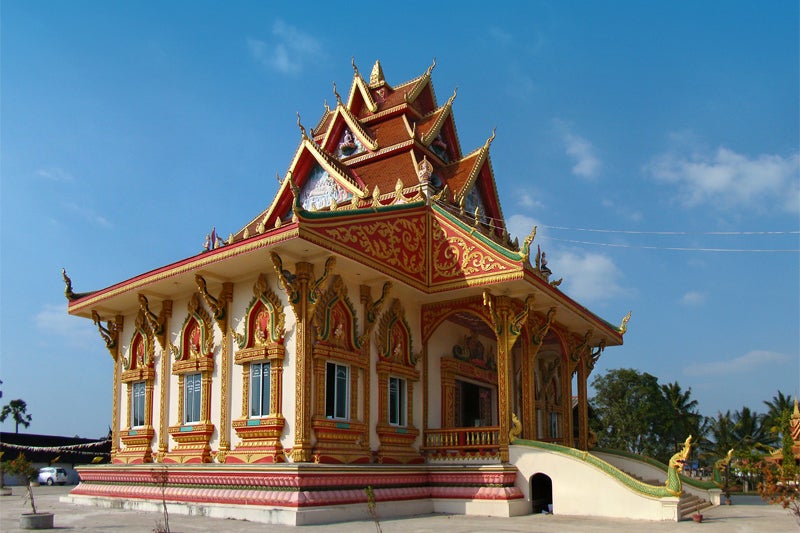 That Ing Hang Stupa is an important place of worship not only for Laotian Buddhists but also for Thai Buddhists who live in northern Thailand. The 16th-century tower is about 9 metres tall and is believed to house Buddha's bone.
If you're planning to visit That Ing Hang Stupa, wear clothes that cover your shoulders, chest and knees. Women may be required to wear a traditional sinh (Lao-style sarong) before entering the temple grounds. There are stalls selling lotus flowers and coconuts for those looking to give offerings at That Ing Hang Stupa.
Location: Ban That, Laos
Open: Daily from 8 am to 4.30 pm
photo by Tango7174 (CC BY-SA 4.0) modified
5
Heuan Hinh (Stone House)
Heuan Hinh is a 1,000-year old outpost of the Khmer civilization in Ban Dong, about 65 km south of Savannakhet. One of the most interesting Khmer ruins in Savannakhet, the site is one of 121 rest houses built during the reign of Khmer leader, Jayavarman VIII.
Most of the original carvings have faded, and the structure is in poor condition but worth a stop if you're travelling through the outskirts of Savannakhet.
Location: Ban Dong, Dokmay Songkhone, Savannakhet 1300, Laos
Dong Natad is a national protected forest that's about 14 km northeast of Savannakhet International Airport. Trekking is one of the most popular activities here – you can spot native wildlife and animals, as well as local villagers collecting red ants and cicadas, which are staples in their diet.
There's also a sacred lake and 2 traditional villages that have been around for over 400 years in Dong Natad. Day trips are available while overnight stays include homestays, local costumes, and intermediate hiking.
Location: Dong Natad National Protected Forest, Laos
Dong Phu Vieng National Protected Area requires a fair bit of trekking, as you'll pass through bamboo forests, dense woodlands, and rocky plains of Dong Sakee Forest. This national protected area is home to 'oil-trees' which, when cut, produce a flammable liquid.
Dong Phou Vieng also has plenty of exotic animals, including hornbills, silver langurs, and leaf monkeys. Guided trekking tours to Dong Phou Vieng give you a chance to learn about the use of natural products such as edible leaves, herbs and bush fruits. Don Phu Vieng treks usually last 3 to 4 days and includes stays at local villages.
Location: Dong Phou Vieng National Bio-Diversity Conservation Area, Keng Nang, Laos