10 Local Nightlife Experiences in Sapporo
Where Do Sapporo Locals Go at Night?
Local nightlife experiences in Sapporo include endless fun nightspots, especially in the entertainment district of Susukino. Make the most of your Sapporo nightlife by barhopping or dancing all night at a dance club. The night view of Sapporo, which was selected as one of the new Best 3 Night Views in Japan, is also a must-see. The night view from JR Tower Observatory is easily accessible on foot, and the view from Mount Okura is worth the effort if you're going by car.
If you want to enjoy Sapporo in wintertime when it's covered in snow, you can even go night skiing and walk through the illuminated city. The beer garden at Odori Park and Maruyama Zoo Night Zoo events are great ways to enjoy the summer in Hokkaido. Other top destinations include Sapporo Engeki SEASON, where you can enjoy a play, or stroll down the snow candle way (yukitoro) in Jozankei. Here's a roundup of the best Sapporo nightspots.
1
Night skiing at Sapporo Bankei Ski Area
For a fun midwinter in Sapporo
Night skiing at Sapporo Bankei Ski Area is the perfect way to have fun in midwinter Sapporo. Just 20 minutes from the centre of the city, Sapporo Bankei Ski Area is an urban skiing facility that's always full of enthusiastic locals. Fully equipped with night lighting, you can enjoy skiing here until 10pm. There's no need to bring your own kit, either, as skiing equipment and skiwear can be rented.
There are 17 courses in total, catering for skiers of all skill levels. The Centre C Course is gently sloped, making it ideal for beginners and families. If you want to try mogul skiing for the first time, have a slide in the Mogul Park. Snowboarders will have a blast at the Bankei Half-Pipe (Japan's biggest), which was the venue for the FIS Snowboard World Cup 2016 Sapporo event.
Location: 410 Bankei, Chuo Ward, Sapporo, Hokkaido 064-0945, Japan
Open: Daily from 4 pm to 10 pm
Phone: +81 (0)11-641-0071
2
Sapporo White Illumination
Enjoy a sparkling, fantastical world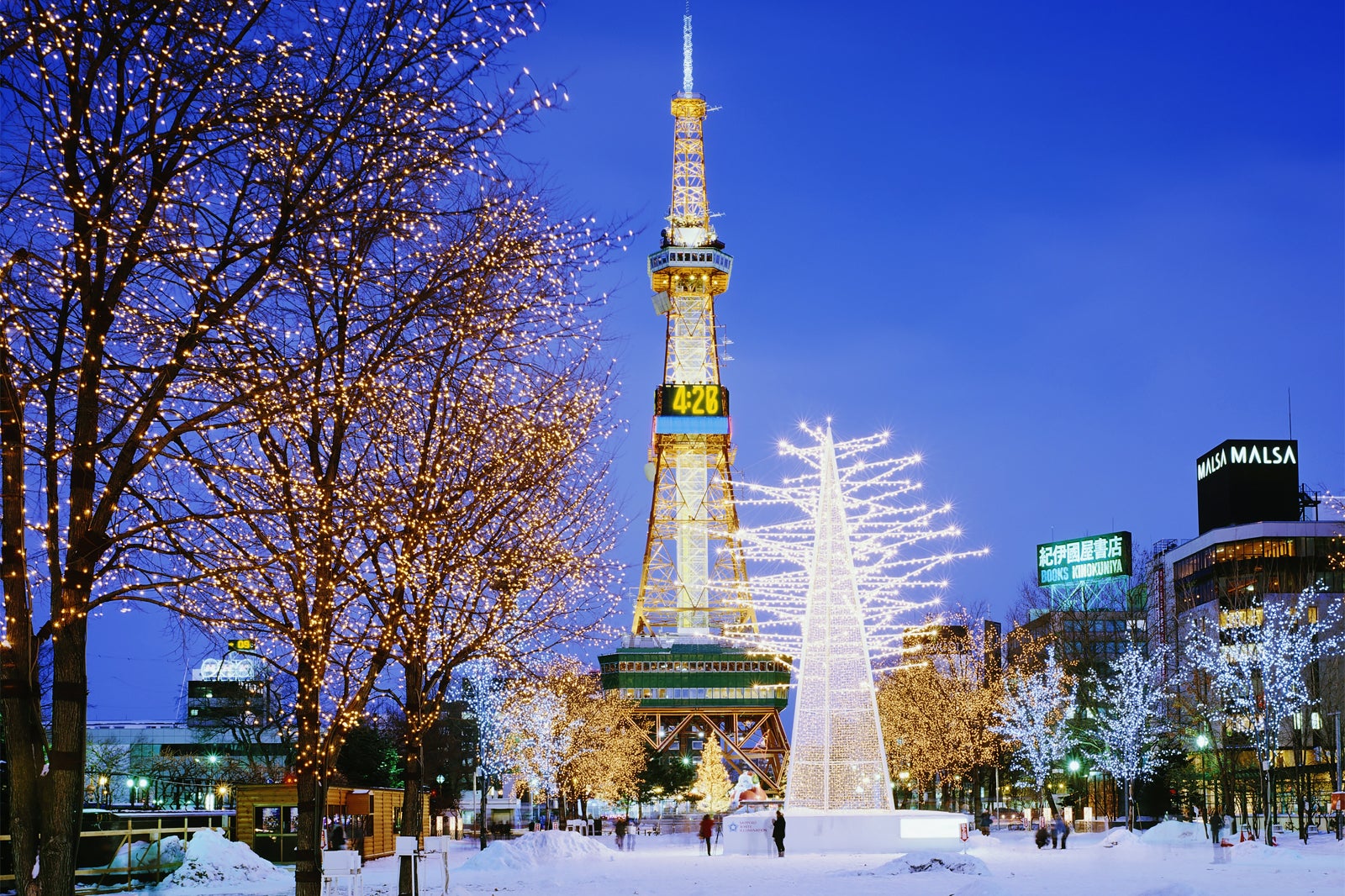 At Sapporo White Illumination, held from late November to the middle of March, you can enjoy the fantastical world of Sapporo covered with snow and sparkling illuminations. Luminous objects in various sizes tailored to different themes are exhibited each year at the Odori venue. There's a wonderfully romantic mood here as you take a stroll through the park.
The Munich Christmas Market in Sapporo is also held at the Odori 2-Chome venue for about one month during Christmas season. There are stalls serving German foods and hot wines, and others selling Christmas goods. Concerts are played on the stage, and who knows – maybe you'll meet Santa Claus himself. At the Station Street venue, roadside trees on the main street from JR Sapporo Station Square to Susukino are beautifully decorated with LED bulbs.
Location: Sapporo City, Hokkaido, Japan
3
JR Tower Observatory T38
Take in the night cityscape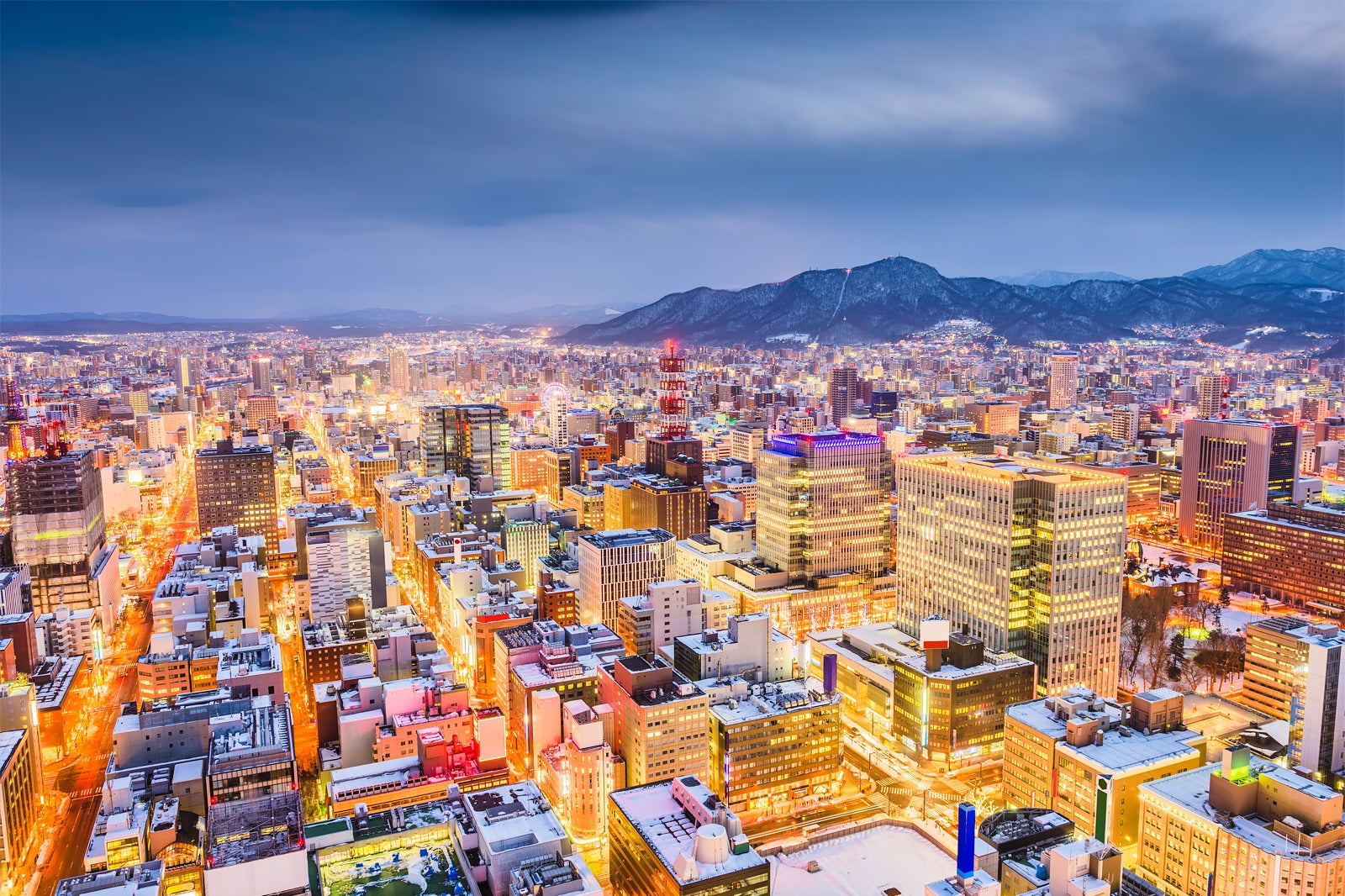 JR Tower Observatory on the 38th floor of T38 (Tower Three Eight) is a popular spot for admiring night views of the city, as you can see in all directions from 160 metres above the ground. To the north, you can see Okadama Airport and Ishikari Bay New Port, and even the city of Otaru on a clear day. To the west, you have a full view of Hokkaido University and Botanical Garden nearby and Mt. Maruyama, Mt. Okurayama and Mt. Teinesan in the distance.
To the south are the downtown areas of Odori Park and Susukino. Here you'll see a sparkling neon townscape. And to the east, you'll find a magnificent panoramic view of Hokkaido stretching out alongside the flow of Ishikari River. Special events are organised to accompany these spectacular night views, with jazz concerts and fireworks in summer and Christmas and Valentine concerts in winter.
Location: 2-5 Kita 5 Jonishi, Chuo Ward, Sapporo, Hokkaido 060-0005, Japan
Open: Daily from 10 am to 11 pm (from 9.30 am in July–September)
Phone: +81 (0)11-209-5500
4
Sapporo Odori Beer Garden
A major summer draw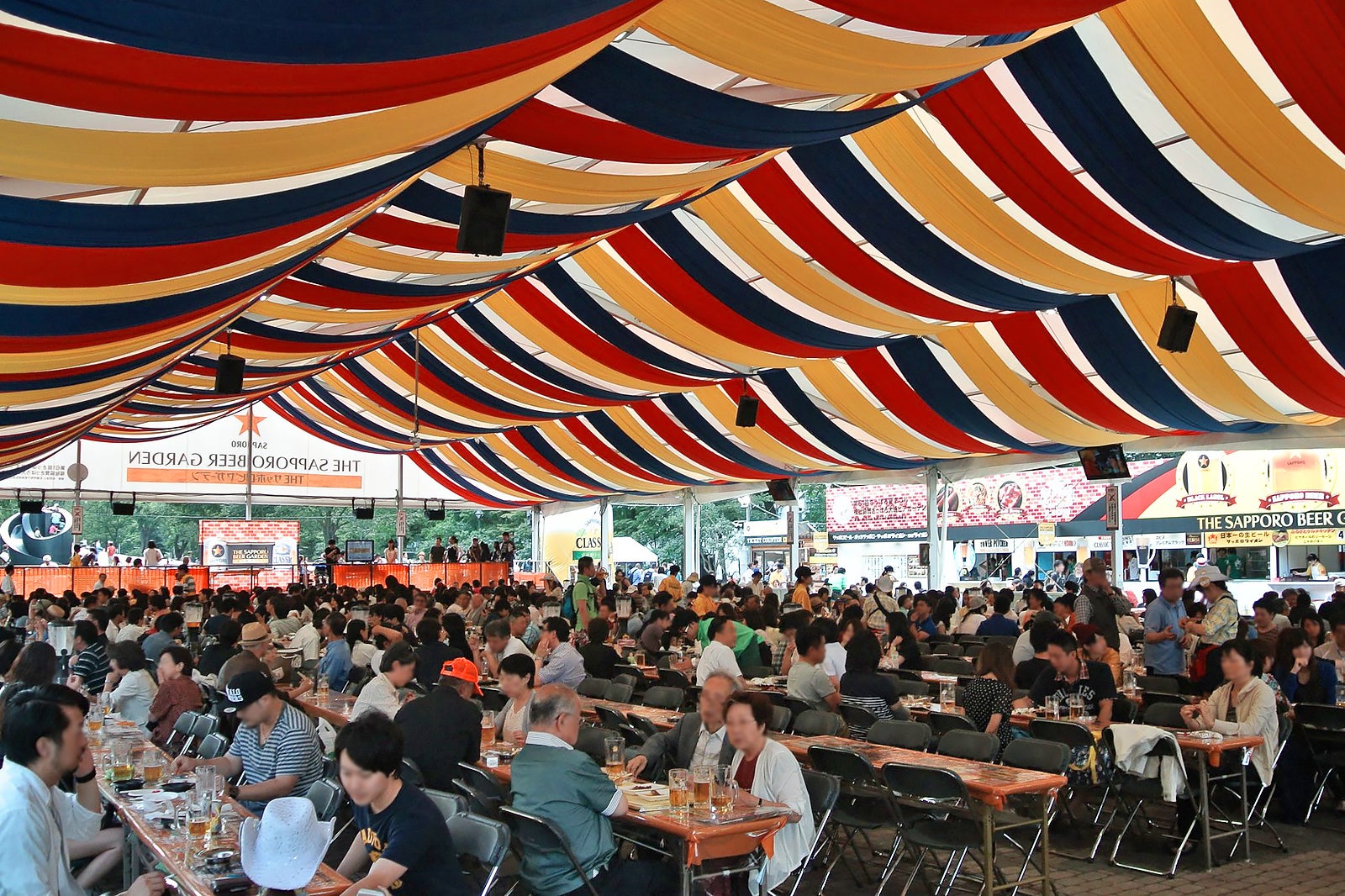 Sapporo Beer Garden is the definitive summer feature of Odori Park. Here you can enjoy the summer of Hokkaido in the biggest beer garden in Japan. It stays open for about a month at the height of summer. At the Odori Park venue from 5-Chome to 11-Chome, beer gardens set up by Japan's main beer manufacturers (Suntory, Asahi, Kirin, and Sapporo) compete side by side.
Gulp down a jug of exclusive Hokkaido beer served with the harvest of Hokkaido potatoes, sausages and fried scallops. World's Beer Square is also popular, as you can taste various draft beers from around the world, including Heineken from the Netherlands and Carlsberg from Denmark. During Obon season, don't forget to join in with the Hokkaido Bon Odori Dance held at Odori Park 2-Chome.
Location: Odorinishi, Chuo Ward, Sapporo, Hokkaido, Japan
Open: Hours vary by venue
photo by MIKI Yoshihito (CC BY 2.0) modified
5
Dance at KINGXMHU
A highlight of the Susukino entertainment district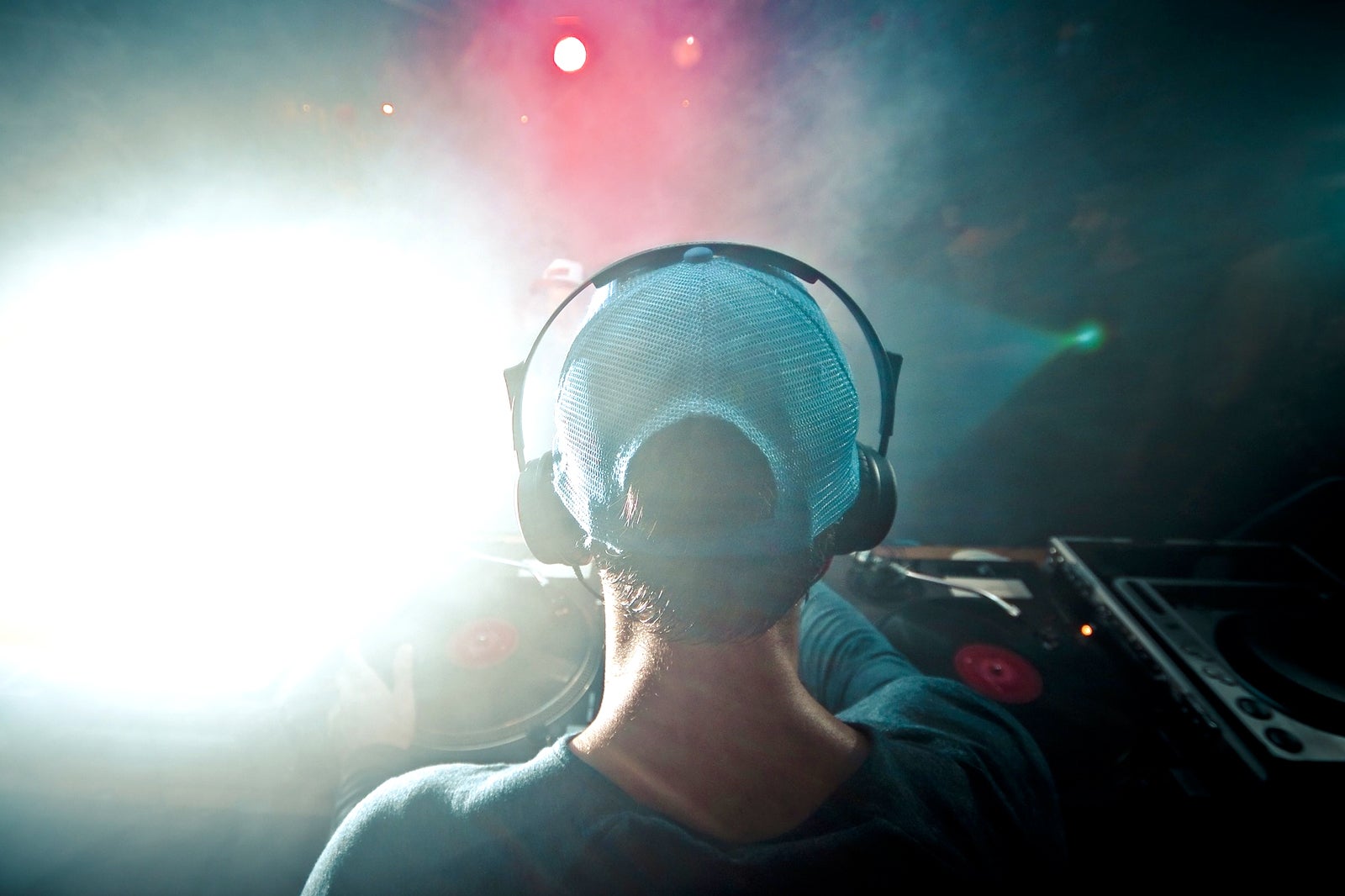 Nightlife
Adventure
Single
Group
KINGXMHU is like a theme park of a dancing club, an establishment that plays everything from EDM to pop, reggae, hip-hop, techno and house. It is situated close to subway Susukino Station in Sapporo's Susukino entertainment district, which is a must-visit if you're coming to Hokkaido.
Dance the night away with unending music selected by the resident DJ, from the latest hits to nostalgic disco sounds. Regularly events are held with the appearance of special guest DJs from Japan and the rest of the world. Admission is always free for women.
Location: 4-424-10 Minami 7 Jonishi, Chuo Ward, Sapporo, Hokkaido 064-0807, Japan
Open: Daily at 8 pm (closing times vary)
Phone: +81 (0)11-252-9912
6
Night views from Okurayama Observatory
For extended views of Hokkaido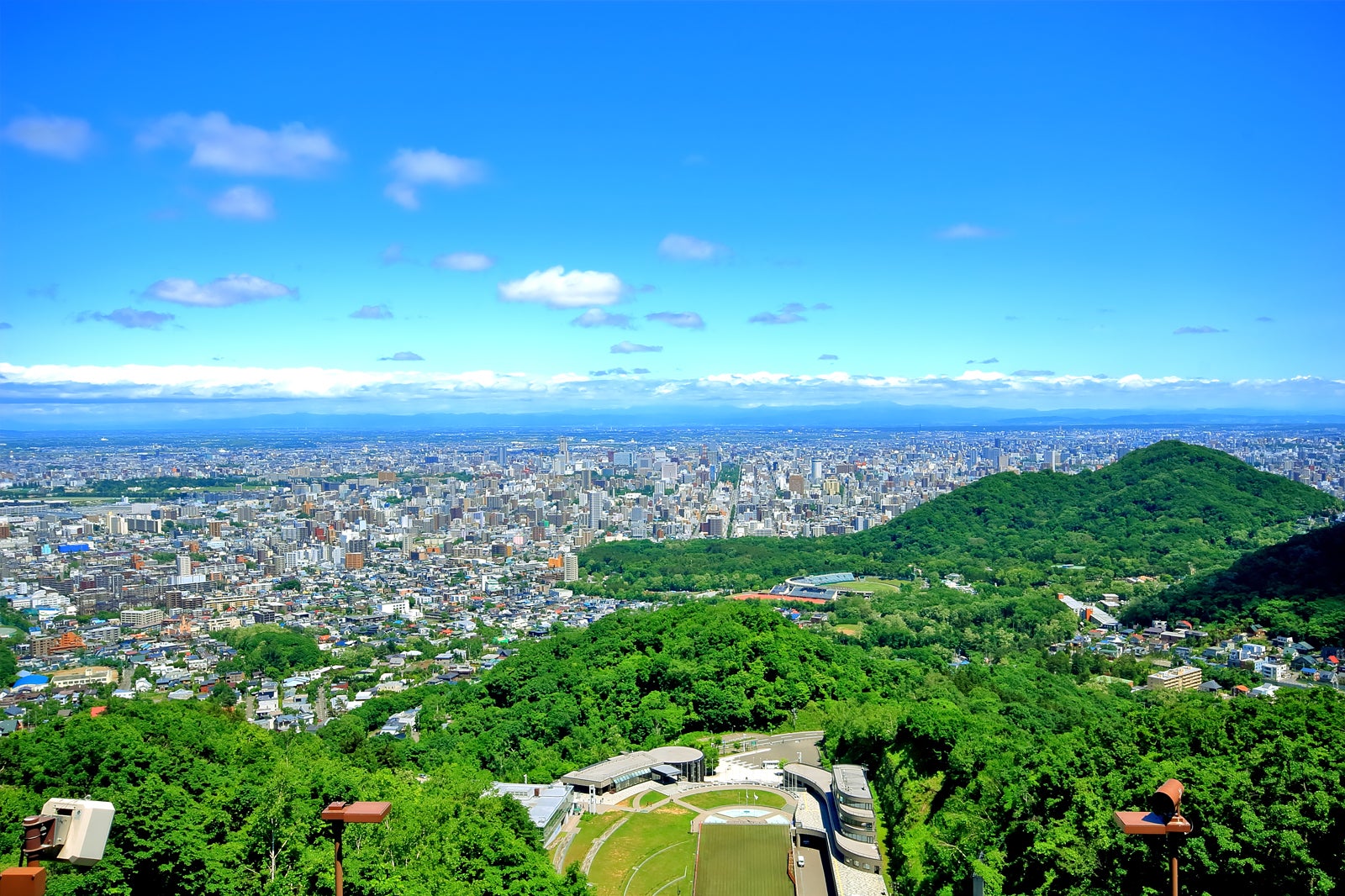 Couples
Nightlife
Budget
Group
Okurayama Observatory is the only place where you can enjoy an extended night view of Hokkaido over a ski jump stand. Okurayama Ski Jump Stadium was the venue for the 1972 Winter Olympics. A 5-minute ride through the air in a 2-seater lift takes you to the Observatory Lounge, where you see the Ski Jump Start Point.
From the glass-walled room, you can enjoy superb views of the city of Sapporo at night, including Odori Park, Hokkaido University, Sapporo Dome, and Sapporo TV Tower. At the observatory on the rooftop, you can starry skies and beautiful night scenes simultaneously. And at the same time, you can savour a prime lamb grill (Jingisukan) at the restaurant at the base of the Jump Stand.
Location: 1274 Miyanomori, Chuo Ward, Sapporo, Hokkaido 064-0958, Japan
Open: April 27–November 4: daily from 8.30 am to 6 pm. July–September: daily from 8.30 am to 9 pm. Winter: daily from 9 am to 5 pm
Phone: +81 (0)11-641-1972
7
Sapporo Engeki SEASON
View various performances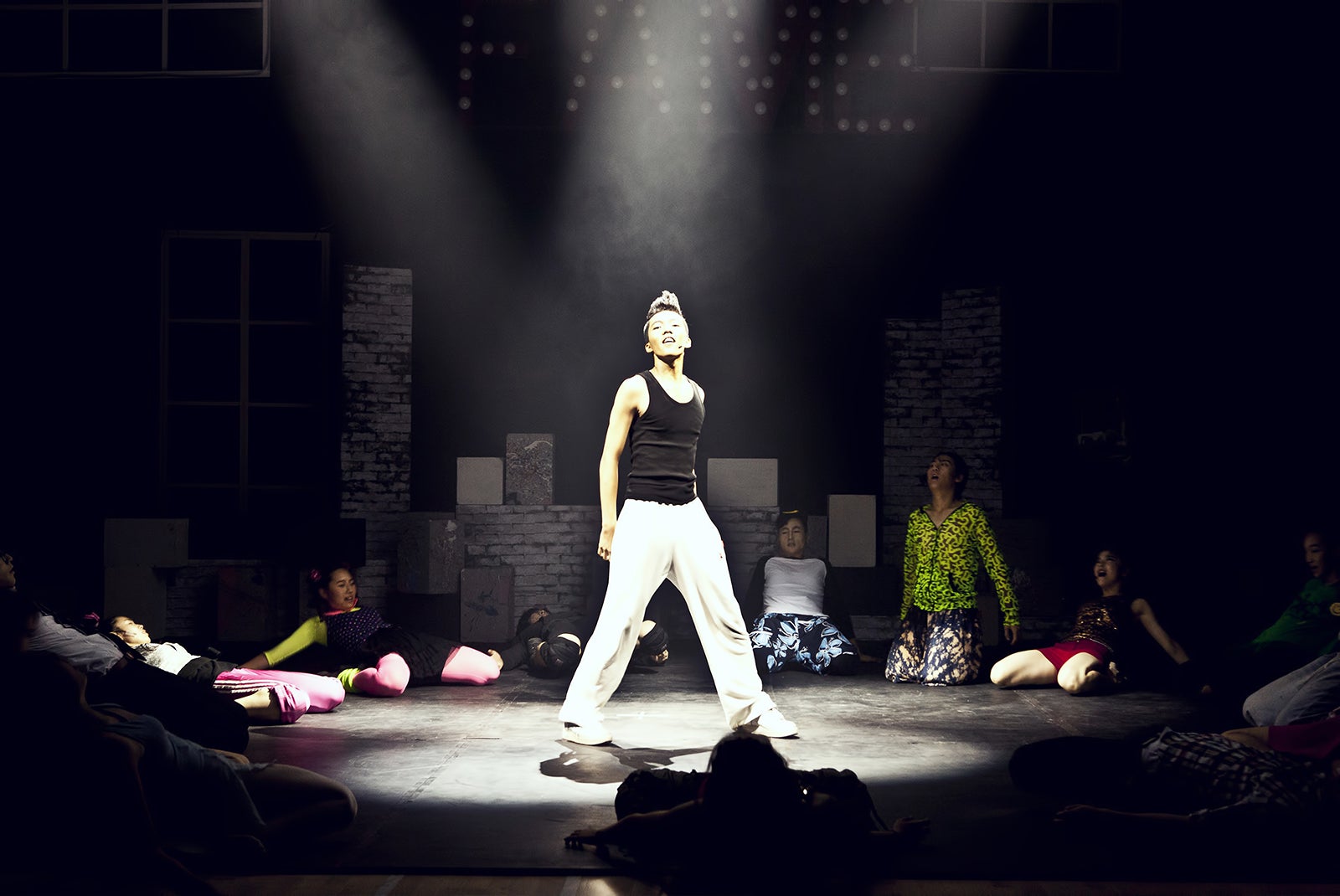 Sapporo Engeki SEASON started out in 2012 with the aim of finding 100 successful performers in the city of Sapporo. Ever since, each year in summer and in winter, various performances are played for a period of one month in each season. You'll enjoy an exciting evening if you decide to watch a live performance here. The performance venue changes depending on the season and the performance, with venues including Hokkaido Citizens Activities Center (Kaderu 2.7) in front of the Botanic Garden of Hokkaido University, Cultural Facility Concarino directly connected to Kotoni Station in Nishi Ward, Theatre ZOO, and the Basement Theatre near to Nakajima Park.
This is a great way to immerse yourself in the lively performances of successful theatre companies based in Sapporo. And the whole family, children included, can enjoy the performance series of Japanese and world masterpieces played with songs and dances by the Gekino Tamago company.
Location: Sapporo City, Hokkaido, Japan
8
NORBESA Ferris Wheel
For a full-scale view of Sapporo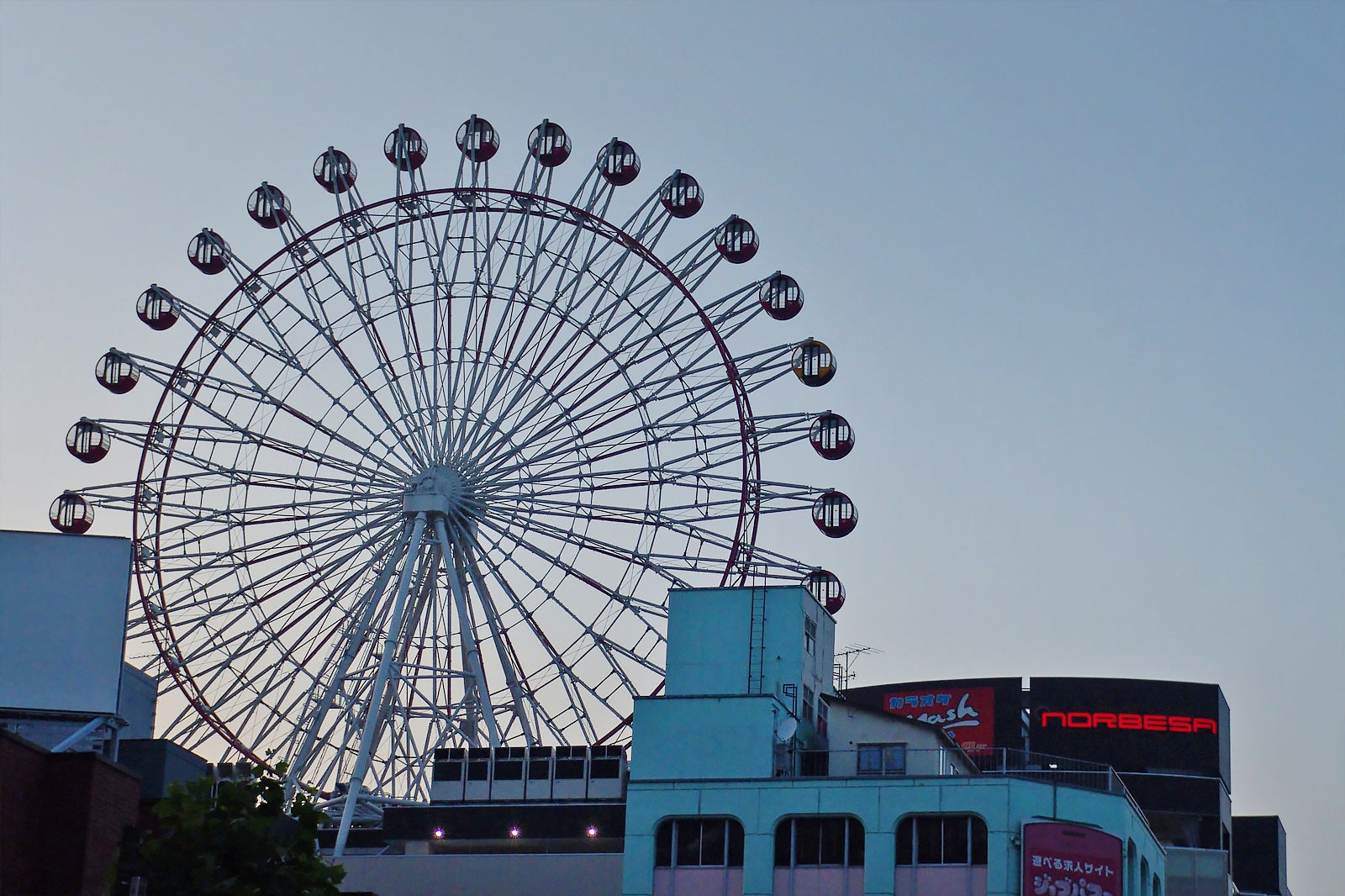 NORBESA Ferris Wheel is one of the best ways to see a full-scale night view of Sapporo. The 45.5-metre-diameter Ferris Wheel NORIA is on the rooftop deck of the NORBESA commercial complex in the Susukino entertainment district. Hop into any of the 32 gondolas and take a 10-minute promenade in the air. The highest point is only 78 metres above ground, but it feels much higher.
Look out for the illuminated Sapporo TV tower at the end of Odori Park, and the NIKKA signboard that is the landmark of the main Susukino crossing. A beer garden's opened in summer on the deck here, so you can enjoy the ride with a jug of beer in hand. There's also a Halloween costume event held here in season. Getting here is several minutes' walk from Susukino Station on the Subway Nanboku Line.
Location: 5-1-9 Minami 3 Jonishi, Chuo Ward, Sapporo, Hokkaido 060-0063, Japan
Open: Sunday–Thursday from 11 am to 11 pm, Friday–Saturday from 11 am to 3 am
photo by MIKI Yoshihito (CC BY 2.0) modified
9
Snow Light Path (Yukitoro) at Jozankei-jinja Shrine
Find magical winter scenes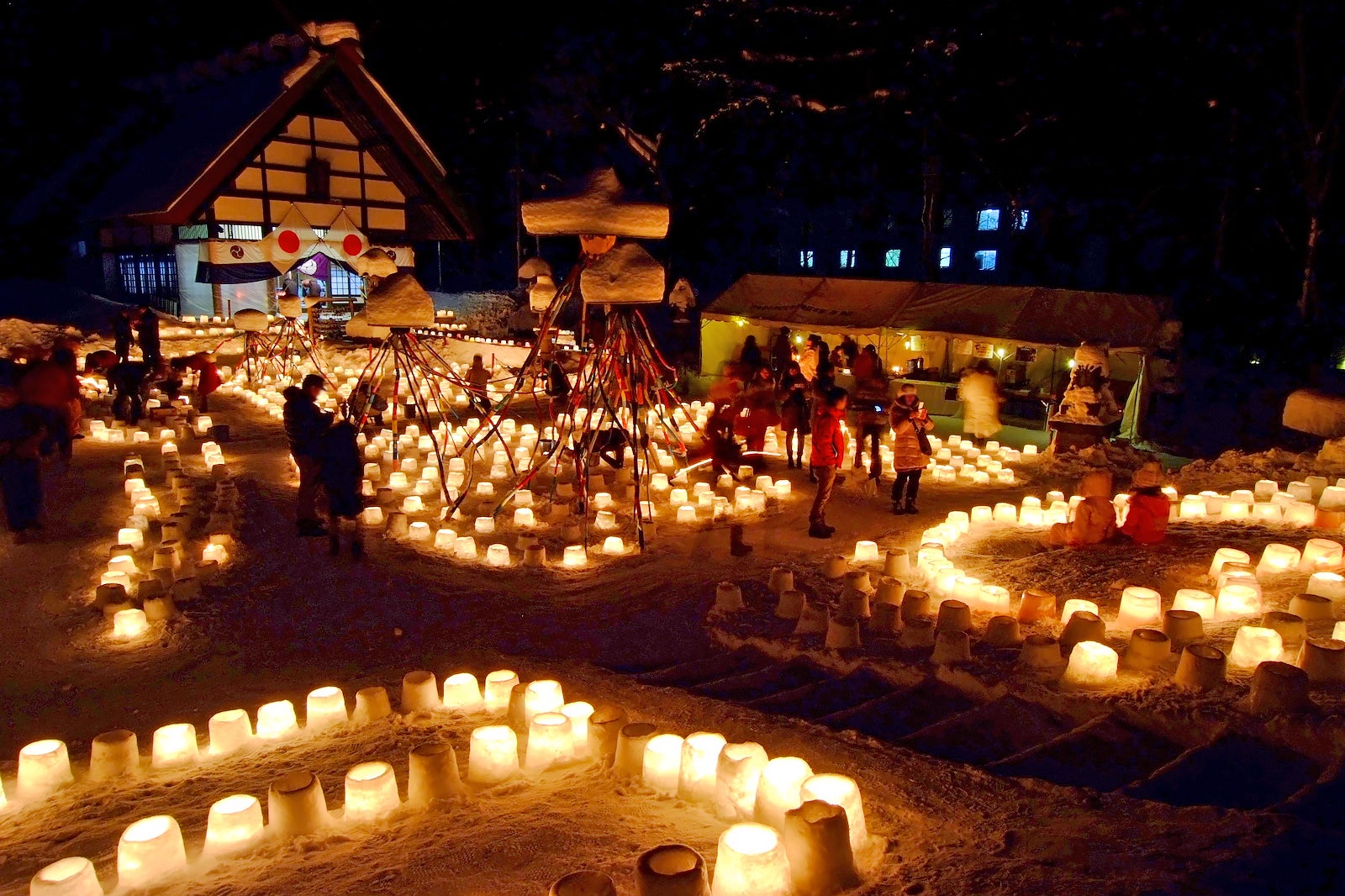 Couples
Nightlife
Budget
Group
See the annual Snow Light Path or Yukitoro event at Jozankei-jinja Shrine if you plan to visit Sapporo around late January to early February. Magical snow scenes glow with the warmth of light in the snow candles made by locals throughout the whole town.
With the "Light of Wishes," you can make a wish in the flame of the candle and carry it to the Snow Tower. It's said that your wish will come true if you succeed in placing the candle on the tower without the flame going out. You can also enjoy body-warming hot onion soup and drinks, and there are tasty sweets on offer too. During the Yukitoro period, a free shuttle bus is available from Jozankei Onsen Town.
Location: 3-chome Jozankeionsenhigashi, Minami Ward, Sapporo, Hokkaido 061-2302, Japan
photo by t-konno (CC BY-SA 3.0) modified
10
"Night Zoo" at Maruyama Zoo
Go nocturnal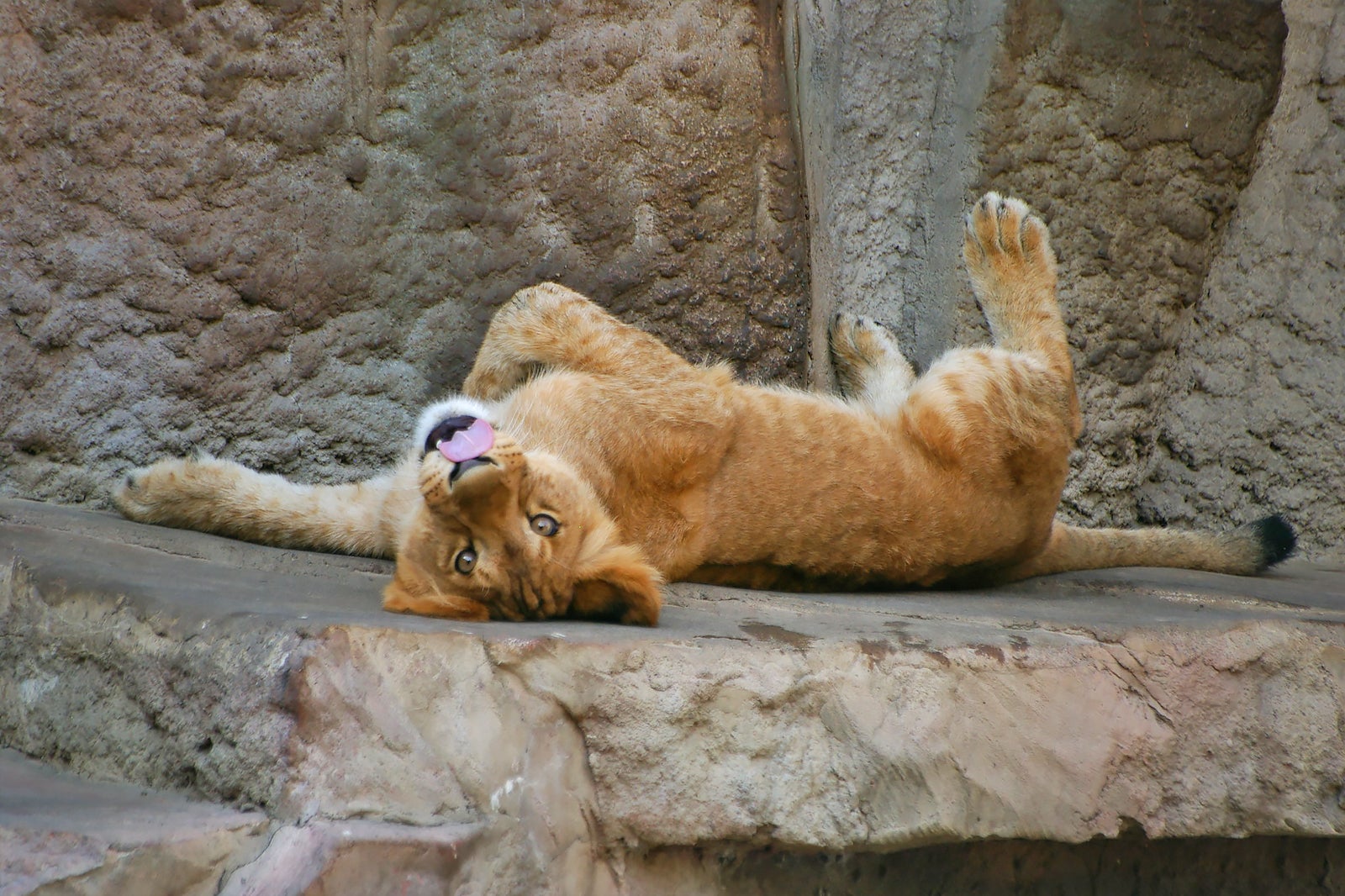 The "Night Zoo" at Maruyama Zoo is open to the public during the limited period of the summertime Obon holidays. Opening hours are extended beyond the normal closing time of 4.30pm, so you can enjoy zoo visits through until 9pm. The Russian Flying Squirrel, a nocturnal mammal that lives in Hokkaido, weighs just 100 grams. If you're lucky, you may be able to see it flying with its small parachute-like membrane open.
As you walk around to observe the animal life active at night, you might also hear the howl of the timberwolf. During this limited period, there are many events and activities organised, including the Animal Specialist's Live Talk explaining the biology of nocturnal animals and exciting experiences where you can observe how animals feed at night. Preliminary admission is required for the Night Zoo Premium Tour, which is held on a separate day.
Location: 3-1 Miyagaoka, Chuo Ward, Sapporo, Hokkaido 064-0959, Japan
Phone: +81 (0)11-621-1426
photo by pelican (CC BY-SA 2.0) modified