10 Best Things to Do for Couples in Corsica
Corsica's Most Romantic Places
Corsica is one of the best options you could choose for a romantic holiday in the Mediterranean. This beautiful island features hundreds of options for intimate surroundings. If you're into outdoor adventures, there are serene and challenging hiking trails. If you're into history and heritage, there are archaeological and ancient sites galore.
There are quaint villages, vibrant sunsets, and all you need to find an intimate experience in Corsica. Check out these best things to do for couples in Corsica, which will provide inspiration for your romantic holiday on this unique island.
1
Bonifacio
Catch the sunset from the cliffs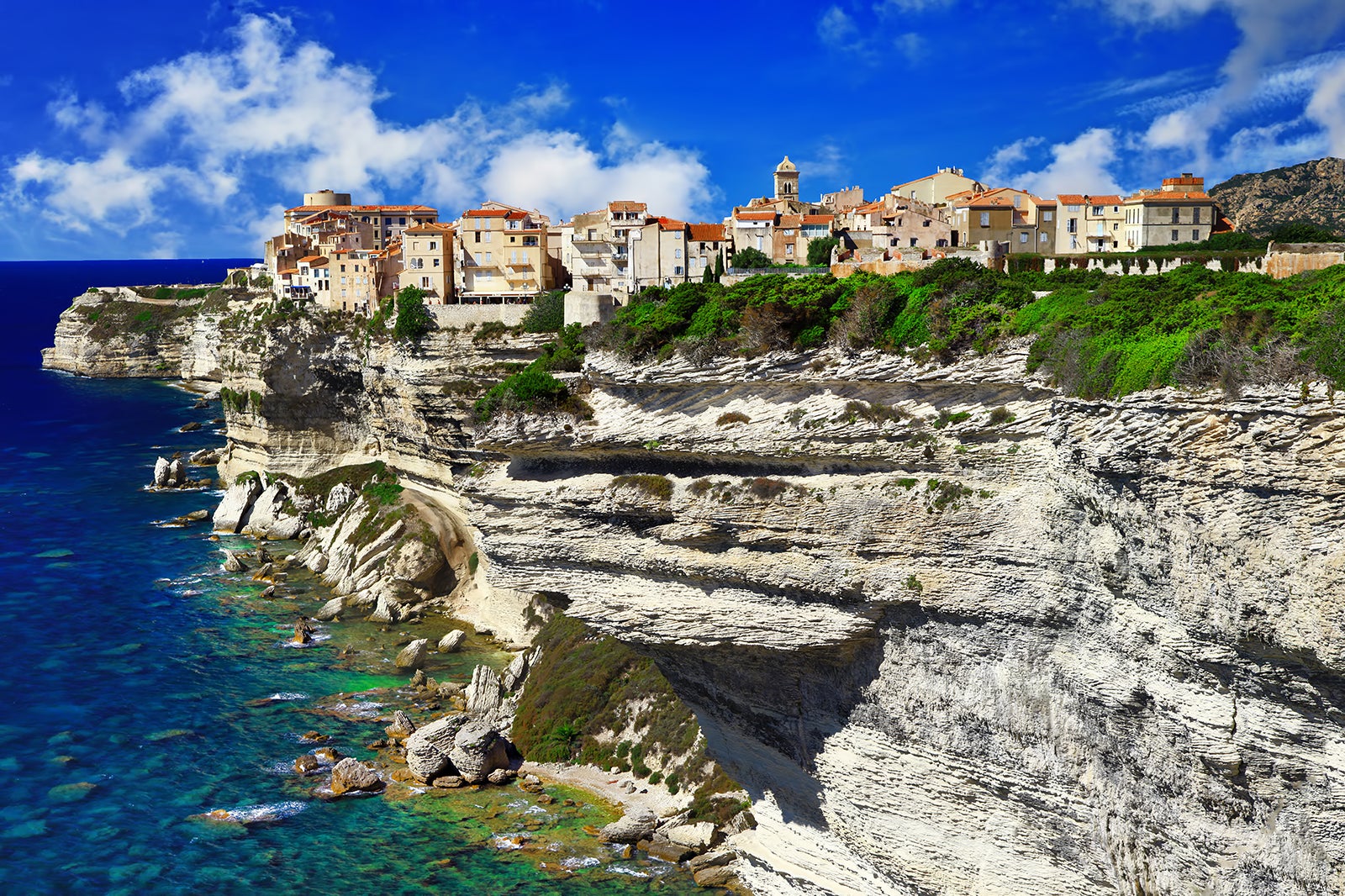 Bonifacio is a fortress town that towers above the Mediterranean atop brilliant limestone cliffs in southern Corsica. Its location, poised at the top of these cliffs, reflect the brilliant reds, yellows, and oranges of the Corsican sunset and is sure to ignite that intimate fire in you and your beloved as you stand and watch the sun go down behind the oceanic horizon.
The area also has a heritage that stretches back thousands of years and is even believed to be spoken of in Homer's Odyssey. Among the many notable spots are the lively marina and the historical landmark of Citadelle de Bonifacio. The views and the setting become the perfect recipe for romance.
2
Coastal drive
Get cultured through 900 km of winding roads
Couples
Families
Photo
Budget
The coastal drive through 900 km of winding coastal roads that take you along the seashore and through the mountains in Corsica is hard to beat. That's particularly true if you're looking for some of the most breathtakingly romantic sites in the world. You'll pass through scenic, historic villages and can stop to eat at one of dozens of local restaurants.
On the trip, you can get the culture and flavour of Corsica in a way that visiting well-known, hospitality-oriented locations can't provide. You'll see red granite cliffs over an emerald sea and learn all about the history and legacy of this wondrous region while you and your partner spend an adventurous day together.
3
Filitosa
See the megalithic figures at this historic site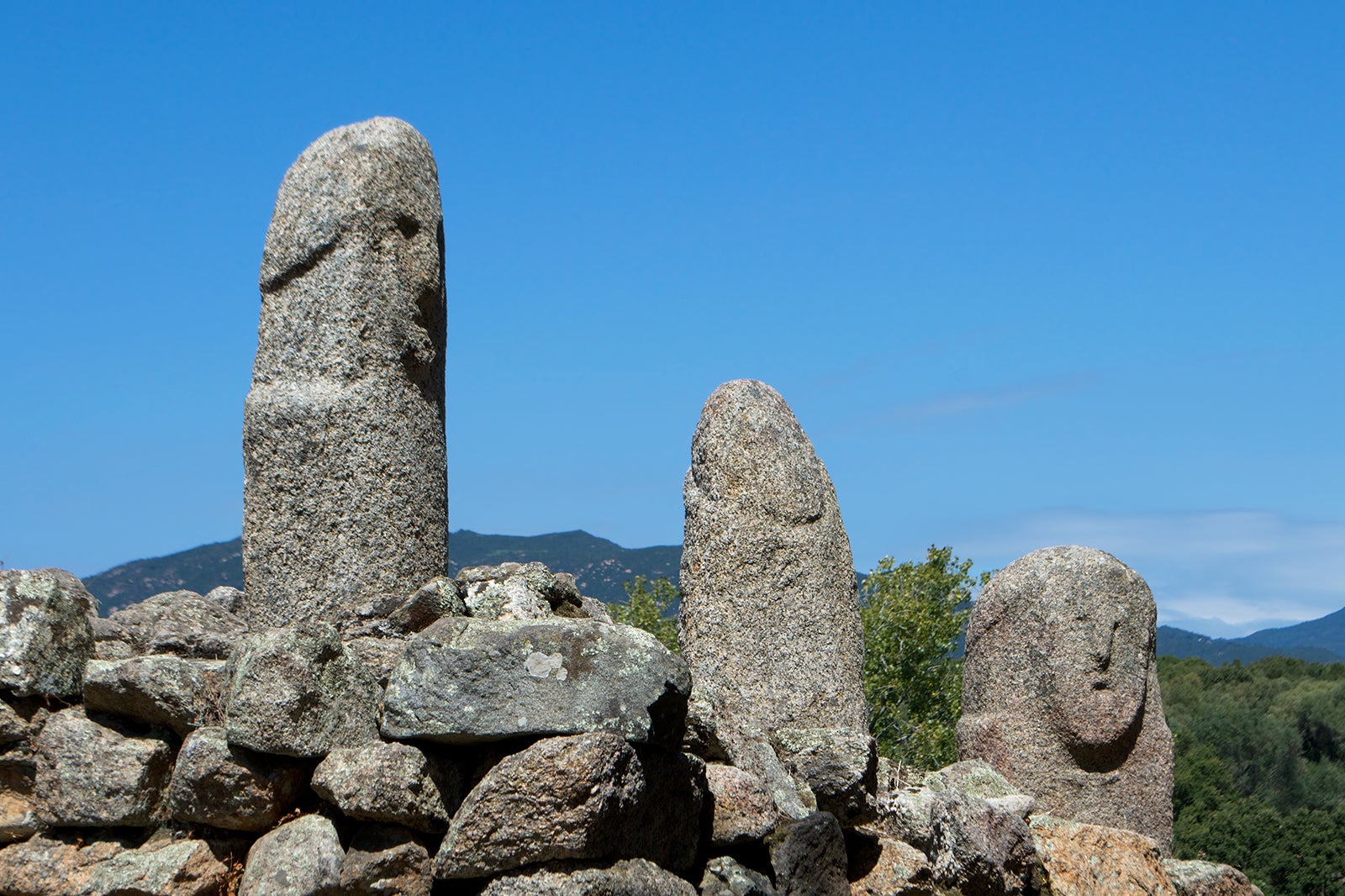 Filitosa is an historic and archaeological site in Corsica that has remained undisturbed for over 4,000 years. It features intricately carved menhirs and dolmens as well as stone figures of warriors all decked out for battle in military precision.
Some of these statues date all the way back to the stone age, and in all, they are believed to be a tribute to a group of ancient warriors that fought a battle against invading Egyptian forces. It's a wondrous place and surrounding you will be the deep turquoise waters of the sea and the lush forests of the region.
Location: Filitosa, D.57, 20140 Sollacaro, France
Open: Daily from 9 am to 7 pm
Phone: +33 (0)4 95 74 00 91
4
Castagniccia
Welcome to sweet chestnut country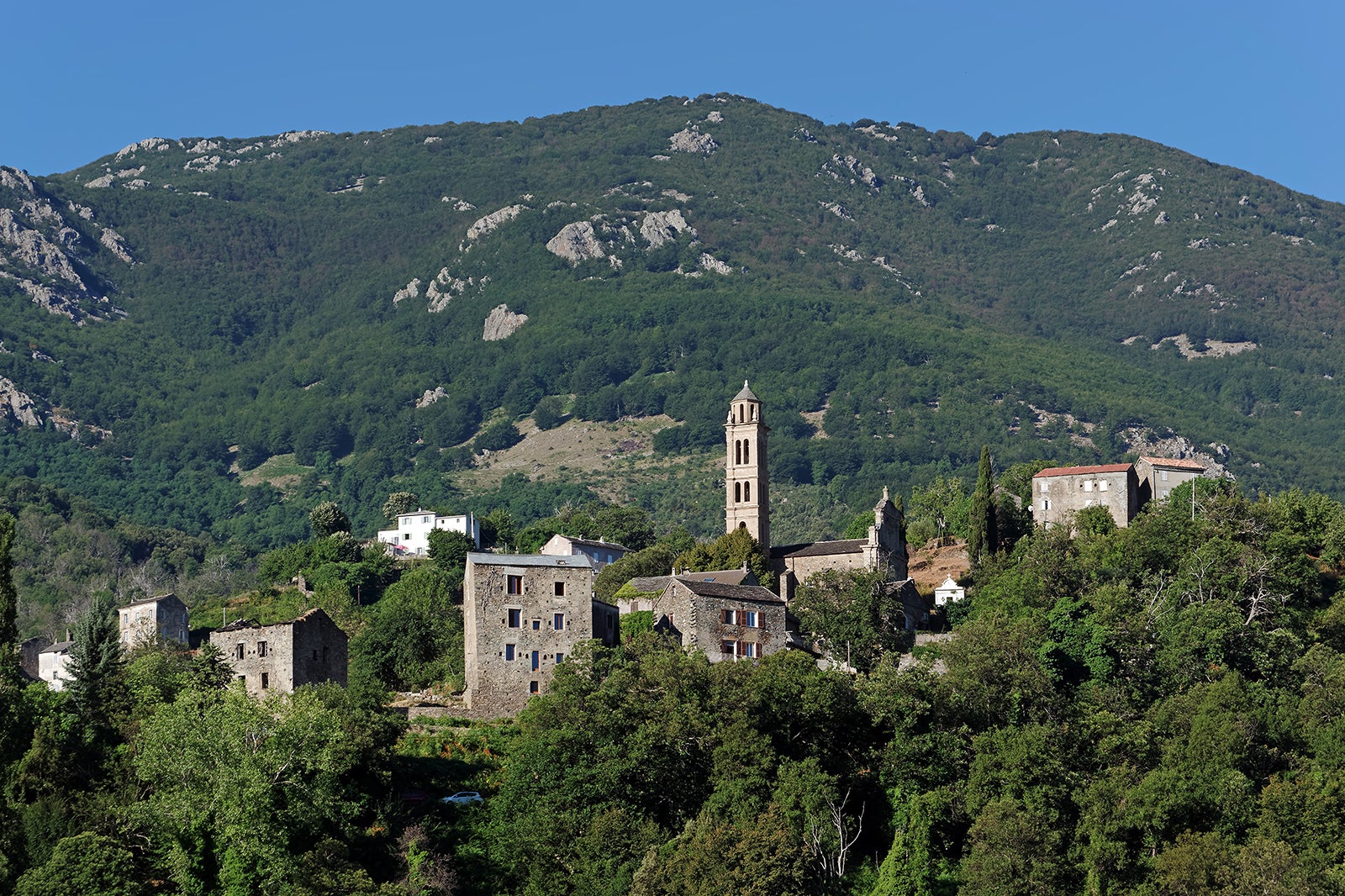 Couples
Families
Photo
Budget
Adventure
Castagniccia on the eastern coast of Corsica is home to many romantic attractions. For example, did you know that it is home to the largest grove of chestnuts in the world? Here, you'll find a peaceful forest that hasn't changed for over a century, though it's believed that many of these trees were first planted in the 17th century.
It's also full of lush green space, small villages, and winding lanes, perfect for wandering together. The surroundings are of historic importance, where a battle for Corsican independence took place, but today it's a serene, relaxing escape from the rest of the world.
5
Scandola Nature Reserve
Admire the rich marine life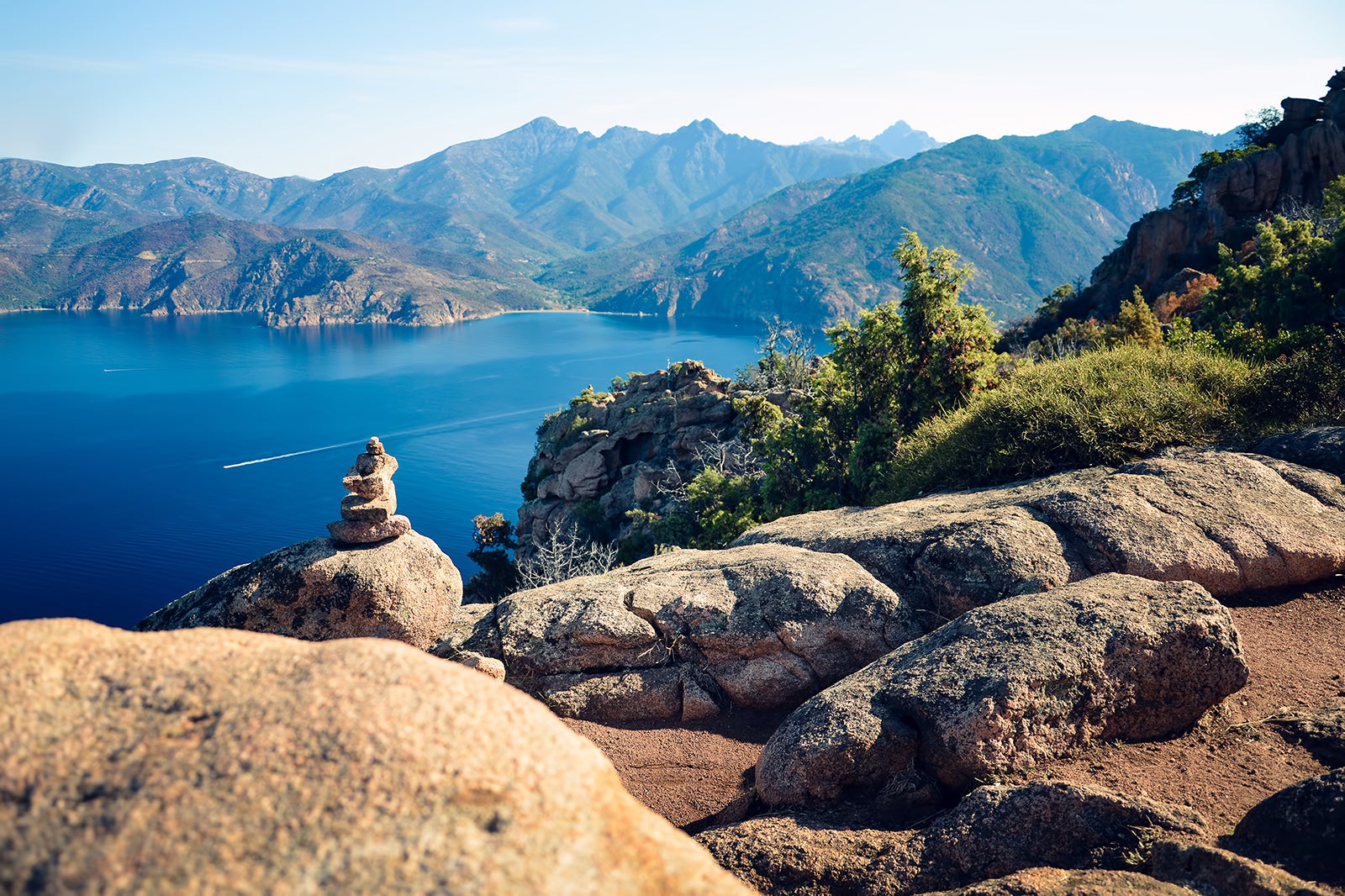 Couples
Photo
Budget
Adventure
Visiting Scandola Nature Reserve as a couple can be one of the most romantic things to do in Corsica especially if you also want to surround yourself in nature. Besides being a great place to experience intimate alone time with your beloved, the nature reserve offers some of the most unique sights in the country.
You'll walk along scenic coastlines, hike through lush forests, and travel up mountain trails, all in one beautiful and unspoiled spot. You can also take a boat trip to view the stunning red granite cliffs that jut high above the sea. It's a picturesque setting that will get your heart pounding and take your breath away.
Open: Monday–Friday from 8.30 am to noon and 2 pm to 5 pm (closed on Saturdays and Sundays)
Phone: +33 (0)4 95 51 79 10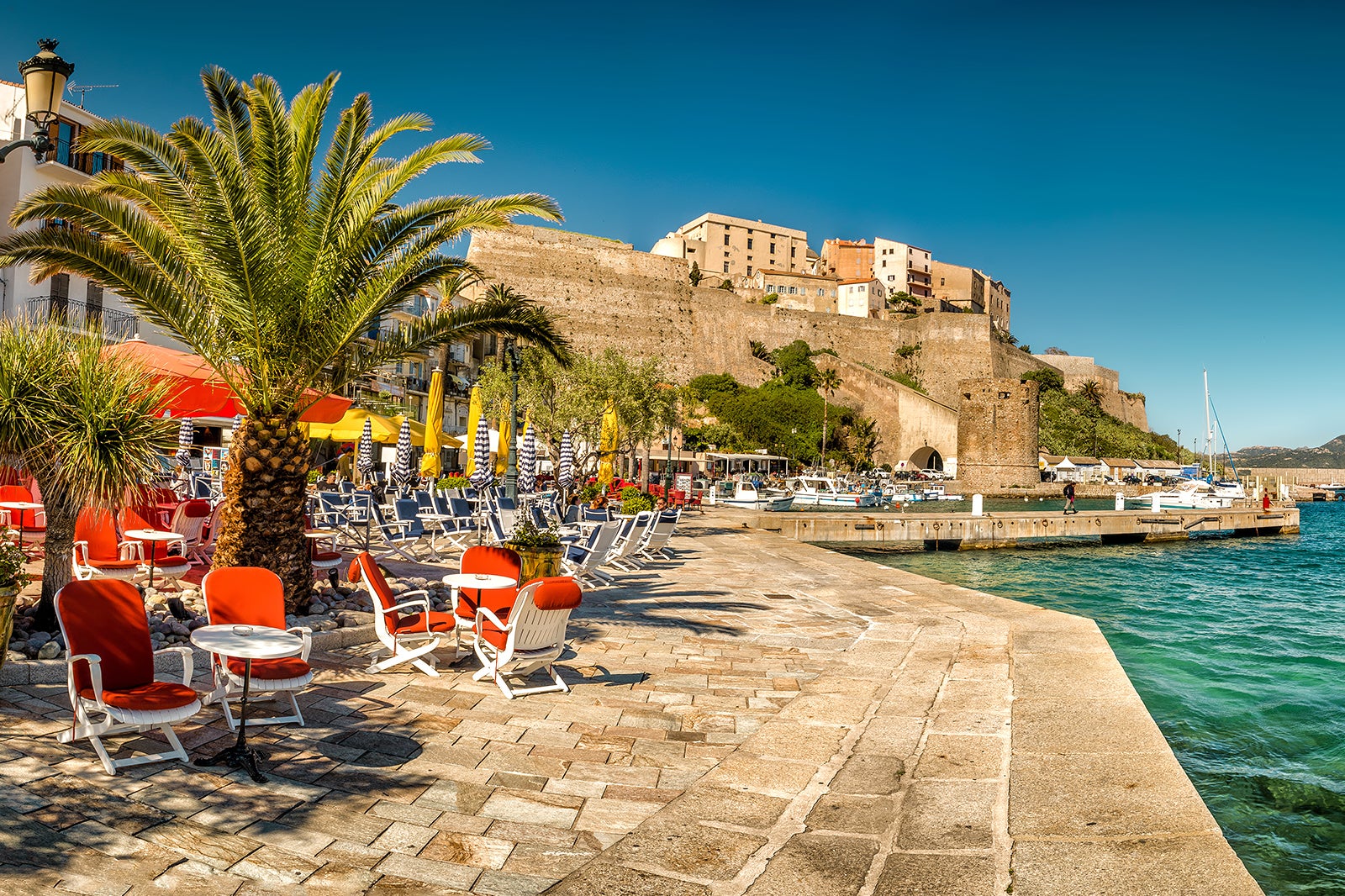 Calvi is a thriving and vibrant town that is filled with historic and cultural sites like the citadel walls, which date back hundreds of years and tower over the town. Here you can find churches and monuments, and if you attend at the right time of year, you can even experience an annual jazz festival that brings together the most talented musicians from all over the world.
This town is a popular holiday destination in Corsica. It's also one of the island's most romantic spots that's sure to provide you and your partner with memories of a lifetime. Visit in the evenings for an intimate stroll when the citadel and stone pathways are subtly lit.
Location: Haute ville, 20260 Calvi, France
7
Porto Vecchio
A port town that offers plenty of romance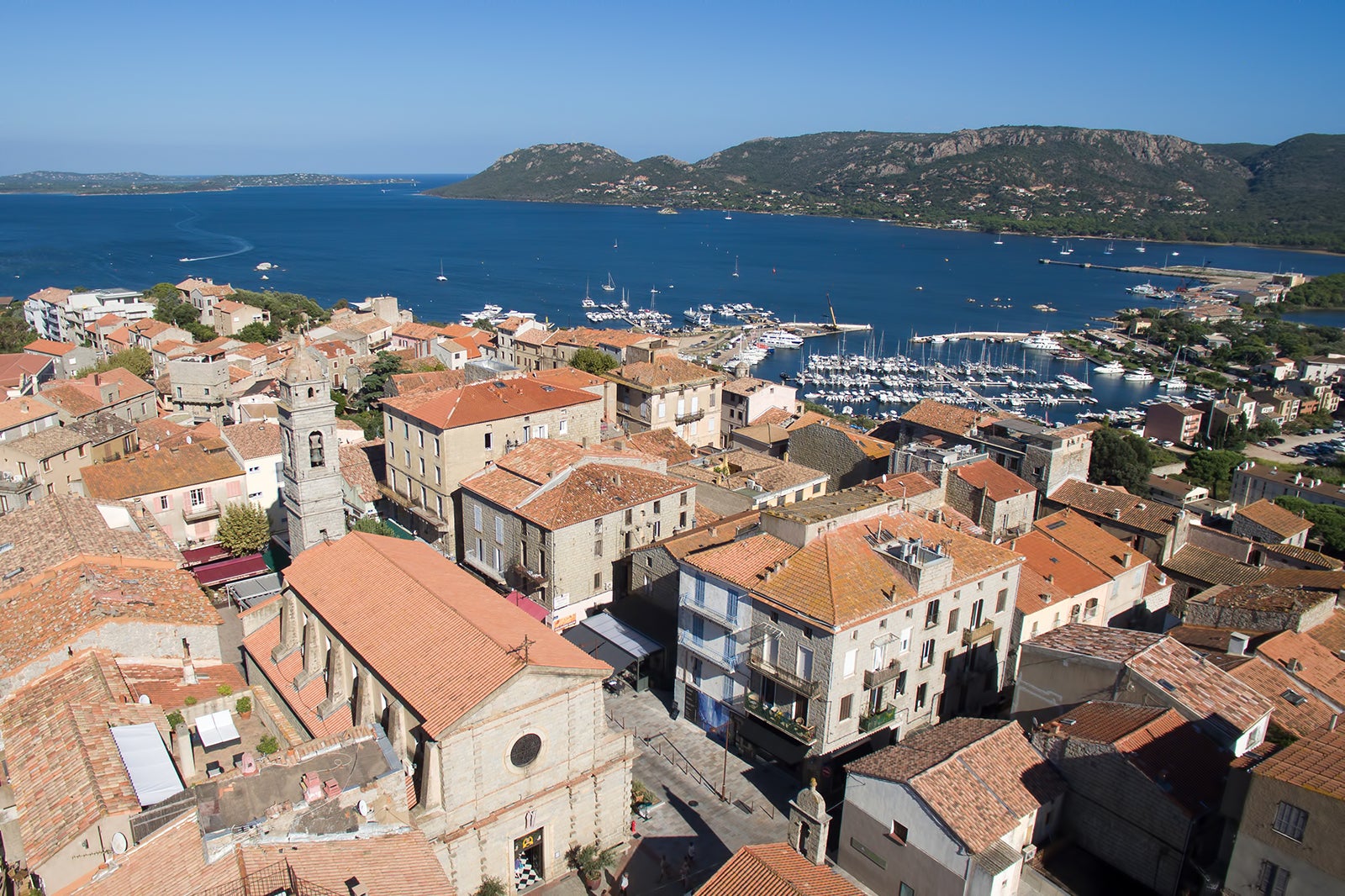 Porto Vecchio is a port town that will bring all of the romance and excitement you want out of your trip together in Corsica in one whirlwind experience. This place offers it all: 16th-century Genoese walls, cliffside views of the yachts on the ocean, quaint boutique shops and cafes located along narrow streets and avenues, and the very best in fine dining with fresh ingredients and wine pairings.
Relax on world-renowned beaches and walk through pine forests as you enjoy intimate time with your loved one that you'll never forget.
Location: 6 Rue du Bastion de France, 20137 Porto-Vecchio, France
8
GR20 Trail
Conquer one of Europe's most challenging treks together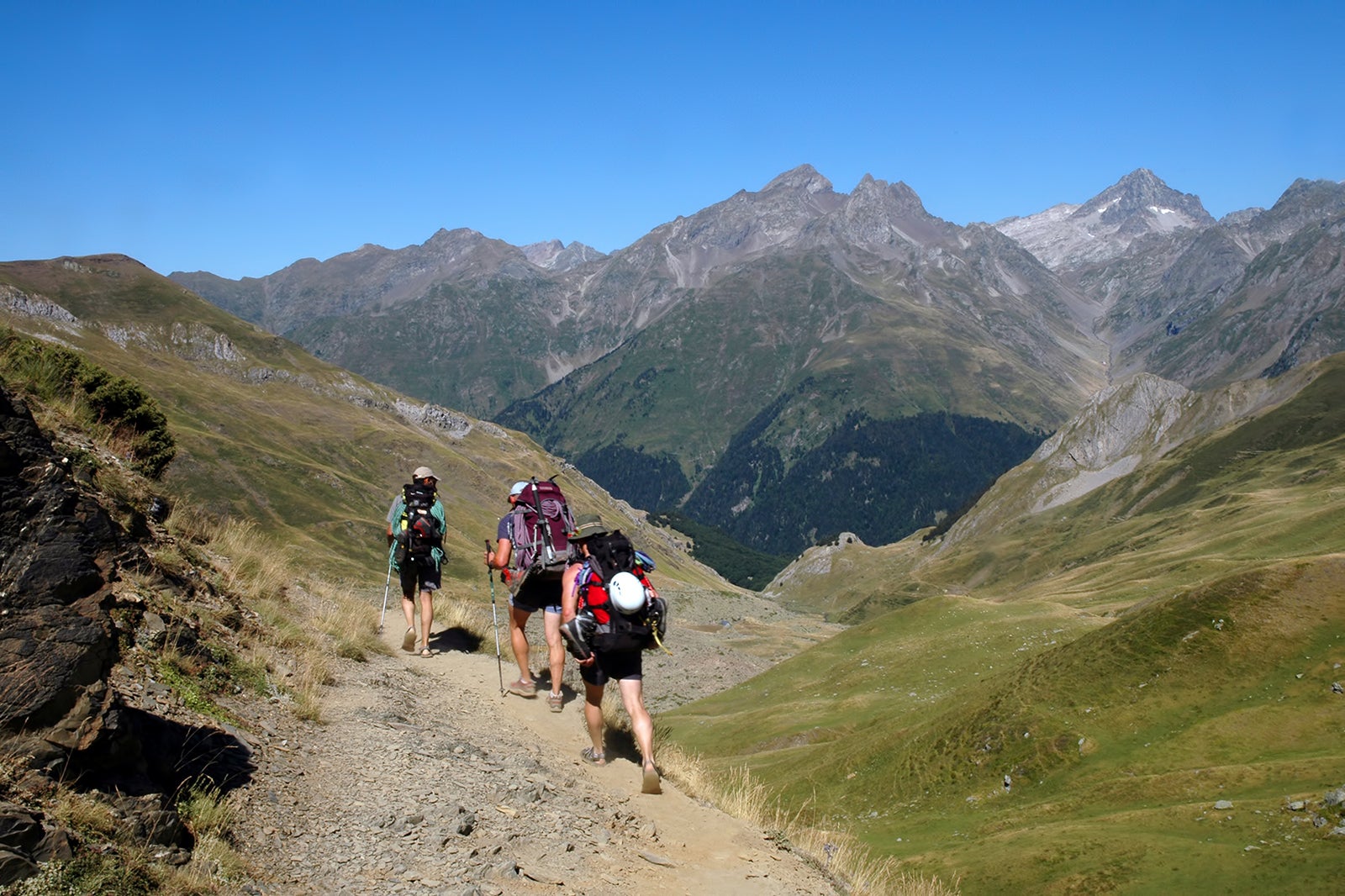 The GR20 Trail is among the best in Corsica if a nature walk is the thing to quicken your romantic getaway on the island. This footpath crosses the entire island in a roughly north-south direction and has been called one of the best in the world – if not among Europe's most challenging. Indeed, the trail is not for novice hikers.
It's known to be quite the difficult trail to traverse, so it's likely best for couples who are quite experienced in outdoor adventuring. It does, however, take you through Calenzana, Vizzanvona and Conca, among other pretty towns and picturesque villages along the way.
9
Girolata Village
Spend some time at this beautiful bayside village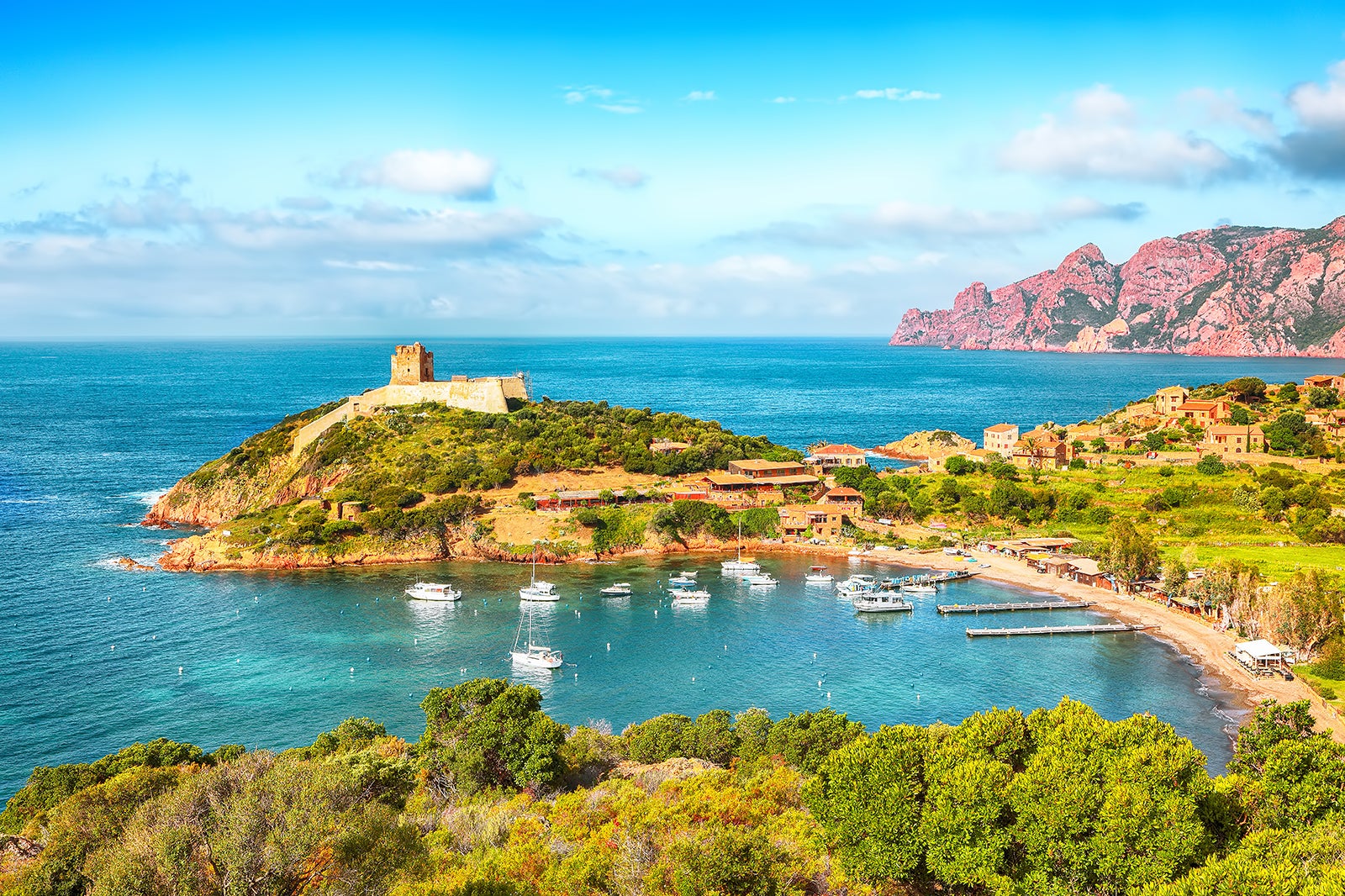 Girolata is a remote and hidden village at the southern end of the Scandola Nature Reserve, part of the Corsica Natural Park. It offers a dramatic peninsular setting, surrounded by the sea on 3 sides and backed by the red rock mountains. It features a small beach and an ancient Genoese tower, ever keeping watch over the region.
The village lies on the northwestern coast of Corsica and is a thriving cultural centre reachable by boat or by a challenging foot trail, and the villagers are warm and welcoming. Here you can engage in wildlife viewing, fine dining, or just relax by the sea on Girolata Beach and spend some quiet time together.
Location: Girolata, 20147 Osani, France
10
Calanques de Piana
Discover Corsica's dramatic geologic formations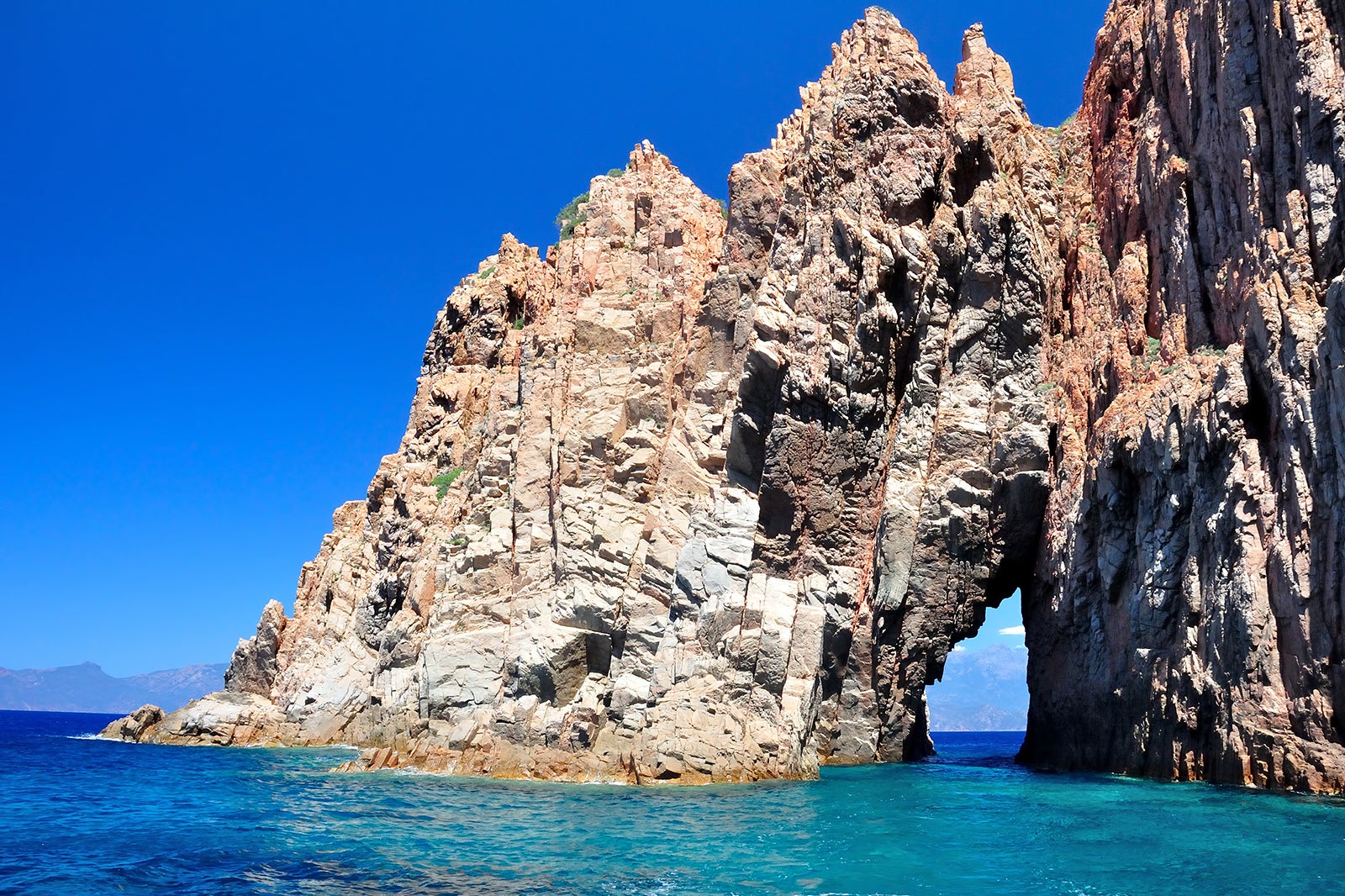 Les Calanques de Piana features narrow and steep-walled inlets nestled between limestone and dolomite cliffs which have been designated a part of a UNESCO World Heritage Site. They are accessible by foot, but the trails are quite challenging and can be approached from 3 different paths.
The first leads to the Château Fort, an ancient structure overlooking the region, by a high trail, or by the old "Piana à Ota" trail. Whichever route you choose, you're sure to discover stunning rock formations, carved stone monoliths, and lush flora and fauna – all with glimpses of the Mediterranean seascape.
Location: Les Calanques de Piana, 20115 Piana, France
Back to top