Deauville Travel Essentials
Useful Information to Help You Start Your Trip to Deauville
Our Deauville Travel Essentials lays out the essential information you need to help you plan your trip to one of the most popular destinations in Normandy, France. No matter how frequently you travel, some questions will always need answers: What's the weather like? How can I get from Paris Charles de Gaulle Airport to my hotel? What currency and type of plug do I need?
We have all these answers plus other basic info about the best time to go, getting there, getting around, and a few useful travel tips. You'll also learn about the most popular landmarks in Deauville such as the Villa Strassburger, Deauville Market, and Saint-Augustin church. It's all compiled in this Deauville Travel Essentials. After going through this short and easy-to-read guide, you'll be a little more prepared to start your trip to Deauville.
1
When is the best time to travel to Deauville?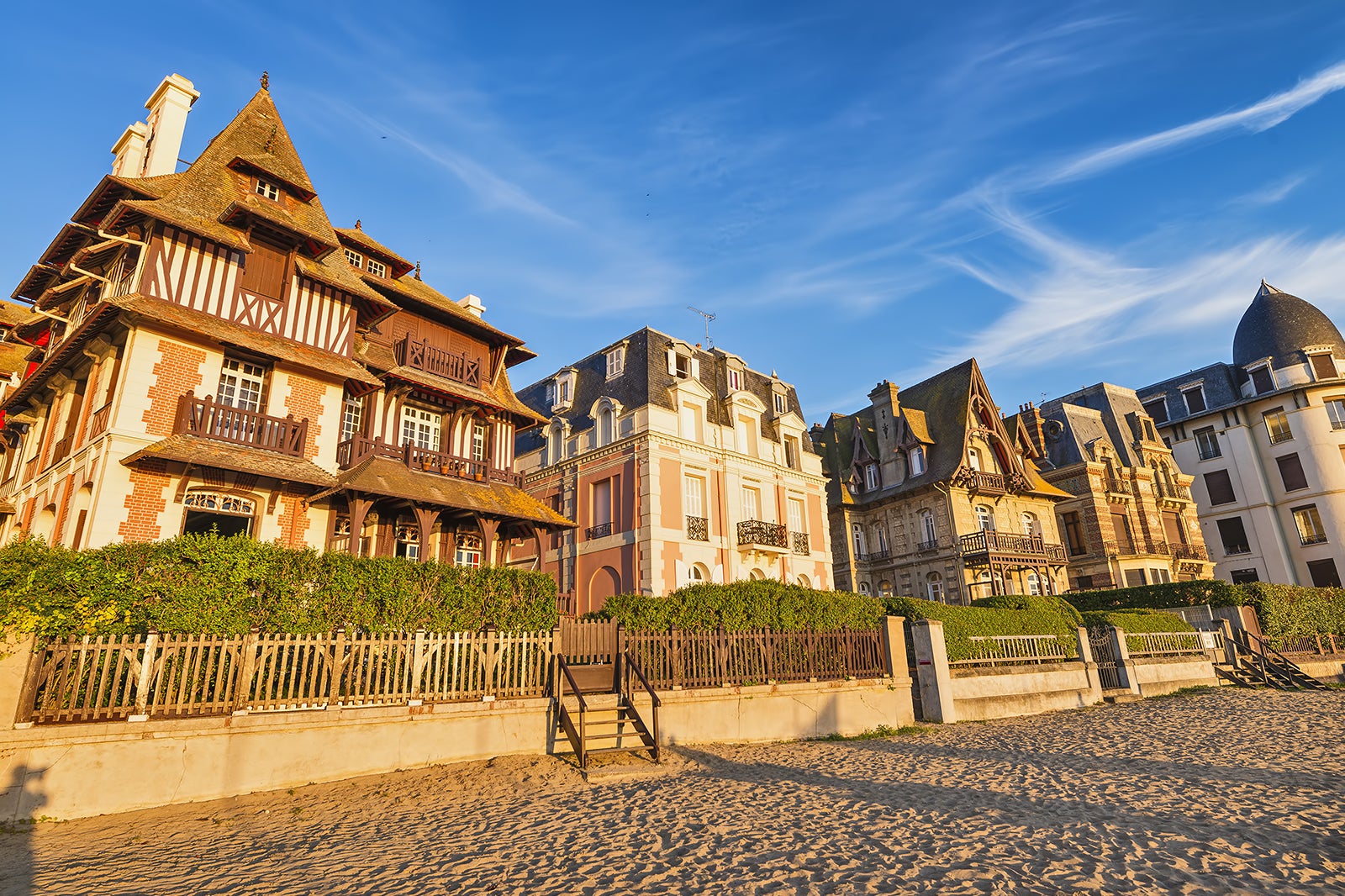 Deauville has a temperate oceanic climate with mild summers and chilly winters. Average temperatures range between 5°C in winter and 18°C in summer.
The maritime influences make Deauville humid and windy. The period with the most rain in Deauville is October–January with up to 14 wet days per month. Expect an average of 9 rainy days per month for the rest of the year. Expect a few snowfalls in December–March.
June–September is the warmest period of the year with average temperatures of over 15°C. Thunderstorms are expected in July–August.
The peak season is June–August when you can expect higher hotel rates and more crowds. If you plan to visit Deauville around this time of the year, it's best to book far ahead.
The best times to visit Deauville are in May and in September (just before the peak season kicks in) and in autumn. They're when you'll find good hotel deals, pleasant weather conditions, and lesser crowds at places of interest. However, Deauville is the prime weekend destination for wealthy Parisians – it's only a 2-hour drive from Paris – so you can expect Deauville to be busy on weekends from early May to late September.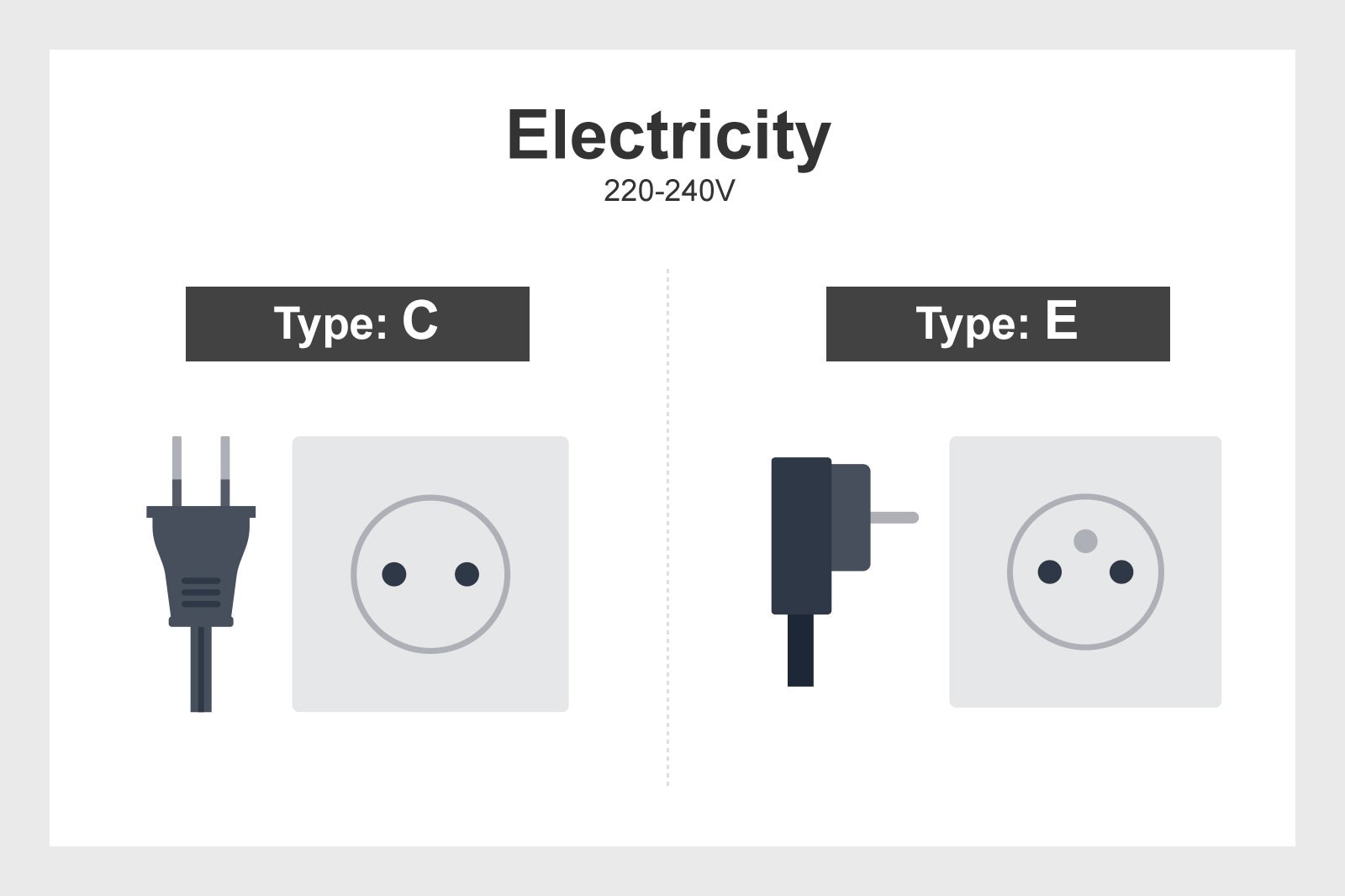 Plug type: C and E
Electricity: 220-240 V
Currency: Euro (€)
International dialling code: +33 2 31
Emergency telephone number: 112
3
How to get to my hotel in Deauville?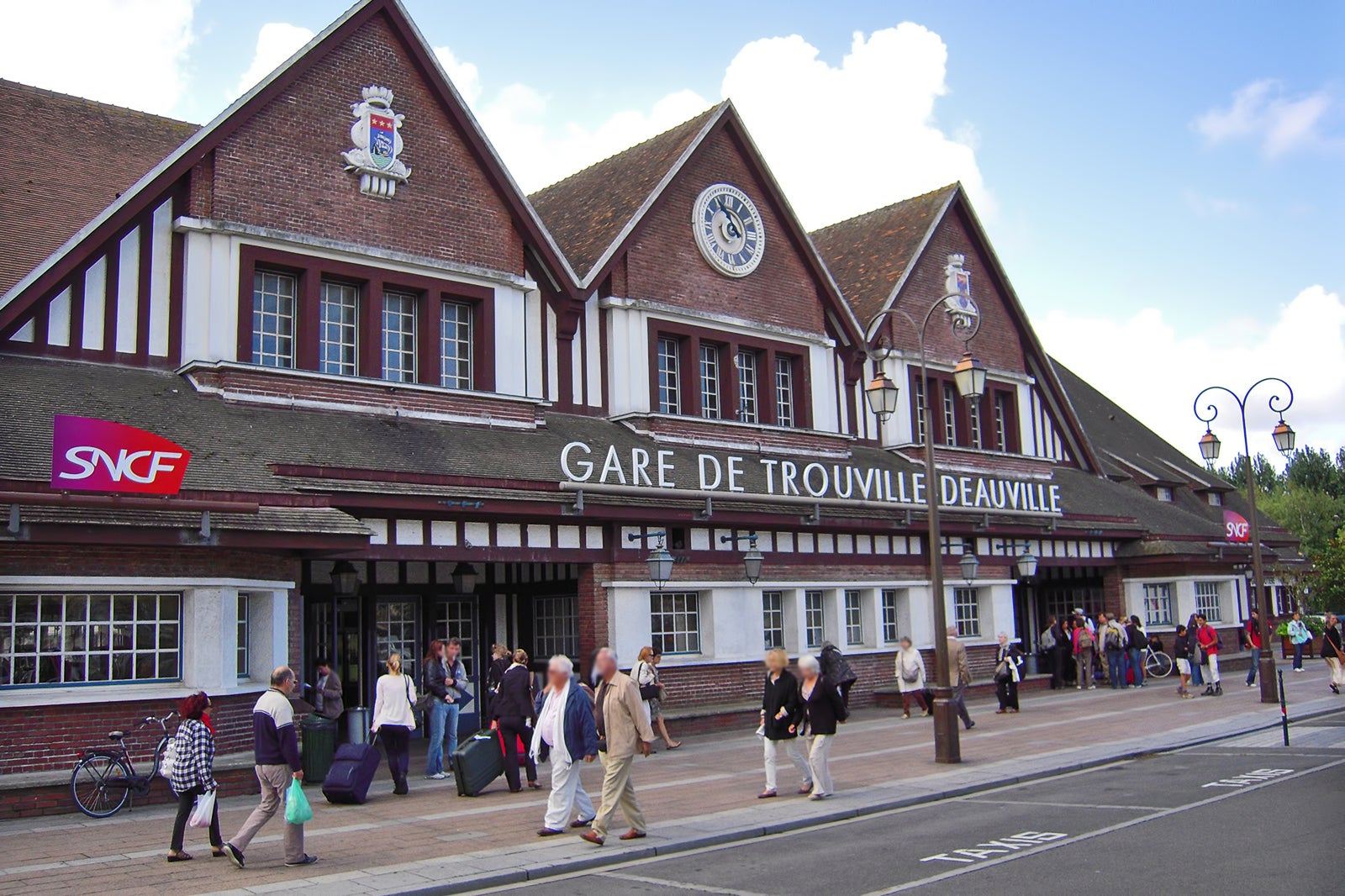 Flying in from abroad, chances are you'll land at the largest airport in France: Paris Charles de Gaulle, aka Roissy Airport.
Deauville-Normandie Airport is served only by a scarce number of airlines and is more dedicated to private flights. From Charles de Gaulle Airport, the most convenient and affordable mode of transfer is by train.
The primary way to get to Deauville from Paris is by train.
If you travel by car, you'll drive on the A13 from Paris, then take the A132 at Pont-l'Évêque, then the D677 that serves Deauville.
Charles de Gaulle Airport
Charles de Gaulle Airport (CDG) is the prime arrival hub in France. It lies 185 km southeast of Deauville as the crow flies. It's Europe's 2nd busiest airport.
Getting to Deauville:
All terminals are connected to an RER station (Regional Express Network) that serves Paris. Take the RER to reach the Saint-Lazare train station in Paris. From there, catch the train to Deauville. The entire journey – CDG to Deauville – takes roughly 4 hours.
Trouville-Deauville station
Dating back to 1931, the Trouville-Deauville train station is on Place Louis Armand, a walk away from Deauville city centre. As its name implies, it serves Deauville and Trouville-sur-Mer, the 2 resort towns separated by a river named La Touques. Alongside the ticket office are a newsstand and snack bar.
The journey from the Saint-Lazare train station in Paris takes around 2 hours and 30 minutes on average.
From here, you can get to your hotel by taxi or rideshare. Car rental agencies can also be found in the vicinity of the train station.
photo by patrick janicek (CC BY 2.0) modified
4
How to get around Deauville?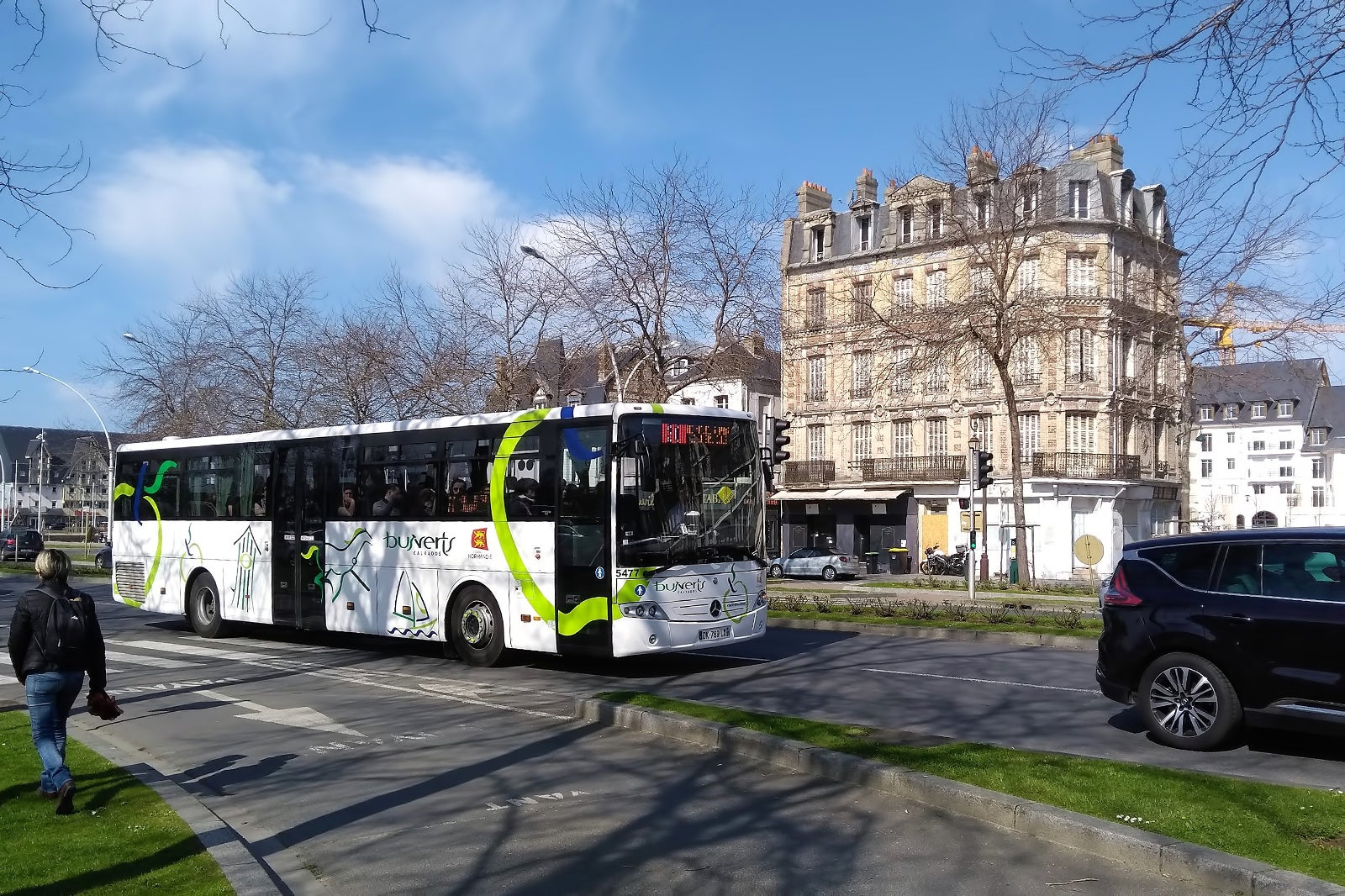 Travel tips
As there's no public transport system in Deauville, walking is the best option for exploring the city centre and beachfront. It's home to landmarks such as the Deauville-La Touques Racecourse (Hippodrome de Deauville-La Touque), the Casino Barrière, and the seaside boardwalk known as Les Planches to name a few. The city centre also features a good range of shopping, dining, and nightlife entertainment venues. Cycling is also a pleasant way of exploring Deauville.
For longer distances, depending on your budget and preference, you can get around by taxi, rideshare, or rental car.
Taking a taxi in Deauville
Central Taxis Deauville-Trouville (+33 (0)2 31 87 11 11), Taxi Valet Thierry (+33 (0)6 07 55 85 61), and Aaabn Taxi Viel Jerome (+33 (0)2 31 87 35 00) are a few of the taxi companies that operate in Deauville. You can also easily find taxi lines in front of hotels and main attractions. It's easy to hail one on the street.
Convenient yet rather expensive, getting around Deauville by taxicab is not your best option if you're on a budget, although a taxi ride may be your only option to get back to your hotel if you're a night owl. Note that tipping for taxis in France is not necessary, but if you're happy with your driver's service, you can give an extra 5% or 10% of the fare. In France, all taxis are obliged to accept payment by Visa or MasterCard.
Uber is the main ride-sharing app used in Deauville. Its rates are slightly cheaper than standard taxicabs.
Renting a car in Deauville
Renting and driving a car is not the best idea for getting around Deauville unless you plan excursions to the Mont Saint-Michel 140 km away or other natural parks throughout Normandy. The town is small, and the centre and beachfront have limited and expensive parking spaces.
Cycling around Deauville
Hiring a bicycle is a fun and cool way of getting around Deauville. You can find cycling lanes throughout the city, making bicycle riding pretty safe. Longer scenic cycling routes around the city, along the Seine River, and throughout the Normandy countryside are also very pleasant when the weather allows. Cycling trail maps can easily be found online.
You can hire a bike, electric, or mountain bike at rental companies like Les Trouvillaises (+33 (0)2 31 98 54 11), L'Atelier Lucas Cycles (+33 (0)2 31 88 53 55), and Bike Shop Jamme (+33 (0)2 31 88 40 22), just to name a few.
photo by patrick janicek (CC BY 2.0) modified
5
What are the main annual events in Deauville?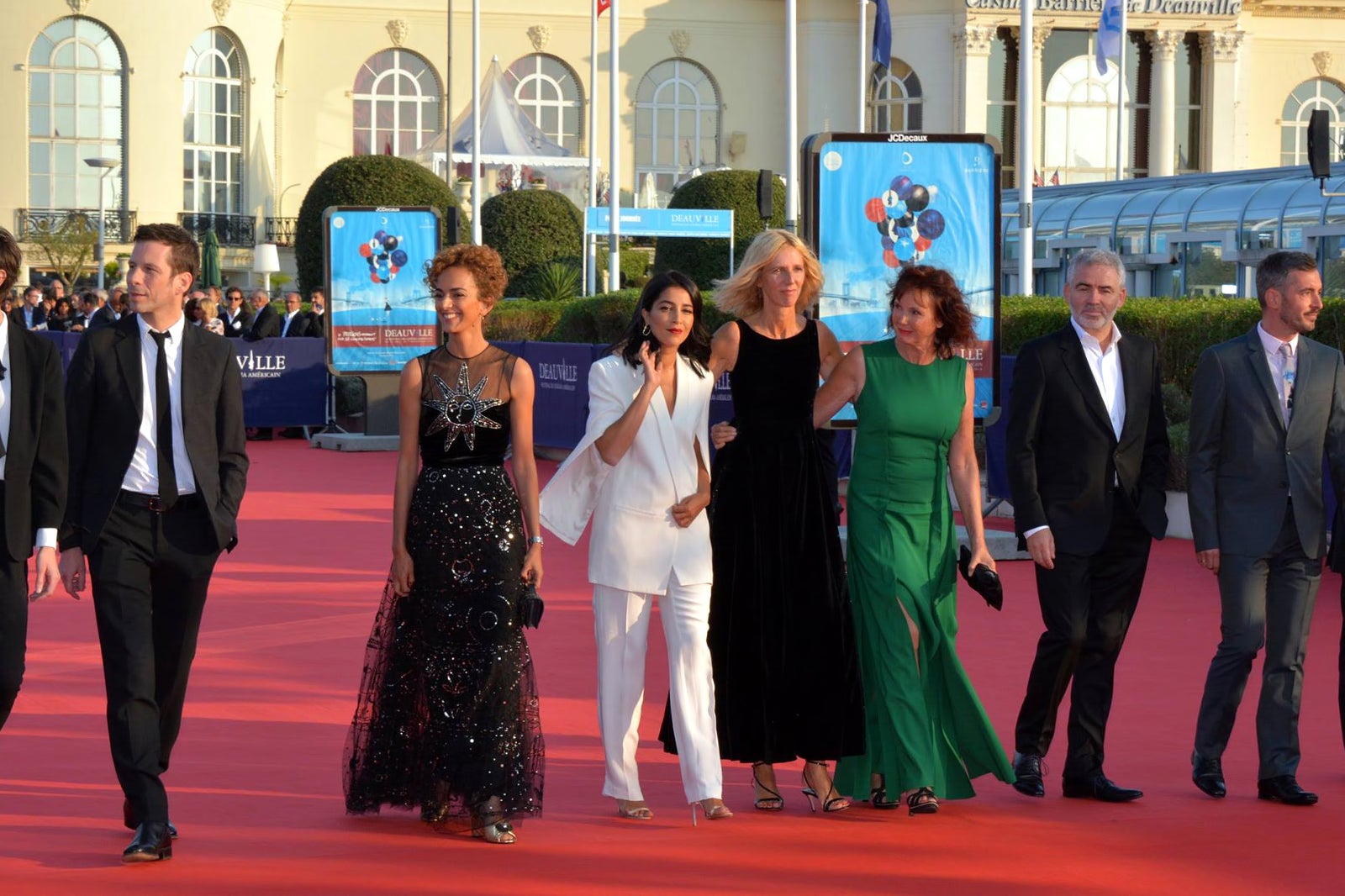 Easter Festival of Classical Music
April-May
Held annually for over 20 years, this music festival offers a series of concerts performed by small groups of skilled French and international musicians. Concerts are held on 4 weekends between April and May.
Where: Salle Elie de Brignac
International Bridge Festival
July
Created in 1956, this bridge festival gathers over 1,500 of the best bridge players in the world for a series of 5 tournaments, held in luxurious settings for 2 weeks.
Where: Barrière Resort
Deauville American Film Festival
September
Every year since 1975, a great number of American cinema fans head for this film festival, for a chance to rub shoulders with US movie stars and famed directors at screenings or during the many festivities held for the occasion.
Where: Barrière Resort
photo by Georges Biard (CC BY-SA 4.0) modified
6
What are the main landmarks in Deauville?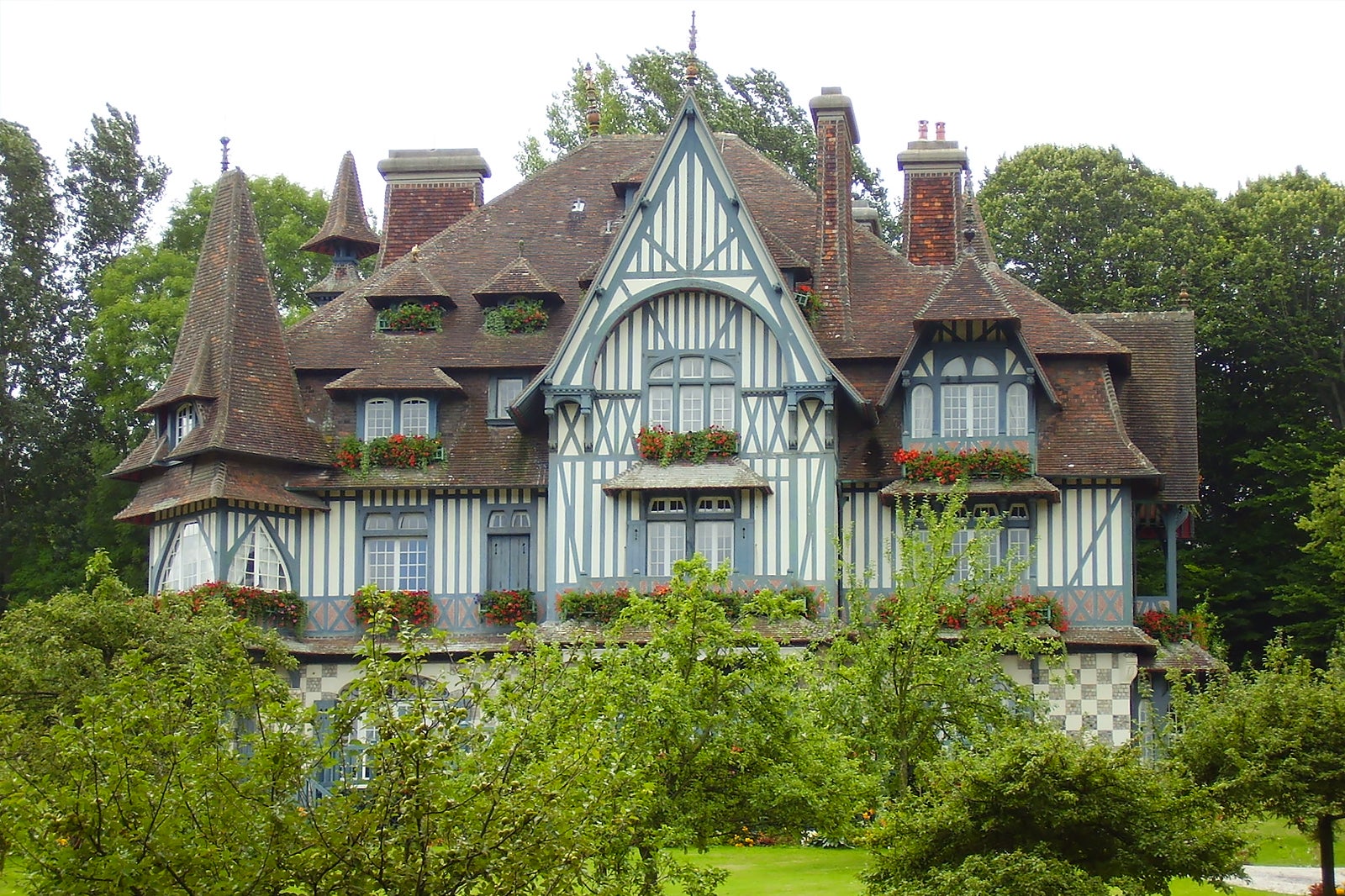 Villa Strassburger
A living museum of the past century, built in 1907 for Baron Henri de Rothschild. The villa overlooks the Deauville-La Touques Racecourse and has beautiful interiors and flower gardens.
Deauville Market
A covered market at the Place du Marché where you can enjoy a local experience in Deauville. It's full of delightful local vendors selling fresh vegetables, food, fish, flowers, homemade crafts, and some of the best wine and cheese in the region.
Deauville's iconic grand hotels
Back in 1912, Deauville opened 3 iconic buildings — the Hôtel Barrière Le Normandy, the Hôtel Barrière Le Royal, and the Casino de Deauville. They have become the go-to spots for discerning travellers and movie stars coming to Deauville for film and music festivals.
Saint-Augustin church
A reverent landmark right in the centre of Deauville that blends neo-Gothic and Roman architecture. Inside, you can enjoy detailed paintings and a large stained-glass window that serves as a memorial to World War II.
photo by Kamel15 (CC BY-SA 3.0) modified
Back to top