Bold Street is one of Liverpool's best-known streets and is, for many locals, a representation of Liverpool's tenacious independent spirit. Here you'll find vintage clothing emporiums, dusty record shops and galleries showcasing some of the finest local artwork. Food lovers come for Liverpool's best collection of world food restaurants while the street is also home to a vibrant coffee scene.
Bold Street dates back to the 18th century, when it was laid out as a rope walk and residential street for dockers. Indeed, the street was intentionally laid out to be the exact length of a piece of maritime rope so that it could be measured easily during manufacture. As the city expanded and local wealth grew, it didn't take long for Bold Street to become one of Liverpool's primary shopping locations – a mantle it holds to this day.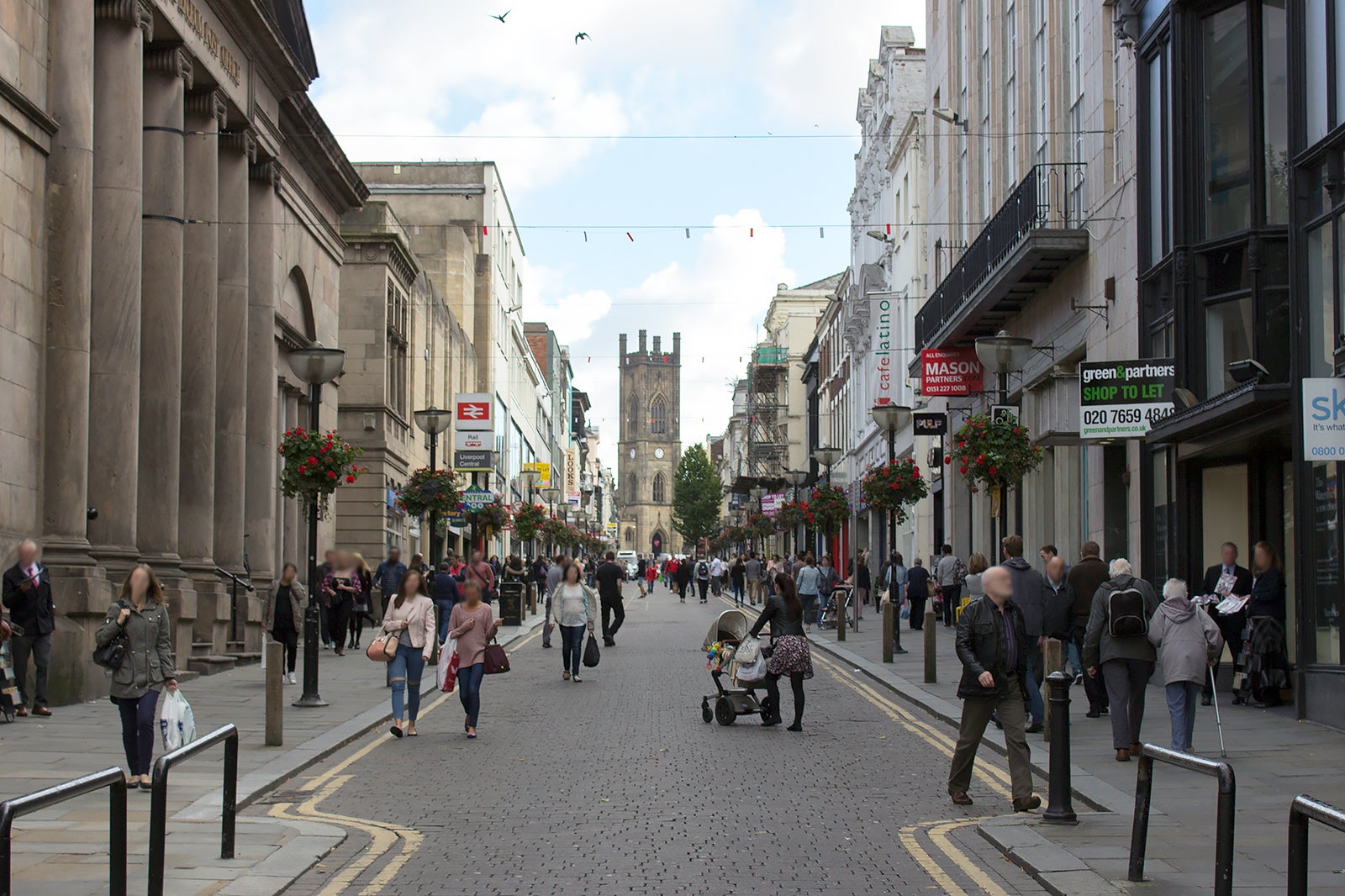 What are the highlights of Bold Street?
When it comes to indie shopping in Liverpool, Bold Street is the undisputed king. No matter if you're in need of a vintage outfit, a rare book for your collection or the latest deadstock footwear, Bold Street has you covered.
Major independent clothing shops on Bold Street include Soho's, which has been a local favourite for all things vintage for decades. The street is also home to chain vintage stores like COW and Pop Boutique, both of which are popular among the retro crowd.
Sneaker fans need to look no further than Transalpino for unique and rare footwear from across the globe, while Dig is among Liverpool's finest spots for vinyl of all kinds. Bookworms should not miss the chance to visit News From Nowhere, a local institution for all things literary.
Aside from its shopping, Bold Street is increasingly becoming known as a hub for culture and art in Liverpool. Just off the main strip is FACT, one of the city's best art galleries. It has a 4-screen cinema showing mainstream and art house films, as well as 3 media art galleries and a hip bar.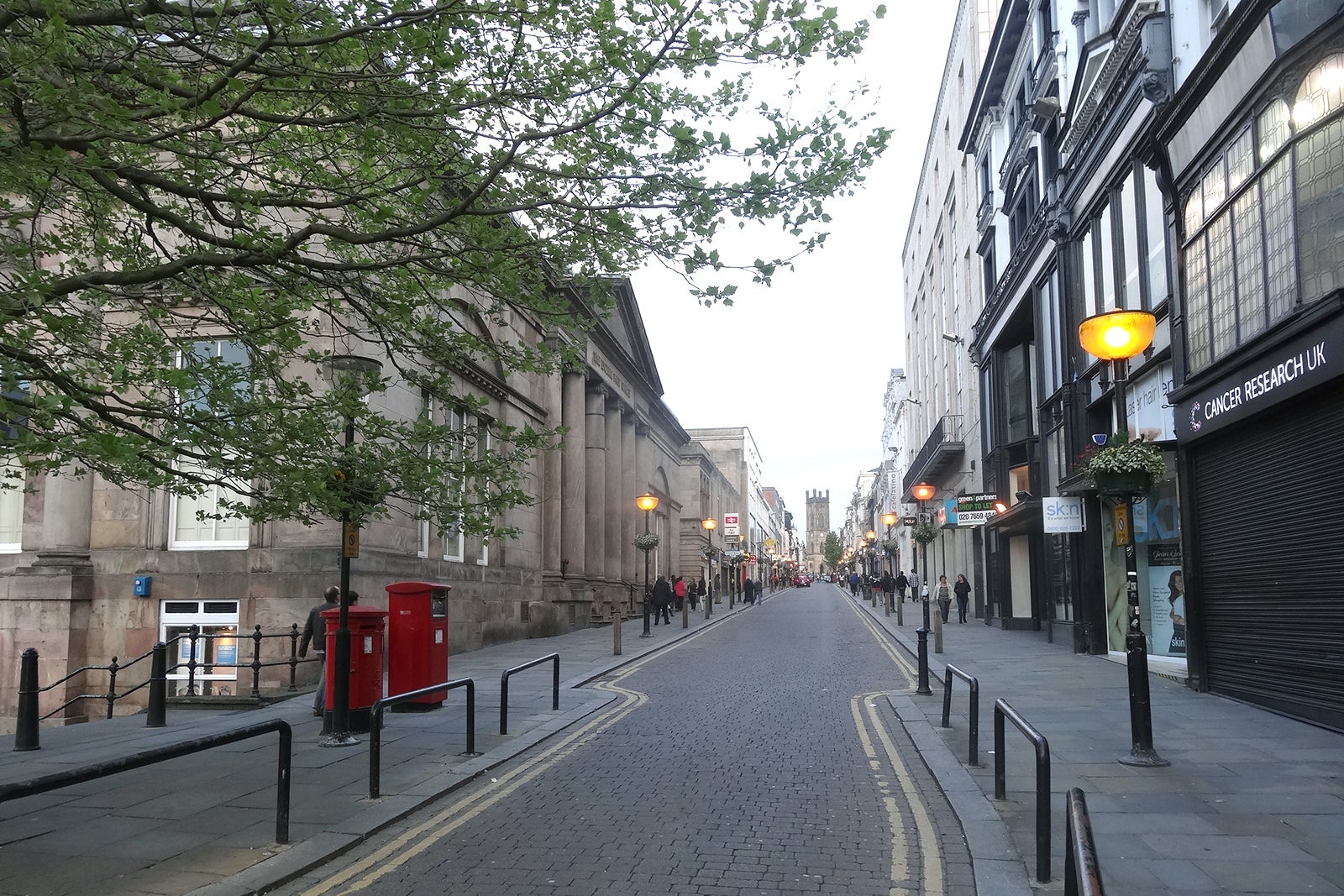 Where to eat and drink on Bold Street?
Bold Street's independent spirit is perhaps best viewed through the lens of its culinary offerings. Home to some of Liverpool's tastiest restaurants and cafes, it is a famously diverse spot for eating and drinking.
Chic Maray is a local favourite for small plates that blend the best of Middle Eastern, French and Asian flavours. Then there's Mowgli, a wildly popular spot that bills itself as a modern Indian eatery, serving everything from vegetarian curries to meaty kebabs and street food. Bakchich is known as the city's best authentic Lebanese, while those seeking a taste of old Liverpool should head to Maggie May's for its famous scouse, a local meat stew used to fuel the city's sailors.
Bold Street also boasts some of Liverpool's finest cafes and coffee shops. Chief among these is Bold Street Coffee, where the aim is to serve nothing less than the best cup in town, though their breakfast menu is also highly esteemed. At Leaf, the focus is on an enormous range of loose-leaf teas though once again their delicious food means this is much more than a standard cafe. Artisane specialises in French-style patisserie and, judging by the crowds, is a serious contender for the mantle of Bold Street's best cafe.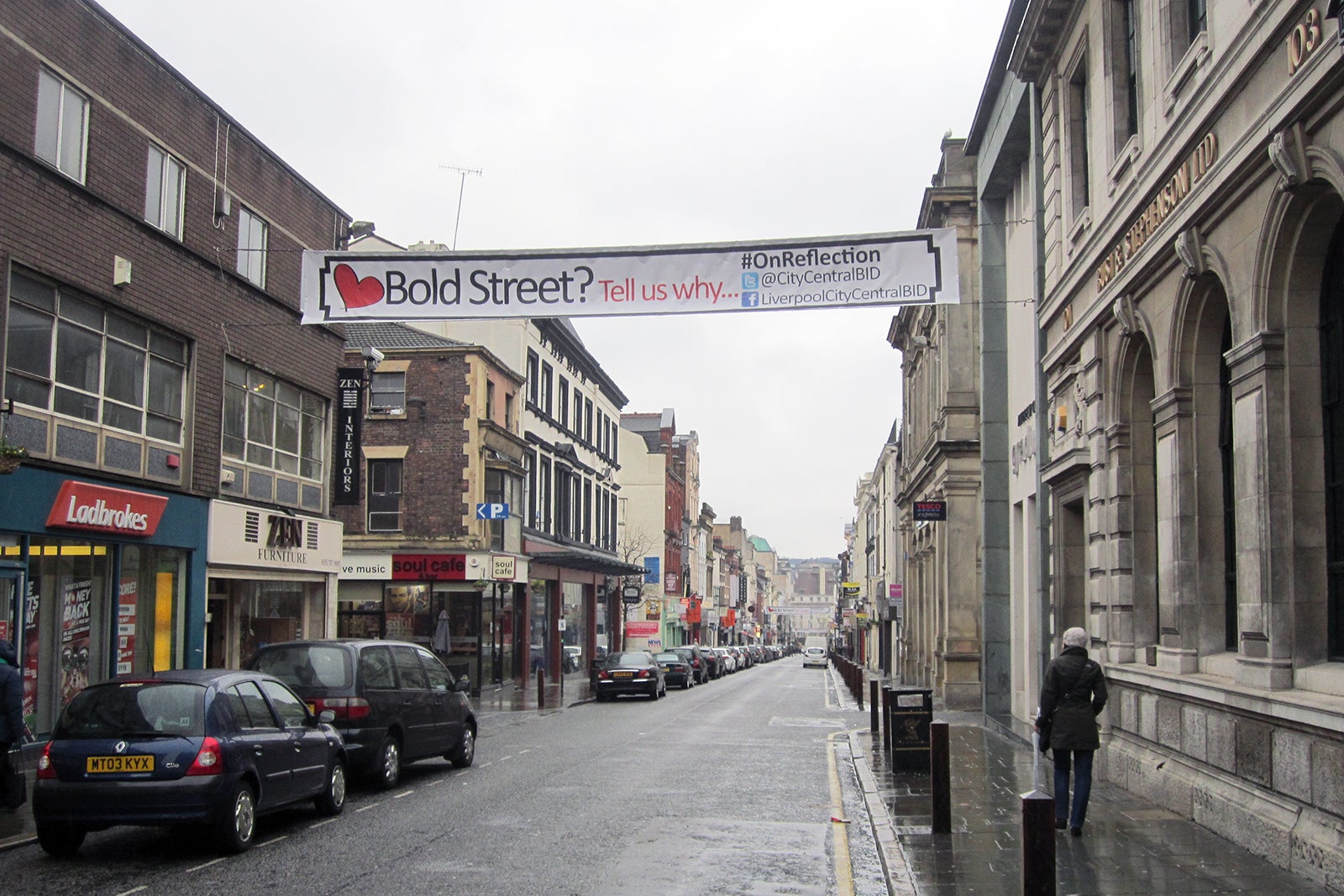 Good to know about Bold Street in Liverpool
No visit to Bold Street is complete with seeing the famous Church of St. Luke, which sits at its far end and is visible from just about anywhere on the street. It's known to locals as the Bombed-out Church as it was badly damaged during the Liverpool Blitz in 1941. Today, it's surrounded by relaxing gardens with benches for you to sip a coffee or skim through a recently acquired vintage novel.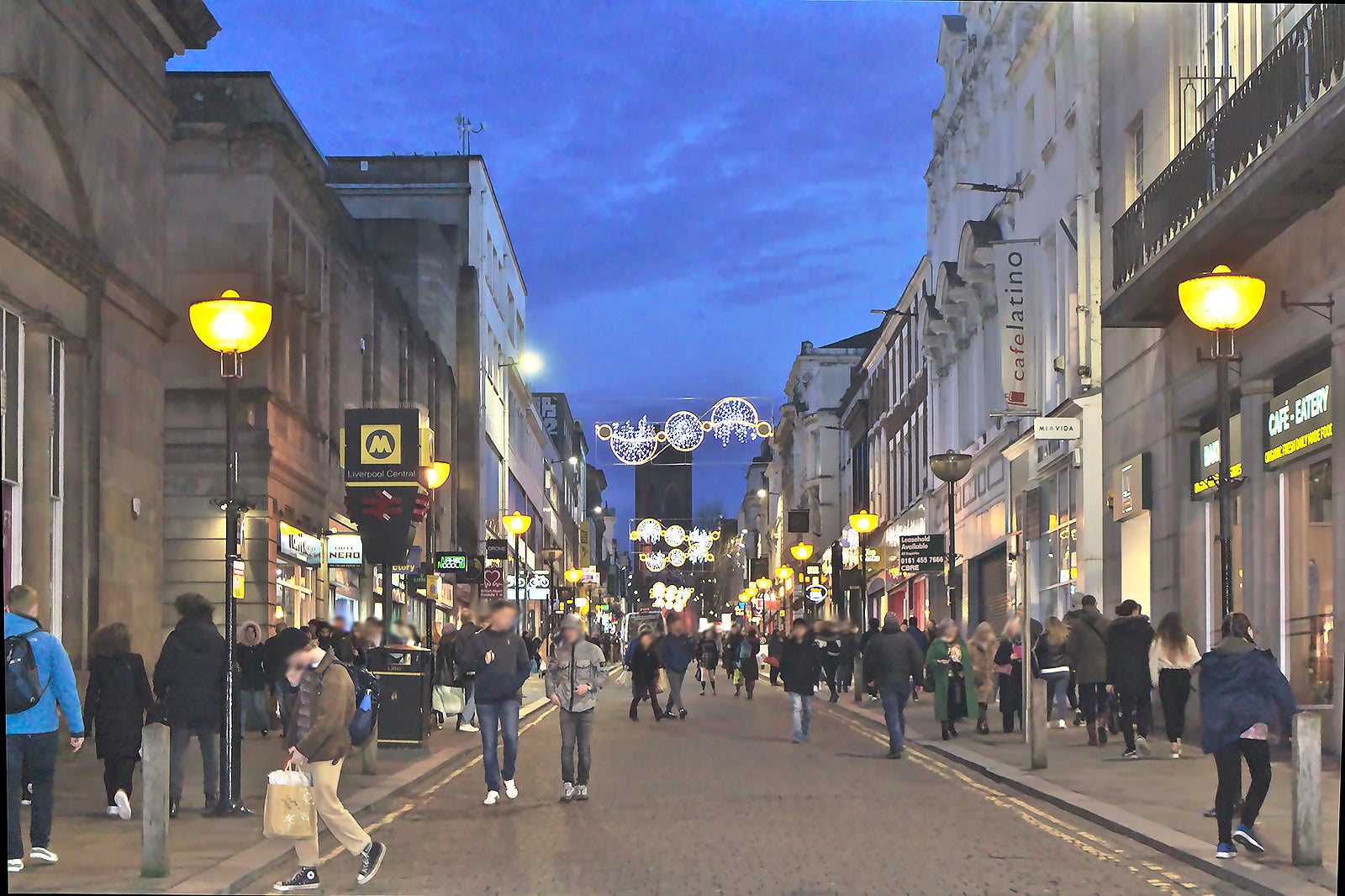 Bold Street in Liverpool
Back to top