10 Things to Do in Santiago de Chile in a Day
What is Santiago Most Famous For?
Santiago de Chile is nestled in a vibrant South American valley surrounded by the snow-capped Andes and invites visitors from all walks of life to peel back the sun-drenched layers and marvel at its authentic eccentricity. Housing original Chilean culture that showcases culinary treats, superb historical hotspots and contrasting neighbourhoods, the charming Chilean capital is a cosmopolitan hub scattered with unconventional city charm.
As you move from shaded monuments to the historic walls of a presidential palace before dancing the moonlit night away to rhythmic Samba and Batacudan beats – doing your best to stay up until sunrise – embrace the Chilean way of life and say sí to Santiago. It won't be long before you discover what makes this sizzling South American city just so stimulating.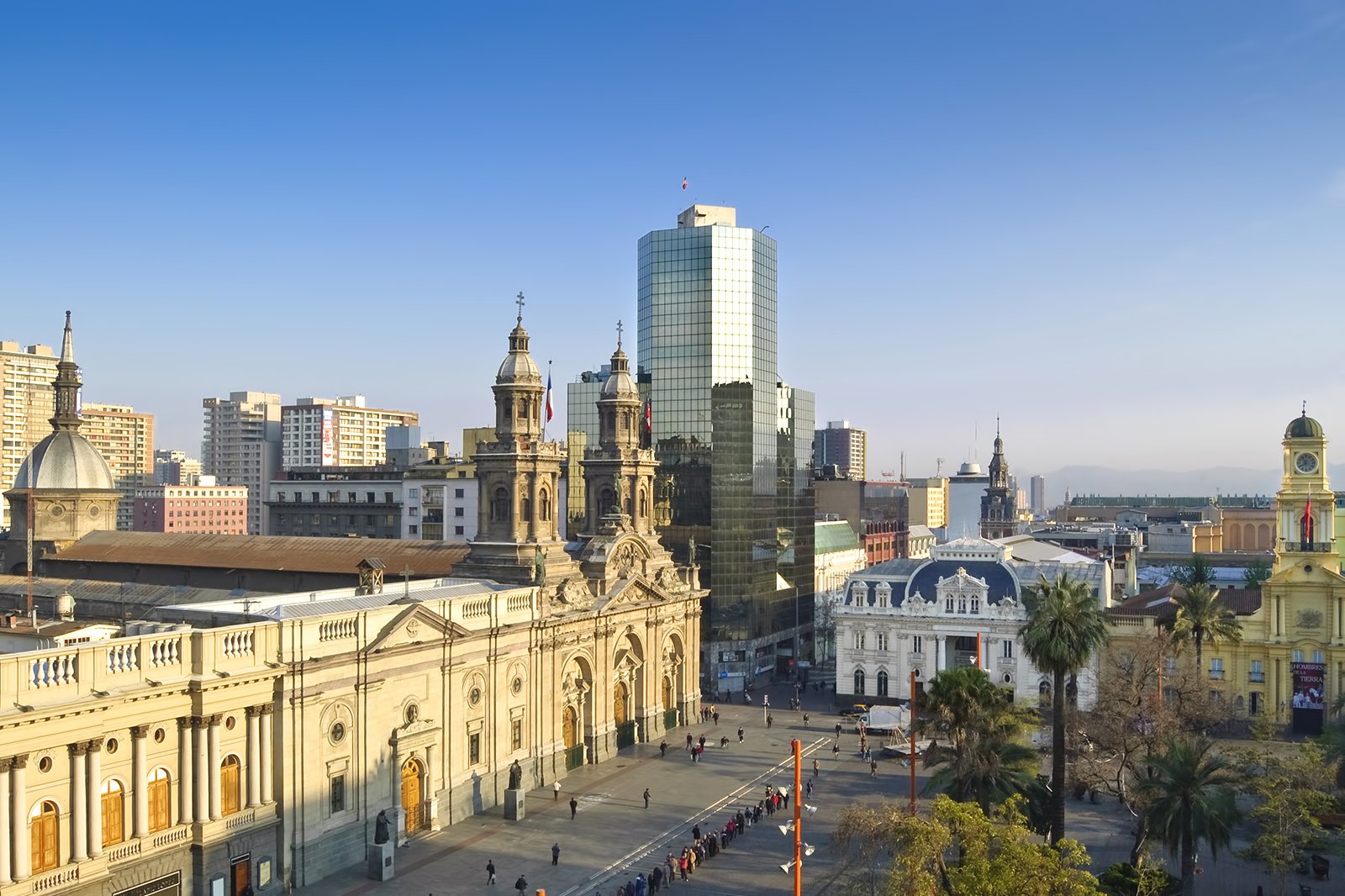 Start the day at Plaza de Armas
Dance across the historic central square
Shaded by palm trees, Plaza de Armas is an ancient city square housing famous Chilean monument, from the striking Cathedral of Santiago to the crumbling central post office. As the initial centrepiece of the city, the Plaza de Armas is ideally located for a morning stroll while also grabbing a slice of local history.
No matter which side of this colourfully cultural square you start on, make sure to indulge in the various forms of entertainment on offer. Warm up with a spot of Cueca – the traditional Chilean dance – and laugh along with the local clowns and mimes scattered around the space. If you're starting your journey on the weekend, you can even get in a quick game of chess against one of Chile's finest players.
Location: Plaza de Armas, Santiago, Región Metropolitana, Chile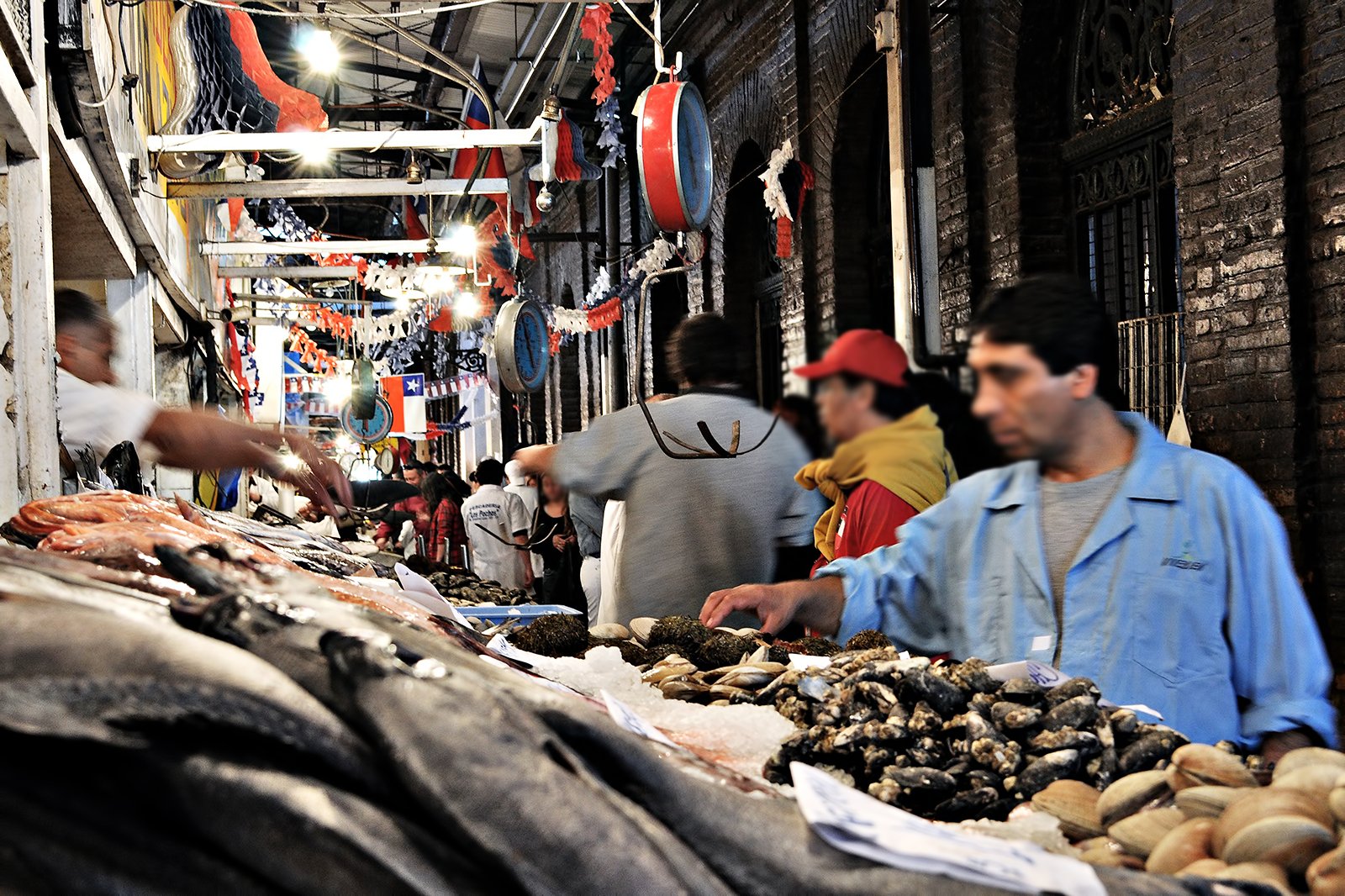 Pick up some bargains at Mercado Central
Follow your nose to the seafood stalls
Join the hordes of strolling Santiaguinos as you head for the eclectic Mercado Central. Founded in 1872, this busy central market provides fresh produce and souvenirs. But it won't be long before your intrigued footsteps catch up with your senses, as you follow your nose to the main market event – stalls and stalls of fresh fish.
As you stroll along the aromatic aisles, pick up a couple of trinkets and bunches of vibrant fresh flowers along the way. Make sure to take a moment and indulge in a scrumptious seafood lunch. While you could while away the hours browsing the vast array of offerings, not to mention picking up some tasty new recipes, you'll be left satisfied after feasting on your various finds.
Location: San Pablo 967, Santiago, Región Metropolitana, Chile
Open: Monday–Thursday and Sundays from 6am to 5pm, Fridays from 6am to 8pm, Saturdays from 6am to 6pm
photo by Davidlohr Bueso (CC BY 2.0) modified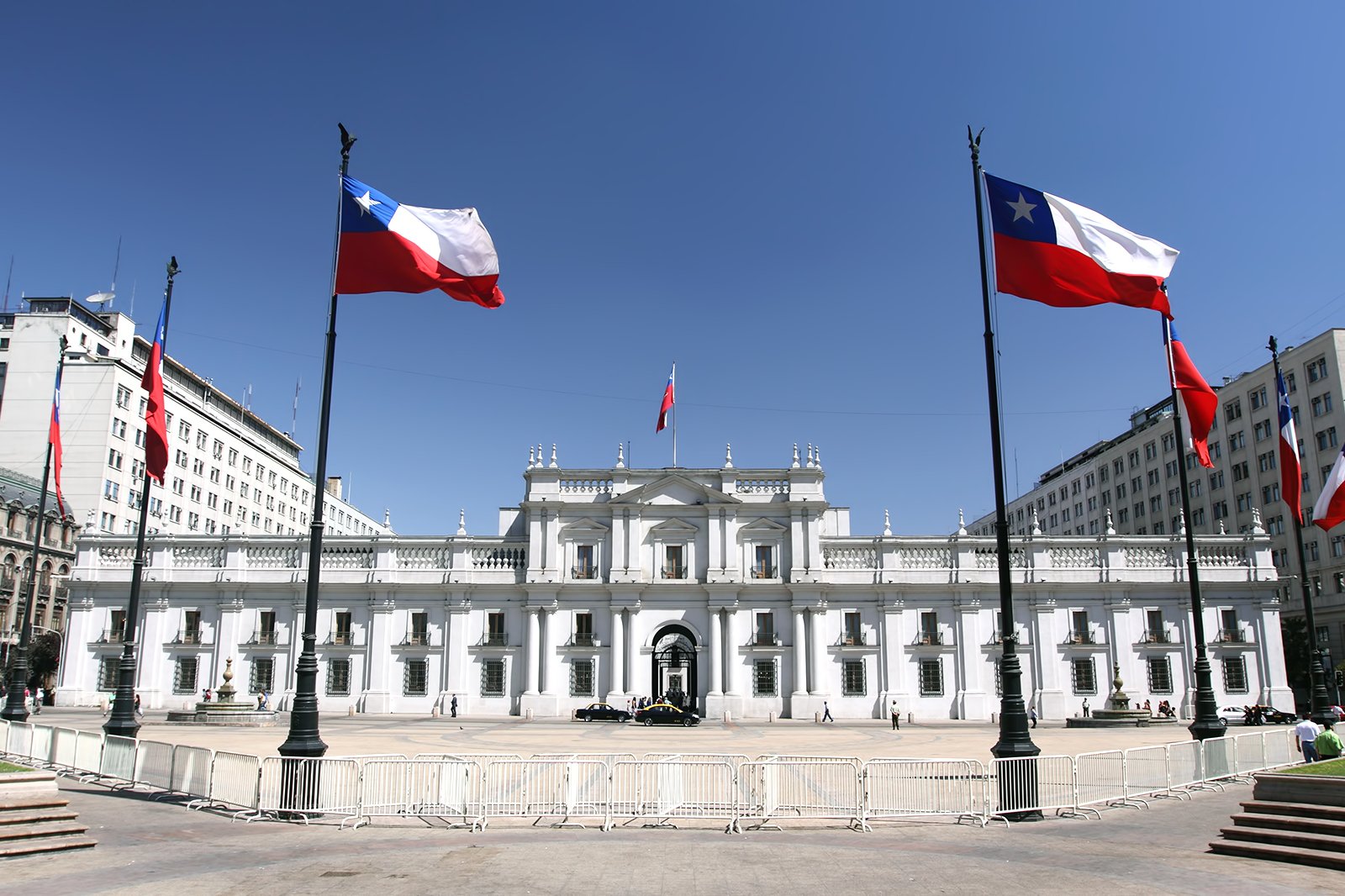 Watch the Changing of the Guard at La Moneda Palace
See the pomp and circumstance outside the president's residence
Welcome to the gleaming walls of La Moneda Palace – are you ready to step foot inside a breathtaking UNESCO World Heritage site? For a truly authentic Chilean experience, capturing the iconic Changing of the Guard, alongside the gigantic swaying Chilean flag and immaculate grass lawn is an absolute must.
Presidential by name, this impressive building is also pretty presidential by nature, as it occupies an entire city block in downtown Santiago. Get there for 10am sharp to witness the full changeover, from the coolest mounted guards to the sounds of the brass marching band.
Location: Moneda S/N, Santiago, Región Metropolitana, Chile
Open: Daily from 9am to 5pm
Phone: +56 2 2690 4000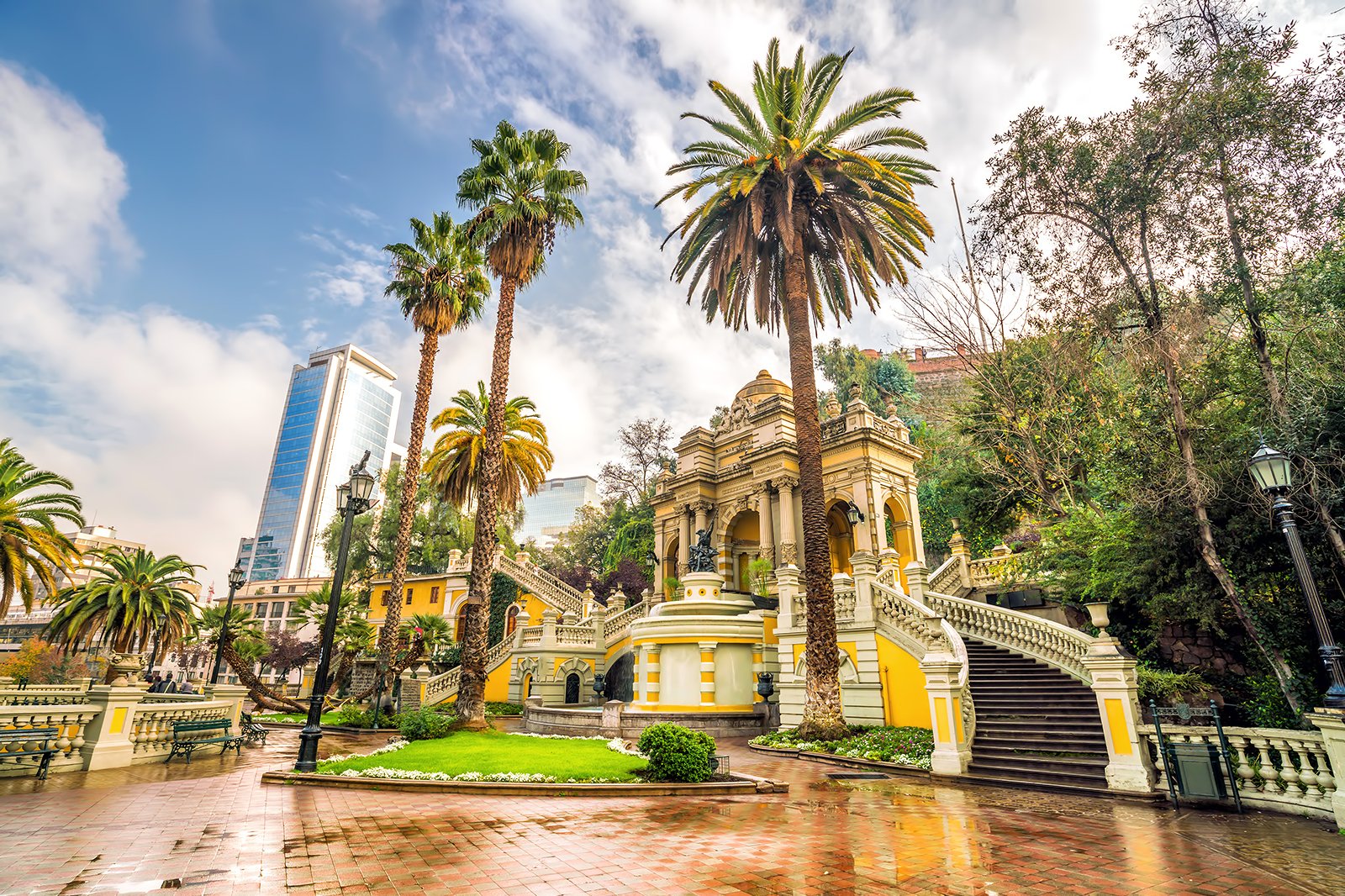 Take a stroll around Cerro Santa Lucia
Visiting Torre Mirador at midday is a blast!
Sitting snugly and rather strikingly in the centre of Santiago is one of the city's most famous green spaces – the serene Cerro Santa Lucia. As a small hill transformed from rocky beginnings to a now rocking central attraction, break away from the bustle of central Chilean life with a wander through the crumbling old ruins and chapels to the peaceful park.
Follow the twist and turns of this humble hill, as you climb the steep stone stairs which lead you all the way to the top of Torre Mirador. Here, you get sweeping Santiago views and, if you take a visit around midday, you'll be able to capture the legendary gun blast for a visit to remember.
Location: Av. O'Higgins, Santiago, Región Metropolitana, Chile
Open: Daily from 10am to 6pm
Phone: +56 2 2386 7185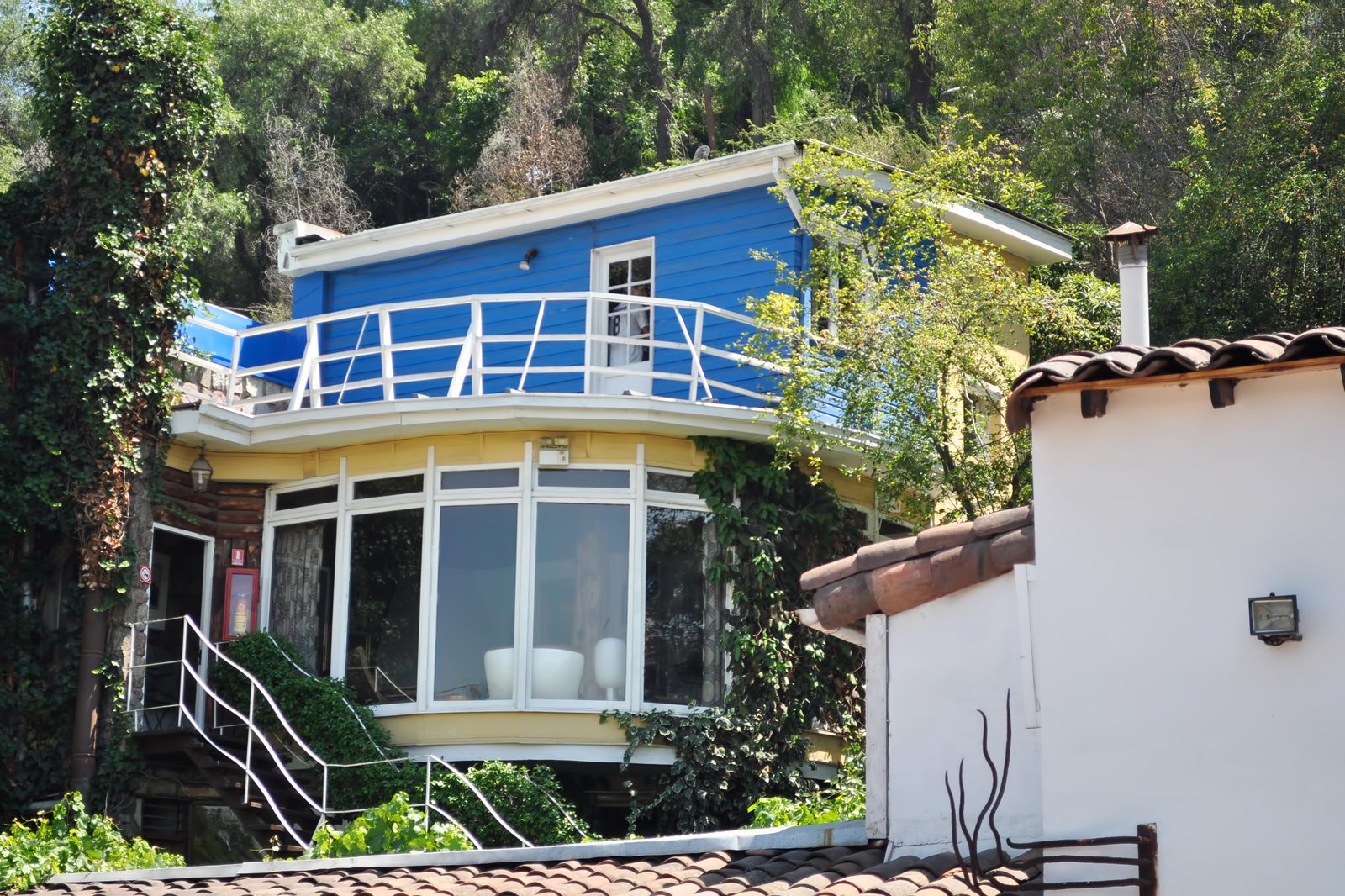 Must-See: La Chascona
Visit the house of poet Pablo Neruda
Facing away from Santiago and nestled right into the hillside sits the final residence of Chile's most famous poet, Pablo Neruda. Quirky, eclectic, and with romance written into every wall, you can really capture the poetic charm while immersing yourself into the intoxicating existence of Pablo Neruda himself.
Starting off with an informative film of the poet's life, visitor numbers inside the house itself are kept to a minimum, so you can explore the famous walls of this hidden gem with enough time and space to marvel at its delights, from the collection of coloured shells to the lighthouse-inspired living room. After roughly 45 minutes of exploration – audio tour optional – you'll leave rich in romance and history.
Location: Fernando Márquez de La Plata 0192, Santiago, Providencia, Región Metropolitana, Chile
Open: March–December: Tuesday–Sunday from 10am to 6pm. January–February: Tuesday–Sunday from 10am to 7pm (closed on Mondays)
Phone: +56 2 2777 8741
photo by Arturo Rinaldi Villegas (CC BY-SA 3.0) modified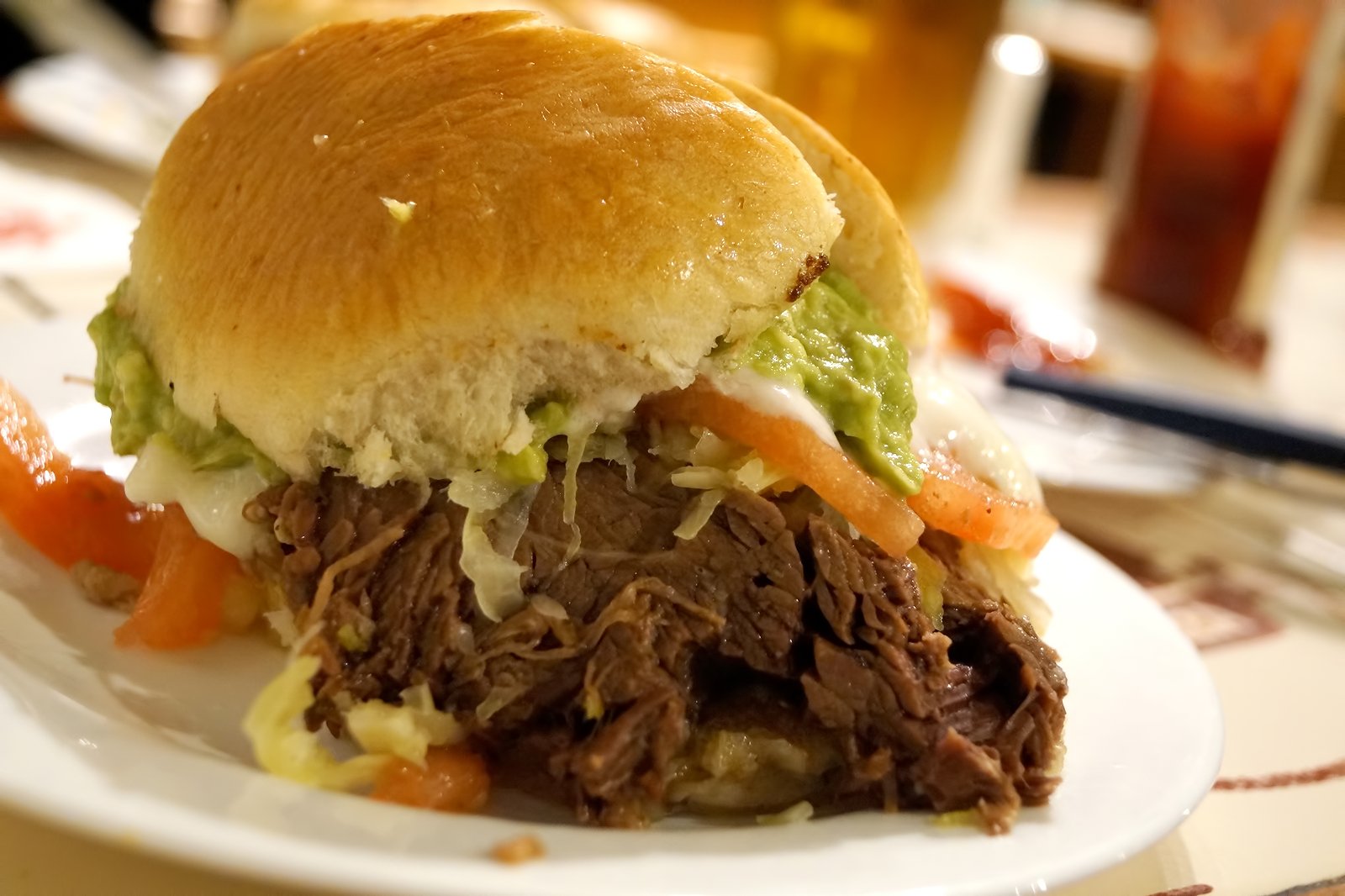 Eat Chacarero
Head to Fuente Alemana for the best Chilean sandwich
You haven't enjoyed the benefits of a homemade sandwich until you sample the delights of the Chilean chacarero. Not just any old bread and butter, the classic chacarero is delicious to eat as the name is fun to pronounce. Choose from thinly sliced churrasco-style steak, or lomito-style pork on the softest of rolls stuffed with juicy tomatoes, green beans and a pinch of chilli.
There are plenty of worthwhile restaurants on the chacarero trail, but for an unbeatable foodie experience, it has to be Fuente Alemana. There are several locations around the city where you can take your pick from German and Chilean influences on the classic chacarero. Add a dollop of homemade mustard for the most sensational Santiago sandwich treat.
Location: Av. Pedro de Valdivia 210, Providencia, Región Metropolitana, Chile
Open: Monday–Saturday from 10am to 10pm (closed on Sundays)
Phone: +56 2 2232 6076
photo by Santoposmoderno (CC BY-SA 4.0) modified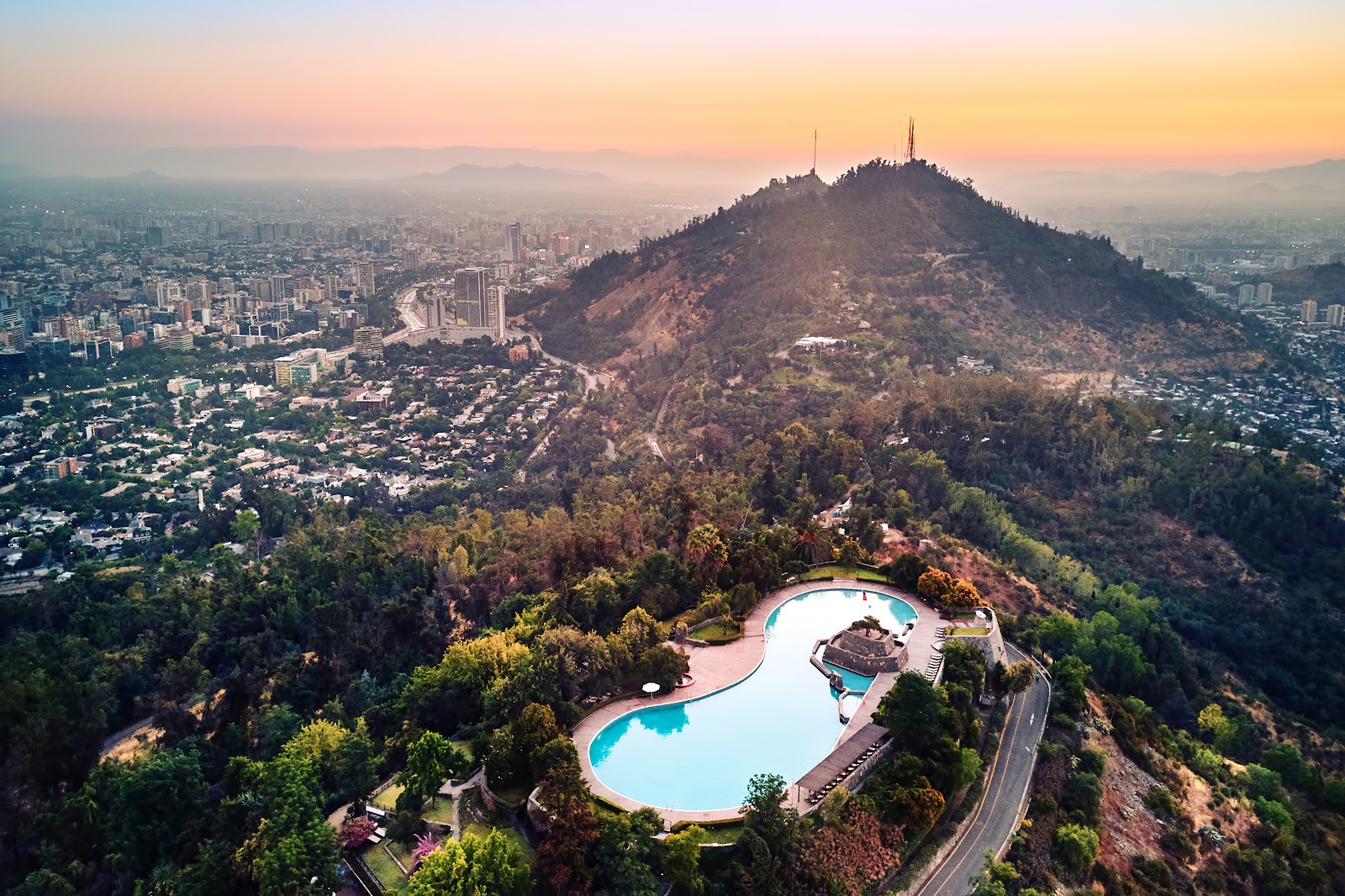 Take a hike up San Cristobal Hill
You may have already spotted the forested mountain heights of San Cristobal Hill dominating Santiago's shimmering skyline, but to truly appreciate this spectacle, you need to see it up close. As the second highest point in Santiago, after Cerro Renca, and blending urban appeal with the largest green space in the city (covering 722 hectares), this awe-inspiring sight also plays home to the city's largest park – Parque Metropolitano de Santiago.
Pull on your walking boots and work your way up the hillside with a gentle hike. When you get to the top, take your pick from a flourishing Japanese garden, 2 pools, a zoo and even an amphitheatre. The best way to really explore the dizzying peaks is to jump on board a teleférico (cable car) and swoop from one side of the picturesque landscape to the other. It's best on a clear day, so keep your fingers crossed for good weather.
Location: Recoleta, Santiago Metropolitan Region, Chile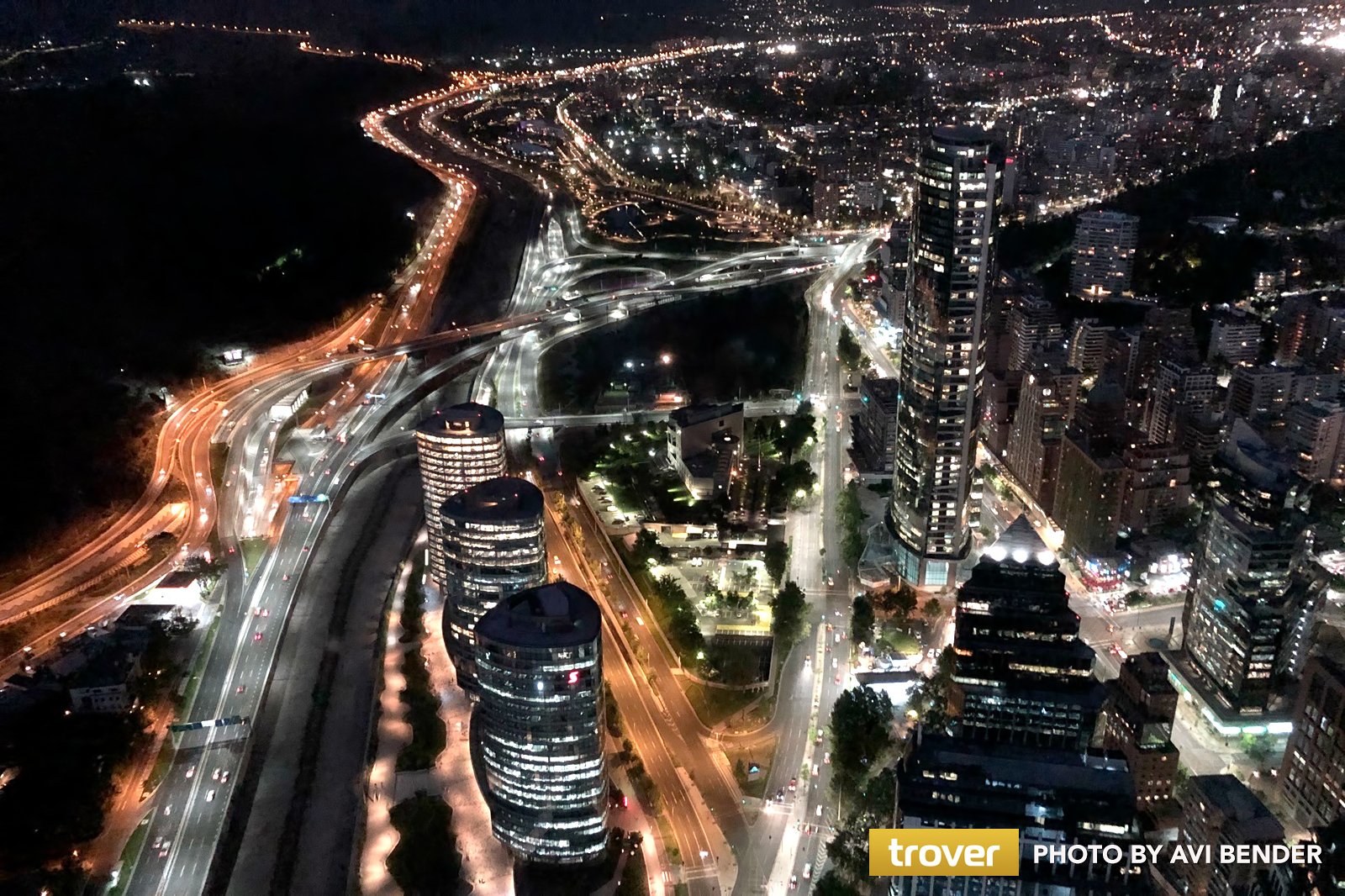 See the city from the Sky Costanera Tower
The tallest building in Latin America
Standing glistening under the Chilean sun to a height of 300 metres, the Sky Costanera Tower gives you the chance to look down on the local life in amazement. As the tallest building in Latin America, this is the only place to catch a truly panoramic view of the city.
After a slick 50-second elevator ride to the top, you'll soon feel the value of the $15 ticket price ($10 for kids). Head to the observation deck with an open view of the sky. If you time it right, you can catch a sizzling Chilean sunset. As you stand tall and take in the sights around you, you'll start getting to grips with the sheer size of Santiago.
Location: Andrés Bello 2425, Providencia, Región Metropolitana, Chile
Open: Daily from 10am to 10pm
Phone: +56 2 2916 9269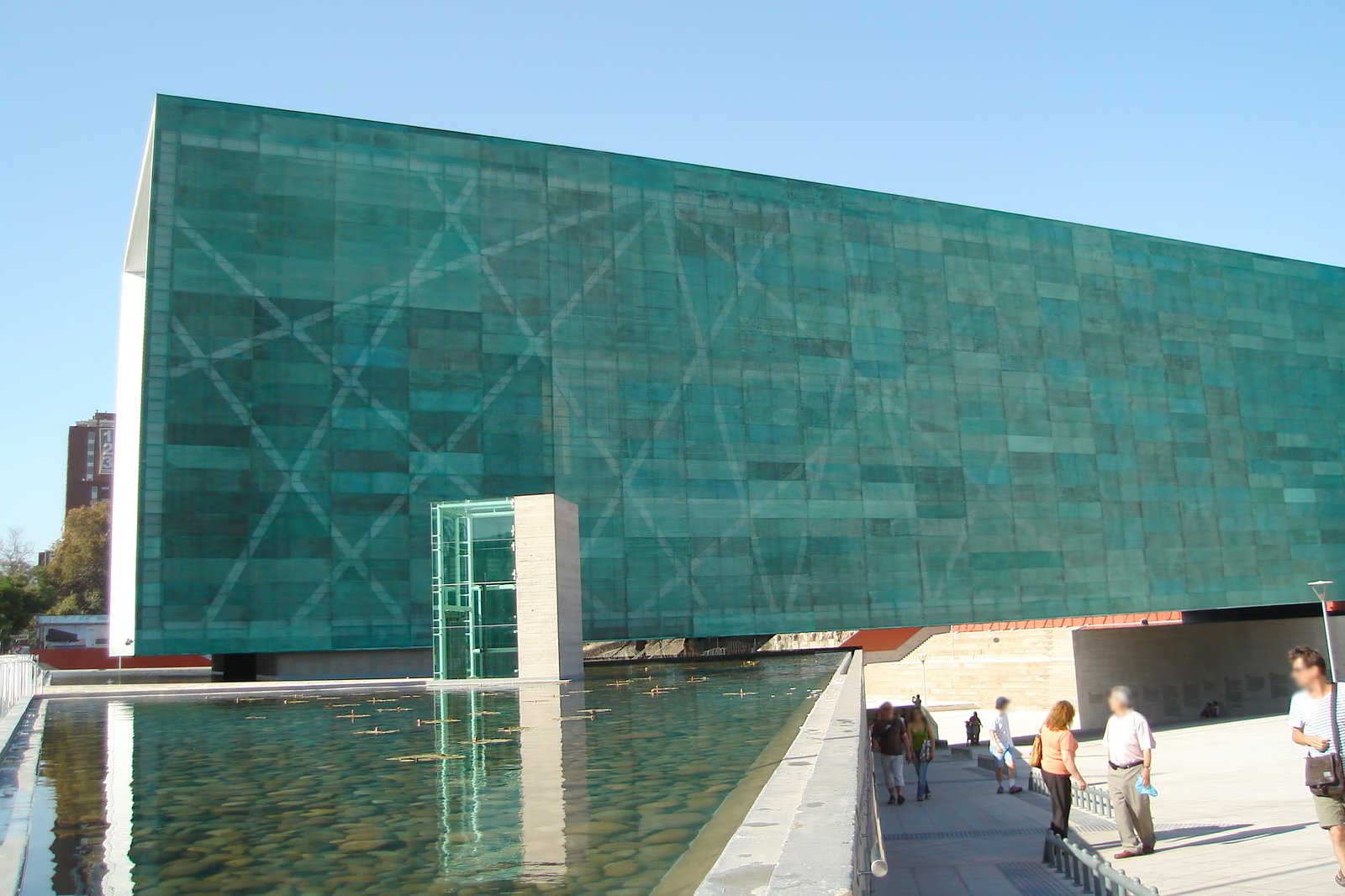 Must-see: Museo de la Memoria Chilena
Explore the country's turbulent past
All history buffs must report to the iconic walls of the Museo de la Memoria Chilena – the Museum of Memory and Human Rights – for a slice of authentic Chilean history. While the structures of this building are enough to impress, the story that lies within will truly move you.
As you explore the insightful exhibitions and audiovisual productions, take your time and expect to spend up to 2 hours listening to the tale of repression unfold as you're transported back to the days when Salvador Allende was removed from power and replaced by the dictatorship of General Pinochet.
Location: Matucana 501, Santiago, Región Metropolitana, Chile
Open: Tuesday–Sunday from 10am to 6pm (closed on Mondays)
Phone: +56 2 2597 9600
photo by Warko (CC BY-SA 3.0) modified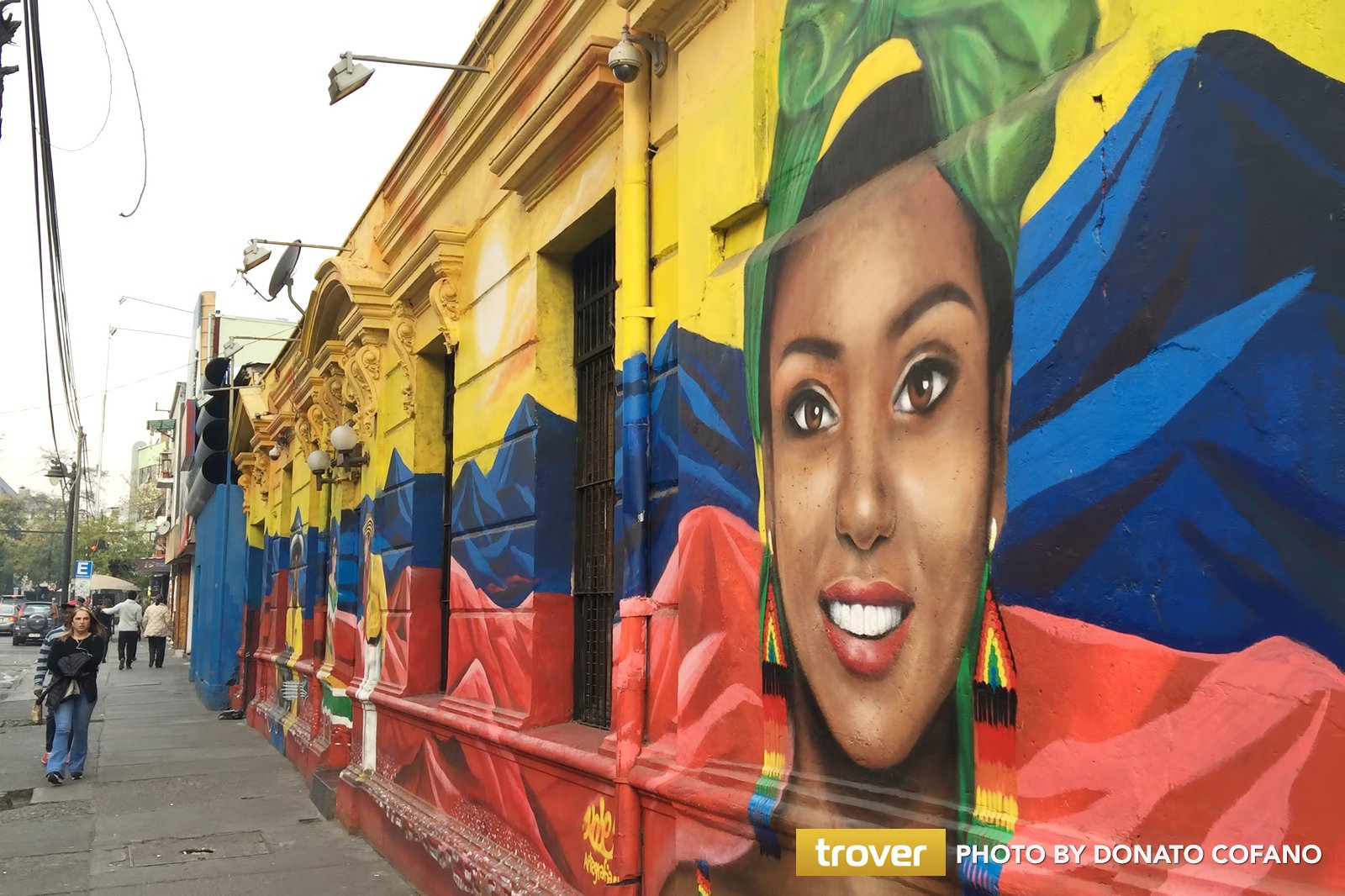 End the day at Barrio Bellavista
Shop, eat and party
Sitting between the Mapocho River and San Cristóbal Hill, the bohemian streets of Barrio Bellavista are ideal for those wanting to end the night eating, drinking and being merry. They're also the perfect place to do some late-night shopping, gallery strolling and more importantly, to get your Santiago groove as you move to the rhythm of a little Batacuda – samba's lesser-known little sister.
Spice up your palate at bustling sidewalk eateries such as La Parrilla and Como Agua para Chocolate, sample some fine Chilean wines at Barrica 94 and head to Barrio Soho for a basement club with beach bar vibes and tequila sunrises. Perhaps you'll stay out late enough to catch a sunrise of your own.