10 Great Outdoor Adventures in Vancouver
Best Things to Do in Vancouver in Every Season
Vancouver offers a multitude of exciting excursions that you can enjoy in and around the city and the North Shore. The city and its surroundings offer a rich assortment of urban parks, forested peaks, river canyons, and scenic coves that you can hike, bike, or paddle out to, year-round.
This list will help you choose from some of the best outdoor activities available to you and your family, or group of thrill-seeking friends, in Vancouver each season. Vancouver's the perfect place for a true taste of British Columbia's great outdoors any time of year.
WINTER: Skiing or snowboarding at Cypress Mountain
Conquer snowy downhill runs and cross-country trails
Cypress Provincial Park is home to Cypress Mountain, which is one of Vancouver's major ski resorts. It's the go-to winter playground in Vancouver, offering great cross-country and alpine skiing escapades with over 19 km of exciting trails. It also offers more than 50 downhill runs catering to varying skill levels.
You can take Cypress Mountain's quad and double chairlifts up the slopes and, if you're a family with kids, you can enjoy a kids' camp area with a fun snow tubing area.
Location: 6000 Cypress Bowl Rd, West Vancouver, BC V7V 3N9, Canada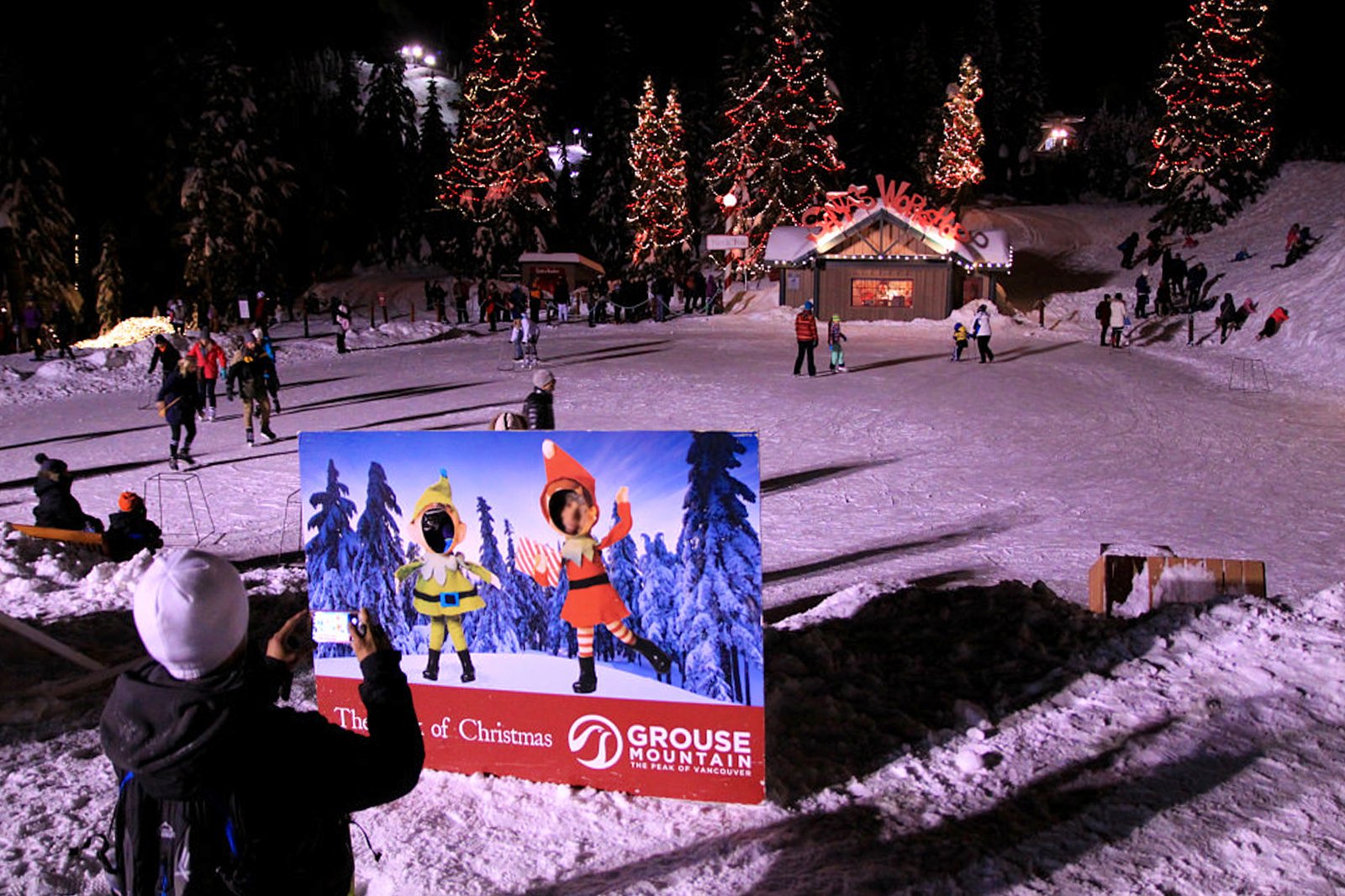 WINTER: Skating at Grouse Mountain's Skating Pond
A winter wonderland at Vancouver's heights
Grouse Mountain is one of the most popular recreational peaks in the Pacific Ranges, just north of Vancouver. It offers a range of adventurous activities. When Grouse Mountain is in its snowy winter splendour, you can ski, snowboard, and snowshoe or take the Skyride aerial tramway for breathtaking views over Capilano Lake and the mountains.
There are also opportunities to zipline over snow-capped slopes or go for a fun spin over its 8,000-sq ft ice skating pond that is suitable for even toddlers to enjoy.
Location: Grouse Mountain, North Vancouver, BC V7R 4K9, Canada
photo by waferboard (CC BY 2.0) modified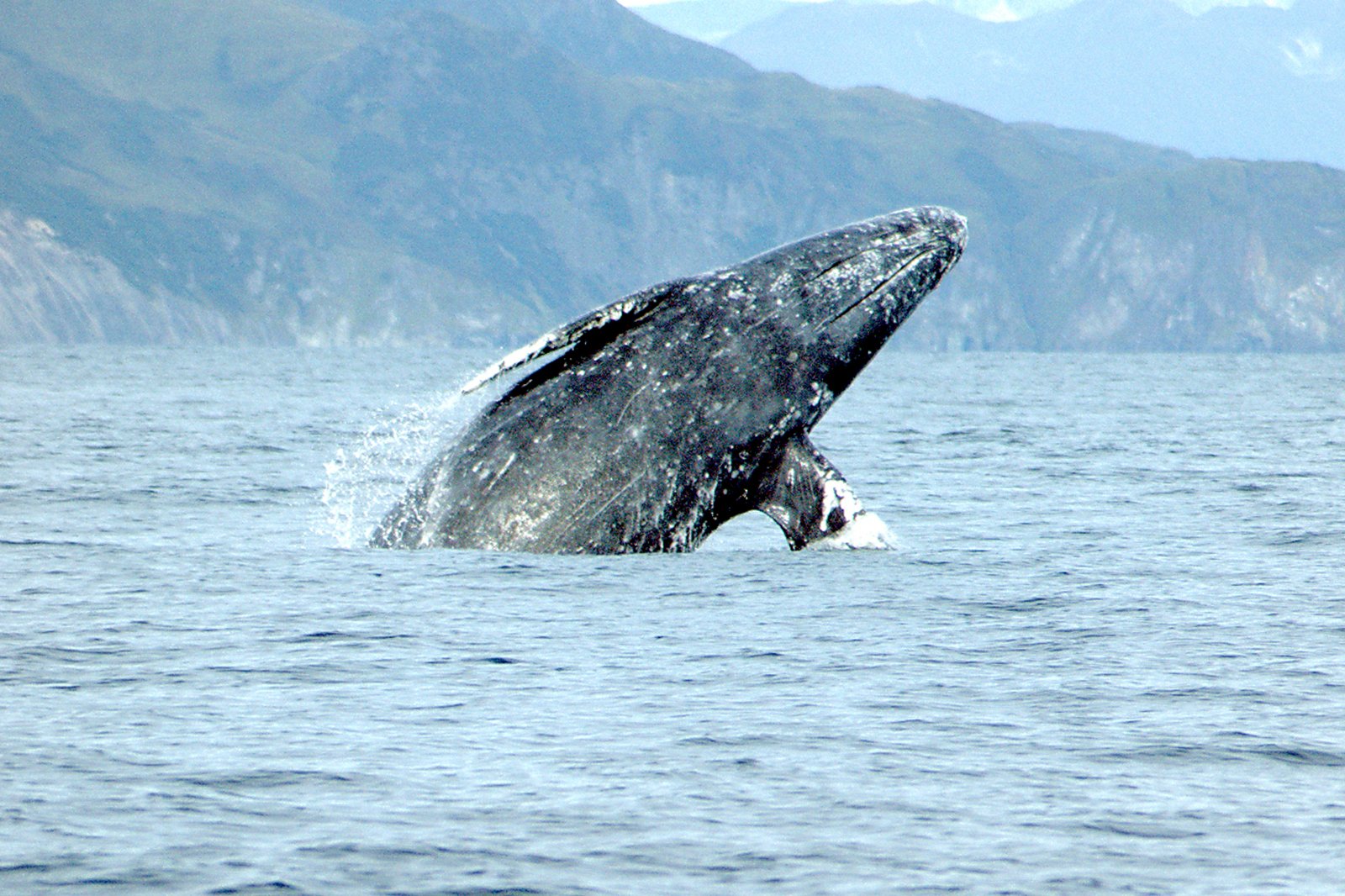 SPRING: Whale watching around the Gulf Islands
Where cetaceans love to come out and play
Springtime in Vancouver allows you to take in some of the city's most remarkable sights. On dry land, you can enjoy the vivid colours of the blooming tulips throughout Vancouver's parks.
Taking a boat trip from Vancouver, you can witness a variety of cetaceans, such as killer whales, humpback whales, and porpoises, playing in the waters off the coast of British Columbia. It's also the best season to spot a spectacular breach.
SPRING: Walking the Capilano Suspension Bridge
Take a scenic stroll high among treetops
This is a scenic walk that nature lovers visiting the North Vancouver area should put on their to-do list. It features a 460-ft suspension bridge that stretches over the densely forested Capilano River. At around 230 ft high, it provides you with a sweeping overview of the lush river valley.
You can dare your friends or family members to brave the heights. The bridge dates back to 1889 when it was originally built of hemp and cedar planks. But not to worry, much has changed since then.
Location: 3735 Capilano Rd, North Vancouver, BC V7R 4J1, Canada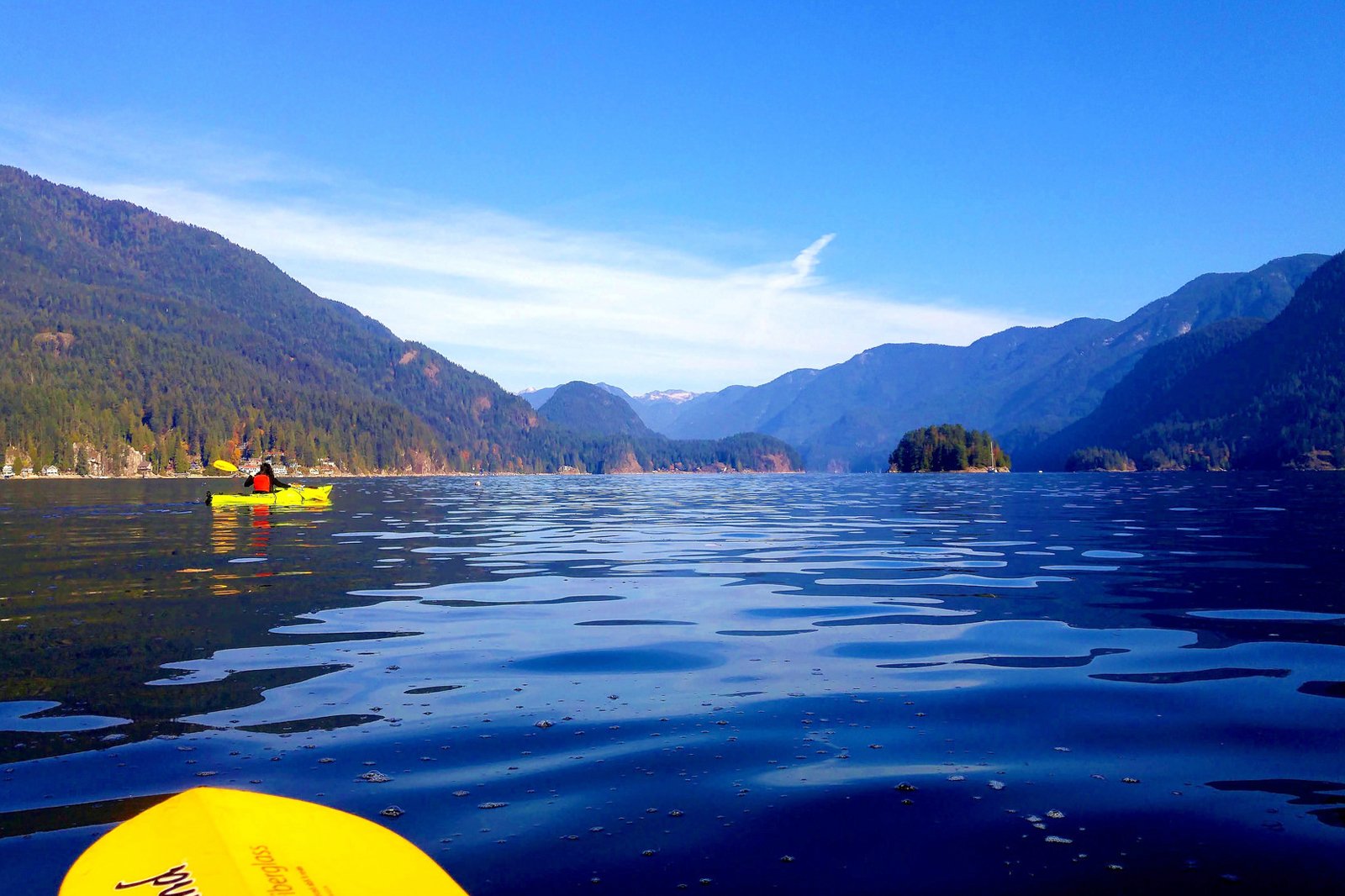 SUMMER: Kayaking at Deep Cove
Paddle through Canada's southernmost fjord
The small, mountain-framed bay of Deep Cove in North Vancouver is a popular spot for kayaking trips. The drive down to this calm, sheltered harbour town is a key part of the journey as it takes you through lush mountain forests, before opening to its idyllic harbour view.
You can rent kayaks and canoes from the central onsite kayak centre on the pebbly shore or book a guided paddling adventure to view some of Vancouver's rarer mountain scenes and possible native wildlife sightings.
Location: Banbury Rd, North Vancouver, BC, Canada
photo by Jennifer C. (CC BY 2.0) modified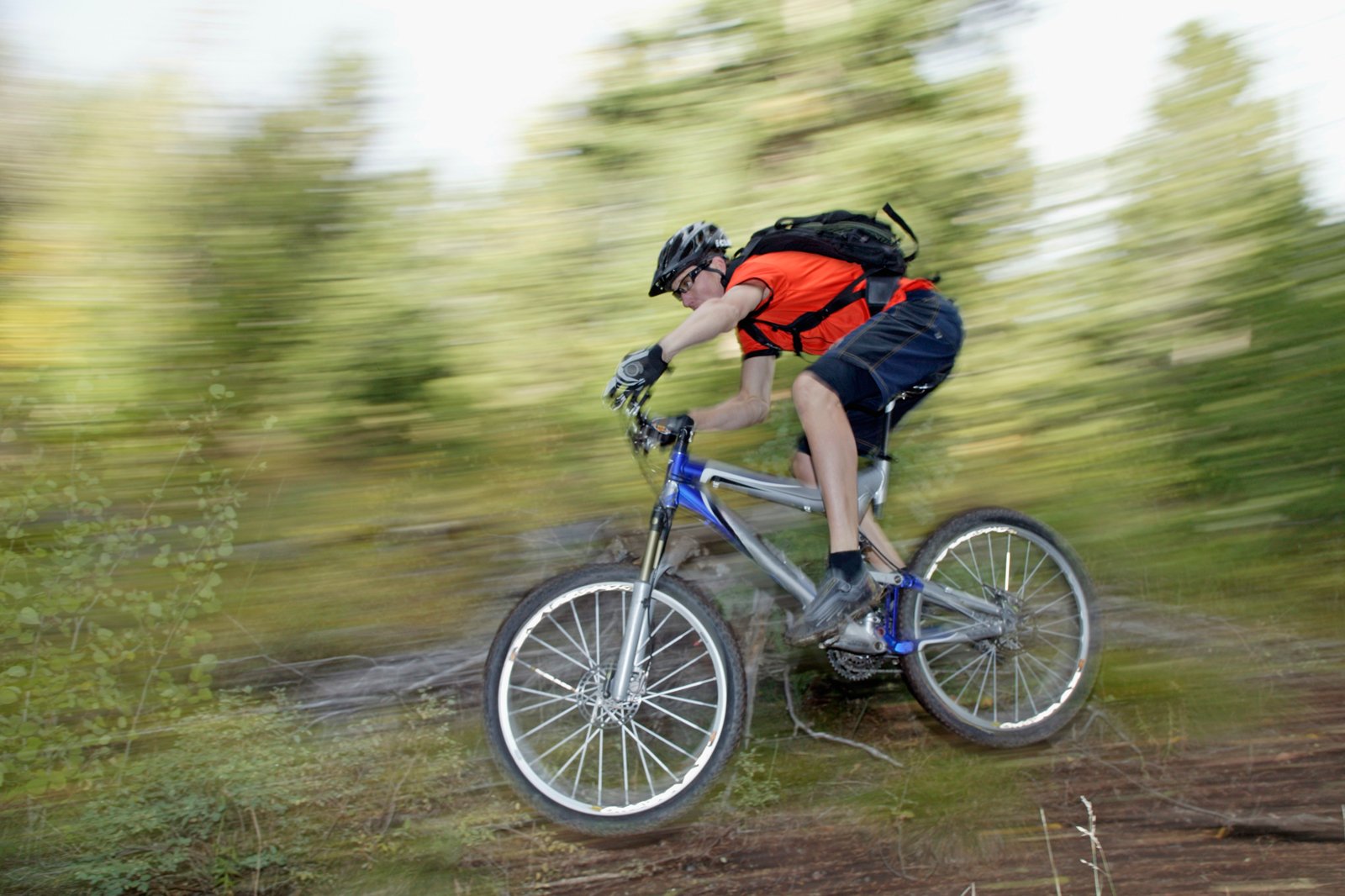 SUMMER: Mountain biking at Mount Fromme
Blaze through all-mountain and downhill trails
You can find one of the best mountain biking experiences in Vancouver at Mount Fromme on the North Shore. Start off easy from the parking lot at the base of the ascent and make your way through the winding Mountain Highway and a trail called Bobsled, which offers a smooth and fast ride.
If you're looking to take on a real challenge, try the Fromme Ascent grind with its sustained uphill sections and few breaks. The network of biking trails here is easy to navigate and you can choose a different challenge at every turn.
Location: North Vancouver, BC V7K 1X8, Canada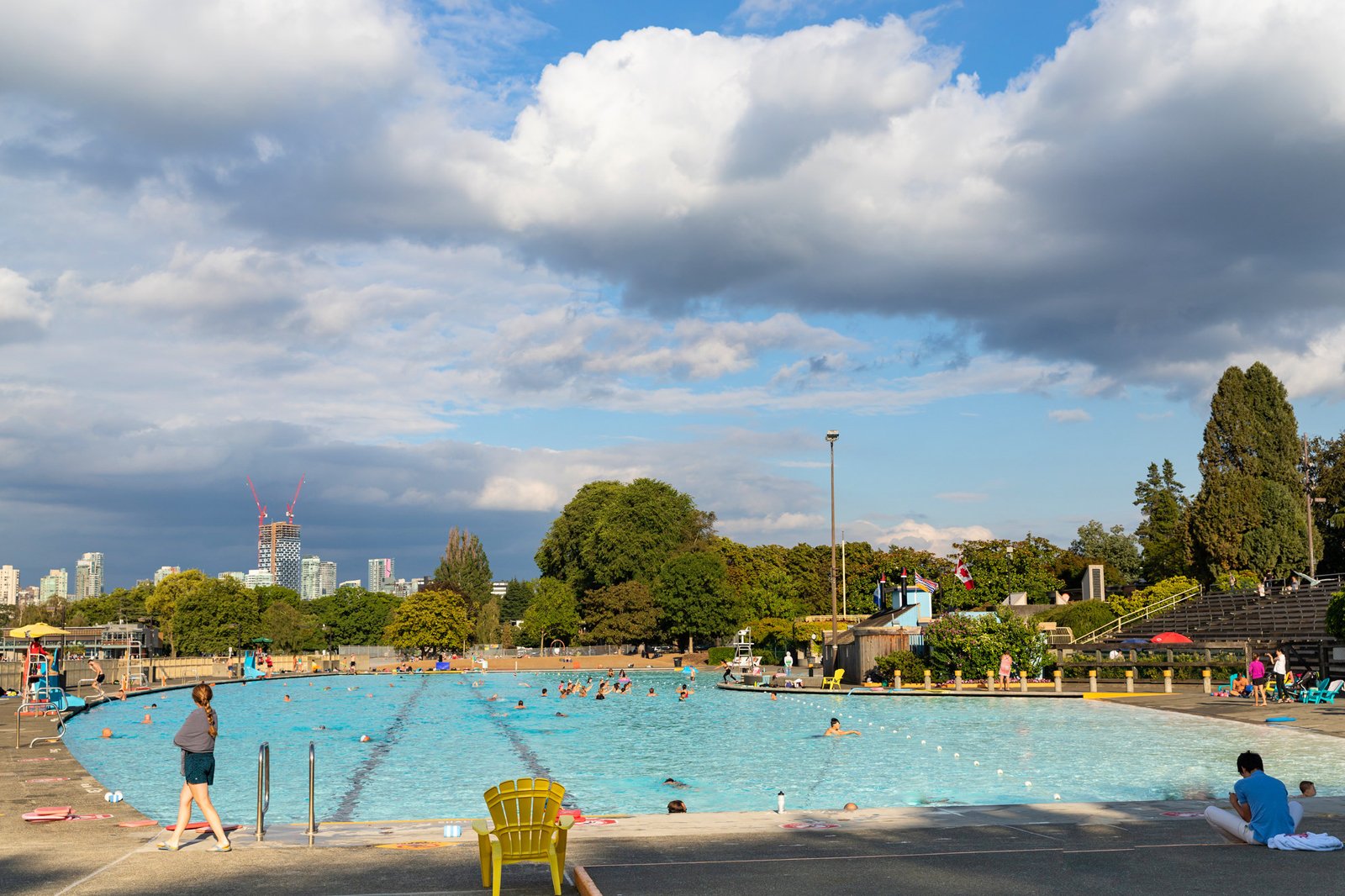 SUMMER: Swimming at Kitsilano Beach and Pool
For splashing fun in the brief Vancouver summer
You can take in lively summer vibes with bikini-clad sunbathers and activity-seeking beachgoers at Vancouver's most popular beach, Kitsilano. Kitsilano Beach offers two options for splashing summertime fun; right on the beach, with its green grassy spaces and volleyball courts, or the city's largest and longest outdoor pool right beside it.
The pool is around triple the size of an Olympic-sized pool, so there's plenty of space to accommodate a crowd. Both Kits' beach and its pool are great for enjoying Vancouver's dramatic sunsets.
Location: 2305 Cornwall Ave, Vancouver, BC V6K 1B6, Canada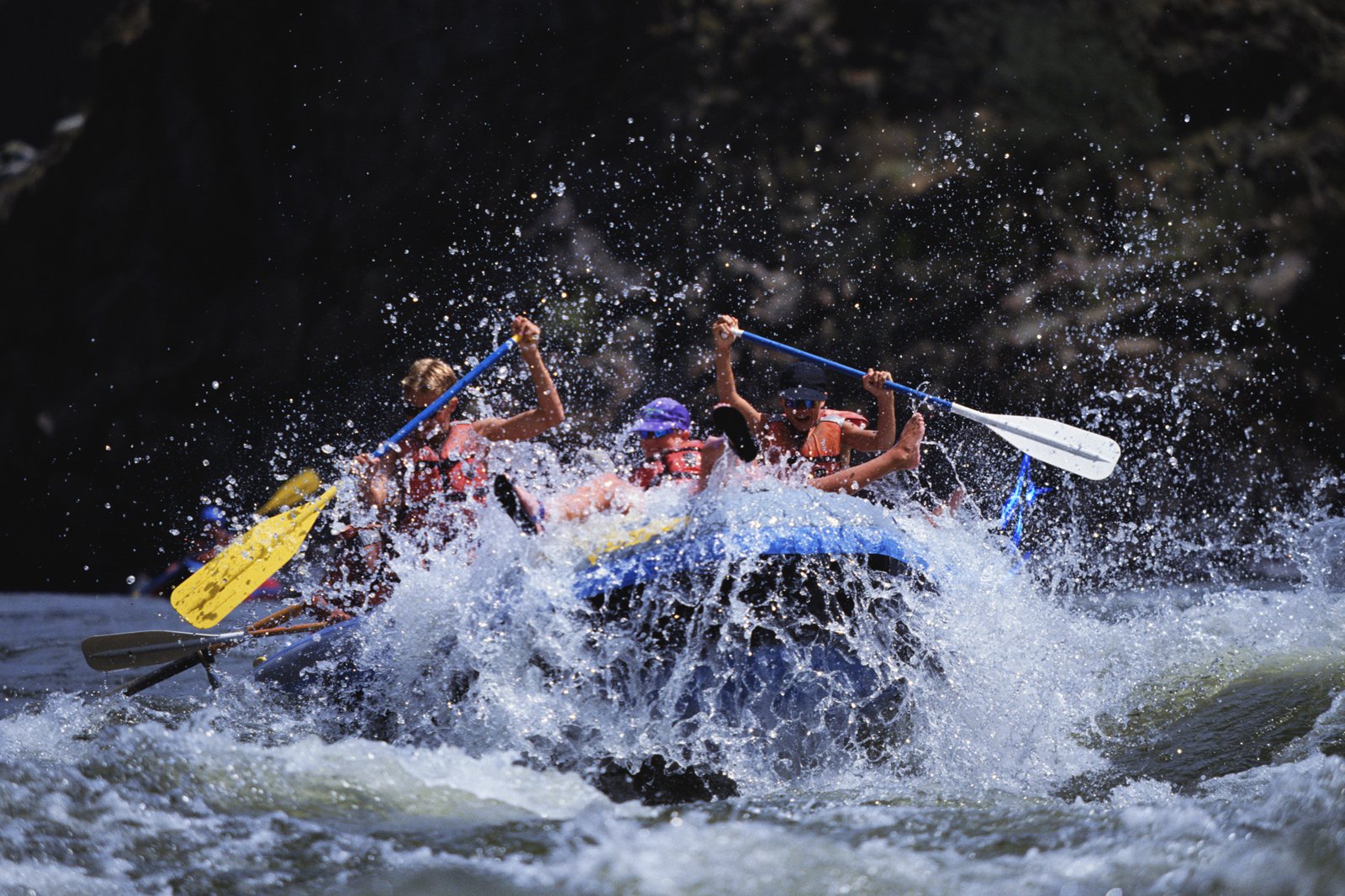 SUMMER: Whitewater rafting down Squamish River
Share a thrilling ride through stunning mountain scenery
Winding about 50 miles, from the Coast Mountains north of Vancouver down to Howe Sound, the Squamish River offers one of the best whitewater rafting experiences in British Columbia. There are a few rafting companies that offer excursions, allowing a party of up to six to navigate Squamish's two main rapids accompanied by a professional guide.
Along the thrilling Class 3 to Class 4 routes, take in the stunning nature against the glaciated mountain backdrops of Mount Cayley and Mount Garibaldi.
Location: Squamish-Lillooet, BC, Canada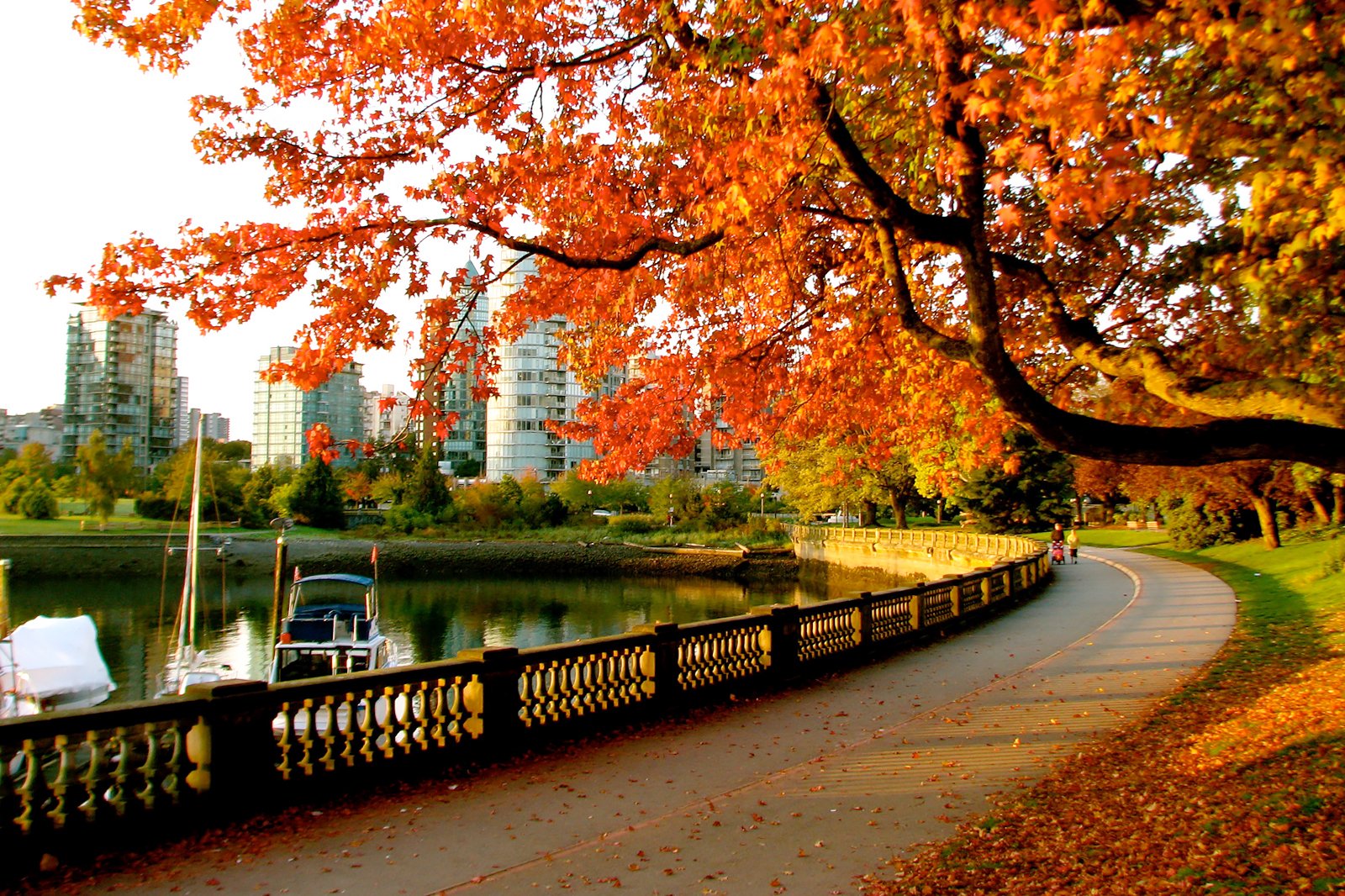 AUTUMN: Hiking and biking through Stanley Park
Beautiful nature trails in the heart of the city
Autumn in Vancouver brings out some of the city's most stunning colours. Stanley Park is one of the best places to view the changing colours of the leaves in the downtown area. The urban park offers around 400 hectares of cedar forests and a wooded seawall that puts on a stunning display of colours from around September through to December.
Pathways and hiking trails lead you through various points of interest and open spaces where you can view nature's beautiful displays, along with the occasional sightings of skipping squirrels and the sounds of chirping chickadees.
Location: Vancouver, BC V6G 1Z4, Canada
Open: Daily from 9am to 5pm
Phone: +1 604-681-6728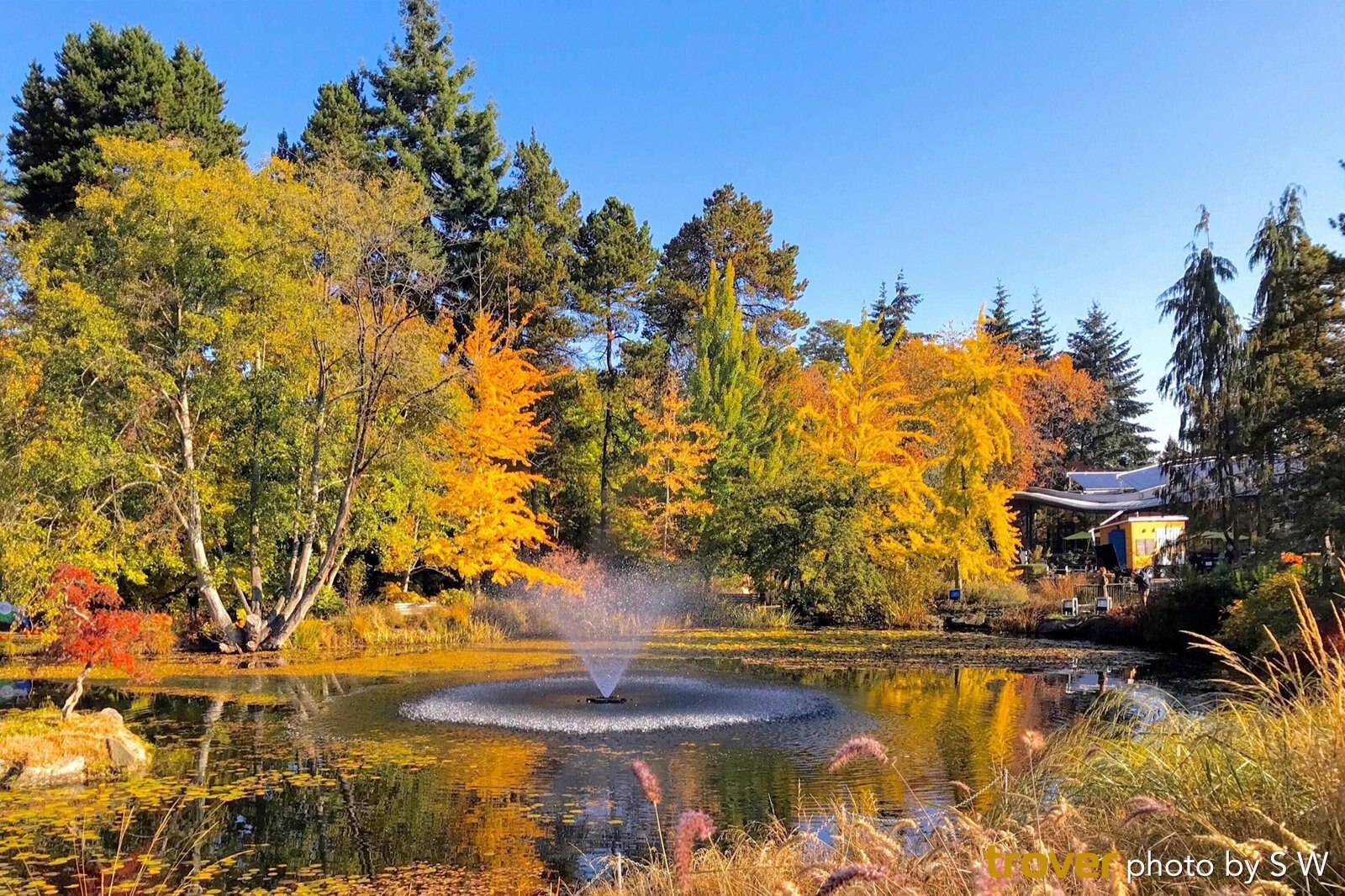 AUTUMN: Strolling through VanDusen Botanical Garden
A stunning walk through a spectacle of nature that shifts with the seasons.
In autumn, crocuses, asters, angelica trees, hydrangeas, and a rich assortment of herbaceous perennials bloom spectacularly at the VanDusen Botanical Garden. Some of Vancouver's elusive native wildlife often frolic in the gardens throughout autumn and you'll usually be able to spot owls perched among the bright golden foliage of the gingko trees.
Autumn is one of the best times of the year to visit VanDusen, before it gets a major winter wonderland makeover with the holiday-season Festival of Lights around Livingstone Lake.
Location: 5251 Oak St, Vancouver, BC V6M 4H1, Canada