10 Best Beaches in Rio de Janeiro
Bask on Rio's Most Beautiful Coasts
The best beaches in Rio de Janeiro include the city's two famous beaches, Copacabana and Ipanema. No visit to Rio is complete without experiencing the beach life or a walk along the scenic promenades of these beautiful coasts. They pretty much make up the icon of the Brazilian seaside metropolis, set against the seascapes of the Atlantic.
Besides enjoying the seaside scenery with a bask on Rio's most beautiful coasts, you can enjoy a host of recreational activities or revel during festivities such as New Year's Eve and the famous Carnaval do Rio street parties. Beyond its most famous shores, Rio has several more beaches worth exploring. Below, find out where to go to experience some of Rio's best balneario (Iberian seaside resort) beaches.
1
Copacabana
Enjoy Rio's most iconic beach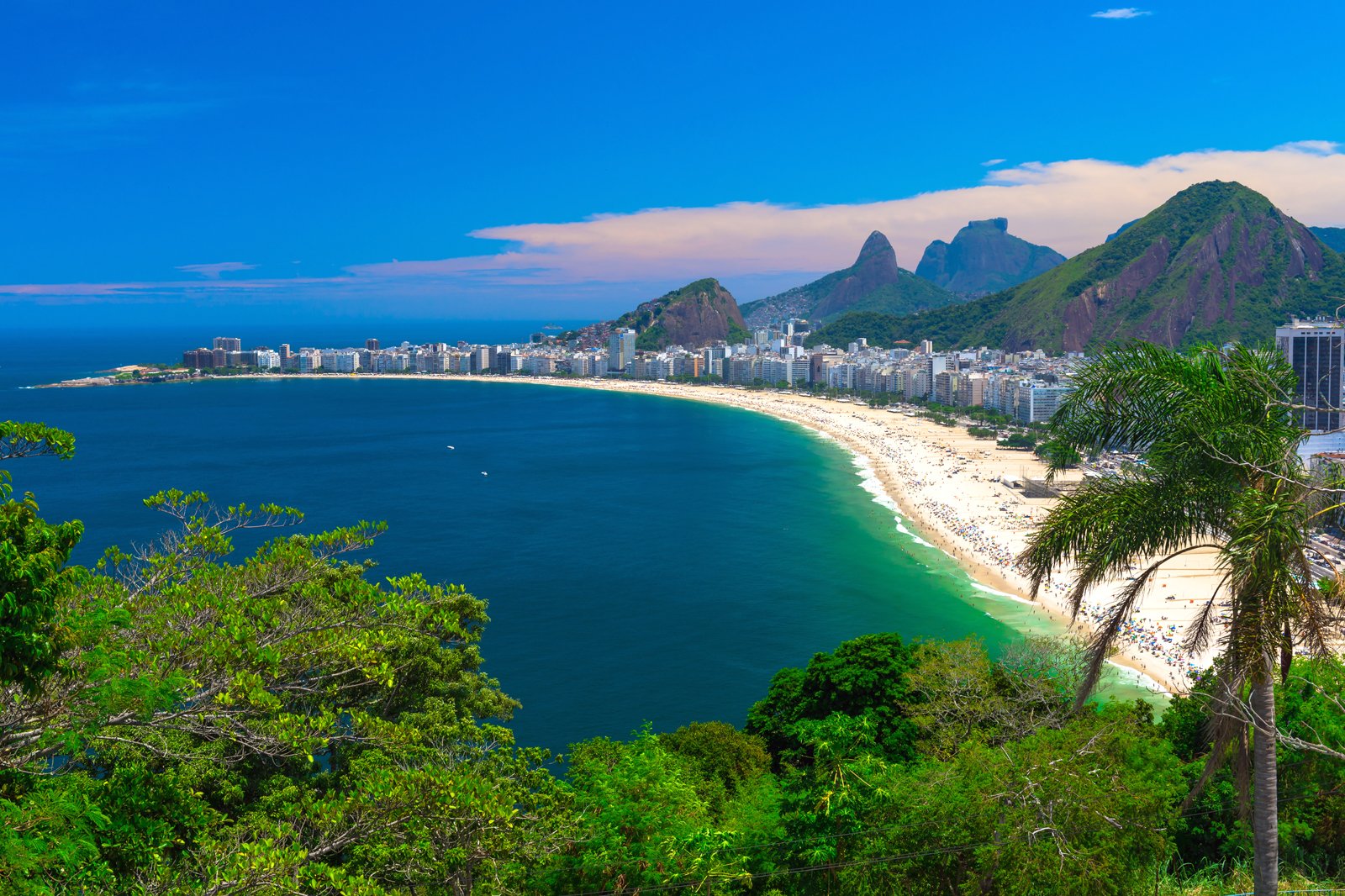 Copacabana is easily on top of the list of the best beaches in Rio de Janeiro – it is where most visitors make their way to for soaking in the warmth of the South American tropics, engaging in a host of beach and water sports, and partying on after sunsets. Copacabana stretches for around 4 km and is divided into several sections.
Copacabana is a great Rio seaside for experiencing the local beach life with favourite pastimes of beach volley and beach soccer. There are plenty of beach bars and kiosks along its length where you can refresh, and where you can expect spontaneous parties with live shows thrown throughout the day.
Location: Copacabana, Rio de Janeiro - RJ, 22010-000, Brazil
2
Ipanema
A more upscale coastal scene in Rio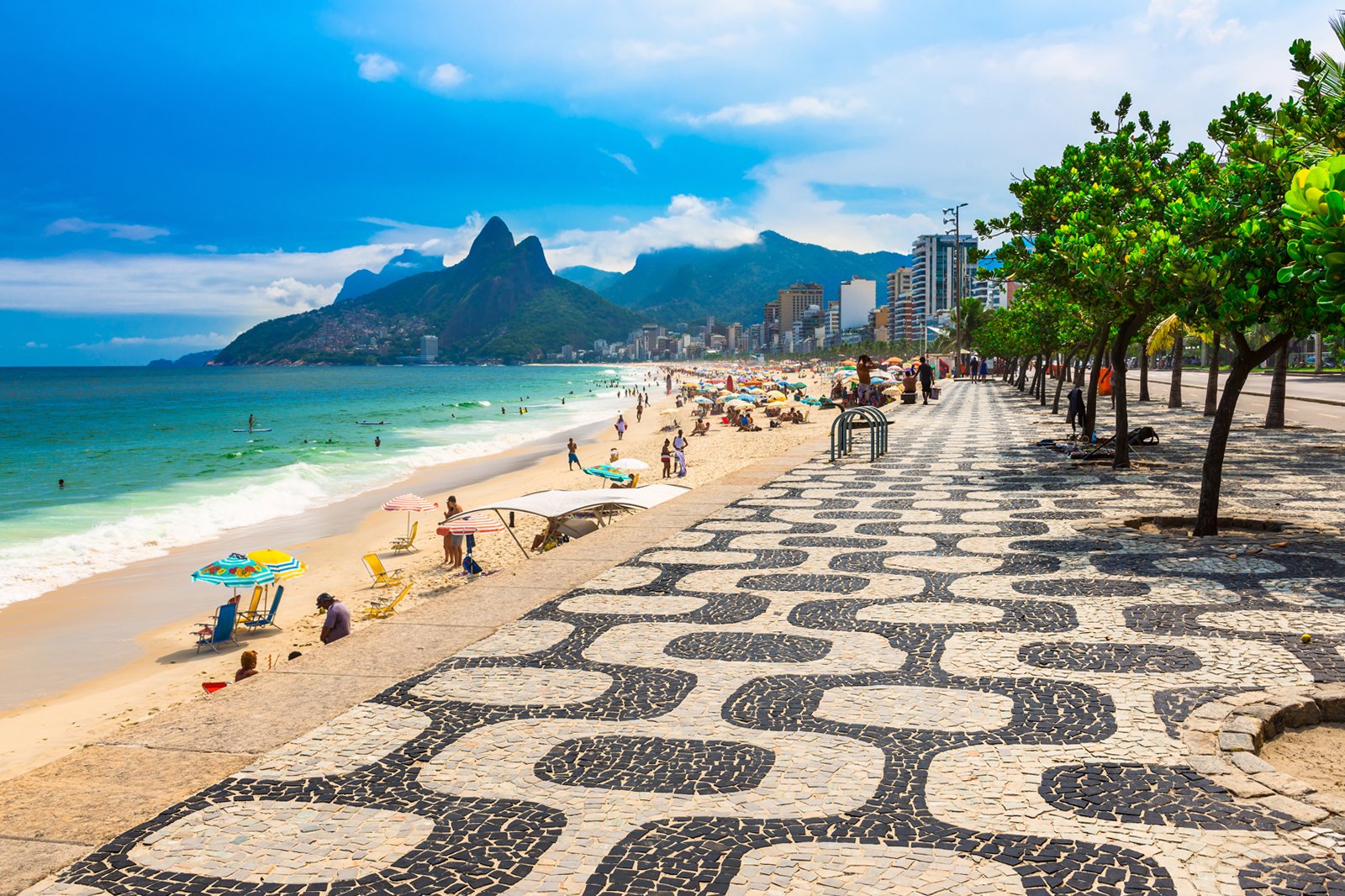 As one of Rio's most iconic beaches, Ipanema is where to be to witness beach chic and lively scenes set against a dramatic natural backdrop. The parallel street and promenade that runs along the coast usually bustles with Brazilian locals and visitors who walk, skate, and bike along its length.
Down on the stretch of white sand, more fun awaits. Beach volleyball and tennis nets, as well as parasol-shaded sun loungers, line the slightly curved bay, backed by the twin hills of Morro Dois Irmãos.
Location: Ipanema, Rio de Janeiro - RJ, 22420-004, Brazil
3
Joatinga
A secluded haven for wave riders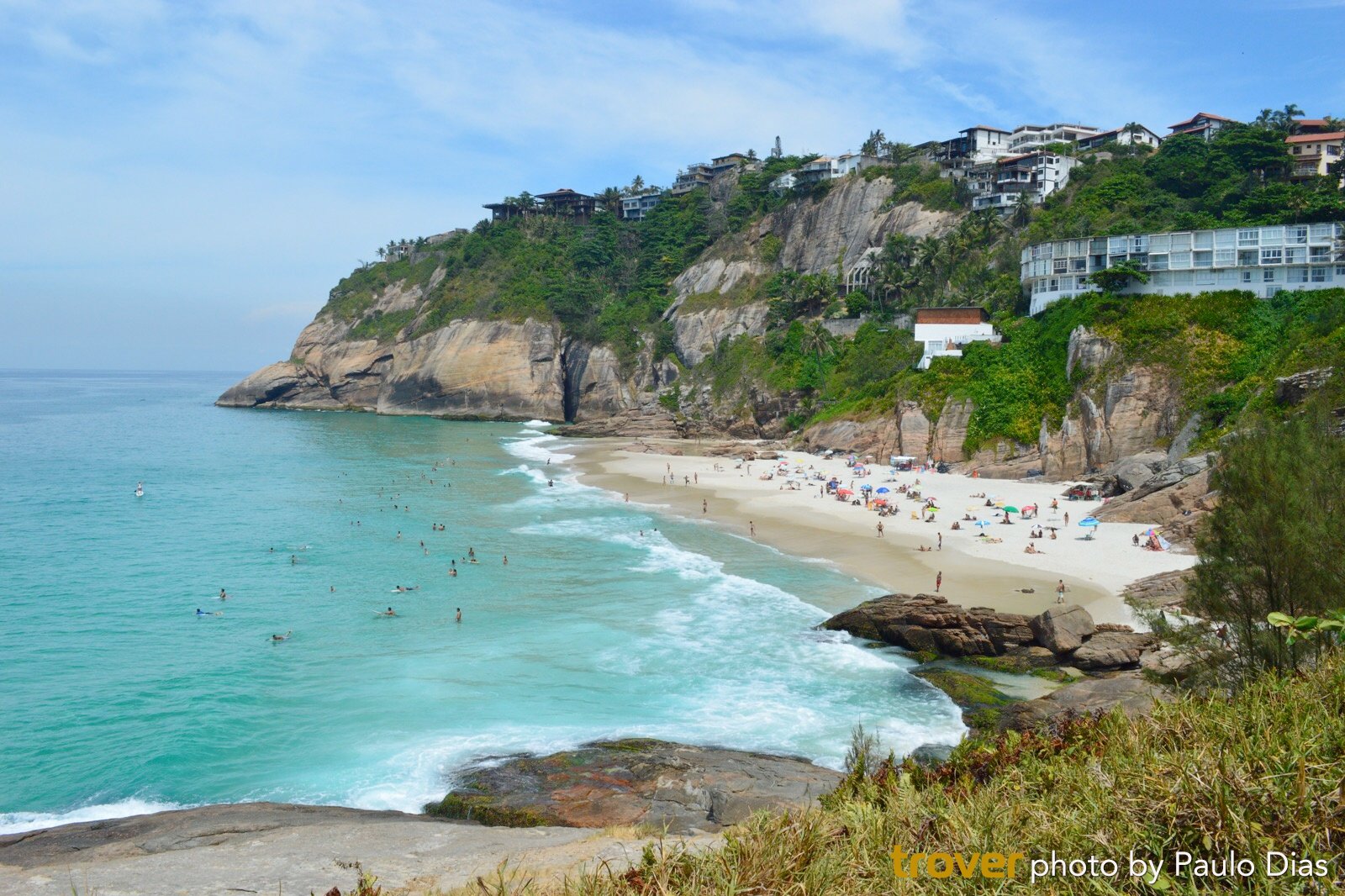 Once you've captured the vibes of Rio de Janeiro at Copacabana and Ipanema, you might want to escape from the crowds to more secluded coasts. Joatinga can be a perfect go-to, which has somewhat become an upscale resort area with a collection of luxurious villas and resorts dotting the surrounding rugged cliffs.
You can access the 300-metre long coastal stretch Joatinga's beach only during low tide. A paddle out from the beach across azure waters treats you to some great swells for surfing and bodyboarding.
Location: R. Lasar Segal, S/N - Joá, Rio de Janeiro - RJ, 22611-100, Brazil
4
Barra da Tijuca
Rio's modern resort beach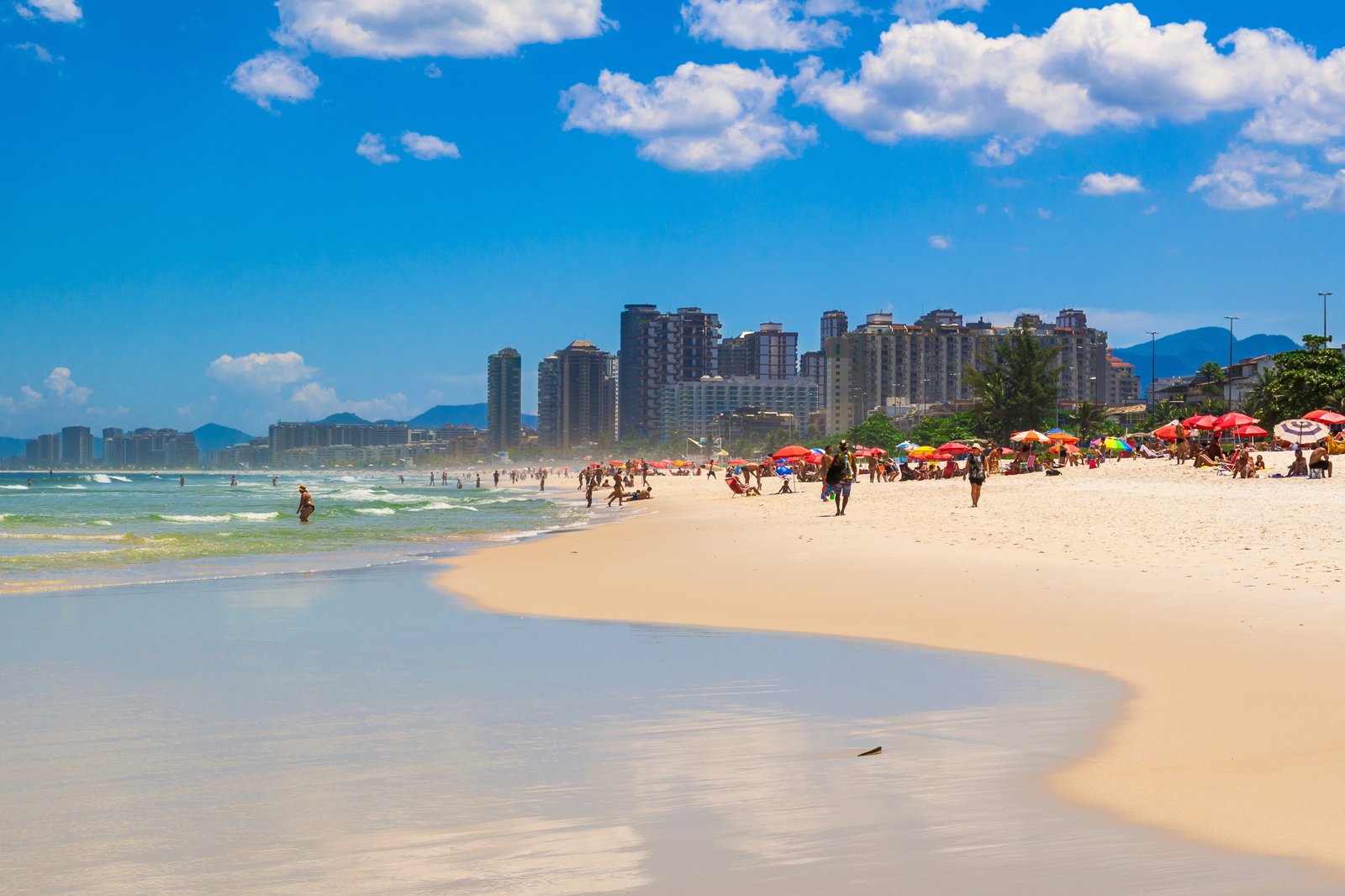 The more recently developed beach resort area of Barra da Tijuca offers great alternative beach scenes southwest of Copacabana and Ipanema with its long and beautiful length of white sand that stretches over 17 km.
Barra is an easy half-hour ride on the metro line from downtown Rio and offers all the scenes and flavours that the coastal city is famous for. As Rio's longest beach, you can find a mixed crowd ranging from a variety of water sports including surfing and windsurfing to beach soccer.
Location: Barra da Tijuca, Rio de Janeiro - RJ, 22630-010, Brazil
5
Vermelha
The "Red Beach" of Rio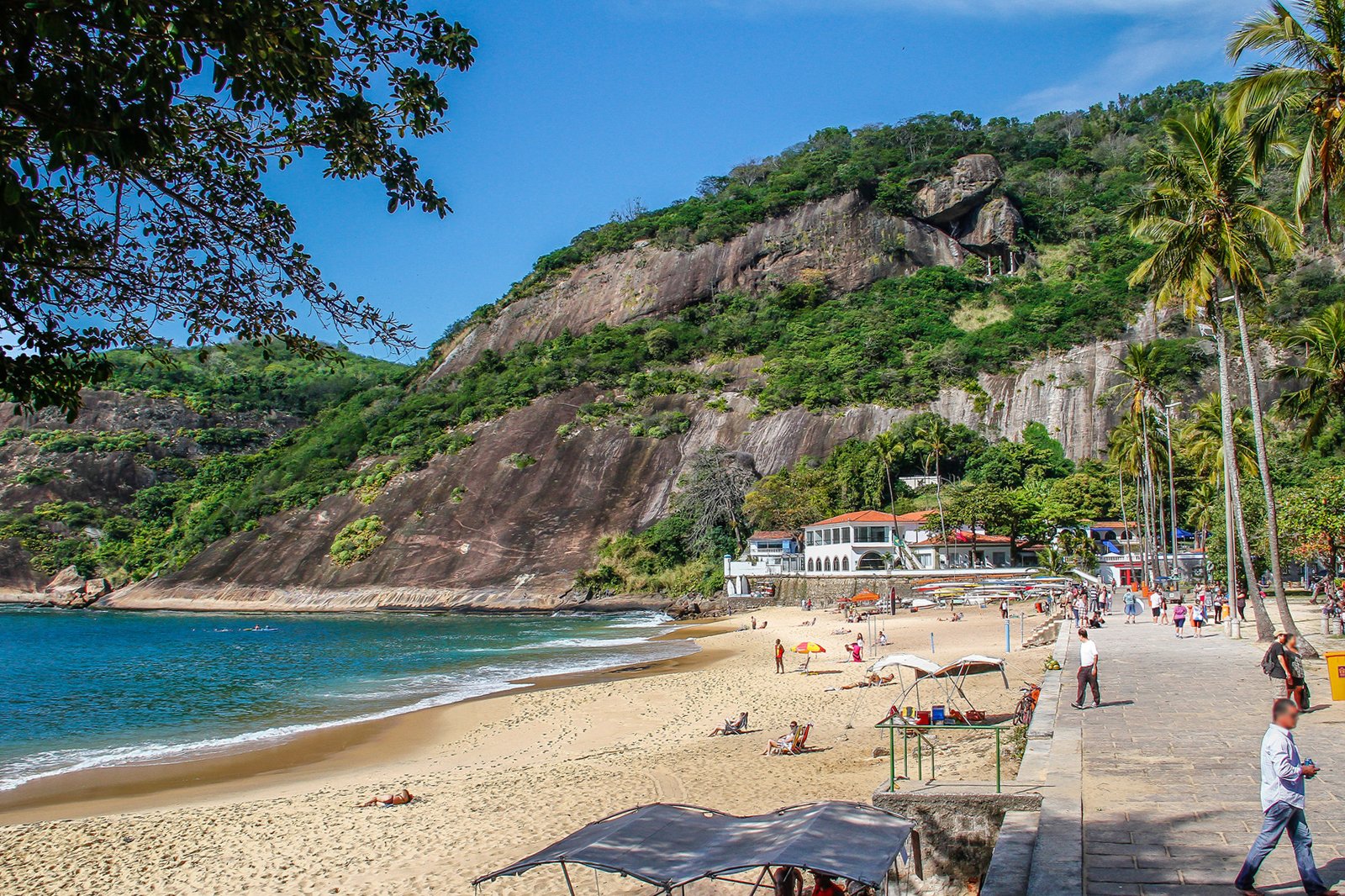 Although this enclosed volcanic beach is tiny, it's a highly popular beach owing to its exotic setting, cradled by the rugged forested landscape of the Morros do Pão de Açúcar e da Urca or Sugarloaf Mountain. You can access it down a footpath that is formed from red sand and rocks. The sand gives off a pinkish glow, most apparent usually in the afternoons.
You can find a row of cafes and beach cabin-style bars around the beach. Praia Vermelha is around 15 minutes' drive from downtown Rio.
Location: Praça Gen. Tibúrcio - Urca, Rio de Janeiro - RJ, 22290-270, Brazil
photo by Marinelson Almeida (CC BY 2.0) modified
6
Prainha
A hidden beach among a lush ecological park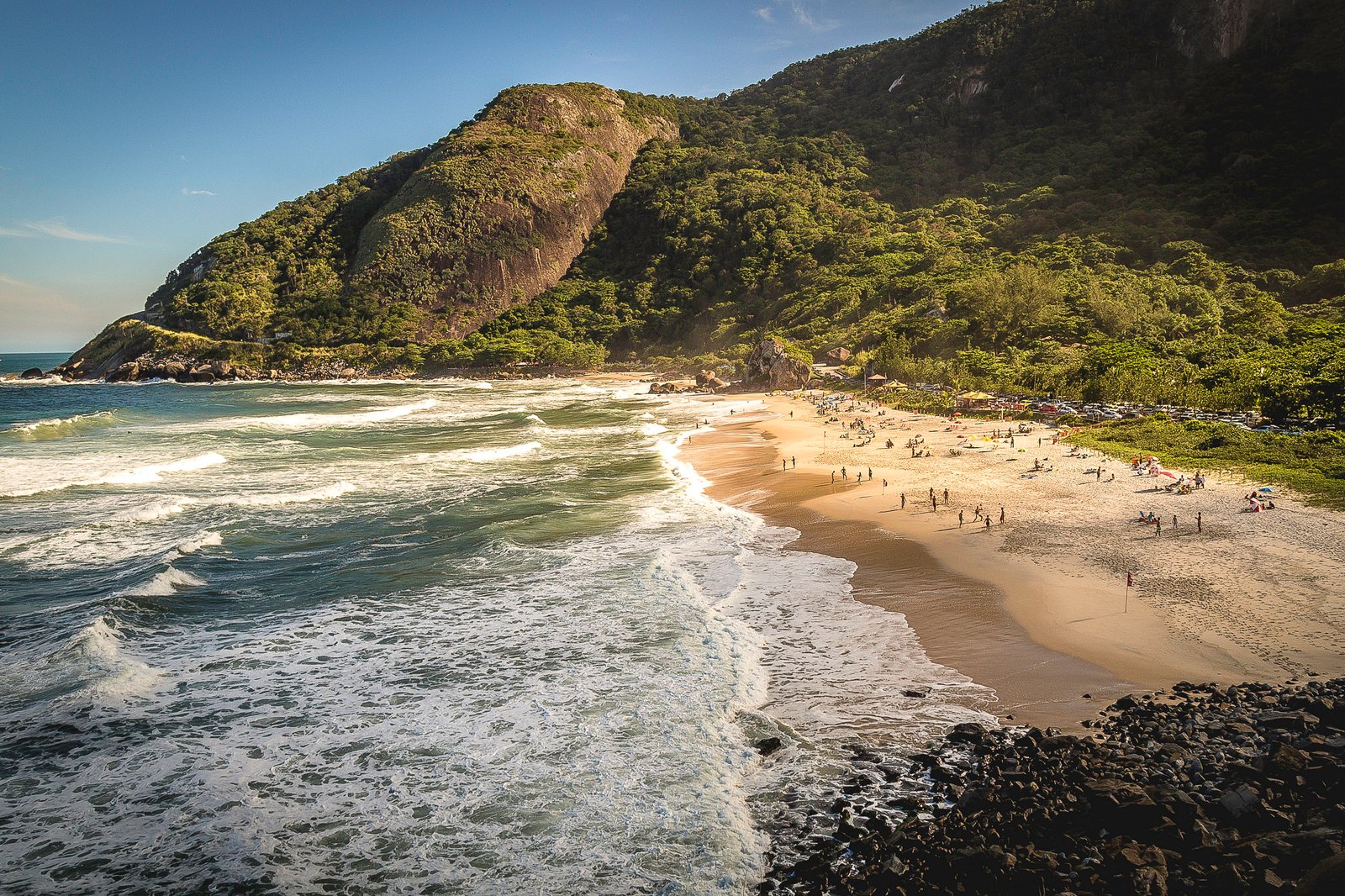 For a completely exotic beach experience that's far away from Rio's common crowds, you can consider taking an hour's drive west of Rio to the lush and protected mountain area of ​​Pedra Branca. Prainha Beach is a rustic surfing haven that's cradled by the mountains. It has excellent surf, but casual swimming is not advisable.
If you're looking for an adventure, you can climb up and take in the breathtaking panoramas over Prainha from the top of the adjacent Mirante do Caeté hill.
Location: Recreio dos Bandeirantes, Rio de Janeiro - RJ, 22790-877, Brazil
photo by Yacine Petitprez (CC BY-SA 2.0) modified
7
São Conrado
It's popular for surfing and hang-gliding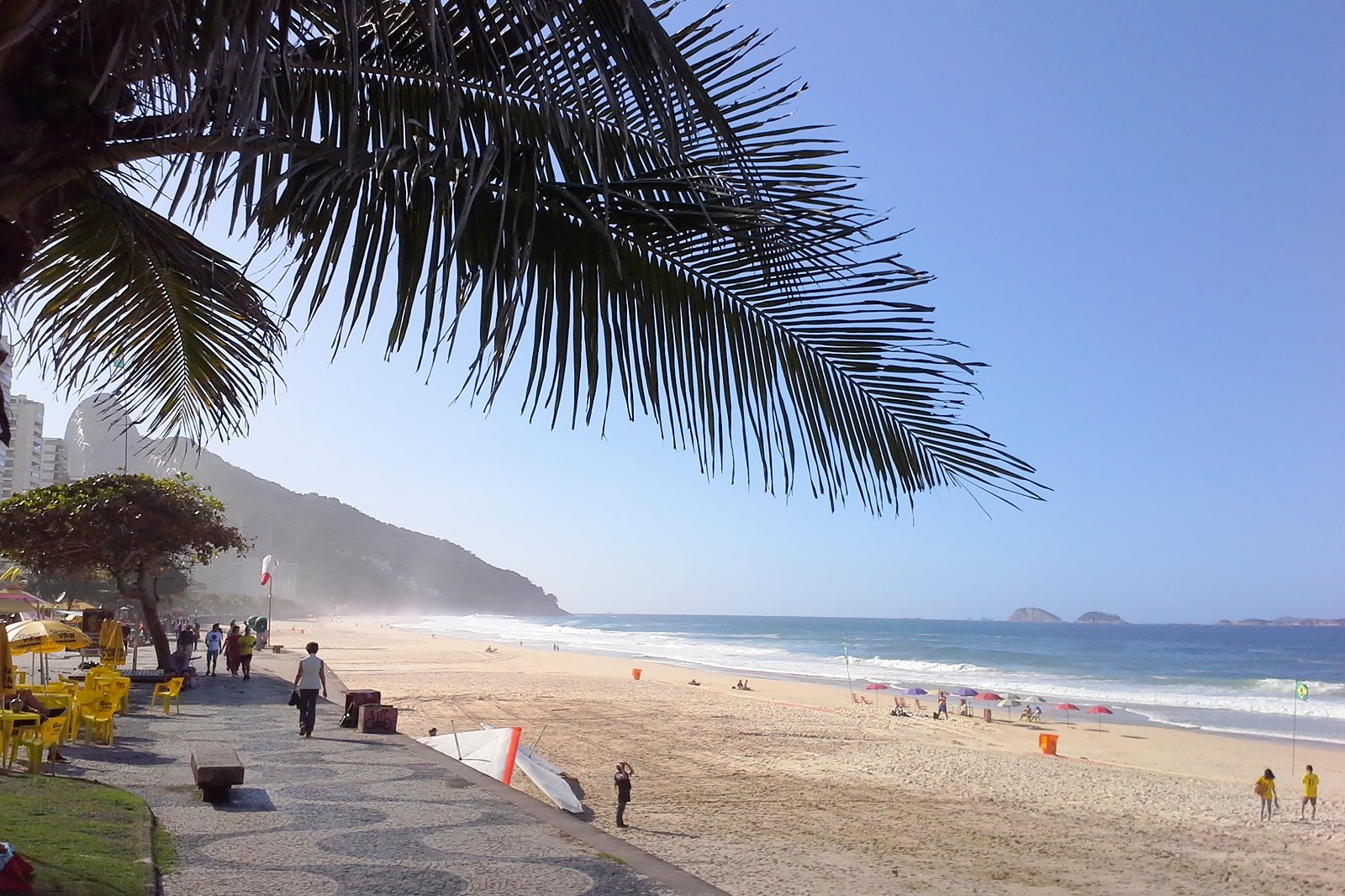 This beach in the southern zone of Rio de Janeiro is part of a newly-developed district, with modern buildings and luxurious mansions lining the coast. In contrast, just northeast of the beach you can find Rocinha, considered the largest favela in all of Brazil. Praia de São Conrado stretches for around a kilometre with soft golden sand and great surf.
Nearby is the massive Pedra da Gávea stone mountain. You can hike to the top for great views over the beach from around 800 metres high. It's also a popular spot for hang-gliding.
Location: São Conrado, Rio de Janeiro - RJ, 22610-095, Brazil
photo by TMbux (CC BY-SA 3.0) modified
8
Flamengo
A modern but tranquil coast near downtown Rio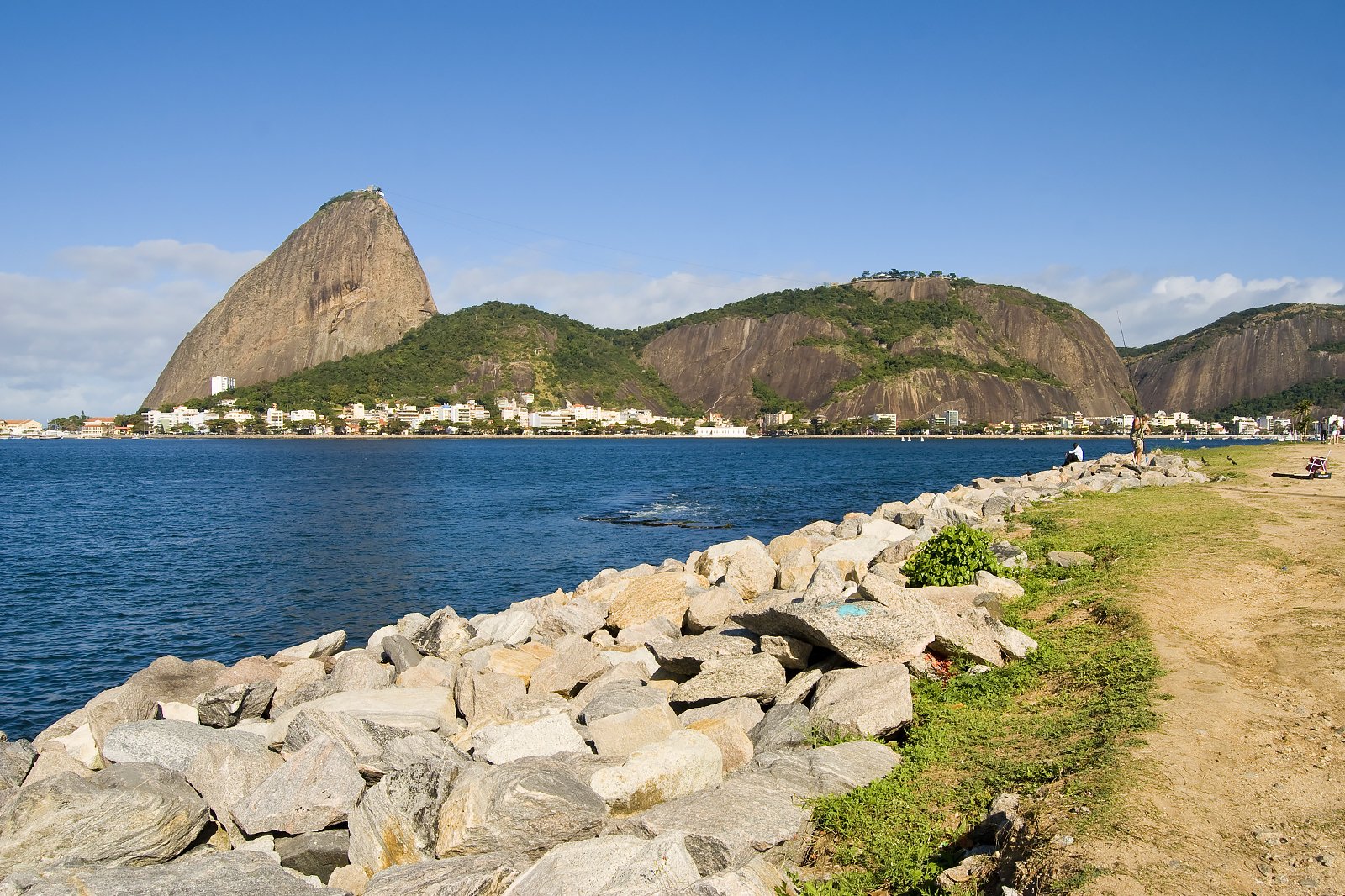 Flamengo Beach is unique in that it's right near downtown Rio but offers you a tranquil coastal escape away from Copacabana's beach-loving crowds.
There's a city park along the length of Flamengo where you can enjoy pleasurable strolls or fun biking against the wonderful seascape and Sugarloaf Mountain. This park serves as a border between the main road and the coastline, with spacious lawn sections under the shade of palm trees, as well as a skatepark, a running track, and sporting facilities nearby.
Location: Flamengo, Rio de Janeiro - RJ, 20021-140, Brazil
9
Arpoador
A popular Rio beach for sunsets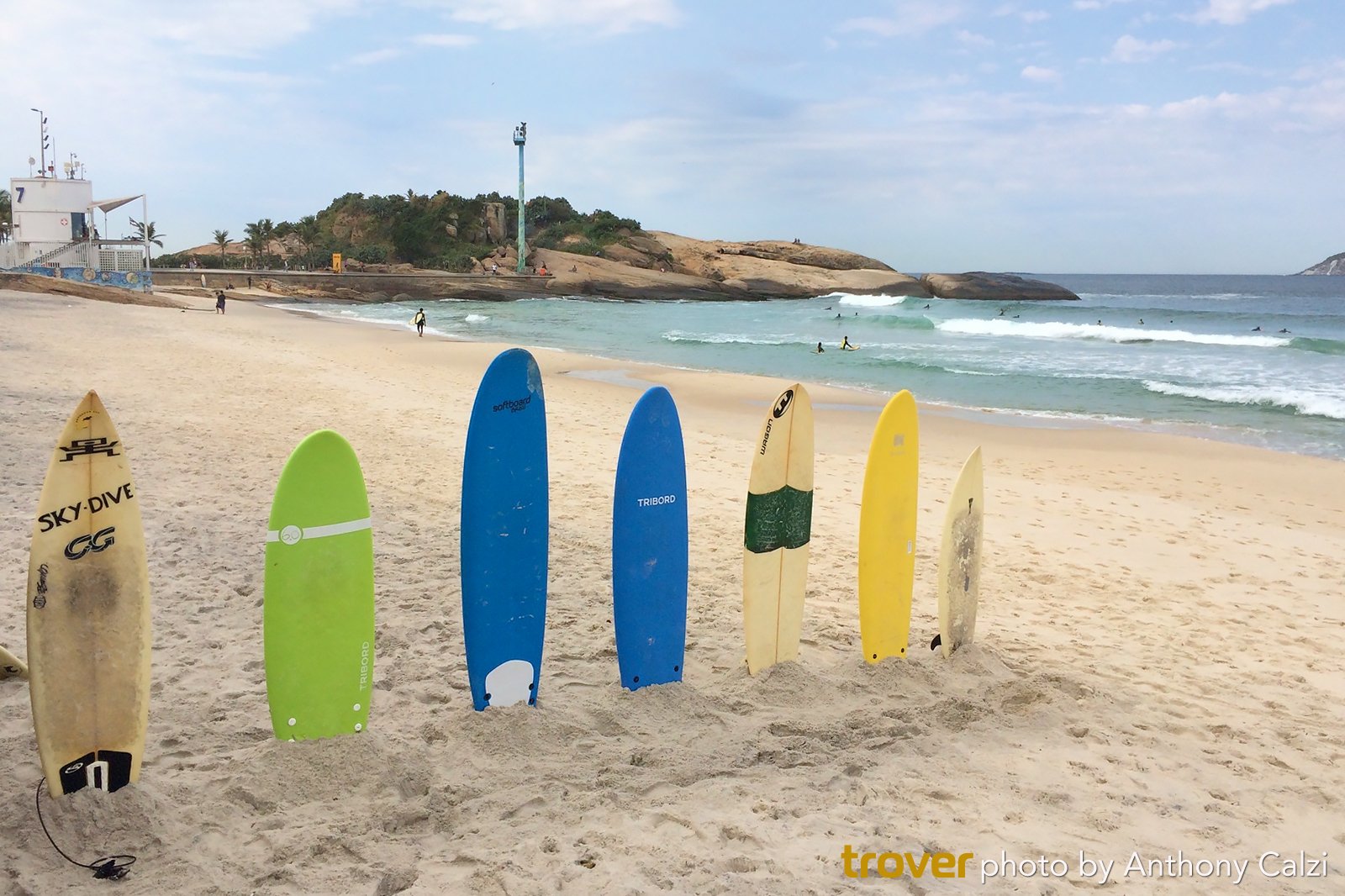 This beautiful stretch of sand lies between Ipanema and the fort of Copacabana. Arpoador offers great surf, but many who visit often make the climb up to the namesake rock formation overlooking the coast, for the dramatic sunsets.
When you get up there, you can join in on the local tradition of clapping and cheering on to celebrate the spectacle as the great ball of fire descends into the ocean. If you're thinking of going for night swims, Arpoador is an ideal spot as it's very well-lit.
Location: Praia do Arpoador - Ipanema, State of Rio de Janeiro, Brazil
10
Grumari Beach
Enjoy sunbathing and skinny dipping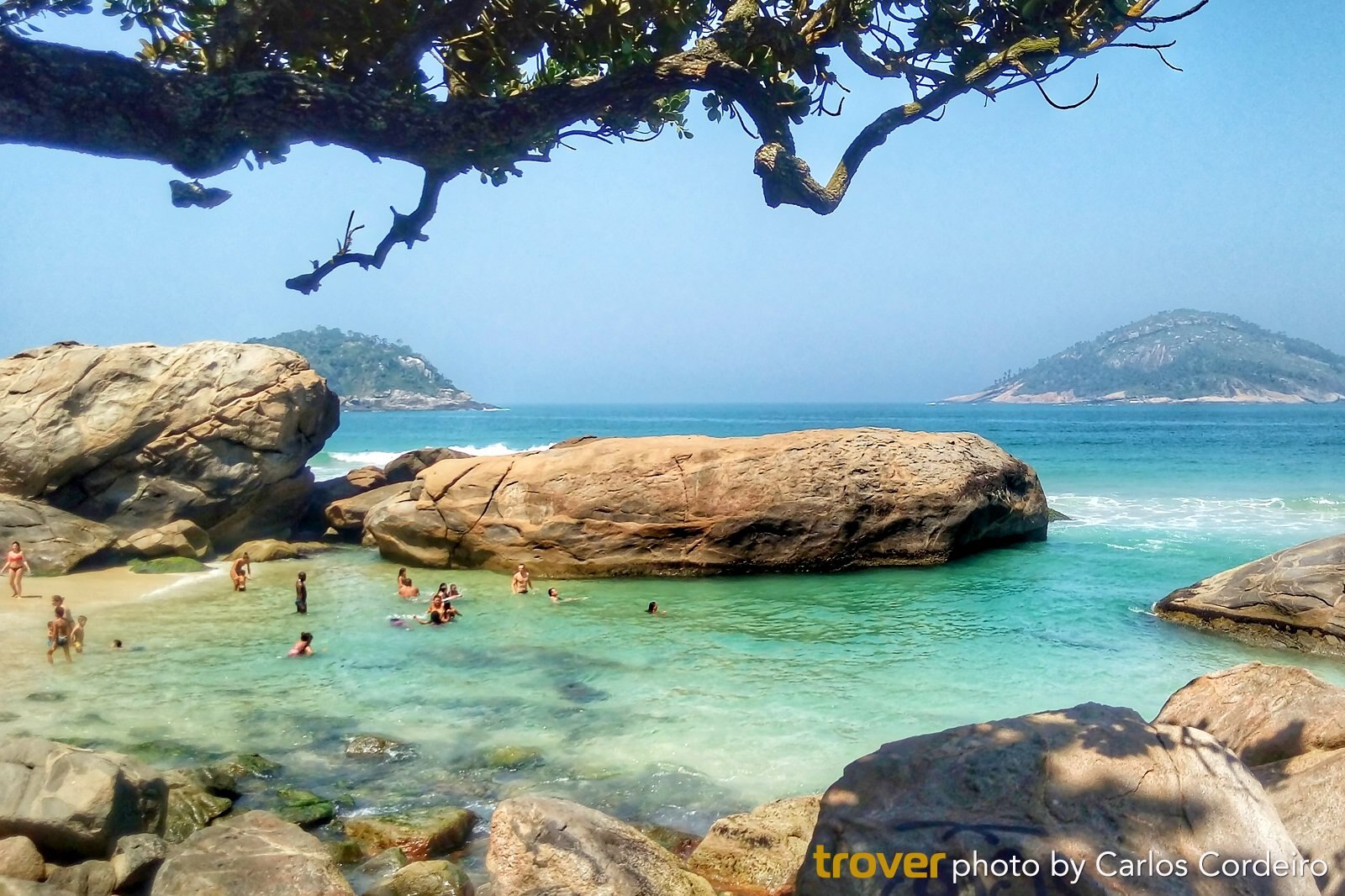 Neighbouring Prainha Beach and sharing its exotic and secluded setting, Grumari Beach offers a scenic and natural seascape. To emphasize on the "natural" aspect, the beach has a clothing-optional extension, especially near its northern end, where nude sunbathing and skinny dipping in its deep blue waters is all welcome.
For the rest of the beach, it's mostly a surfing playground with some sections featuring great swells that can be too rough for swimming. You can pack a picnic as there aren't many food and drink vendors around, which in some ways can seem a nice change.
Location: Grumari, Rio de Janeiro - RJ, 22790-872, Brazil