Gold Mines, Art Galleries, Tram Tours, and More - What to See and Do in Bendigo
Gold Mines, Art Galleries, Tram Tours, and More - What to See and Do in Bendigo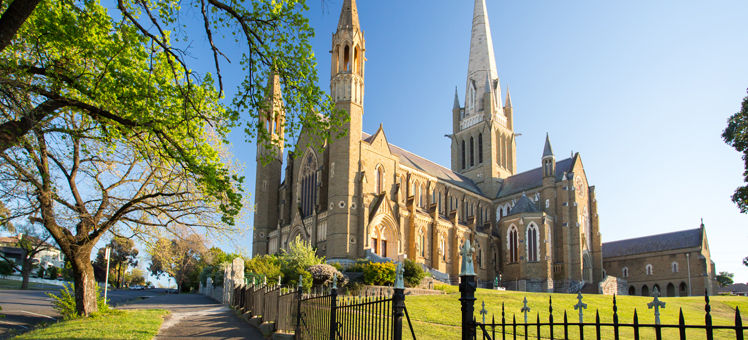 Without losing its innate gentility, Bendigo has changed enormously over the past decades. This elegant town has seen a rush of "tree-changers" - city folk who have migrated here in search of a better quality of life. They have brought a demand for more sophisticated restaurants and shops, and have polished Bendigo's rough edges. Australia's most vibrant regional gallery keeps the weekends buzzing with day-trippers.
Art capital of Central Victoria
The Bendigo Art Gallery is exemplary - a lesson in what a regional museum can be. Its shows, often on loan from the world's great art institutions, are international in scope and span fashion and photography to sculpture and installation art. A new architect-designed wing has been added to the existing period building - a symbol of the gallery's commitment to showcasing the old along with the avant-garde. Nearby, La Trobe University Regional Arts Centre is another venue for contemporary arts, putting on 22 thought-provoking shows a year.
Take a tour on a tram
While Melbourne's wonderful old trams have been replaced by sleek new models, Bendigo Tramways has hung onto the real deal: fire-engine red rattlers dating from the early 1900s. Although they are no longer used as mass transit (the city said goodbye to its last public tram in 1972), various "tram tours" will take you around the major sites. Themed tram tours talk you through the history of Bendigo's "Anzacs," - the soldiers who left to fight in World War I - and the town's indelible Chinese culture. You can also visit Bendigo's tram depot, the oldest in Australia.
Bendigo Tramways, 1 Tramways Avenue, Bendigo VIC 3550; Tel: + 61 3 5442 2821; Website: Bendigo Tramways
Dig deep into a gold mine
Gold and Bendigo are inextricably linked. At the height of the rush in the 1930s, gold was so abundant that at least 5,000 gold mines were registered across the region, and after heavy rains people would rush into the streets to pan for gold dust. Most mines have now been capped or filled, yet the Central Deborah Goldmine re-opened in order to give visitors a taste of fortune-hunting hundreds of meters below ground. After donning a hard hat and miner's torch, you'll be led through the mine's network of tunnels and be taught the tricks of the prospector's trade. Above ground, you can view old mine machinery, learn about panning, and visit an interactive museum.
Tour the outlying towns
While there is plenty to keep you occupied in Bendigo, there are many other towns in Victoria's Goldfields region. About 38 kilometers south of Bendigo, Castlemaine is a charming place to spend an afternoon, with a cluster of well-preserved period buildings, the historic homestead Buda, cozy cafés, and the Theatre Royal - Australia's oldest. A visit to Maldon, a short drive away, is like stepping back in time. Its sleepy main street has rows of timber shop-fronts displaying antiques, retro clothing, old-fashioned candy, and trendy home decor. The fish and chips here are among the best in the region.
Theatre Royal, 30 Hargraves St., Castlemaine VIC 3450; Tel: + 61 3 5472 1196; Website: Theatre Royal

Buda Historic Home and Garden, 42 Hunter St., Castlemaine VIC 3450 ; Tel: + 61 3 5472 1032; Website: Buda Historic Home and Garden
Discover
Find your perfect holiday in Bendigo
From 50 hotels.