Weston-super-Mare - A Traditional Seaside Town With Lively Nightlife and Family Activities
Weston-super-Mare - A Traditional Seaside Town With Lively Nightlife and Family Activities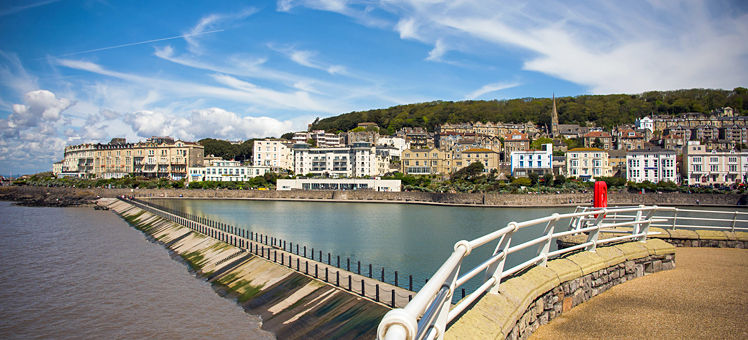 In the 19th century, Weston-super-Mare bloomed from a tiny fishing village into a vibrant seaside resort. Today, it offers a mix of nostalgic Victorian architecture and fun family activities. With its broad sands, refurbished Grand Pier, quaint tearooms, and buzzing nightclubs, the town attracts day trippers from nearby towns as well as tourists from across the country.
Fun on Weston's beachfront
Weston Bay is a huge stretch of flat beach dominated by the area's iconic Grand Pier that juts out to the sea. Donkeys wait patiently on the sands to take kids for a ride, and arcade games, ice cream vans, and fish 'n' chips shops line the shore. The seafront is backed by the flowery Beach Lawns where you can enjoy events and activities throughout the year. Madeira Cove located by Marine Lake is a relaxing spot that isn't affected by Weston's notorious tides, and has a selection of pubs and bars where you can enjoy a picturesque meal.
Grand Pier, Marine Parade, Weston-super-Mare BS23 1AL; Tel: +44 1934 620 238; Website: Grand Pier
Weston's water activities
You can take a scenic boat trip to Flatholm Island in the bay during the summer season, and cross the Bristol Channel to Cardiff. If you're looking to burn off some energy, you can take up one of the water sports on offer, like paddleboarding, or you can drive 20 minutes to Brean Sands for kitesurfing or windsurfing. At Sand Bay, about 4 miles north of the town centre, you'll find a long beach that's great for walking your dog or throwing around a Frisbee.
MW Marine, 27 South Road, Weston-super-Mare BS23 2HD; Tel: +44 1934 636 734; Website: MW Marine

Weston Paddleboard Academy, Various locations; Tel: +44 7816 652 720; Website: Weston Paddleboard Academy
Nightlife for all ages
Weston is home to some excellent bars, pubs, and nightclubs, and it's become a popular place for young people to let loose. If you're looking for calmer evening pursuits, you can play Bingo or enjoy a live show at one of the seafront hotels. Look out for evening events at the Grand Pier, including live music and murder mystery nights, or head to one of the town's 2 theatres to take in a dance performance, musical, or play.
Captain Jack's Bar, Grand Pier, Marine Parade, Weston-super-Mare BS23 1AL; Tel: +44 1934 620 238; Website: Captain Jack's Bar
The Mendip Hills
This area of outstanding natural beauty is right on Weston's doorstep. Sprinkled with ancient monuments and quaint villages, and edged by cave networks and sparkling lakes, the Mendips can keep you busy for days. You can take a walk to see wildlife and birds, or hop on one of the cycling trails that crisscross the limestone hills. Black Down is the highest peak, where you can explore heaths, moorlands, Bronze Age barrows, and a WWII town that was used as a bombing decoy. On the Mendips' northern side, Chew Valley Lake offers fishing and sailing, and a wealth of birdlife.
Surrounding towns and cities
From Weston it's a 30-minute train ride to the thriving hub of Bristol, which is packed with shops, galleries, museums, and restaurants. You can travel 23 miles east to the medieval city of Wells that houses an impressive cathedral decorated with over 300 carved statues. The Bishop's Palace, moat, and gardens, and the cobblestone Vicars' Close, one of Europe's oldest residential streets that dates back to the 1360s, are other must-sees. Clevedon is a picturesque seaside town located 10 miles north, and offers a pebble beach, as well as ornamental gardens, a Victorian clock tower and bandstand, and a mini-railway.