Shopping in Lincoln - Gift Shops, Antique Sellers, and Markets
Shopping in Lincoln - Gift Shops, Antique Sellers, and Markets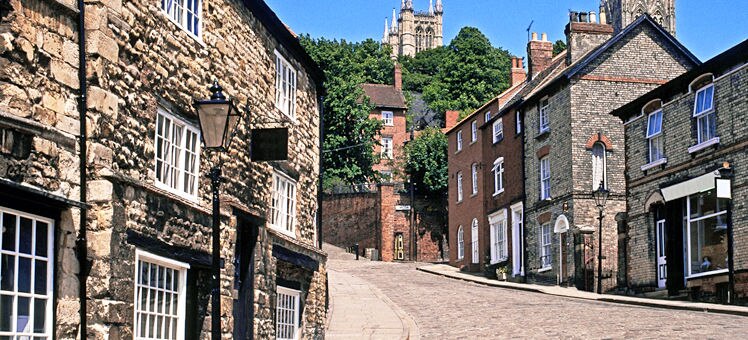 Lincoln has been a major regional shopping hub for centuries. You'll find specialist boutiques here, along with large department stores and covered markets. Head to the Upper Town to find quirky arts dealers and secondhand booksellers. For everyday items, visit the shopping centres and high-street chain stores that fill the lower town. Many shopping streets in this area are pedestrianized - perfect for relaxed browsing.
Cathedral Quarter
A vast array of independent boutiques and specialist shops cluster on the hilltop around Lincoln Cathedral. They are often run by knowledgeable owners who are enthusiastic about their wares. There are also souvenir shops here, if you're looking for a Lincoln-themed memento of your visit. You'll find many interesting places to browse along cobbled Bailgate. For a piece of bespoke jewelery, take a peek inside Colonia of Bailgate. Nearby Hansord has been selling antiques and artworks at the same location for more than 50 years.
Colonia of Bailgate, 18 Bailgate, Lincoln LN1 3AN; Tel: +44 1522 523455; Website: Colonia of Bailgate

Hansord, 6/7 Castle Hill, Lincoln LN1 3AA; Tel: +44 7831 183511; Website: Hansord
Steep Hill
Steep Hill lives up to its name, but as you're walking up you'll have plenty of opportunities to stop and rest weary limbs. The narrow cobbled street is lined with old-fashioned stores and tearooms, as is adjoining The Strait. Harlequin Antiquarian Books sells secondhand books from a charming half-timbered building near the top of the hill. Further down, Goodies traditional English Sweet Shop will appeal to anyone with a sweet tooth. It sells hundreds of kinds of candy, mostly stored in, and dispensed from, large glass jars.
High Street
While Uphill is home to Lincoln's specialist boutiques, Downhill is the place to find more commonplace items. Running through the centre of the lower town, High Street is home to over 300 fashion outlets, household goods retailers, department stores, and shopping centres. You'll find most major national and international chains here. Just off High Street, Waterside Shopping Centre has 25 outlets spread across 2 floors, including H&M, Next, and Topshop. St. Marks Shopping Centre's 35 shops include a branch of Debenhams department store.
Sincil Street covered markets
Sincil Street, between Lincoln's railway and bus stations, has a traditional shopping feel and hosts the city's 2 covered markets. Central Market sells a variety of fresh foods, household items, clothing, and other specialty products from permanent stalls. At nearby Cornhill Market you'll find colourful fresh fruit and vegetable stalls. Most other stores on and around Sincil Street are also independent local traders.
Outdoor street markets
Away from Lincoln's 2 covered markets, regular outdoor markets also spring up at various locations across the city. You'll find one on City Square, along High Street, and another on Castle Square, in the historic Cathedral Quarter. They sell everything you might need, from regional fresh foods to local artworks and handicrafts. Held in early December, Lincoln Christmas Market has become one of the most-visited in England. There you can stroll around more than 250 stalls selling traditional and festive items. You'll find the market on the streets between the castle and the cathedral.