What to See and Do in Agra - Cycling Tours, Taj Mahal Views, and Wildlife Sanctuaries
What to See and Do in Agra - Cycling Tours, Taj Mahal Views, and Wildlife Sanctuaries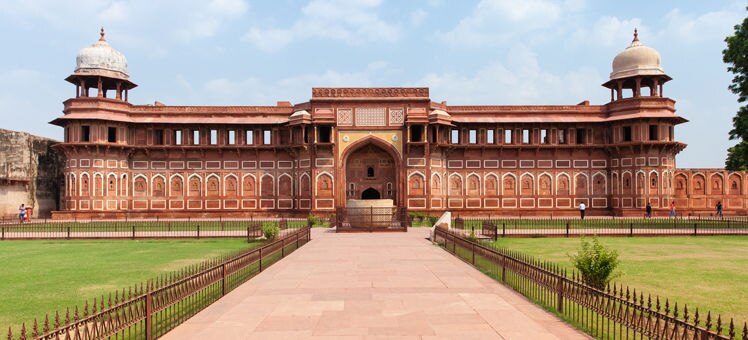 Agra's beautifully preserved buildings and centuries-old markets almost make it possible to imagine life when it was the capital of the Mughal Empire. Exploring the city on foot or by bike is a fascinating way to see some of its less-visited sights, while visitors can enjoy close encounters with elephants and bears at 2 world-class animal sanctuaries.
Cycling and walking tours
In an ancient city like Agra, it can be rewarding to head off the beaten track to explore hidden lanes and secret sights. Cycling and walking tours are an interesting way to get in touch with local history. Agra Walks will guide you through spice markets, temples, and sweet shops that have been open for centuries. You'll finish the tour viewing the famous Taj Mahal from a quiet spot unknown to many visitors. Cyclists will enjoy excursions with Agra by Bike, which lead you through the city's monuments, including the Taj Mahal and Agra Fort, as well as 400-year-old markets.
Agra Walks, Bibhab Mansion (next to Hotel Gateway), Fatehabad Road, Agra 282001, Uttar Pradesh; Tel: +91 902 7711144; Website: Agra Walks

Agra by Bike, 32/75-A-11-B (near E-3/ 6700, Gandhi Park, Shaheed Nagar, Agra 282001, Uttar Pradesh; Tel: +91 936 8112527; Website: Agra by Bike
Elephant and bear sanctuaries
Located inside a bird habitat, Wildlife SOS's Bear Rescue centre is one of the world's largest sloth bear sanctuaries. During a visit here, you'll get to watch bears playing, digging, climbing trees, and foraging for food. At the non-profit organization's elephant sanctuary, a 56-km drive from Agra, you'll meet zoologists and experts who educate visitors about the care and conservation needed to protect these gentle animals.
Traditional Kalakriti dancing
colourful costumes and lively music are an entertaining combination at traditional Indian folk dancing performances in Agra. At Kalakriti Cultural & Convention centre, the musical "Mohobbatain-e-Taj" depicts the story of how the Taj Mahal came to be, including the love story between Shah Jahan and Mumtaz Mahal. This Bollywood-style production makes a great addition to your trip before you visit the marble monument. Afterwards, you'll be invited to have your photo taken with the cast and the set's mini Taj. Although it's performed in Hindi, headsets are available with translations in English and other languages.
Agra's spiritual attractions
Seeing an ancient Shiva linga (a symbol of Lord Shiva), estimated to be 3,500 years old, is one of the highlights of visiting Shri Mankameshwar Mandir (temple). According to legend, the silver covering the linga was provided by Shiva himself when Lord Krishna was born in nearby Mathura. Brahmakumaris Spiritual Museum, 6.5 km away, offers visitors the chance to admire religious artefacts. Architects built a bridge leading inside the museum to symbolize leaving life's worries behind before you enter.
Exploring Jama Masjid
Jama Masjid was commissioned in 1648 by Shah Jahan, who was responsible for several of Agra's famous monuments, including the Taj Mahal. Located opposite Agra Fort and Agra Fort Railway Station, the sandstone and marble mosque complex was made to honor the emperor's favorite daughter, Jahanara Begum. In the centre of the courtyard, you'll see a dramatic water fountain, which is set against the building's eye-catching curved archways. Glazed tiles and intricate paintings cover interior walls in the elegant style of the era. The mosque is still in use today and visitors are welcome to visit when touring the grounds.
Discover
Find your perfect holiday in Agra
From 270 hotels.