A City Guide to Charlotte, Queen City of the South
A City Guide to Charlotte, Queen City of the South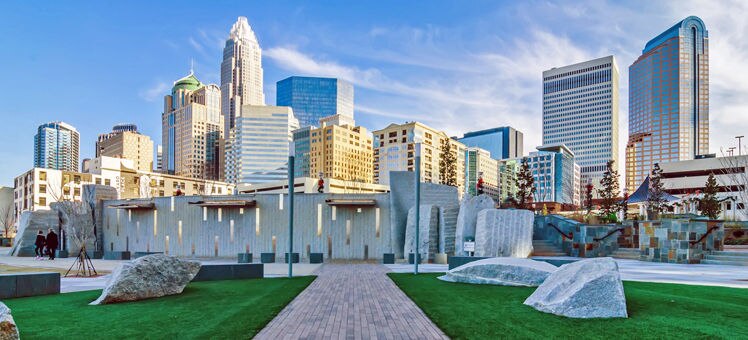 Charlotte, in North Carolina, is nicknamed "Queen City" and offers Southern hospitality, a vibrant sports and cultural scene, and great food - all in generous portions. Thanks to a banking boom, Charlotte is the nation's second-largest financial centre. From St. Peter's Catholic Church, built in 1851, to NASCAR at Charlotte Motor Speedway, the city's attractions run the gamut from old-time religion to contemporary thrills and spills.
Uptown Charlotte
Uptown is Charlotte's fast-beating heart and worth exploring on foot, even in the summer heat. Within a few blocks you'll see BB&T BallPark, Johnson and Wales University, and the NASCAR Hall of Fame. Popular museums in the area include the Mint Museum of Craft and Design and the Bechtler Museum of Modern Art, whose permanent collection includes works by Picasso, Warhol, and Miró. At Wells Fargo History Museum, you can pan for gold electronically and learn about the site of America's first gold rush in the 1800s.
Outdoor thrills and entertainment
Whether you want to watch the action or be the action, Charlotte offers plenty of outdoor excitement. At Charlotte Motor Speedway, you can see the NASCAR Sprint Cup and XFINITY races, Camping World Truck Series, and a number of other adrenaline-pumping events throughout the year. For thrills with more splash than spills, visit the U.S. National Whitewater centre. It's an immense outdoor recreational facility, where you can go kayaking or take on the rapids during a day of whitewater rafting.
Professional sports events
Besides NASCAR, Charlotte is a proud hub of professional sports. Home to the NFL's Carolina Panthers, Bank of America Stadium is an Uptown gem that seats over 74,000 people. It also hosts professional soccer matches. Tourists like to commemorate their visit by taking selfies by the giant bronze panther sculptures at the entrance. Basketball lovers will prefer the Charlotte Hornets, who play their home games at Time Warner Cable Arena, also in Uptown.
Dining in Charlotte
You can still find classic Southern food in Charlotte - like grits on most menus in place of hash browns. But you can also enjoy contemporary restaurants like Wooden Vine Wine Bar and Bistro, which showcases a seasonal menu and international drinks. colourful Malabar, a Spanish tapas restaurant, serves made-to-order paellas and charcuterie sliced before your eyes on a white marble bar. If you want to experience traditional Charlotte fare, check out Green's Lunch, which has been serving hearty American classics since 1926.
Green's Lunch, 309 W. 4th St., Charlotte 28202; Tel: +1 704 332 1786; Website: Green's Lunch

Malabar, 214 N. Tryon St., Charlotte 28202; Tel: +1 704 344 8878; Website: Malabar