Buying Handicrafts, Fabrics, and Chocolates From the Artisans of Kodaikanal
Buying Handicrafts, Fabrics, and Chocolates From the Artisans of Kodaikanal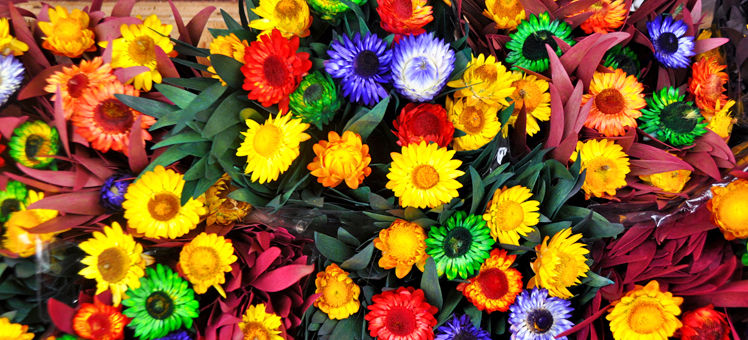 Shopping in Kodaikanal is a great way to engage with local culture, as vendors trade in handicrafts from around India and fresh produce from the nearby hills. Happy travellers return from expeditions to the bazaar area around Kodaikanal Lake with armfuls of colourful hand-woven fabrics, bags of souvenirs, and boxes of aromatics and chocolates.
Weaving and handicrafts
On Anna Salai you're presented with long and lively stretch of shops all brimming with crafts and potential mementos. Kashmir Handicrafts centre is perhaps the best known of these outlets, specializing in silken Kashmir shawls, Numdah rugs with intricate floral designs, and boxes and bowls carved from walnut wood. The nearby Shalimar Weaves may stop you in your tracks with its eye-catching display of brightly coloured shawls and scarves. Traditional, deep-hued prints hang alongside more contemporary, abstract designs. While you browse the aisles, the friendly owner will offer some helpful tips on choosing the right shawl.
Shalimar Weaves, Anna Salai, Kodaikanal 624101, Tamil Nadu ; Tel: +91 4542 241186; Website: Shalimar Weaves
Local art and craft stores
Visitors can support the work of local artists and artisans in Kodaikanal by spending well at stores like Cottage Crafts Shop on P.T. Road. Established by the voluntary organization Corsock, the store is filled with hand-embroidered textiles, handmade notebooks, woolens, and other curios. Much of the profits go back to the deprived communities where these items are made. A few shops away, Potter's Shed is stacked with rustic jugs, bright-blue coffee pots, urns, and cookware. As well as providing this space for local potters to sell their work, the store helps to ensure that their children receive an education.
Corsock Cottage Craft Shop, Poet Tyagaraja Road, Kodaikanal 624101, Tamil Nadu; Tel: +91 4542 240244; Website: Corsock Cottage Craft Shop

Potter's Shed, Poet Tyagaraja Road, Kodaikanal 624101, Tamil Nadu; Tel: +91 4542 240244; Website: Potter's Shed
Shopping for food, spices, and aromatics
The fertile hills around Kodaikanal keep the local markets topped up with whole foods, aromatics, essential oils, and heady spices. At Eco Nut on P.T. Road you can fill your shopping bags with hand-pounded organic brown rice, herbal teas, organic coffee, and freshly churned yogurt. This is a land of spices, the finest local-grown cardamom, cumin, and cloves find their way onto the neatly stacked shelves at Spices Corner. Aside from the flavor they add to your cooking, the jars and colours will surely brighten up your kitchen cabinet.
Eco Nut, P.T. Road, Kodaikanal 624101, Tamil Nadu; Tel: +91 4542 4329; Website: Eco Nut

Spices Corner, Nellai Nadar Bazaar, Kodaikanal 624101, Tamil Nadu; Website: Spices Corner
Chocolates and cheeses
Local-made sweets and dairy treats fly off the shelves in Kodaikanal. The Coco Bean sells chocolates directly from its in-house factory, with more than 100 varieties to choose from. Fillings include traditional favorites like nuts and caramel, and more acquired tastes like cheese. But if cheese is your thing, you can certainly pick up plenty of high-quality local produce, as well as a few extra calories, down at The Cheese Shop. House specialties include Blue, Colby Cheddar, Gruyere, and Gouda, all sold wholesale through trusted regional operators Kodai Cheese.
The Cocoa Bean, Anna Salai, Kodaikanal 624101, Tamil Nadu ; Tel: +91 4542 240414; Website: The Cocoa Bean

The Cheese Shop, Observatory Road, Kodaikanal 624101, Tamil Nadu ; Tel: +91 4542 245494; Website: The Cheese Shop
The Sunday Farmer's Bazaar
You can experience all the colour and sizzle of a bustling Indian market at Kodaikanal Sunday Bazaar. Street hawkers and farmers spread out their wares on P.T. Road, while shoppers and browsers stroll past until something catches their eye. It might be garden-fresh vegetables, tall shoots of sugarcane, some shiny new utensils, or a bright swatch of fabric. If you see something you like, and you get into the spirit with a bit of haggling, there's a good chance you'll walk away with a bargain or two.