A Guide to Kodaikanal - Lakes, Valleys, and Pine Plantations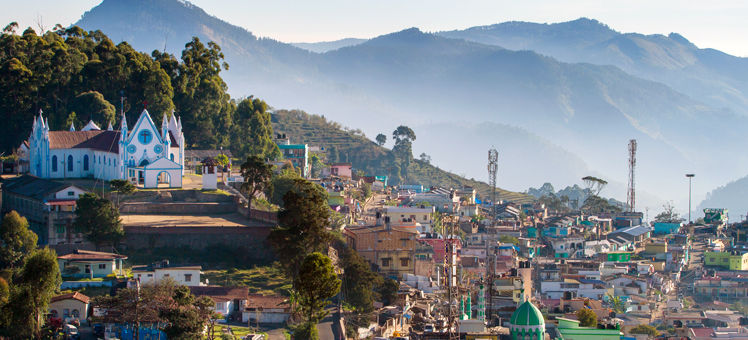 A favorite with honeymooners and nature-lovers, Kodaikanal has been called the "Princess of Hill Stations." The lush green Palani Range stands shrouded in mist above Kodaikanal's blue lakes. As you retreat into its serene hills, on winding roads bordered by tall trees, you can take a refreshing breather from the noise and stress of city life.
Kodai and Berijam
Kodaikanal's natural beauty was cultivated to create a summer escape for British officers and Christian missionaries in 1845. The hill station and man-made lake below still provide a tranquil retreat, where you can paddle across the water on a brightly coloured boat and rest under shady trees along the banks. Just outside Kodaikanal, Berijam Lake is another former swamp turned into a serene oasis. The Berijam freshwater reservoir, nestled in the Upper Palani Shola Forests, serves as a watering hole for bison, elephants, deer, and even the occasional leopard.
Parks and nature walks
A short walk from Kodaikanal Lake you'll find another contribution from colonial Brits at Bryant Park. Wandering the pathways of the botanical garden you pass flowers of every colour, gazebos fashioned out of leaves, and bushes pruned to look like birds. If you prefer to lose yourself in less manicured natural surroundings, then trek down Coaker's Walk for a bird's eye view of the valleys and plains below. On a clear day, you'll be able to see as far as Madurai, a historic temple town. Through the winter months the sky here becomes a vista of billowing clouds.
Bryant Park, Lower Shola Road, Kodaikanal 624101, Tamil Nadu; Website: Bryant Park
Valley views and pine plantations
Green Valley View was once morbidly known as Suicide Point but don't let that put you off visiting this spectacular spot. After a sweaty trek uphill you can cool off in the mountain breeze while taking in the sight of moss-green hills soaring up to a powder-blue sky. Vaigai Dam lies 4,900 feet below in a vast expanse of greenery. On the south-west side of Kodaikanal, the Pine Plantations give you even more photo opportunities, with rows of lean, mud-brown pines that make for a great backdrop for selfies.
Towering rocks and thrilling caves
Pillar Rocks are a breathtaking trio of granite columns rising dramatically to heights of over 120 meters at the southern edge of Kodaikanal. Tourists also come this way to gaze into the cool, dark recesses of Guna Caves, a bat-filled ravine formed between those rocks. Travelling along the same hills, on the other side of Kodaikanal, you'll find another curious geological feature known as Dolphin's Nose. The name describes its shape pretty well, and that snout of rock forms a balcony from which you can gaze out across the Palani Hills.
Pillar Rocks, Golf Links Road, Kodaikanal 62410, Tamil Nadu; Website: Pillar Rocks
Natural history and astronomy
Founded back in 1895, Shembaganur Museum of Natural History houses an assorted gallery of local artefacts, including tiger skins and snakes in formaldehyde. It also has 300 species of orchids and pressed specimens of the Kurinji flower, which blooms in Kodaikanal only once in 12 years. Built soon after the museum, Kodaikanal Solar Observatory is perched more than 2,000 meters up. You can visit the astronomy museum year-round, but the skies are clearest for stargazing sessions between April and June.