Shopping in Matheran - Leather Goods, Traditional Chikki, and Handicrafts
Shopping in Matheran - Leather Goods, Traditional <i>Chikki</i>, and Handicrafts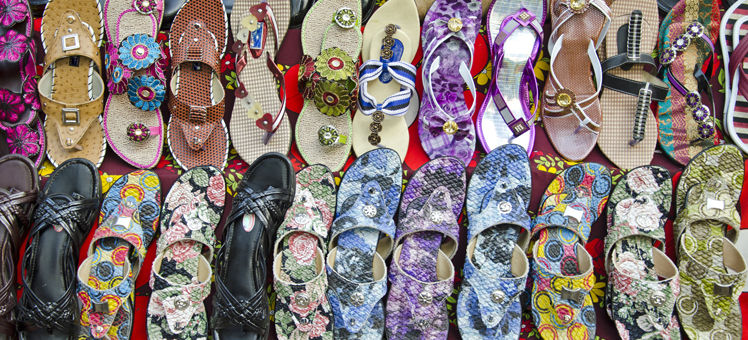 The small hill station of Matheran offers a range of shops and market stalls selling handmade goods at reasonable prices. Sweet chikki (traditional candy similar to nut brittle) renowned among locals, is sold in a variety of flavors. For a more cosmopolitan shopping experience, you can take a day trip to Panvel or Navi Mumbai.
Exploring Matheran market
Mahatma Gandhi Road is lined with cafés, restaurants, and quaint shops, including market stalls specializing in leather goods like sandals (particularly Kolhapuri chappals - handmade slippers made with natural dyes) and bags. Leather craftsmen can even custom-make pieces on request. You'll also find brightly coloured fabric bags, home decor, and some of India's purest honey. A popular spot in the market is Nariman Chikki Mart for chikki treats, which locals often buy in bulk. You can sample fudge in mouthwatering flavors like chocolate and fig, too.
Kapadia Market, Mahatma Gandhi Road, Matheran 410102, Maharashtra; Website: Kapadia Market

Nariman Chikki Mart, In Kapadia Market, Matheran 410102, Maharashtra; Tel: +91 952 14830311; Website: Nariman Chikki Mart
Perusing in Panvel
Just opposite Panvel Railway Station, 50 km from Matheran, you'll find K-Mall, with plenty of stores to choose from when you're looking for a little retail therapy. There's Big Bazaar, a popular department store in India for clothes, shoes, and home decor. If you're interested in Indian fashion, Cotton Culture sells colourful salwar kameez, a comfortable outfit of matching tunic and pants, and elegant dupatta, which are similar to salwar but paired with more fitted pants.
K Mall, Maharashtra State Highway, Sector 21, New Panvel, Panvel 410206, Maharashtra; Tel: +91 222 7491399; Website: K Mall

Cotton Culture, K-Mall Unit F-03, Plot 413/2, Panvel Station Road, Panvel 410206, Maharashtra; Tel: +91 982 0380514; Website: Cotton Culture
Browsing in Navi Mumbai
For a truly cosmopolitan shopping experience, you can visit coastal city Navi Mumbai, 60 km from Matheran. Just outside Vashi Railway Station, Raghuleela Mall has 4 stories where you'll find everything from shoes, to clothes, and home decor. There's also a large movie theatre, a food court with themed restaurants, and a play centre with fun activities for little ones. Artists and craftspeople from around India gather at Urban Haat (haat is Hindi for market), a permanent exhibit where you'll be able to buy one-of-a-kind creations, including handmade jewelry, silk embroidery, wooden carvings, and leather bags.
Raghuleela Mall, Sector 30-A, Vashi, Navi Mumbai 400703, Maharashtra; Tel: +91 986 7590224; Website: Raghuleela Mall

CIDCO Urban Haat, Sector 29, Belapur Railway Station Road, Belapur, Navi Mumbai 400614, Maharashtra ; Tel: +91 222 7561284; Website: CIDCO Urban Haat
Insider shopping tips
Unlike many parts of India, bargaining isn't usually practiced in Matheran. If you go shopping at the local market, it's worth comparing prices by visiting a few different stalls before making your final purchase. Leather craftsmen will custom-make pieces upon request, but be sure to confirm the price in advance. Also be aware that it will usually take a few days for an item to be finished, so ask for a clear timescale in advance, especially if you're staying in the town for a short time.