Byron Bay City Guide - More than Sun, Sand, and Surf
Byron Bay City Guide - More than Sun, Sand, and Surf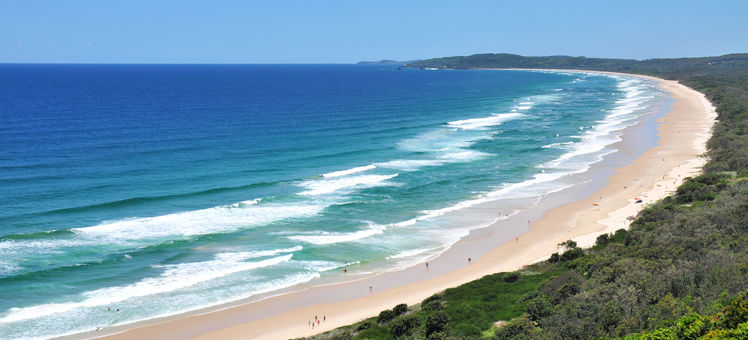 Think of Byron Bay and you probably picture waves rolling onto the fine sand of seemingly endless beaches. What distinguishes Australia's eastern-most tip from the many other scenic coastal spots is the town's unique laid-back vibe. Byron Bay offers you a singular cocktail of natural beauty mixed with beach culture, New Age philosophies, and hedonistic indulgence.
Choose your beach
You'll find a stretch of sand to suit your every mood in Byron Bay. Lifesaver-patrolled Main Beach is as good for people-watching as it is for swimming - families, yoga classes, and buskers keep it buzzing from dawn to dusk. Its manageable waves make it ideal for surf lessons, and it's the casting-off point for kayak tours. Clothing-optional Belongil Beach is a quieter choice, and a great spot to watch the sun set behind the dunes. Rugged, deserted Tallow Beach is the place to feel the wind in your hair, and hear the crash of the waves.
Byron Bay Surf School, Backpackers Inn, 29 Shirley Street Byron Bay, NSW 2481; Tel: +1800 70 72 74 (within Australia); Website: Byron Bay Surf School

Go Sea Kayak Byron Bay, On The Park - Opposite 56 Lawson Street, Byron Bay, NSW 2481; Tel: +1800 732 529 (within Australia); Website: Go Sea Kayak Byron Bay
The lighthouse walk
One of the best way to get your bearings is to take the Cape Byron Walking Track up to the lighthouse, the first place in Australia to see the sunrise. You're likely to meet wallabies, feral goats, and brush turkeys along the way, and you should keep an eye out for dolphins and migrating whales. At the top, panoramic views of the wide arc of the bay to the north, and long Tallow Beach to the south, await you. You can reward yourself for the walk with ice-cream at the Lighthouse Cafe.
An adventurer's playground
If an active vacation is your thing, Byron Bay offers you more than enough to keep the adrenalin pumping. If you're an experienced board rider, the beaches offer some of the coast's most reliable breaks. The gentler waves at Main Beach make it ideal for novices. Byron Bay Dive Centre will guide you to Julian Rocks, one of Australia's best dive sites, and real thrill-seekers can get a bird's-eye view of the coast on a tandem skydive.
Healing body and soul
Byron Bay's unspoiled natural beauty and New Age vibe make it the perfect destination if you're looking to restore mind and body. Picture yourself starting the day with yoga on the beach, as gentle waves kiss the shore and the sun rises over the ocean. There's a big choice of day spa treatments and alternative healing in oceanfront or rainforest settings - a massage at Relax Haven will get your vacation off to a tranquil start. You can get in touch with the area's indigenous cultural and spiritual heritage with the Aboriginal Cultural Concepts tour.
Scenic food and drink
Local organic farmers, fresh seafood, and a thriving restaurant scene combine to make Byron Bay a paradise for foodies. There are lots of great dining experiences to be had - many of them with an ocean backdrop. A morning surf followed up with a leisurely brunch in the dunes at iconic Byron Beach Cafe make for an inspiring start to your day. On a balmy evening, Beach Hotel's beer garden is the spot to lean back, glass in hand, and watch the sunset over the bay.
Discover
Find your perfect holiday in Byron Bay
From 480 hotels.