A Scarborough City Guide - Seaside Treats on the Yorkshire Coast
A Scarborough City Guide - Seaside Treats on the Yorkshire Coast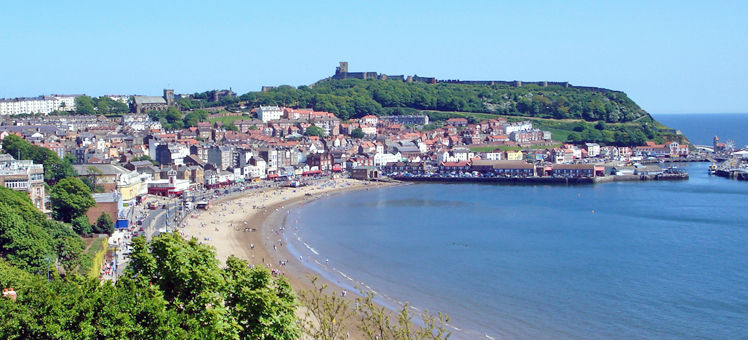 Once a thriving fishing port, today's Scarborough offers generous helpings of nostalgia, culture, and scenery. Beach huts, ice cream stalls, and rock pools line the town's 2 pleasant beaches. Locals and visitors mingle on the centre's narrow, cobbled streets, and the surrounding valleys and moors are perfect for bracing hikes.
Buzzy South Bay
South Bay's former life as a Victorian resort is recalled by the faded signage that still decorates many buildings, as well as by penny slot machines in the amusement arcades and the grand Scarborough Spa complex. The town's strong fishing tradition continues thanks to a thriving harbor. Freshly caught fish is served up in welcoming restaurants, and more unusual local delicacies, like cockles, winkles, and other shellfish, are on offer at the seafood stands.
The Spa Scarborough, South Bay, Scarborough YO11 2HD; Tel: +44 1723 821888; Website: The Spa Scarborough
Sports at North Bay
North Bay beach is quieter than the south, making it ideal for surfers, Frisbee throwers, and water sports enthusiasts. The uniquely located North Cliff Golf Club commands captivating views of the sea. Next door, the distinctive white pyramids of Scarborough SEA LIFE Sanctuary jut out over the picturesque cliff tops.
Fun for the family
With its donkey rides, rainbow-coloured beach huts, and old-school ice cream parlors, Scarborough is a fantastic destination for families. You can take the entire clan out to sea on a bracing boat trip, and if your sea legs fail you, the vintage North Bay Railway provides a land-based alternative. The railway's fleet of mini steam engines can whisk you between Peasholm Park and Scalby Mills stations.
Music and shows
Scarborough's Stephen Joseph Theatre is one of Yorkshire's cultural icons. Once helmed by world-renowned playwright Sir Alan Ayckbourn, the theatre has been delighting audiences with critically acclaimed entertainment for more than 6 decades. Scarborough Open Air Theatre, a popular live music venue known for hosting the likes of Sir Elton John, has a rippling moat between audience and stage.
Day trips from Scarborough
Scarborough is on the scenic North Yorkshire coast, within easy reach of neighbouring seaside resorts like Bram Stoker's old haunt of Whitby. An 18-minute coastal drive south brings you to the Edwardian town of Filey and its award-winning local history museum. Nature lovers are a half-hour drive from Dalby Forest's labyrinth of bike trails and walking routes, with the world-renowned North York Moors just beyond.