Charlotte Nightlife - Dance Clubs, Neighborhood Bars, and Live Music
Charlotte Nightlife - Dance Clubs, Neighborhood Bars, and Live Music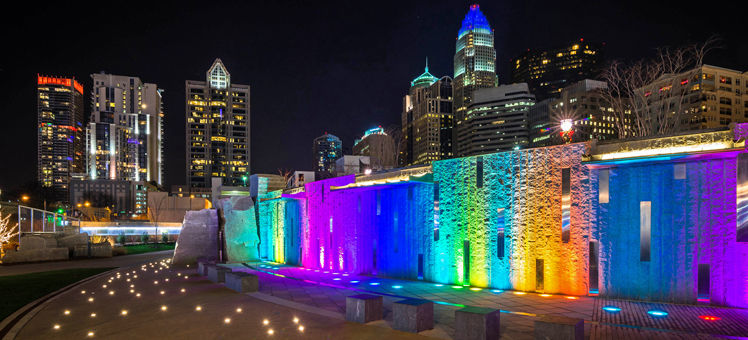 Uptown is the Queen City's nightlife centre, where a cluster of gleaming towers rises up from its historic core. Here, you'll find most of the nocturnal offerings; from casual bars and live music venues, to high-energy dance clubs and chic cocktail lounges. But exploration further afield reveals neighbourhoods with unique craft beer scenes, down-home haunts, and time-honored watering holes.
NC Music Factory
With over a dozen nightlife options, NC Music Factory is a must-do. Set amid mill buildings dating to the early 1900s, this entertainment hub has some of the city's top clubs, bars, and live music venues. After sampling locally crafted beer at a neighbourhood-style gastropub, you can catch a comedy show with top performers. In the mood for something chic? DJs spin at upscale clubs, and cocktails are served at swanky lounges.
Label
A high-end sound and video system ramp up the energy at this 2-level nightclub, which has a large dance floor in the cavernous main room.
900 NC Music Factory Blvd., Charlotte 28206Tel: +1 704 910 0526
Label website
The Comedy Zone
Some of the country's top comedians play that this 400-seat venue that has a restaurant for meals during shows.
900 NC Music Factory Blvd., Charlotte 28206 . Tel: +1 980 321 4702
The Comedy Zone website
EpiCentre after dark
EpiCentre is another one of Uptown's entertainment hubs, with nearly a dozen nightspots that range from elegant lounges to old-fashioned bars. If you feel like line dancing to live country music, you can amble into Whisky River. The dueling piano players at Howl at the Moon might be more your speed, perhaps followed by a cocktail and views of the city skyline at Suite.
Suite at EpiCentre
One of Charlotte's most sophisticated lounges, this stylish nightspot has VIP rooms and a rooftop patio with sweeping city views.
210 East Trade Street, Charlotte 28202. Tel: +1 704 971 7878
Suite at EpiCentre website
Whisky River
Owned by NASCAR driver Dale Earnhardt, Jr., this raucous joint features DJs, live country and rock performers, and a mechanical bull.
210 East Trade Street, Charlotte 28202. Tel: +1 704 749 1097
Whisky River website
Live music around town
Beyond Uptown's entertainment complexes, you'll encounter live music in nearby neighbourhoods. Smokey Joe's Cafe has a beach bar vibe and weekly open-mic night. Blues and jazz are the specialty of The Double Door Inn, a joint that's been hosting live bands since 1973. A self-proclaimed "21st-century honky tonk," Puckett's Farm Equipment churns out live country music on weekend nights in the Derita neighbourhood.
Smokey Joe's Cafe
Locals frequent this laid-back bar that has a fire pit, pool tables, foosball and darts, and weekly performances from the house band Smokin' J's.
510 Briar Creek Road, Charlotte, 28205. Tel: +1 704 338 9380
Smokey Joe's Cafe website
Puckett's Farm Equipment
A farm equipment dealership has been converted into a funky saloon, with 3 bars and a small stage where country music is king.
2740 West Sugar Creek Road, Charlotte 28262. Tel: +1 704 597 8230
Puckett's Farm Equipment website
NoDa nooks
In the NoDa neighbourhood, you can enjoy a burgeoning craft beer scene and live music. NoDa Brewing Company is a brew house with 15 handcrafted barrels on tap, while Growlers Pourhouse serves cask ale from a hand pump that dates from 1936. Performers, from acoustic players to hip-hop artists, take the stage at The Evening Muse. The Chop Shop, a former textile plant, features acts ranging from comedians to 12-piece bands.
The Evening Muse
Though focusing on acoustic styles, artists of all shades perform at this music room that's filled with original artworks.
3227 N Davidson Street, Charlotte 28205. Tel: +1 704 376 3737
The Evening Muse website
The Chop Shop NoDa
With a main room that has been decorated with repurposed auto parts and industrial gear, this sleek performance space can accommodate more than 400 music lovers.
399 E. 35th Street, Charlotte 28205. Tel: +1 704 765 2467
The Chop Shop NoDa website
Montford Drive
A 14-minute drive from Uptown, the Myers Park neighbourhood has nightlife venues along Montford Drive. You can sit on a large patio and enjoy a local brew at casually cool Angry Ale's. Bowling and booze make a good mix at 10 Park Lanes, with dozens of beers on tap, and a Moonshine Bar that serves the South's most infamous intoxicant.
10 Park Lanes
This old-school bowling alley has live music and 3 bars that pour local microbrews and moonshine - served straight-up or mixed in a cocktail.
1700 Montford Dr., Charlotte 28209. Tel: +1 704 523 7633
10 Park Lanes website