Arts and Culture in Charlotte - Museums, Concerts, and Very Fast Cars
Arts and Culture in Charlotte - Museums, Concerts, and Very Fast Cars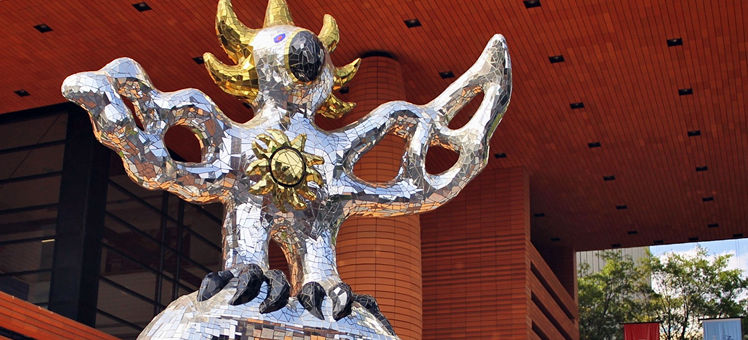 Uptown Charlotte is the city's geographical and culture centre. It is home to renowned museums, sophisticated galleries, and regal theatres. You'll also encounter history that spans from pre-Columbian times to the Civil War, as well as NASCAR (Stock Car Auto Racing) culture. In surrounding neighbourhoods, the "Queen City" likes to celebrate with festivals, outdoor music concerts, and diverse displays of local art.
Museums and Contemporary Art
Levine centre for the Arts houses 2 major museums; Mint Uptown, with contemporary pieces and art of the ancient Americas, and Bechtler Museum of Modern Art, where exhibits include works from Picasso and Warhol. You can view contemporary art inside a neo-Gothic church at McColl centre for Art + Innovation. Post-Civil War history is explored at Levine Museum of the New South.
Bechtler Museum of Modern Art
The building is as much a work of art as the contemporary pieces inside, with a terracotta-tiled exterior and tall glass atrium that fills the 4-story structure with natural light.
420 South Tryon Street, Charlotte 28202Tel: +1 704 353 9200
Bechtler Museum of Modern Art website
McColl centre for Art + Innovation
This neo-Gothic church dating from 1916 has a gallery space that displays contemporary art, as well as studios for working artists.
721 North Tryon Street, Charlotte 28202. Tel: +1 704 332 5535
McColl centre for Art + Innovation website
History and culture
Charlotte is brimming in stock car culture, and much of it is on display at NASCAR's Hall of Fame. This Uptown museum has racing artifacts, interactive exhibits, and famous racecars. Constructed in 1815, Historic Rosedale Plantation gives a glimpse of the Old South. You can get a look at early 19th-century life at the President James K. Polk Historic Site.
Historic Rosedale Plantation
An example of federal-period architecture, this stately 13-room home features artifacts, original wallpaper, and is surrounded by rose bushes and century-old trees.
3427 North Tryon Street, Charlotte 28206. Tel: +1 704 335 0325
Historic Rosedale Plantation website
NASCAR Hall of Fame
Celebrated drivers and their thundering machines are honored over 4 floors, with hands-on exhibits and famous cars on a ramp dubbed "Glory Road."
400 East Martin Luther King Jr. Blvd., Charlotte 28202. Tel: +1 704 654 4400
NASCAR Hall of Fame website
Performing arts
Broadway productions, the Charlotte Symphony Orchestra, and Opera Carolina all play at Uptown's Blumenthal Performing Arts centre. It has 6 stages, ranging from a space for less than 200 people, to a hall with more than 2,000 seats. Charlotte Ballet performs classic and contemporary works at its own 200-seat venue. A 10-minute drive from Uptown, Ovens Auditorium hosts comedy acts, concerts, and Broadway shows.
Blumenthal Performing Arts centre
The 6 venues at this arts complex include Belk theatre, which has seating for more than 2,000 and a fiber optic network that puts on a dazzling show in the audience chamber.
130 North Tryon St., Charlotte 28202. Tel: +1 704 372 1000
Blumenthal Performing Arts centre website
Charlotte Ballet
Beyond classics like "The Nutcracker" and "Peter Pan," Charlotte Ballet also stages modern-dance shows during a season that runs from October to April.
701 North Tryon Street, Charlotte 28202. Tel: +1 704 372 0101
Charlotte Ballet website
neighbourhood strolls
Getting out of Uptown rewards you with eclectic cultural scenes in outlying neighbourhoods. In Myers Park, you can catch art house films at Regal Manor Twin Theatre, and view pre-Columbian art at Mint Museum Randolph. Dilworth is dotted with galleries and home to September's Yiasou Greek Festival. The NoDa arts district hosts a gallery crawl on the first and third Friday of every month.
Hart Witzen
In the NoDa arts district, this large gallery is a self-sustaining venue with 30 private studios that are rented to working artists.
136 East 36th Street, Charlotte 28206. Tel: +1 704 334 1177
Hart Witzen website
Manor theatre
Dating from 1947, this small 2-screen venue is one of the city's oldest movie houses, and plays independent films not shown elsewhere in the area.
609 Providence Road, Charlotte 28207. Tel: +1 844 462 7342
Manor theatre website
Open-air culture
Adjacent to St. Peter's Catholic Church, The Green is an Uptown park that hosts movie screenings and plays, including a summer Shakespeare festival. In warmer months, you can attend free weekly music concerts at Uptown's Romare Bearden Park. Symphony Park, a 17-minute drive from Uptown, has outdoor festivals and June's "Summer Pops" series with the Charlotte Symphony Orchestra.
The Green
World-class museums sit on the edge of this small, urban retreat that has manicured grounds, a fountain, and sculptures on a literary theme.
425 South Tryon Street, Charlotte 28202. Tel: +1 704 342 9000
The Green website